Homemade Peach Tea Vodka is an easy and fun DIY liqueur. Easily made by infusing Everclear with peaches and black tea, the perfect mixer for so many Summer cocktails. Plus find out how to make a Spiked Peach Arnold Palmer.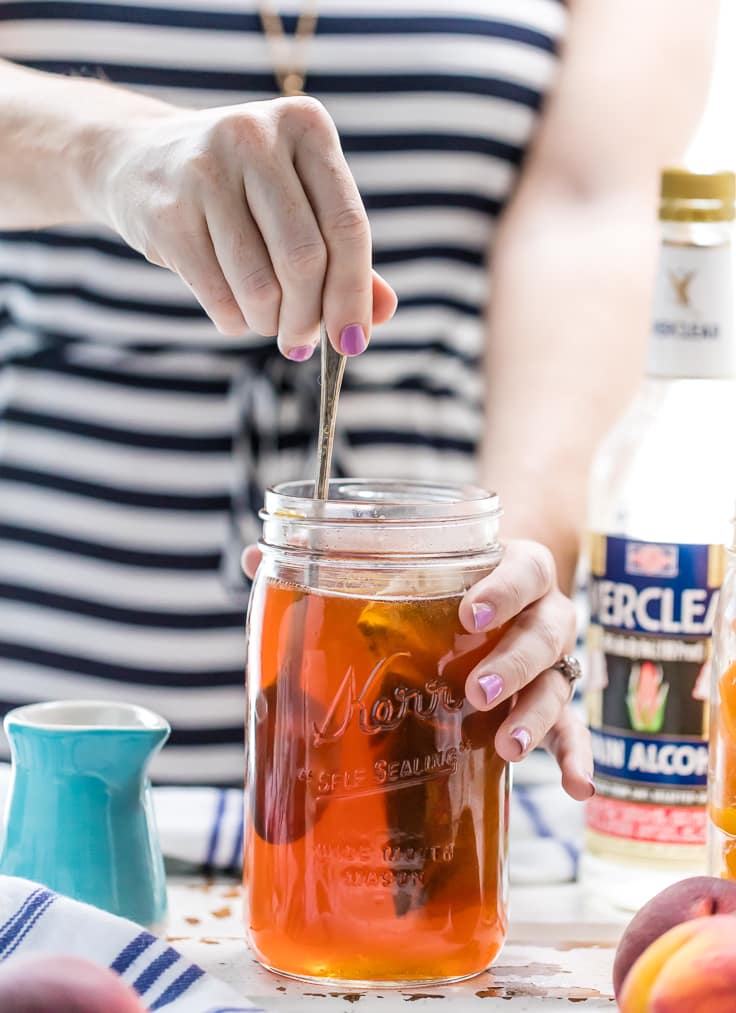 Homemade Peach Vodka
This homemade peach vodka recipe has the refreshing flavor of peach iced tea, perfect for making delicious summer cocktails!
I can't even tell you how excited I am for today's post! I have wanted to do some infusion liqueurs for a long time, and today is finally my chance! Not only can you make delicious flavored vodka at home, it's easy and fun!
I have been avoiding it for way too long, thinking I would be bad at it or not do it right. Well, I was wrong. It's a simple way to make homemade gifts, create tasty drinks at home, or just get creative in the kitchen. I'm hooked and can't wait to keep trying new flavors.
Today I am starting out strong with Peach Tea Vodka, the perfect homemade drink for Summer! It works well in lots of drinks, but my favorite way to use it as a mixer in our Spiked Arnold Palmers. So much to love!
This homemade vodka recipe tastes like peach tea, and makes one mean Spiked Peach Tea Cocktail!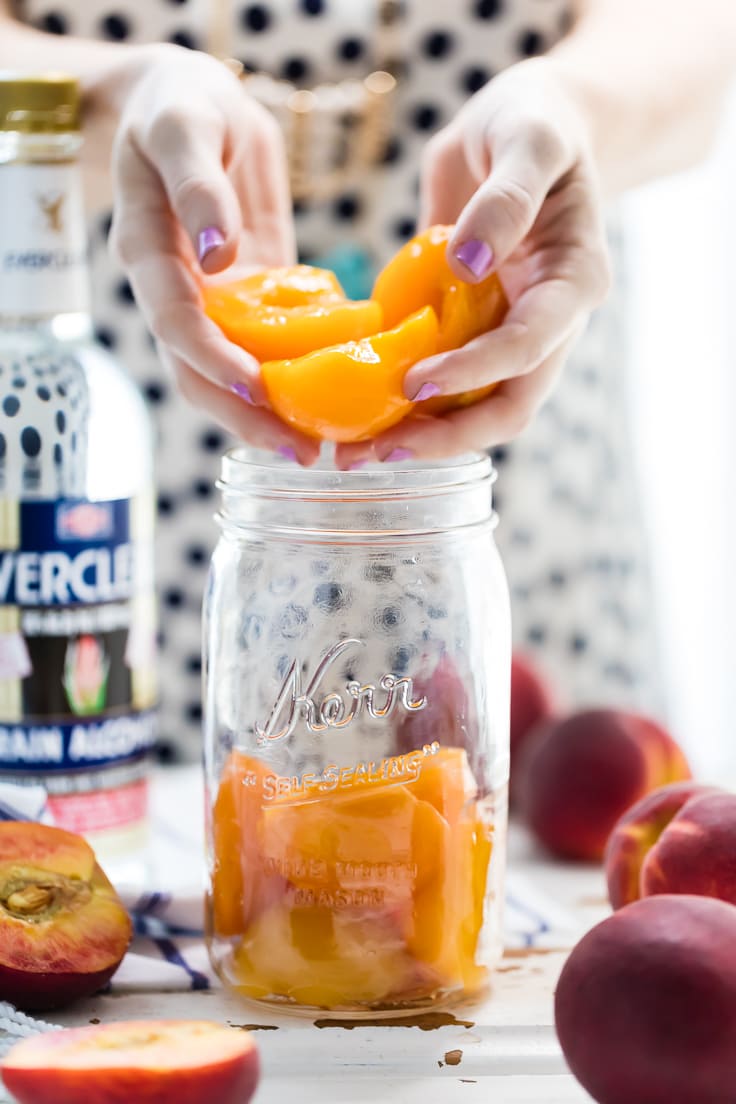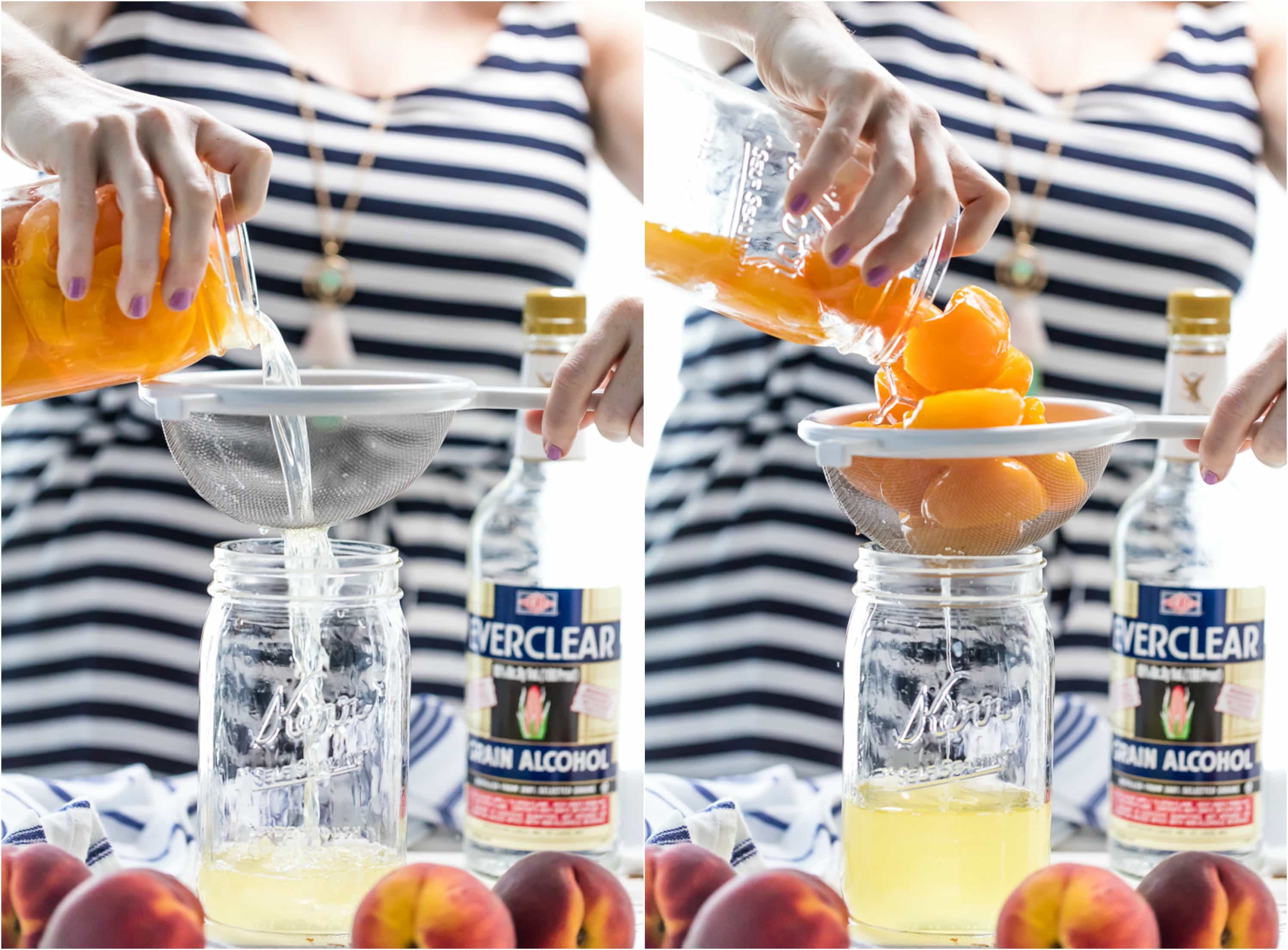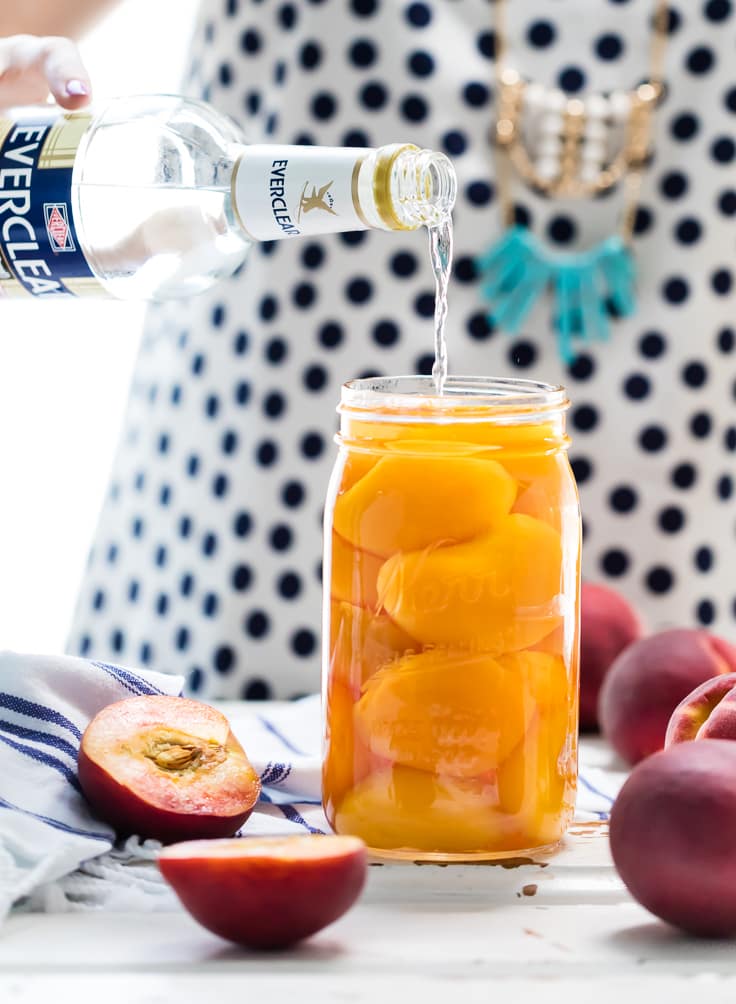 What to Use for Homemade Flavored Vodkas
I'm beyond thrilled and honored to be partnering with Everclear® to come up with fun infusions this year. I had no idea just how crazy easy it is to make Everclear transform into fun flavored vodkas, liqueurs, or schnapps. Everclear has created a GORGEOUS website, Make It Your Own by Everclear®, where they have compiled tons of amazing recipes for infusions; everything from Chocolate Liqueur to Chai Vodka. SO FUN.
Everclear is a 190 proof grain alcohol with no taste, making it the perfect clean slate for flavors. It's fast to pull flavor from the ingredients you're adding and you don't even need much! It should be diluted 1:1 with filtered water because of its strength. One bottle goes a long way, making this SO cost effective.
The possibilities are endless, not to mention fun! This Peach Tea Vodka is pretty much fool-proof, and I have a feeling you're going to love it!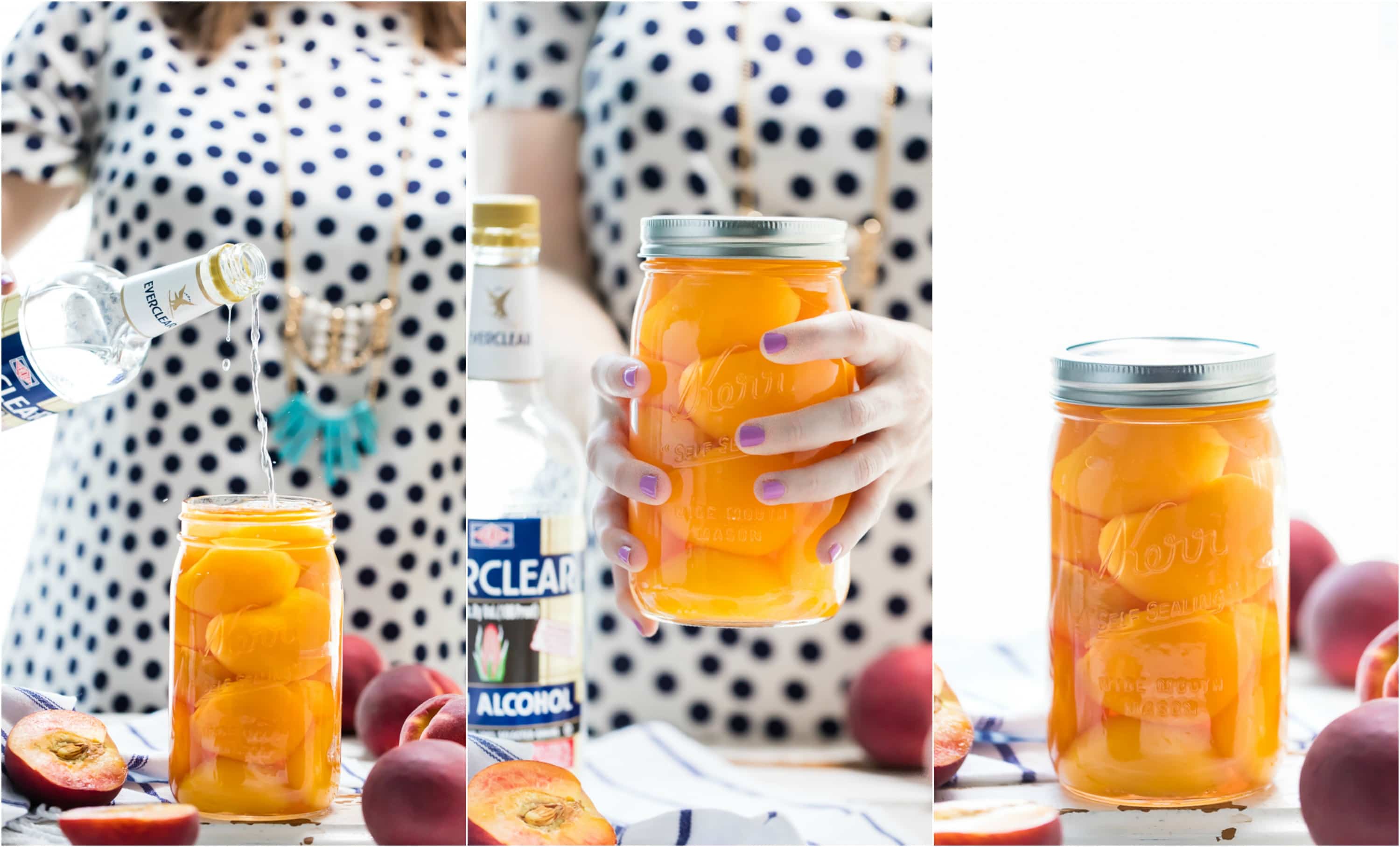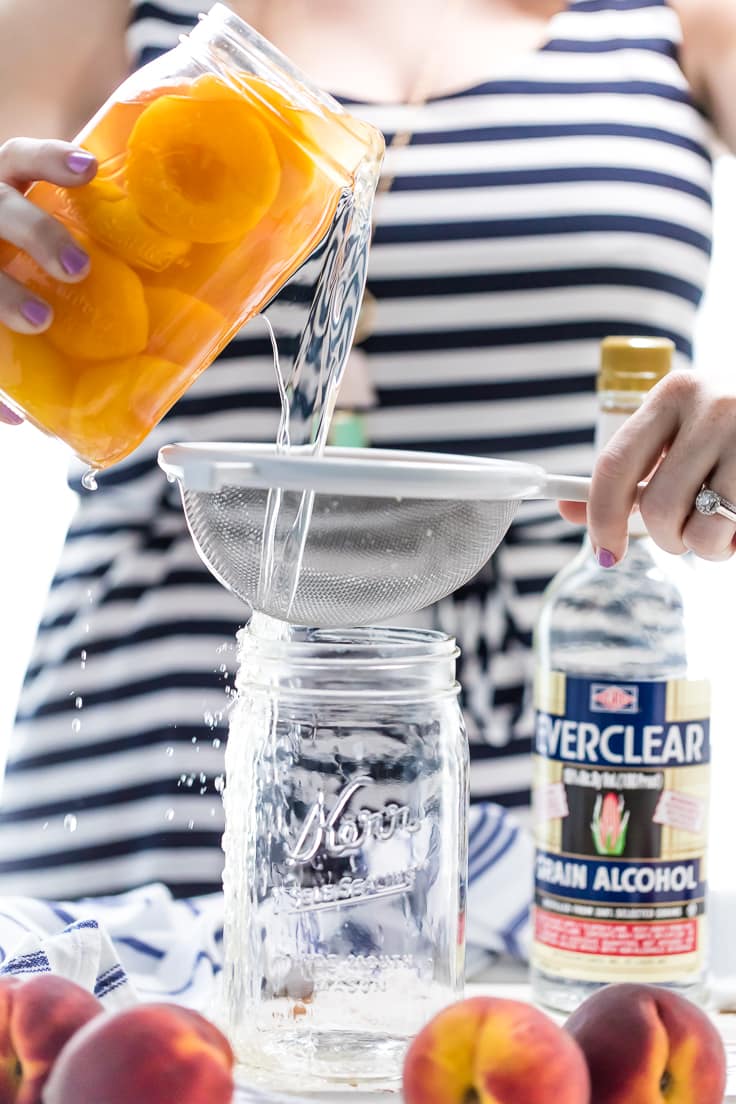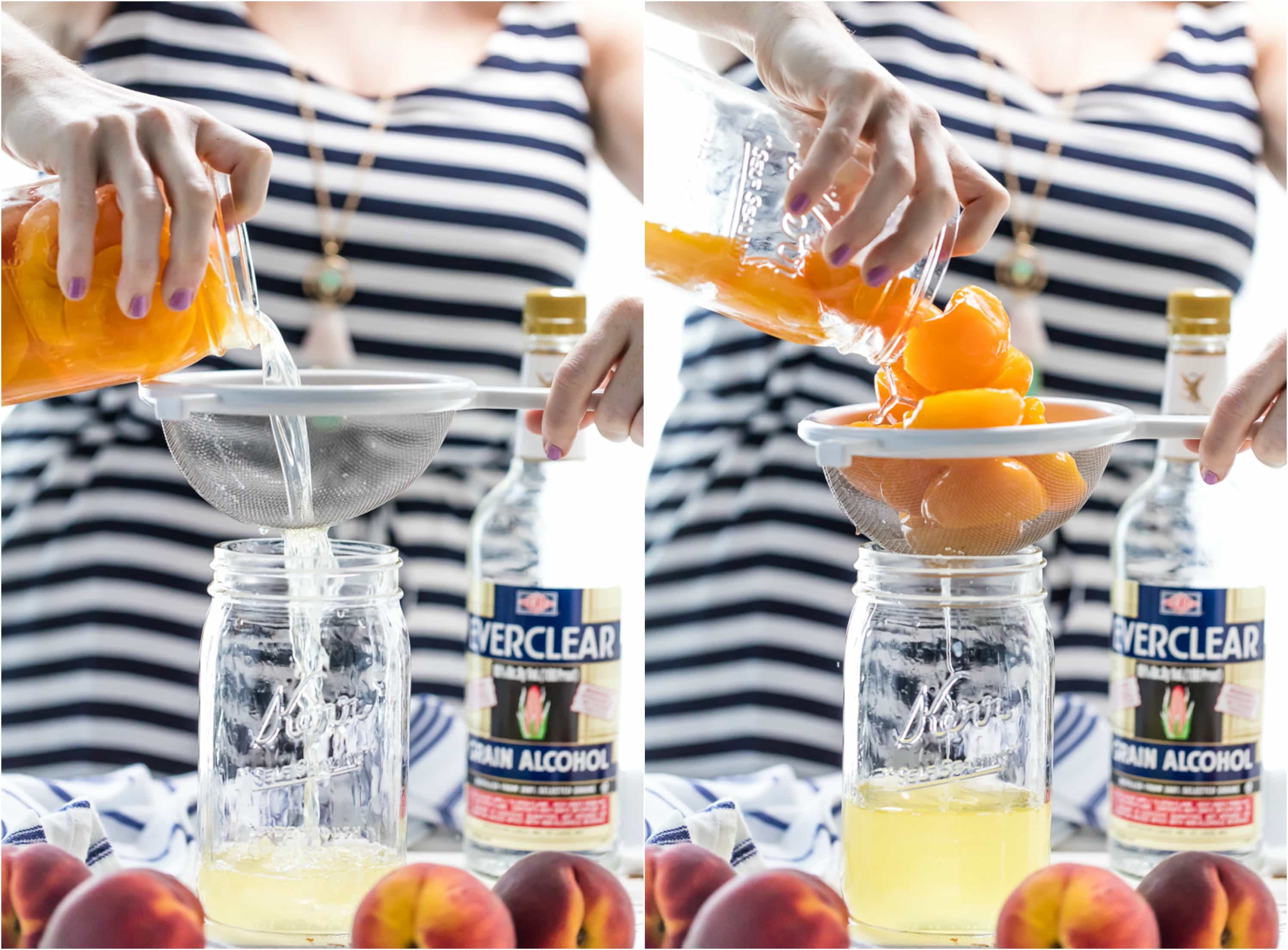 Tips to make Peach Tea Vodka
The process of making this peach vodka couldn't be easier, but does take a bit of time.
Since this is a dual flavor vodka (peaches plus black tea), I did it in two steps, over 48 hours.
It's only a couple of minutes of prep time total, but you do need to let it sit for a long amount of time to pull out enough flavor.
Using fresh peaches is perfect in Summer, but during the rest of the year it's totally fine to use bottled or canned peaches.
I let the peaches sit in the Everclear for 48 hours before draining, being sure to turn over the bottle a couple times a day to make sure all the peaches were being touched by the Everclear.
Easy peasy!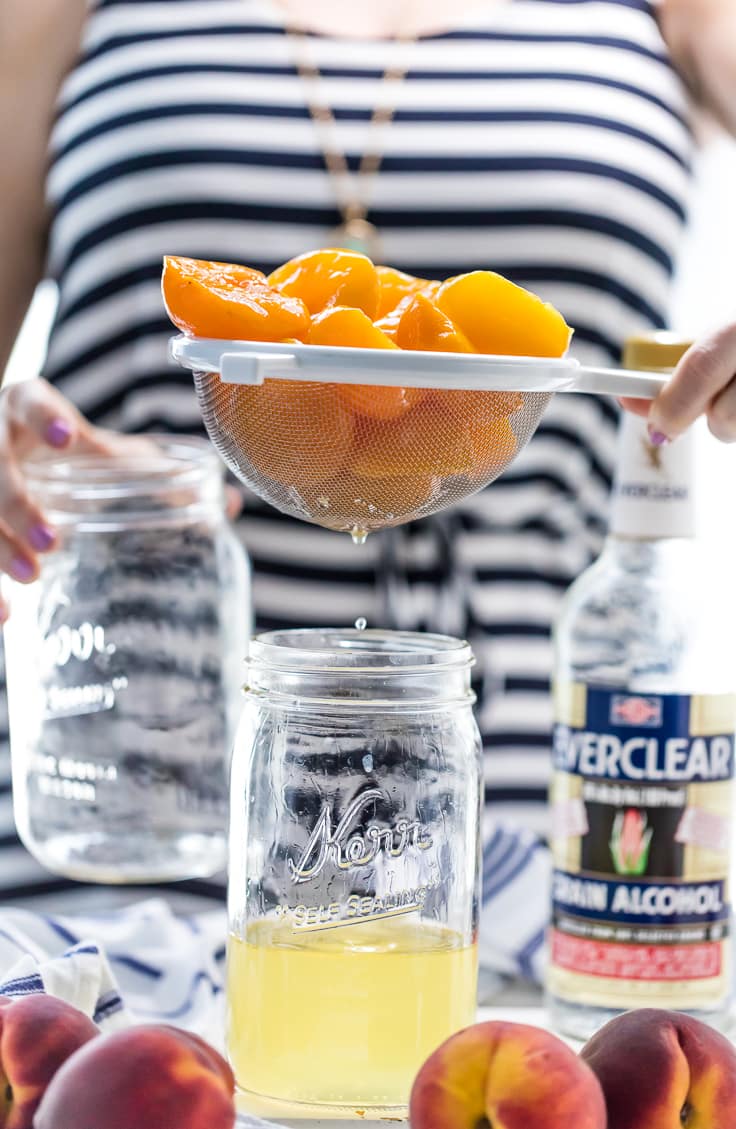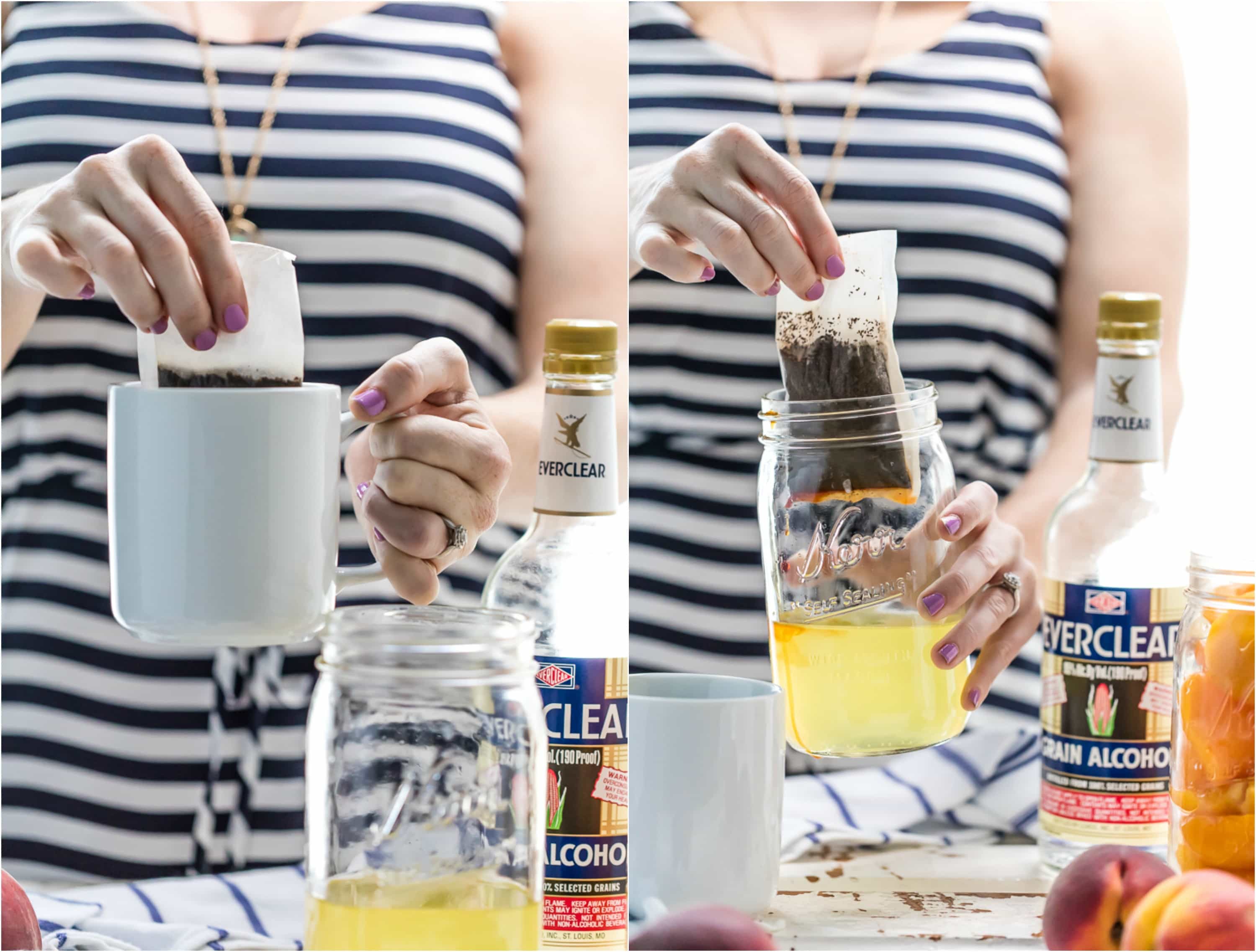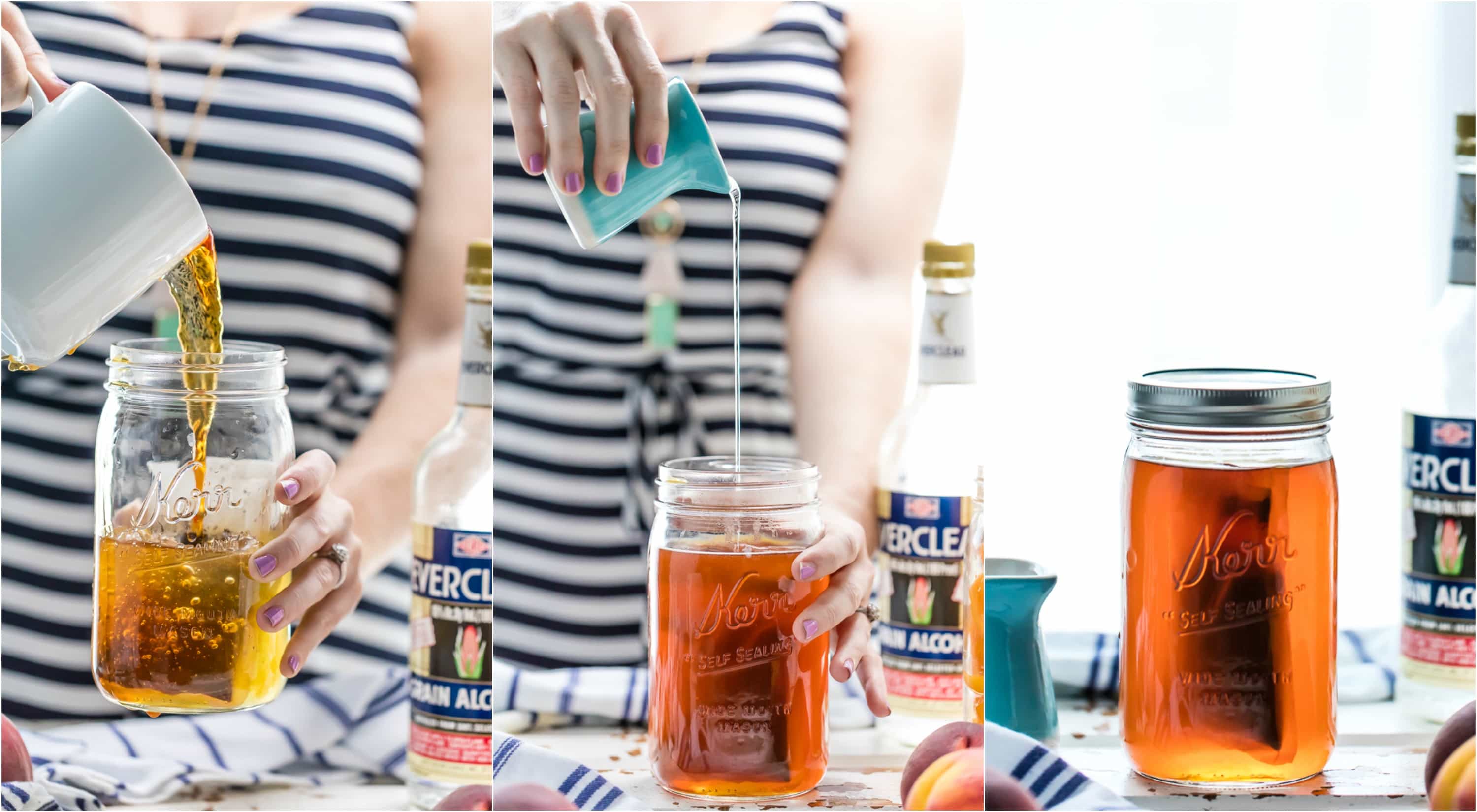 How long should I let the tea infuse the vodka?
The tea step takes a lot less time to infuse, so I only let it sit with the tea bag for 10 minutes. I found the flavor was plenty strong, but you can brew it to taste. After I removed the tea bag, I let it sit in the fridge and get as cold as possible before mixing.
Homemade Vodka is a Great Homemade Gift
This Peach Vodka makes the perfect gift, especially if you put it in a mason jar and label it with cute calligraphy. (I can't write calligraphy, but you get the idea.) If someone made me homemade flavored vodka as a gift, I would be SO excited. YOU CAN DO IT!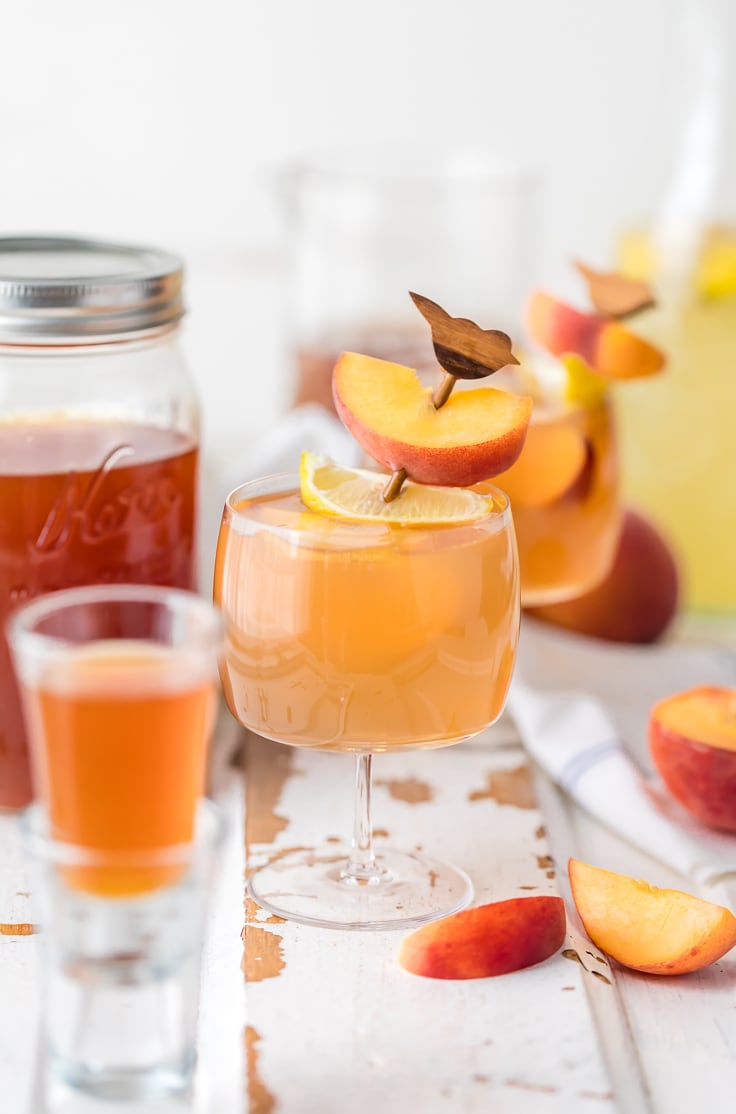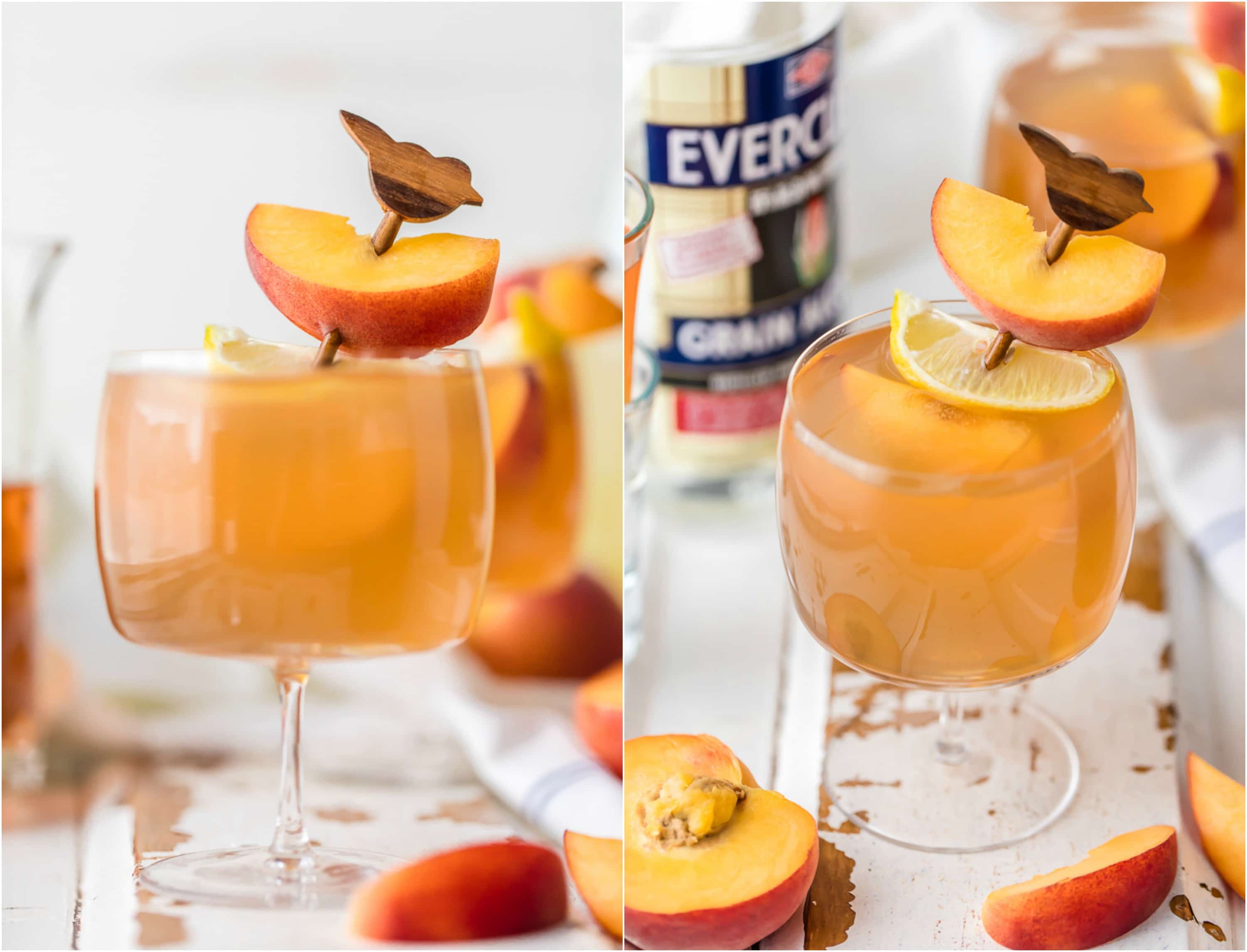 Spiked Arnold Palmer
After you've made the Homemade Peach Vodka, it's time to make the real magic happens! You're left with the ultimate fun summer drink mixer, ready for your favorite cocktails.
My first thought was to use it to make Spiked Arnold Palmers, and it was a GOOD DECISION! I mixed a shot of the Peach Tea Vodka with half iced tea and half lemonade for the ultimate Summer Sip. Doesn't this just scream deck weather?
Peach Arnold Palmer Cocktail: 1 part Iced Tea + 1 part Lemonade + 1 shot of peach tea vodka.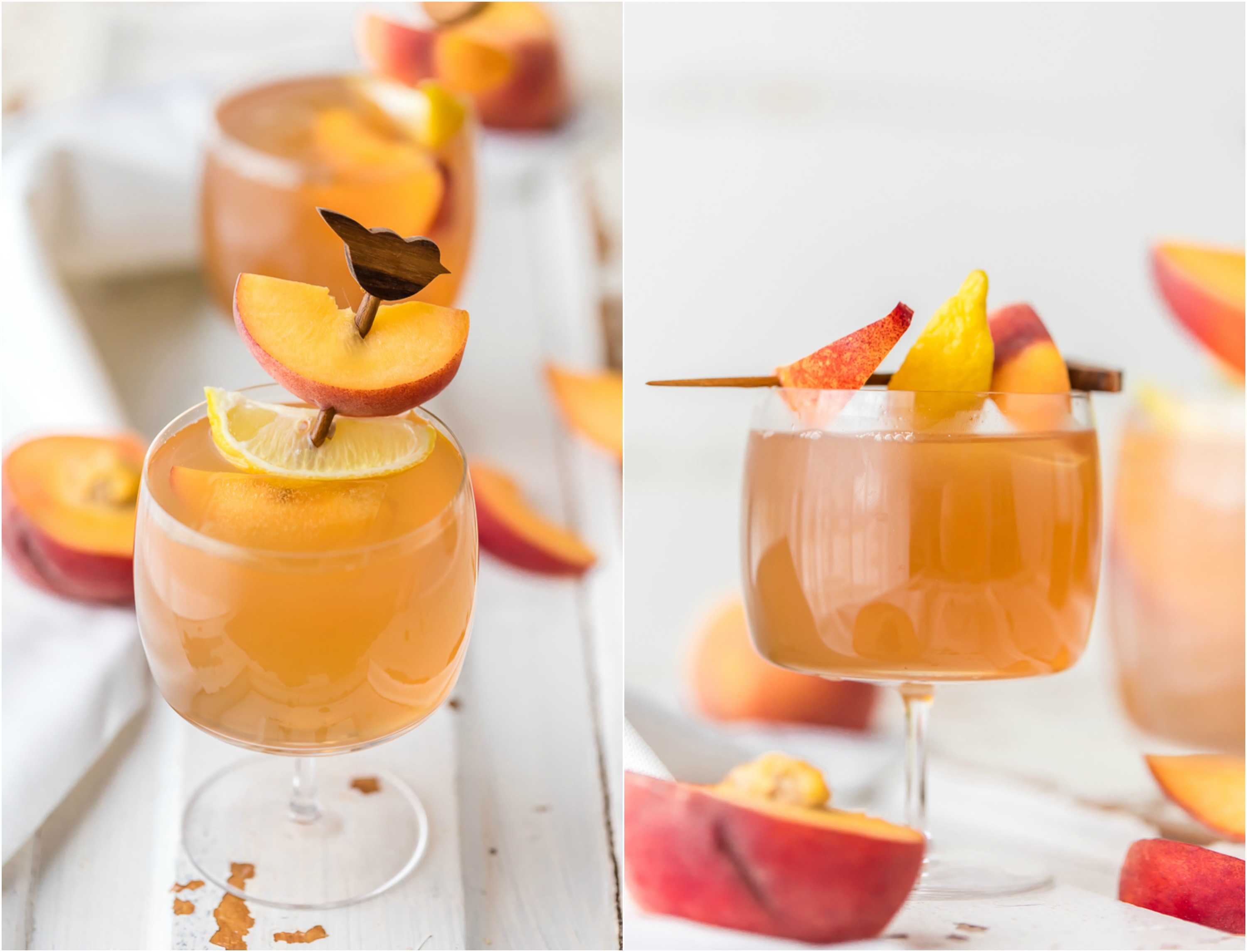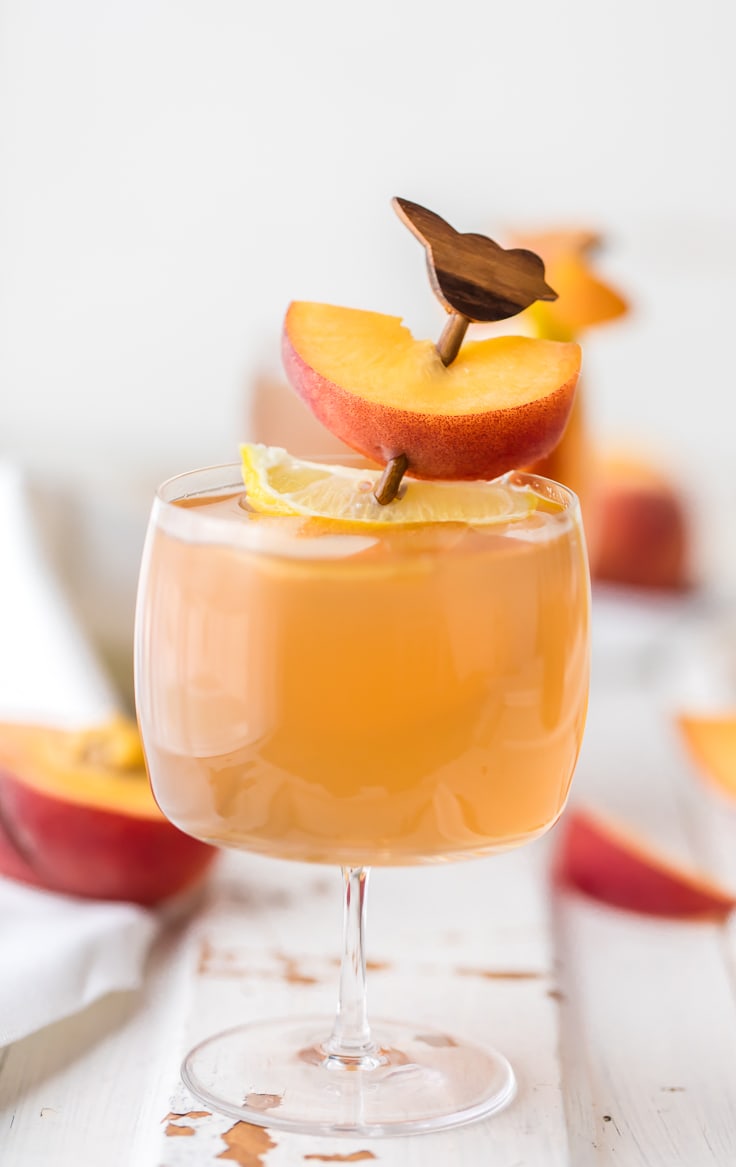 I had so much fun making my first infusion and can't wait to make more! Any ideas for fun summer and fall flavors? I have a few ideas, but I'm going to let them be a surprise. I hope you love this Peach Tea Vodka as much as we do. Let me know if you make it for any friends or family!
See the recipe card for details on how to make Peach Tea Vodka and Spiked Arnold Palmers. Enjoy!
You'll love these other homemade alcohol and cocktail recipes too:
Pear Vanilla Coconut Cooler