You can make HOMEMADE STRAWBERRY SHORTCAKE VODKA at home! SO easy and tastes amazing! Perfect with SPIKED STRAWBERRY SHORTCAKE ICE CREAM FLOATS! The ultimate Summer treat.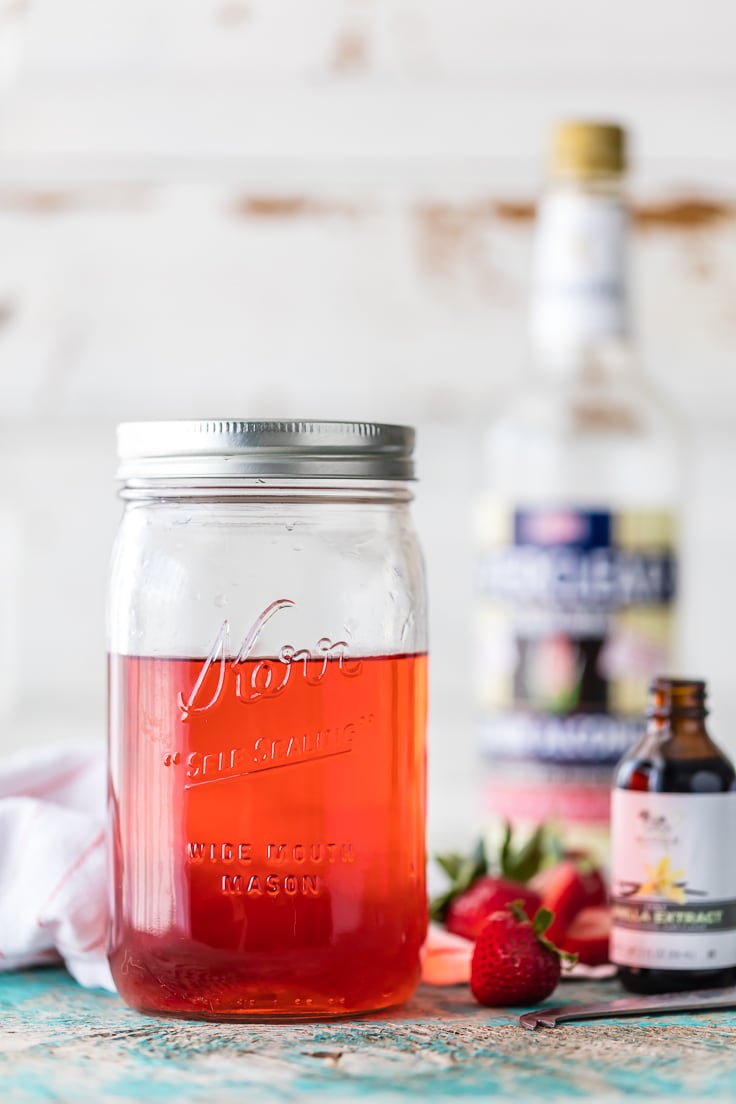 I feel like I've hit the jackpot with this recipe. Of all the cocktails and mocktails I've made on the site, and I've made a lot, this is one of my very favorites. Homemade Strawberry Shortcake Vodka is the ultimate in Summer fun, tart, simple, and DELICIOUS. Splash it in with club soda for a quick and fun cocktail, or layer it with juices and ice cream for Spiked Strawberry Shortcake Ice Cream Floats (see below!!). When I tell you I crave those floats morning noon and night, I DO! If you haven't tried making your own liqueurs, they are a must. It's so much easier than you'd think, making the perfect homemade gift, or just affordable alcohol to keep in your fridge for the fun times. I'm obsessed!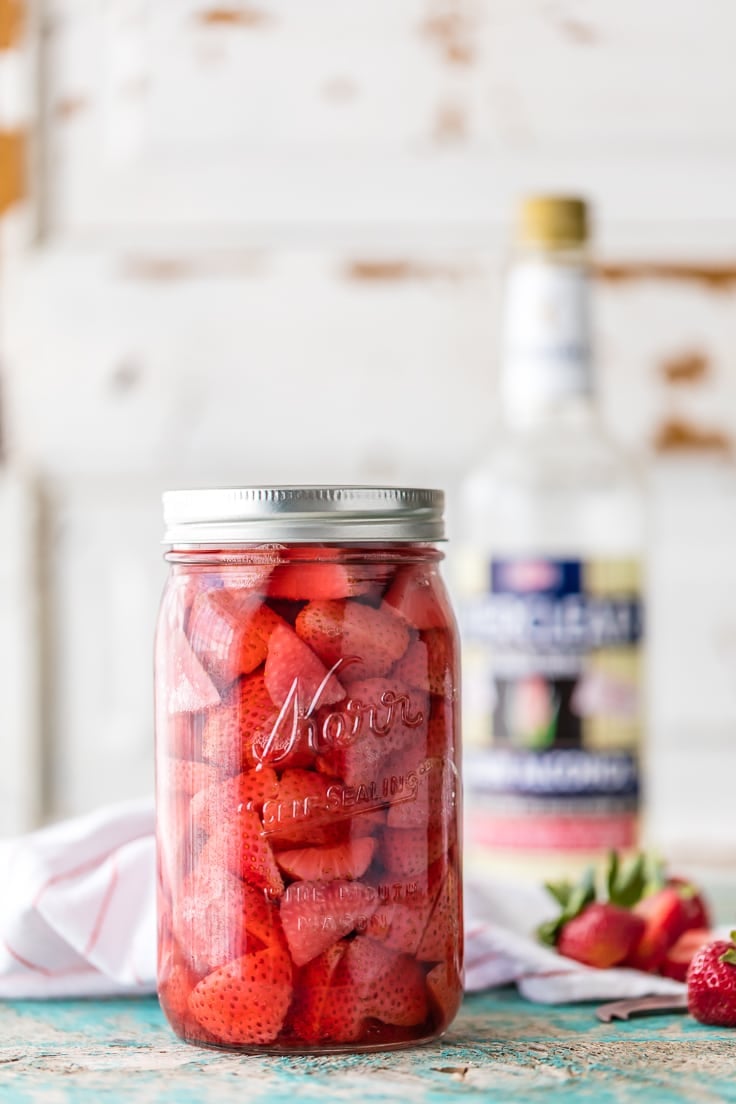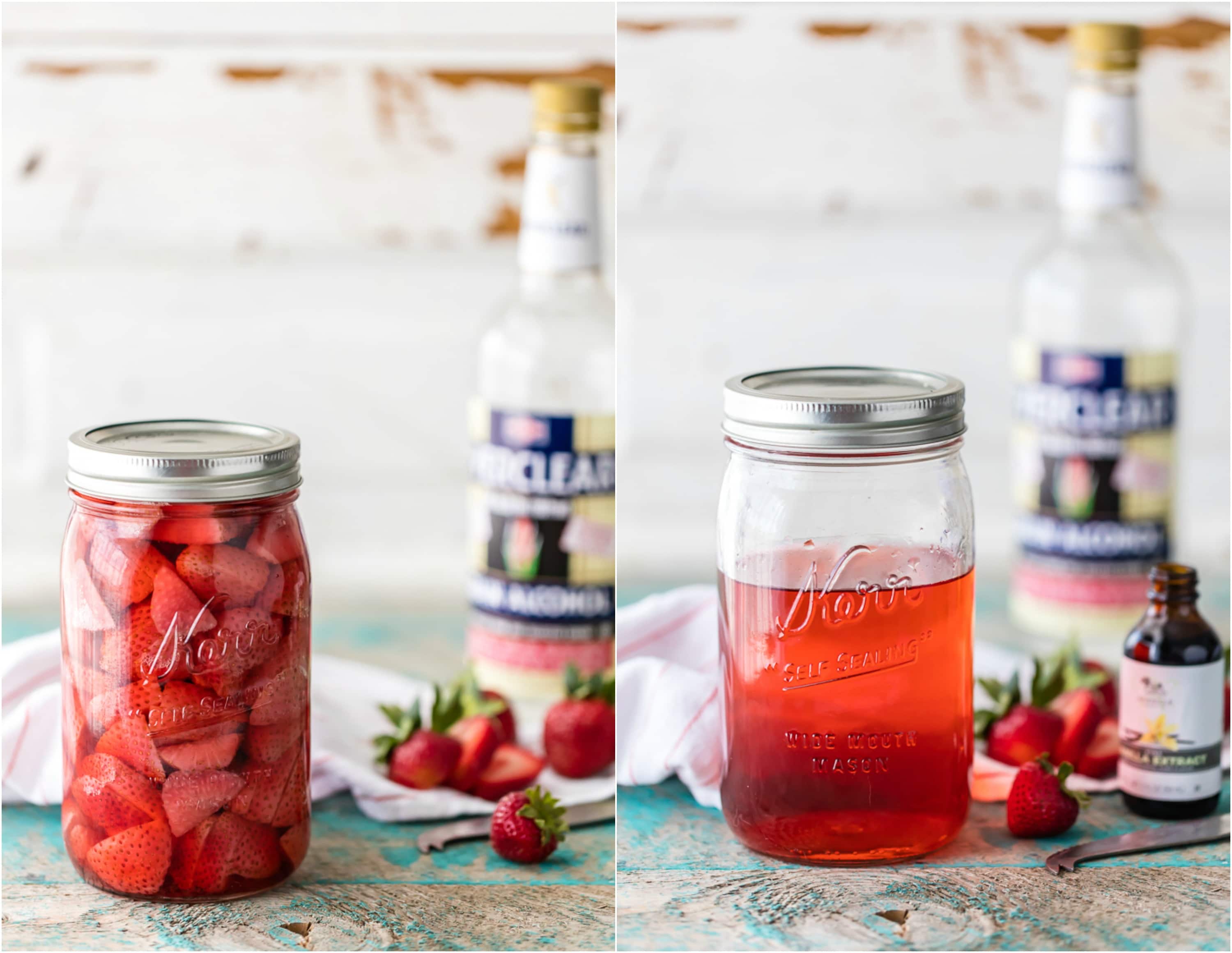 I'm beyond thrilled and honored to be partnering with Everclear® to come up with fun infusions this year. (Remember the amazing Peach Tea Vodka I made last month??) I had no idea just how crazy easy it is to make Everclear transform into fun flavored vodkas, liqueurs, or schnapps. Everclear has created a GORGEOUS website, Make It Your Own by Everclear®, where they have compiled tons of amazing recipes for infusions; everything and every flavor you can think of (except for Strawberry Shortcake Vodka…until now!). SO FUN. Everclear® is a 190 proof grain alcohol with no taste, making it the perfect clean slate for flavors. It's fast to pull flavor from the ingredients you're adding and you don't even need much! It should be diluted 1:1 with filtered water because of its strength (this is IMPORTANT). One bottle goes a long way, making this SO cost effective. The possibilities are endless, not to mention fun! As soon as you taste the tart/sweet/perfect flavor of this Strawberry Shortcake Vodka you'll be a believer. Making your own vodka is the way to go!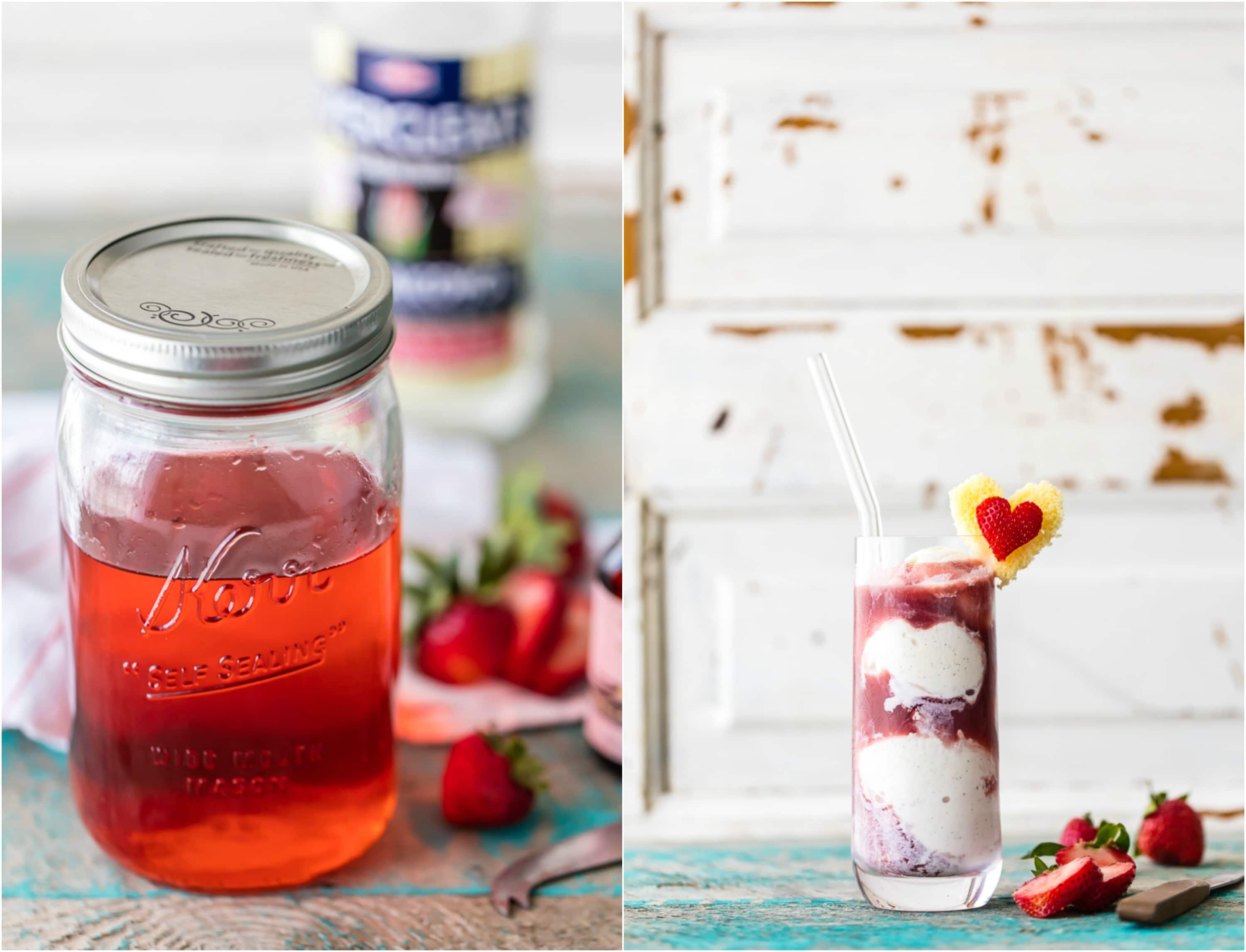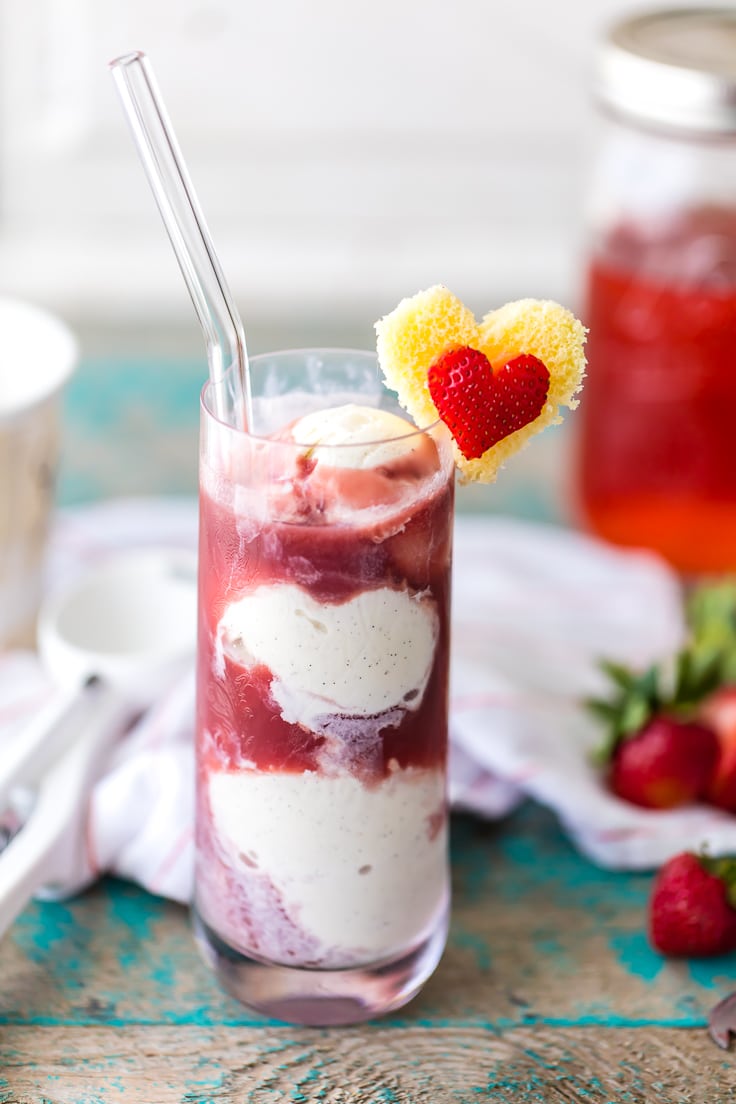 Once you have amazing Strawberry Shortcake Vodka, you need an amazing cocktail to go with it! Since it's Summer, Ice Cream is a must! Spiked Strawberry Shortcake Ice Cream Floats are just what you need to get any party started, especially in this heat we have been having. Creamy, delicious, and fun…my kind of drink!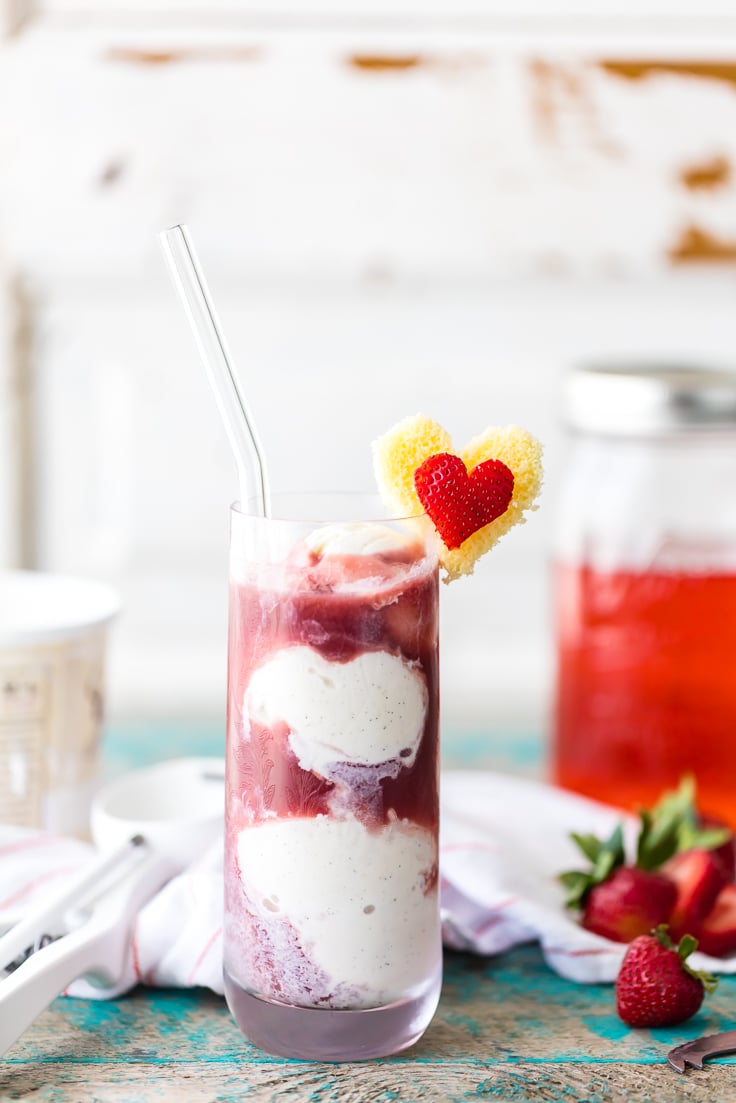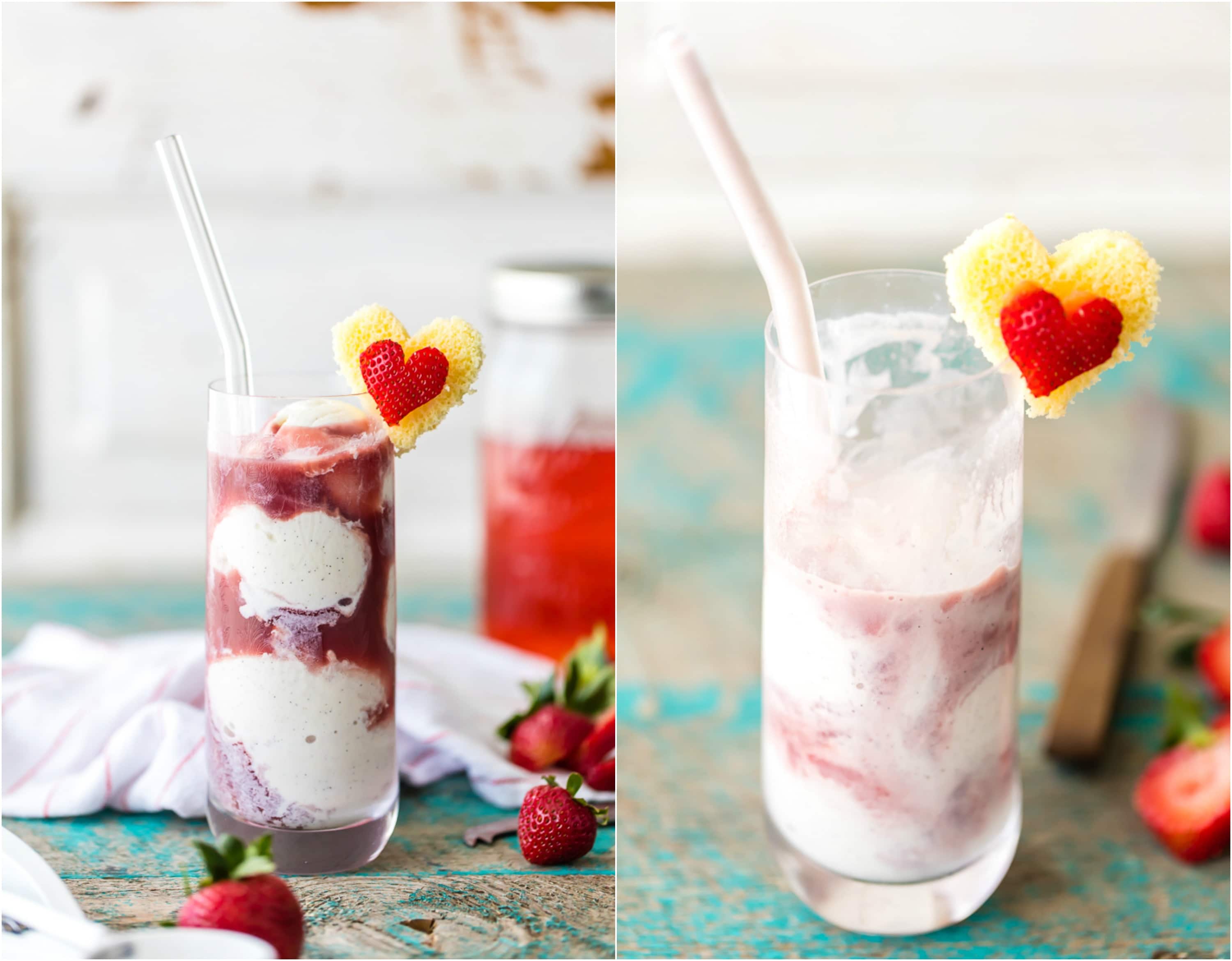 The moral of this story is that making your own brightly flavored vodkas at home is the best way to entertain!  I hope you love this Strawberry Shortcake Vodka as much as we do. Be sure to check out the other fun recipes using Everclear for infusions over at Make It Your Own. You won't regret it! Enjoy :)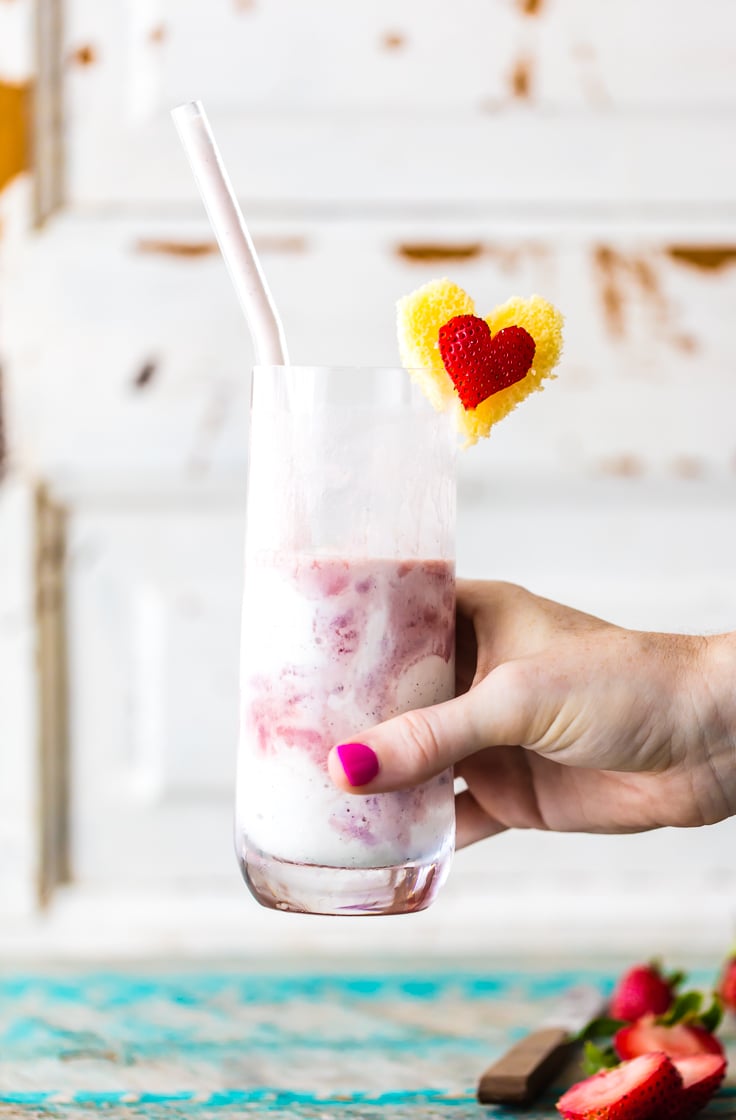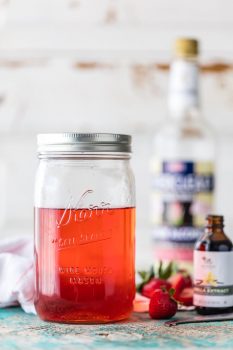 Homemade Strawberry Shortcake Vodka (PLUS Spiked Strawberry Shortcake Ice Cream Floats!)
Ingredients
For the Strawberry Shortcake Vodka
16

ounces

strawberries

hulled and sliced

Approximately 2 cups Everclear

190 proof

1 3/4

cup

filtered water

1

teaspoon

pure vanilla extract

1/4

cup

simple syrup
For the Spiked Strawberry Shortcake Ice Cream Floats
vanilla bean ice cream

1

cup

strawberry juice

or a berry blend juice

3

ounces

Strawberry Shortcake Vodka
Instructions
For the Strawberry Shortcake Vodka
Fill a 32 ounce mason jar with the sliced strawberries. Use more or less strawberries as needed to fill the jar all the way to the top.

Pour in the Everclear.

Seal the jar and shake lightly to make sure that all of the strawberries are fully submerged and touched by the Everclear.

Refrigerate for a minimum of 48 hours.

When ready to continue, pour the Everclear through a fine mesh strainer to remove the strawberries. Return the flavored vodka to the mason jar.

Pour in the simple syrup, vanilla extract, and filtered water. Stir to fully combine.

Seal tightly and store in the fridge until ready for use,
For the Spiked Strawberry Shortcake Ice Cream Floats
Mix together the 3 ounces (1 shot) Strawberry Shortcake Vodka with the strawberry or berry blend juice.

Fill a tall glass with vanilla ice cream and top with the juice mixture.

Enjoy!
 This post is sponsored by Everclear. As always, all opinions are 100% mine. Thanks SO much for supporting the brands that help support The Cookie Rookie!