Homemade Apple Vodka is an easy gift idea for Fall. This Homemade Vodka recipe is so simple and so delicious!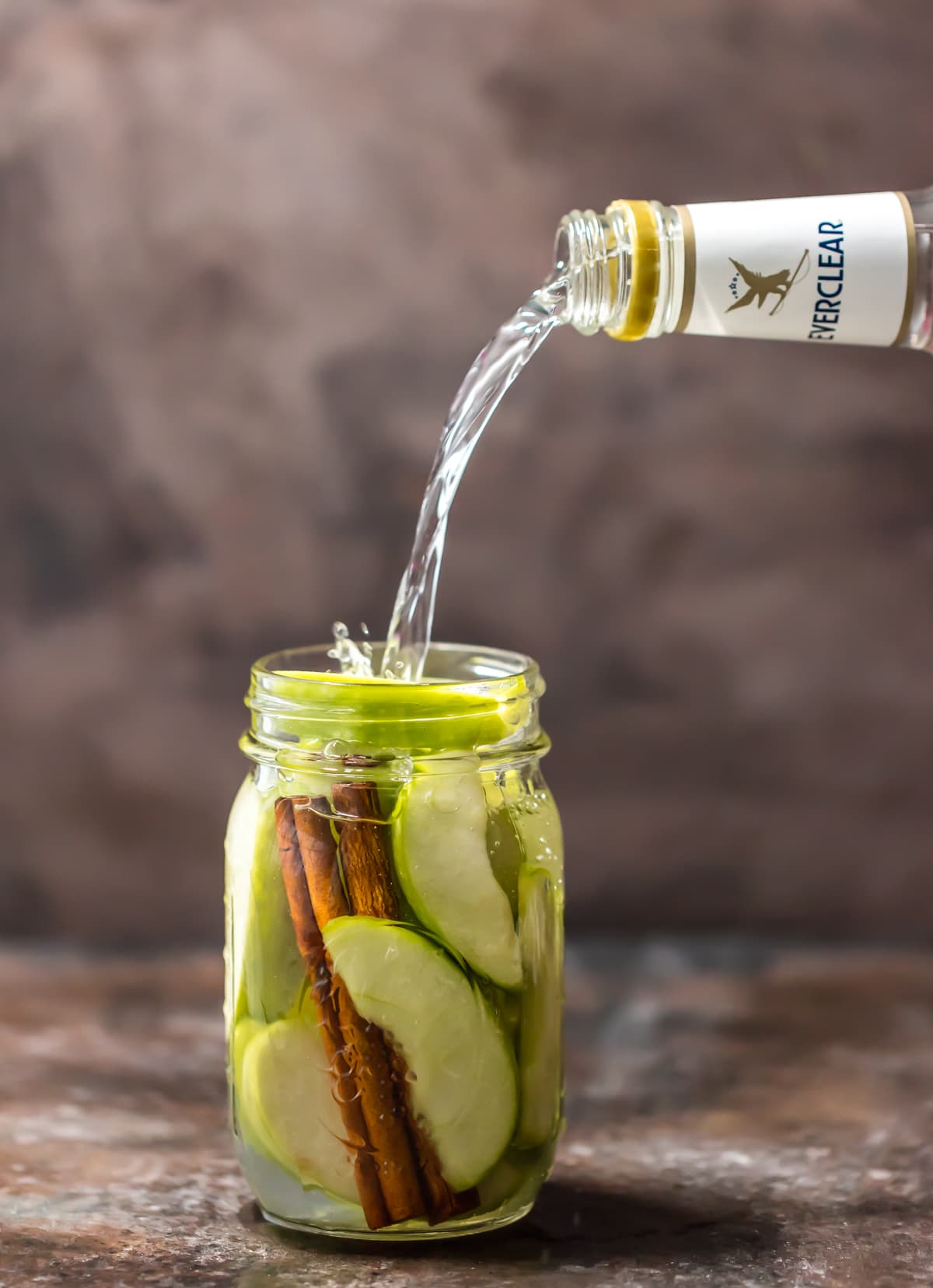 Homemade Apple Vodka
Apple Pie Vodka is the perfect fall drink! This homemade vodka is so simple and so delicious. Make apple vodka to mix up into your own cocktails!
I'm a girl who LOVES Fall. I love the cooler weather, the approaching holiday spirit, and APPLE SEASON! Apple pie is one of my favorite things on Earth, and TIS THE SEASON! Forget Pumpkin Spice, for me, apple is the flavor of Fall and worth all the hype!
I have made plenty of apple themed recipes in the past: Apple Pie Sangria, Easy Apple Dumplings, Mini Apple Pie Cheesecakes, and Apple Pie Moscow Mules to name a few. They're all great and worth making again and again, but today I want to go straight to the source. HOMEMADE APPLE PIE VODKA! The perfect additive to any cocktail in the Fall, am I right?! Can you believe it's SUPER EASY to make this homemade vodka right in your own home? It's a great Autumn or holiday gift, or you can keep it in your fridge for your own celebrations!
This apple vodka is so delicious and really brings together the best fall flavors: apple and cinnamon! You can do so much with it, but I especially love it for making this Apple Pie Spritzer. The best fall cocktail!
Make Apple Pie Vodka right in your own home! This delicious homemade vodka recipe is delicious, and makes an amazing Apple Pie Spritzer too.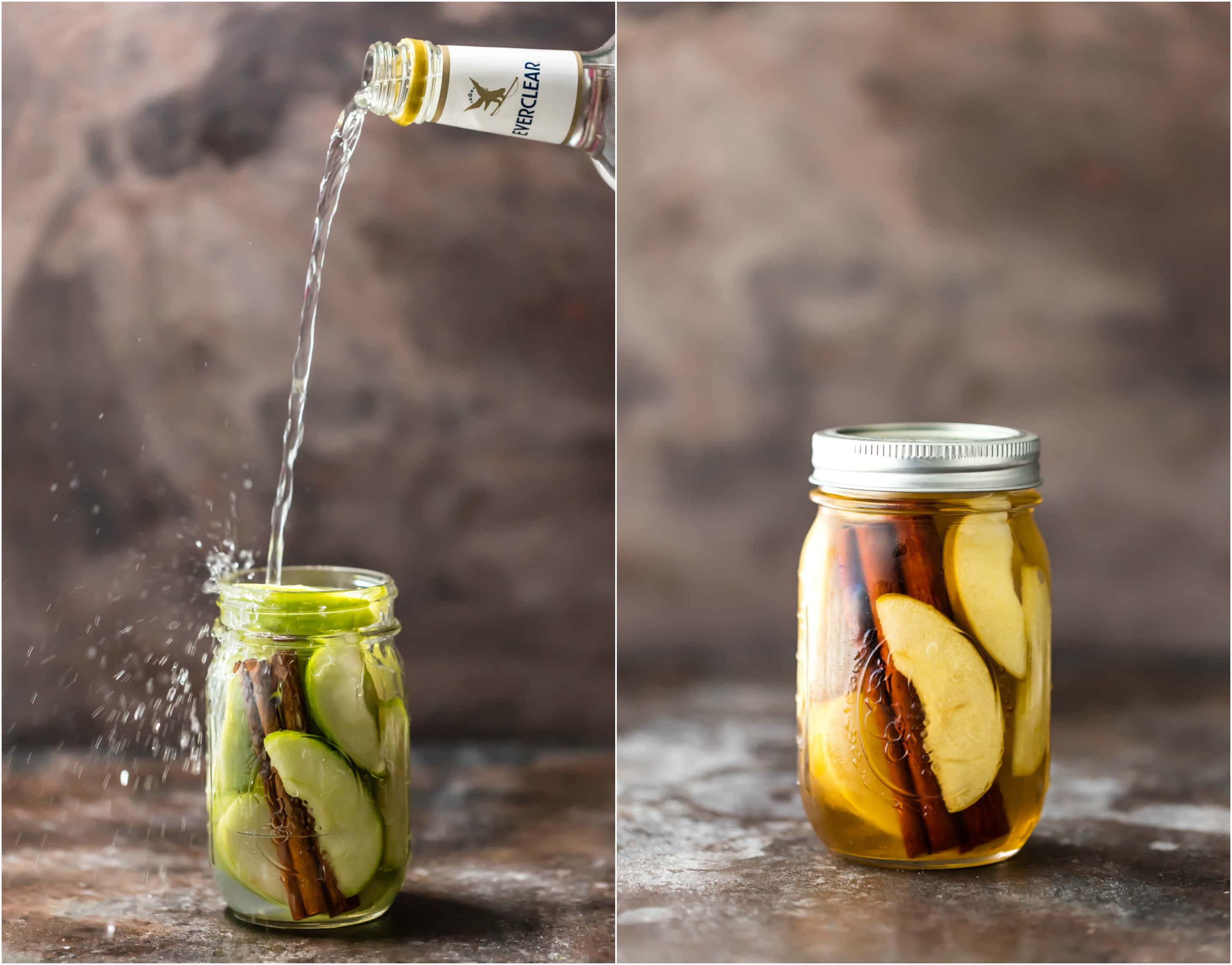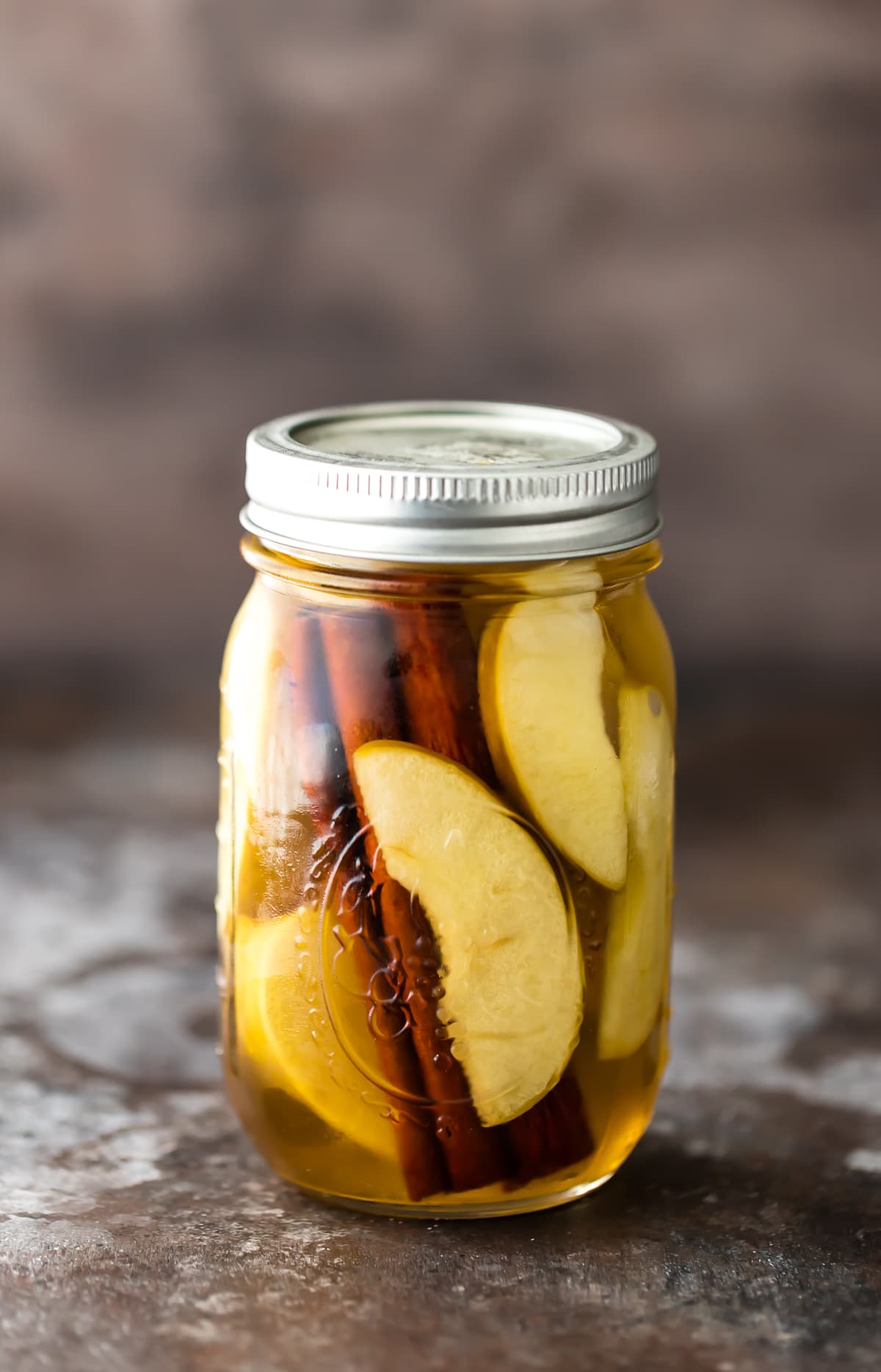 Apple Pie Everclear Vodka
Homemade Apple Pie Vodka is as simple as letting some apples and cinnamon sticks soak in Everclear, add in some water and simple syrup, and enjoy! It has a naturally bright and spiced flavor that will leave you smiling and thinking of Fall. I'm beyond thrilled and honored to be partnering with Everclear® to come up with fun infusions this year. I had no idea just how crazy easy it is to make Everclear transform into fun flavored vodkas, liqueurs, or schnapps.
Everclear has created a GORGEOUS website, Make It Your Own by Everclear®, where they have compiled tons of amazing recipes for infusions; everything from Chocolate Liqueur to Chai Vodka. You might remember that I've already made Peach Tea Vodka and Strawberry Shortcake Vodka this year. SO easy and SO FUN. Everclear is a 190 proof grain alcohol with no taste, making it the perfect clean slate for flavors.
It's fast to pull flavor from the ingredients you're adding and you don't even need much! It should be diluted 1:1 with filtered water because of its strength (important step!). One bottle goes a long way, making this SO cost effective. The possibilities are endless, not to mention fun! This Homemade Apple Vodka is pretty much fool-proof, and I have a feeling you're going to love it!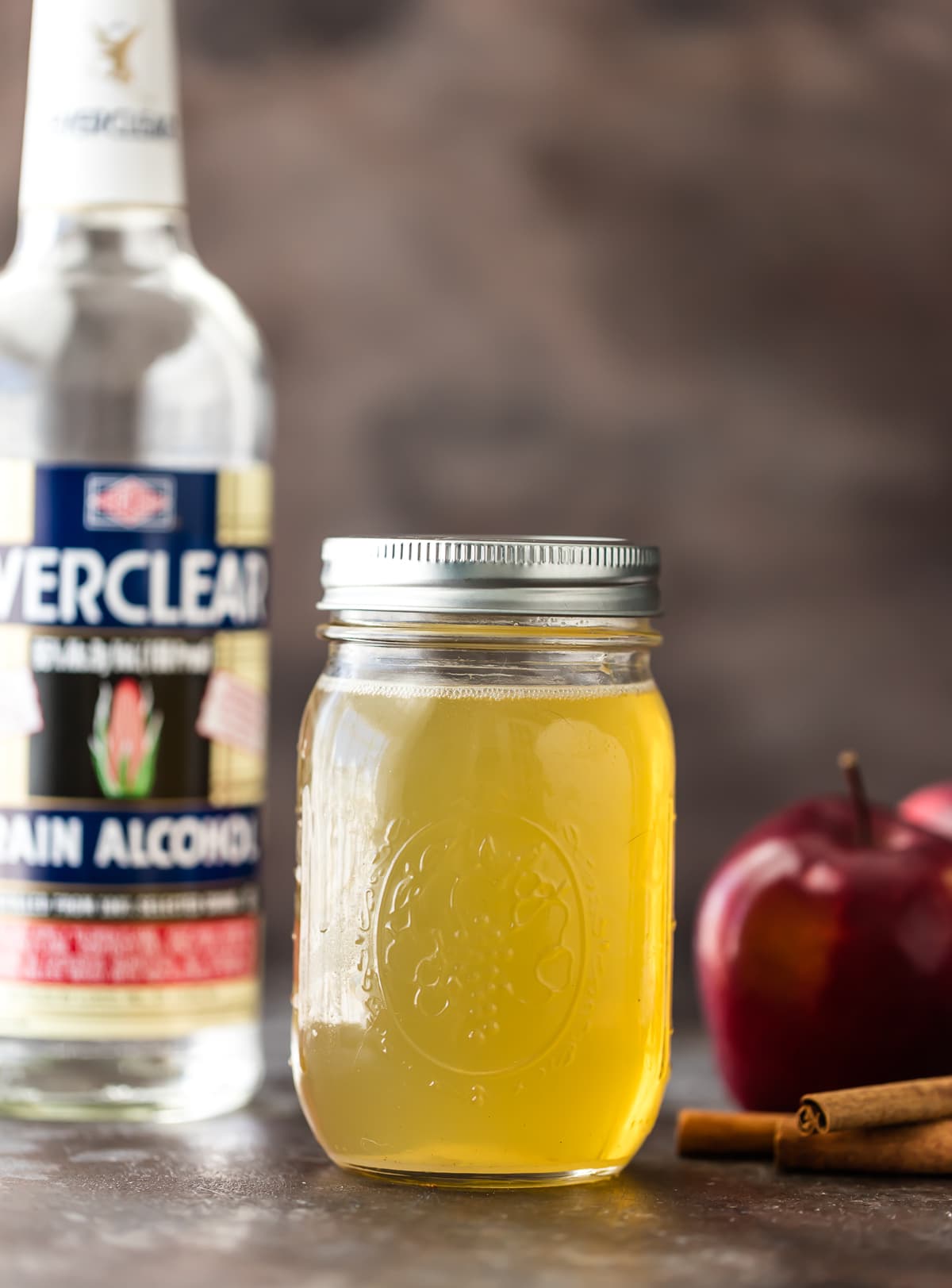 How to Make Homemade Apple Pie Vodka
Making your own vodka might sound tough, but we've got it easy with this recipe. We're just adding the delicious apple pie flavors into vodka by letting it sit to soak up all of the apple and cinnamon flavor.
Fill mason jar with sliced apples and cinnamon sticks.
Pour in the vodka and fill to the brim.
Seal the jar and give it a light shake, then store it in the refrigerator for at least 48 hours.
After it has set, pour the vodka through a strainer to get rid of the apples & cinnamon.
Return the vodka to the jar, add in the simple syrup, then fill the rest with water. Stir to combine.
This homemade vodka is ready to drink now. Pour it over ice or mix it into a fun cocktail. The apple vodka will keep for 2-3 weeks in the refrigerator!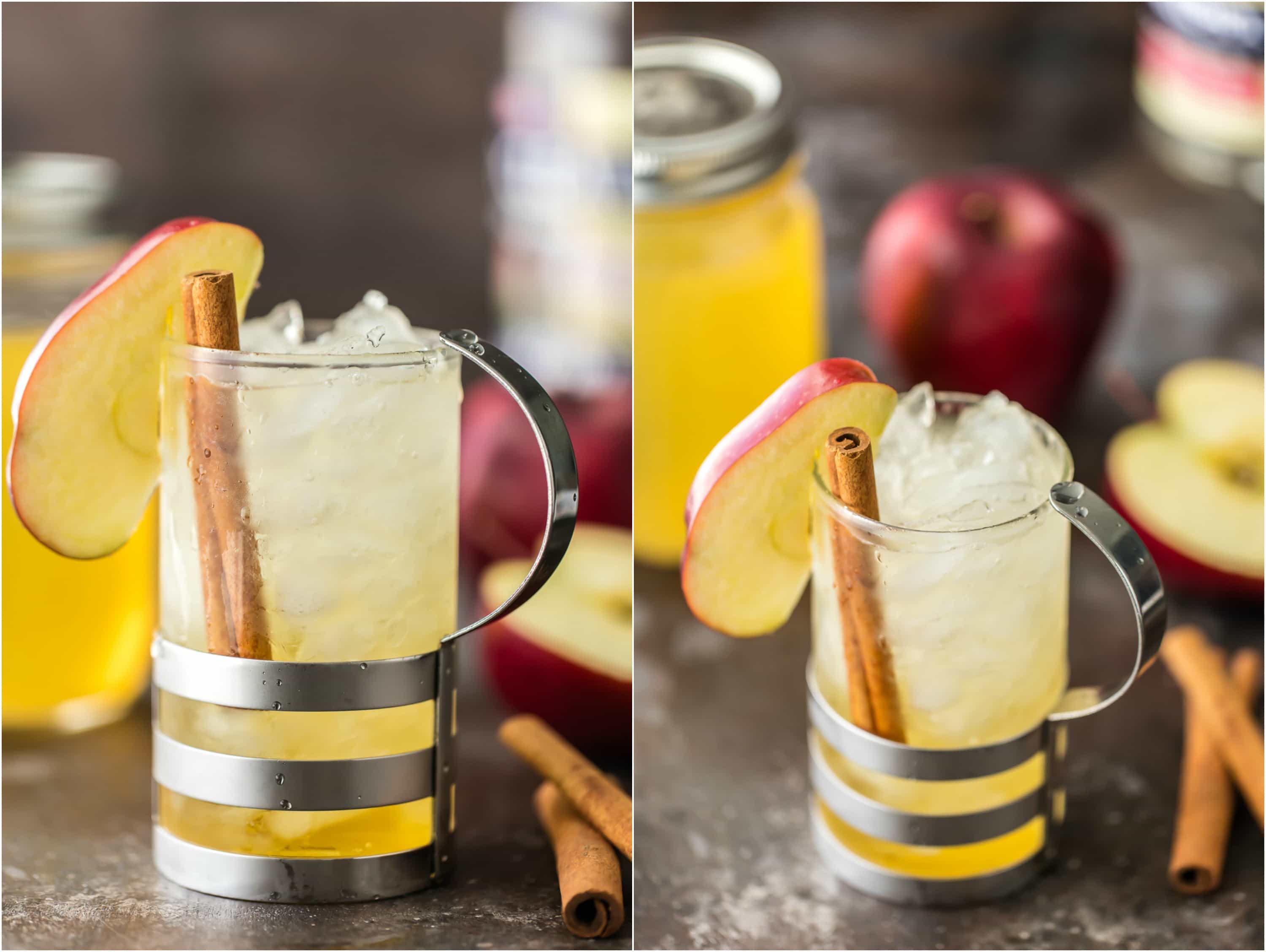 This Homemade Apple Pie Vodka is refreshing, flavorful, and fun. It's perfect for fall, whether you sip it on its own, or mix it into a drink.
See the recipe card below for details on how to make Homemade Apple Vodka (& an Apple Pie Spritzer). Enjoy!
If you like this homemade apple vodka recipe, try these other homemade alcohol recipes: