Need to know how long to thaw the turkey, or when to start defrosting it before Thanksgiving? I'm sharing everything you need to know about thawing a frozen turkey safely (in the refrigerator or in cold water), when to defrost it, and a thawing chart for how long depending on the size.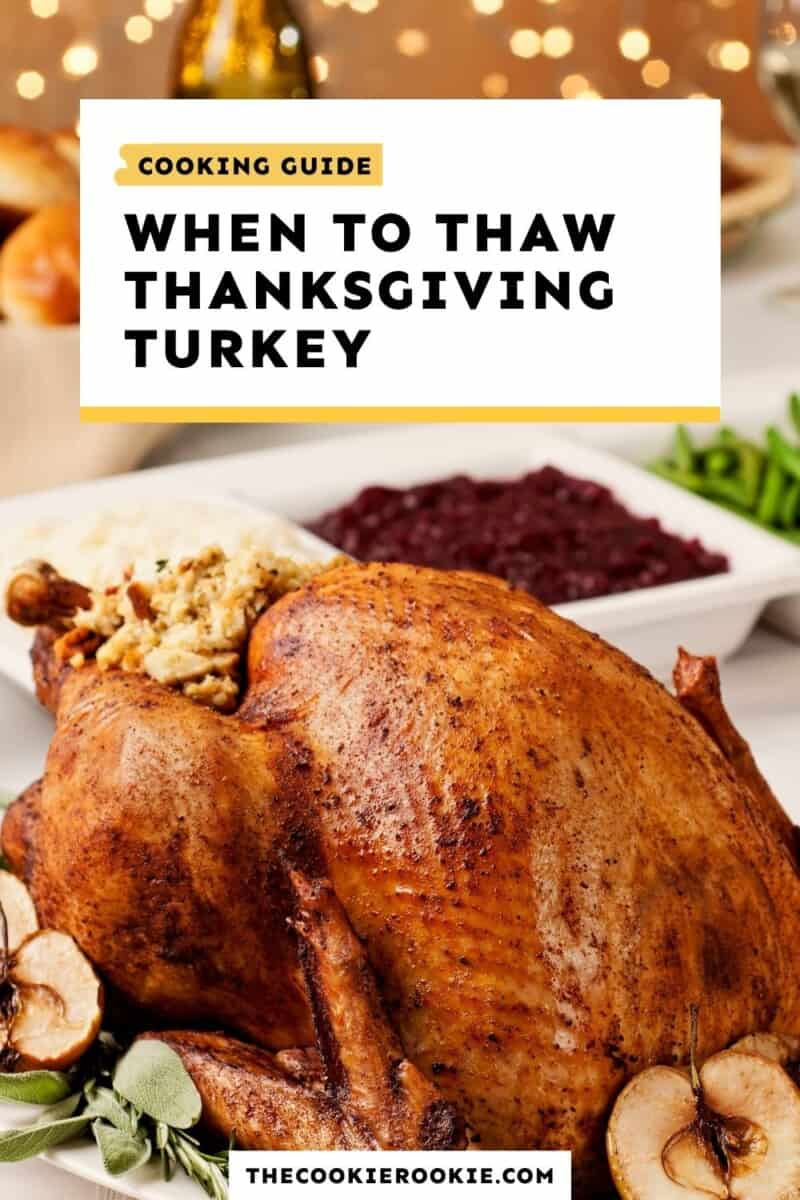 When to Thaw your Thanksgiving Turkey
Cooking the turkey for Thanksgiving (or Christmas or any special holiday) is a major part of the holiday process, and the process for a frozen turkey actually starts days before.
Thawing the turkey can take days, depending on the size, so making sure it has plenty of time to defrost before cooking is an important step.
Since fresh/unfrozen turkeys can only sit in the refrigerator for 2 days, buying a frozen one is usually the best option (unless you don't mind doing your shopping last minute). It will keep in the freezer long-term, up to a year or more.
So now that you've got the turkey, let's prepare to thaw it the right way, so it's ready to cook when you need it.
How to Thaw a Turkey Safely
For the sake of food safety, let's start with a few important DON'Ts when it comes to defrosting a frozen turkey. Then we can move on to the safe way to do it. I know you want to do it as quickly as possible, but it will take time.
DON'T let it sit at room temperature for more than 2 hours.
DON'T let it sit out overnight.
DON'T forget to change the water every 30 minutes (if thawing in cold water).
DON'T let it sit in the fridge more than 2 days once it's thawed.
DON'T forget to place the turkey on a tray or in a container while defrosting in the refrigerator (to collect any liquids and avoid spreading bacteria).
Turkey Thawing Time Chart
Wondering how long it takes to defrost that turkey? It depends on which method you're using: the fridge or the cold water method. Use this time chart to figure out how many days before Thanksgiving you should start thawing the frozen turkey (based on size).
How long to defrost in the refrigerator?
Plan for a full 24 hours of thawing time for every 5 pounds of turkey.
4-12 pounds: 1-3 days
12-16 pounds: 3-4 days
16-20 pounds: 4-5 days
20-24 pounds: 5-6 days
How long to defrost in cold water?
Allow 30 minutes of thawing time for every 1 pound of turkey.
4-12 pounds: 2-6 hours
12-16 pounds: 6-8 hours
16-20 pounds: 8-10 hours
20-24 pounds: 10-12 hours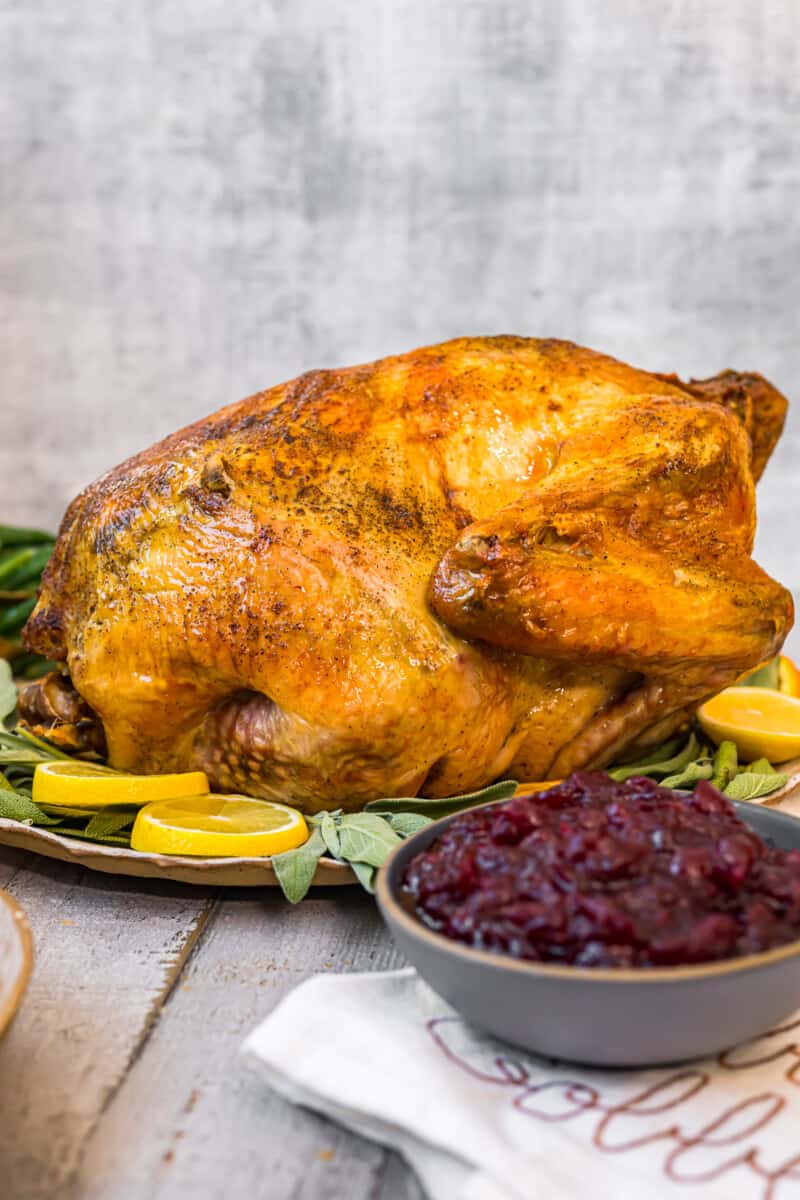 How to Thaw a Turkey – Step by Step
The easiest and safest way to do this is to set it in the refrigerator. This does take significantly more time though, so you need to plan ahead.
I'm also including the step by step for thawing it in cold water, which will only take hours (up to half a day). This method should be used on the day of, right before cooking. I don't recommend this because it is just tedious, but if you have the time and will be in the kitchen all day anyways, it works.
Thawing in the Refrigerator
Take the turkey out of the freezer. Place it on a large rimmed tray or in a roasting pan or container that can catch any liquid as it defrosts. Leave the turkey wrapped.
Clear out a space in the fridge (I recommend placing it on the bottom shelf so nothing leaks onto foods below it) and place the tray/container inside.
Simply let it sit for a few days, according to the thaw time chart above. You can add a day to the time before cooking just to be sure.
On the day of cooking, take the turkey out of the fridge, unwrap it, remove the giblets, and you'll be ready to cook.
Thawing in Cold Water
Take the turkey out of the freezer and leave it wrapped.
Fill a large bowl, pot, or container with cold water (about 40F, same temperature as the recommended fridge temp.). You need a large enough container, and enough water, that you can submerge the whole turkey.
Place the turkey in the cold water, and then change the water every 30 minutes. This is an important step.
Keep refreshing the water until it's fully thawed (use the chart above to time it).
When it's done, unwrap it, remove the giblets, and cook immediately (you don't want to let it sit thawed for too long).
Why do you have to change the water every 30 minutes?
This is a very important step for food safety reasons! The water needs to be changed regularly to make sure it stays cool enough (about 40F) to thaw the turkey at a safe rate.
If the water gets too warm (even to room temperature), it will have the same effect as leaving poultry out of the fridge for more than 2 hours (bacteria will grow).
That's why you cannot leave turkey out overnight to thaw without keeping an eye on it and changing the water.
Can you refreeze a thawed turkey?
If you defrost the turkey in the refrigerator, then YES, you can refreeze the turkey without cooking it. It will refreeze, and then you can follow the steps to defrost and cook another time.
However, if you defrost it in cold water, you CANNOT refreeze it. It needs to be cooked immediately upon thawing, and then you can refrigerate or freeze the cooked meat. If you don't end up cooking it, it would simply need to be thrown away.
Easy Turkey Recipes
Follow the steps above to defrost a whole turkey or a turkey breast, then try some of these delicious turkey recipes!
How long can a thawed turkey stay in the fridge?
Similar to storing a fresh turkey, a thawed turkey can sit in the fridge up to 2 days. It's a pretty short time period, so it is important to time the defrosting correctly. However, 2 days is a perfect leeway leading up to Thanksgiving.
Can you cook a fully frozen turkey?
You can cook the turkey straight from the freezer if needed (or partially thawed). So if you run out of time to thaw it, or maybe just forget to move it to the refrigerator, don't worry. You'll need to add a bit more cook time when roasting. I still recommend thawing it for the best results, but it is completely safe either way.
How long does it take to defrost a turkey?
This depends on the size of the turkey, and the thawing method you use. Check the turkey thaw chart above for specific time frames.
Can you leave a turkey out to thaw overnight?
No! This is not a safe way to defrost turkey. Either defrost in the refrigerator, or use cold water, changing it every 30 minutes.
How long can you keep a frozen turkey?
You can safely buy and freeze your turkey for Thanksgiving up to a year ahead of time. For best results, cook frozen turkey within one year
Can you defrost using warm water?
No. Only defrost a turkey in COLD water (as outlined above). Using warm water can cause bacteria to start growing on the surface if left out for more than 2 hours.
What's the best way to cook a whole turkey?
Roasting is the easiest way to cook a whole turkey after thawing. Check this roast turkey recipe for a how-to.
Thanksgiving Cooking Guides
We LOVE to put everything in one place. We have compiled our fave Thanksgiving recipes, tips, and tricks in our easy to read cooking guides. Check them out!
See All Guides