Smoked Turkey Breast is so juicy and a delicious option for Thanksgiving dinner. You are going to love this smoked turkey chicken breast recipe! It's amazingly juicy and succulent and packed full of flavor. Smoke it on your gas or charcoal grill or Big Green Egg for a show stopping Thanksgiving feast!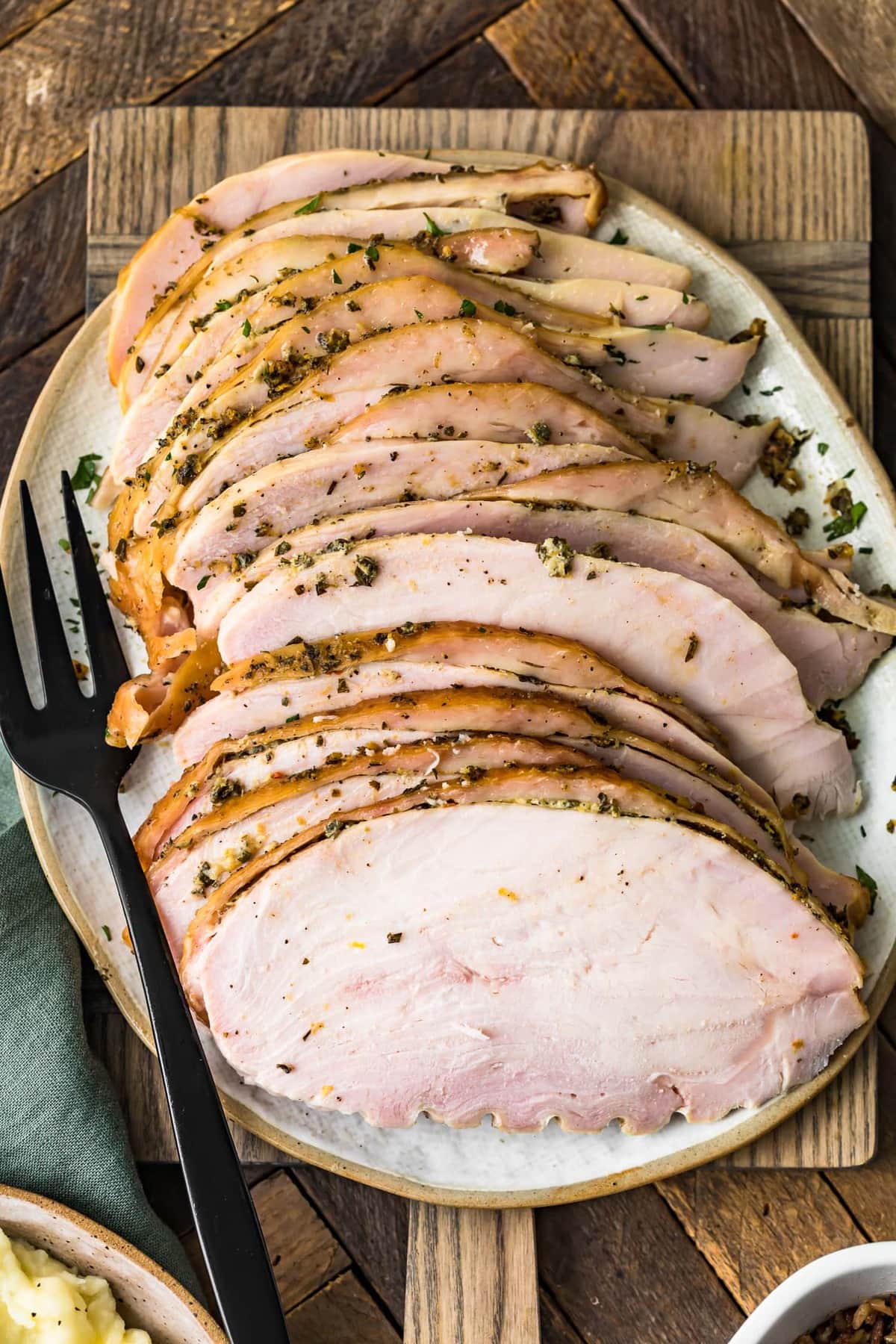 There's nothing quite like a smoked turkey for the holidays and my method results in a perfectly cooked juicy turkey breast every time! If you are thinking of smoking your turkey this year, be sure to give this method a go!
How to Smoke Turkey Breast Recipe
You'll see (in great detail) in our recipe card at the bottom of the post just how to smoke a turkey breast for Thanksgiving! We have included instructions for how to use a Big Green Egg, Charcoal Grill, or Gas Grill to Smoke your Turkey!
No matter what equipment you have at your house, we can help you make the most amazing smoked turkey breast. We've included tips and tricks for making the best easy brine and herb butter rub. SO JUICY!
Be sure to see the recipe card below for full ingredients & instructions!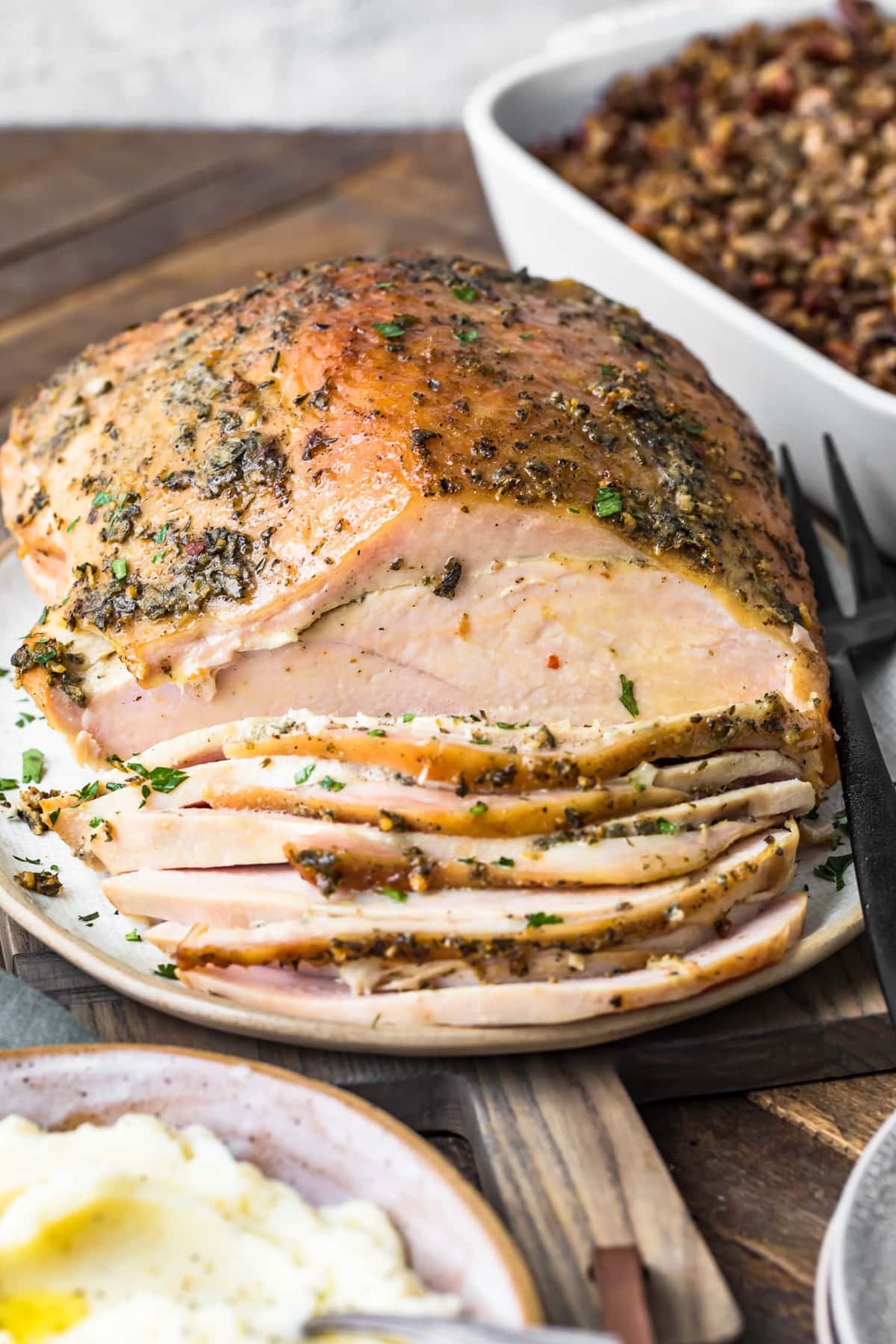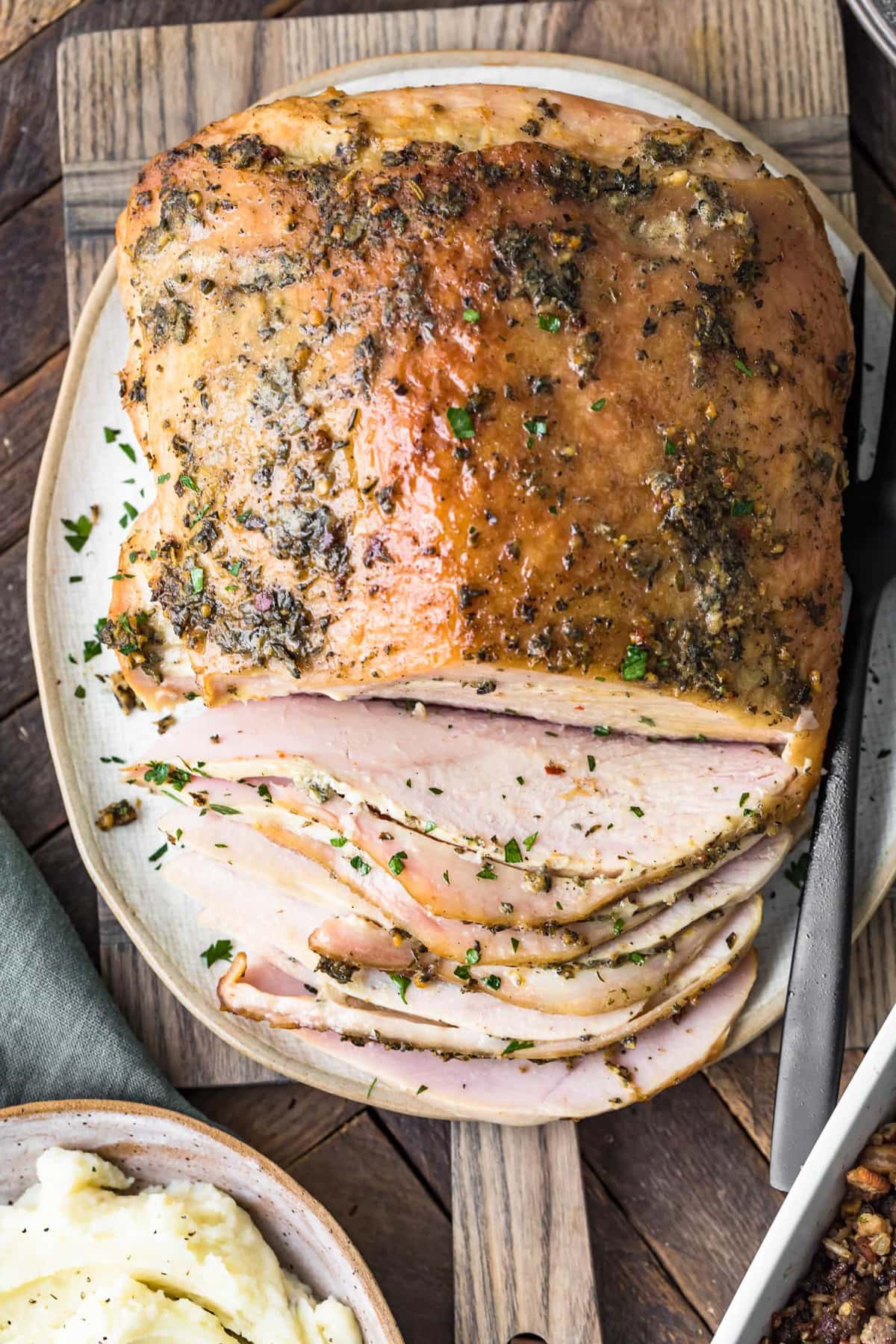 Do you have to brine the turkey?
I really would recommend to brine your turkey breast before smoking it. Brining helps to keep the moisture in the breast as well as adding to the flavor.
This is a simple brine of salt, sugar and water, it's easy to do, you just need to allow a little extra time.
How do you know when smoked turkey breast is cooked?
Do note that the cooking times are different depending on which type of grill or smoker used for this recipe. The breasts can take anywhere from 1½ hours up to 4 hours, depending on the size of the breasts and the method used.
The smoked turkey breast is done when a meat thermometer reads 162°F-163°F.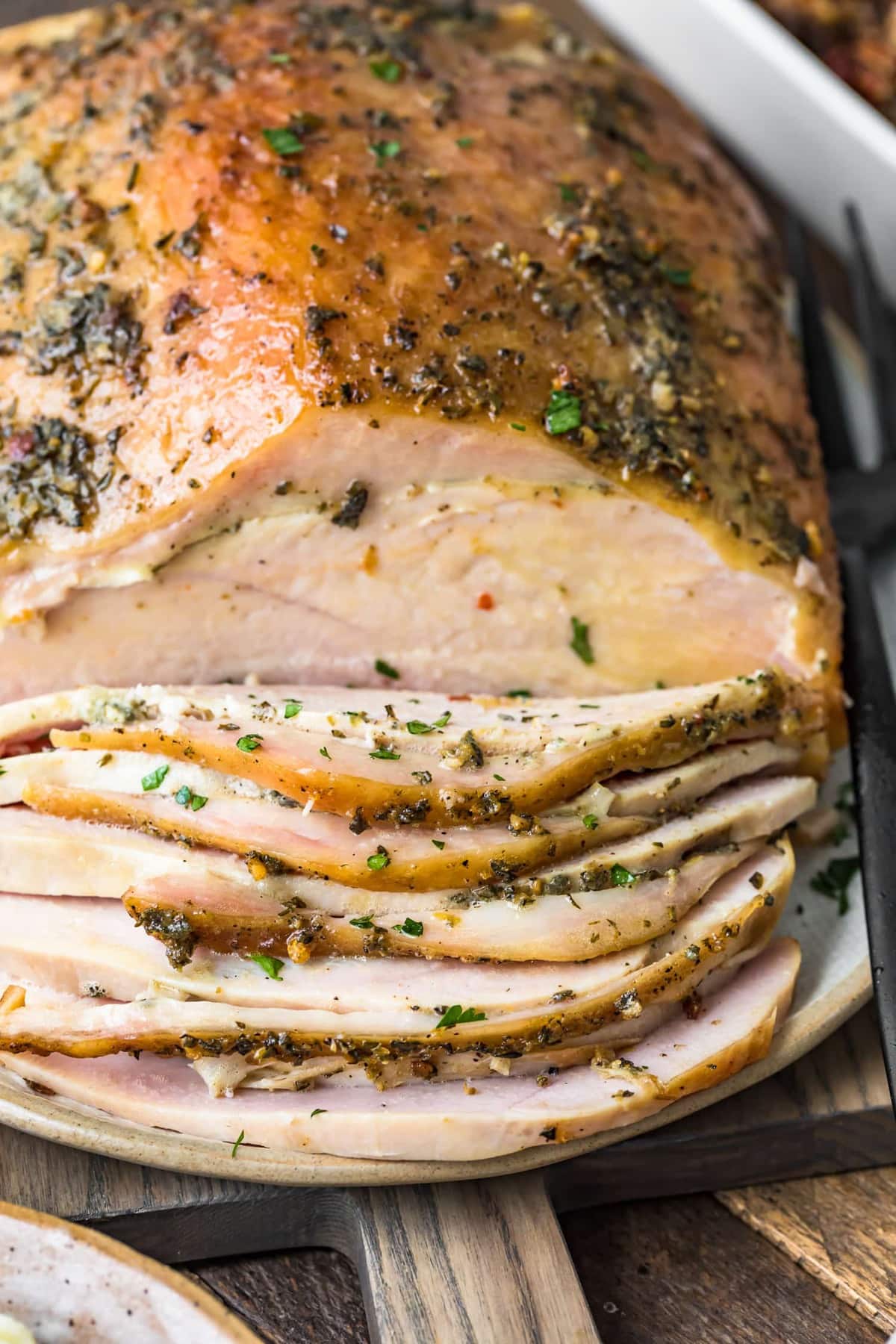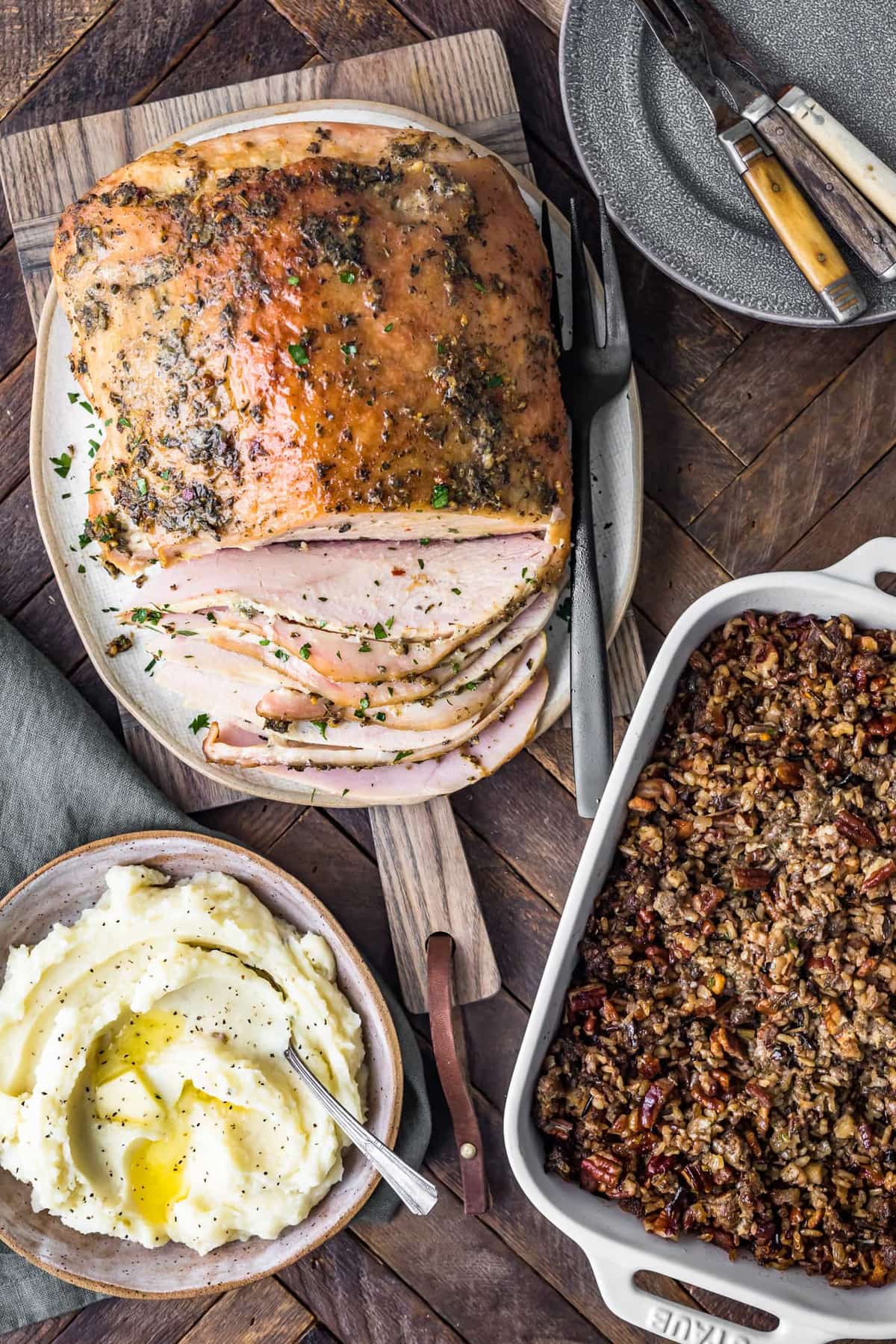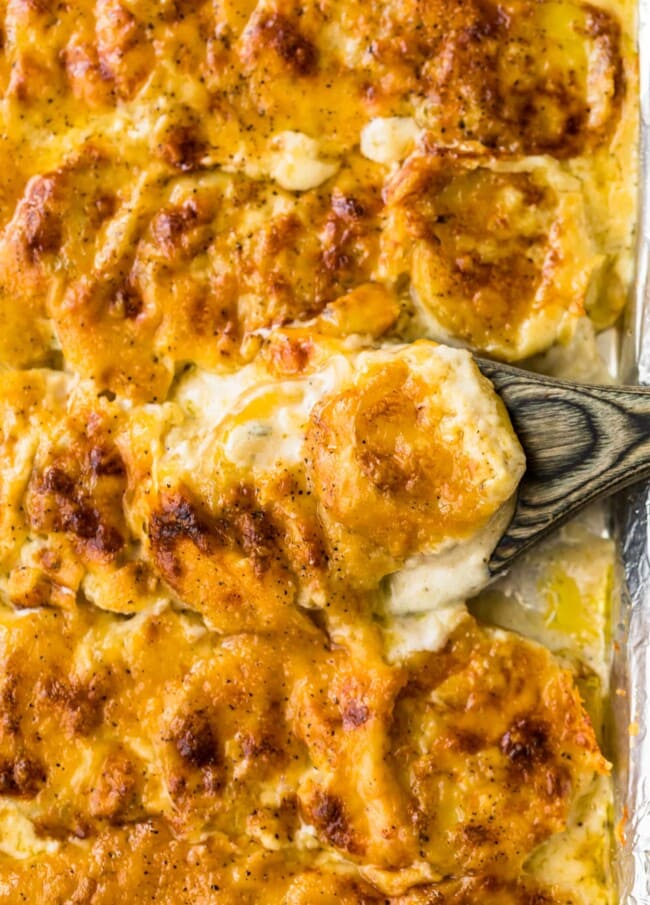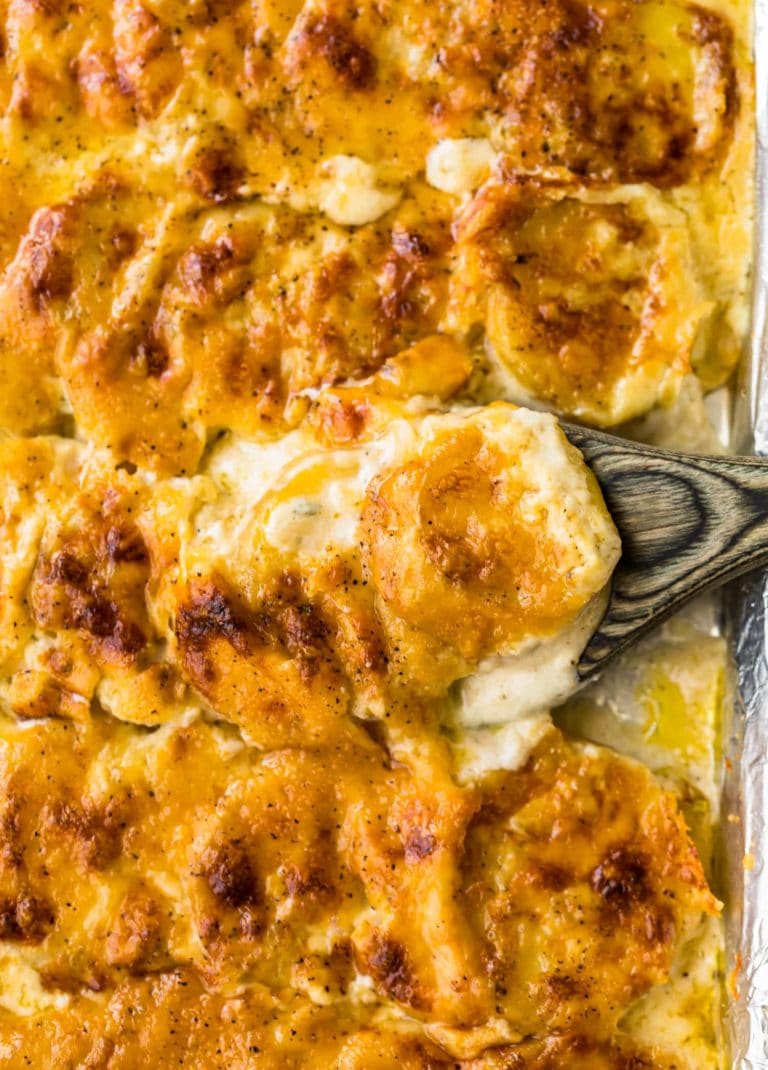 Try ALL the Sides
60+ Holiday Side Dishes
This Thanksgiving we hope you enjoy as many sides as possible with this Roast Turkey Breast!
See Sides
What goes with smoked turkey?
This smoked turkey breast should be served the same way you would serve a roasted one. All of your usual holiday sides will work wonderfully with this. Check out these recipes for some inspiration: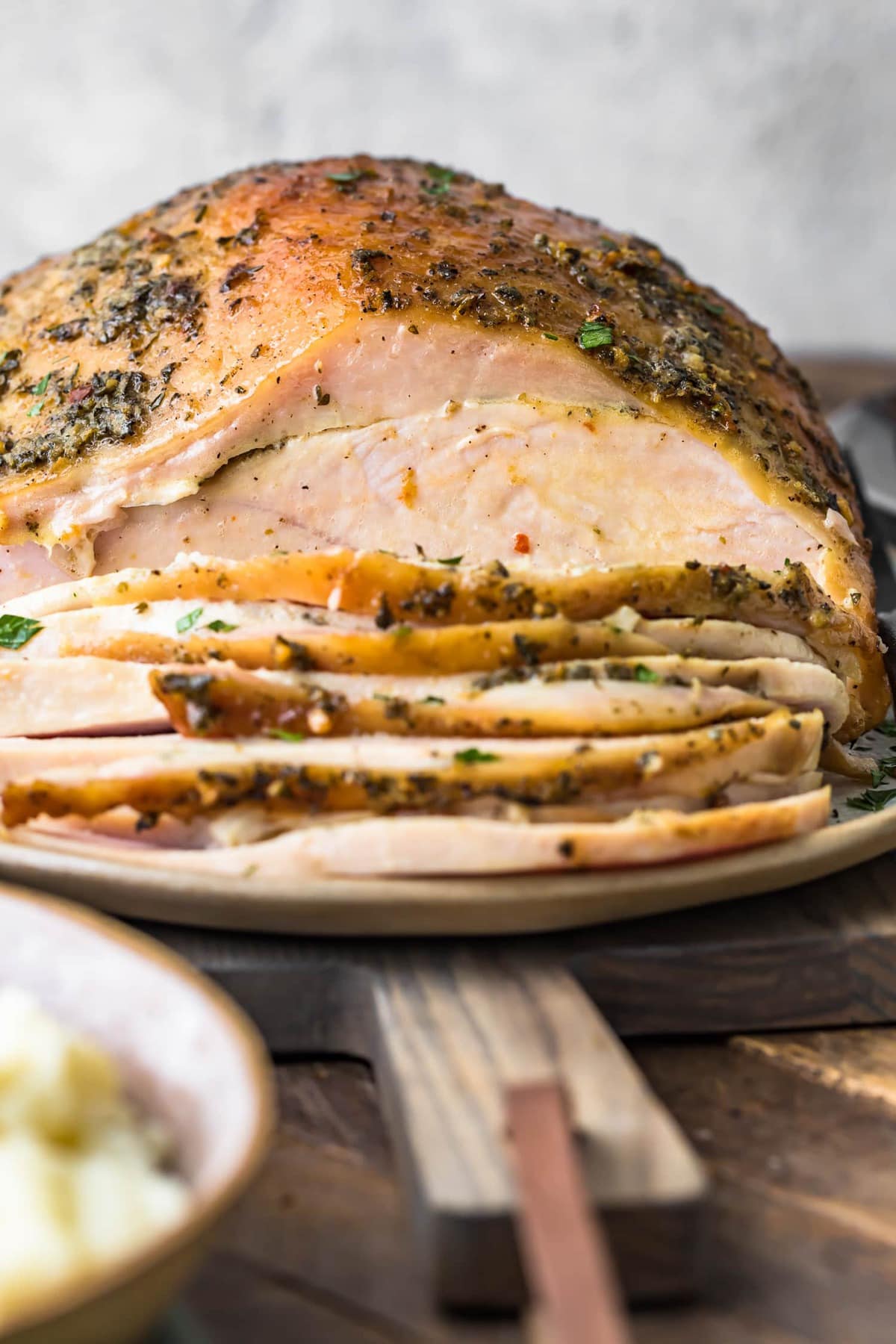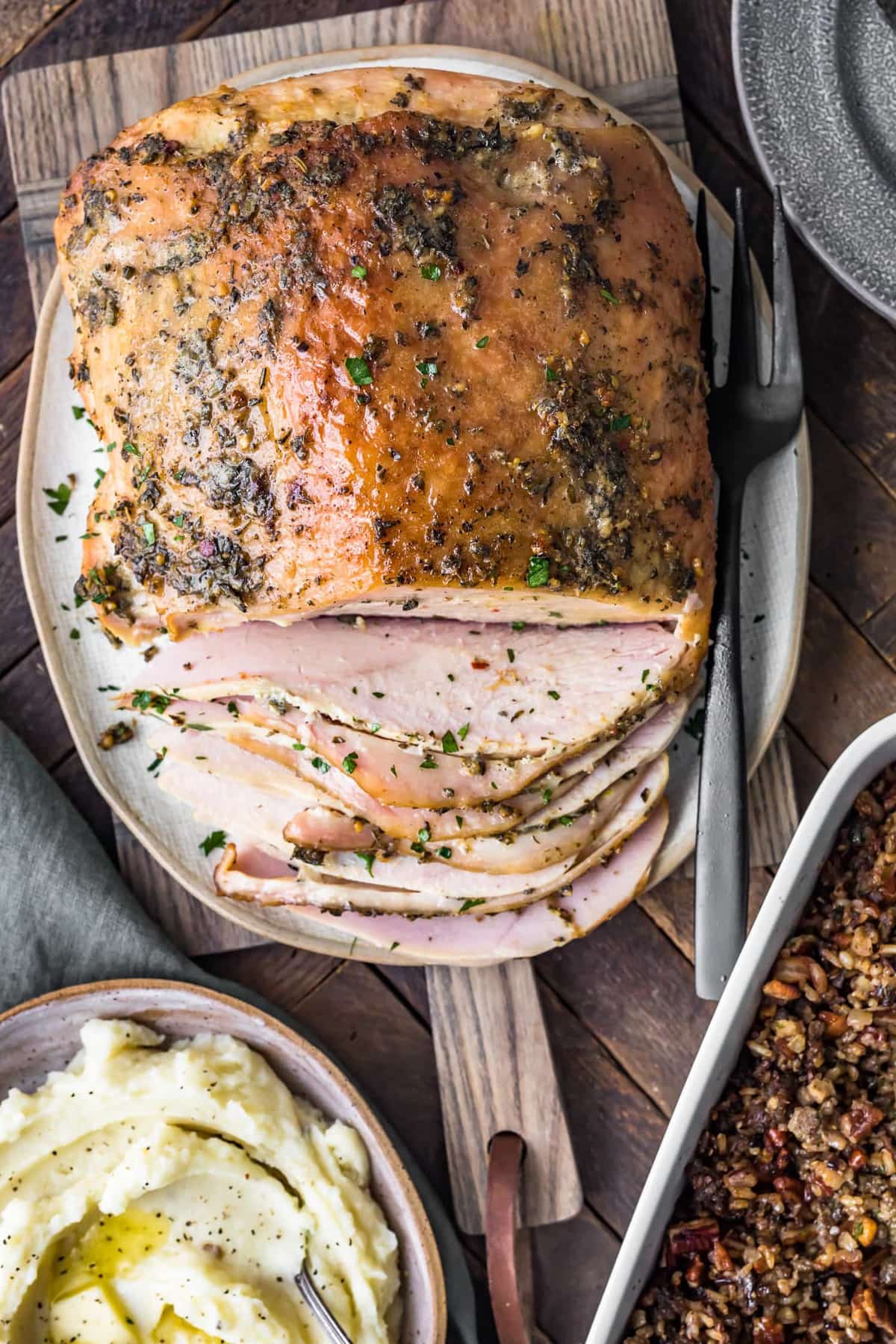 Tips!
Use a natural, un-brined whole turkey breast (not Butterball- style)(boneless or bone-in).
When brining, make sure to completely submerge the breast.
Let the turkey breast come to room temperature before smoking it.
Let the breast rest for at least 20 minutes before slicing and serving it.
What to do with Leftovers
If you've got some extra turkey after the Thanksgiving feast, save it for one of these leftover recipes: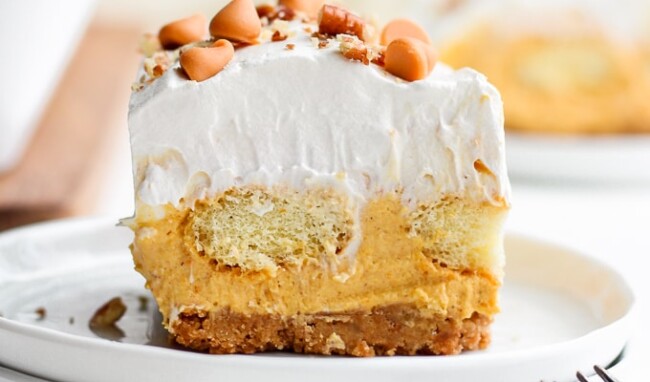 It's not Thanksgiving without Pie!
88+ Thanksgiving Dessert Ideas
Every Thanksgiving table needs an equally amazing dessert table.
See Desserts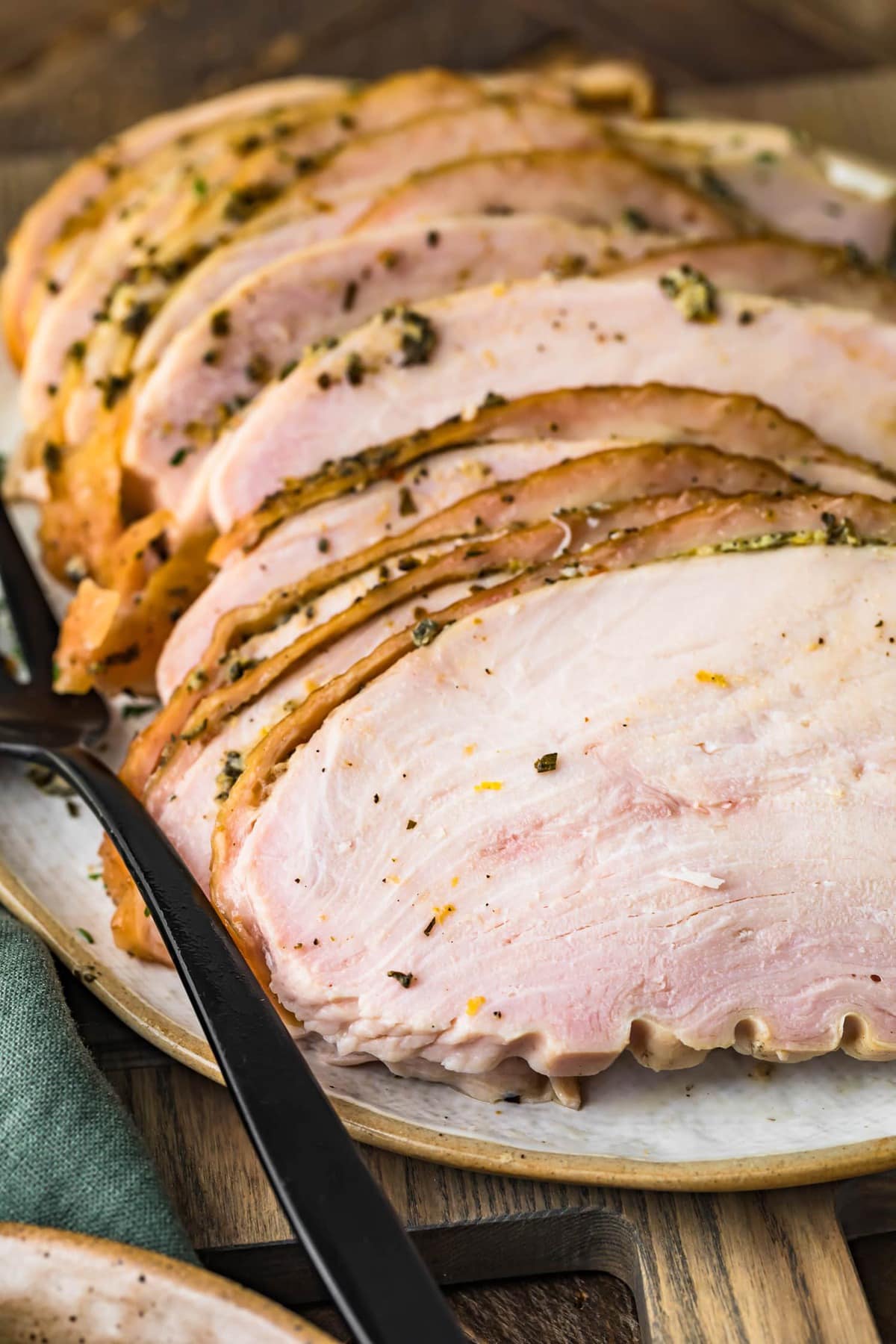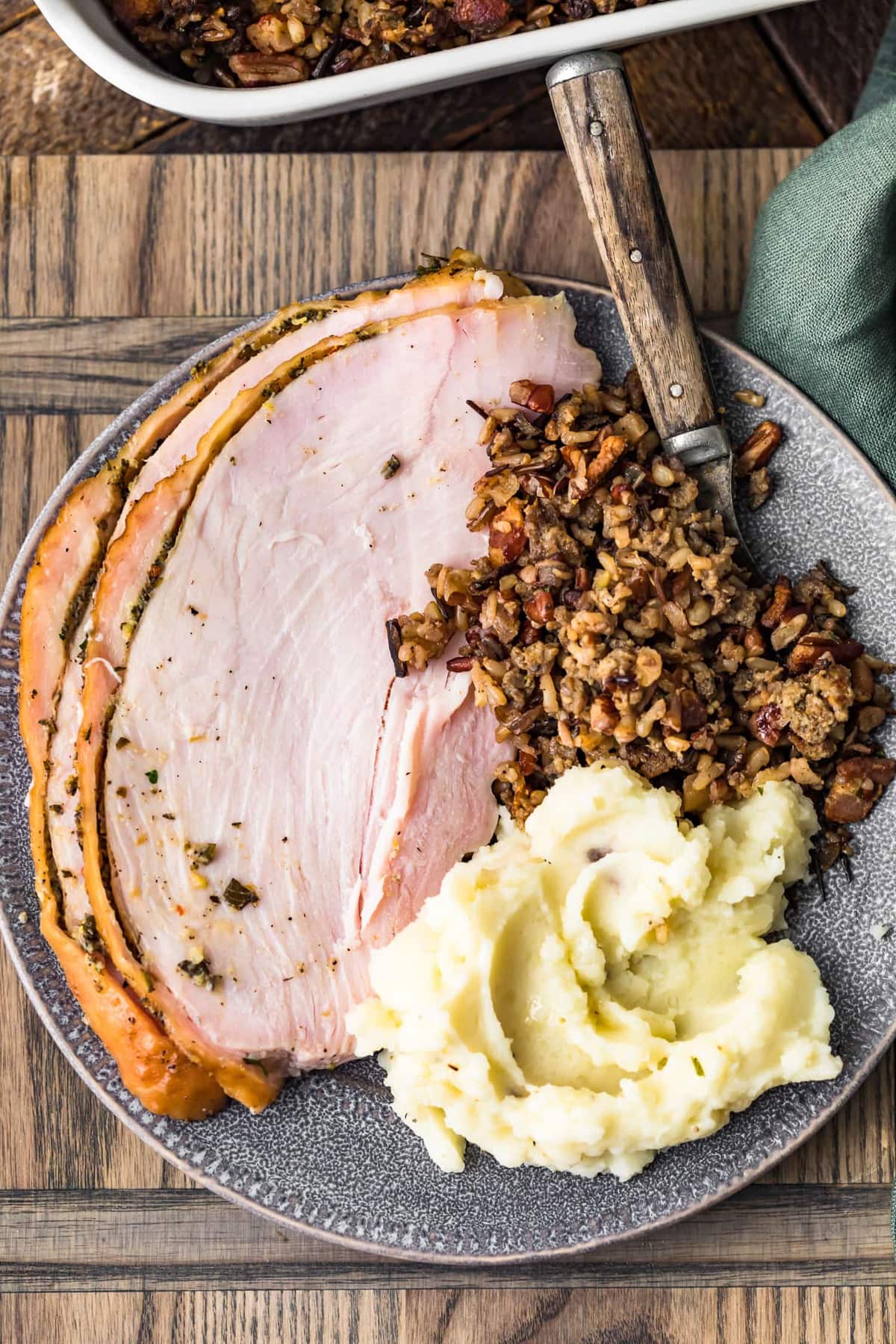 We have recently added two guides all about cooking turkey! If you're new to hosting Thanksgiving, we are right there with you and want to help! See our guides for When to Thaw Turkey and How to Cook a Thanksgiving Turkey for everything you need to know and all our go-to recipes.
If you make this recipe be sure to upload a photo in the comment section below or leave a rating. Enjoy!