Smoked turkey breast is brined, covered in an herb butter, and smoked on the grill for a flavorful dish. It stays nice and juicy, and it's overall a very easy recipe to follow. It makes a great turkey for Thanksgiving, Christmas, or any holiday, served with all the best side dishes! Find out how to smoke a turkey on a gas grill, charcoal grill, or a Big Green Egg.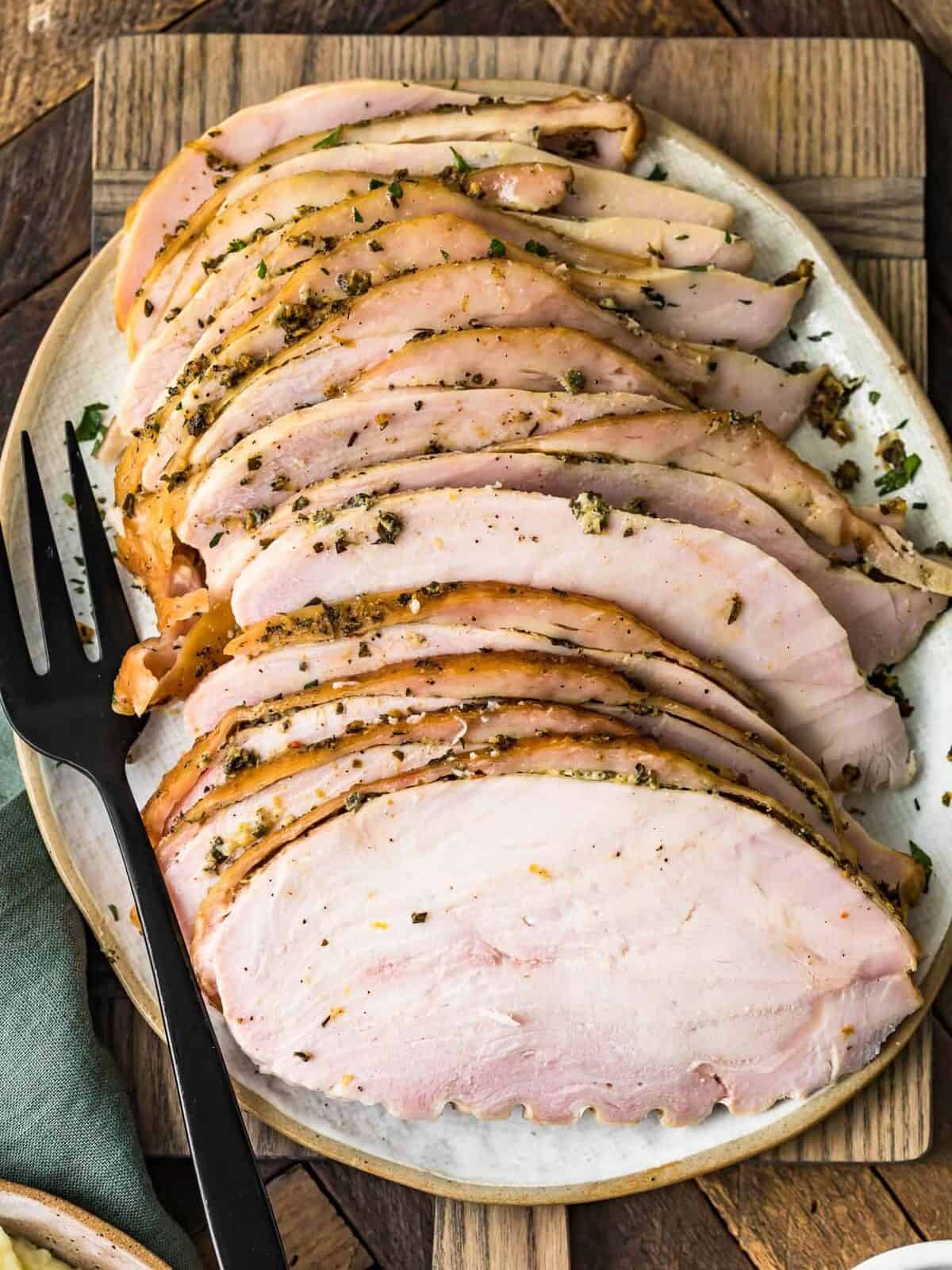 What's in this Smoked Turkey Breast Recipe
This recipe is made up of turkey, a brine (to make things juicy), and a delicious herb butter that infuses so much flavor.
Turkey Breast: Use a whole turkey breast for this recipe, boneless or bone-in are both fine. Be sure to start with an unbrined turkey, since we will be brining it ourselves.
Brine: The turkey brine is a mix of cold water, salt, and white sugar.
Herbs & Spices: You'll need garlic, oregano, thyme, rosemary, sage, red pepper flakes, and salt & pepper.
Butter: Use unsalted butter, softened so that you can mix it with the herbs.
Garlic: A little bit of garlic enhances the savoriness.
Dijon Mustard: This is used in the herb butter mixture to help enhance the flavor.
Be sure to fully thaw the turkey breast ahead of time if you're using a frozen one. I estimate about a half-pound of meat per guest, so keep that in mind when choosing a size.
Other Things You'll Need to Smoke a Turkey Breast
Smoker/Grill: In the recipe card, you'll find instructions for both charcoal and gas grills, as well as for a Big Green Egg.
Wood Chips or Pellets: You'll need wood chunks, chips, or pellets for your smoker–use what you think is best for the equipment you have. I recommend using applewood or cherry wood to complement the turkey.
Aluminum Foil: You'll need this to create a packet or tray of wood chips for the smoker.
Instant Read Meat Thermometer: You'll need this to check the internal temperature of the turkey. This is the only true way to know when it's done.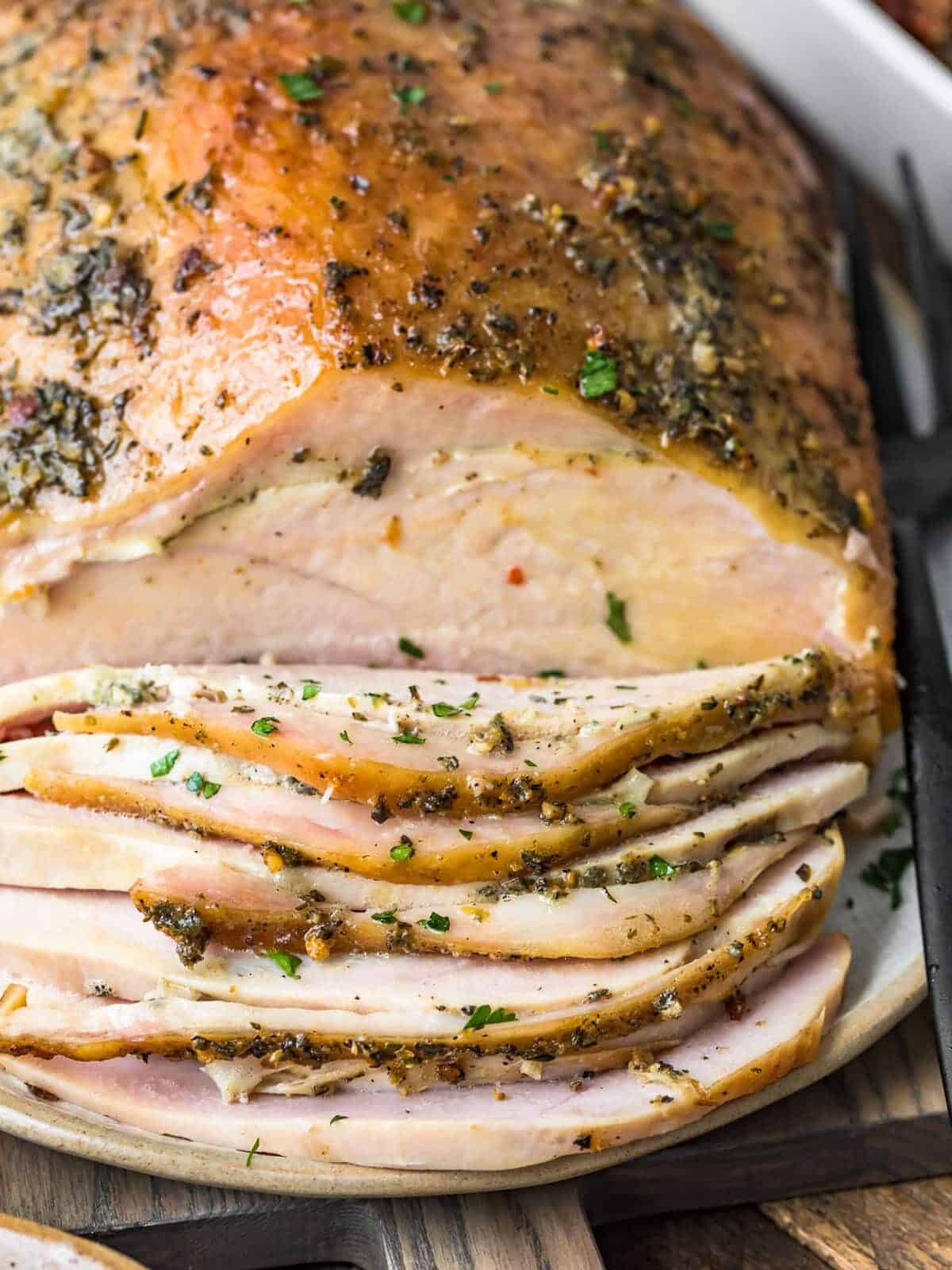 What temperature do you smoke a turkey?
If using a Big Green Egg, the temperature should be kept at 225F.
If using a gas or charcoal grill, the temperature should be kept between 325-350F.
How long do you smoke a turkey breast?
The breasts can take anywhere from 1½ hours up to 4 hours, depending on the size of the turkey and the the of grill/smoker used. Check the recipe card for more specific time estimates.
Do you have to brine the turkey before smoking?
I absolutely recommend bring the turkey! Brining helps to keep the moisture in the breast while it cooks, and it helps to add flavor. The salt penetrates the meat, which makes it overall more tender and juicy.
How long do you brine turkey breast?
Brine the turkey for 8-12 hours for the best results. Fully submerge the turkey in the solution, and place it in the fridge the day before you plan to cook it.
How can you tell when smoked turkey is done cooking?
The best way to know it's done is to check the internal temperature regularly, and wait for it to reach 163F. Check at the thickest part of the breast to be sure it's cooked all the way through.
How do you prevent turkey from drying out while smoking?
Brining before smoking is really the best way to keep it from drying out. It's the simplest secret to a juicy turkey!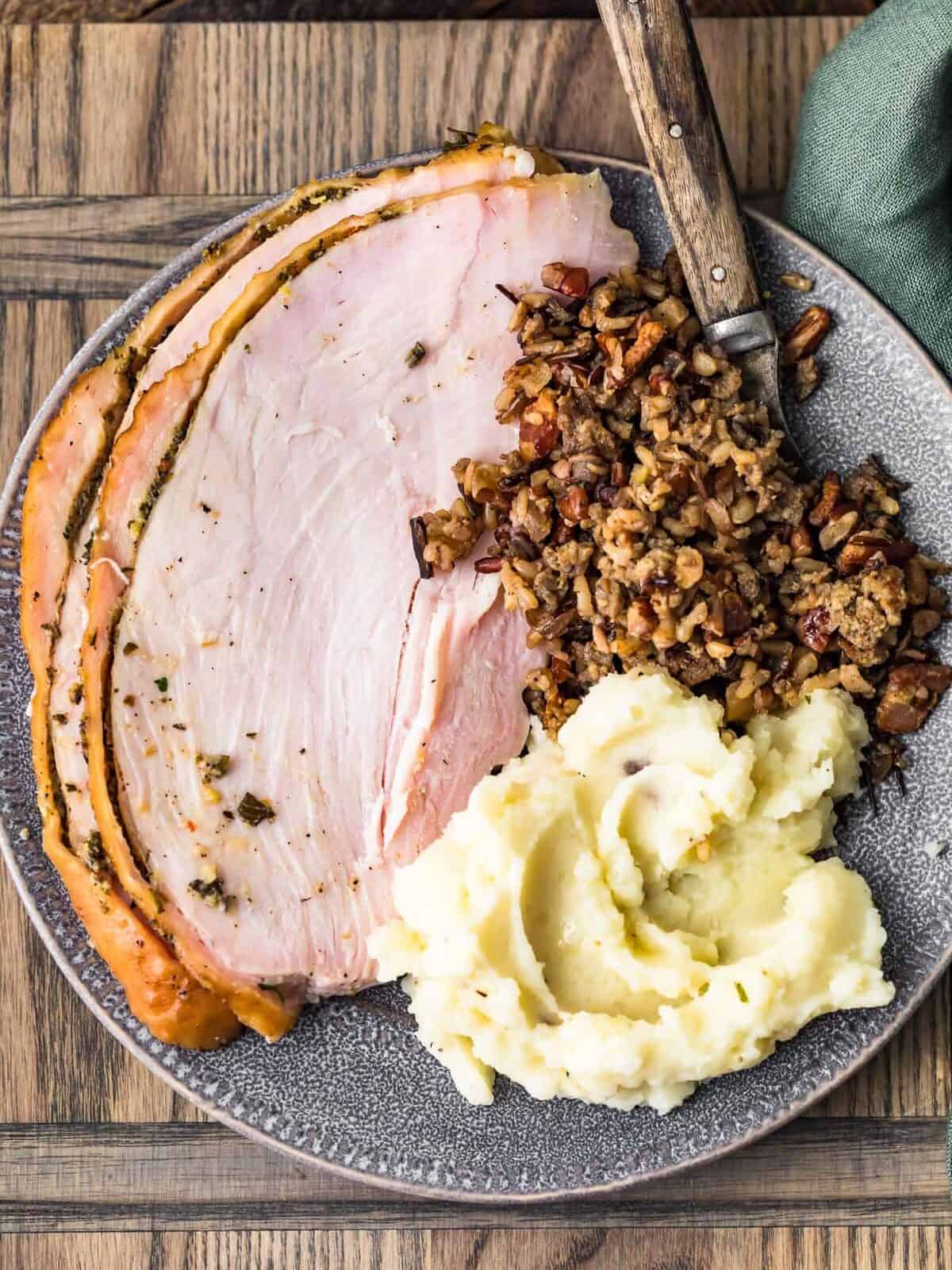 How to Store and Reheat Leftovers
To store leftover turkey, it's easiest to fully carve and slice it first. Place slices in an airtight container or resealable bag, or wrap tightly in aluminum foil. Keep in the refrigerator up to 3 days.
To reheat, I recommend placing slices in the oven at 225F until warm. But leftovers also taste great cold for a quick lunch.
How to Freeze Turkey Breast
To freeze, tightly wrap a stack of slices in aluminum foil or plastic wrap, and then place them in a freezer-safe resealable bag. Freeze up to 3 months. You can thaw before reheating, or heat directly from frozen.
What to Serve with Smoked Turkey Breast
This juicy smoked turkey breast is the best main dish for any holiday, or just a special dinner. Serve it with any of your favorite Thanksgiving side dishes. You can't go wrong with creamy mashed potatoes, roasted mushrooms, loaded mac and cheese, corn casserole, and some dinner rolls. And don't forget the turkey gravy to drizzle over everything!
If you make this recipe be sure to upload a photo in the comment section below or leave a rating. Enjoy! You can also jump to recipe.