This is the easiest Thanksgiving Turkey recipe you'll ever make! Follow a few simple steps and you'll know how to cook a juicy, flavorful, and easy roast turkey in no time. Make the holidays no-fuss with this foolproof turkey, and serve it up with your favorite sides. Even beginners can make this oven-roasted turkey for Thanksgiving without any problems!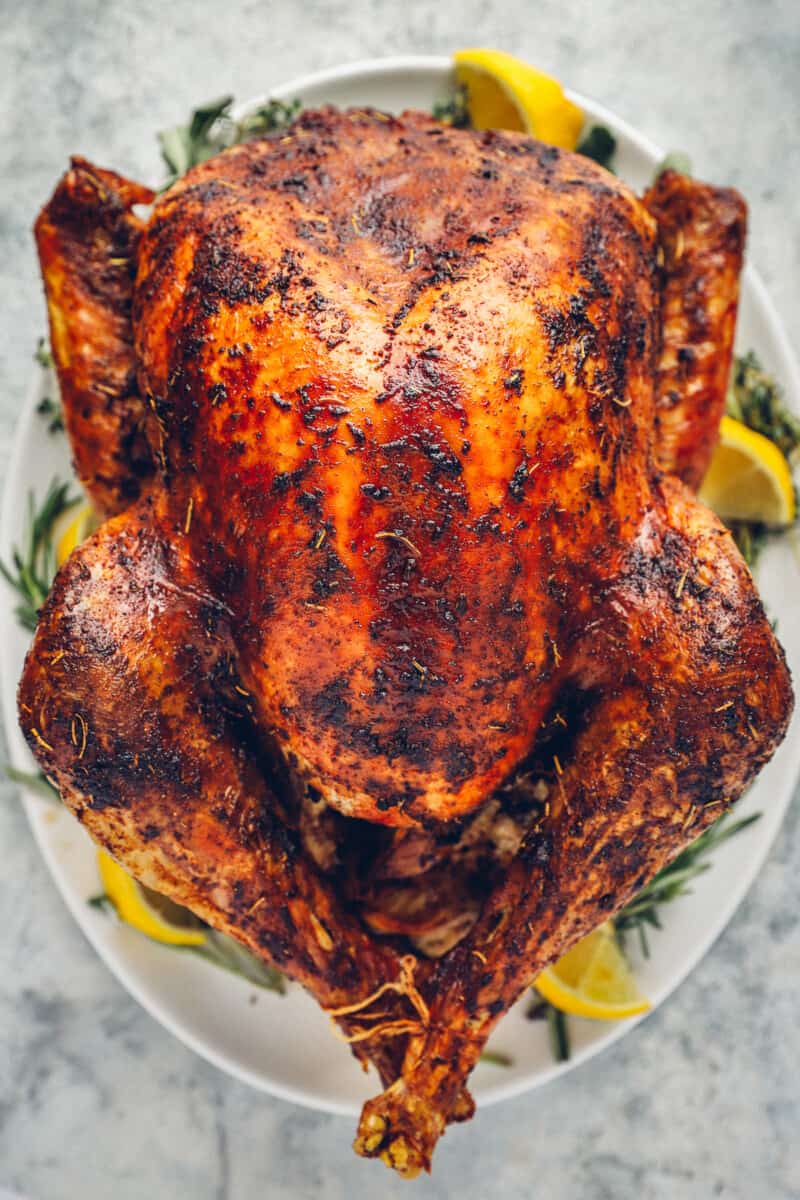 Why we love this Thanksgiving Turkey Recipe
Cooking a full-blown Roasted Thanksgiving Turkey can be intimidating, but I promise you can do it. This was the first Thanksgiving Turkey I made for our family, and it's still my favorite recipe! Here's why:
Easy! I promise you, making this turkey is so straight-forward, you'll have a stress-free Thanksgiving ahead of you.
Perfectly Seasoned. A simple spice rub and some aromatics creates a flavorful roast turkey that everyone will love!
Holiday Tradition. This recipe is something you can come back to year after year, so you never have to stress about cooking the turkey again.
How long does it take to roast a whole turkey?
This recipe is for a 15-16 pound turkey and takes around 3 hours and 45 minutes to cook in the oven. As a rule of thumb, you need to roast a turkey for 15 minutes per pound, so adjust the cooking time accordingly. If in doubt, be sure to use a thermometer to check when your turkey is done. Use this turkey roasting time chart to help you plan!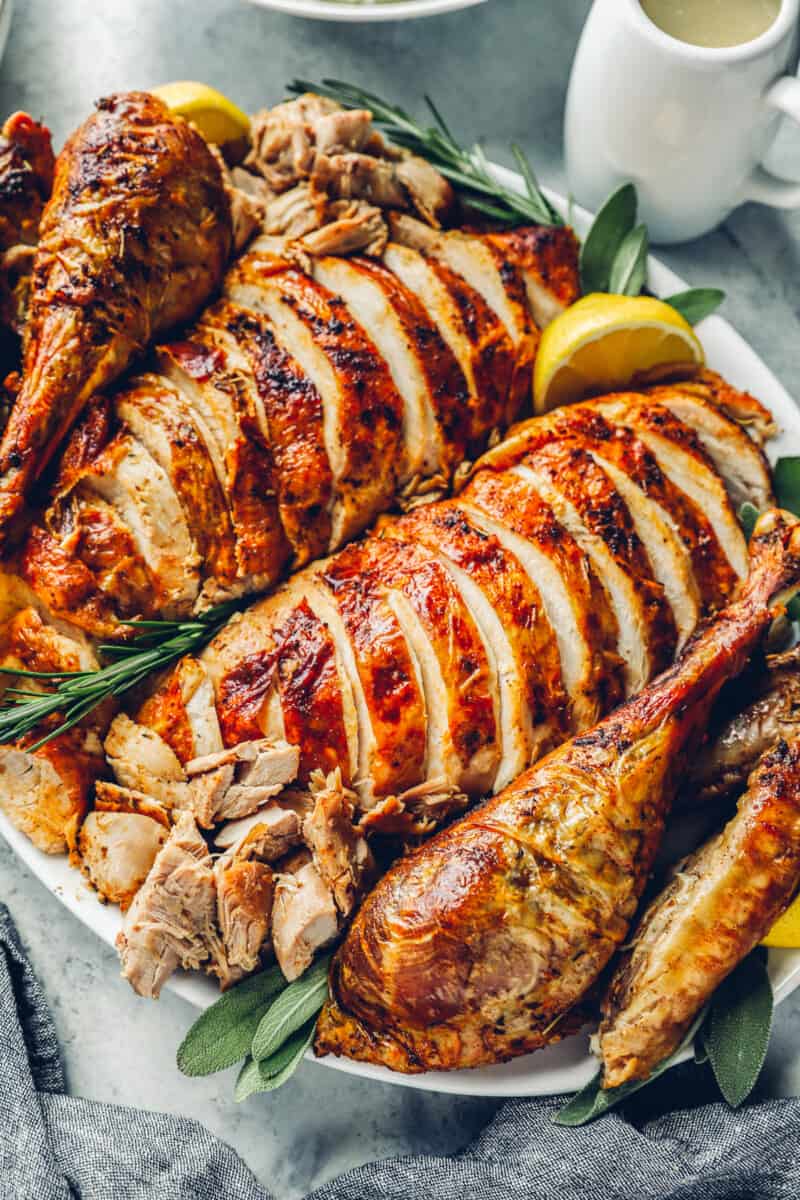 How to Store and Reheat Leftover Turkey
To store leftover Thanksgiving turkey, first remove all of the meat from the bones, and place the meat in airtight containers or resealable bags. It will keep in the refrigerator for 3-4 days.
Cooked turkey is safe to eat cold, or you can reheat it before consuming. Reheat in the oven at 325°F until fully warmed through. You can also use the microwave for quick heating.
If you have a lot of extra, try these leftover turkey recipes to help use it up.
How to Freeze
If you have lots of leftovers and want to make them last longer, you can freeze them for up to 3 months.
Finish carving the whole turkey into slices/pieces, and place them in freezer-safe containers or bags. I recommend separating them into smaller portions so it's easier to grab and reheat later.
Thaw turkey overnight in the fridge before reheating. If reheating from frozen, increase the oven temp slightly and the cook time until warmed through.
What to Serve with Thanksgiving Turkey
Every Thanksgiving feast needs some easy side dishes to go with the roast turkey. Serve up the classic Thanksgiving side dishes, like easy mashed potatoes, green bean casserole, turkey stuffing, creamed corn, sweet potato casserole, turkey gravy, cranberry sauce, and more. Don't forget to finish the meal with some classic Thanksgiving pies!
What's the best temperature to roast a turkey?
Set your oven temperature to 325°F for this turkey recipe. It allows the turkey to cook slowly and evenly, which prevents it from drying out.
Should I cover my turkey while cooking?
No, generally the turkey does not need to be covered. However, if parts of it are browning too quickly in the oven, you can loosely cover/tent those parts with aluminum foil.
When should I buy my turkey?
Plan to buy a fresh turkey up to 2 days before cooking, or get a frozen one as early as you need to (it can be stored in the freezer long-term).
What size turkey should I buy?
When choosing a size, estimate about 1 pound per guest for a large bird (over 12 pounds), or up to 2 pounds for small birds (under 12 pounds). This is because larger birds have more meat-to-bone, while smaller birds will get a lot of their weight from bones.
When should I thaw my turkey for thanksgiving?
Check this turkey thawing chart. Estimate 24 hours in the fridge for every 4-5 pounds, to make sure it's fully and properly defrosted before roasting.
How do I check the internal temp of a whole turkey?
Insert the meat thermometer in 3 different parts of a whole turkey to make sure it's fully cooked through: innermost part of the thigh, innermost part of the wing, and thickest part of the breast. All spots should read 165°F.
Can I roast a turkey from frozen?
I highly recommend fully defrosting it before cooking. However, if you roast a turkey directly from the freezer, you will need to increase the cooking time by at least 50%.
How do you season a turkey?
My favorite way to season a turkey for Thanksgiving is the combination of a flavorful dry spice rub, and stuffing it with onion, garlic, and herbs.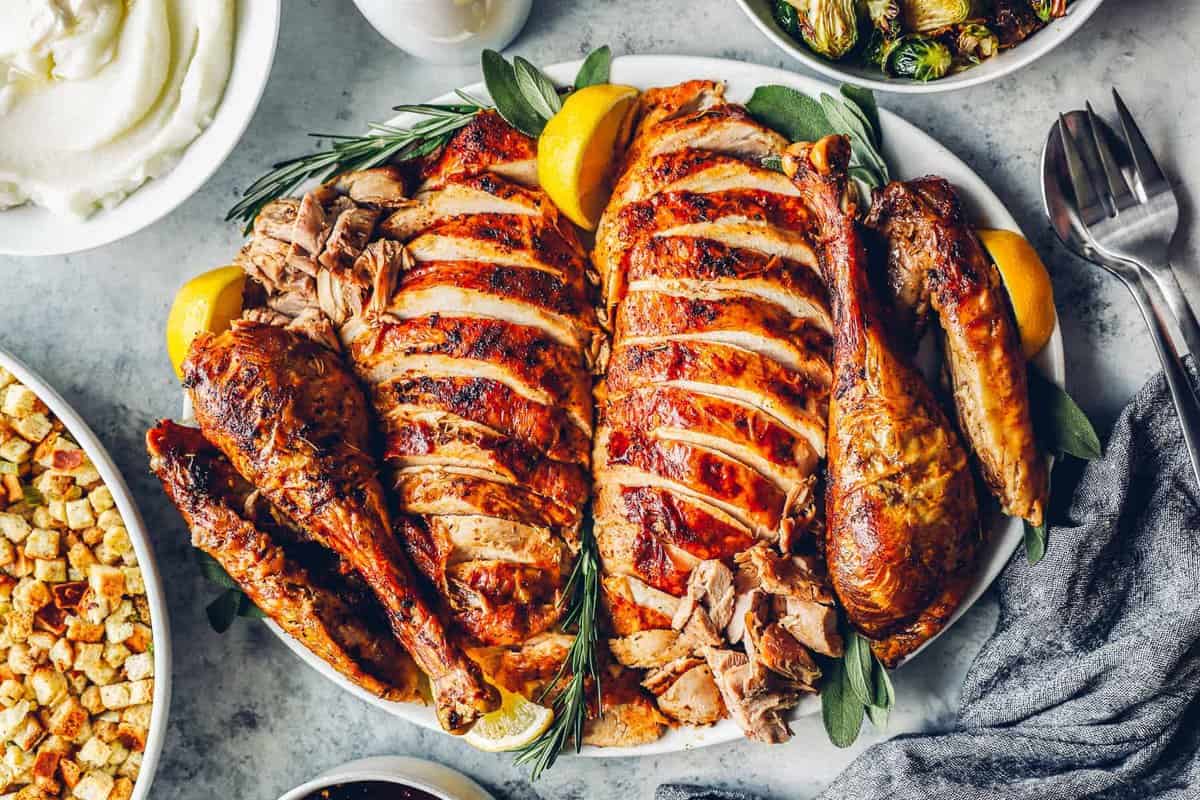 More Turkey Recipes for Thanksgiving
How to Roast a Turkey for Thanksgiving Step by Step
Thaw the Turkey: The very first step for your Thanksgiving turkey is to make sure you take it out of the freezer and defrost it well ahead of time. Check this turkey thawing chart for time frames depending on the size of your turkey.
Prep the Turkey: Once thawed and ready to get started, take it out of the fridge to rest at room temp for about 1 hour before roasting. While the oven preheats to 325°F, remove the neck and giblets from the turkey, and pat it dry. Prep the other ingredients so they're ready to use.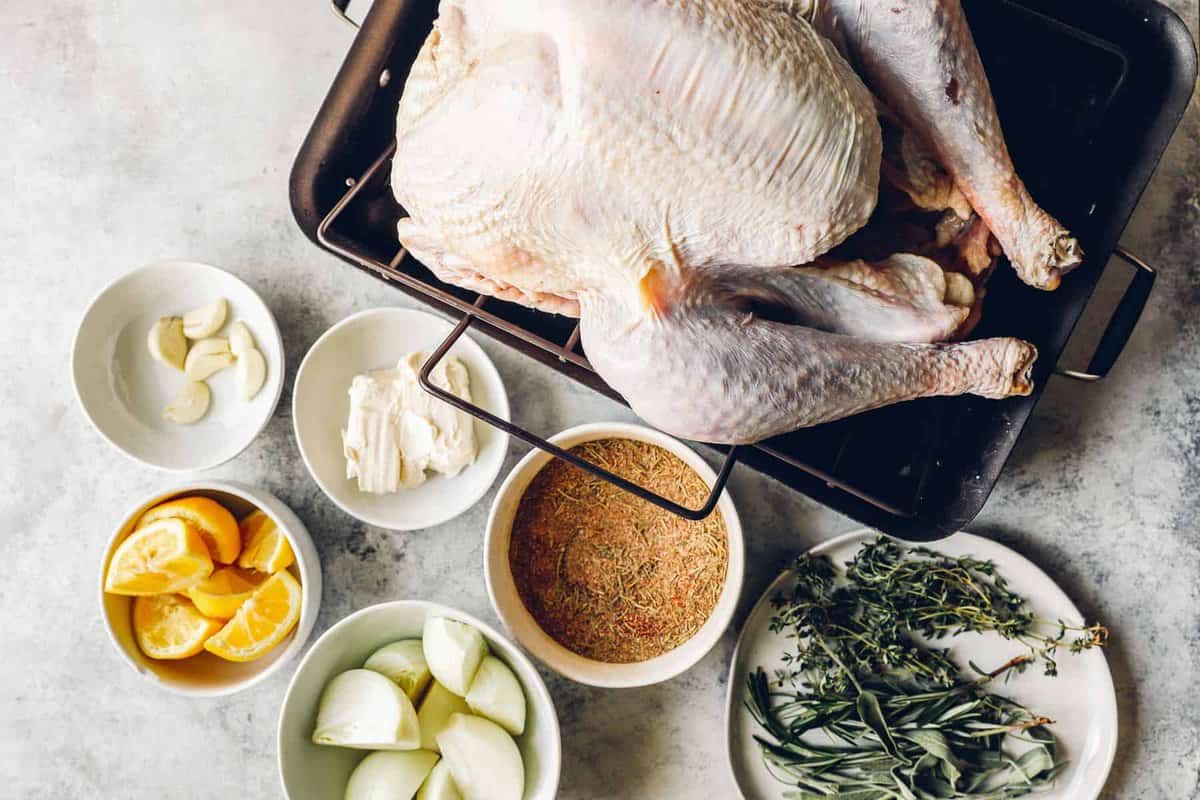 Stuff the Turkey: Season the cavity with salt and pepper, then stuff it with 1 ½ onions (cut into quarters), 1 lemon (cut into wedges), 4 cloves of garlic, and herbs (2-3 rosemary sprigs, 1/4 cup sage leaves, and 1/4 cup thyme).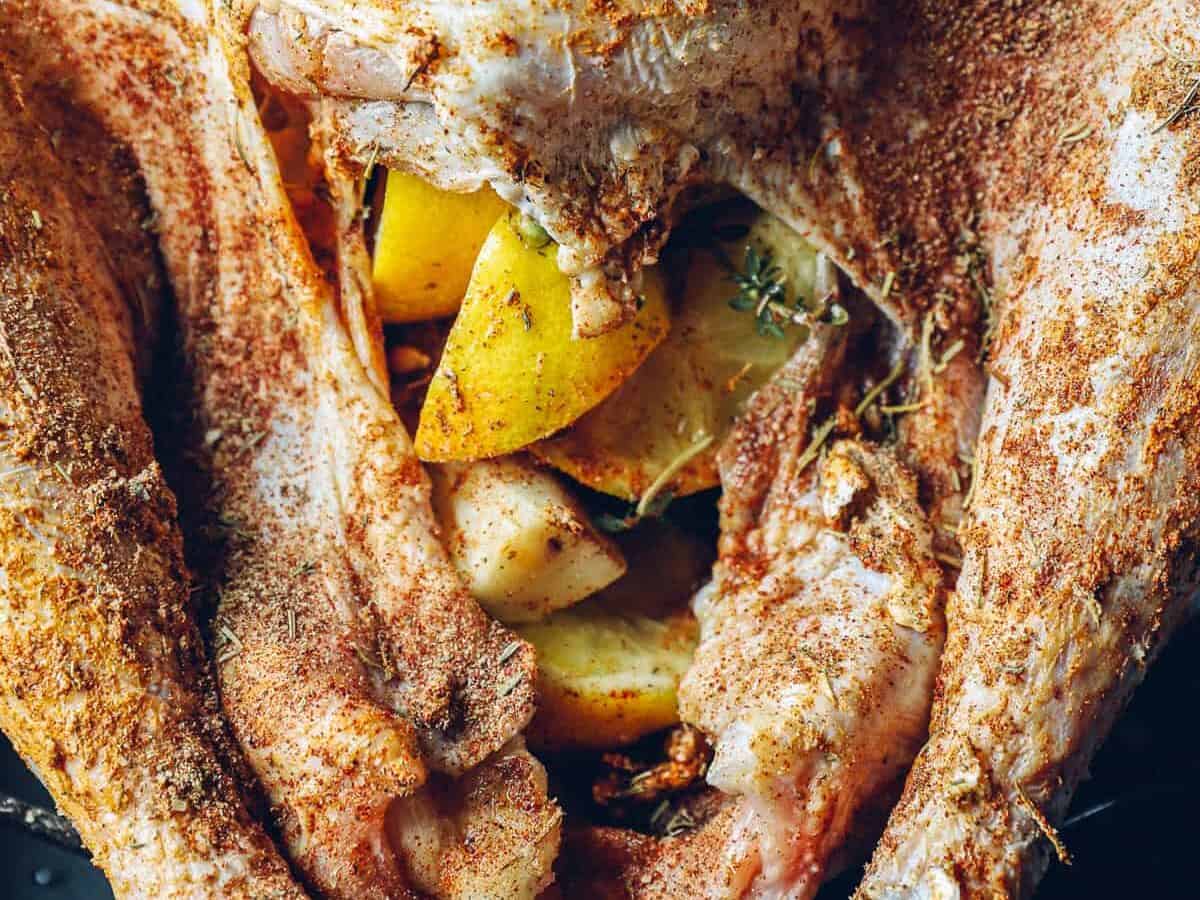 Make this Turkey Seasoning. Mix herbs and spices together in a bowl (2 tablespoons each of kosher salt, ground sage, dried rosemary, dried thyme, and ground paprika; 1 tablespoon each of garlic powder and onion powder; and 2 teaspoons black pepper).
Season the Turkey: Then rub 1/2 cup of softened butter and 1 cup of the spice rub (above) all over the turkey and under the skin.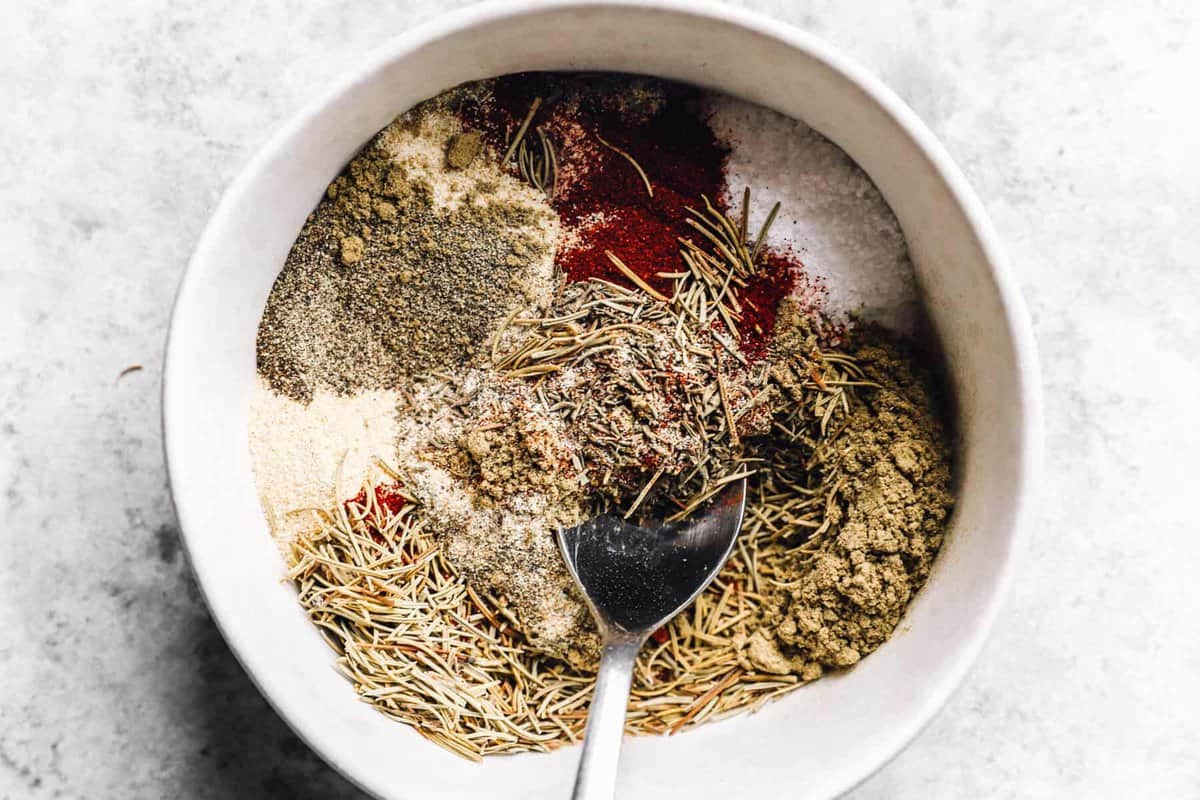 Prep for the Oven: Place the stuffed and seasoned turkey in a roasting pan, tuck the wings, and tie the legs together with kitchen twine. Then place the rest of the aromatics (1 1/2 onions, 1 lemon, 4 cloves of garlic, and herbs) in the pan around the turkey.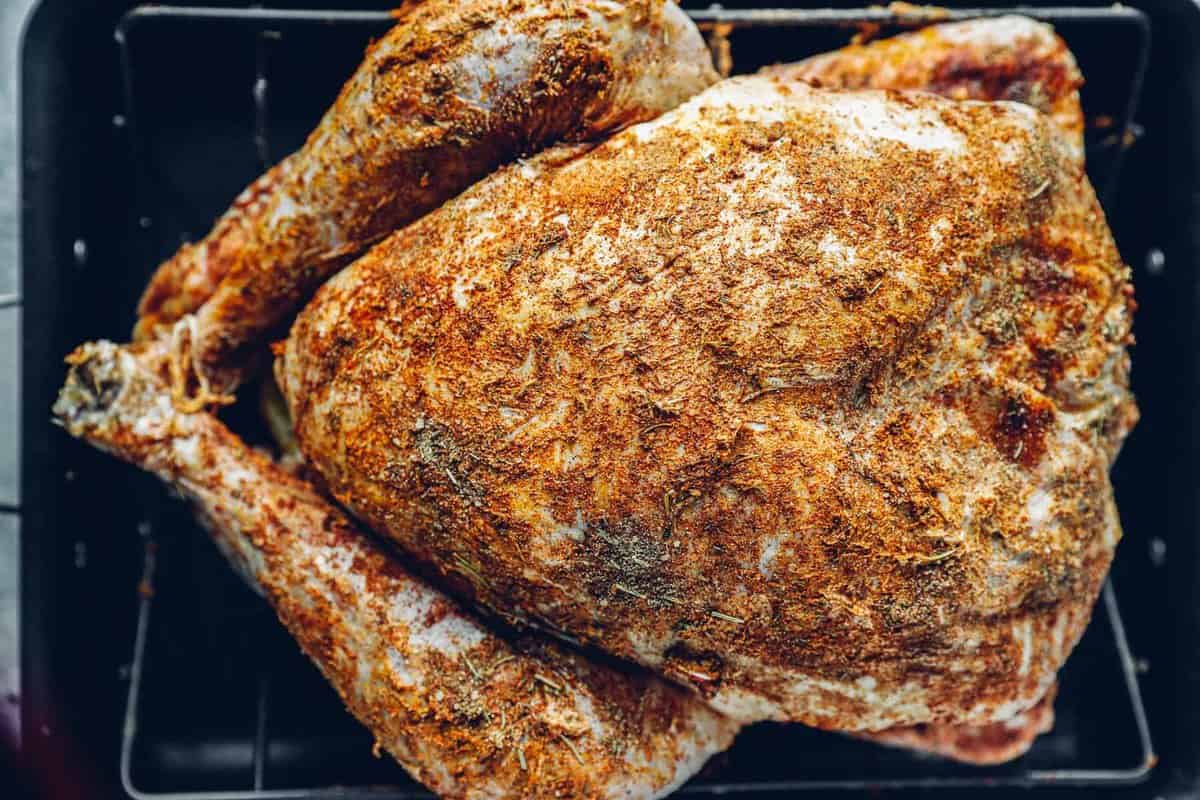 Roast the Turkey: Cook uncovered at 325°F, for 15 minutes per pound of turkey. If the skin is browning too quickly, loosely cover it (especially the breast) with foil. Start checking the temperature 1 hour before the estimated roasting time, and remove the turkey from the oven when it reaches 150-155°F (it will rise to 165°F as it rests).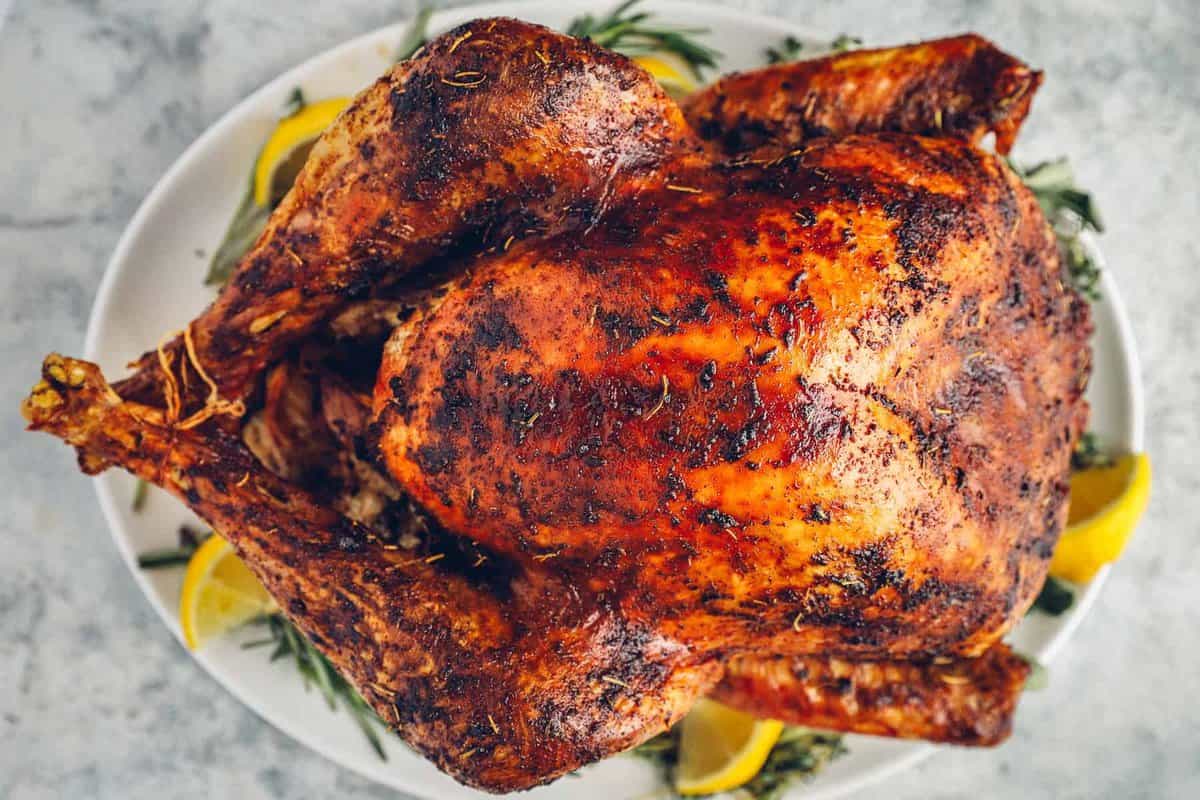 Let it Rest, then Serve: Loosely cover the turkey with foil, and let it rest for 15-25 minutes–this allows the juices to fully absorb into the meat. Then carve the Thanksgiving turkey, serve, and enjoy. Happy Thanksgiving!