These turkey recipes are just perfect for Thanksgiving dinner! It's the center of the holiday feast, so it's important to have a delicious recipe, whether you prefer something traditional, or something more unique. These Thanksgiving turkey recipes are all easy, juicy, flavorful, and beautiful. Just add your favorite sides!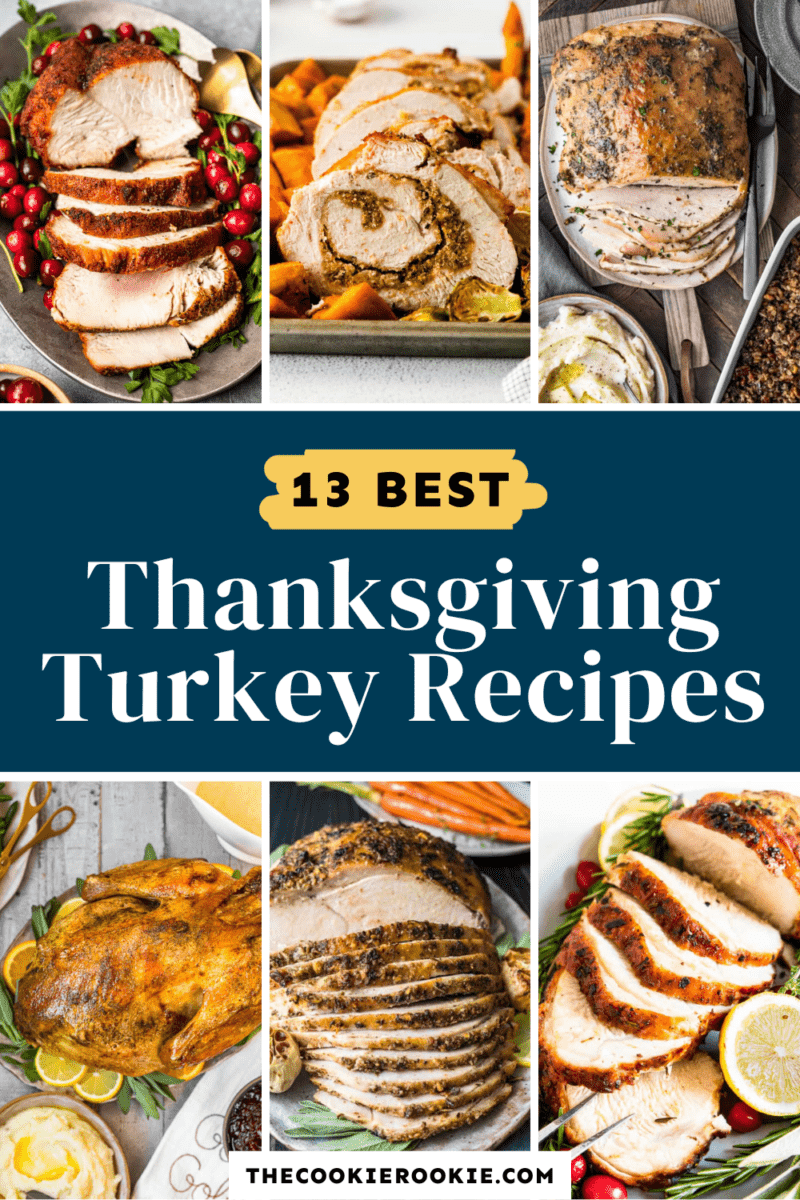 Easy Turkey Recipes for Thanksgiving
Thanksgiving dinner centers around the turkey, so it's important to find the perfect recipe. You want it to be easy to make, but still taste super delicious. It should be juicy, savory, and full of flavor. Luckily, there's no shortage of options!
I've gathered some of my best Thanksgiving turkey recipes to help you along. Whether you want to cook a whole turkey or just a turkey breast, you can find the recipe you need. You can go the traditional route by roasting or deep frying it, or you can make something using your Air Fryer, Instant Pot, or Slow Cooker. There's really something for everyone here.
Whichever turkey recipe you choose, it's sure to be something that will impress all of your holiday guests. So pick your turkey, get cookin', and surround it with all of the best Thanksgiving dishes.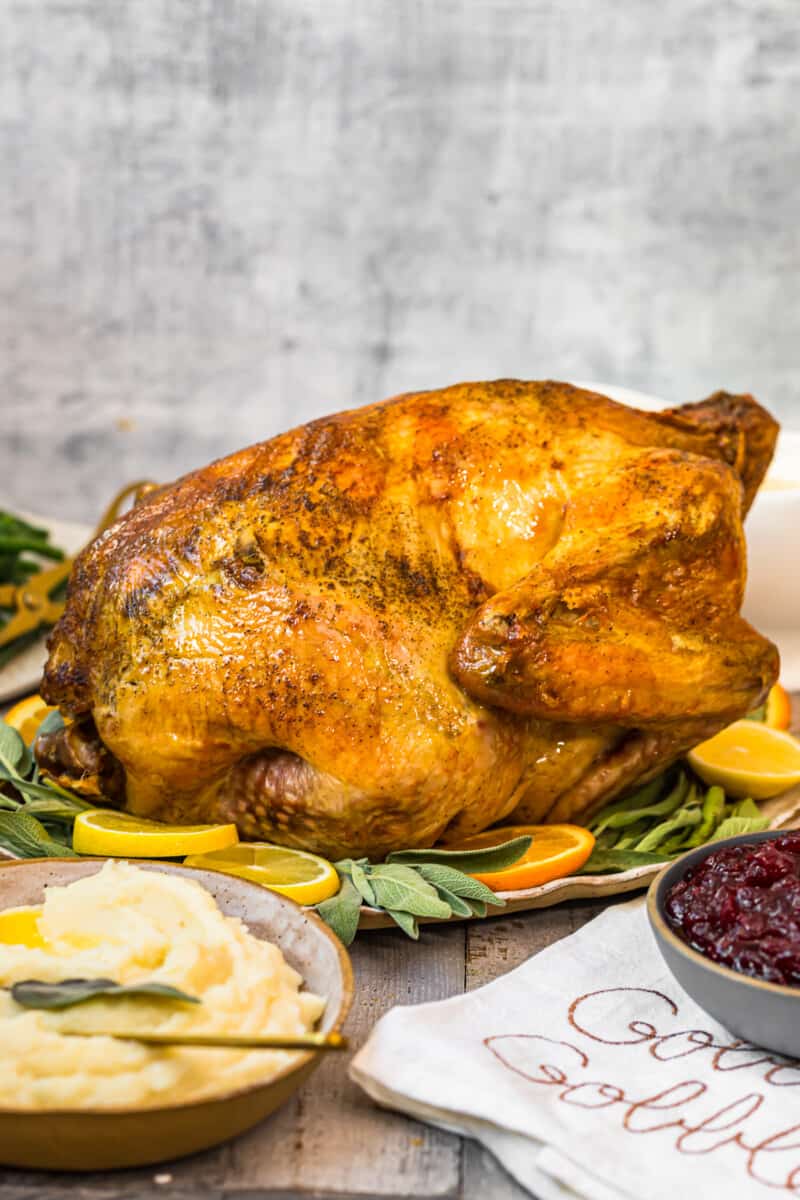 Let's start with a classic, simple recipe. If you want a beautiful, roasted whole turkey to serve up at Thanksgiving dinner, then this is the way to go. This recipe is so easy, it's foolproof!
Turkey Tips: Get all the info you need to cook the perfect turkey, and how to thaw turkey before the big day.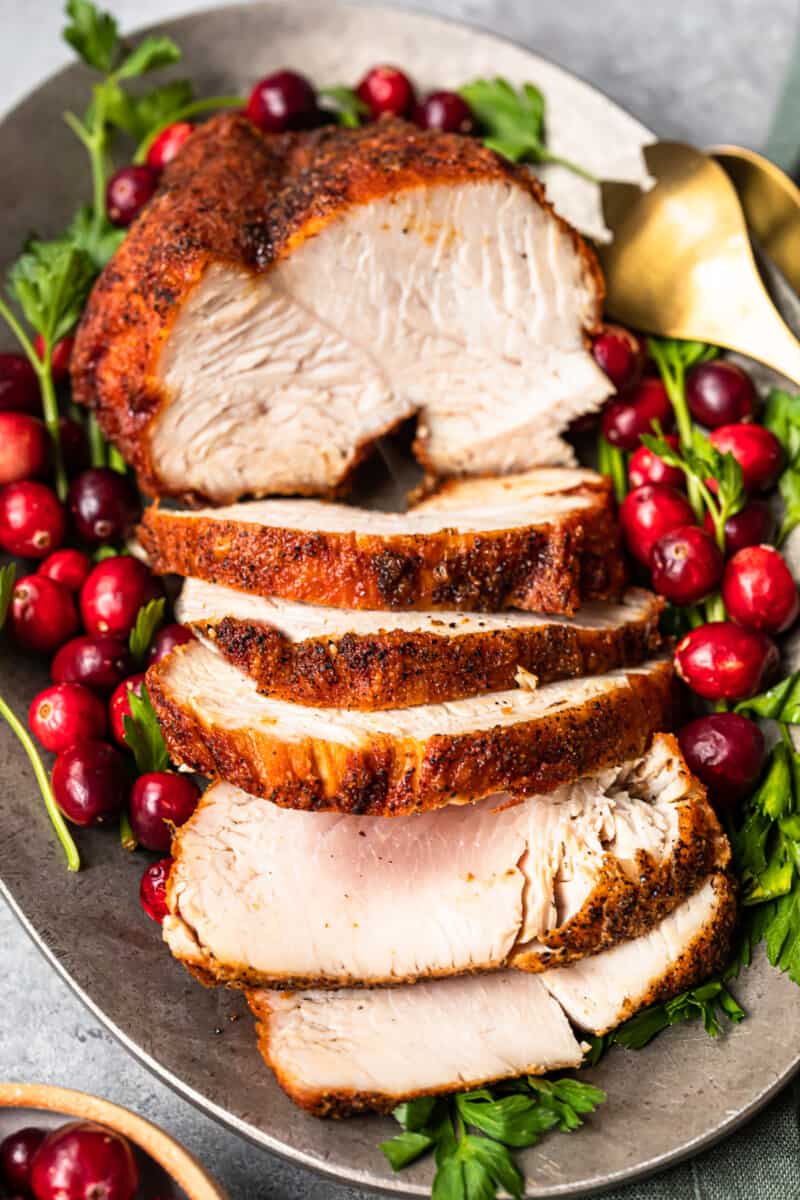 Deep frying a turkey doesn't have to be difficult! If you want that crispy, juicy, flavorful turkey, this recipe makes it easy. Cook a turkey breast instead of a whole turkey to make it a little more manageable. This is great for a family or smaller crowd.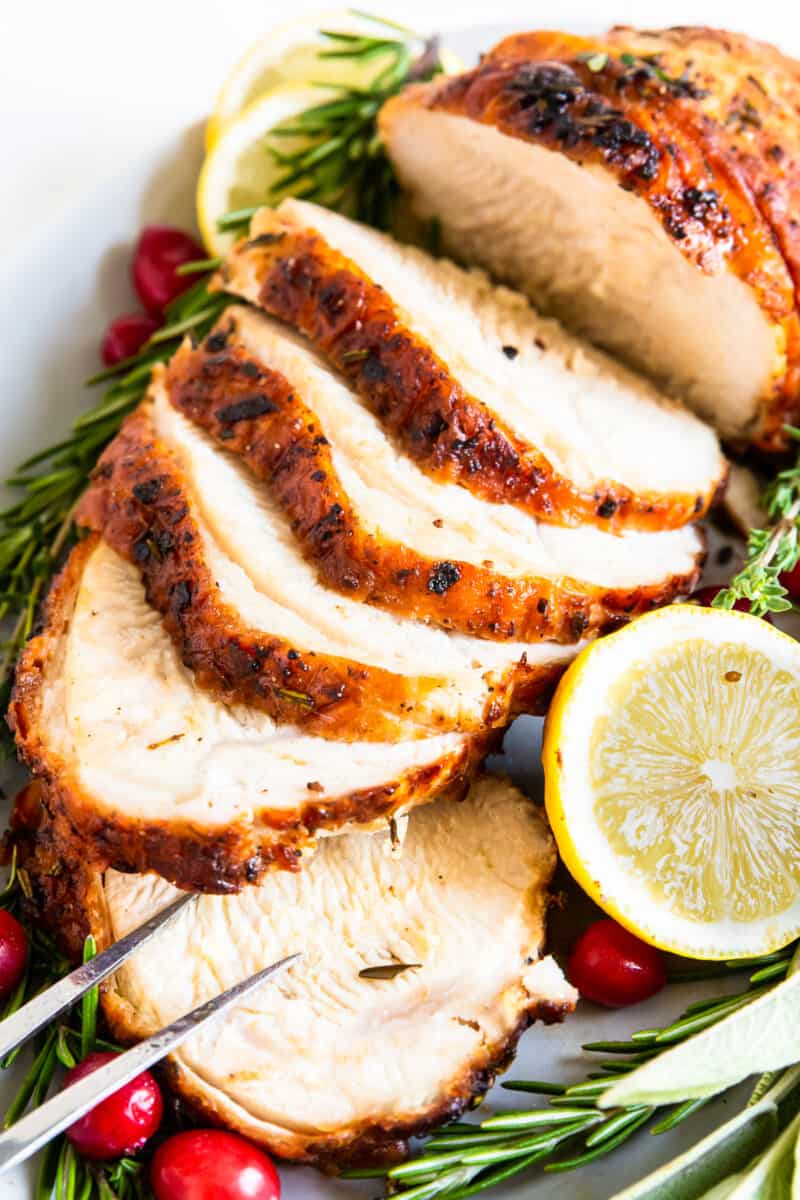 Cooking a turkey in the Air Fryer is such an easy process, and it gives you a beautifully crisp texture. This recipe is seasoned with sage, rosemary, thyme, and more.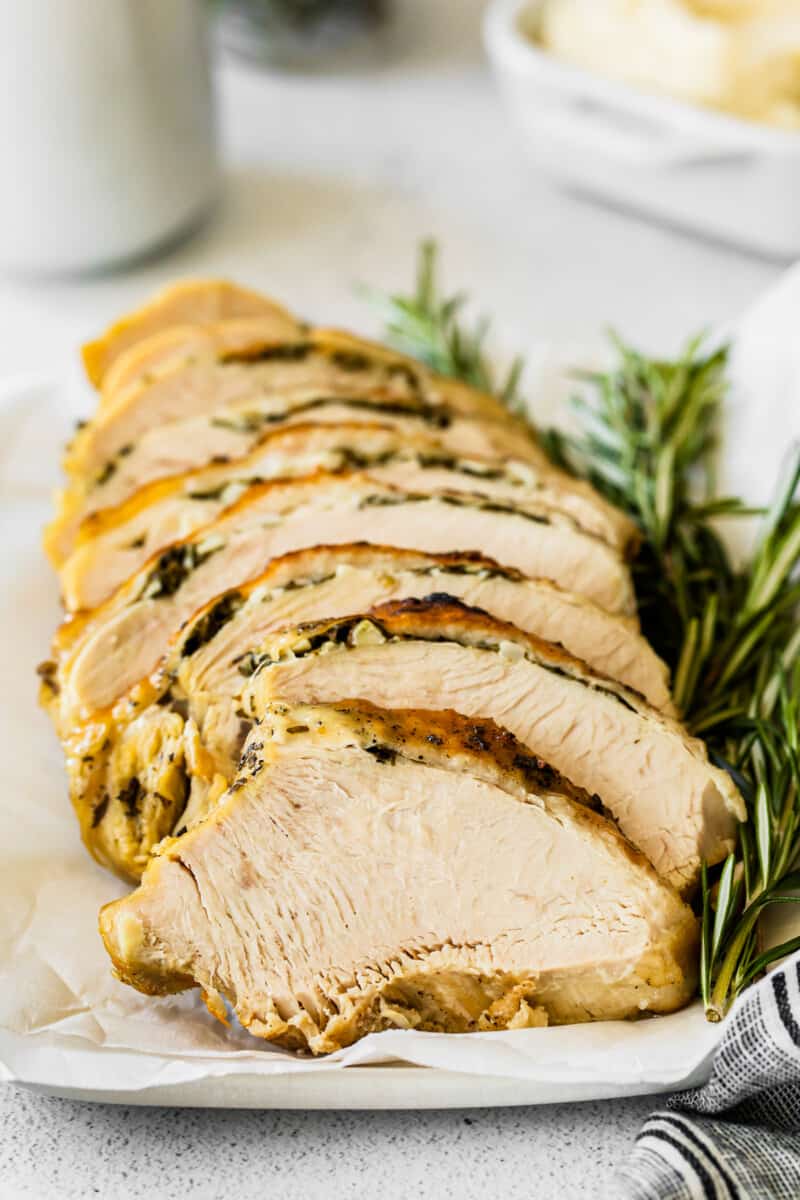 Turkey breast is covered with a savory, herb-y butter mixture, then cooked along with celery, carrots, and onions. This creates the most delicious flavor, and it cooks in under an hour!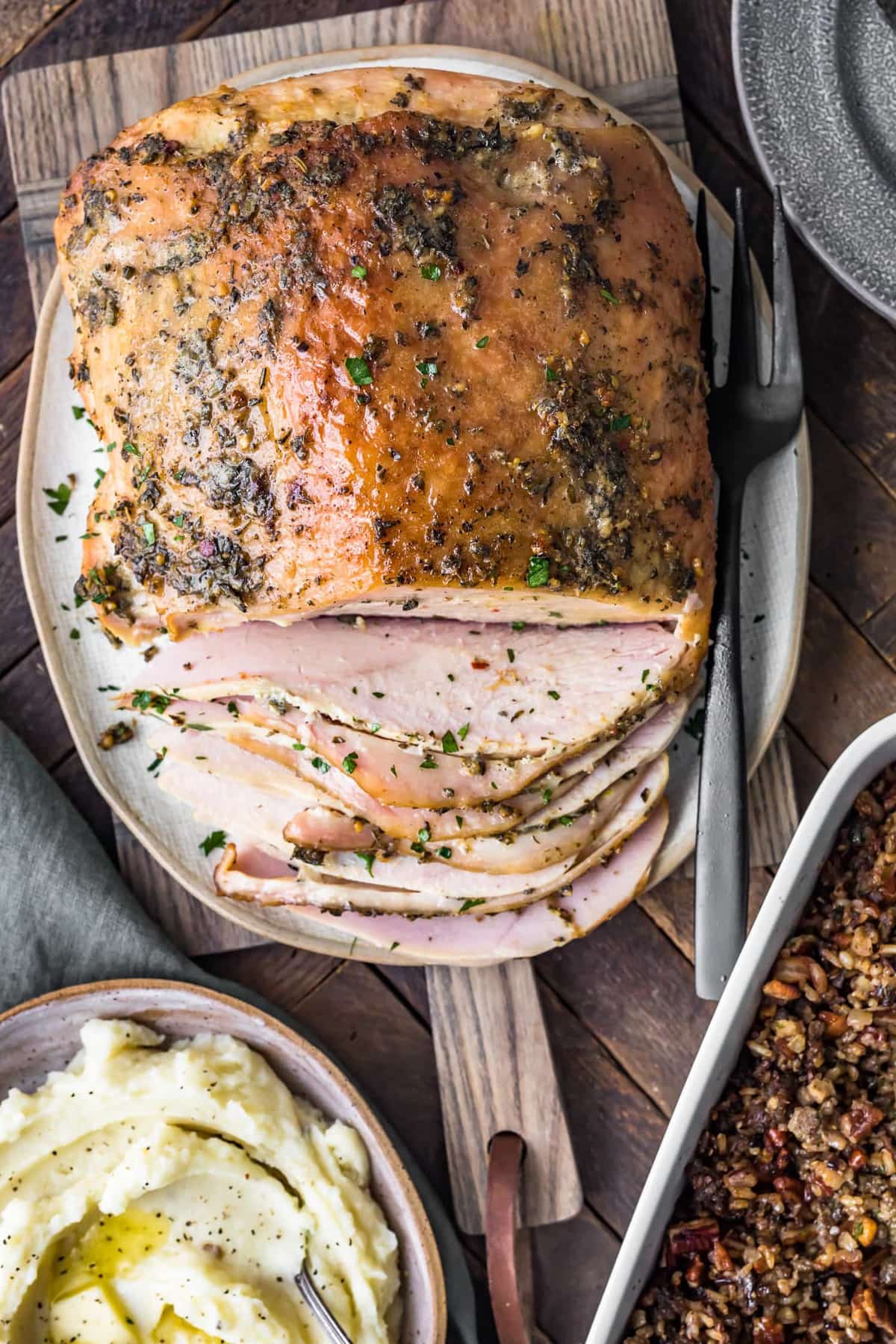 A smoked turkey is infused with so much flavor, creating something delectable that everyone will love. This recipe includes instructions for various types of grills.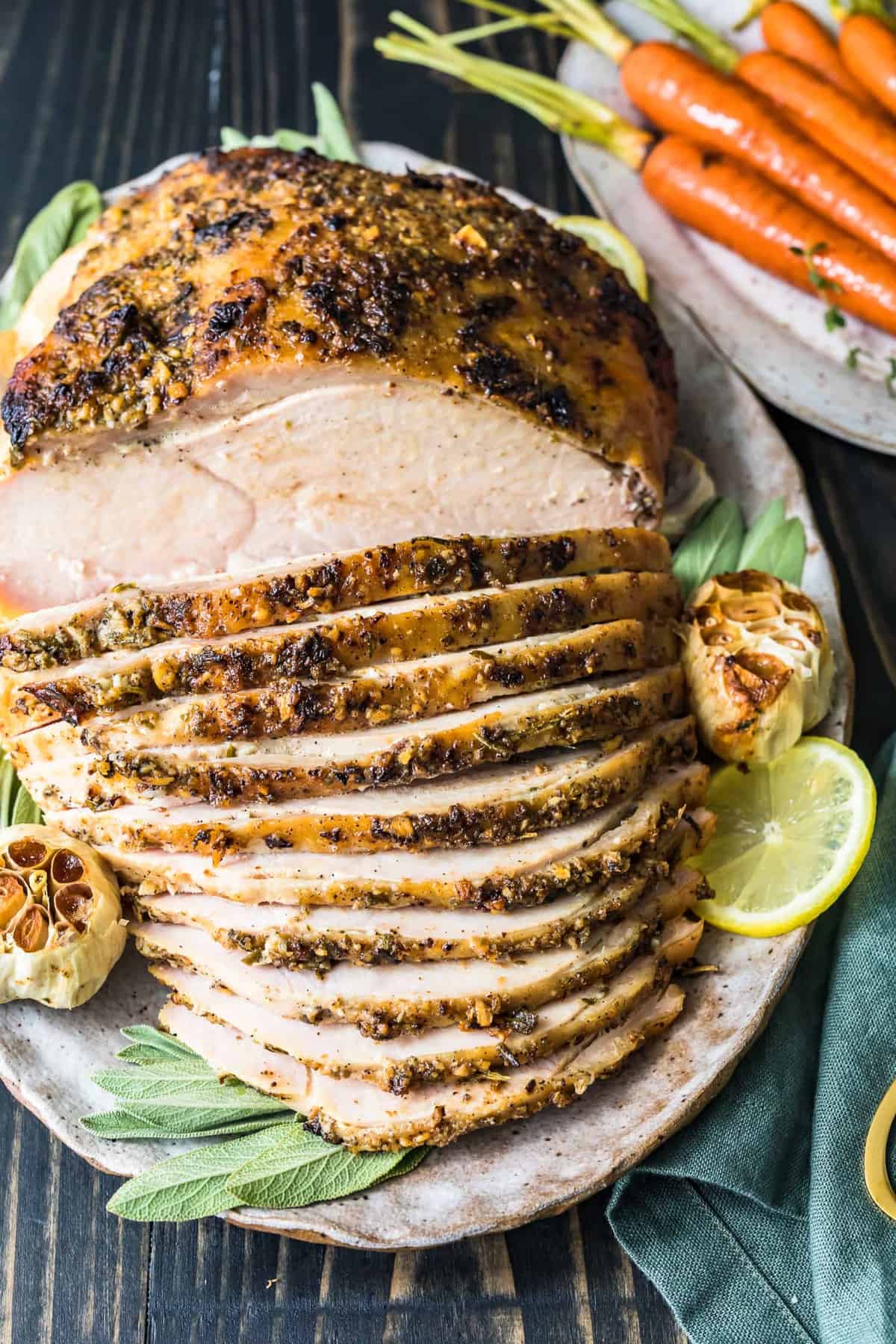 If you want a classic roast turkey for Thanksgiving, but you're only serving a small family or group, this turkey breast recipe is perfect! It's flavorful (40 cloves of garlic!), it's easy to cook in the oven, and it's easier to slice and serve than a whole turkey.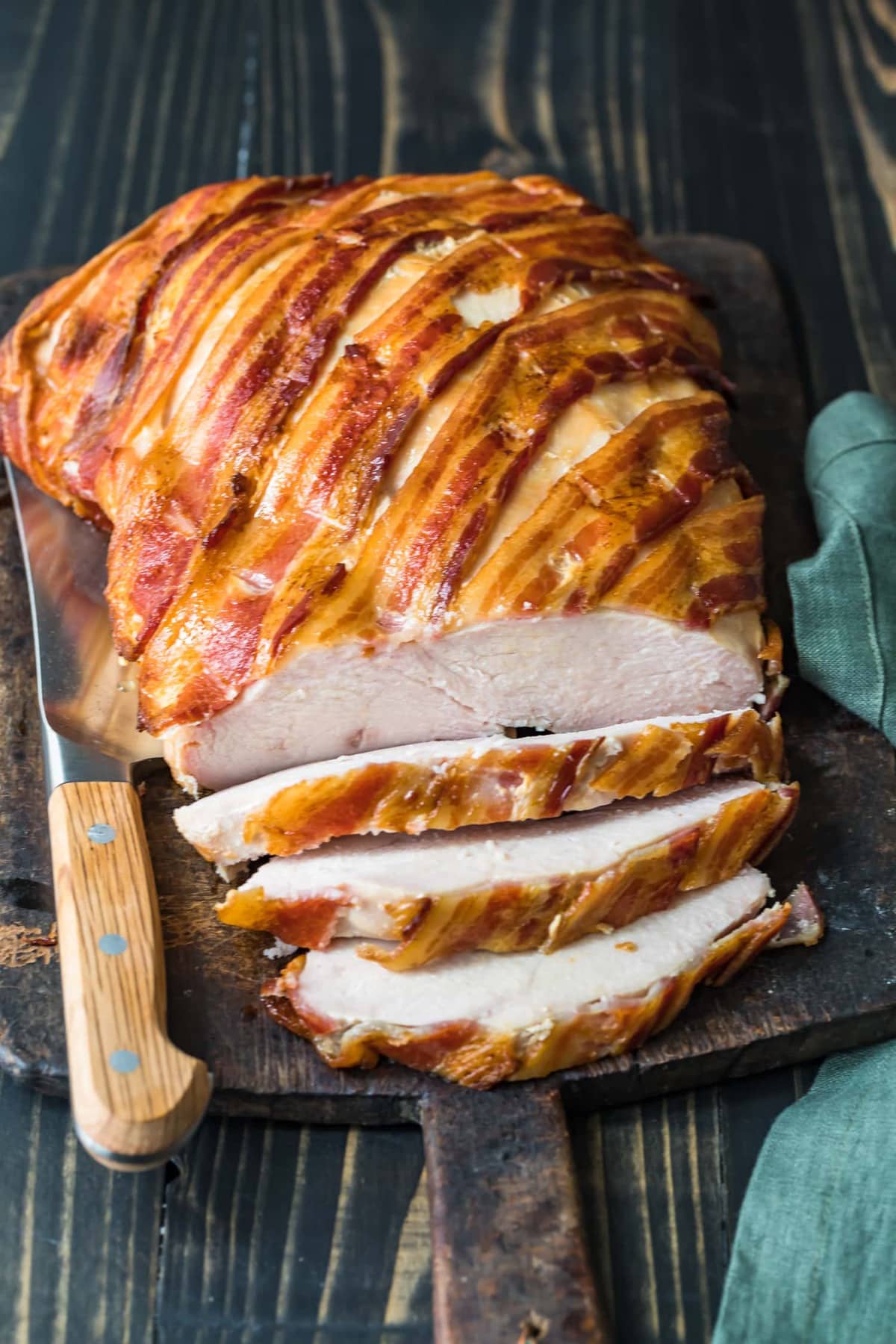 Strips of bacon add an extra layer of flavor, crispiness, and juiciness to this roasted turkey. It's so easy to make and everyone will love it.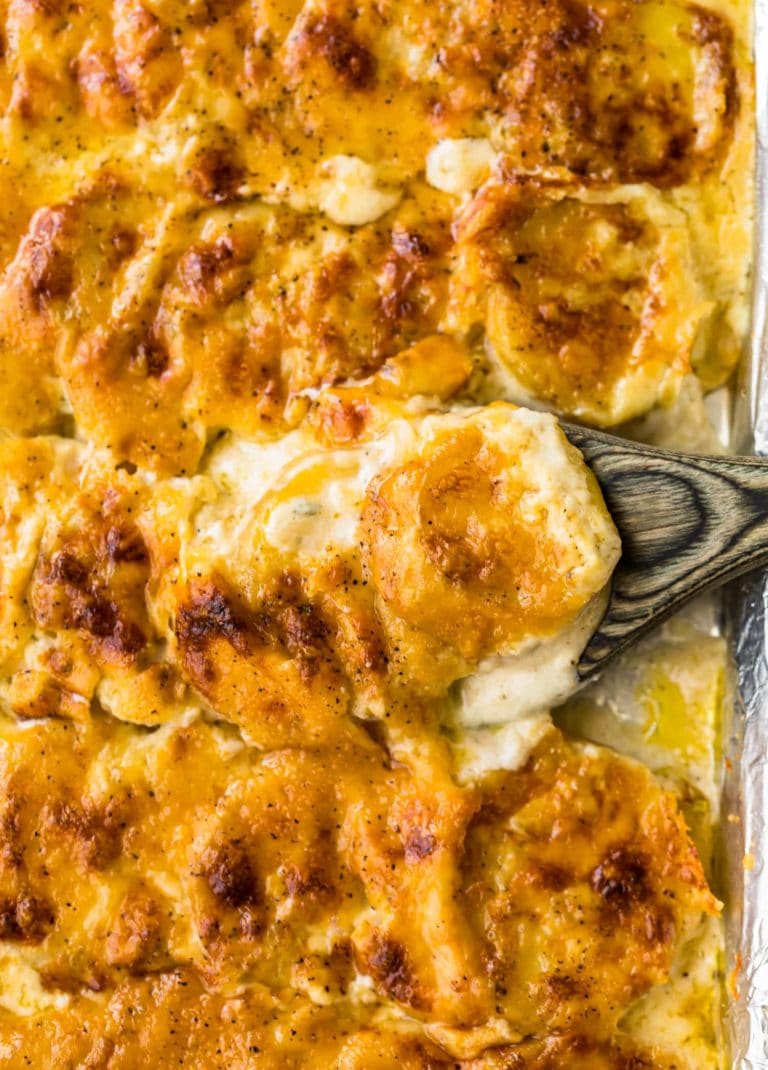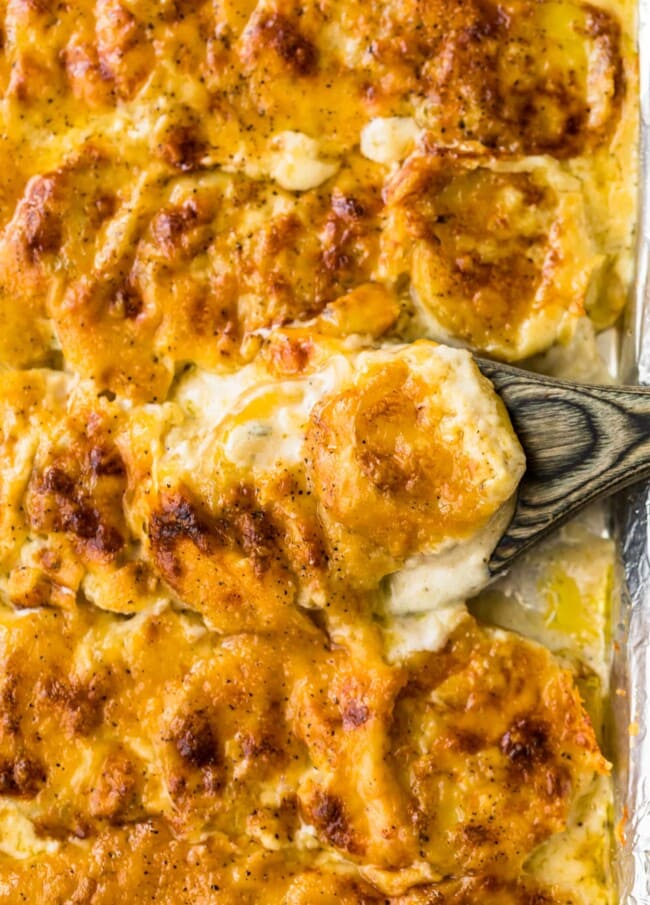 Try ALL the Sides
60+ Holiday Side Dishes
This Thanksgiving we hope you enjoy as many sides as possible with this Roast Turkey Breast!
See Sides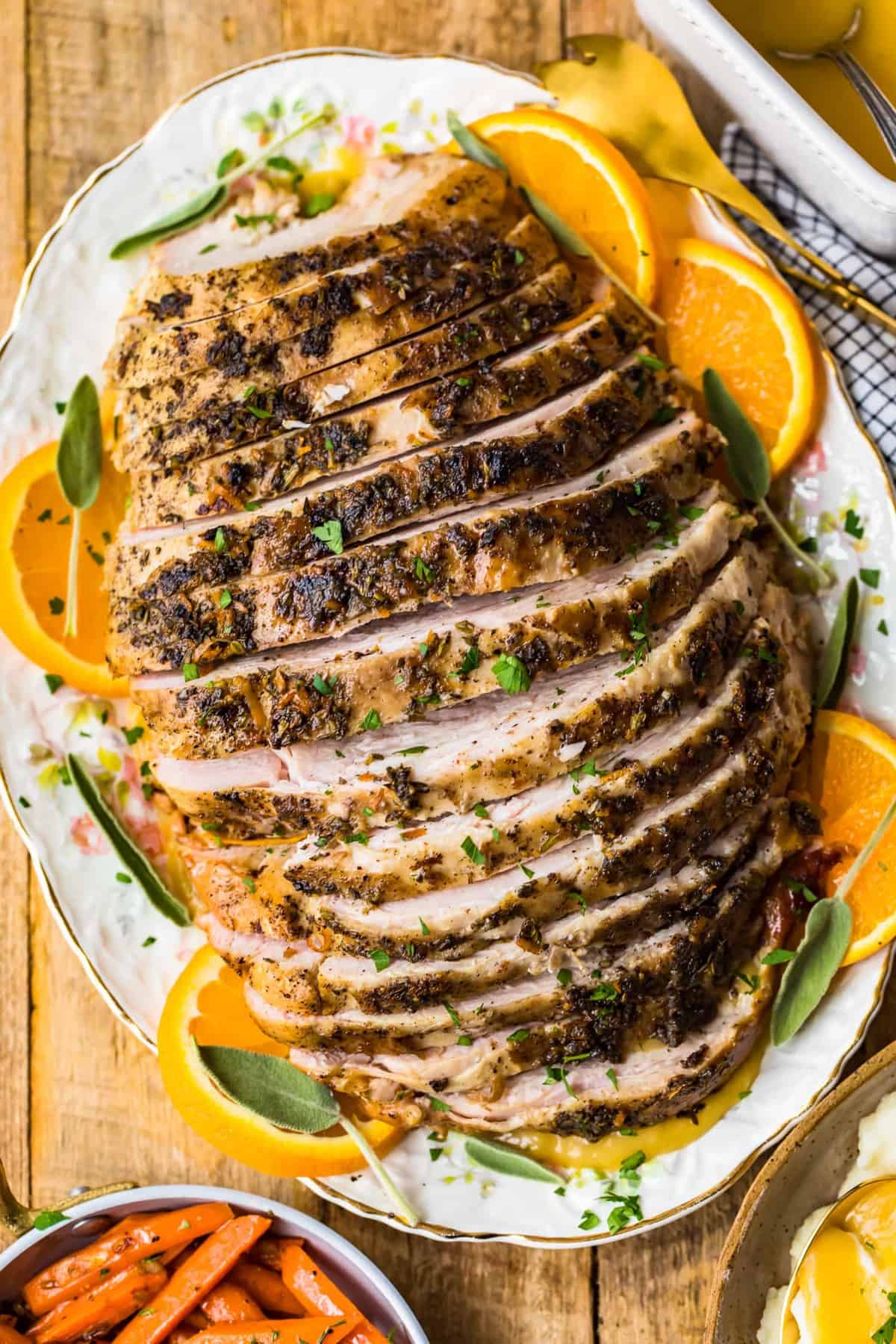 Making your turkey in a Crockpot is a great, hands-off option for the holiday, so you can free up the oven for other stuff. And this recipe gives you juicy, succulent turkey every time!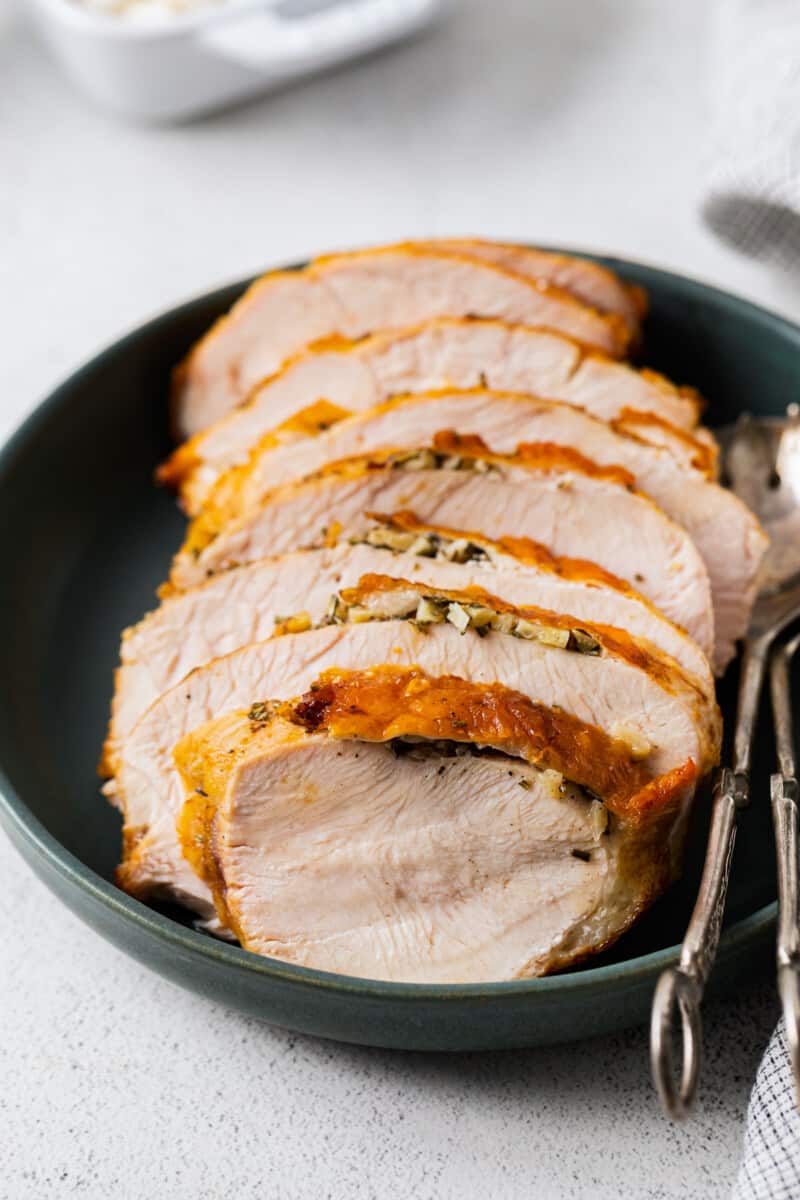 This turkey breast is perfectly flavored with rosemary and garlic for a savory, herb-y taste. And cooking it in the Air Fryer gives it a nice, crispy finish!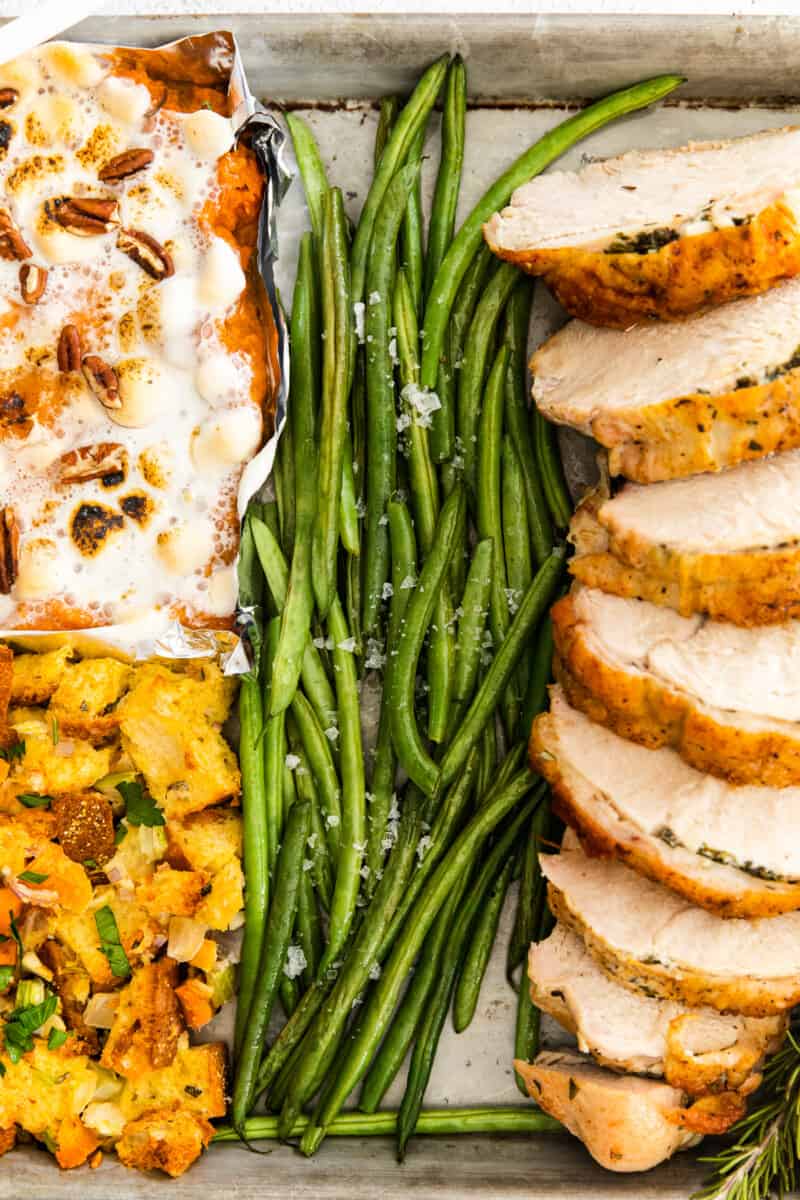 Make Thanksgiving as easy as possible with this sheet pan dinner! If you're cooking for two, this will give you everything you need. Plenty of turkey breast and sides (green beans, stuffing, and sweet potato casserole) for two.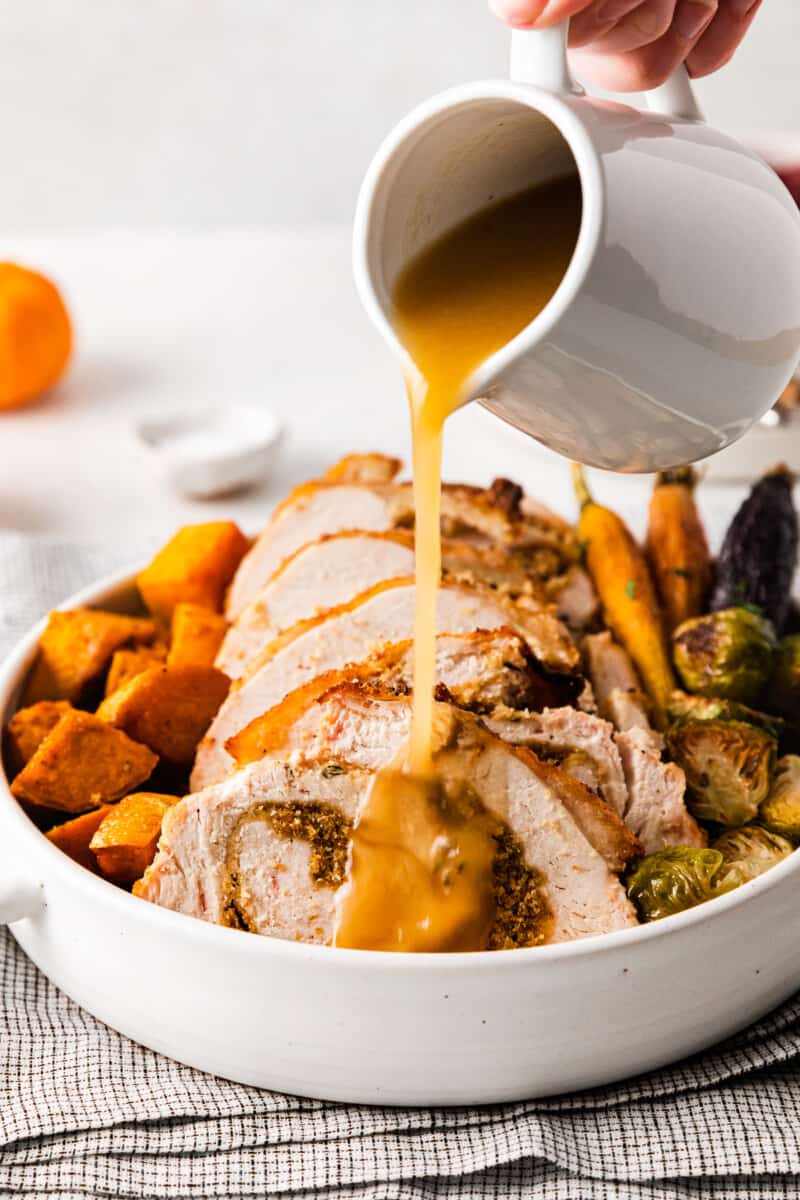 Here's another sheet pan recipe for a super easy holiday dinner. This one features a beautiful turkey roulade, along with carrots, sweet potatoes, and Brussels sprouts.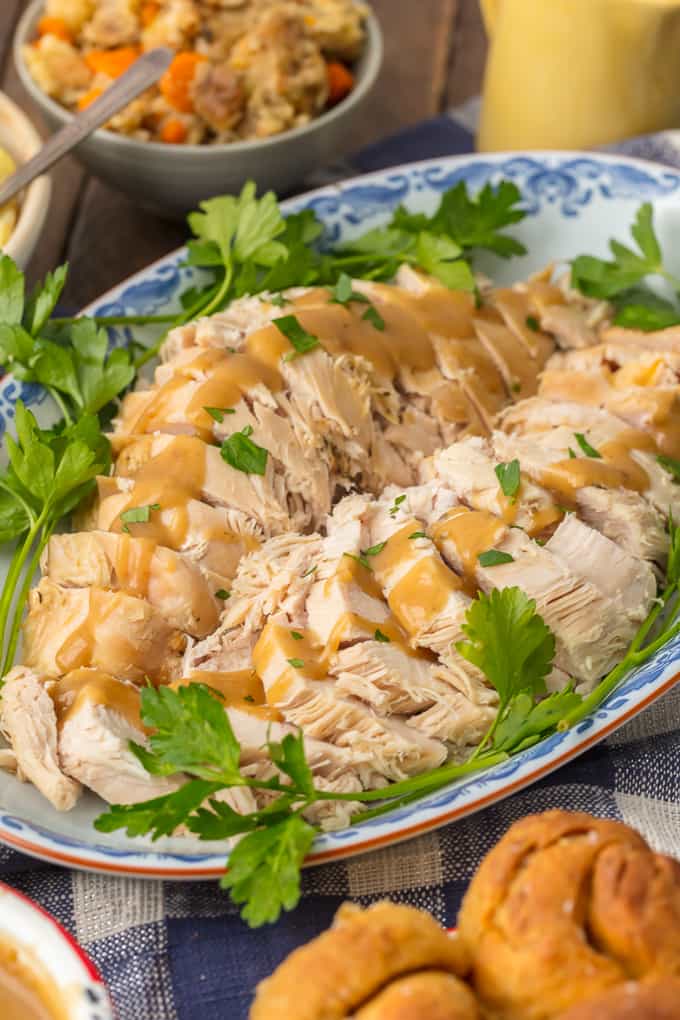 Cook your Thanksgiving turkey in a pressure cooker for an easy (and pretty quick) method. Pop it in, set the timer for about an hour, and it'll be ready to serve. It comes out so juicy and tasty (even better with this turkey gravy).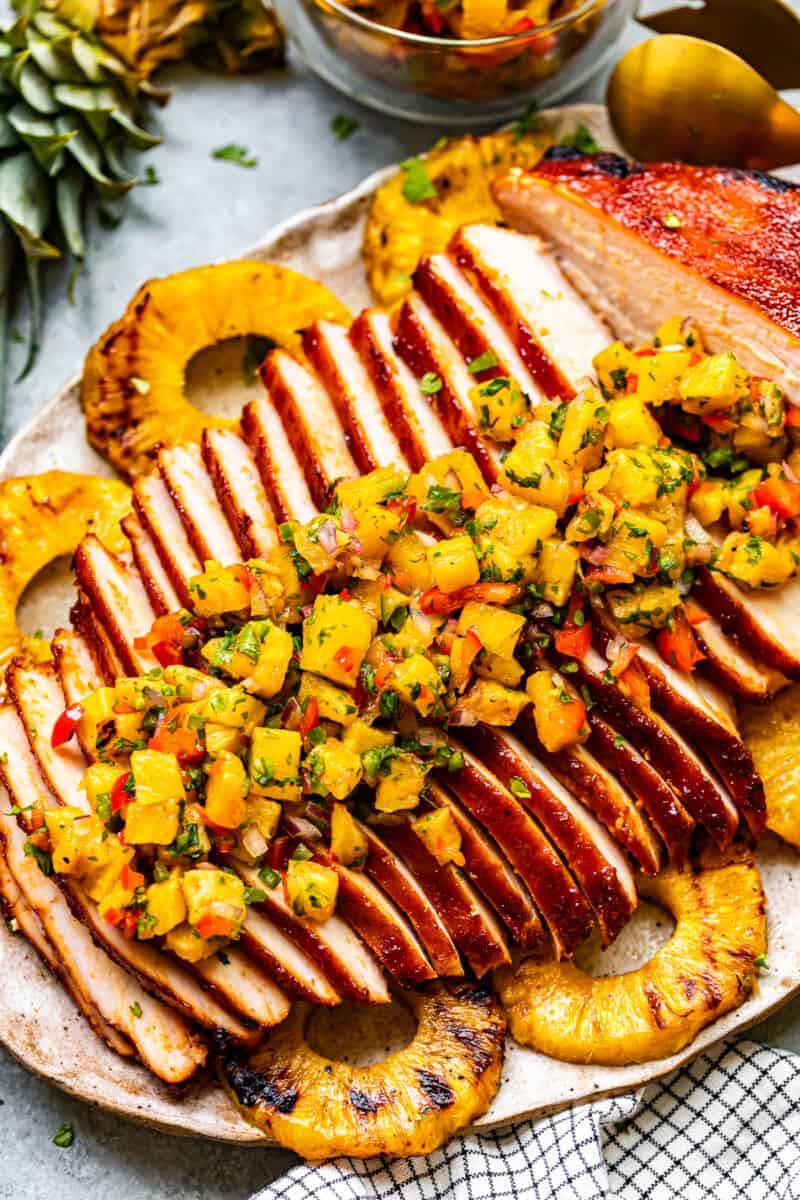 This is the most unique turkey recipe for the holiday. Get out the grill and add some incredible flavor–that pineapple salsa is so refreshing! It makes a nice change from the more traditional Thanksgiving recipes, and gives everyone a chance to try something different.
Any of these turkey recipe ideas will light up the center of the Thanksgiving table! And they all go perfectly with your favorite side dishes to create one delicious holiday dinner. Enjoy!
More Thanksgiving Recipes
Finish off your Thanksgiving menu with these easy recipes! Find side dishes for your turkey, and lots of pies, desserts, and more to enjoy after the feast.
Recipe Collections