This roasted Spatchcock Turkey recipe will leave you with juicy, tender meat, crispy skin, and a delicious garlic and herb flavor! Spatchcocking (aka butterflying) is a method of cutting the turkey that removes the backbone so it will lay flat, which helps it cook more quickly and evenly. It's easy to do, totally worth it, and I'll show you how!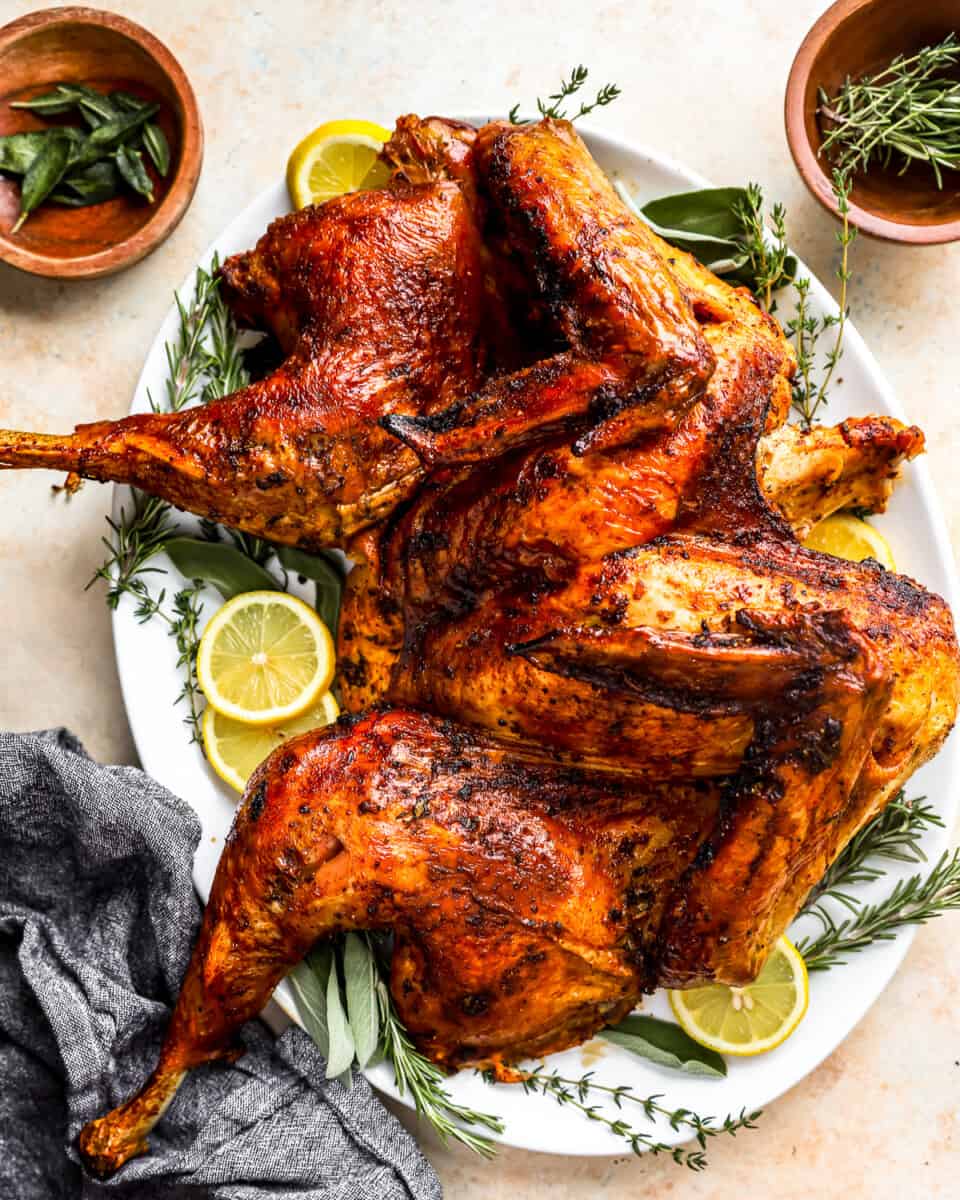 What's in this Spatchcock Turkey Recipe?
If you're a crispy skin lover, then this spatchcocked turkey recipe is for you! Armed with some sharp kitchen shears, you can create the crispiest, juiciest, and most flavorful turkey ever!
Turkey: This recipe is for a whole turkey. We used a 12-pound turkey, but you can adjust the cooking time depending on the size of your turkey. Make sure your turkey is fully thawed before spatchcocking.
Fresh Herbs: Thyme, rosemary, and sage add a fresh herbal flavor to the turkey.
Kosher Salt: Enhances the natural flavor of the meat.
Onion Powder: Adds an earthy and slightly sweet flavor.
Paprika: Adds a mild and sweet vegetal flavor.
Black Pepper: Adds a hint of spice.
Garlic: Adds an earthy flavor and pungent aroma.
Lemon Zest: Adds a hint of citrus flavor.
Olive Oil: Helps the seasonings stick to the bird and helps the skin crisp up in the oven.
Pro Tip: Adjust roasting time to the size of your turkey. Estimate 8 minutes of cooking per pound of turkey.
Seasoning for a Spatchcocked Turkey
I love the herb and spice blend on this butterflied turkey, but you could also use my favorite turkey rub or another spice blend, like herbs de Provence, instead!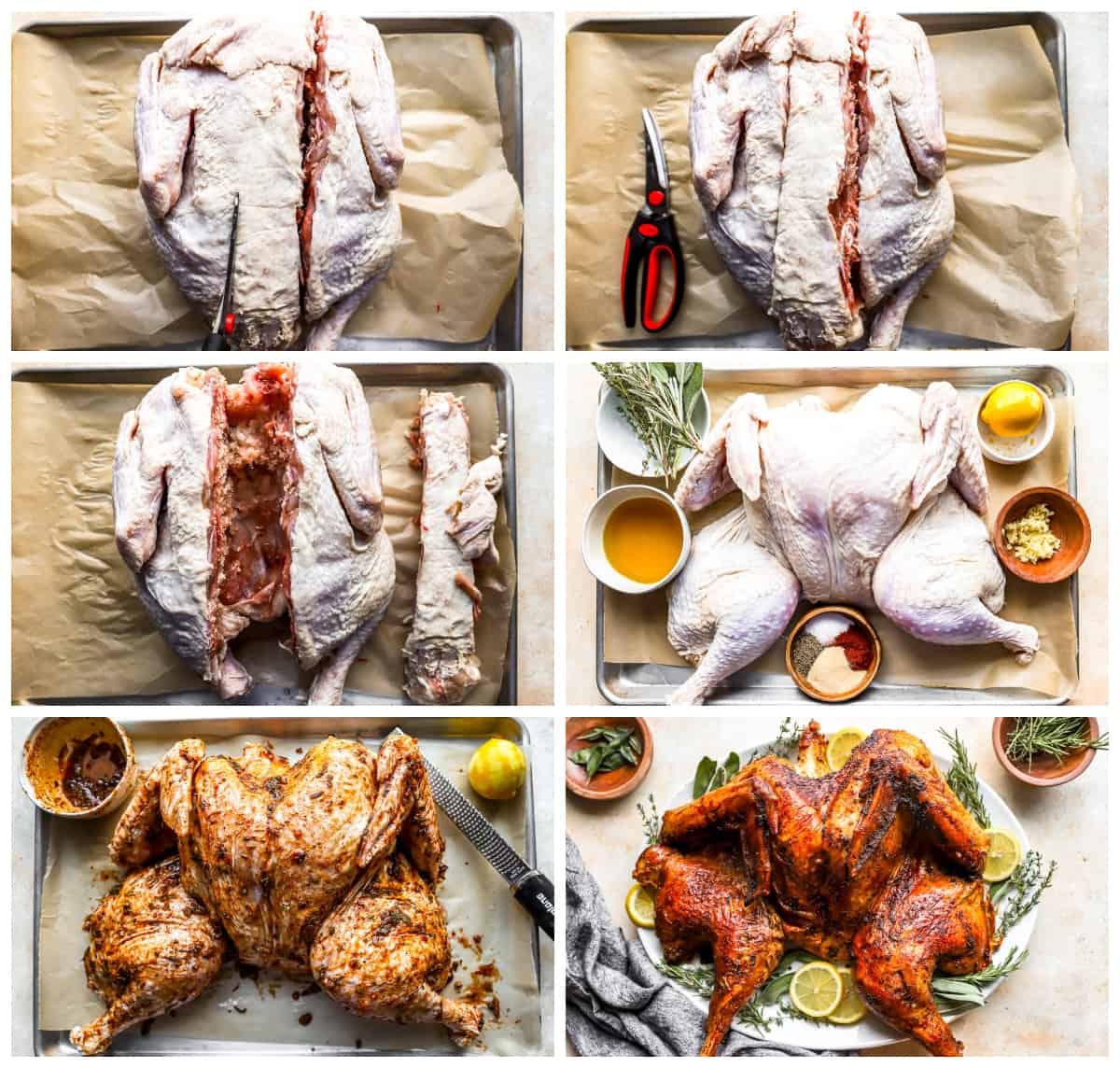 What is spatchcock turkey?
Spatchcocking (or butterflying) is the process of removing the backbone and flattening the bird for cooking. This helps the bird to cook more evenly, resulting in a super moist turkey.
Is it worth spatchcocking a turkey?
Yes, this method is totally worth the extra effort. It helps the turkey to cook more quickly and evenly, and it exposes more of the skin so you get crispy skin in every bite!
Does spatchcock turkey taste different?
While it won't taste different, it will be crispier and juicier than a conventional roasted bird.
Should I spatchcock my turkey the night before?
While it's not necessary, you can prep it the day before and leave it uncovered in the refrigerator until ready to bake. This will help the skin dry out a bit, leading to even crispier skin after baking.
What is the best temperature to spatchcock a turkey?
You should cook your turkey at 425°F for the best results.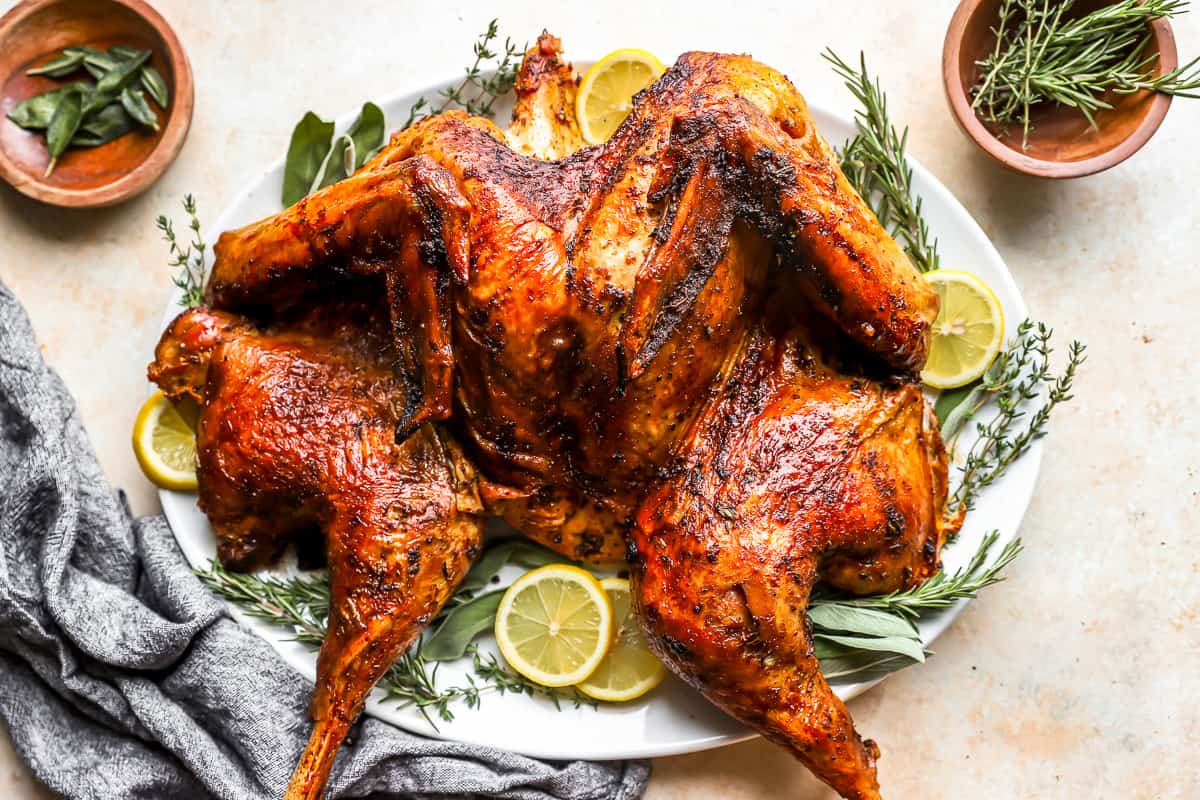 How to Store and Reheat
Store leftover spatchcock turkey in an airtight container in the refrigerator for up to 3 days. Reheat gently in the microwave or in a 300°F oven covered with foil for 20-30 minutes.
How to Freeze
Freeze roasted spatchcock turkey in an airtight container for up to 3 months. Let thaw overnight in the refrigerator before reheating. I do not recommend freezing turkey whole–always cut it into portions first.
Serving Suggestions
Serve this spatchcocked turkey with classic Thanksgiving side dishes, such as turkey gravy, mashed potatoes, creamed corn, homemade stuffing, green bean casserole, maple roasted sweet potatoes, and crescent rolls.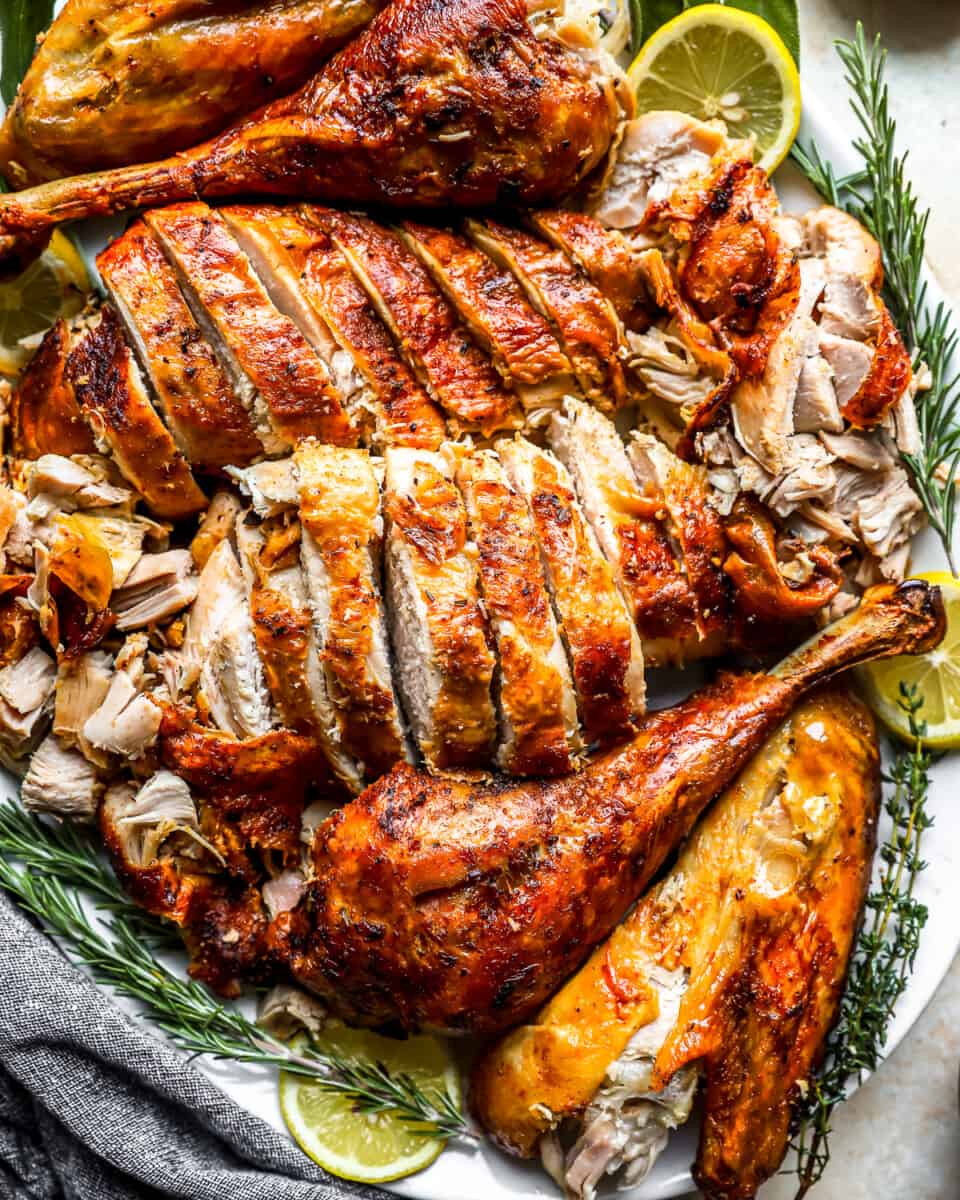 More Turkey Recipes We Love