This post is sponsored by Danish Creamery. All opinions are my own.
Get ready for one delicious treat! Sweet and tangy, this layered lemon meringue cake is filled with lemon curd and topped with meringue for a real tasty showstopper!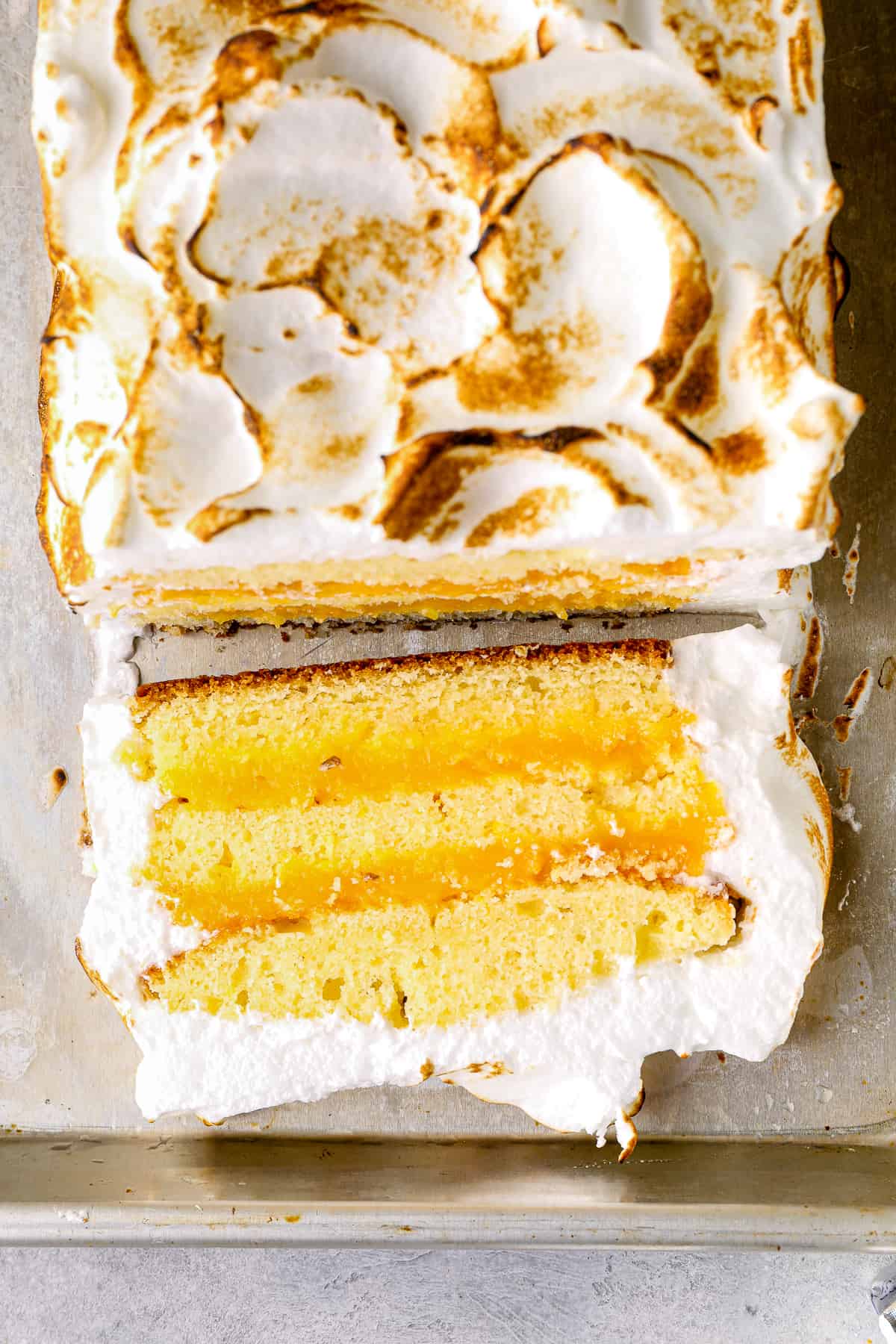 Easy Lemon Meringue Cake Recipe
Lemon meringue is one of my favorite pies, I just love that balance of sweet and tangy. It felt right to turn it into cake form!
We made this easy Lemon Cake with Danish Creamery European Style Butter, my absolute favorite. The quality stands out and truly makes this a show-stopping dessert!
This is a great dessert to serve over Easter, and for any occasion throughout the year! So fresh and delicious, this is a real crowd-pleaser!
Be sure to try my lemon meringue pie and lemon meringue cookies!
Why You'll Love this Lemon Meringue Cake Recipe Recipe:
Made from Scratch: There's no boxed cake mix here. Everything from the cake to the lemon curd is made from scratch and it's truly delicious!
Great for Occasions: This lemon meringue cake isn't just for Easter, it's great for all of your favorite holidays when you want to impress your guests.
Delicious: Made with fresh lemons, every bite of this cake is bursting with fresh flavor. The soft and chewy meringue topping adds sweetness and texture.
How to Make Lemon Meringue Cake
You can jump to the recipe card for full ingredients & instructions!
Combine the flour, baking powder, salt, and lemon zest.
Cream together the butter and sugar.
Mix the eggs into the butter and add in the vanilla and lemon juice.
Mix in the flour mix and buttermilk.
Pour into a tin and bake.
Melt together the butter and lemon juice.
Whisk together the sugar and egg yolks in a separate bowl.
Whisk together the lemon mix into the egg mix and allow to thicken. Let chill.
Whisk together the egg whites and sugar for the meringue in a double boiler.
Place into a stand mixer and whisk until light and fluffy.
Slice the cool cake into 3.
Top each slice with the lemon curd.
Cover with meringue, and broil to brown the meringue.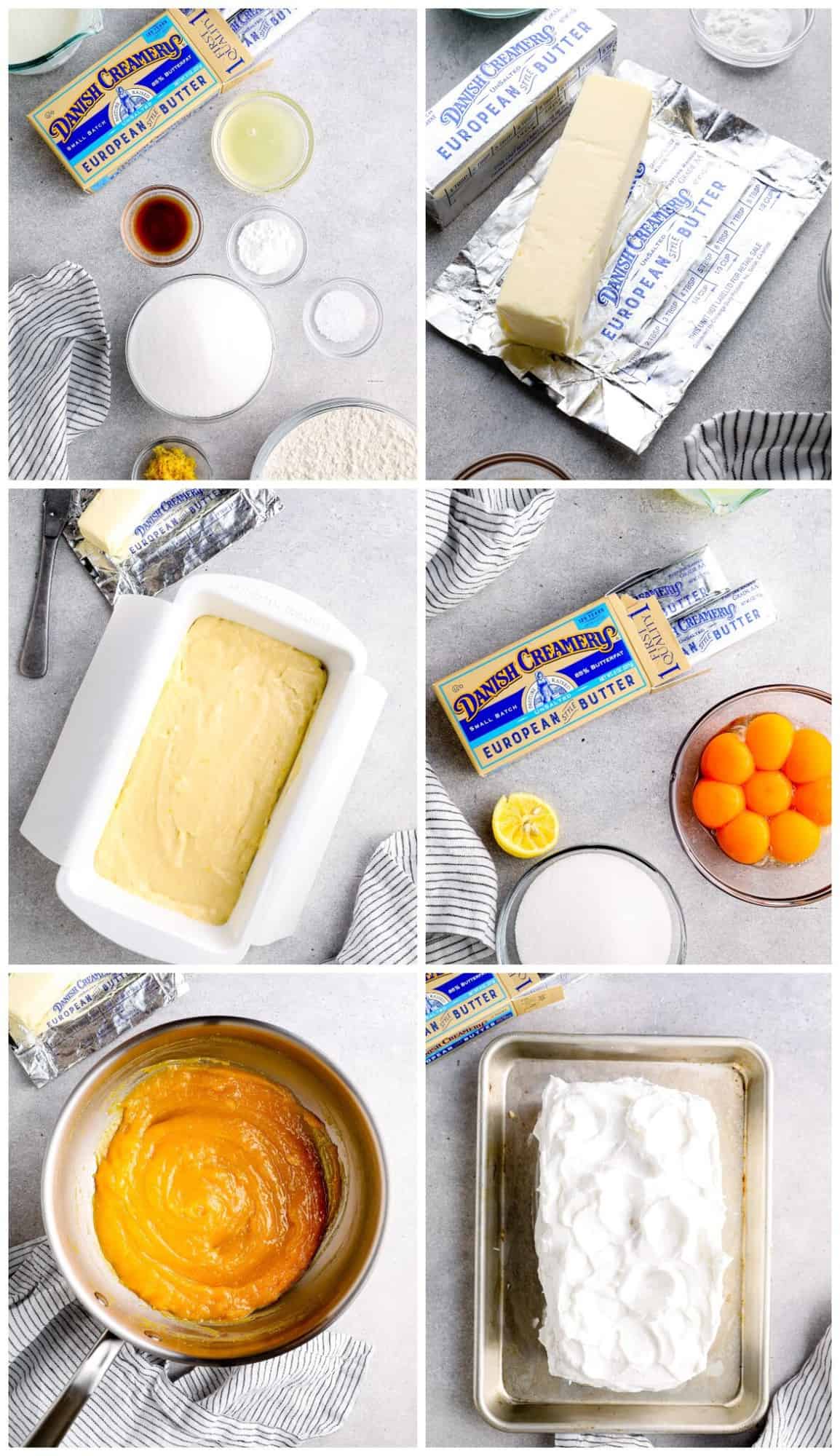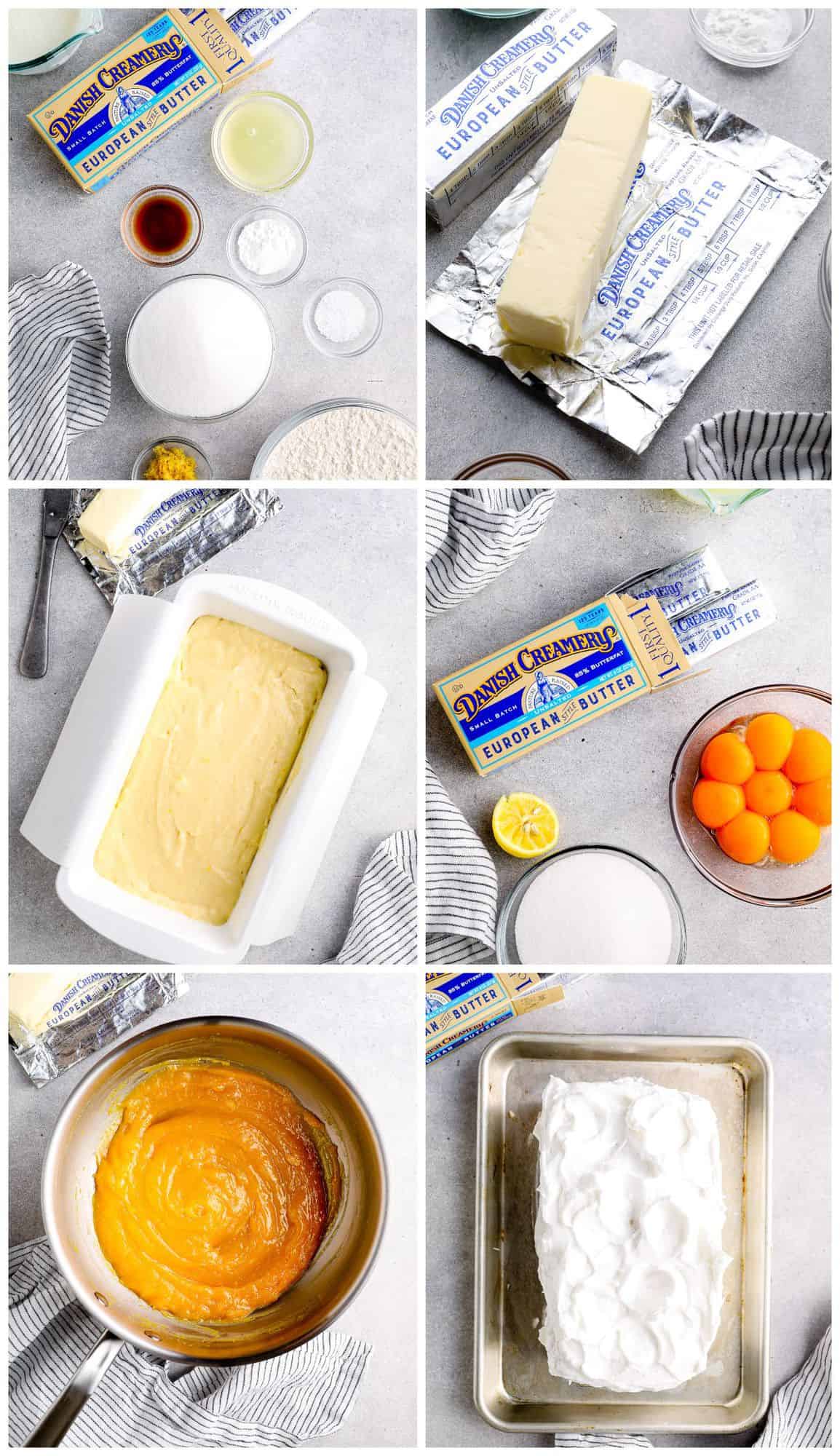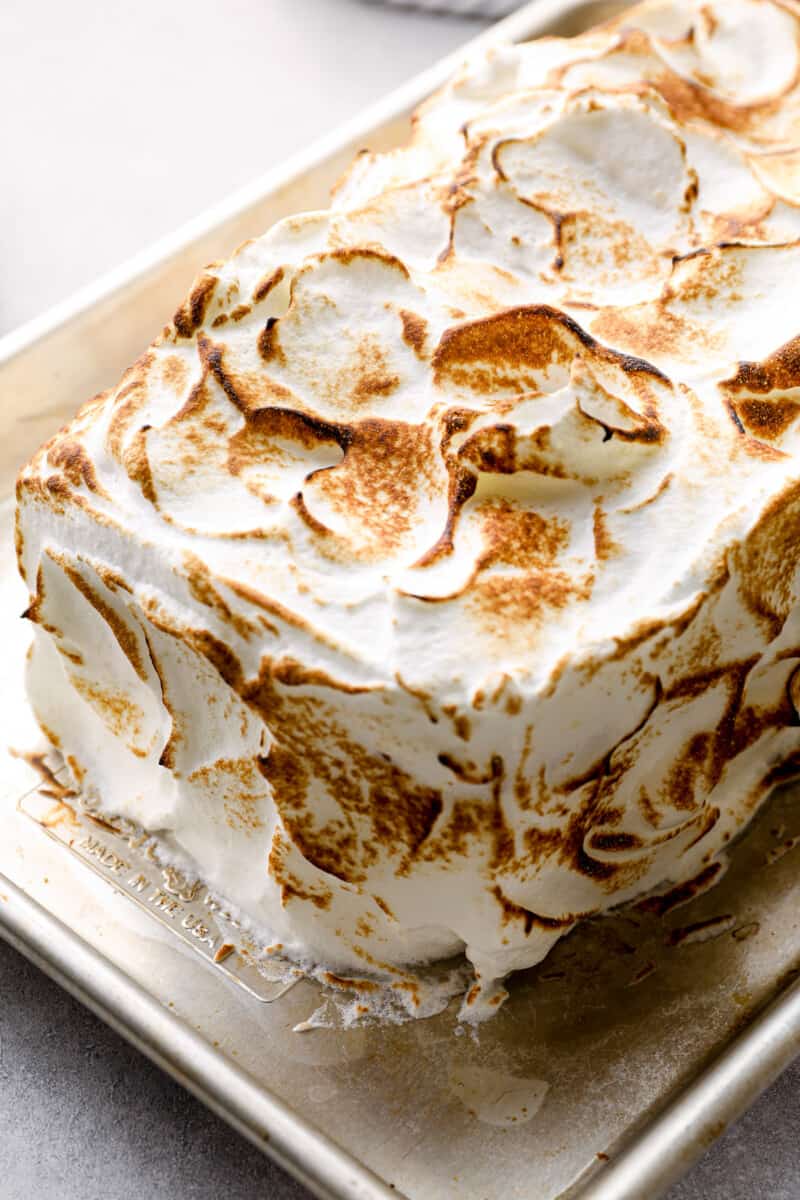 What's the best butter to use?
You might remember me using Danish Creamery European Style Butter for my famous Brown Butter Banana Bread, Gooey Butter Cookies, and of course our Tuscan Chicken (one of my most popular recipes!) I have been SO impressed with Danish Creamery that it's now my go-to butter brand.
Danish Creamery is always an easy decision to purchase at the grocery store, and I've since gotten my Mom obsessed!
I love using small-batch Danish Creamery European Style butter in my recipes because the 85% butterfat and attention to quality truly make a difference.
Quality ingredients like European Style Butter really stand out in a cake recipe like this Lemon Meringue Cake. You can truly taste the difference. And, Danish Creamery makes this delicious holiday or Summer cake an instant show-stopper.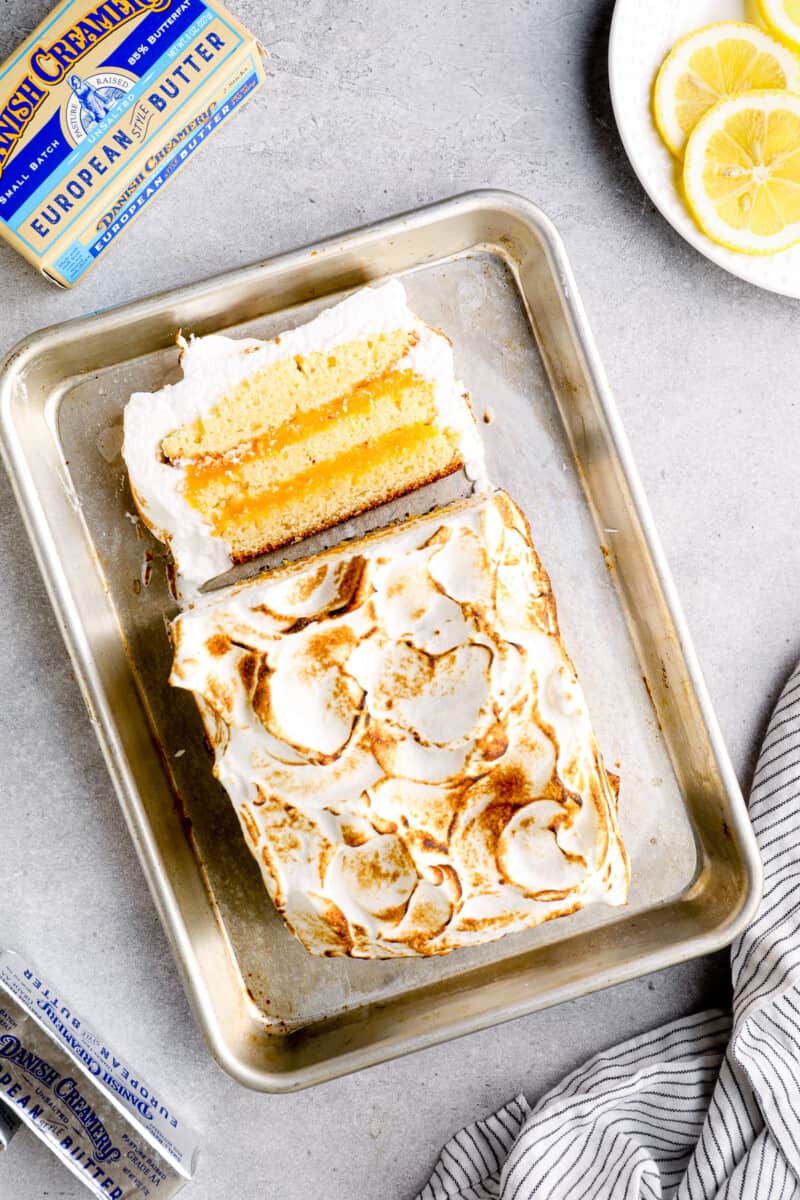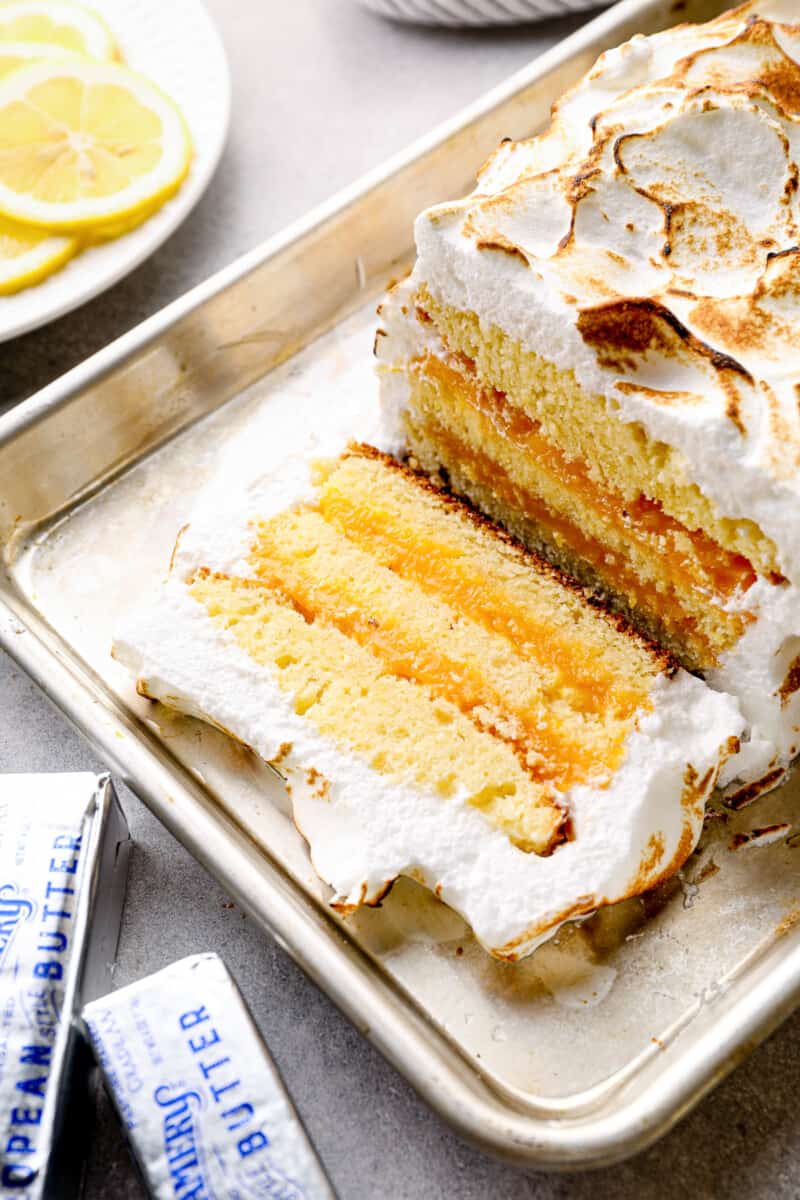 Can you make it ahead of time?
This cake is best served on the day it's made so that the meringue is at it's best.
You can Make the cake and lemon curd the day before and keep covered and then make the meringue and assemble the cake the next day. This also means that the cake will be fully cooled when you are ready to build it.
If you do have leftovers they will keep well, covered in the fridge for around 3 days.
Can you make it without a stand mixer?
It's much quicker and easier to use a stand mixer to make this cake and it ensures that you get an even texture and the meringue is just so.
You can make this cake with a hand whisk, but ensure that the ingredients are really well combined. It will take a little longer to make this way, but it's a good workout for your arms!
What's the best way to brown meringue?
You can brown the meringue either with a cook's torch or under the broiler. I prefer the look with a torch if you do have it, where some parts stay white and others get toasty.
A broiler is the simplest way though if you don't have a torch.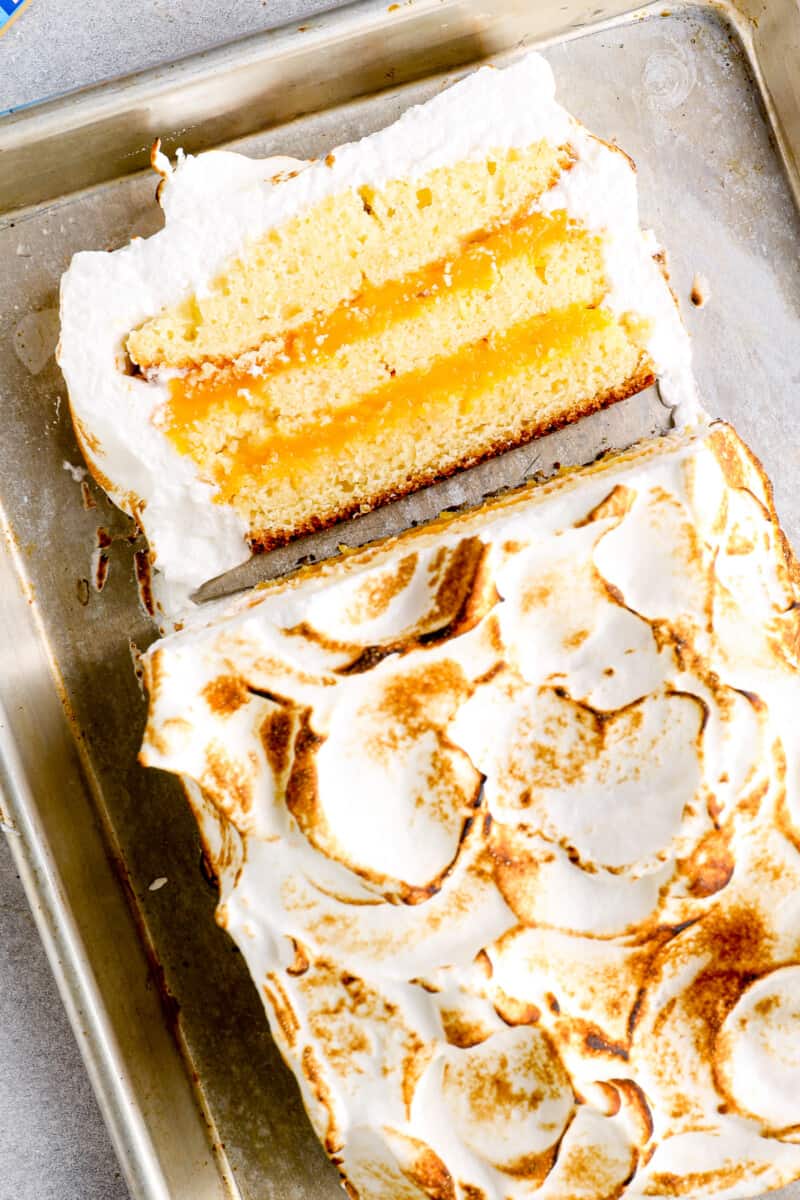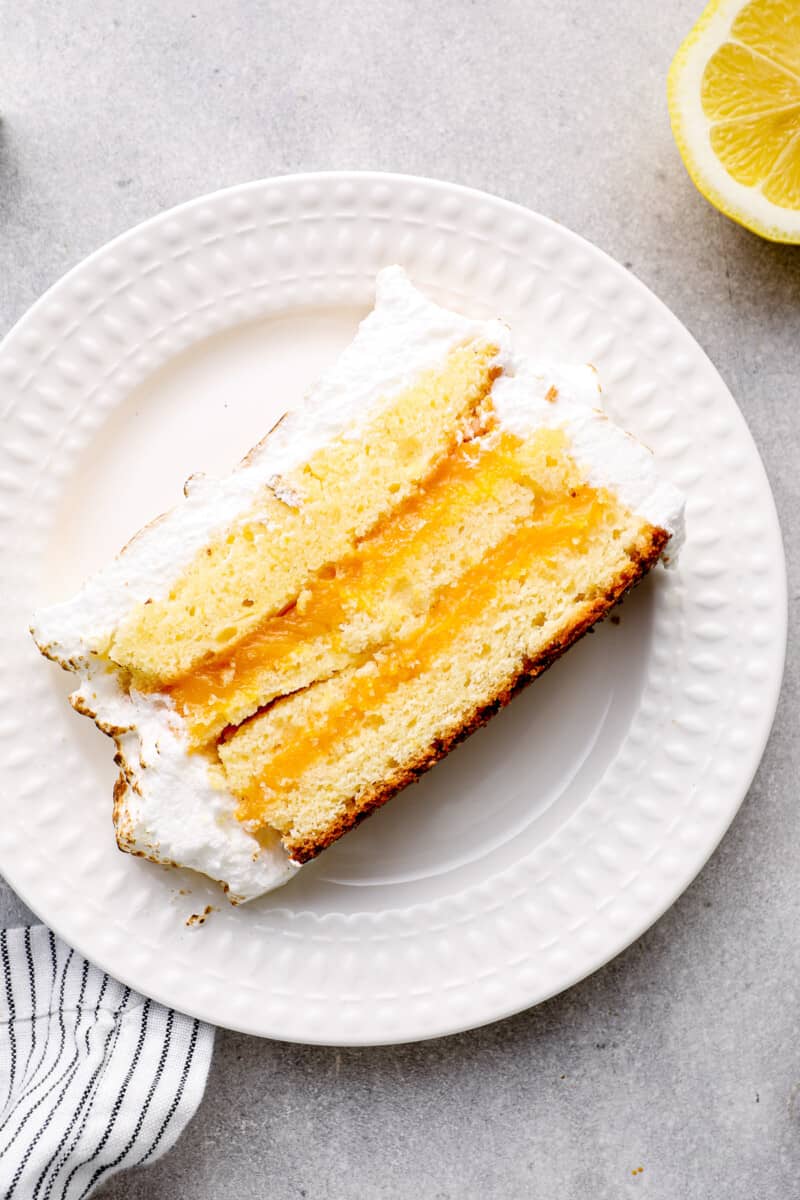 Tips!
Allow the cake to fully cool before slicing and assembling.
Use room temperature ingredients. This will help them to combine easily and you will have an even texture throughout the cake.
If you are looking for a shortcut, you can use store-bought lemon curd for the filling, but it's pretty quick to make your own and it's so much more flavorful.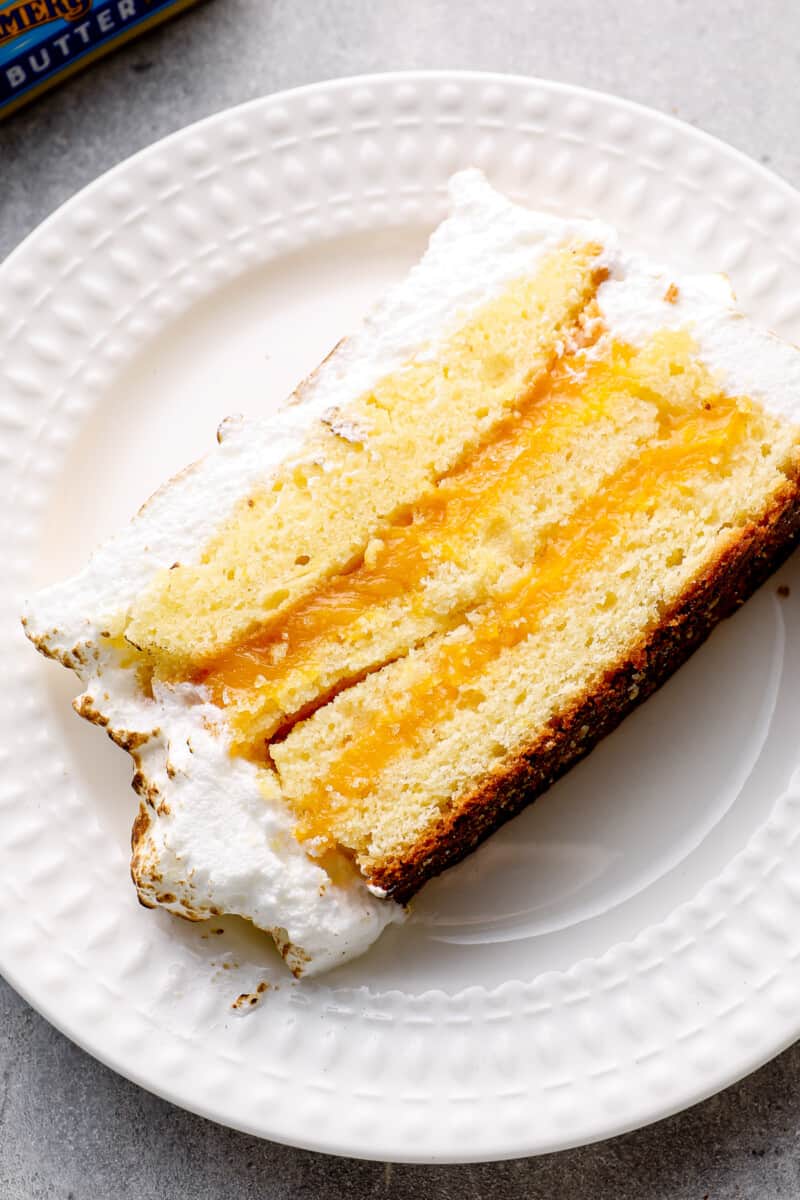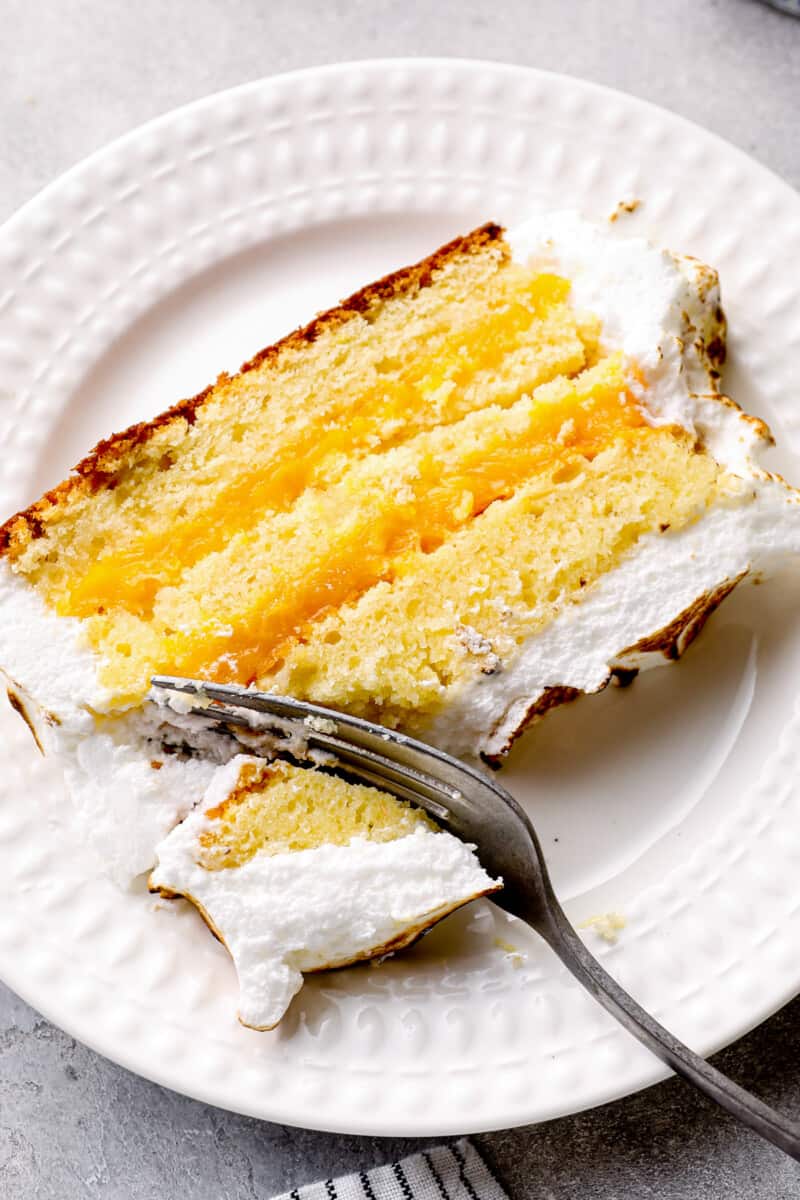 I cannot wait for you to make this lemon meringue cake, it's so wonderfully fresh and delicious. I know you are going to love this as much as we did!
More Easter Dessert Recipes we Love
If you make this recipe be sure to upload a photo in the comment section below or leave a rating. Enjoy! You can also jump to recipe.