Lemon Meringue Cookies have all the flavor of a lemon meringue pie without the hassle of making an entire pie. These bite-sized cookies are the perfect finger food dessert to serve at parties, or any time you're craving lemon meringue. Just make fresh meringue and assemble the mini lemon meringue pie tarts to create a tasty little dessert!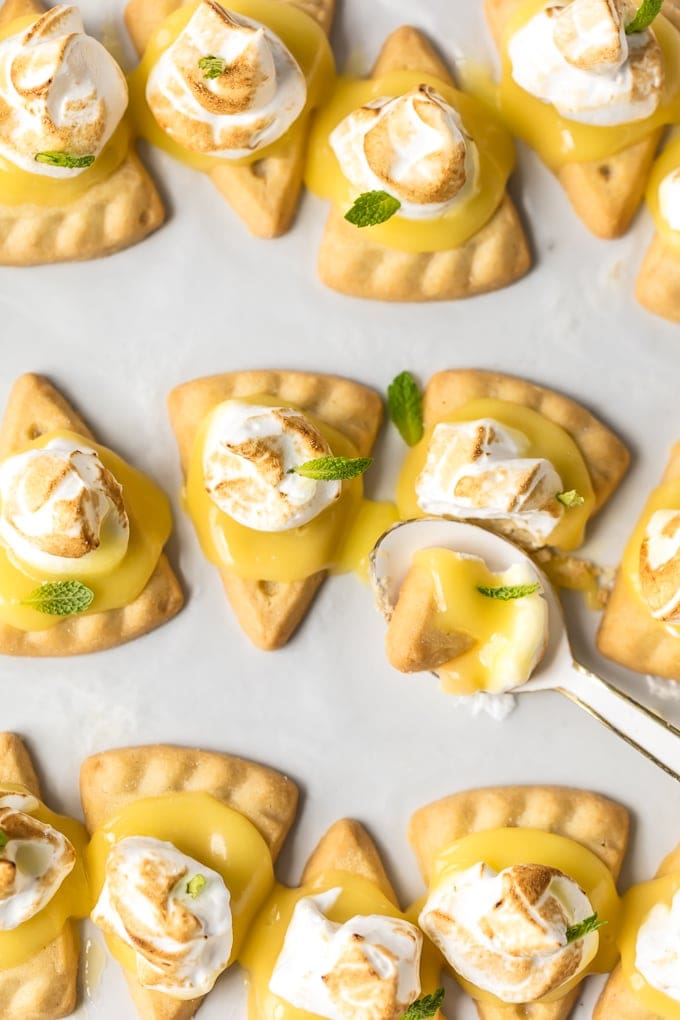 Lemon Meringue Cookies Recipe
Lemon Meringue Cookies are an easy, bite-sized version of lemon meringue pie. These mini pie tarts are perfect for parties or dessert any time!
These are a little different than the Lemon Meringue Cookies you might be expecting. They're more like mini Lemon Meringue Pie tarts. Whatever you call them, they're super easy to make and super delicious to eat!
I love the idea of making a Lemon Meringue Pie in bite-sized cookie form. Instead of making an entire meringue pie, just recreate it as a finger food! I used shortbread cookies and topped them with lemon curd and meringue. Same delicious lemon flavor, but much easier and faster to make. This tiny dessert is perfect to serve at parties, or to whip up any time you're craving lemon meringue.
I love these tasty little lemon meringue pie cookies, I could eat a whole batch at once! They have an element of class with the fresh meringue while still being amazingly simple.
Fill that lemon meringue pie craving with these easy Lemon Meringue Cookies!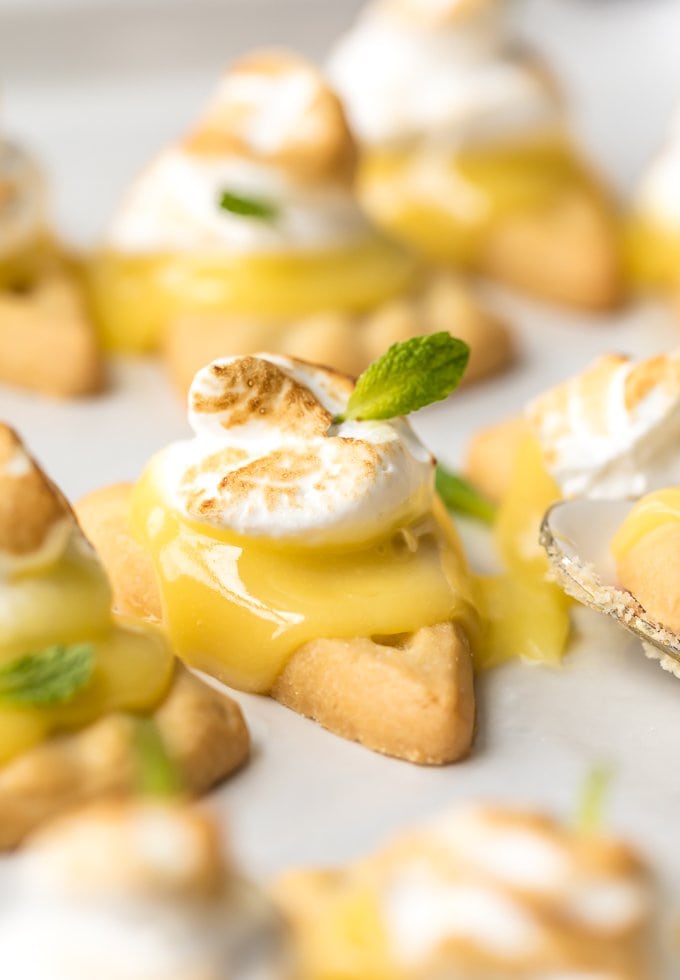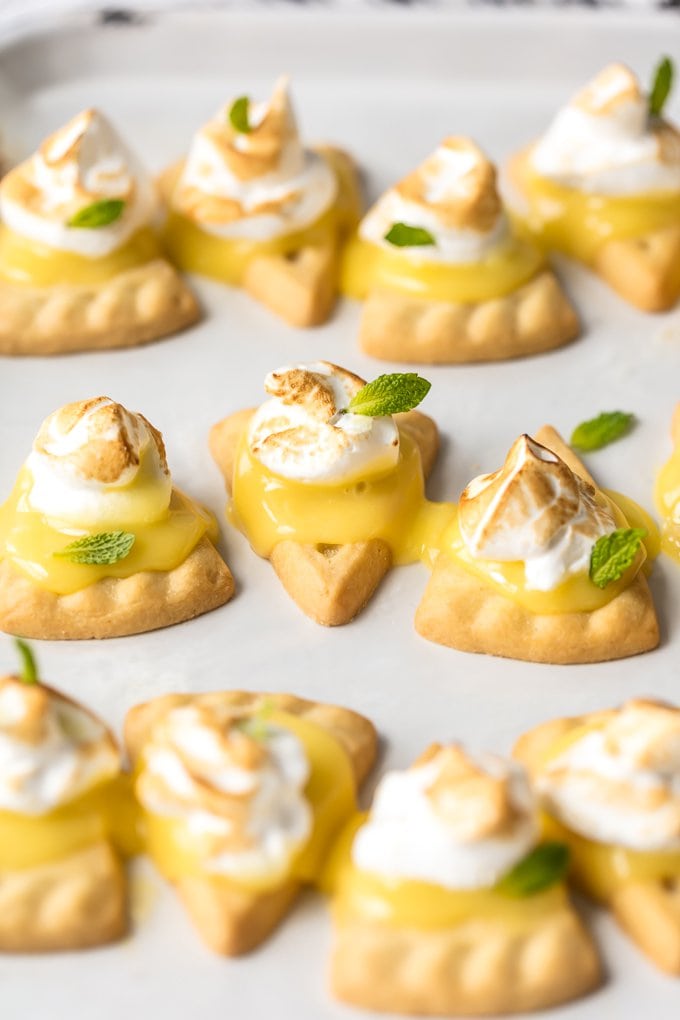 Easy Lemon Meringue Pie Tarts
Lemon Meringue Pie has never been easier than with this easy lemon meringue cookies recipe! You get all the same elements (lemon curd, fresh meringue) but in a mini pie tart form. Aren't they so cute? They make a great finger food, so they're perfect to serve at parties without having to hand out plates and forks (or clean up those extra dishes).
No need to spend time making an entire pie when you can just make these lemon meringue cookies instead!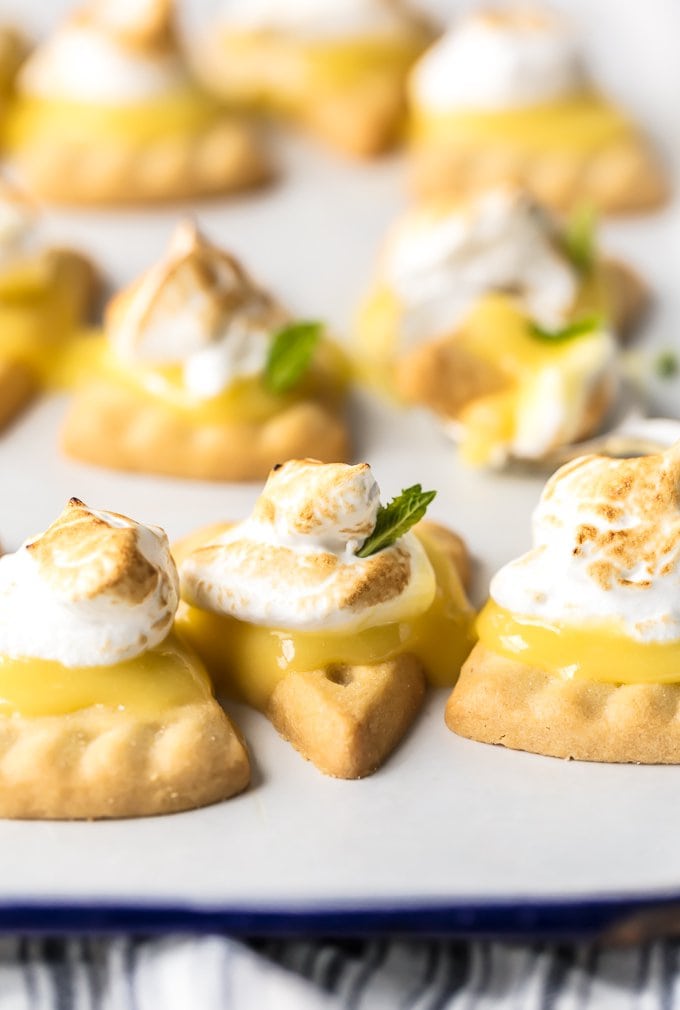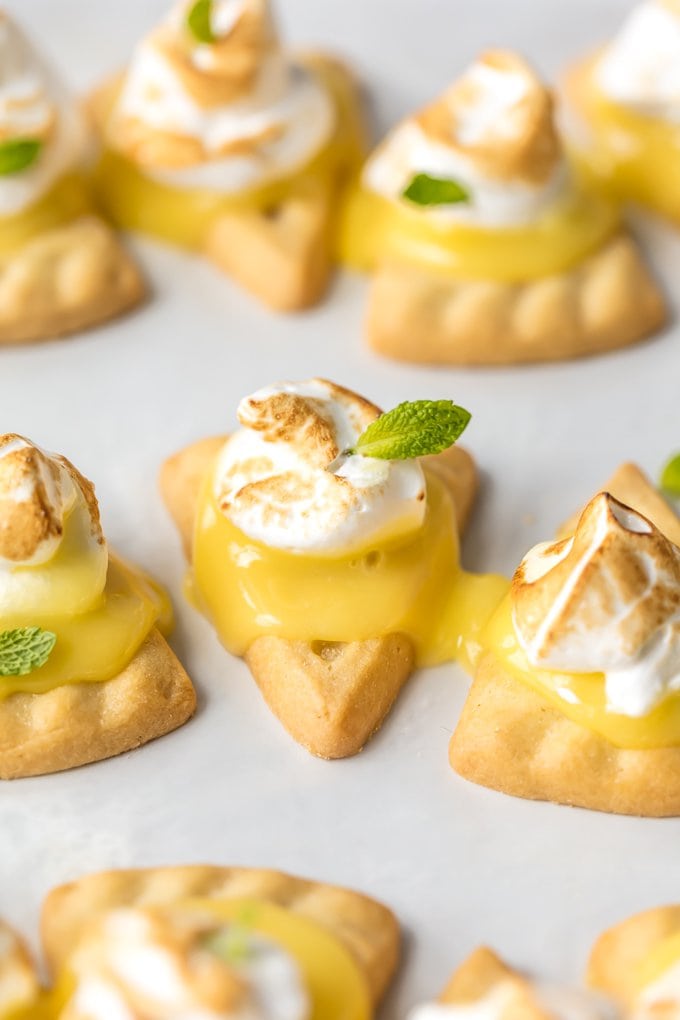 How to Make Lemon Meringue Cookies
I'm always happy to share an easy dessert recipe, and this one is so much fun. Lemon Meringue Pie is one of my favorites, but sometimes I'm just not up to making an entire pie from scratch. These lemon meringue cookies are the perfect solution and don't take long at all. It's basically just making fresh meringue, and then assembling the cookies or mini pie tarts. No baking and nothing too complicated or messy.
How to Make Lemon Meringue Pie Cookies:
Place sugar and water in saucepan over medium-low heat
Stir until sugar dissolves and then simmer for 3 minutes and remove from heat
Beat egg whites until soft peaks form
Slowly add the sugar water into the egg whites
Beat the meringue until you get firm but glossy peaks
Place shortbread cookies on plate/platter
Spoon on the lemon curd, and then top each one with the meringue
If you have a kitchen blowtorch, use it to lightly brown the meringue
They look just like mini lemon meringue pies! So cute, so delicious, and so easy to make.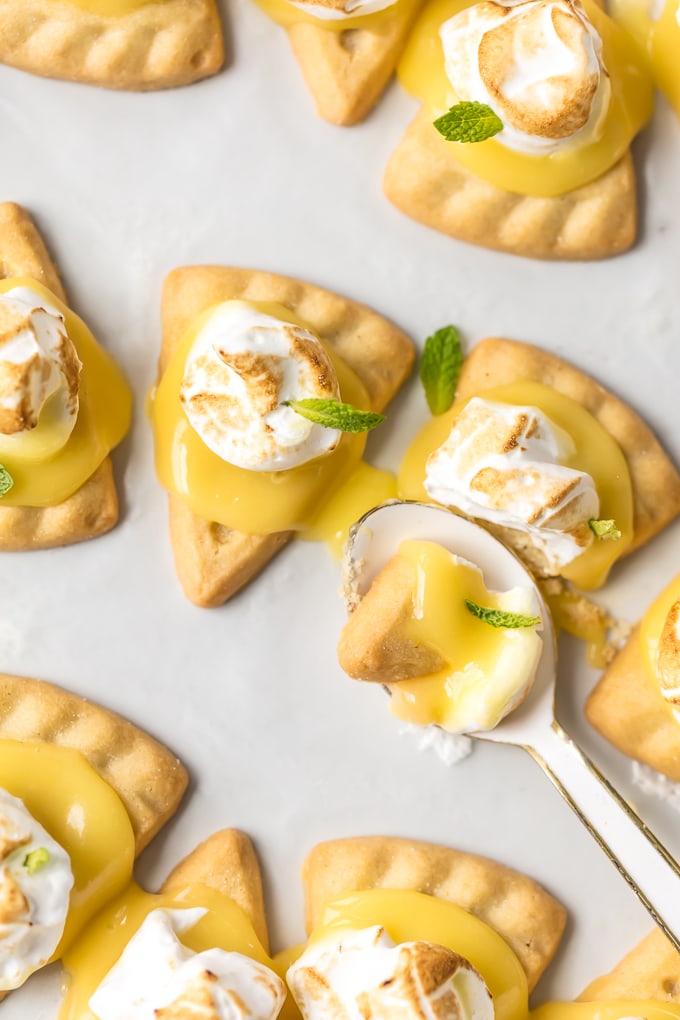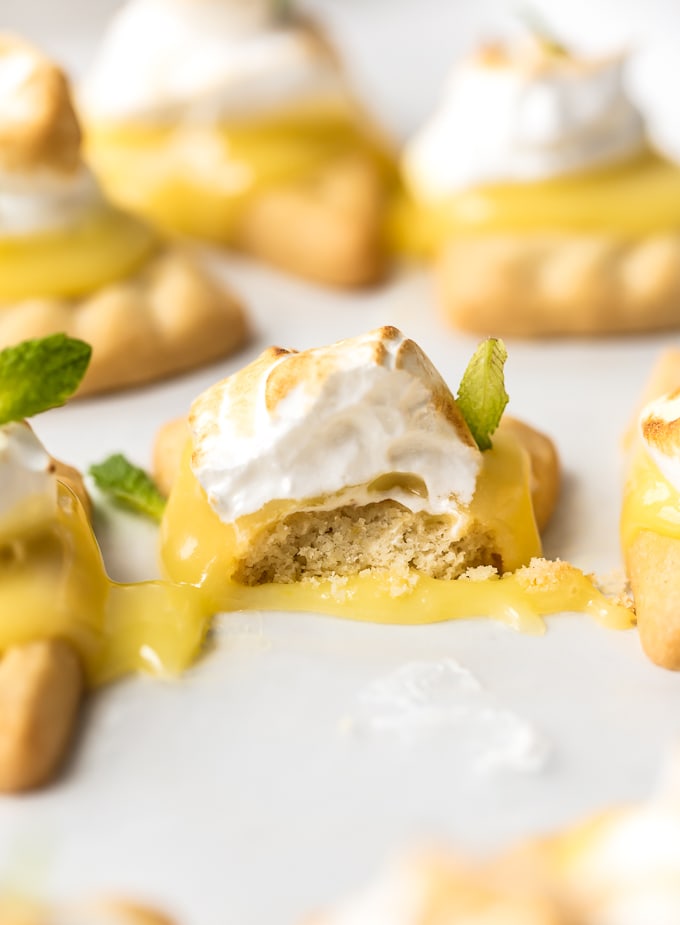 These easy lemon meringue cookies are so tasty and fun to make. You can eat them with your hands which makes them awesome for serving at parties. This mini lemon meringue pie tarts recipe has all the flavor of that classic pie without the mess and hassle. I absolutely love these and I know you will too!
See the recipe card below for details on how to make Lemon Meringue Cookies. Enjoy!
If you like this recipe, try these other dessert recipes too: