Sweet and tangy, this homemade lemon curd recipe is a must make! Easy to make with fresh lemons, it's perfect to use in your favorite baking recipes, or as a delicious spread.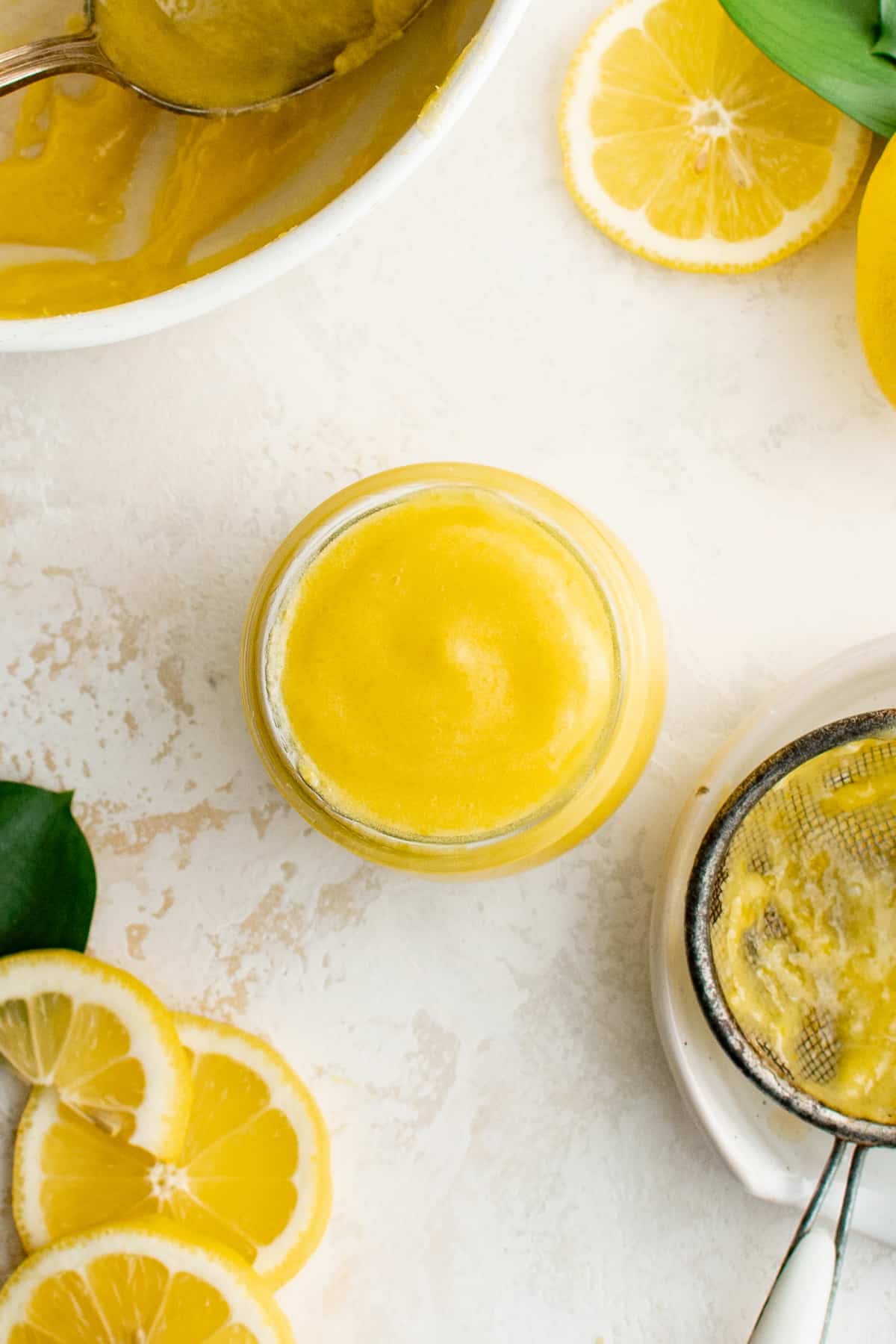 Homemade Lemon Curd
Ever since I can remember, a jar of lemon curd has been a staple in my pantry! It's perfect to use in baking recipes, and my favorite thing is to spread it on a freshly baked scone!
Making homemade lemon curd is so easy, and it has a fresher and zingier flavor compared to store bought. This cooking basic is simple to master, and you'll be making it time and time again!
Be sure to try my Lemon Meringue Cake and Lemon Sauce too!
Why You'll Love this Easy Lemon Curd Recipe:
SIMPLE INGREDIENTS: You only need 5 basic ingredients to make this traditional lemon curd recipe.
MAKE AHEAD: Once made, this has a great shelf life, so be sure to make a double batch.
FREEZER FRIENDLY: If you've got a bumper crop of fresh lemons, this is a great way to preserve them! It freezes well for several months!
If you love the bright, citrus-y flavor of lemons, this recipe is a no brainer! All made in one pot on the stovetop, it comes together quickly and easily.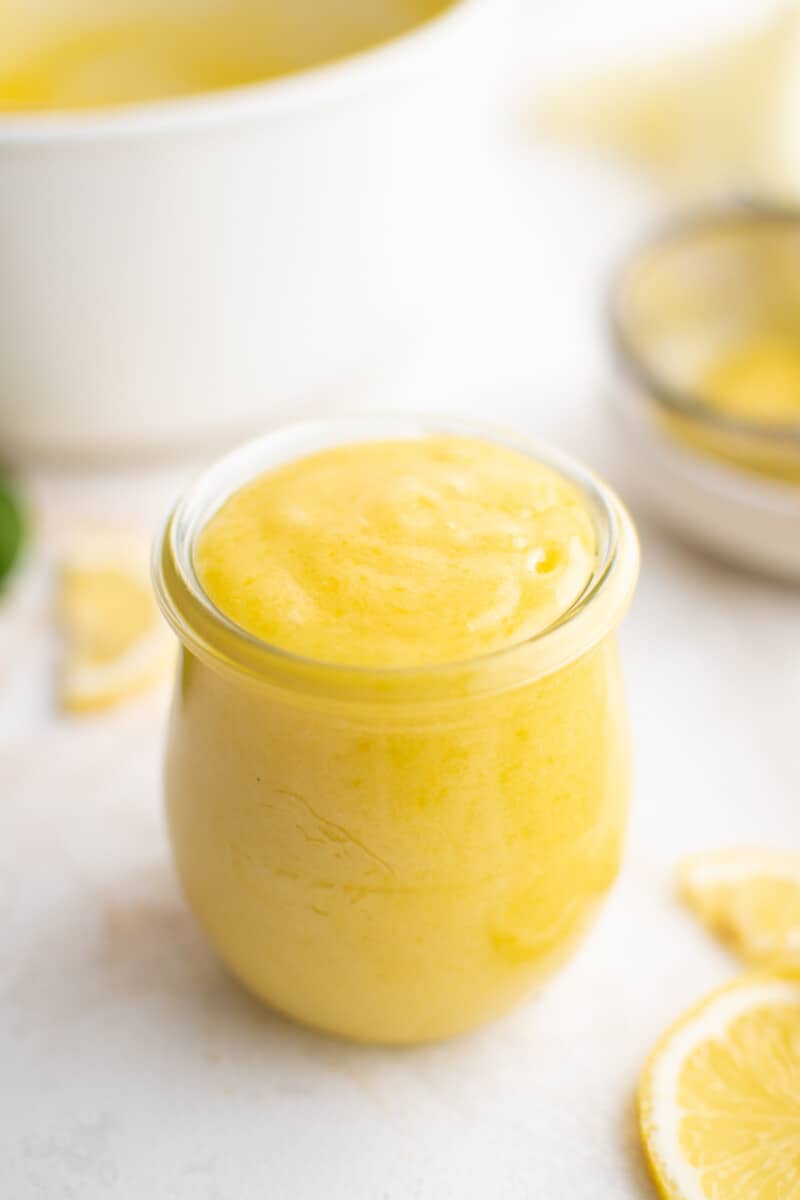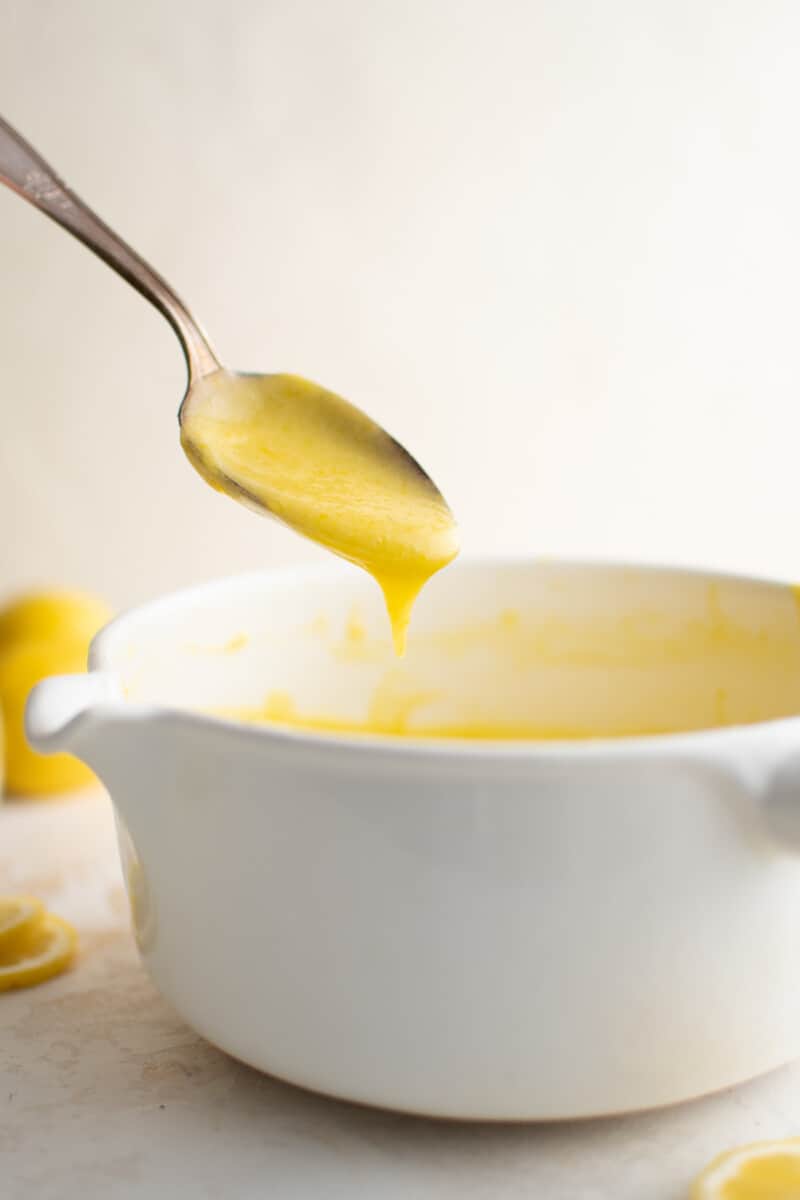 How to Make Lemon Curd
You can jump to the recipe card for full ingredients & instructions!
Whisk together the sugar, lemon juice, and eggs over heat for 5 minutes.
Stir in the butter and lemon zest.
Whisk until it thickens.
Strain if desired.
Let it cool and store, or use as you please!
Ingredient Notes
Lemon Juice: For the best results, use fresh-squeezed lemons, rather than bottled lemon juice.
Eggs: Make sure that your eggs are fresh. (When you place them in a bowl of water, fresh eggs will sink to the bottom, while old eggs will float to the surface.)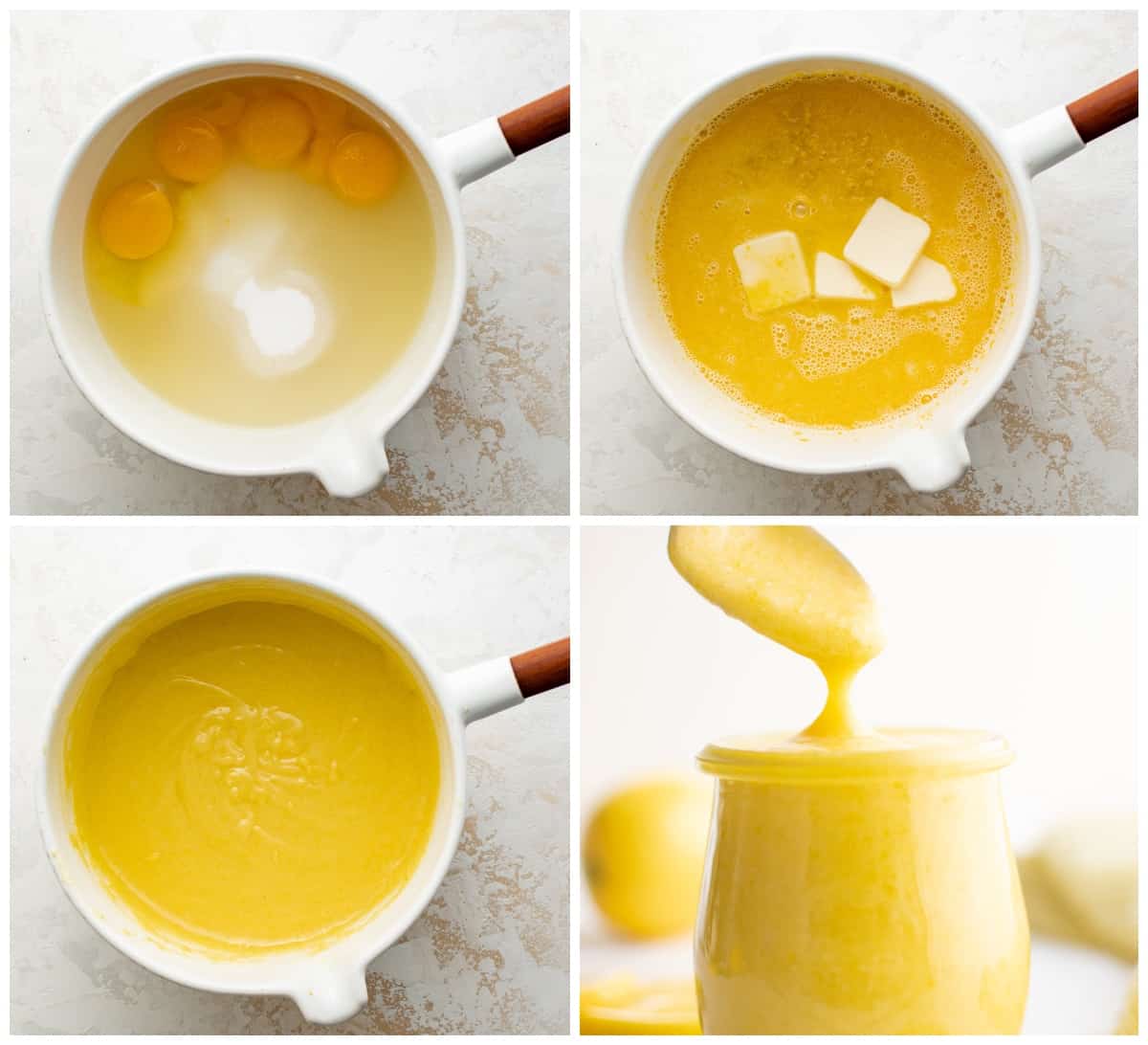 What is lemon curd?
Lemon curd is a mixture of sugar, eggs, lemon juice and zest, and butter. It has a creamy, custard-like texture, but is spreadable like a jam.
Can I make this lemon curd in the microwave?
There are recipes out there for microwave lemon curd, but I have not tested this recipe in the microwave.
Why does my lemon curd taste metallic?
Lemon curd may end up tasting metallic if it's cooked in a metal saucepan. If you notice this, the lemon and eggs may be reacting with your pan. Try cooking your curd over a non-metal double boiler, such as glass or porcelain.
Do I need to strain lemon curd?
Straining is an optional step, but I highly recommend it because it removes the lemon zest and any overcooked egg, which can lead to a lumpy or gritty texture.
Why is my lemon curd lumpy?
Lumps in your lemon curd are most likely due to the eggs overcooking in the mixture. Press the mixture through a fine-mesh sieve to remove the lumps. If your curd is still lumpy after straining, blend the mixture until smooth.
Why won't my lemon curd thicken?
Lemon curd continues to thicken as it cools, so be sure to wait until it has cooled to judge whether or not it's too thin. If your curd seems too thin after cooling, you can thicken it by adding a cornstarch slurry (1 tablespoon of cornstarch dissolved in 3 tablespoons of water). Heat the curd over low and stir in the cornstarch until it thickens.
Can you freeze lemon curd?
Yes, you can freeze lemon curd in an airtight container for up to 3 months. Let it thaw overnight in the refrigerator before enjoying.
The flavor of this homemade recipe is so much fresher and brighter than any you buy at the store. With just a few ingredients and steps, the hardest part is having the patience to let it cool before digging in!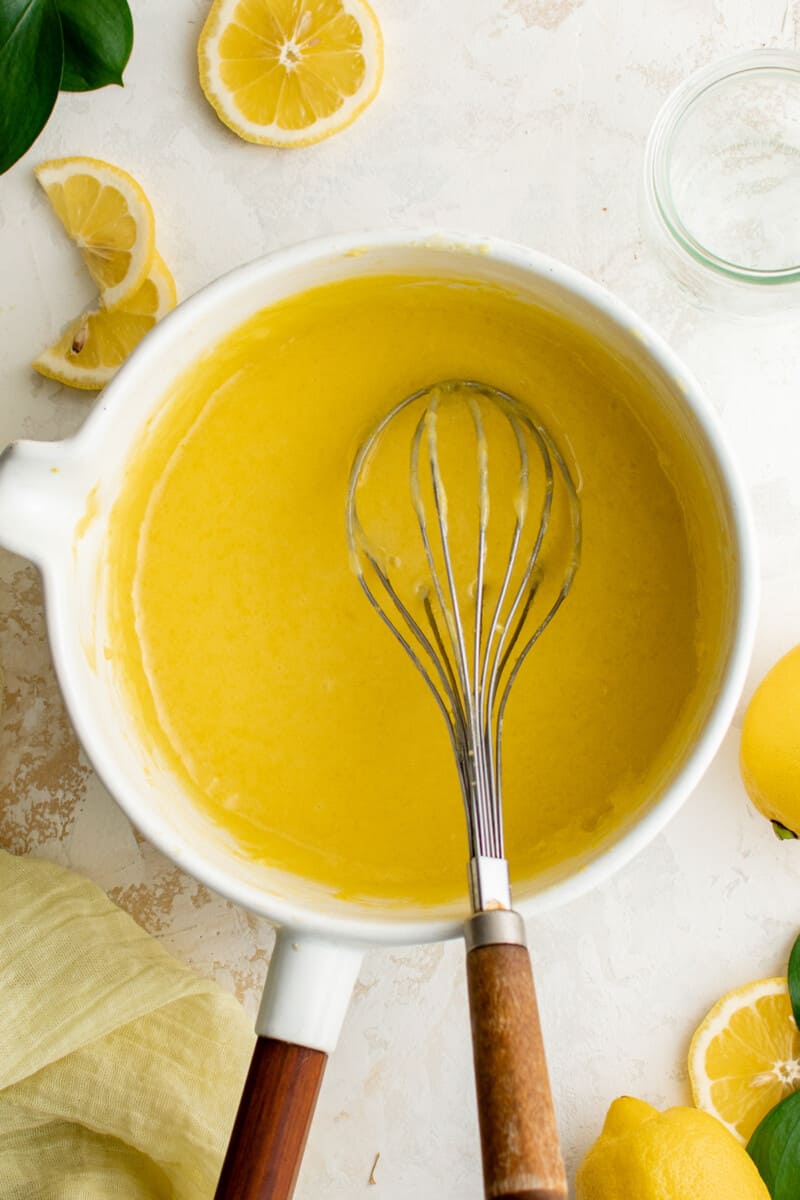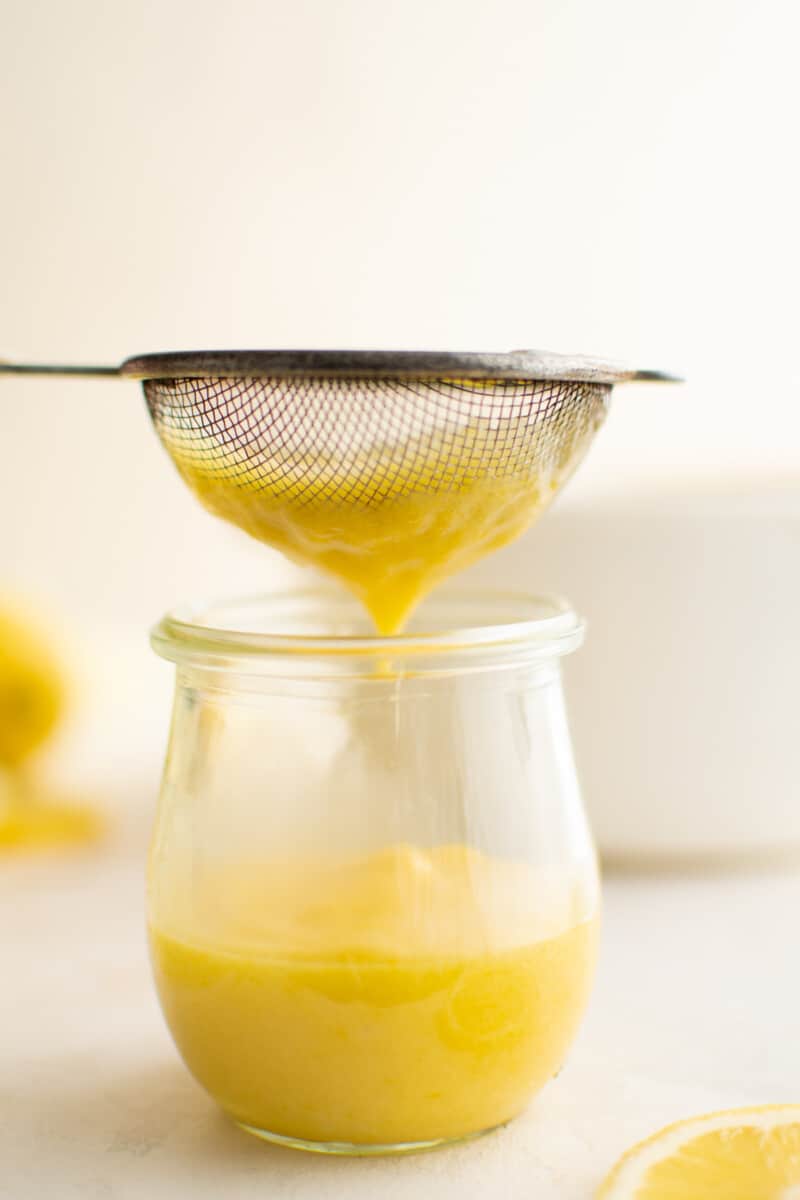 Make Ahead Instructions
Lemon curd is a great make ahead recipe. It lasts for up to 3 weeks in the refrigerator, so it can be made up to 2 weeks before you plan to use it.
Storage Instructions
Store leftover lemon curd in an airtight container in the refrigerator for up to 3 weeks. Enjoy cold or at room temperature.
Freezing Instructions
Freeze lemon curd in an airtight container for up to 3 months. Let thaw overnight in the refrigerator before enjoying.
Variations
You can reduce or increase the sugar to your personal tastes.
Add an extra egg yolk for an even richer, thicker curd.
Feel free to add more butter for a richer curd.
For a dairy-free lemon curd, you can even leave the butter out entirely. A dairy-free lemon curd will be thicker and have a matte finish.
You can make a curd with other citrus fruits, such as grapefruit, lime, orange, or Meyer lemon. Use an equal amount of the juice and zest of your chosen fruit.
Tips for the Best Lemon Curd
Use fresh lemon juice. Bottled lemon juice tends to be too acidic and can lead to a bitter curd.
Be sure to cook the curd low and slow. High heat will scramble the eggs, leading to a lumpy curd.
If the heat seems too high, you can cook the curd in a double boiler.
Whisk constantly to ensure the eggs cook evenly and don't scramble.
The curd is cooked when it is noticeably thick and coats the back of a wooden spoon.
The curd will thicken up more as it cools, so it's important to let it cool completely before using.
Once cool, place a piece of plastic wrap directly onto the surface of the curd to prevent a skin from forming on top.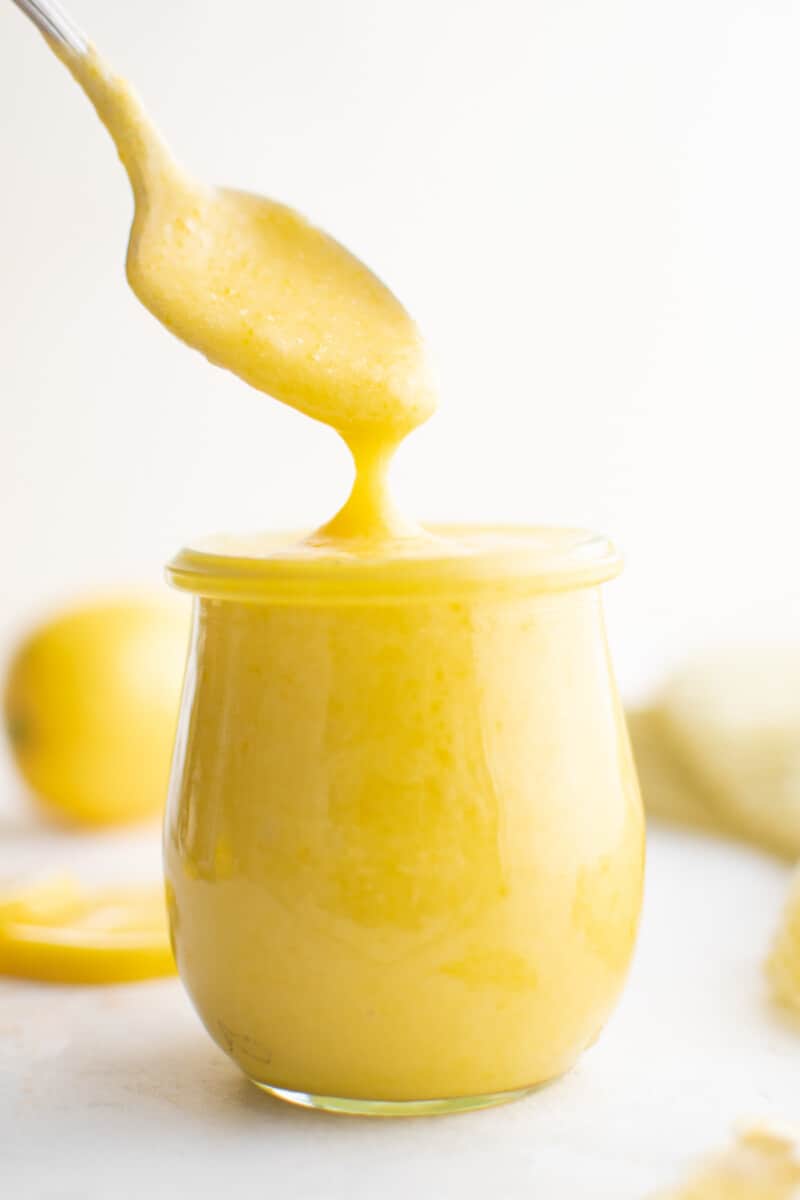 This homemade lemon curd recipe is about to become your new favorite thing. Trust me, you'll be using it on everything! Simple to make and delicious to eat, it's perfectly smooth, sweet, and zingy.
If you make this recipe be sure to upload a photo in the comment section below or leave a rating. Enjoy! You can also jump to recipe.