GOOEY TEXAS SHEET CAKE SKILLET! Top with ice cream and eat with a spoon. HEAVEN!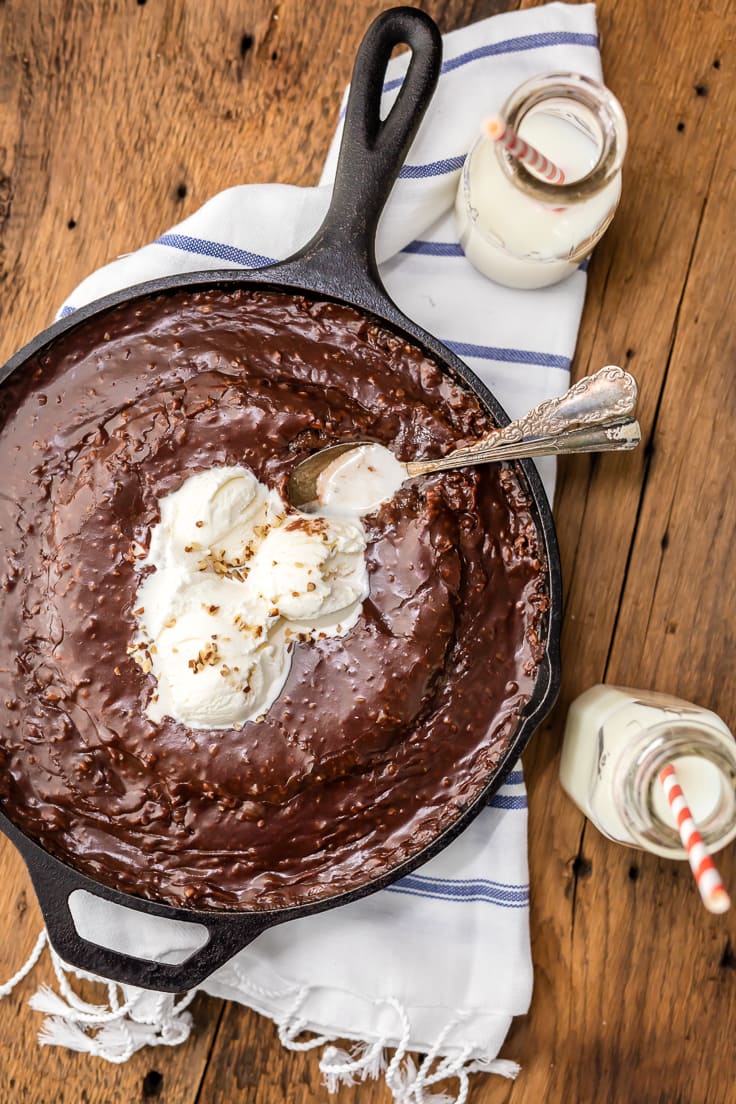 Okay, okay…I know making Texas Sheet Cake in a Skillet technically makes it NOT Texas Sheet Cake. But I love this idea and I'm sticking to it. This recipe throws every New Years Resolution I even thought about making right out of the window, and I am okay with that. Everything in moderation…right?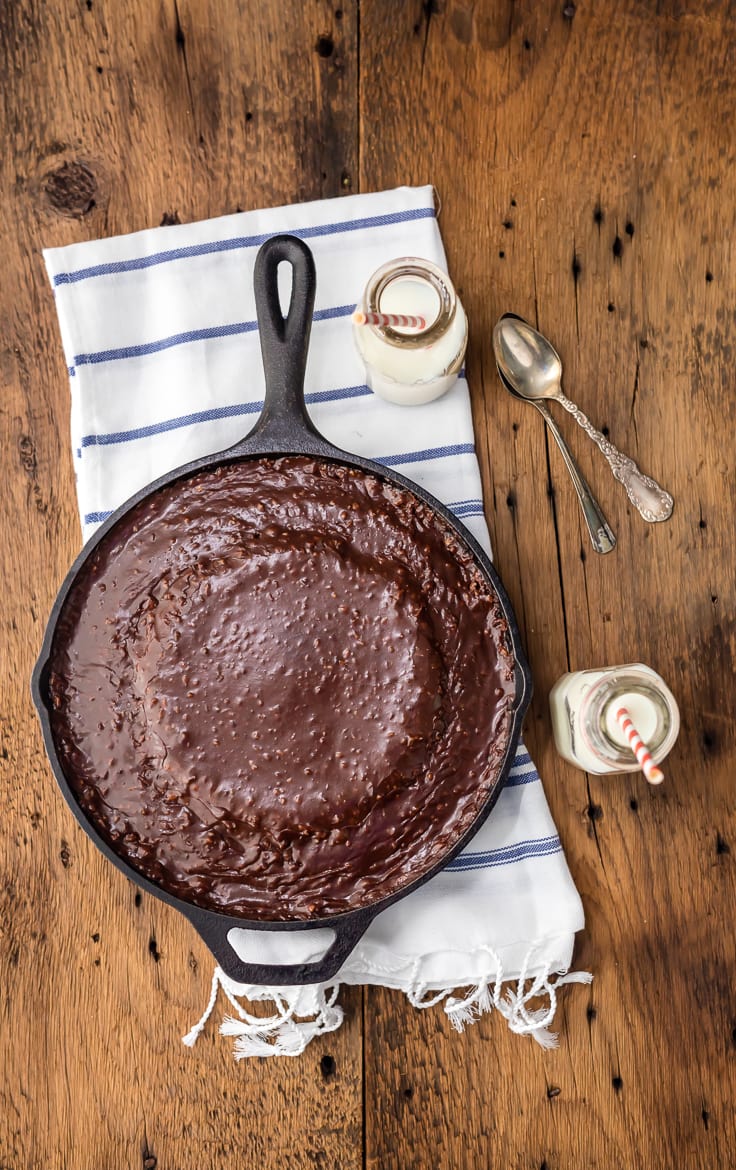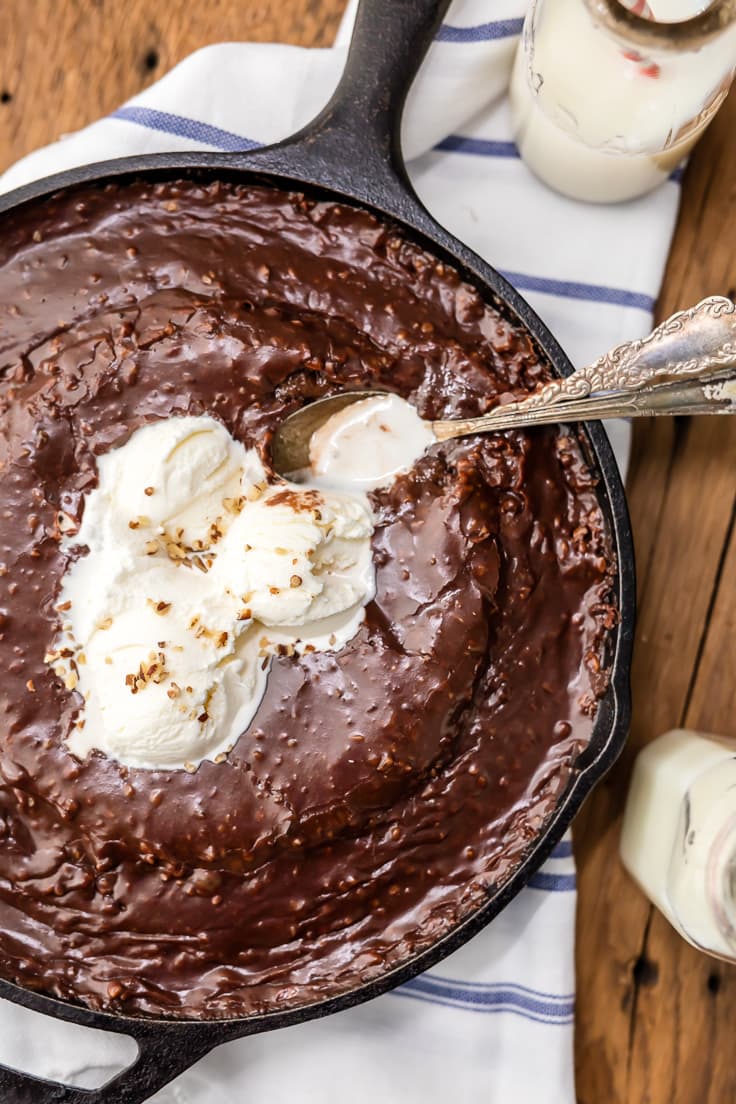 I like my Texas Sheet Cake Skillet EXTRA GOOEY so that the only way to eat it is with a spoon. Actually multiple spoons, because this dessert is meant to be shared. If you prefer a more rule-driven existence, you can bake it a bit longer until it's fully cooked and ready to slice. But then that takes the fun out of diving head first into all that chocolate goodness. And let me tell you, it is FUN.
Come to think of it, skillet desserts are just plain fun. AND delicious! Like skillet apple cobbler, and pumpkin pie skillet brownies. Or strawberry buttermilk skillet cake or skillet caramel brownies.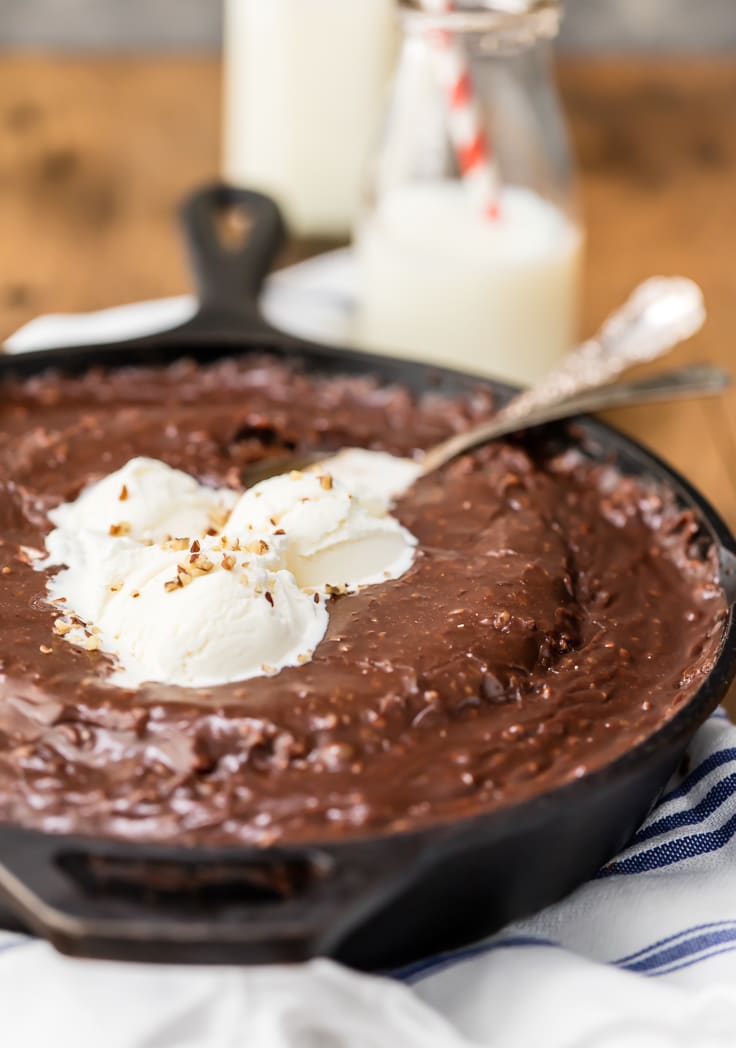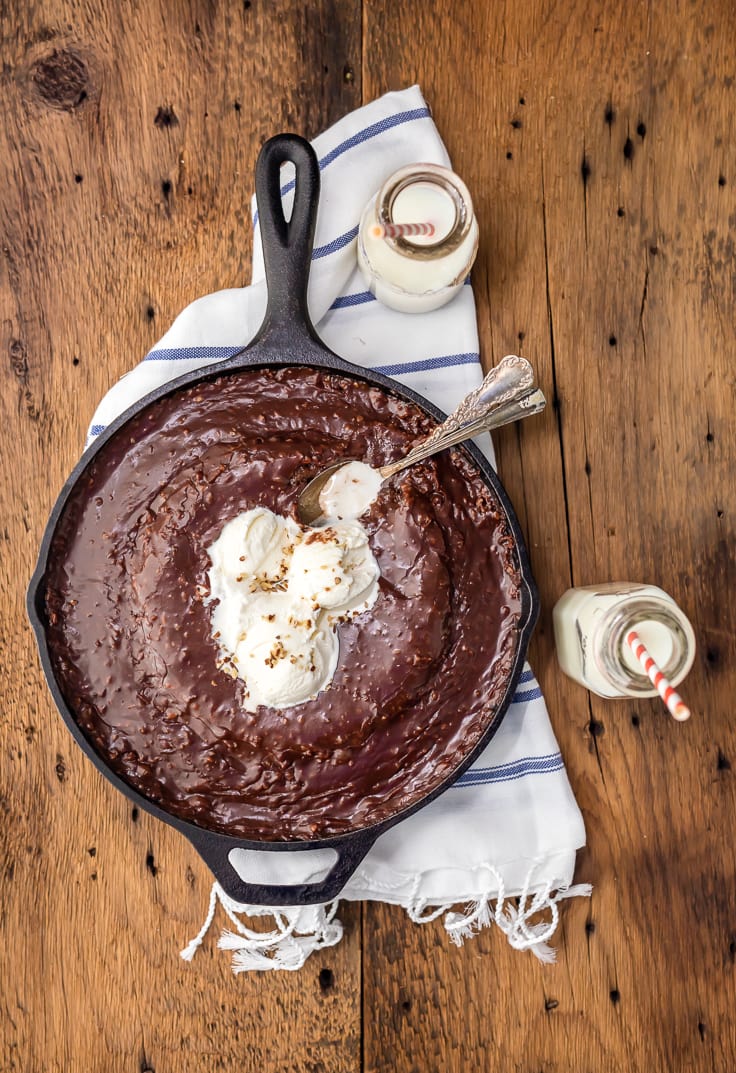 Please no hate mail over busted New Years Resolutions. I blame myself enough for all of us.
Just ENJOY this Texas sheet cake skillet recipe!
Gooey Texas Sheet Cake Skillet
10 minPrep Time
35 minCook Time
45 minTotal Time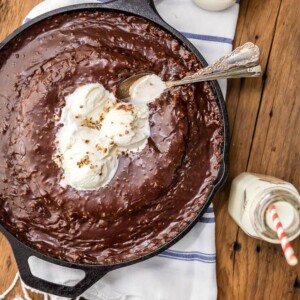 Ingredients
8 ounces butter, chopped (2 sticks)
1 cup water
4 Tbsp unsweetened cocoa powder
2 cups sugar
2 cups all-purpose flour
1 tsp baking soda
1/2 tsp salt
1/2 cup sour cream
2 eggs
1 tsp vanilla

FOR THE FROSTING:

6 Tbsp milk
3 Tbsp unsweetened cocoa powder
4 ounces butter, chopped (1 stick)
3 3/4 cup powdered sugar
3/4 cup pecan bits

ICE CREAM for garnish
Instructions
Preheat oven to 350 F
Spray a medium skillet (I used a 10 inch) with nonstick spray.
In a medium saucepan, heat the water, cocoa, and butter over medium heat. Bring to a boil and then remove from the heat.
Meanwhile, in a large bowl, combine flour, sugar, baking soda, and salt. Stir to combine.
In a separate small bowl, lightly whisk the eggs. Whisk in the sour cream and vanilla and combine fully. Pour egg mixture over flour mixture and use a wooden spoon to stir until fully combined.
Pour chocolate mixture over flour batter and use a whisk or hand mixer to fully combine until fully smooth.
Pour mixture into skillet.
Bake for 30-35 minutes or until almost cooked through. The cake should no longer jiggle in the middle but a toothpick inserted in the middle may still have a bit of chocolate on it. If you prefer your cake fully cooked, cook until the toothpick comes out completely clean, about 35-40 minutes. (NOTE: This also depends on the size of your skillet. If you use a larger skillet, cook times will be less. It's great to check this recipe half-way through to monitor it's doneness)
After removing the cake from the oven, prepare your frosting.
In a medium saucepan over medium heat, combine the milk, cocoa, and butter. Bring to a boil.
Remove from the heat and add the powdered sugar. Use a hand mixer to beat the icing until fully smooth.
Stir in the pecan bits with a spoon.
Pour the icing over the warm cake and allow to cool another 10 minutes.
Serve garnished with ice cream and share with all of your friends! The more the merrier.
7.8.1.2
2224
https://www.thecookierookie.com/gooey-texas-sheet-cake-skillet/