Peppermint Brownies are a must make recipe for Christmas! Holiday baking has never been so easy or delicious. Peppermint, cheesecake, and chocolate is a tasty combination. These cheesecake brownies are the perfect Christmas brownies, but I make them year round. They're amazingly delicious!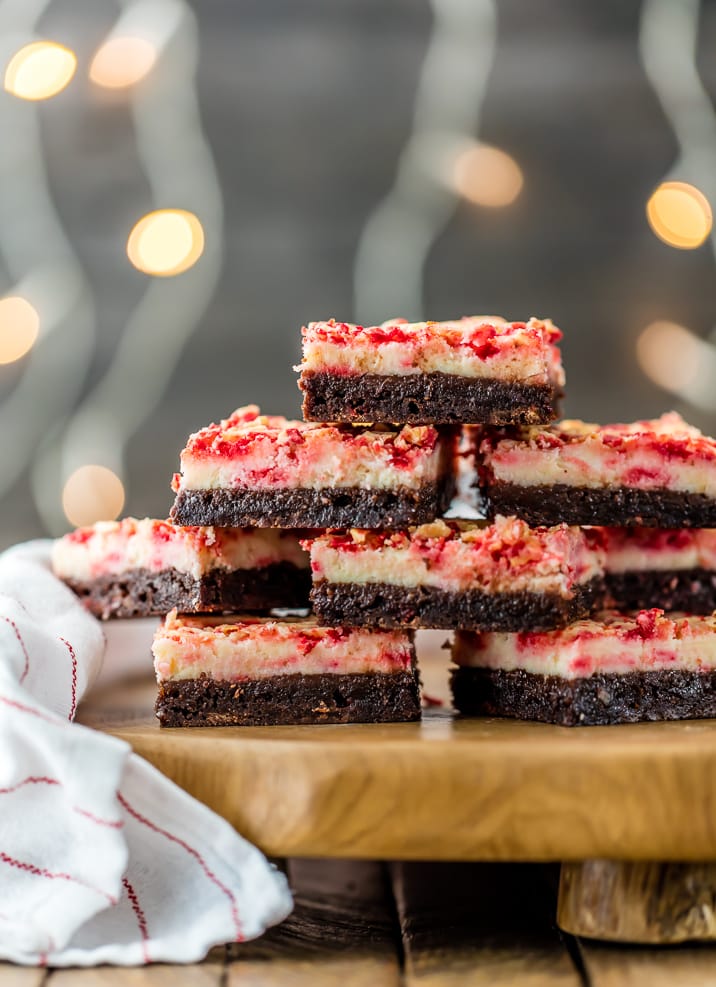 Peppermint Brownies
Peppermint Brownies are the perfect festive treat for Christmas. I can't get enough of these easy Peppermint Cheesecake Brownies, no matter what time of year it is!
These cheesecake brownies are the perfect mix of two amazing desserts, and nothing says Christmas quite like peppermint. They are truly the best Christmas brownies ever.
If you're looking for the perfect Christmas brownies, look no further! These Peppermint Cheesecake Brownies are exactly what you need!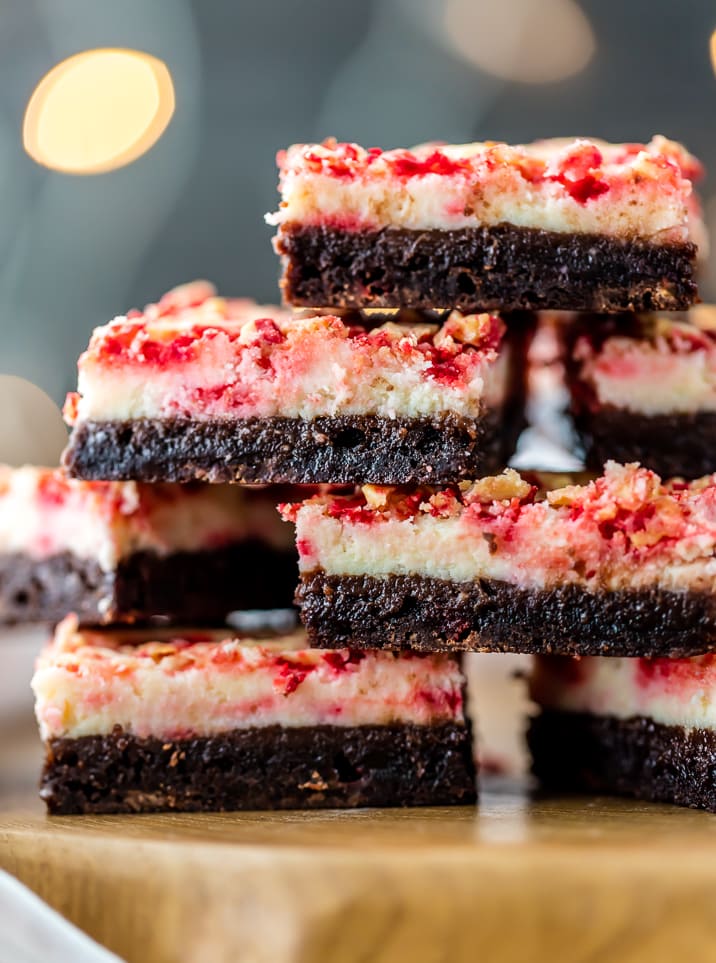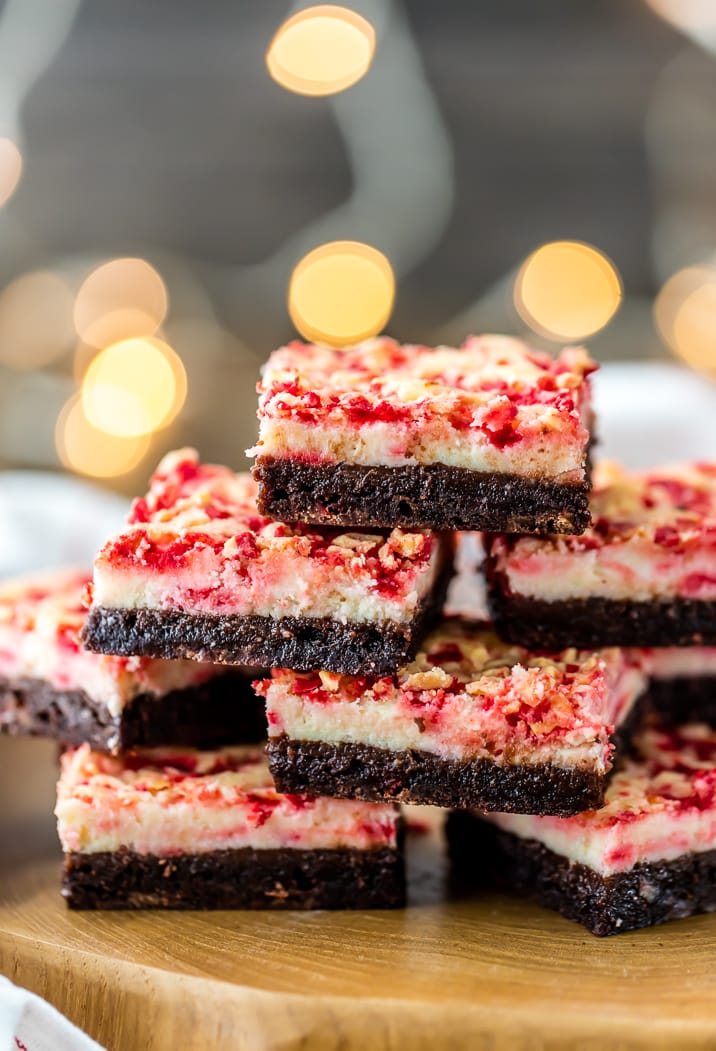 Cheesecake Brownies
I had a bit of inspiration for these Peppermint Cheesecake Brownies. I adapted this delicious recipe from the ridiculously amazing site, Chocolate Chocolate and More.
If you're looking for a baking recipe, that is the site to check first. Joan's Brownie Bottom Cheesecake Bars were calling my name and I knew I had to give them a try! I'm pretty proud with what I came up with. The perfect Christmas dessert recipe!
Love peppermint? Try our Slow Cooker Peppermint Hot Chocolate, Spiked Peppermint Eggnog Ice Cream, or our Peppermint Ice Cream Brownie Bars!
Best Christmas Brownies
In all my years, I've never seen such a perfect Christmas brownies recipe! I mean, Peppermint Brownies were made for the festive season, and I'm so excited to serve these on the big day. The mix of mint and chocolate is just so good!
These Peppermint Cheesecake Brownies are also delicious year-round. You could substitute so many different flavors for the cheesecake layer, making this a must-make for every occasion. I would love to hear your creative adaptations!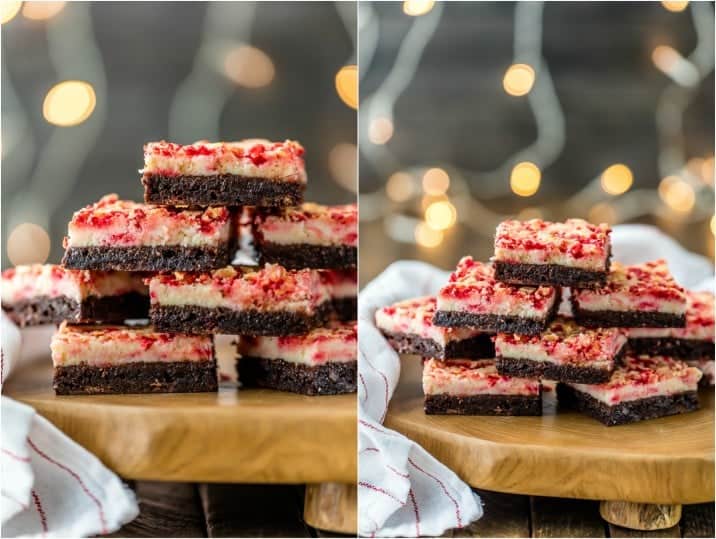 How to Make Peppermint Brownies
These Peppermint Cheesecake Brownies are so much easier than you think. Remember who you're dealing with here: if I'm sharing them, it's because they're easy!
If you really want to make them simple, you could also use a boxed brownie mix instead of making the brownie layer from scratch. Whatever works for you! We'll be using a 9×13 baking dish for this recipe (lined with parchment paper or sprayed with non-stick spray).
Here's a quick overview of how to make Peppermint Brownies:
Brownie Layer
Combine eggs, sugar, butter, and vanilla.
In another bowl, combine flour, cocoa, baking powder, and salt.
Combine the egg mixture and the flour mixture, then stir in the peppermint chips.
Pour peppermint brownie batter into baking dish and spread into an even layer.
Bake for 20 minutes at 350°F.
Cheesecake Layer (make this while brownies are baking)
Use a stand-up mixer to beat cream cheese until smooth.
Add in sour cream, lemon juice, peppermint extract, and sugar, and beat until combined.
While mixer is still on, add eggs in one at a time.
Then stir in peppermint baking chips (or crushed candy canes).
Assemble Brownies
Once brownies have baked for 20 minutes, spread the cheesecake mixture on top of the brownie layer, and top with a layer of peppermint baking chips.
Return peppermint brownies to the oven and bake another 30-35 minutes.
Let them cool completely after cooking, and then place them in the refrigerator to chill for about 2 hours before serving.
Serving the peppermint cheesecake brownies cold really adds to that cooling effect from the peppermint, which make them extra delicious. Mint chocolate everything just tastes better chilled!
Check the recipe card for full detailed instructions and WATCH the VIDEO to see it in action.
Do you need to refrigerate cheesecake brownies?
Yes, you should keep these in the refrigerator both before and after serving. Let them sit in there until you serve to get that chilled effect. You should also store leftovers in there since these are half cheesecake.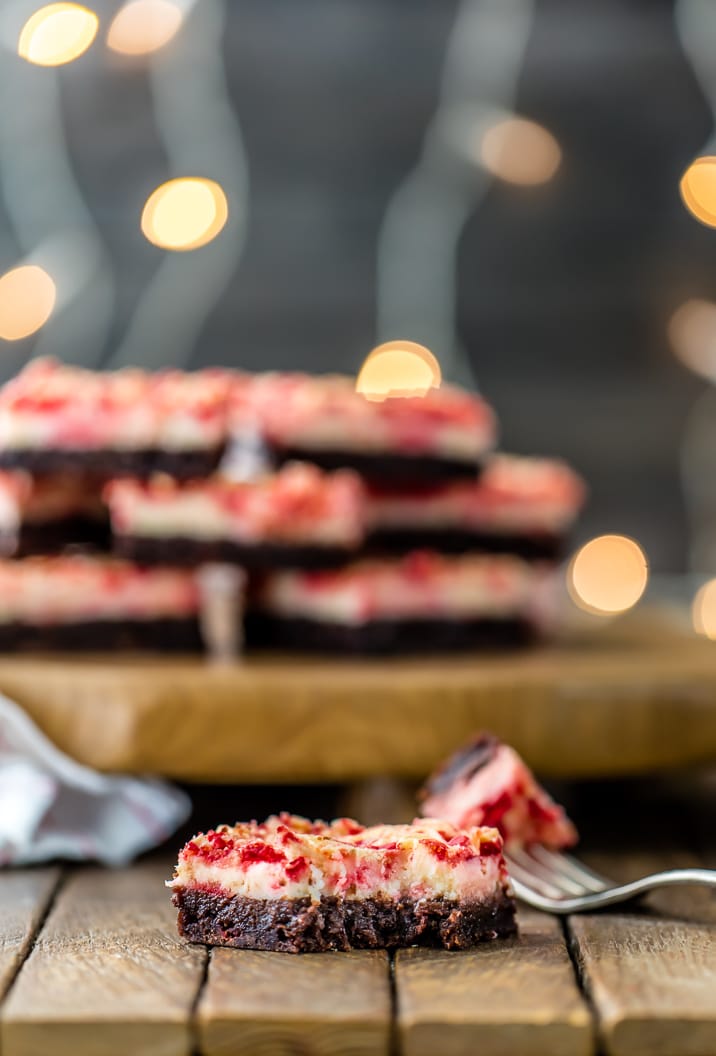 Finally, the ultimate Christmas Brownies! I love these Peppermint Cheesecake Brownies so much, and I just know you guys will too. So get to baking and enjoy your Christmas!
Watch the Video and See the recipe card for How to Make Peppermint Brownies. Enjoy!
If you like these peppermint brownies, try these other Christmas dessert recipes:
If you make this recipe be sure to upload a photo in the comment section below or leave a rating. Enjoy! You can also jump to recipe.