These simple Peppermint Cheesecake Brownies are a MUST MAKE recipe for Christmas! Holiday baking has never been so easy or delicious! I made these for Christmas but I make them year round. They're amazingly delicious!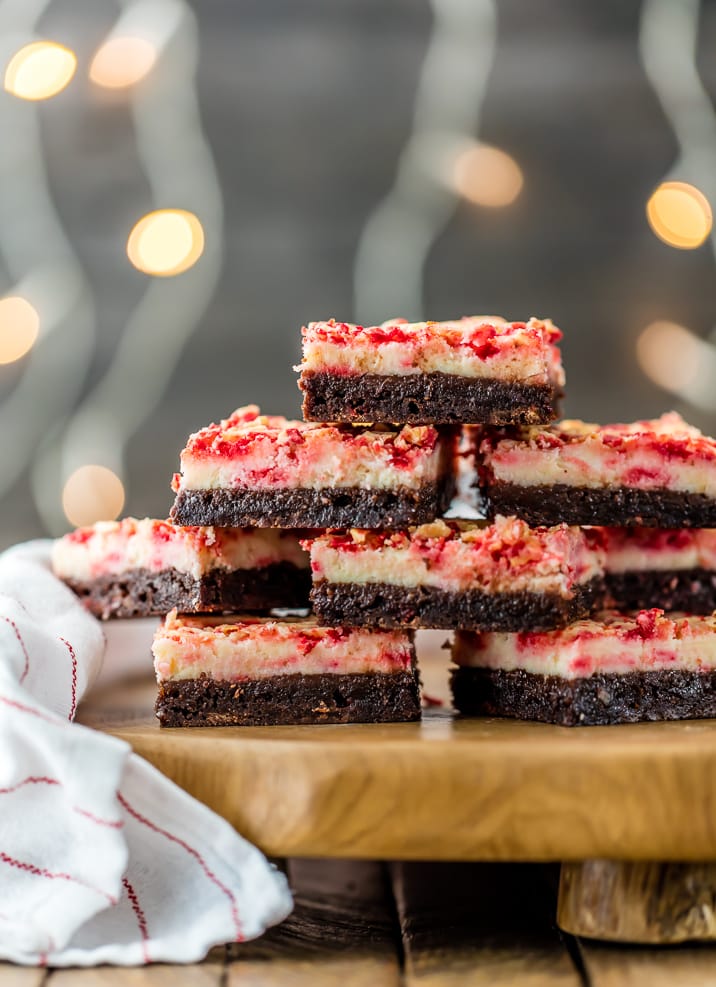 For those of you that have been around for the ride since the beginning of The Cookie Rookie, you know that I have come a long way. I don't claim to be a master chef by any means, but when I started out I could barely boil water. Even though I feel like I've learned so much over these 3 years, I still don't feel totally comfortable with baking. You bakers out there, I RESPECT YOU! It's a different ball-game and I recognize that! That being said, I conquered these Peppermint Cheesecake Brownies and they are SO DELICIOUS. It was a struggle to not eat them all before Pat got home. The struggle is real. 
I adapted this recipe from the ridiculously amazing site, Chocolate Chocolate and More. If you're looking for a baking recipe, that is the site to check first. Joan's Brownie Bottom Cheesecake Bars were calling my name and I knew I had to give them a try! You can find her original recipe HERE.
These are just perfect for Christmas, but are also delicious year round. You could substitute so many flavors for the peppermint, making this a must make for every occasion! I would love to hear your creative adaptations!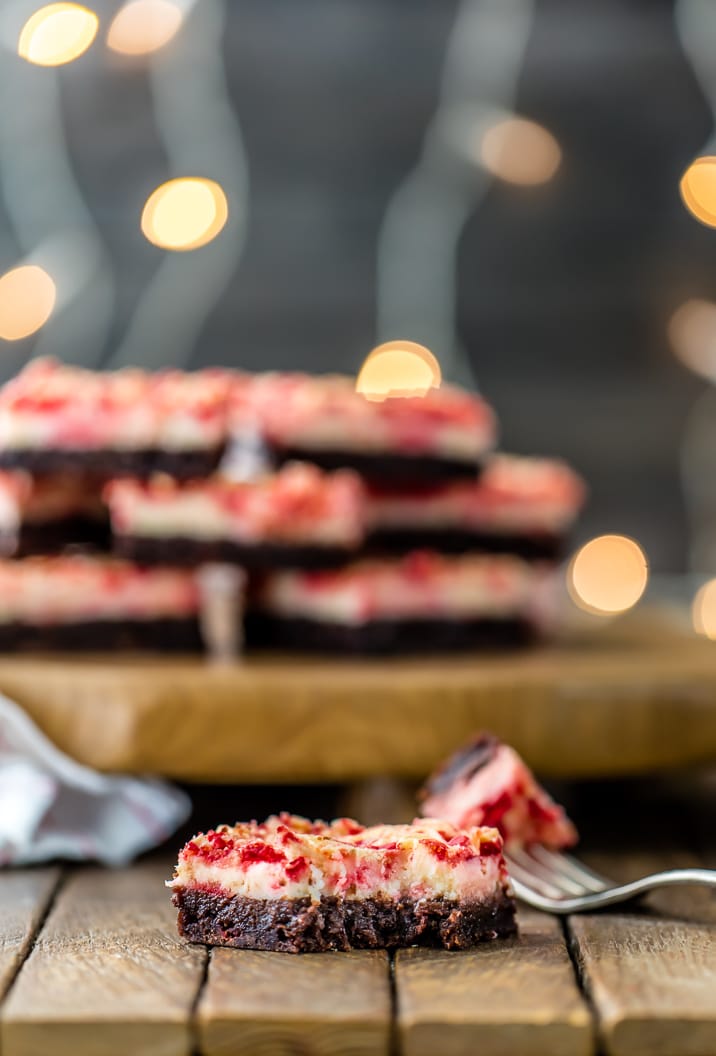 Watch the video or see the recipe card for How to Make Peppermint Cheesecake Brownies.
Peppermint Cheesecake Brownies
20 minPrep Time
50 minCook Time
1 hr, 10 Total Time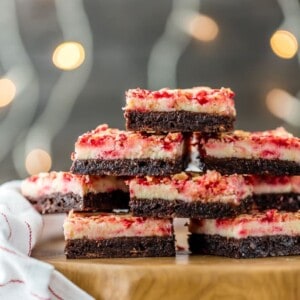 Ingredients
FOR BROWNIE LAYER:

4 large eggs
2 cups sugar
3/4 cup butter, melted
1 teaspoon vanilla extract
1 1/2 cups flour
1/2 teaspoon baking powder
1/4 teaspoon salt
1/3 cup cocoa
***If you're in a pinch, you can use boxed brownie mix in place of above ingredients***
1/2 cup peppermint crunch baking chips or crushed candy canes (if crushing the candy canes, place in a ziplock bag and use a rolling pin over the sealed bag)

FOR PEPPERMINT CHEESECAKE LAYER:

16 ounces low fat cream cheese, softened
1/2 cup sugar
2 eggs
1/4 cup sour cream
1/2 tablespoon lemon juice
1 teaspoon peppermint extract
1 1/2 cups peppermint crunch baking chips (or crushed candy canes), divided
Instructions
Preheat oven to 350F. Line a 9x13 inch baking dish with parchment paper or spray with nonstick spray.
Beat together eggs sugar, butter and vanilla. Stir until completely combined.
In a separate bowl, combine flour, cocoa, baking powder, and salt.
Add the flour mixture to the egg mixture and carefully stir until fully combined. Stir in the peppermint chips.
Pour the brownie mixture into your baking dish. Smooth out the top and spread the mixture to the edges.
Bake for approximately 20 minutes. This won't fully cook the brownies, but a film will begin to bake on top.
While brownies are baking prepare cheesecake layer.
In a stand mixer, beat cream cheese until smooth. Add in sour cream, sugar, lemon juice, and peppermint extract. Beat until fully combined.
While the mixer is on, add the eggs one at a time. Beat fully in between each egg. Add in 1/2 cup peppermint crunch baking chips and stir until just combined.
Pour mixture on top of pre baked brownie bottom, smoothing to completely cover the brownie layer. Top with remaining 1 cup peppermint crunch baking chips, making a solid layer of the chips if possible.
Place baking dish back in the oven and bake for 30-35 minutes, until center no longer wobbles and the edges are slightly browned.
Remove from oven and let cool completely.
Once cool, place in the refrigerator until serving, at least 2 hours. Cut and serve! Enjoy!
Nutrition
7.8.1.2
2038
https://www.thecookierookie.com/peppermint-cheesecake-brownies/