Moscow Mule Mimosas make for the best brunch drinks ever! So easy, unique, delicious, and fun! Spiked ginger beer, orange juice, and champagne. YUM!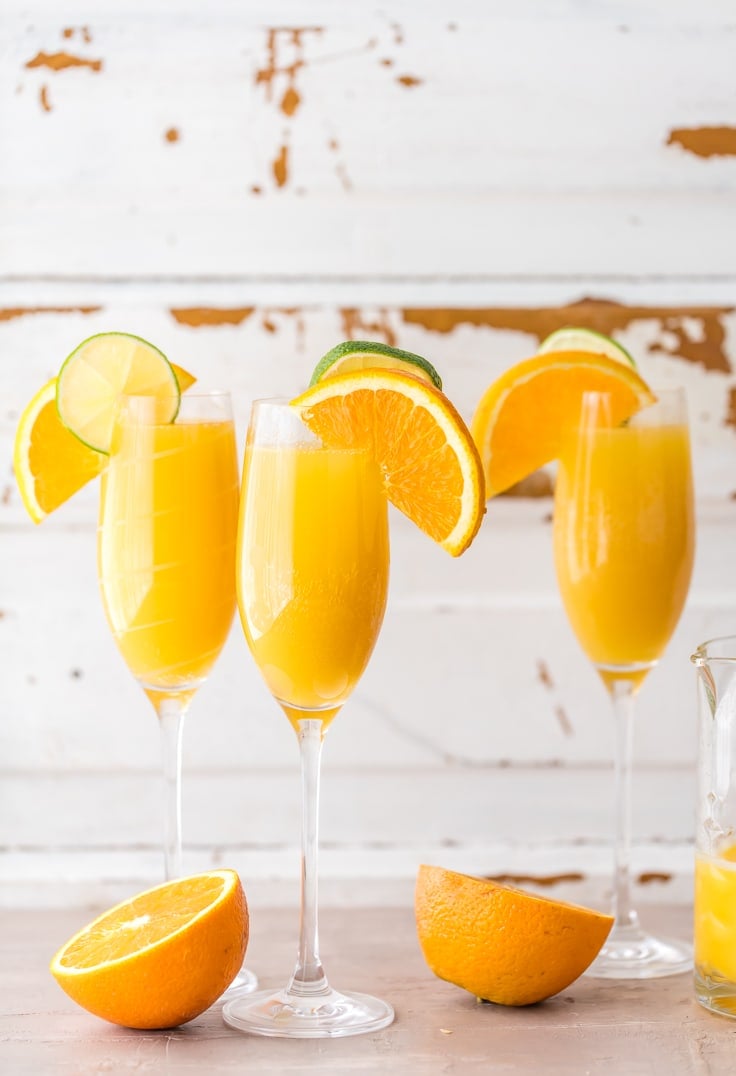 Moscow Mule Mimosa
If you need the perfect brunch drink, this Moscow Mule Mimosa is for you. It combines two classic cocktails to make one delicious drink!
It may be a recent invention, but brunch is my favorite meal of the day! There's just something inherently happy about brunch. You don't have to wake up too early to enjoy it, sometimes it comes with an all you can eat factor, and champagne is totally socially acceptable. My kind of meal!
Of course every self respecting brunch needs a good mimosa to go along with it…ideally bottomless mimosas if I have my say. These Moscow Mule Mimosas are my favorite brunch drink of choice at the moment. They're unique, delicious, EASY, and fun. Bring on the bubbly!
I love that this cocktail combines two favorite drinks into one, for something totally new. Ginger beer with orange juice and champagne makes the most unique mimosa cocktail!
You'll definitely want to add this Ginger Beer Mimosa to your at-home brunch menu!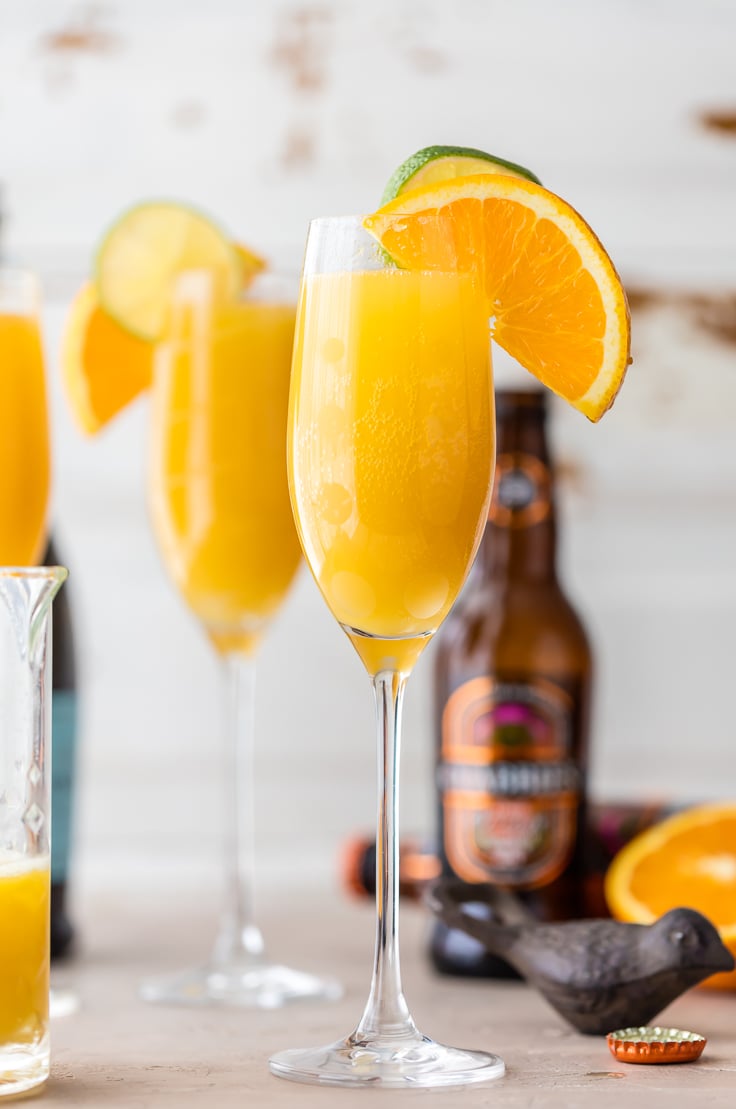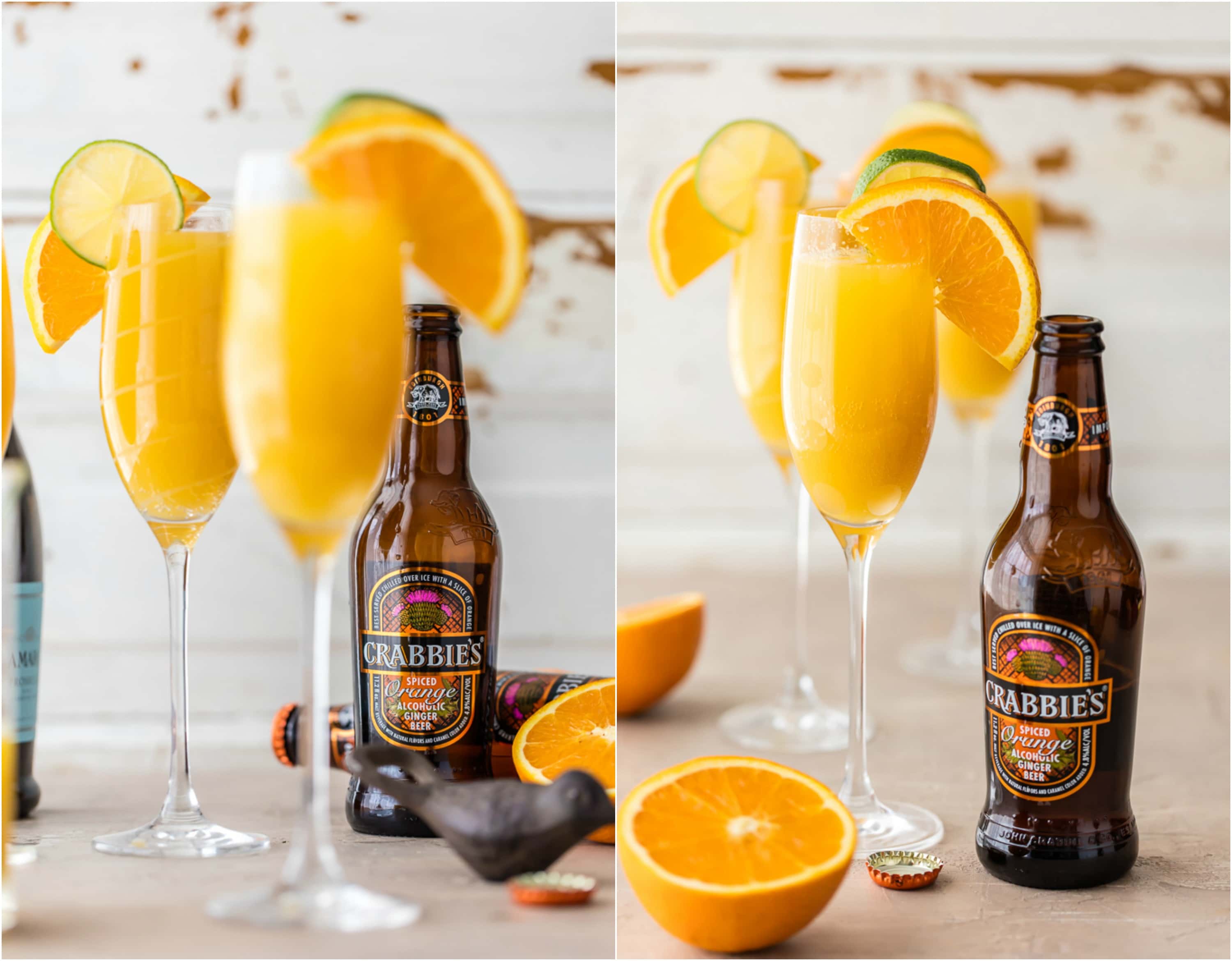 Ginger Beer Cocktail
We wouldn't be calling it a Moscow Mule Mimosa without the ginger beer, so of course that's one of the star ingredients of this drink.
The secret ingredient that makes these drinks EXTRA good is my favorite Crabbie's Alcoholic Ginger Beer. YOU GUYS…I am OBSESSED with this stuff. (You might remember my Garlic Ginger Pulled Pork from earlier in the year!) Crabbie's originated in Leith, Edinburgh, and Scotland, and has made its way to the states and I couldn't be more excited.
Obviously, I love to drink it. It's the perfect combination of crisp and refreshing; made from a secret recipe of four special ingredients! I love that it's not too sweet; making it the absolute best mixer for cocktails OR cooking! You can find more recipe ideas and of course where to buy near you HERE. The other thing that's great is that it comes in FLAVORS!
I used the Spiced Orange flavor for these Ginger Beer Mimosas and OMG! You could use the classic or the Raspberry, all would be delish!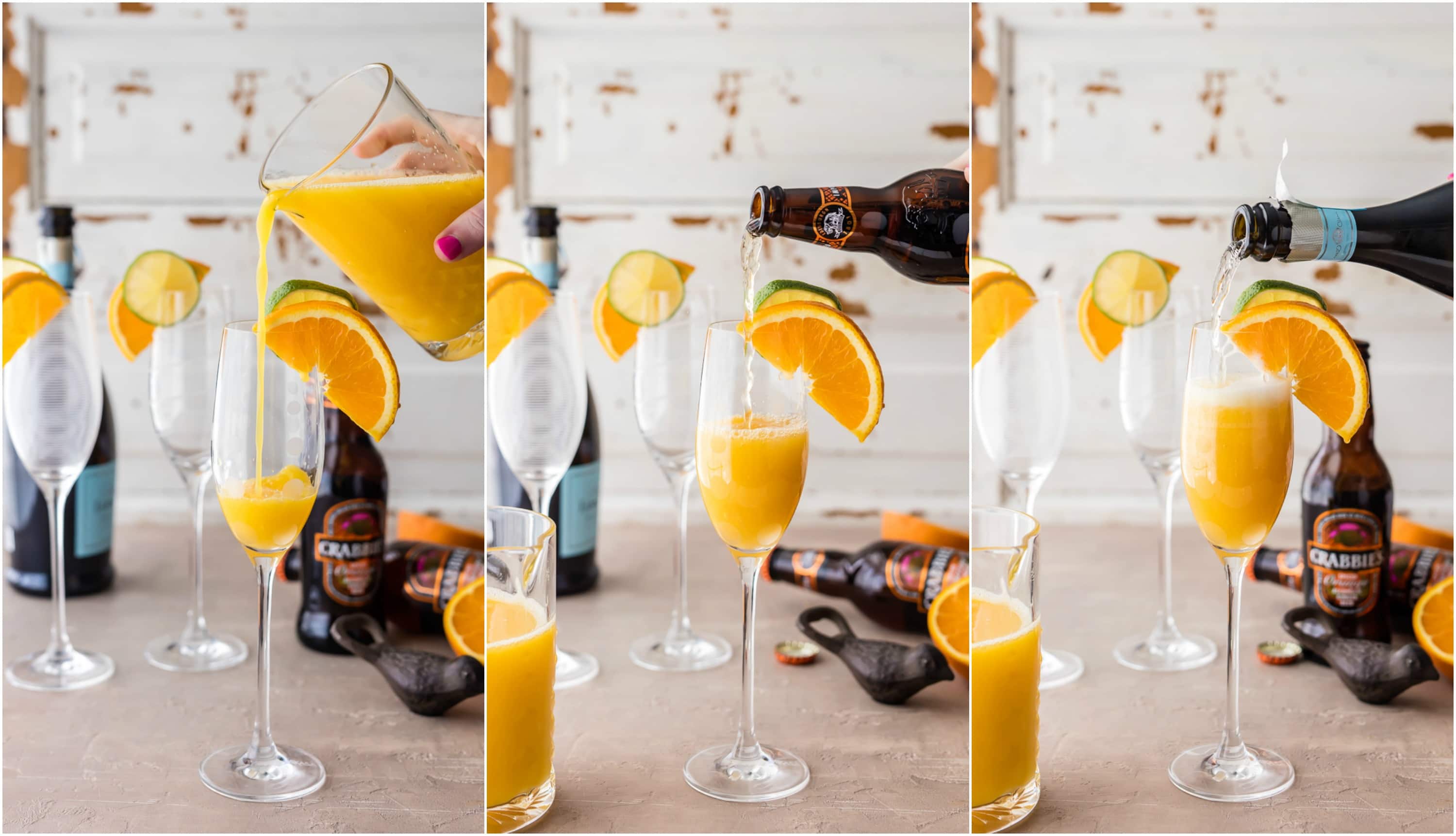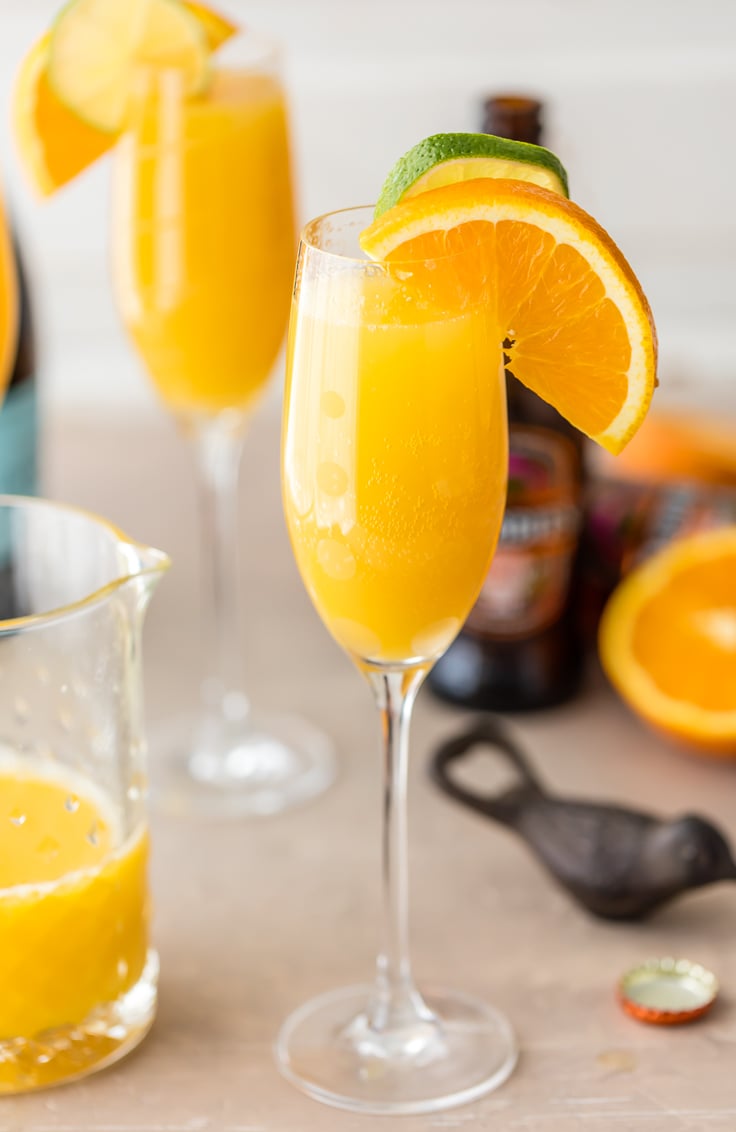 How to Make Ginger Beer Mimosa
It doesn't get easier or more delicious than bottomless mimosas for brunch! Kick your brunch up a BIG notch and serve this ginger beer cocktail. You won't regret it! They're so easy to make, so you really can make them bottomless. Drink up, pour, eat, drink some more…responsibly, of course. But it's BRUNCH, so you'll be eating plenty to balance it out.
To make them, just pour in the orange juice, then the ginger beer, and top off with champagne (give about 1/3 of the glass to each). Garnish with some lime or orange slices for a fun presentation. Cheers!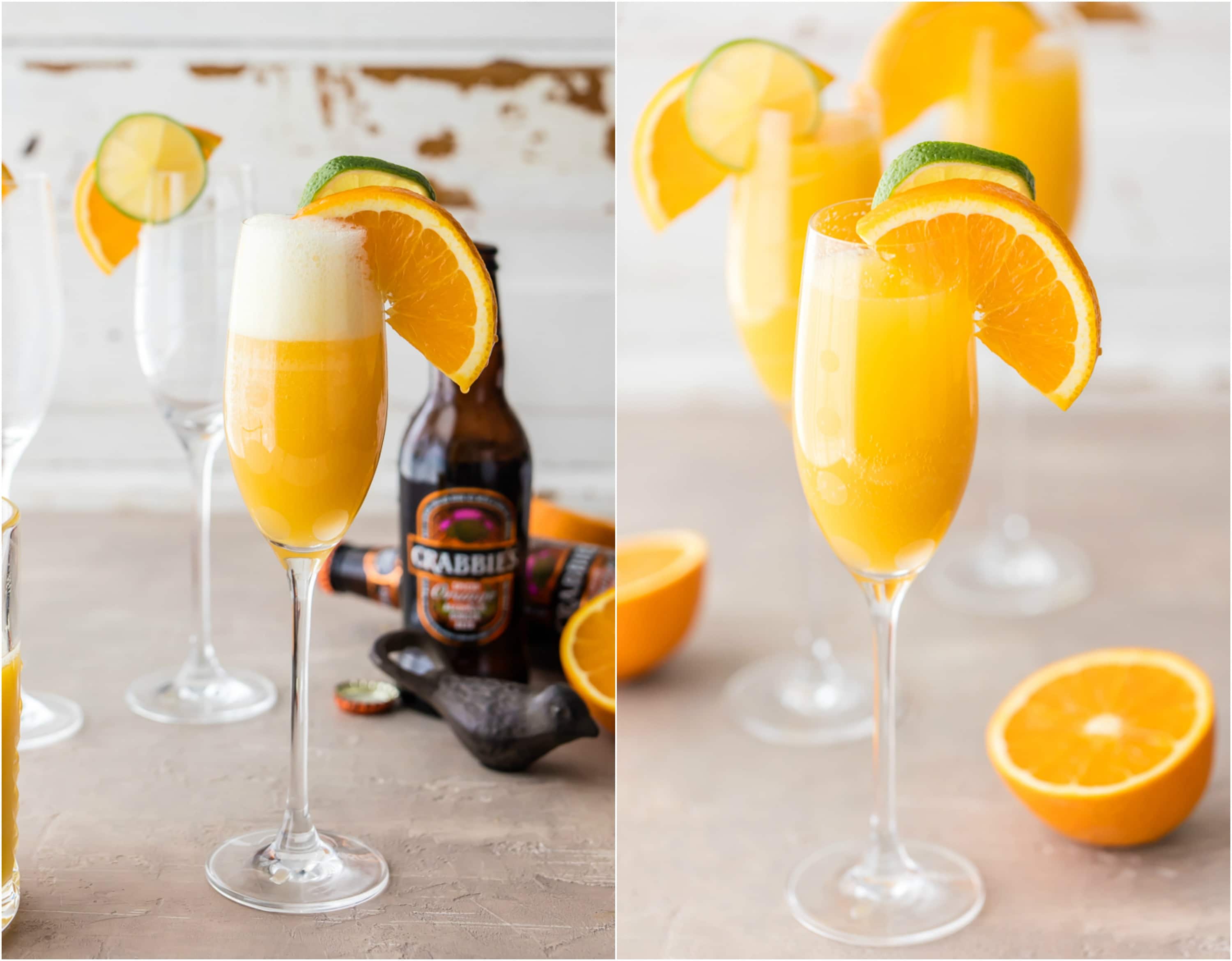 I hope these Moscow Mule Mimosas make it to your brunch table sometime soon!
See the recipe card for details on how to make Moscow Mule Mimosas. Enjoy!
Try these other delicious cocktail recipes: