Apple Cider Mimosas are simple, delicious, and perfect for any celebration this fall! These cider mimosas are fun and bubbly, and Thanksgiving is the perfect time to make this Apple Cider Cocktail. I love a good mimosa recipe and this is my favorite cozy variation to enjoy this time of year!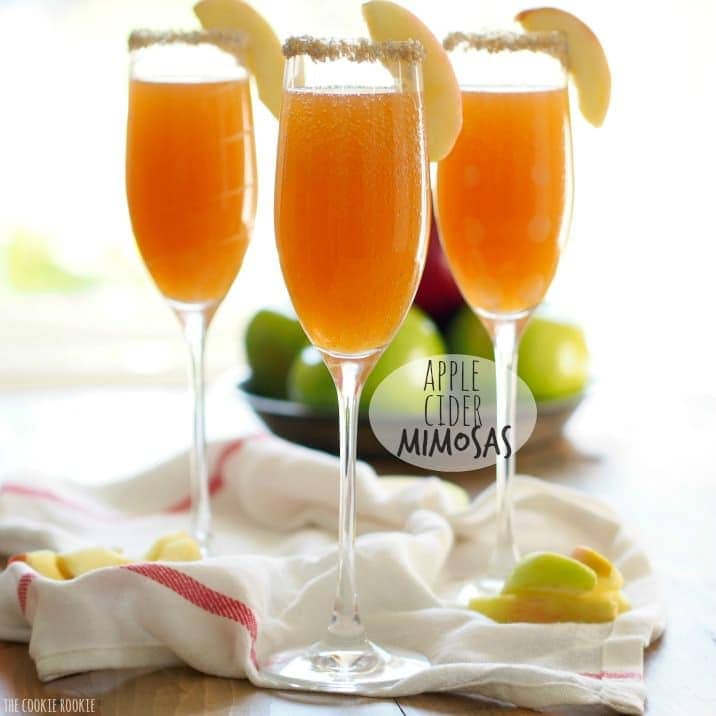 The Best Fall Cocktail Recipe: Apple Cider Mimosas
Mimosas are so simple to make and instantly elevate any celebration any time of year! After making two delicious cocktails with apple cider, Apple Pie Punch and Apple Pie Sangria, I knew an apple cider mimosa would be perfect for fall!
We're swapping orange juice for apple cider in this fun seasonal variation. These are a staple on our Thanksgiving brunch menu – there's something so fancy and fun about enjoying a chilled glass of a bubbly cocktail to kickoff the holiday!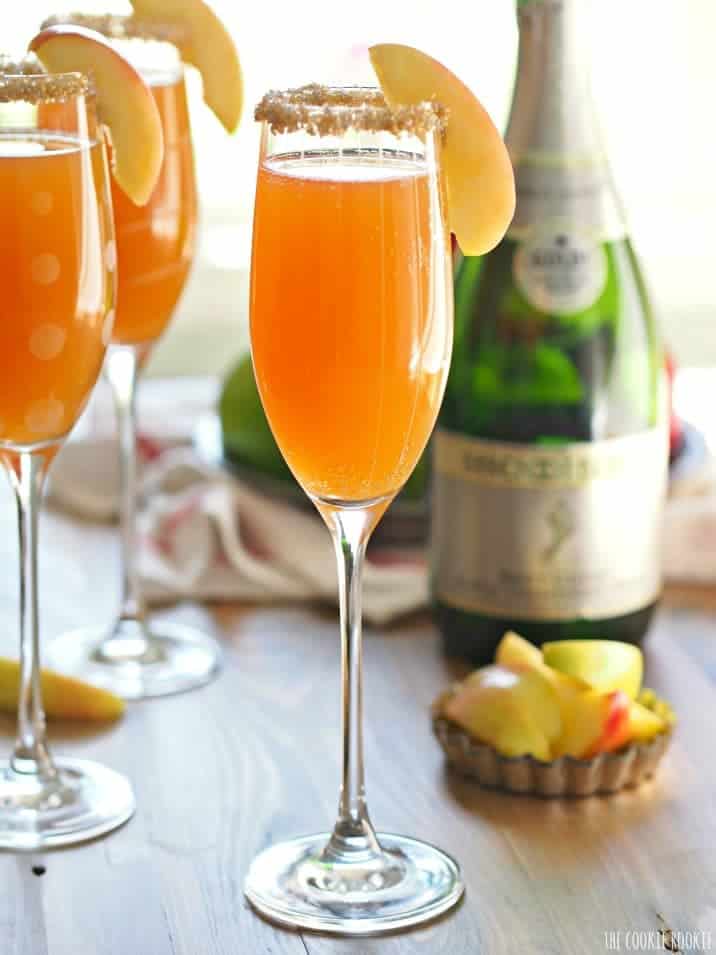 Why You'll Love This Apple Cider Mimosa Recipe:
Festively Fall: Nothing says autumn like apples, and the cider in this mimosa highlights the season.
So Easy: Mimosas are as simple as juice plus champagne!
Delicious Any Time of Day: While typically served at brunch, these apple cider mimosas are a welcome addition to cocktail hour or whenever guests drop by. It's easy to have these ingredients on hand and ready to mix!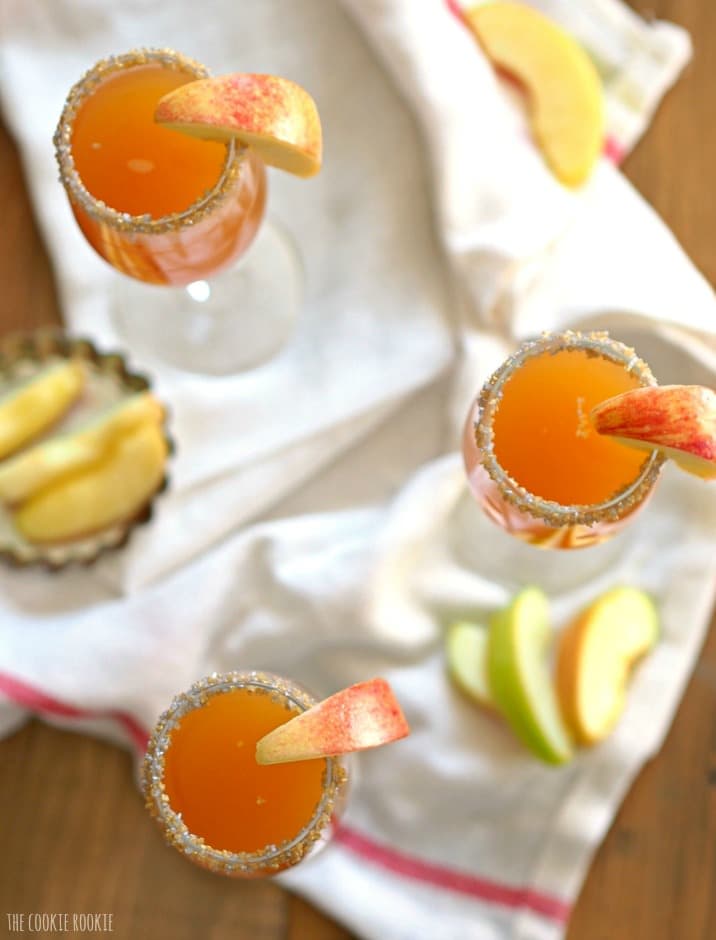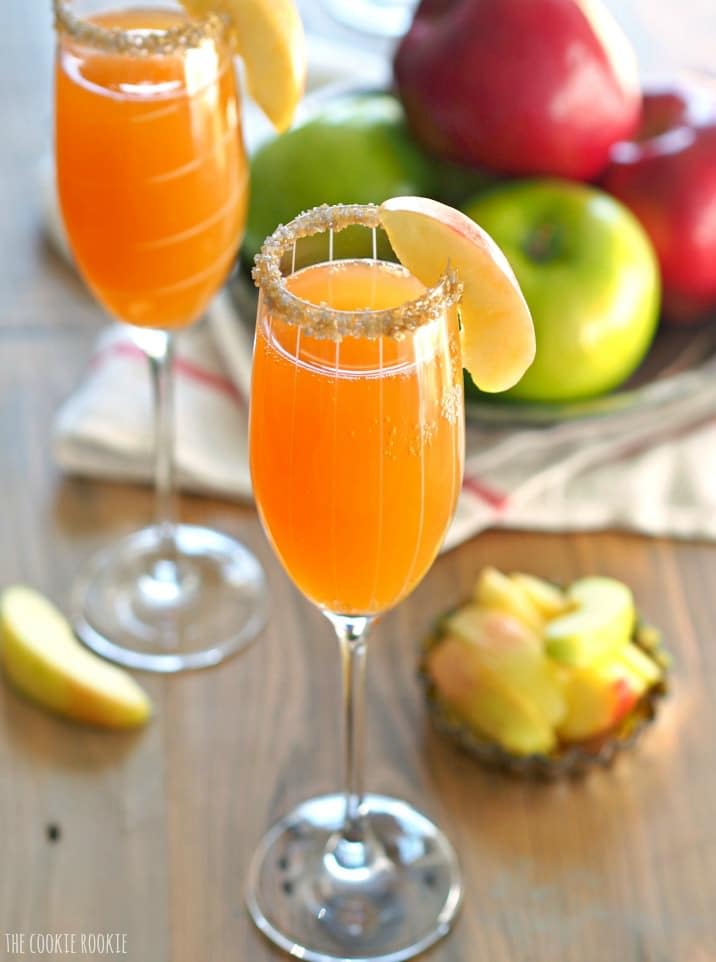 Easy Apple Cider Cocktail Ingredients
With just two primary ingredients, these apple cider mimosas come together in a snap!
Gold and Silver Sprinkles: Sprinkles add a fun, sparkly garnish to the rims of each champagne flute.
Apple Cider: I highly recommend using apple cider instead of apple juice for these mimosas! Cider is made from apples that are washed, cut, ground into an apple mash, and pressed into a juice with no heat used. The apple is much more concentrated and adds truly authentic fall flavor. Apple juice is heat-treated and highly filtered. It's a much milder choice, but if it's all you've got, it'll work.
Champagne: Can't have a mimosa without champagne! Champagne is a specific sparkling white wine that comes from the Champagne region of France. Feel free to sub champagne for your favorite bubbly drink like sparkling white grape juice (non-alcoholic), Prosecco, sparkling white wine, and Cava.
Apple Slices: For garnish! Try using a combination of red and green apple slices or even dried apple rounds!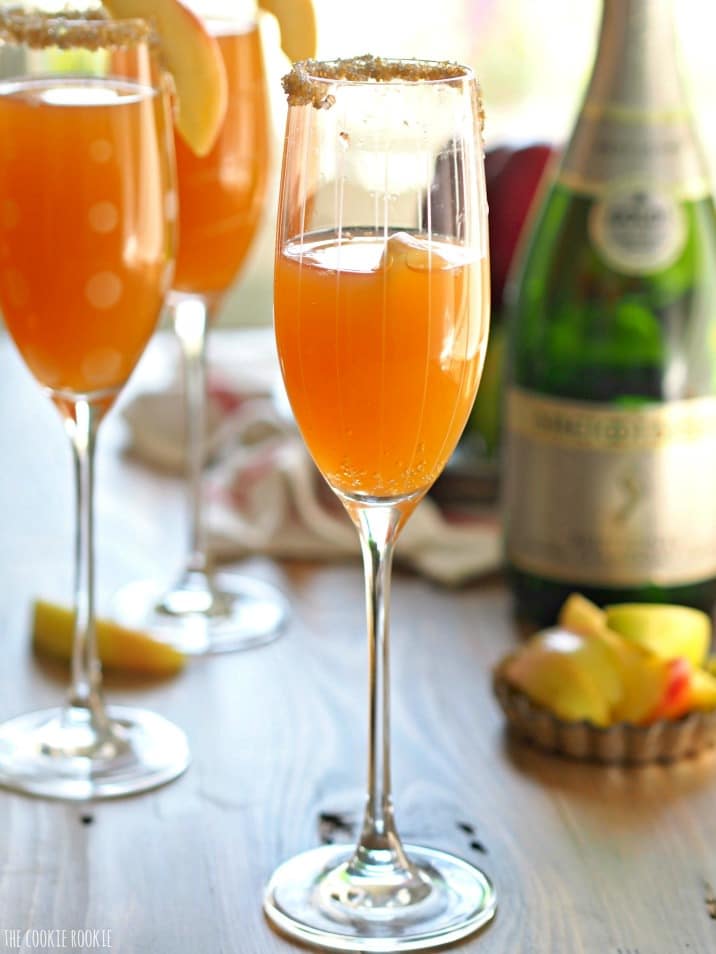 How to Make Cozy Apple Cider Mimosas
Dip the rim of each champagne flute into water, then dip in sprinkles to coat.
Pour apple cider about halfway into each champagne glass.
Top with champagne.
Garnish with an apple slice.
Enjoy!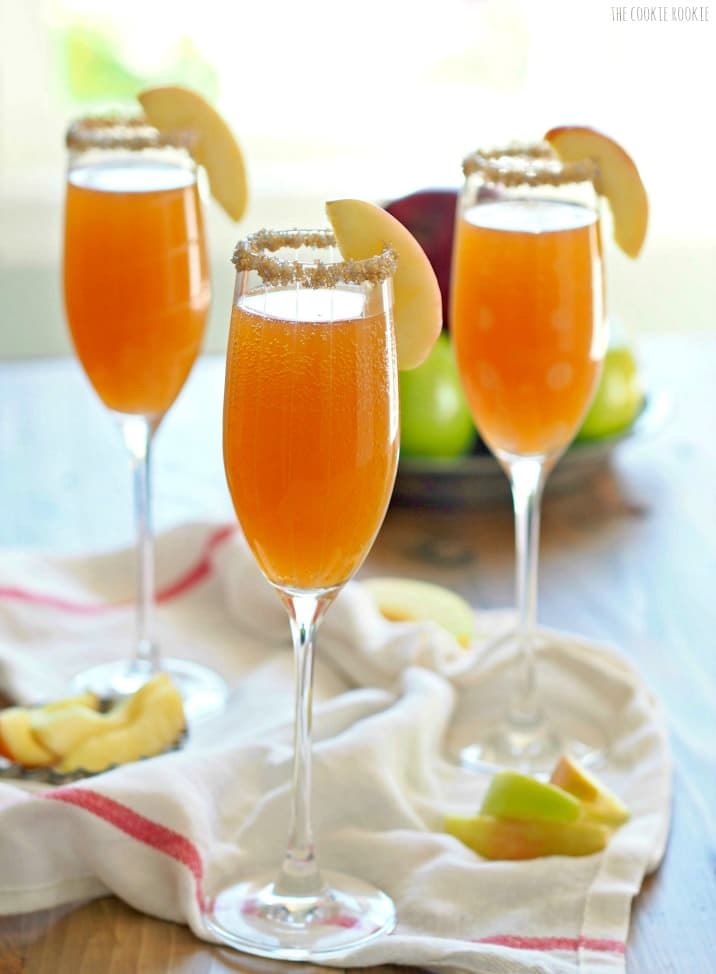 What is the best champagne for mimosas?
Your favorite mid-range champagne is perfect to use for mimosas. Or, use your favorite other bubbly drink!
Can I make a non-alcoholic version of these mimosas?
Yes! Use sparkling white grape juice instead of champagne.
Can I make mimosas ahead of time?
I don't recommend it because the champagne won't be as bubbly. This is such a quick and easy recipe to make in just a couple minutes!
Can I use hot apple cider in this drink recipe?
Refrigerated apple cider is best!
Apple cider and champagne is such a delightful pairing and the flavor combination is just perfect!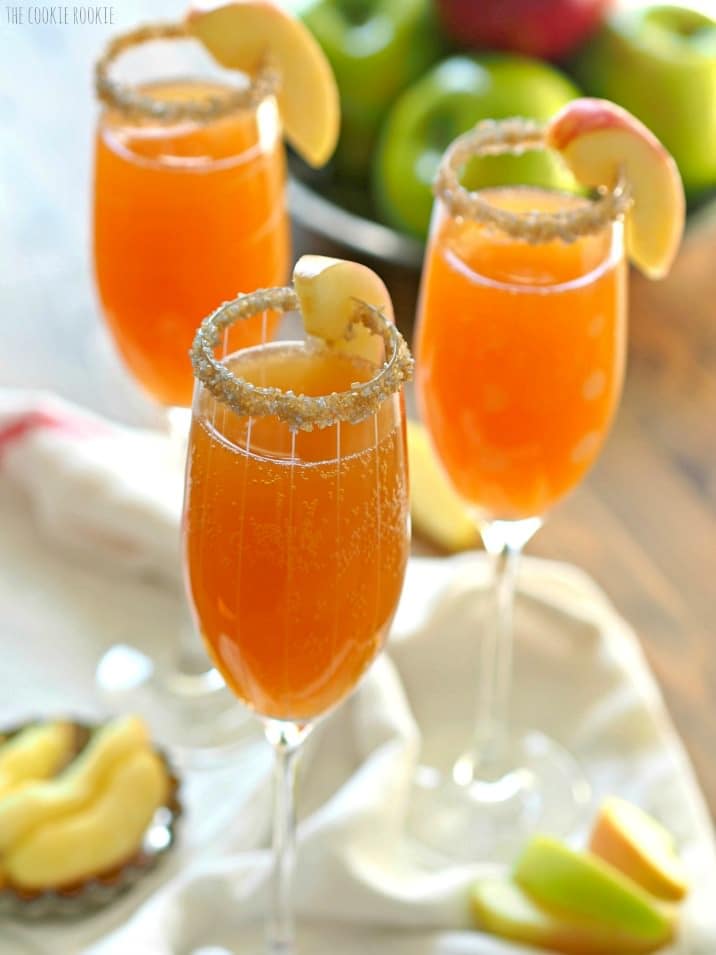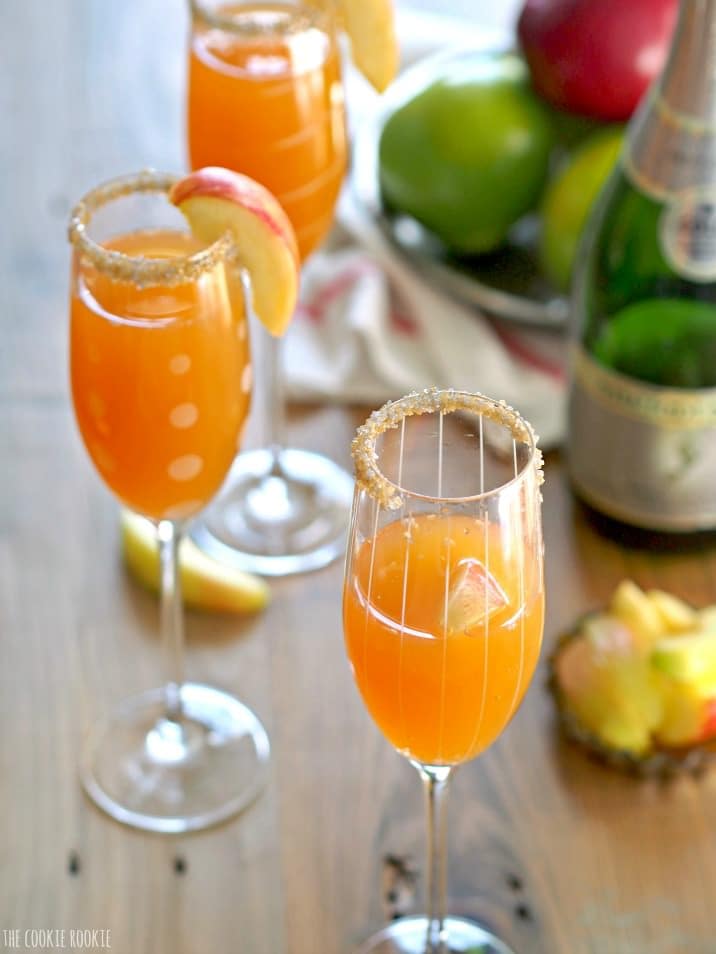 Tips!
There's no need to splurge on a fancy bottle of champagne because it will be mixed with cider! I typically choose a mid-range champagne for mimosas – something between $15 and $25.
I love using local apple cider for these apple cocktails. Many grocery stores carry apple cider from local farms in the produce section.
This is a great cocktail recipe for a crowd because it is so simple to make – you only need cider and champagne!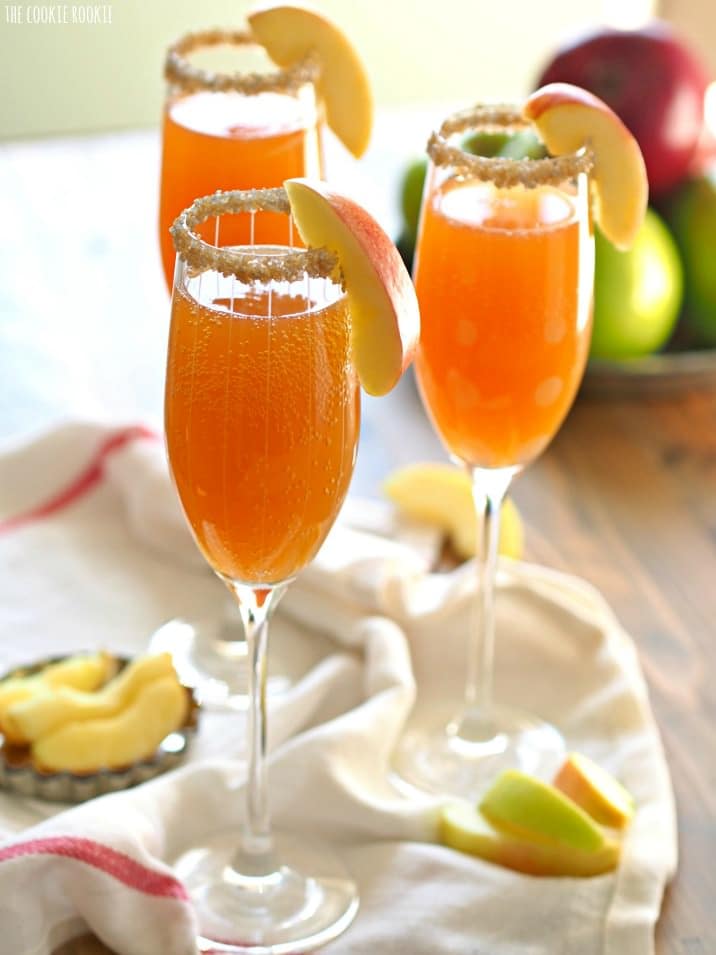 More Holiday Cocktail Recipes We Love:
This Apple Cider Mimosa Recipe is one of my favorites of all time and I hope these festive cocktails will grace your holiday tables this year! Cheers!
More Apple Cocktail Recipes
We love these Apple Cider Mimosas, but don't stop there! Be sure to try these other easy apple cocktails for Fall.
See All Cocktails
If you make this recipe be sure to upload a photo in the comment section below or leave a rating. Enjoy!