Apple Cider Mimosas are simple, delicious, and perfect for fall! Everybody deserves a fun and bubbly treat once in a while, and Thanksgiving is the perfect time for this Apple Cider Cocktail– especially one as easy and tasty as this. I love a good mimosa recipe, and this is my favorite one for the holidays!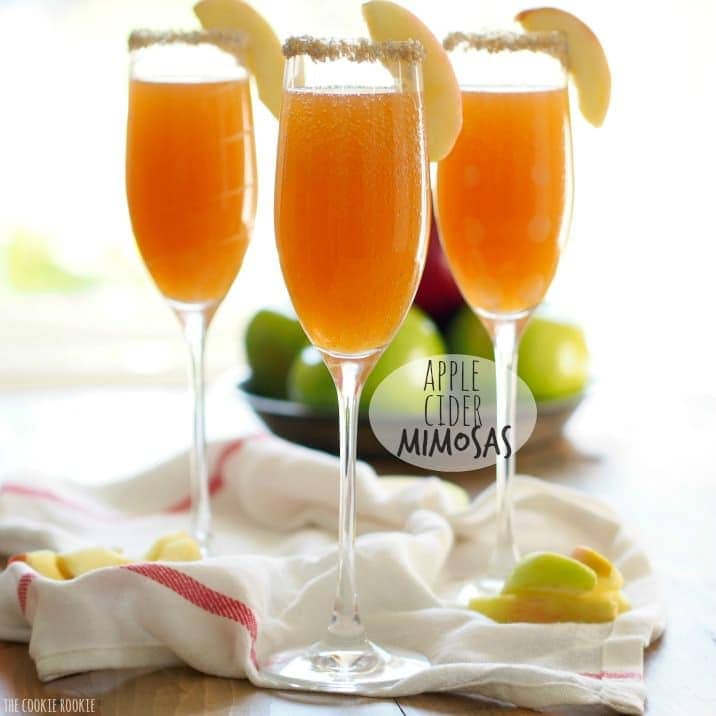 Apple Cider Mimosas
I really love the simplicity of mimosas. They're the perfect way to celebrate any occasion, start the day, or just unwind. Nothing a little bubbly can't fix! Apple cider is another favorite, especially this time of year.
I've already used it to make two delicious apple cider cocktails, Apple Pie Punch and Apple Pie Sangria.
Despite my love for these two drinks, I never considered blending them together! But once I took my first sip of this Apple Cider Mimosa, I knew I had a new favorite simple cocktail recipe.
We have been making it at Thanksgiving celebrations ever since! This apple cocktail is just what you need for your autumn celebrations!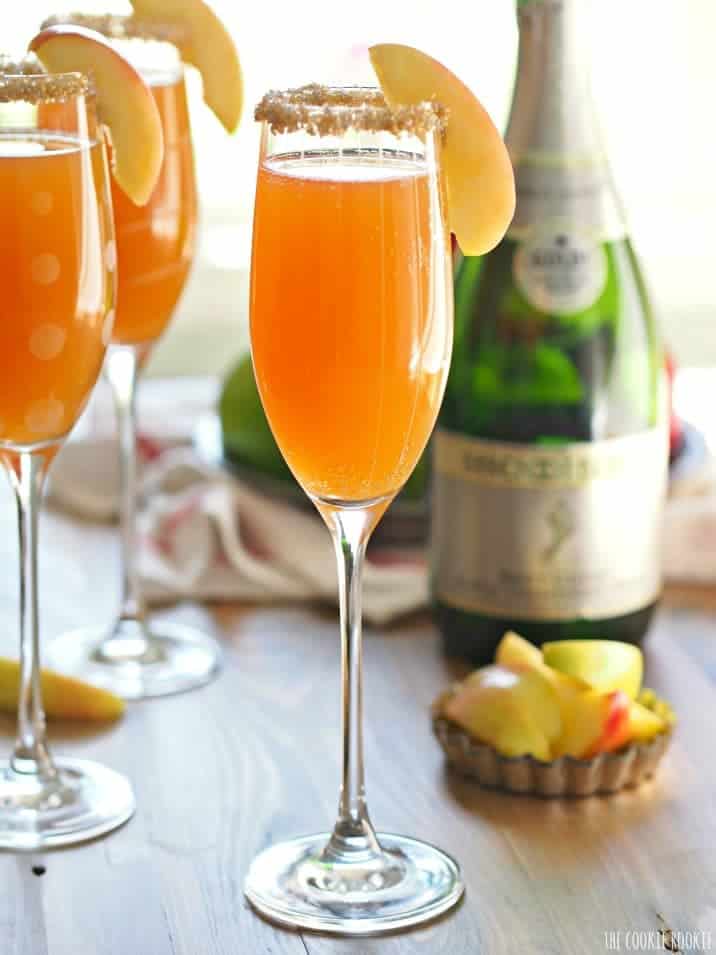 Why You'll Love Apple Cider Mimosas
Festively fall: Nothing says autumn like apples, and the cider in this mimosa emphasizes the season.
Easy: Mimosas are as simple as juice plus champagne!
Great for brunch: Mimosas are a natural at brunch time….as well as cocktail hour, or when guests drop by. It's easy to have these ingredients on hand and ready to mix.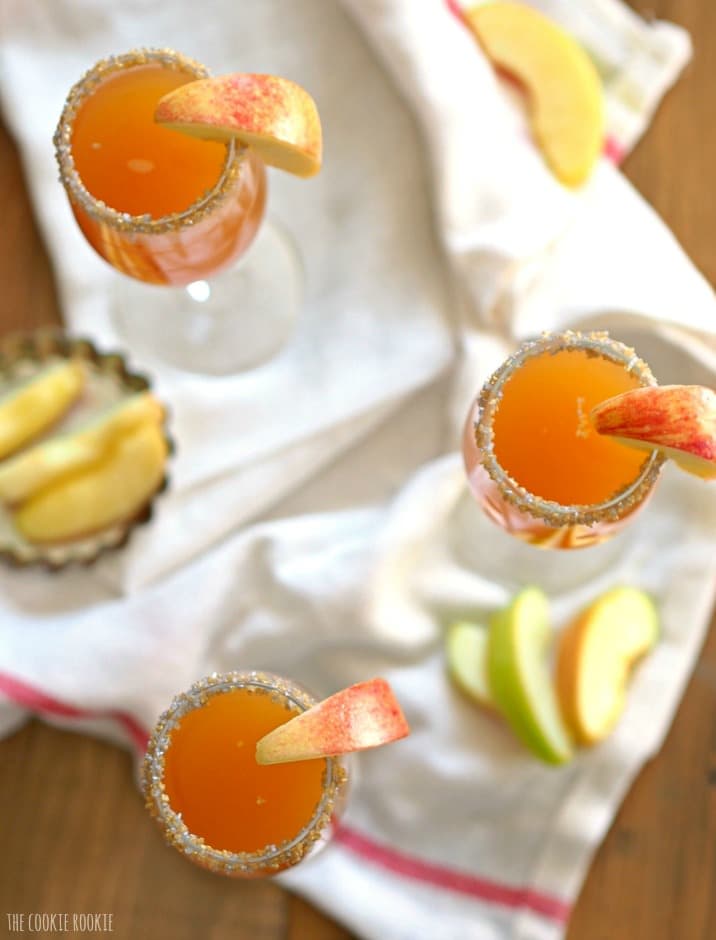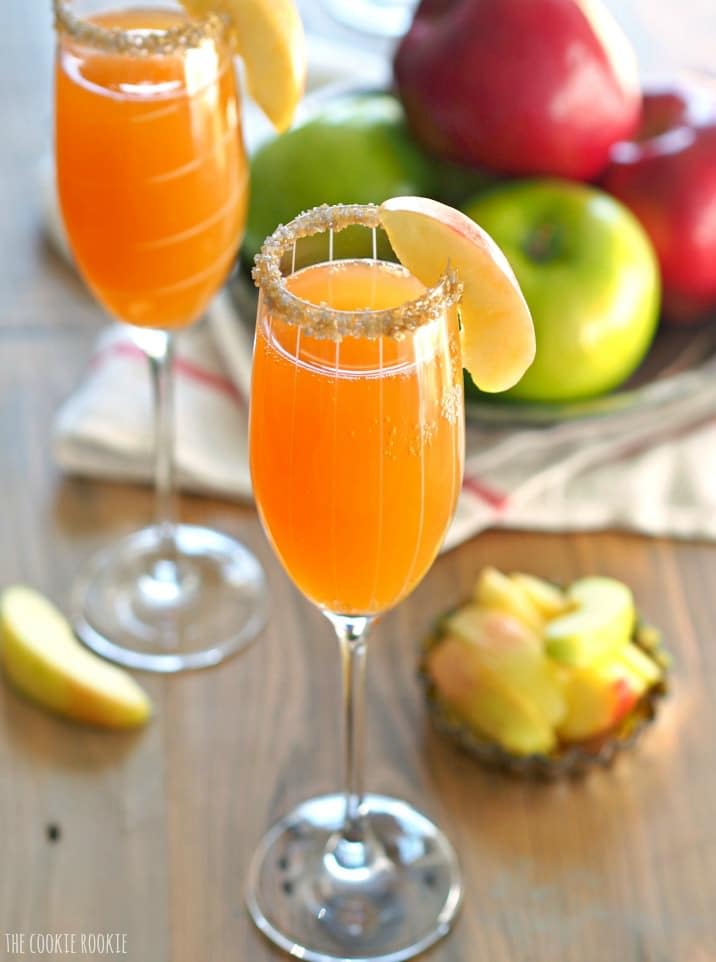 Ingredients
Gold and silver sprinkles: for rimming the glasses
Apple cider: Cider is made from apples that are washed, cut and ground into an apple mash, and then pressed into a juice with no heat used. Apple juice is heat-treated and highly filtered. It's a much milder choice, but if it's all you've got, it'll work.
Champagne: Champagne is a specific sparkling white wine that comes from the Champagne region of France. Other bubbly drinks include sparkling white grape juice(non-alcoholic), Prosecco, sparkling white wine, and Cava.
Apple slices: for garnish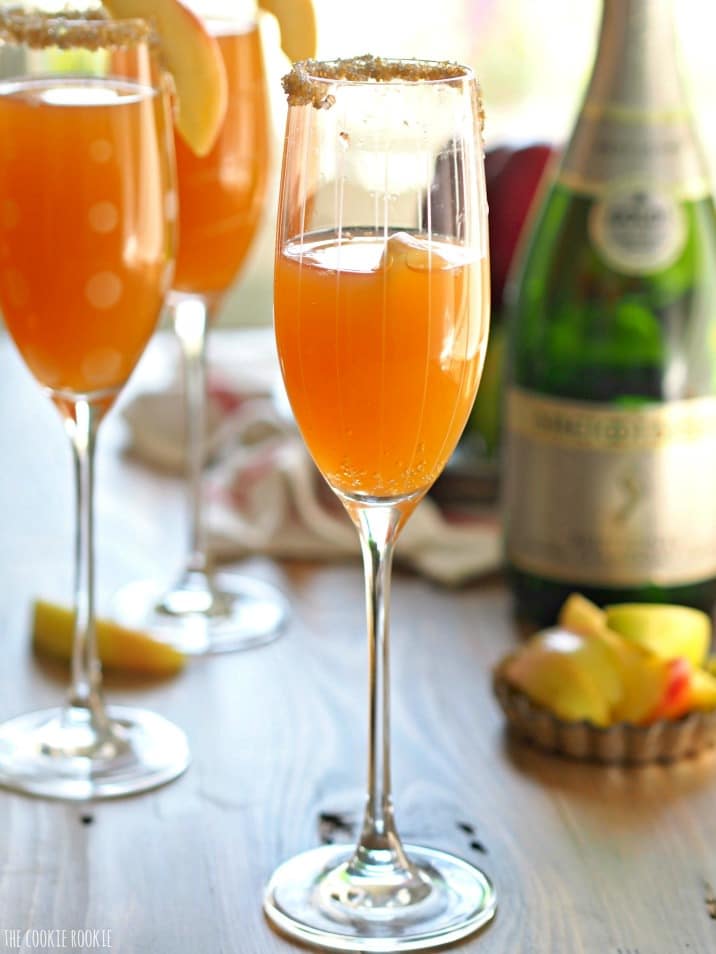 How to Make Apple Cider Mimosas
Dip the top of each champagne flute into the water and then dip in the sprinkles to coat.
Pour each champagne glass half to 3/4 full with apple cider.
Top with champagne.
Garnish with an apple slice.
Enjoy!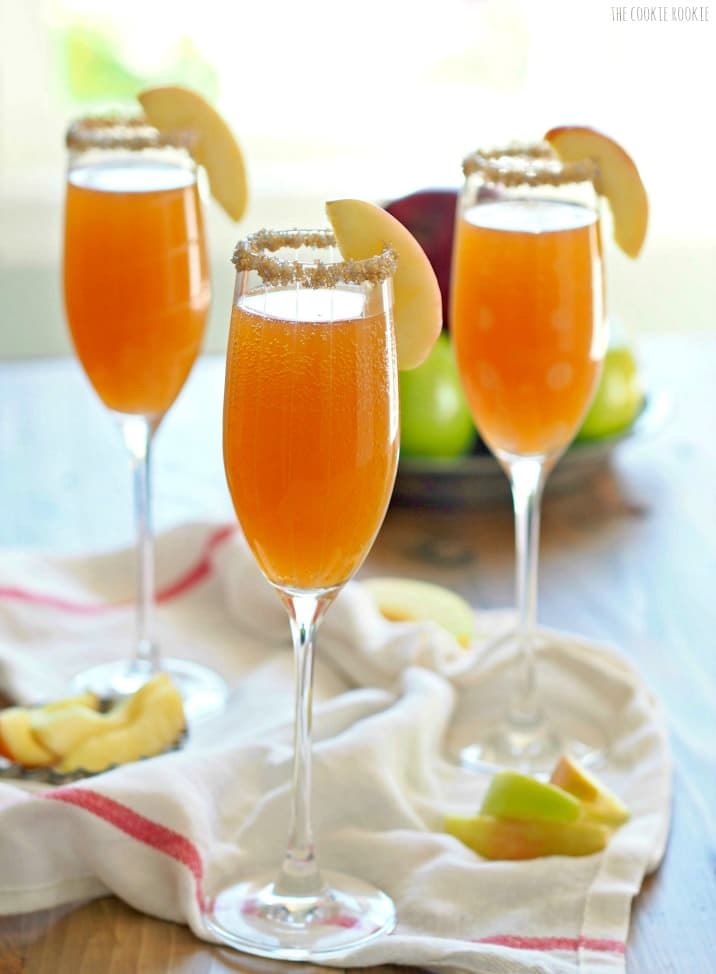 What's So Special About Mimosas?
Mimosas are special because champagne is special! It gives an elegant feel to anything you make with it, and mimosas are no exception.
The secret, though, is that there isn't anything much easier to make! You only need two ingredients to make these little beauties: CHAMPAGNE and APPLE CIDER. Apple cider replaces the typical orange juice for mimosas in this case.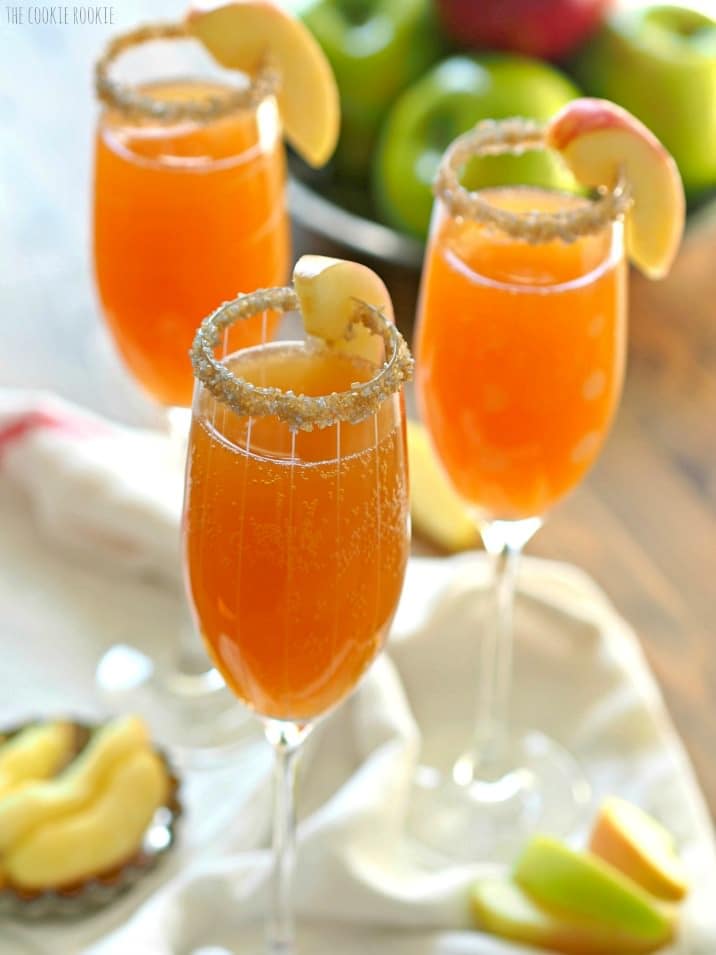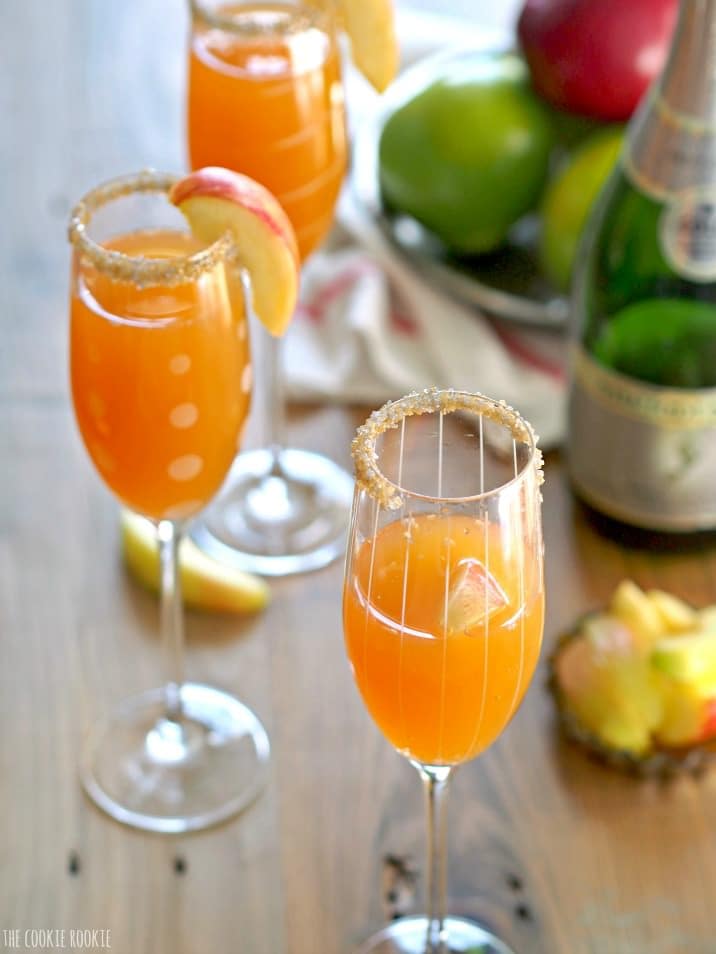 What is the Best Champagne for Mimosas?
Normally I will go with mid-range champagne for mimosas, in the $15-$25 range. I hardly ever spend more than that. When making champagne cocktails you are mixing the champagne with juice or other alcohol so there's no reason to splurge too much on just the champagne.
Champagne is one type of sparkling white wine. Look around in the store, or ask the attendant for Champagne alternatives if you want to try something different.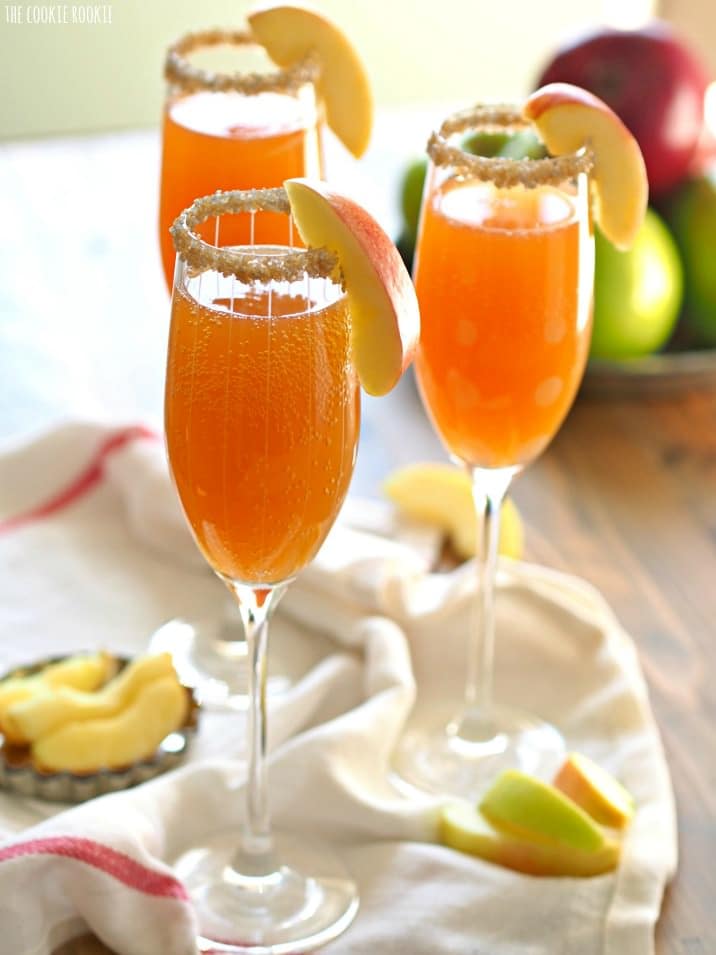 This Apple Cider Mimosa Recipe is one of my very favorites on the site. I hope you enjoy and it graces your holiday tables with grace! We love to serve these fun mimosas with brunch.
More Apple Cocktail Recipes
We love these Apple Cider Mimosas, but don't stop there! Be sure to try these other easy apple cocktails for Fall.
See All Cocktails
See the recipe card below for details on How to Make Apple Cider Mimosas. Enjoy!