Apple Cider Mimosas are simple, delicious and perfect for fall! You deserve such a fun and bubbly treat once in a while. Thanksgiving is the perfect time for this Apple Cider Cocktail, especially one as easy and tasty as this. I love a good mimosa recipe, and this is my favorite one for the holidays!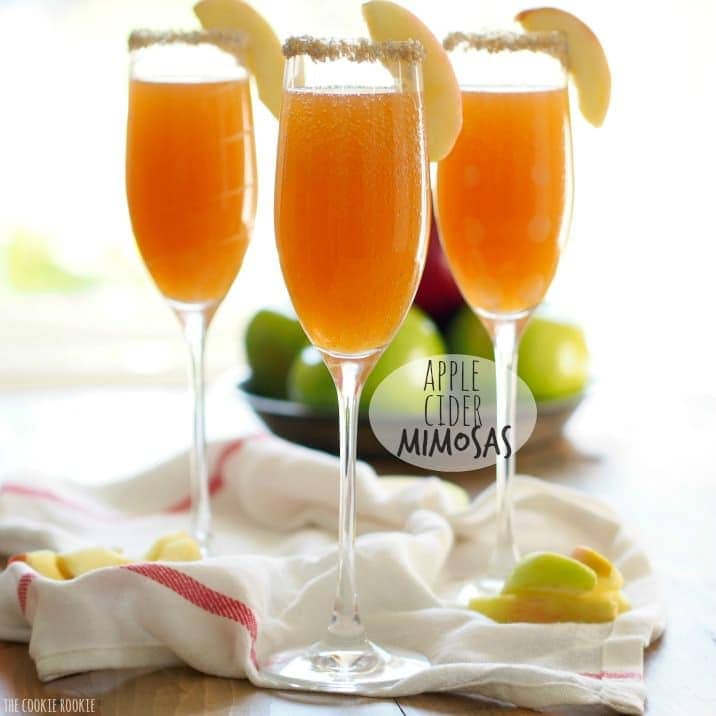 Apple Cider Mimosas
These apple cider mimosas are the perfect combination of two favorite beverages. A good mimosa is always refreshing, and adding apple cider instead of orange juice is the best way to celebrate autumn.
I really love the simplicity of mimosas. They're the perfect way to celebrate any occasion, start the day, or just unwind. Nothing a little bubbly can't fix! Apple cider is another favorite, especially this time of year.
I've already used it to make two delicious apple cider cocktails, Apple Pie Punch and Apple Pie Sangria.
Despite my love for these two drinks, I never considered blending them together! But once I took my first sip of this Apple Cider Mimosa, I knew I had a new favorite simple cocktail recipe.
We have been making it at Thanksgiving celebrations ever since! This apple cocktail is just what you need for your autumn celebrations!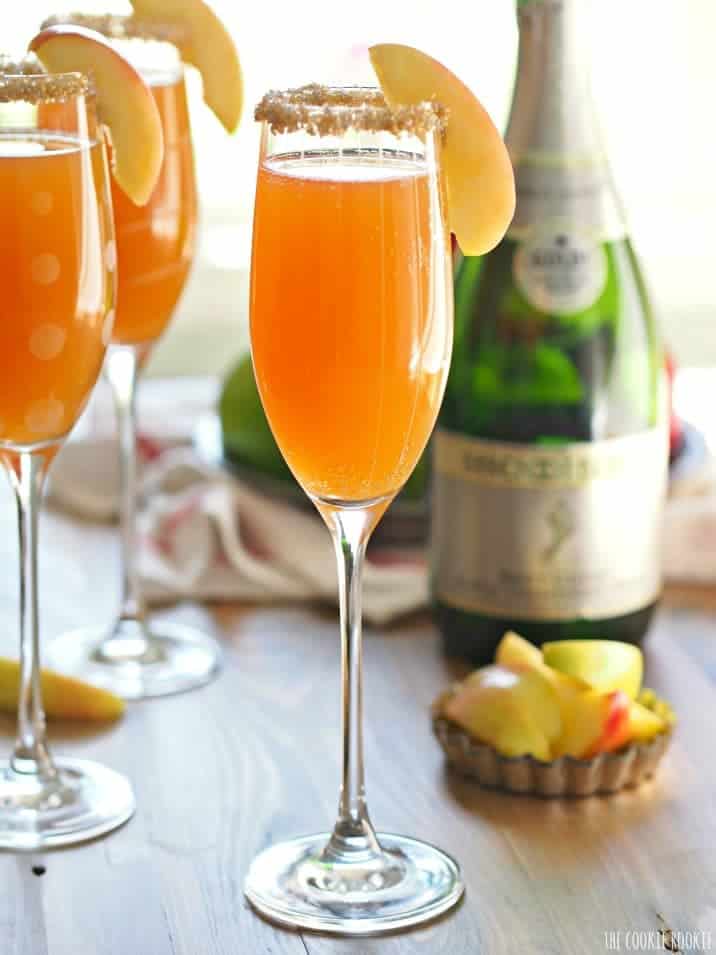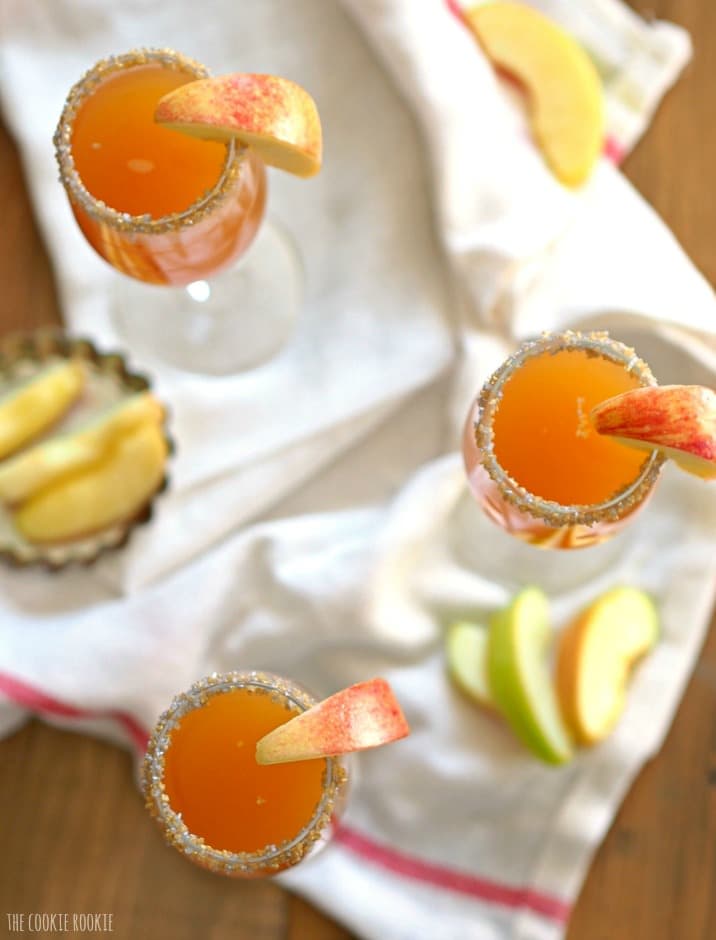 How to Make Apple Cider Mimosas
Just like any good mimosa, you only need two ingredients to make these little beauties: CHAMPAGNE and APPLE CIDER. Apple cider replaces the typical orange juice in this case.
To make them, just fill a glass with apple cider (1/2 or 3/4 full, depending on what you prefer), then top them off with the champagne.
It's not rocket science, but I can't believe it took me so long to try it! These apple cider mimosas are a huge success with everyone who tastes them.
You can garnish the rim with caramel, sprinkles, cinnamon sugar, or anything you love. Such a fun and creative spin on a classic cocktail for fall.
Be sure to see the recipe card below for full ingredients & instructions!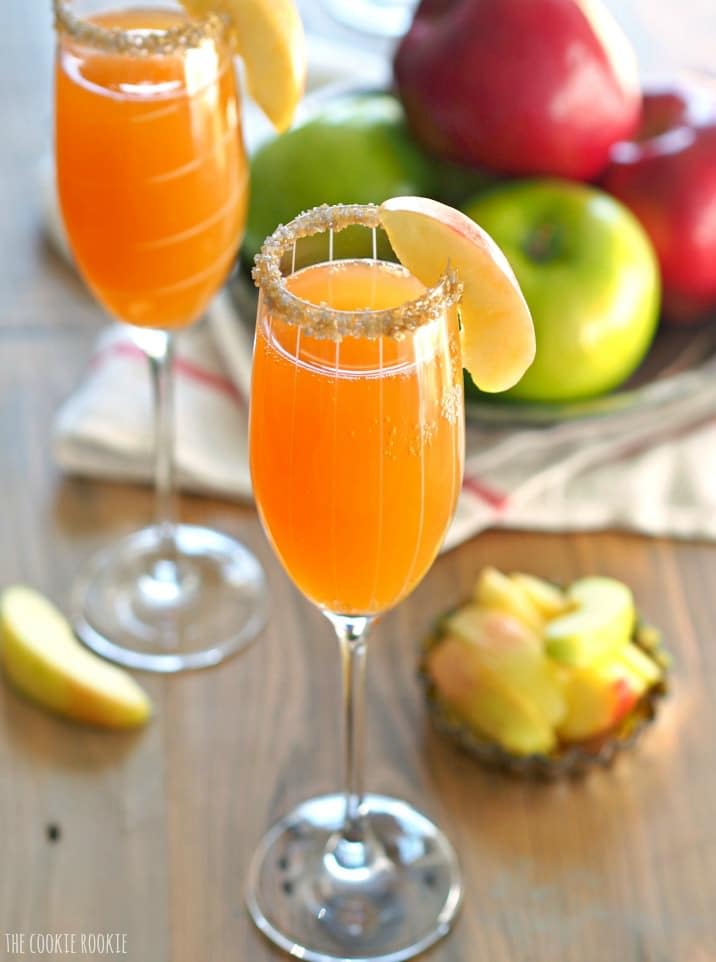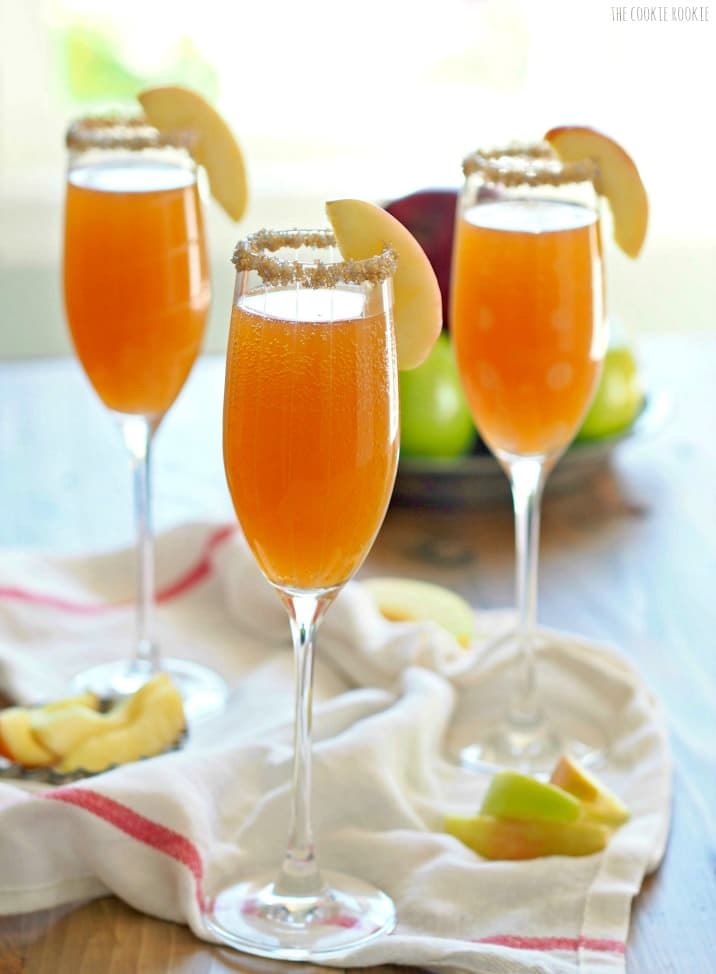 Apple Cider Cocktail
The holidays, Thanksgiving and Christmas, are such a busy time of year. Let's make things easier with this cider cocktail recipe.
The next couple months are going to be SO busy. The holidays are a foodies best and busiest time of year. I can't wait for all the celebrating, baking, family time, and let's not forget EATING…but first, a cocktail.
A delicious and simple cocktail. No better way to unwind than to pop some bubbly and pour it over apple cider. Apple Cider Mimosas for the WIN!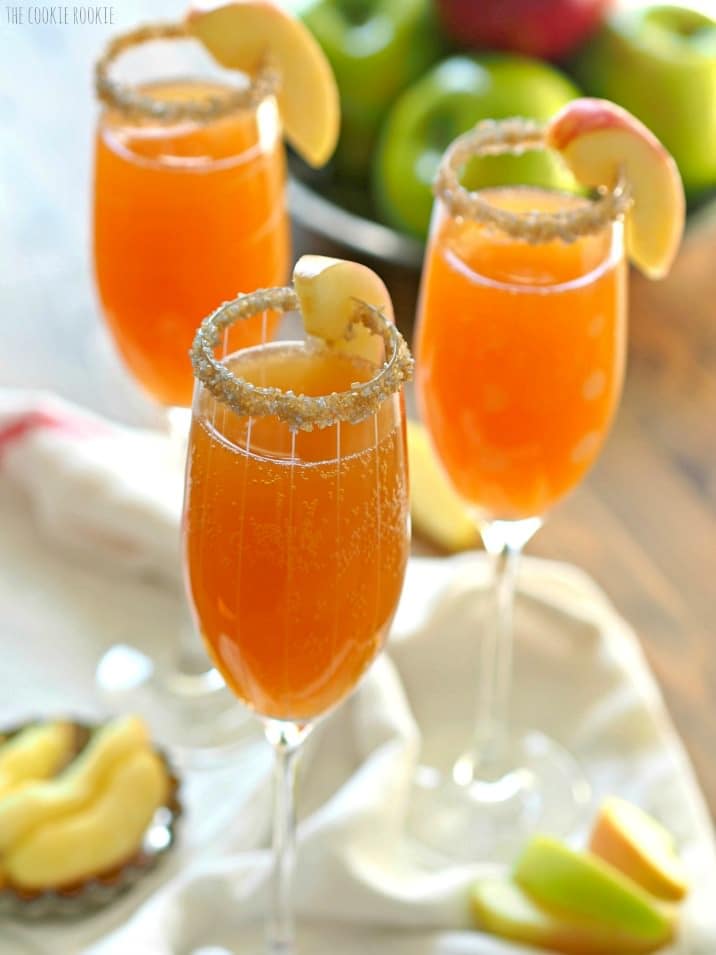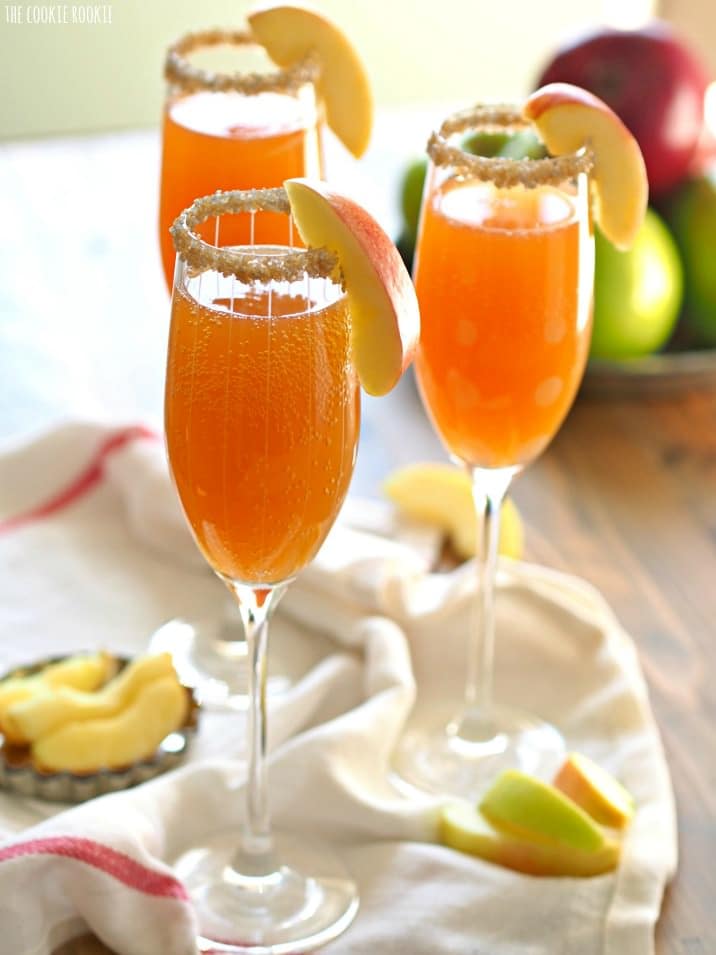 What is the best champagne for mimosas?
Normally I will go with a mid-range champagne for mimosas; in the $15-$25 range. I hardly ever spend more than that. When making champagne cocktails you are mixing the champagne with juice or other alcohol so there's no reason to splurge too much on just the champagne.
A mid range version will do just fine. If you have a favorite, always use that. If it ain't broke, don't fix it!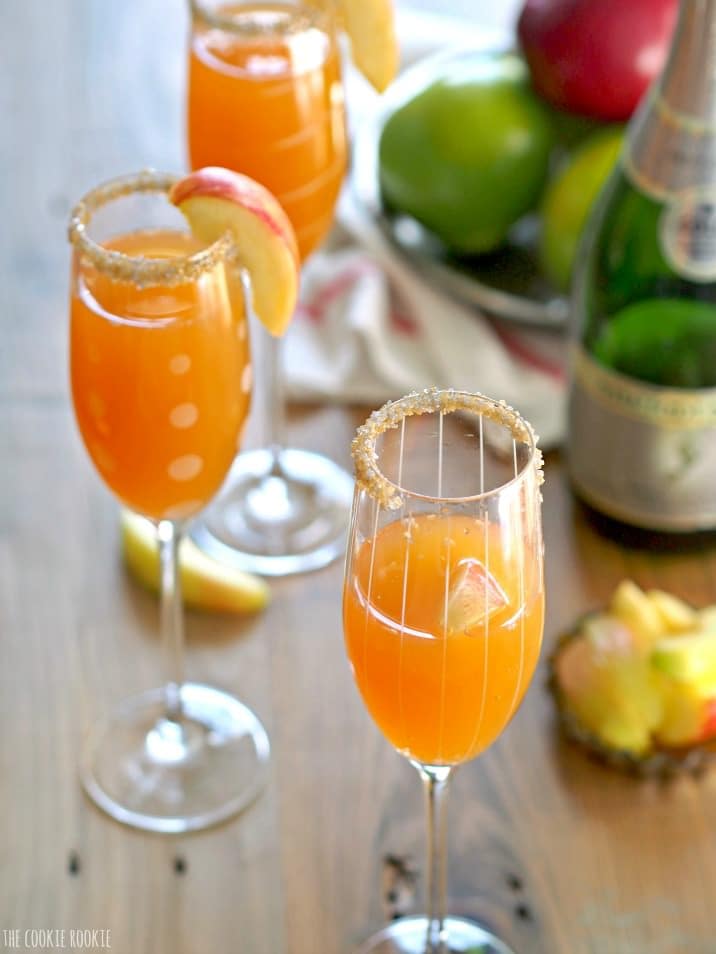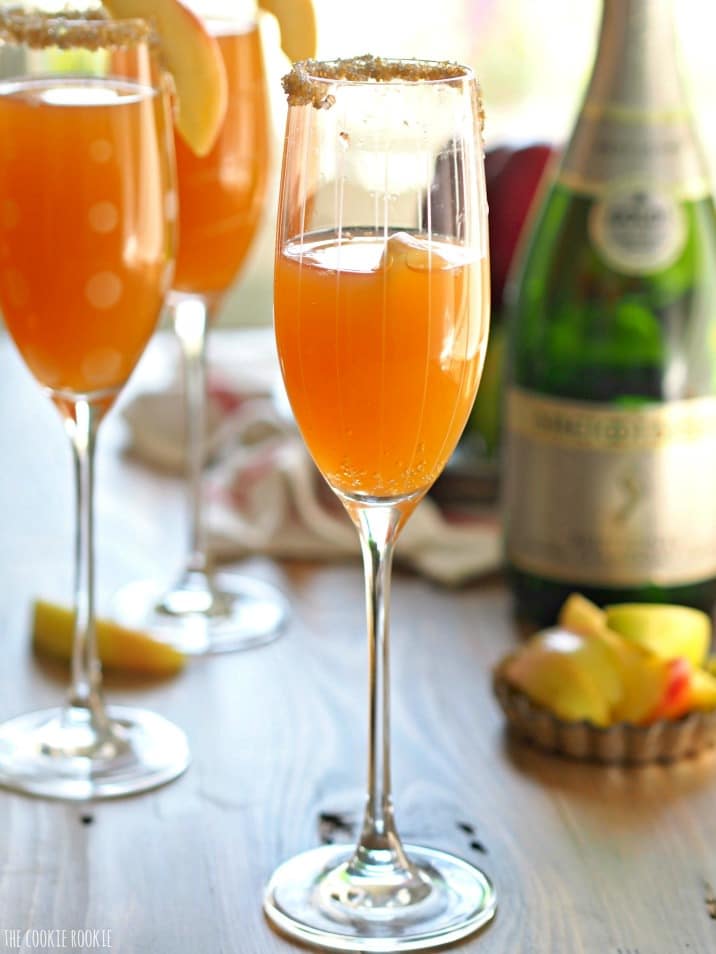 This Apple Cider Mimosa Recipe is one of my very favorites on the site. I hope you enjoy and it graces your holiday tables with grace! We love to serve these fun mimosas with brunch.
More Apple Cocktail Recipes
We love these Apple Cider Mimosas, but don't stop there! Be sure to try these other easy apple cocktails for Fall.
See All Cocktails
See the recipe card below for details on How to Make Apple Cider Mimosas. Enjoy!