Creamed Corn Recipe with Bacon, Parmesan, and Mascarpone is the Thanksgiving Corn Recipe you've been waiting for. This PARMESAN CREAMED CORN WITH BACON AND MASCARPONE is one of our favorite Thanksgiving Side Dish Recipes, but it's also great for any time of year. If you're looking for a fabulous and unique gluten free Thanksgiving or Christmas recipe, this Creamed Corn with Bacon is IT!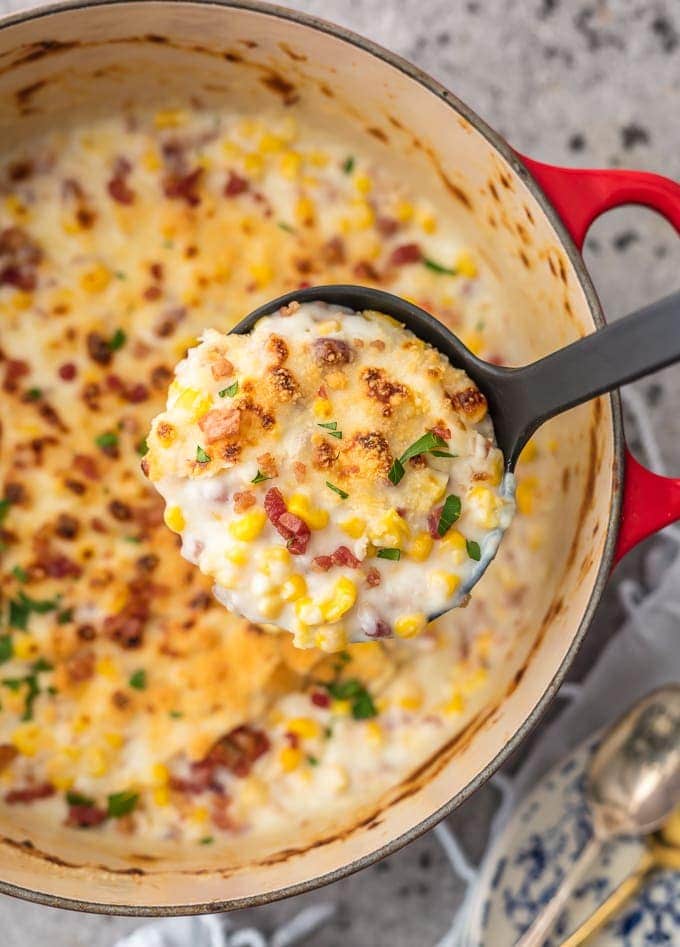 Easy Creamed Corn Recipe
This Creamed Corn Recipe title is a mouthful, but the recipe itself is a DELICIOUS mouthful… so it works.
Creamed Corn with Bacon, Parmesan, and Mascarpone (wow, tongue twister) is SO good, SO creamy, SO unique, and SO perfect for your holiday gatherings. I could make the recipe title more simple, but all of those ingredients are so important, I feel like they all have their place.
The bacon makes things amazing (duh), the Parmesan creates a broiled cheese crust on top (!!!) and the Mascarpone makes this creamed corn recipe EXTRA creamy and delicious. Thanksgiving this week and Christmas next month (and not to mention Easter next year) would be incomplete without this lovely and tasty dish gracing your holiday table.
Parmesan Creamed Corn is delicious with turkey, delicious with ham, and delicious on its own. Can you tell I love this recipe?? I saved the best for last! This is the Best Creamed Corn Recipe because it has a flavor combo that is a little bit sweet and a little bit salty. Plus, I love that it's the perfect compliment for all the other fixings this time of year.
Make this creamy Parmesan, Bacon, & Mascarpone Creamed Corn Recipe for your Thanksgiving Corn dish, or any other holiday meal!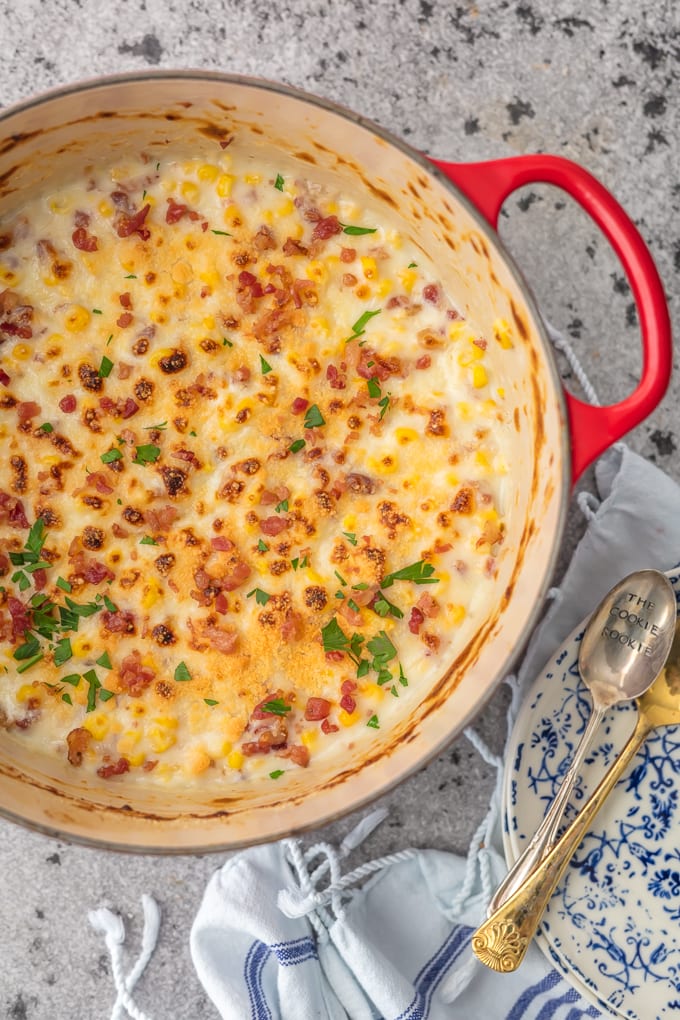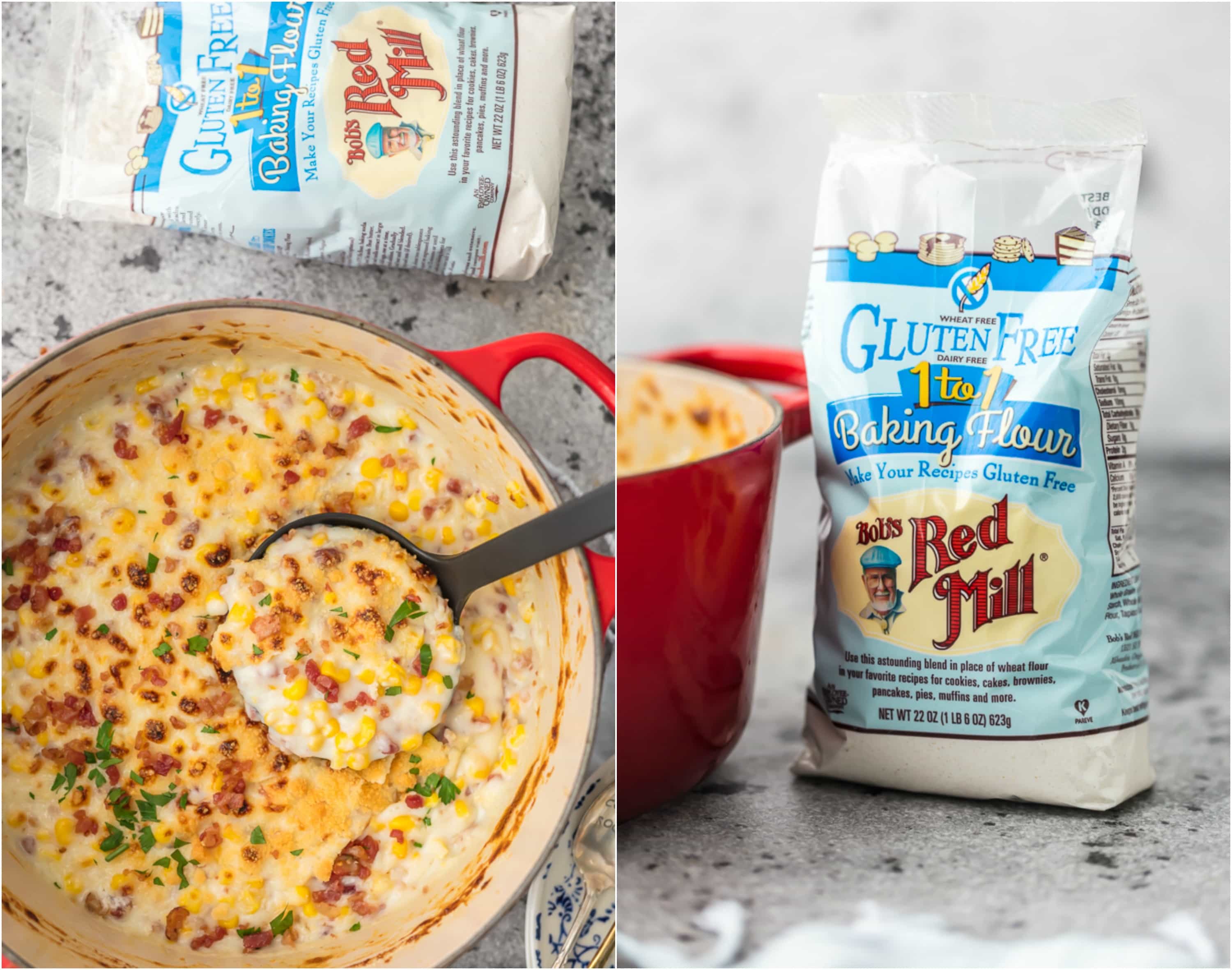 The BEST Creamed Corn Recipe
This Creamed Corn Recipe is made extra creamy with mascarpone cheese and extra savory with bacon crumbles.
In my opinion, the key to the best creamed corn recipe is starting with a roux…and to do that while keeping this recipe gluten free I needed a little help from my friends. You guys know I'm a HUGE fan of Bob's Red Mill. I've worked with them for 2 years now and they are not only a joy to work with, they are second to none. Their products are made with quality in mind and they have solutions to almost any dietary need.
Bob's Red Mill Gluten Free 1 to 1 Baking Flour is my jam and I couldn't love it more. You can use it in baking just as you would all purpose flour, or you can use it in cooking savory sides like this Parmesan Creamed Corn. It created such a great start to this stovetop creaminess…perfection! Have you tried it yet? I'm obsessed.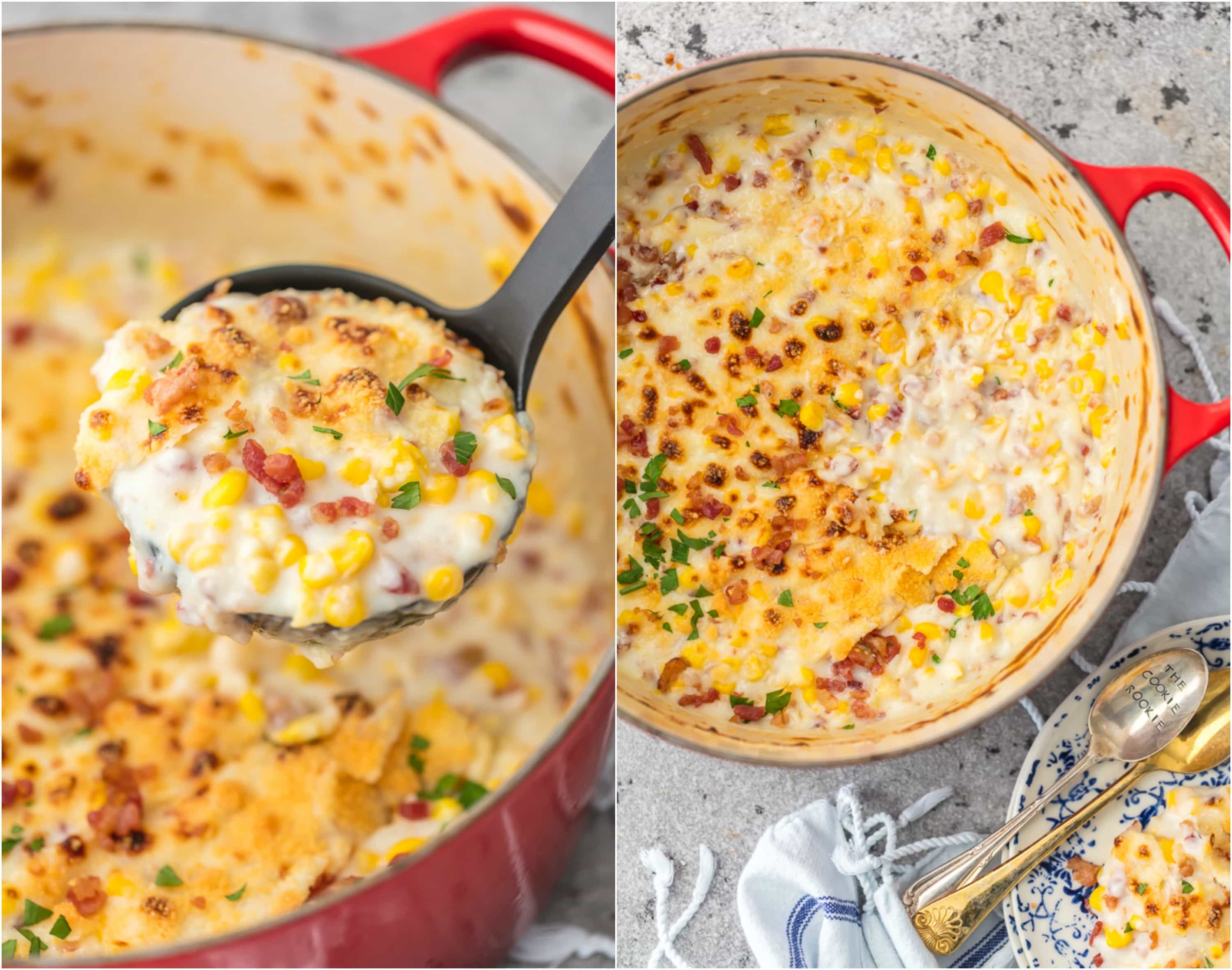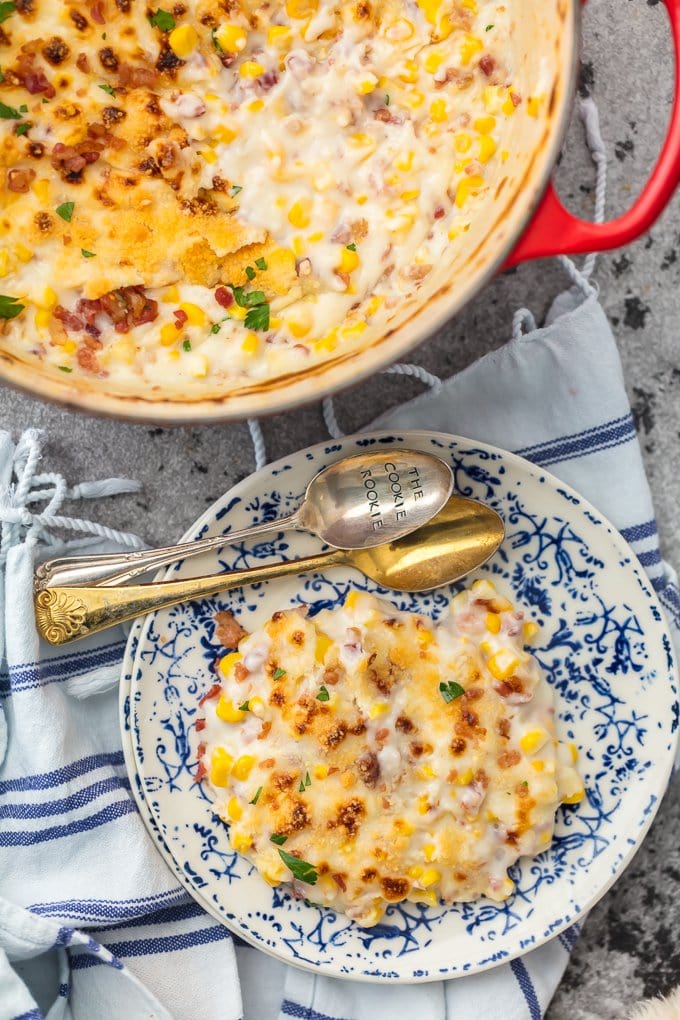 Delicious Thanksgiving Corn Dish
Every Thanksgiving table needs a simple yet delicious Thanksgiving corn dish! Side dishes are everything during the holidays because you want to make sure there's plenty of food for everyone…actually, you want to make sure there's TOO MUCH food for everyone. Corn is the most classic Thanksgiving food, and I think this creamed corn recipe fits right in. The creamy mascarpone & savory bacon bits makes it the best creamed corn dish for Thanksgiving!
Tips for making this Creamed Corn Recipe with Bacon:
I love how this creamed corn recipe is peppered with bacon and made extra creamy (and a tad sweet) by adding mascarpone. I love that it's made start to finish in under 30 minutes–so quick! I LOVE that it's the ultimate holiday side dish! Do you mind if I eat it as a main course as well? I can't get enough. Don't judge.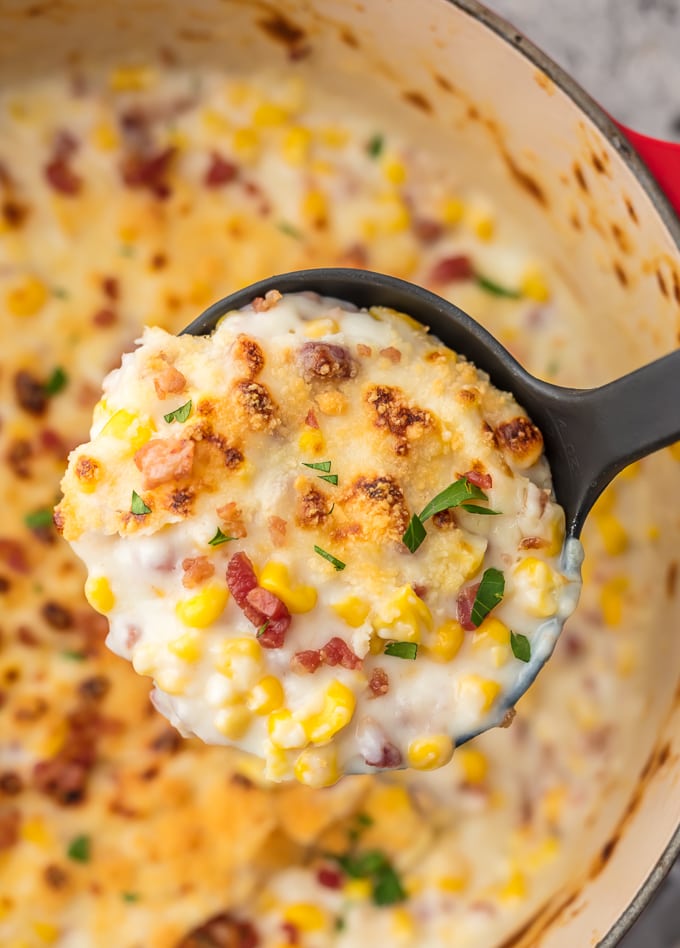 I cannot believe Thanksgiving is Saturday. Henry's first Thanksgiving. He might be eating this as his entire holiday meal (he's 8 months old ha), and I think he's going to love it. I have a feeling this Creamed Corn Recipe will be his favorite on the table. Hellllloooooo…BACON BITS. He's not going to know what hit him.
See the recipe card below for full details on How to Make Creamed Corn with Bacon, Parmesan, and Mascarpone. Enjoy!
Add these other easy Thanksgiving side dishes to your holiday menu: