Mascarpone Cheese is a delicious and creamy Italian cheese used in such recipes as Tiramisu. Why buy it at the store– when you can learn how to make Mascarpone Cheese at home! This recipe is easy, cost-effective, and so delicious! We always have some of this on hand.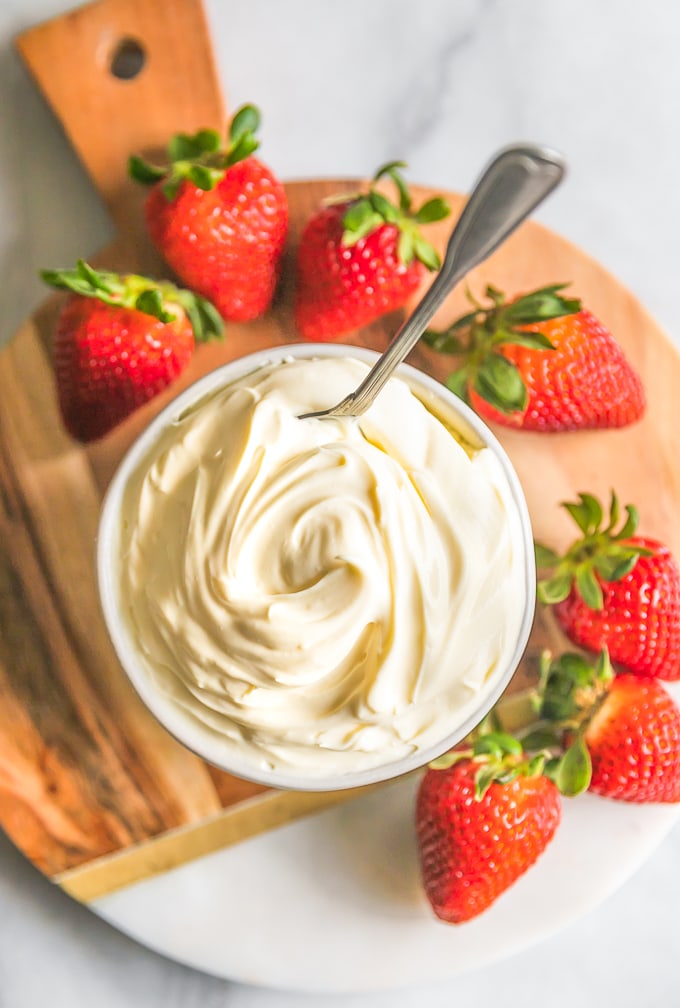 Mascarpone Cheese Recipe
Mascarpone is so easy to make at home! This perfect Mascarpone Cheese is a must-make for any baker or cheese lover.
Mascarpone Cheese is so easy to make and perfect for recipes like Tiramisu or Bruschetta. I love that this homemade version is cheaper than buying it at the store and is made with ingredients you might already have in your refrigerator.
This is the most approachable recipe for mascarpone, and I'm so proud of how it tastes.
Why you'll love this Homemade Mascarpone Cheese Recipe:
Easy: Yes! You can assemble the dip ahead of time and bake it when you are ready to serve it. After you assemble it, wrap it tightly and refrigerate it for up to 3 days.
Delicious: It's smooth, creamy, tangy yet sweet.
Versatile: You can dip it or use it as an ingredient in a range of desserts and appetizers.
What is Mascarpone Cheese?
Mascarpone is a type of extra-velvety cream cheese, made with about twice as much fat as typical American cream cheese. That additional fat is what makes it so smooth and luscious.
Since my recipe uses ingredients that aren't in the standard Italian recipe, it technically needs to be called substitute Mascarpone, but the taste and texture are right on the mark!
We recently used this Mascarpone Cheese in our Tiramisu Cups and it was such a hit. No more searching the grocery aisles, or even going to multiple stores to find what you need. You can make this Cheese in under 5 minutes at home. Whoop!
Learn How to Make Mascarpone at home with this easy homemade cheese recipe!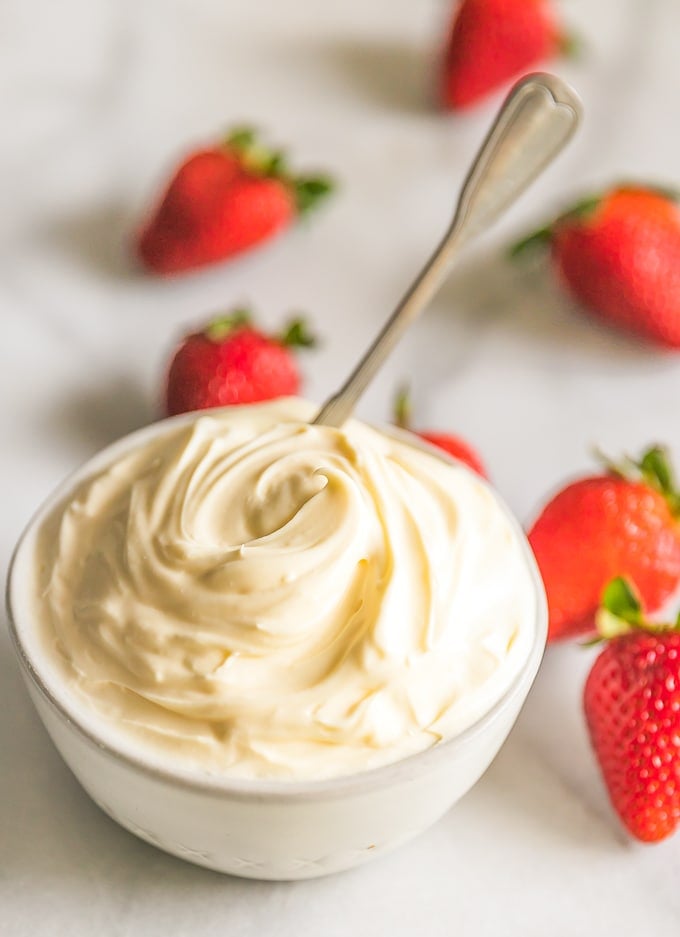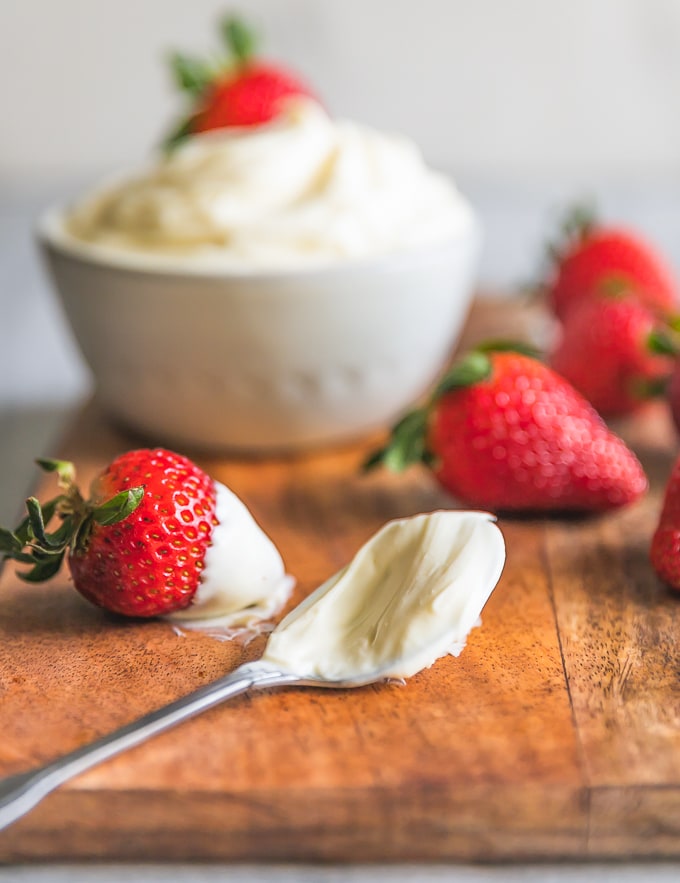 New To Cooking
Check out my comprehensive Beginner's Guide to learn how to make easy recipes, see new techniques, and browse my favorite gadgets!
What kinds of recipes use Mascarpone Cheese?
Mascarpone can be used in so many ways including Tiramisu Cups (of course!), as a whipped cream substitute, perfect as a pizza or soup topping, added into banana bread to make things extra creamy, or used in dishes like Chicken Marsala to thicken the sauce.
You can use it in recipes from Chocolate Truffles to Creamed Corn. Pretty versatile, huh?
I have always really liked Mascarpone as an ingredient…but it is expensive at the grocery store. This homemade recipe is so easy…and I'm pretty sure you already have the ingredients in your refrigerator!
How to Make Homemade Marscapone Cheese
Measure the cream cheese, sour cream, heavy whipping cream and lemon juice into a blender or small food processor.
Blend until smooth, scraping down the sides as needed.
Chill to firm up the ingredients. And that's it!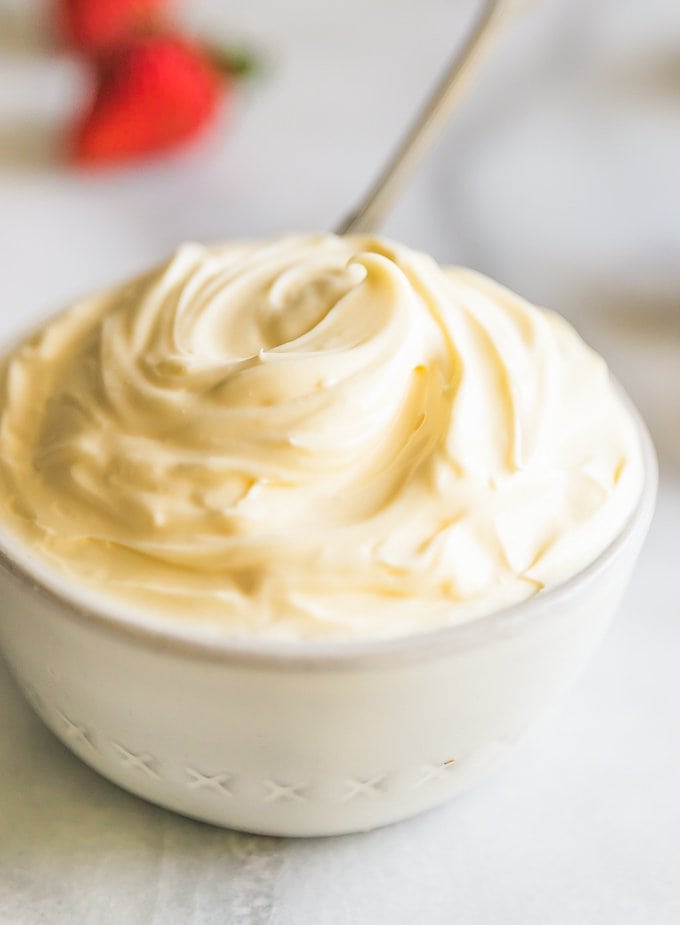 Tip!
This Mascarpone Cheese is so versatile! Eat is as is by dipping your favorite fruit or topping a quick dessert, or use it as a mascarpone substitute in any of your favorite recipes like Tiramisu!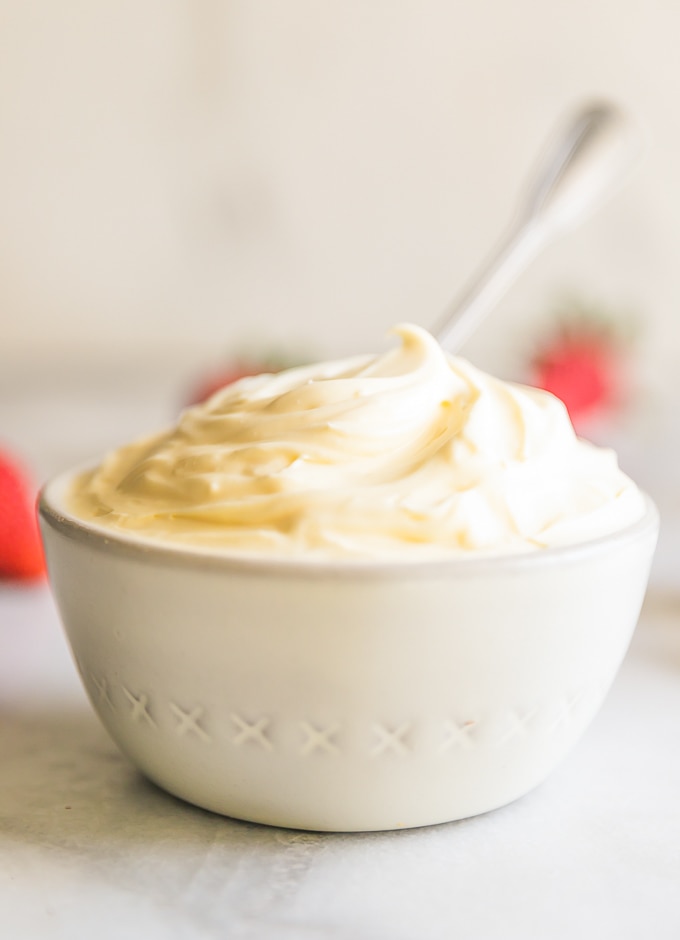 Can I eat Mascarpone while pregnant?
You can! As always, check with your doctor for what is safe to consume while pregnant, but all of the ingredients in this recipe are pasteurized and none are ripened by mold, so in theory this recipe is a-okay from that perspective.
What does Mascarpone taste like?
This Italian Cheese is silky, smooth, thick, and creamy. It's slightly sweet and tangy, buttery and rich. We love this cheese!
What other homemade ingredient substitutions can you make?
We love this homemade Mascarpone Cheese recipe. Homemade is what it's all about, and we have tons of other homemade recipes ingredients too. Check out the list below.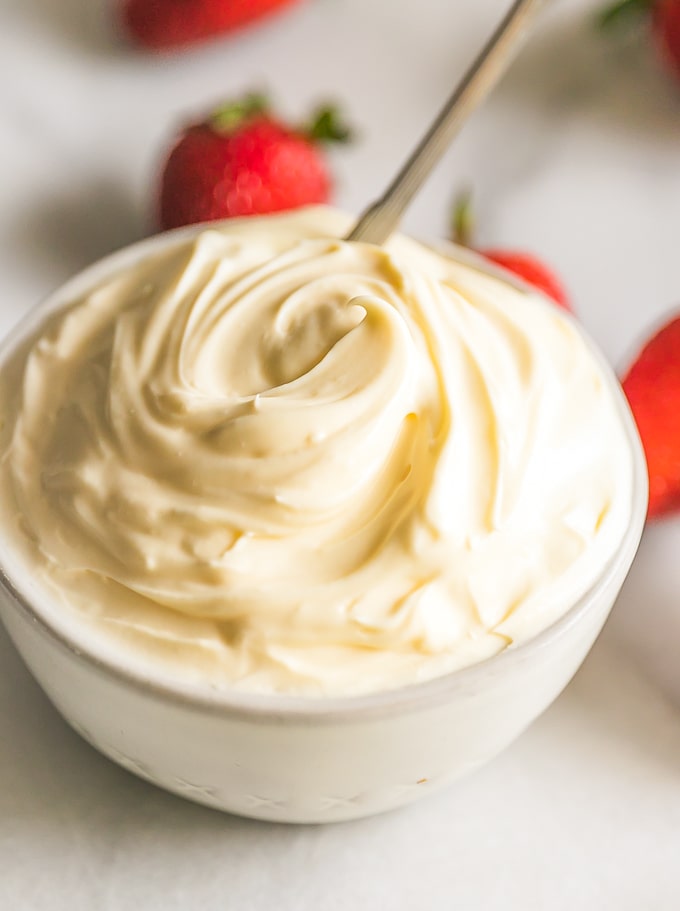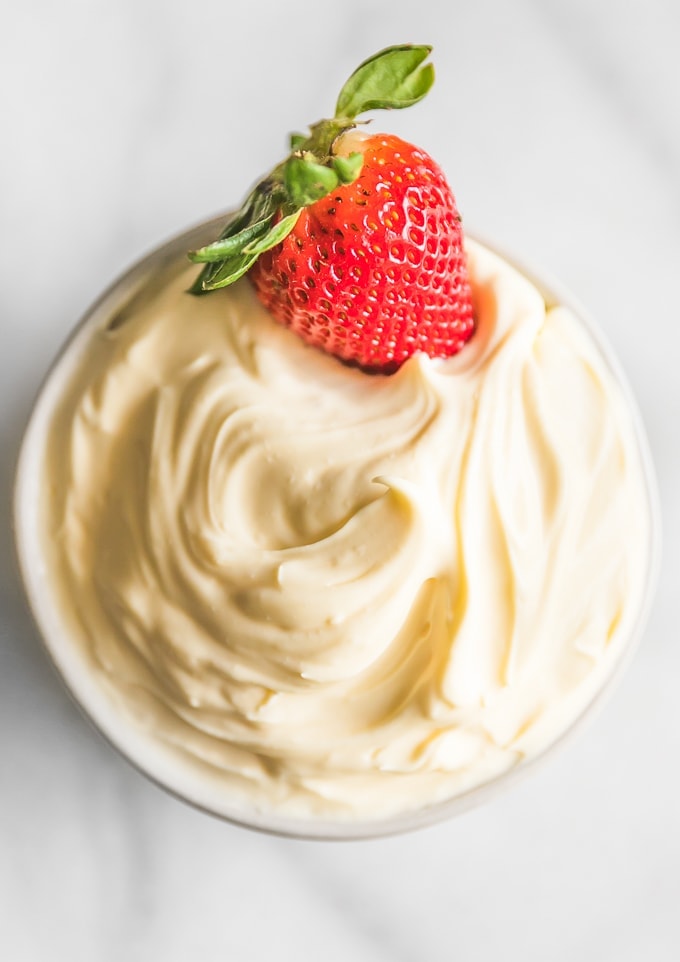 If you're looking for a creamy, dreamy, budget-friendly homemade recipe that will wow your friends and family while being practical at the same time, try this homemade Mascarpone Cheese substitute!
Whether you use it in unique recipes or just dip some strawberries as an appetizer or dessert, you'll love its texture and flavor.
If you enjoy Mascarpone Cheese, try some of these other delicious cheesy appetizers!
More Cheese Recipes
This Mascarpone Substitute recipe is just one of our cheesy favorites. Be sure to try them all!
See All Cheese
If you make this recipe, be sure to let us know by uploading a photo in the comments below or leaving a rating. I hope you enjoy it!