This Scalloped Corn recipe combines creamed corn and whole kernels into a delicious casserole, with lots of cheese and a crumbled cracker topping. You only need a few ingredients, prep is quick, and then it bakes into a creamy and cheesy side dish that's perfect for holiday feasts!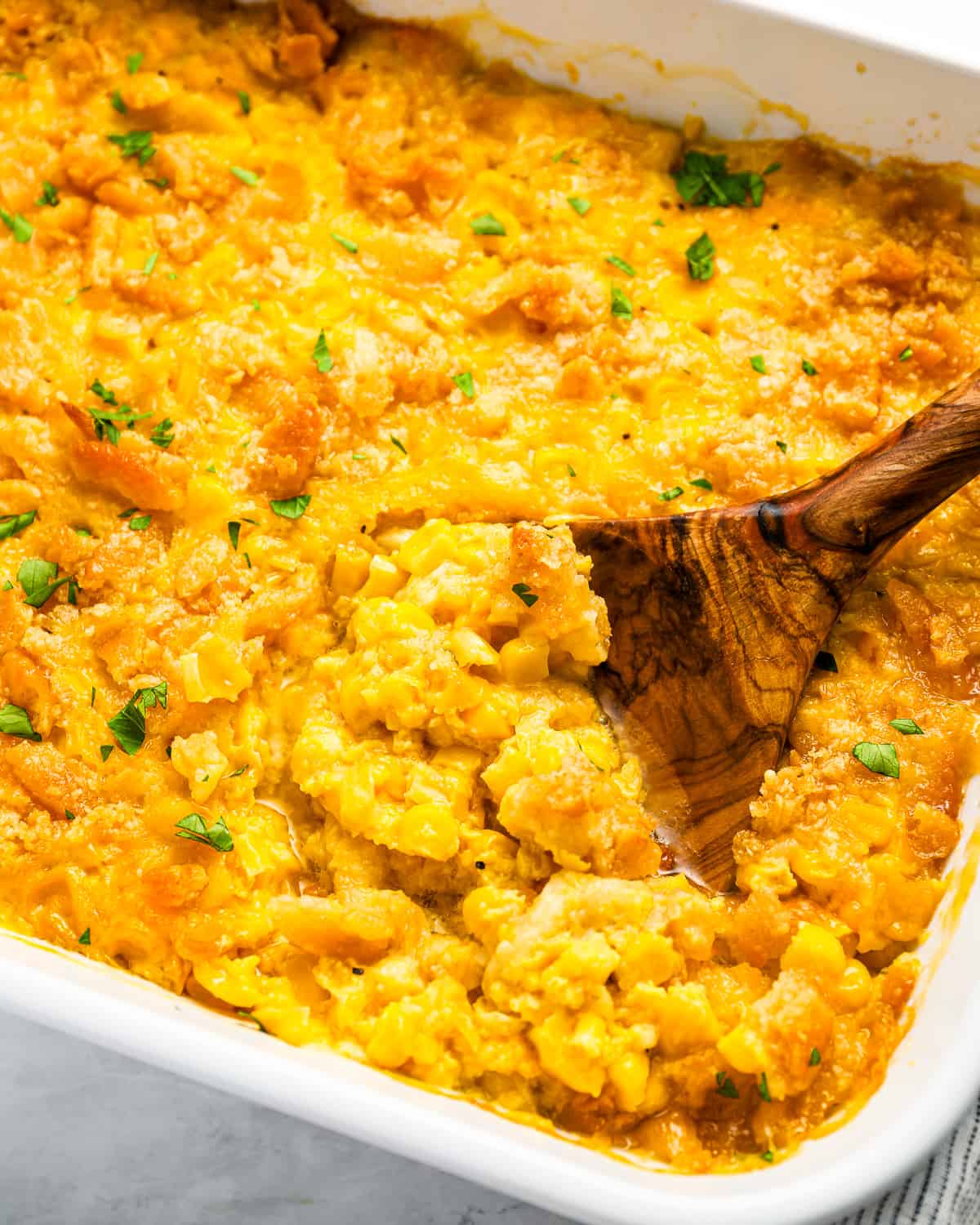 Why We Love This Scalloped Corn Recipe
Everyone who knows me knows I love a good cheesy recipe. The second I tried this side dish, I knew I loved it, and so did my kids! This Cheesy Scalloped Corn is a great and simple holiday side dish recipe.
Creamy. Creamed corn creates the perfect creamy base for this recipe.
Cheesy. Cheddar cheese adds delicious flavor and enhances the creaminess.
Crunchy. The Ritz cracker topping is so buttery and delicious!
Variations on Scalloped Corn Casserole
This casserole is so simple and delicious. It's the perfect base for creating your own unique dish. You can add crumbled bacon, diced jalapeños, fresh herbs, caramelized onions, roasted mushrooms, or chopped nuts. You can also experiment with different kinds of cheeses, like pepper jack, Monterey jack, Swiss, or gruyere.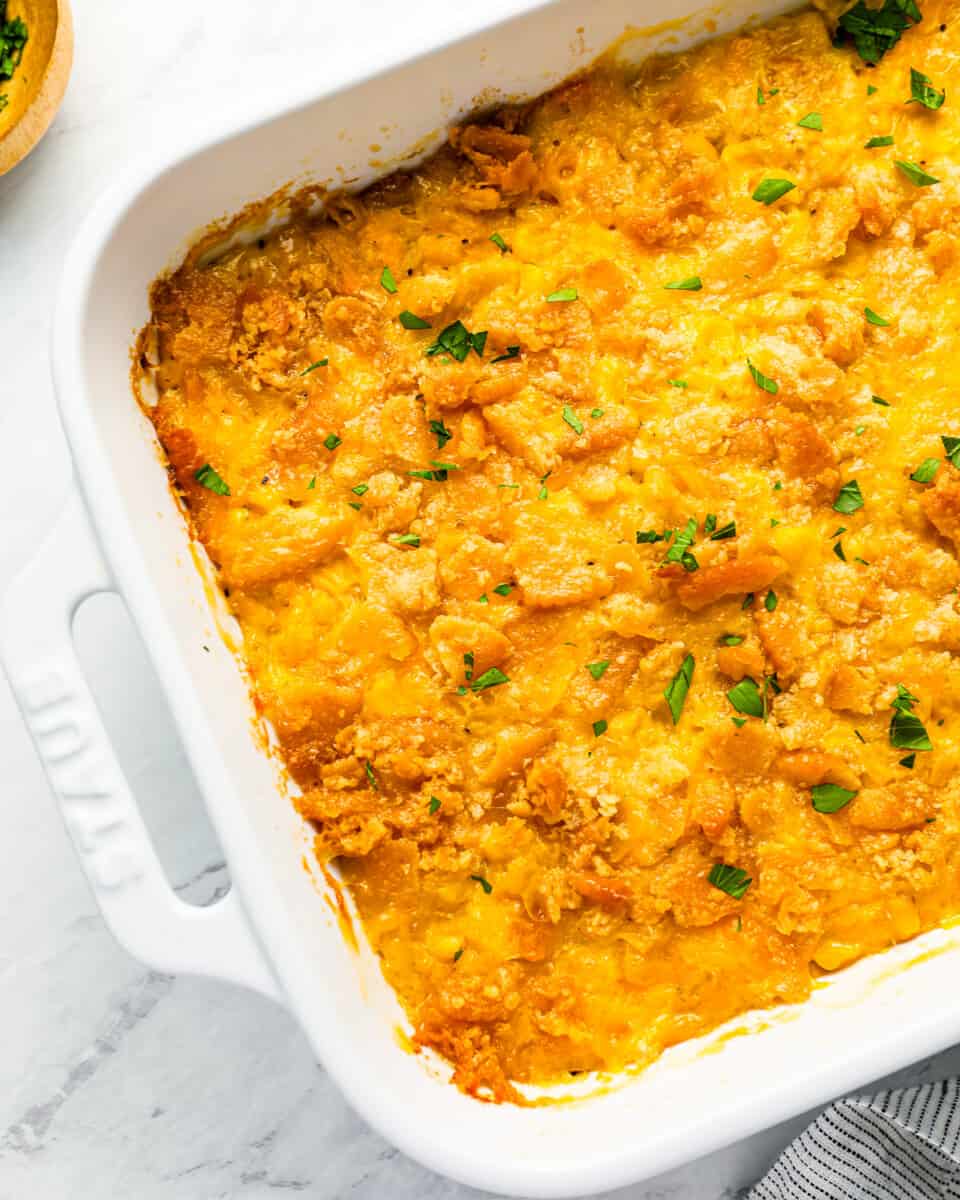 How to Store and Reheat
Store leftover scalloped corn tightly covered with aluminum foil in the refrigerator for up to 5 days. Reheat covered in a 350°F oven for about 15 minutes, then uncover and continue to bake for 5-10 minutes, or until the top is crispy.
How to Freeze
You can prepare and freeze scalloped corn casserole ahead of time for an easy holiday side dish. Simply prepare the recipe through step 2, then place it in a Ziplock bag and freeze for up to 3 months. Let thaw overnight in the refrigerator, mix well, top, and bake as directed in the recipe.
Serving Suggestions
This scalloped corn is the perfect side dish for Thanksgiving turkey, Easter ham, or Christmas beef tenderloin. It also makes a great side for grilled ribs or smoked chicken wings.
What is the difference between scalloped corn and corn casserole?
"Scalloped" means cooked in milk or cream. You may recognize this term from the popular dish, scalloped potatoes. Scalloped corn is simply creamy corn kernels with a crunchy, buttery topping. Corn casserole, on the other hand, is firmer and has a cornbread-like texture.
How do you thicken scalloped corn?
The creamed corn should be plenty to thicken up this casserole so long as you fully drain the corn kernels to avoid excess moisture. If you like your casserole on the thicker side, you can make a slurry from 1 tablespoon of cornstarch and 1 tablespoon of cold water and stir that into the casserole before baking.
How do you reheat scalloped corn?
The best way to reheat this casserole is in a 350°F oven until warmed through.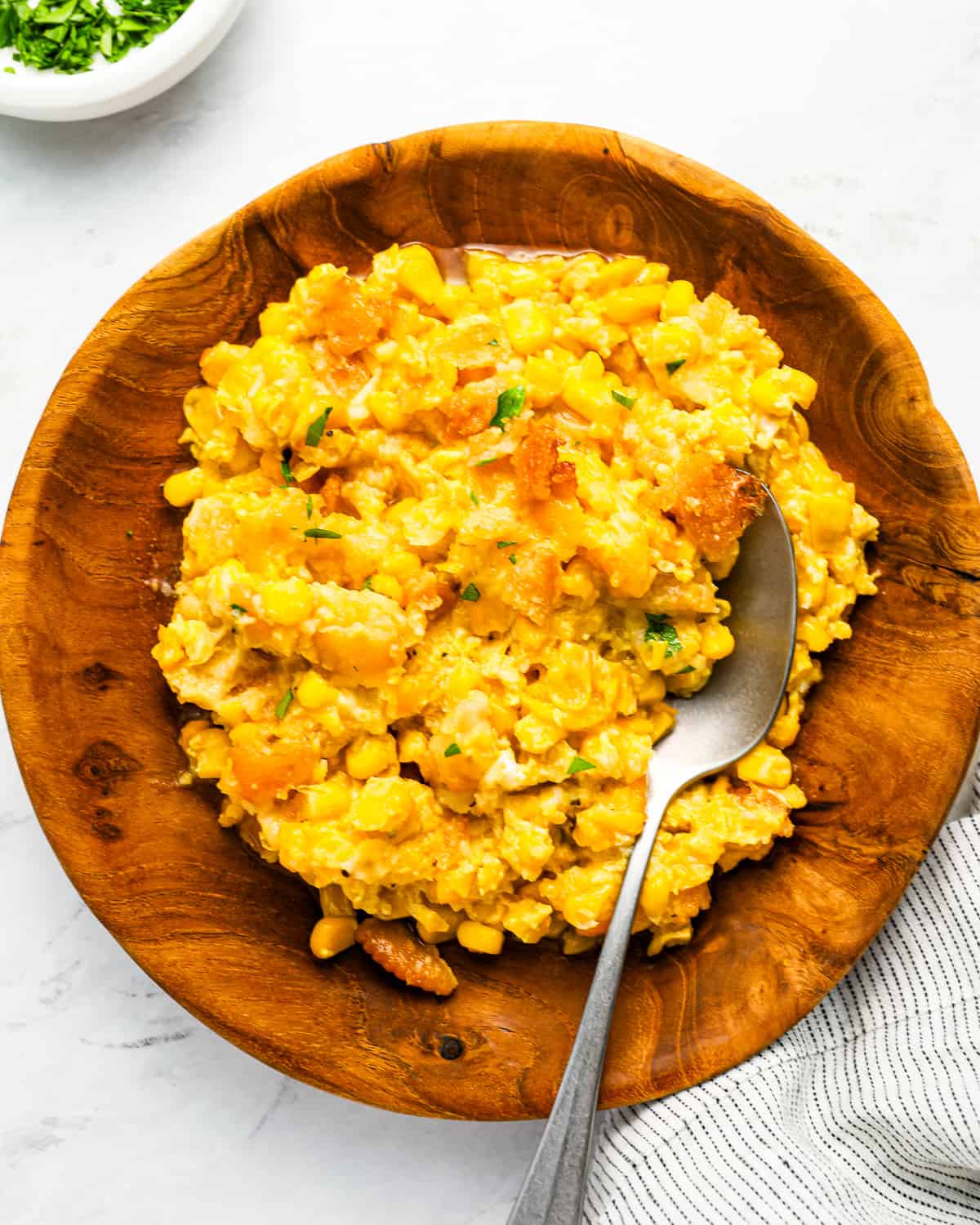 More Corn Side Dishes To Try
How to Make Scalloped Corn Step by Step
Make the Filling: Preheat your oven to 375°F and grease a 9×7-inch baking dish. In a large bowl, stir together 30 ounces (2 cans) of creamed corn, 15 ounces (1 can) of drained corn kernels, ½ cup of crushed Ritz crackers, 2 large eggs, 1 cup of freshly shredded cheddar cheese, and ¼ teaspoon of ground black pepper. Pour the mixture into your prepared baking dish.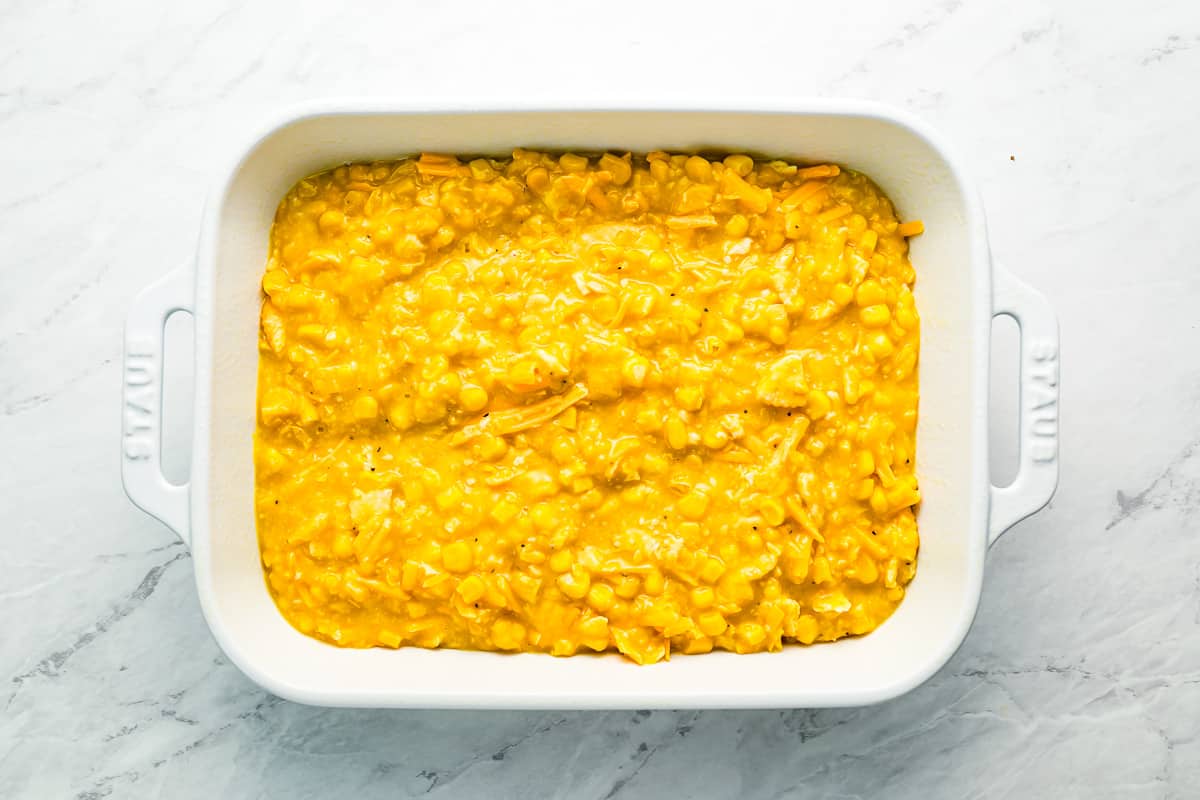 Make the Topping: In a medium bowl, stir the remaining ½ cup of crushed Ritz crackers and ¼ cup melted unsalted butter until combined. Sprinkle the cracker mixture over the top of the casserole.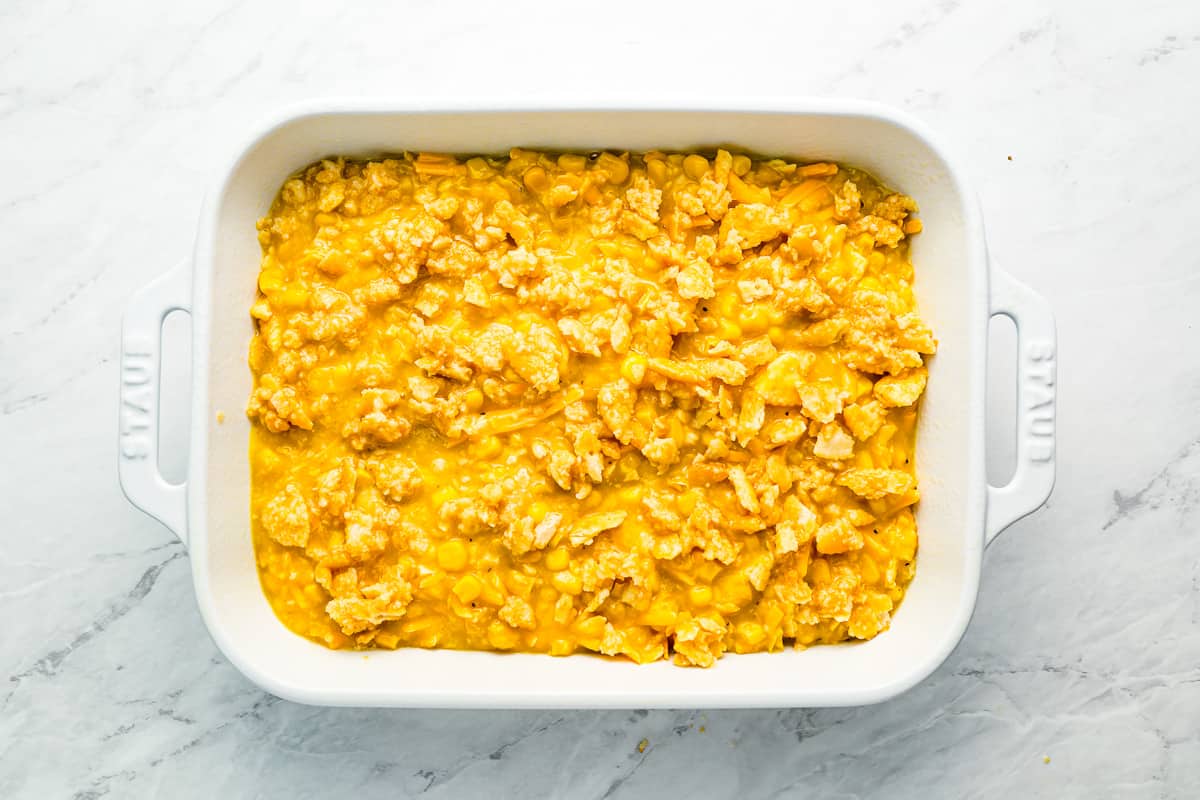 Bake the Casserole: Bake for 35-45 minutes, or until the topping is golden and the casserole bubbles along the edges. Let cool for 5 minutes before serving.