Grilled Salmon with Avocado Salsa (Healthy Whole30 Salmon Recipe!) is the BEST Salmon Recipe and just happens to be Whole30 approved! Spice rubbed Grilled Salmon recipe with creamy Avocado Salsa is one of the best salmon recipes you'll ever try. Healthy, flavorful, EASY, and so delicious. Grilled Salmon with Avocado Salsa is a flavor match made in Heaven.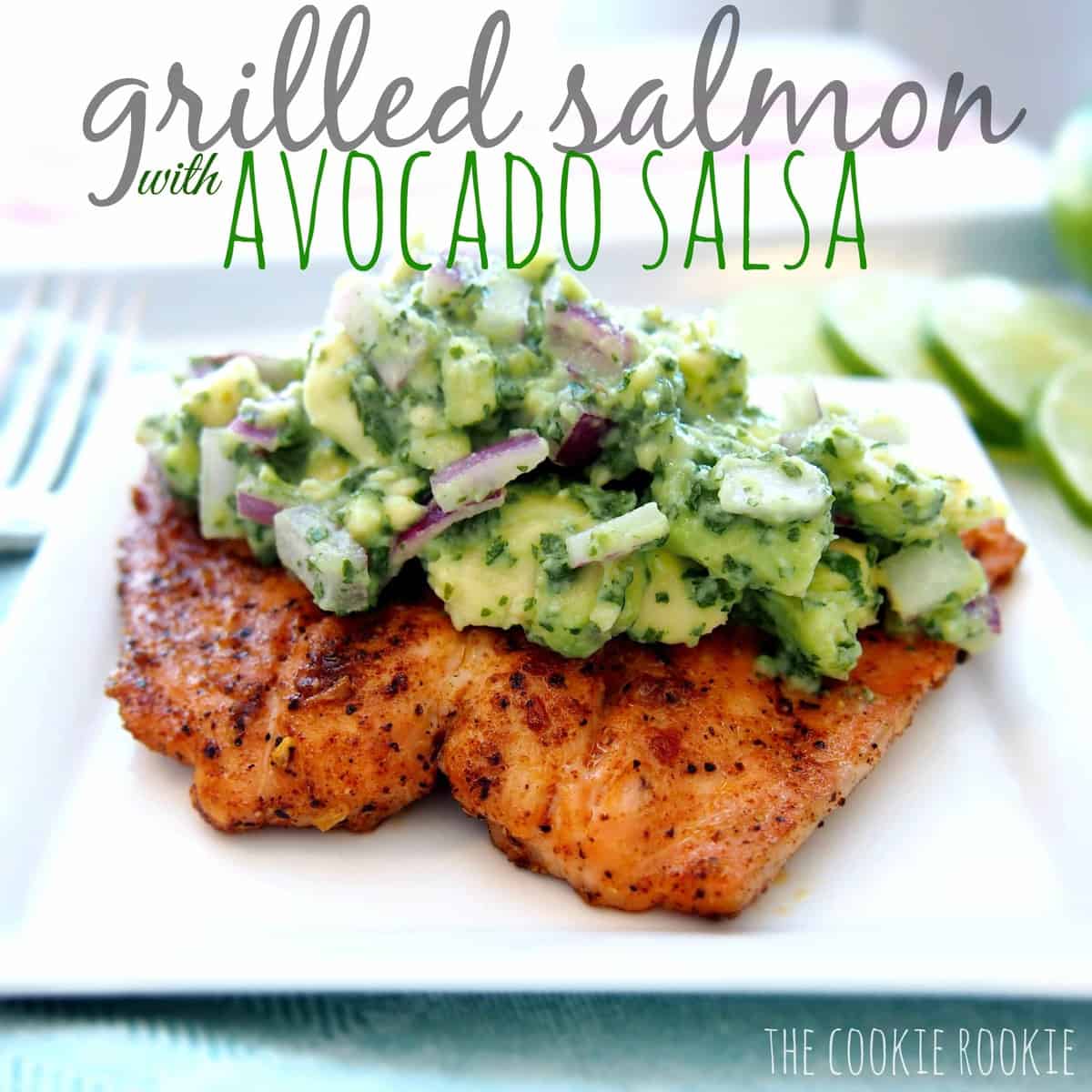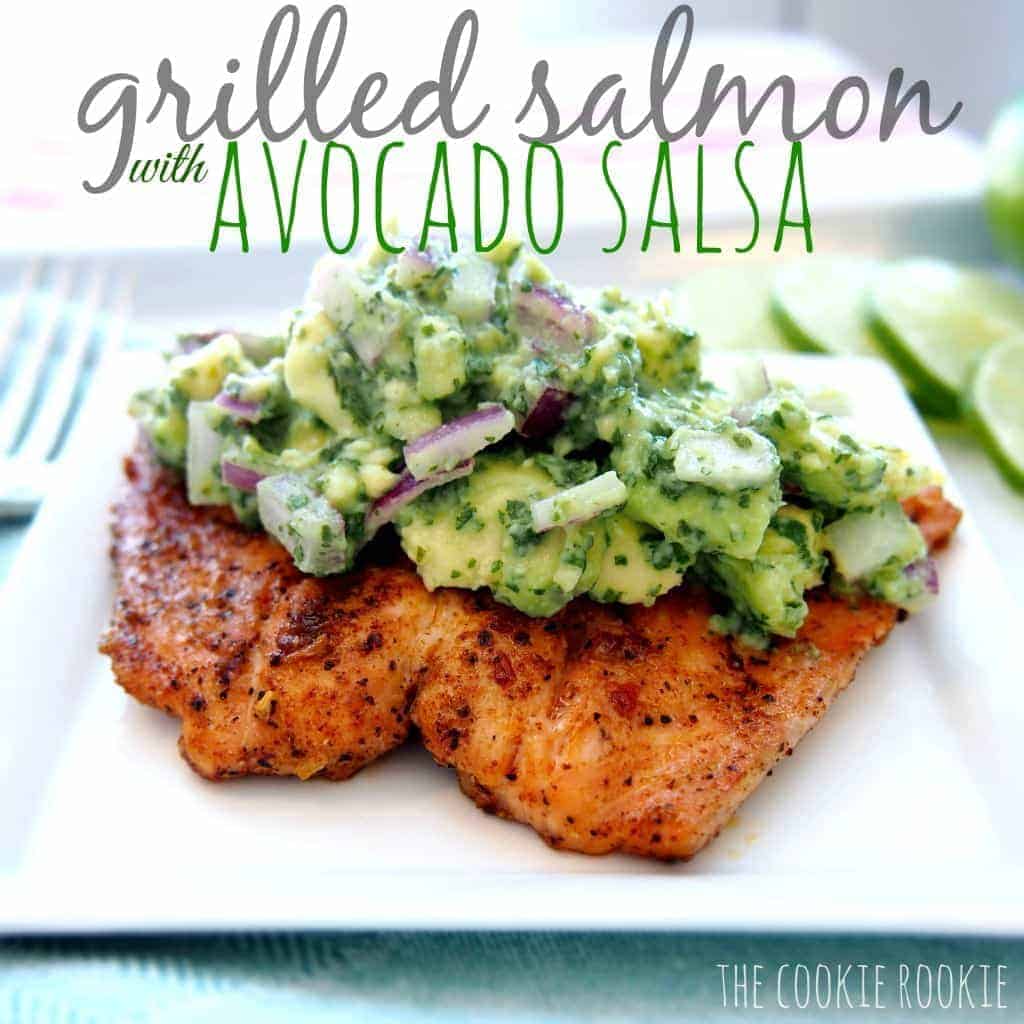 Grilled Salmon with Avocado Salsa
Grilled Salmon with Avocado Salsa is the best Whole30 salmon recipe because it is so full of flavor. It's the best salmon recipe I've ever tried!
My favorite things to post are easy and delicious recipes. This Whole 30 Salmon recipe is not only one of the the best Whole30 recipes I've tried, but it's easy, delicious AND healthy. This Grilled Salmon Recipe is so flavorful that you'll really have to wonder how it could be sooo good for you. Whole30 Grilled Salmon with Avocado Salsa might just be my favorite recipe on my entire site.
I developed this Grilled Salmon Recipe when a friend asked that I help her find a delicious Whole30 recipe to share with her healthy eating group on FB. After doing some research, I found out that Whole30 is a program of stripping certain foods like sugar, grains, dairy, and legumes from your diet completely for 30 days. I have heard a lot of people mentioning this lifestyle change lately. It's a way to detox your system of all the yucky stuff and restart a healthy lifestyle.
You don't have to participate in Whole30 to LOVE this Grilled Salmon Recipe. I have never done a full month of Whole30 and this is the BEST Easy Salmon Recipe I have ever tasted. It's been a favorite in our house since I first posted this recipe in 2014.
This salmon and avocado recipe is an easy, healthy, and delicious Whole30 salmon recipe that you'll love whether you're on a diet or not!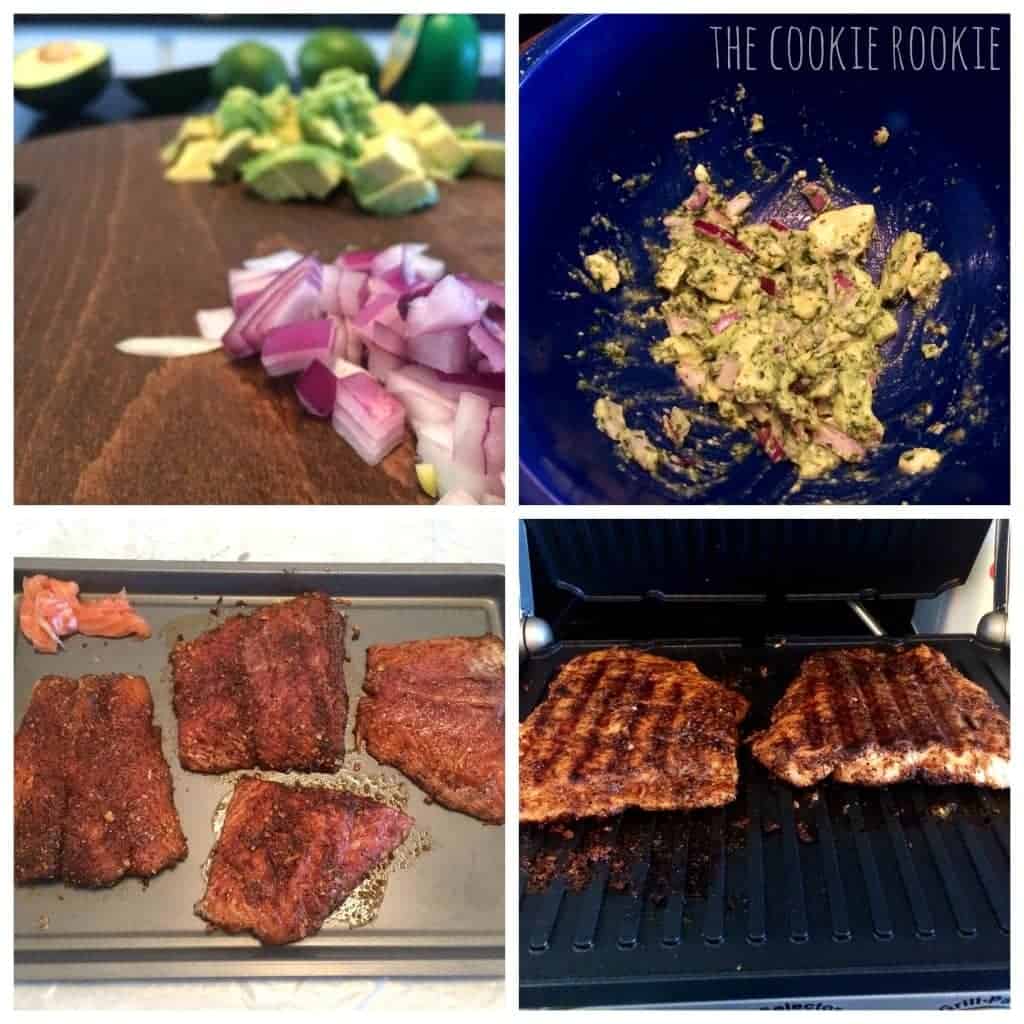 Whole30 Salmon with Avocado Salsa
We prepare this Grilled Salmon recipe on an indoor grill during the winter, and an outdoor grill during the Summer. It's made in under 15 minutes! We love it year round.
Before grilling, the salmon gets a rub of some delicious spices. The creamy avocado salsa (made with avocados, red onion, lime juice, and cilantro) is the perfect compliment to the spices, keeping things fresh and delicious. Every time we make this Grilled Salmon Recipe we add a little extra to the grill for our Cat, Dill. He's just as excited as we are!
WHOLE30 GRILLED SALMON RECIPE WITH AVOCADO SALSA HAS BEEN PINNED ALMOST 2 MILLION TIMES! HAVE YOU TRIED IT?!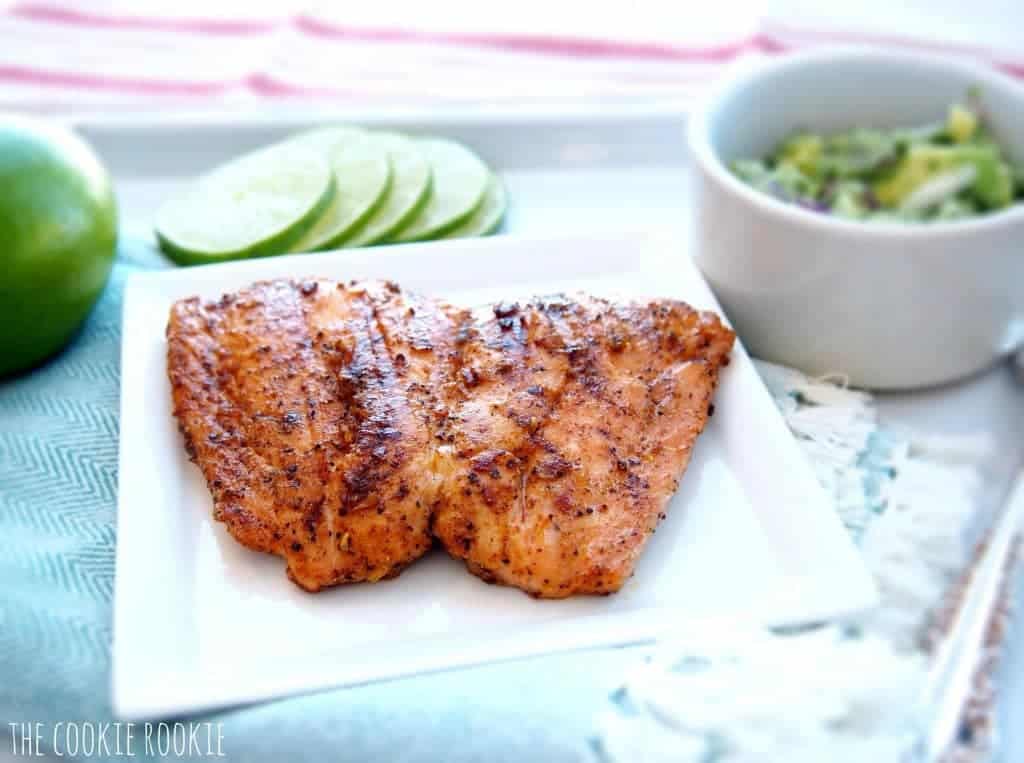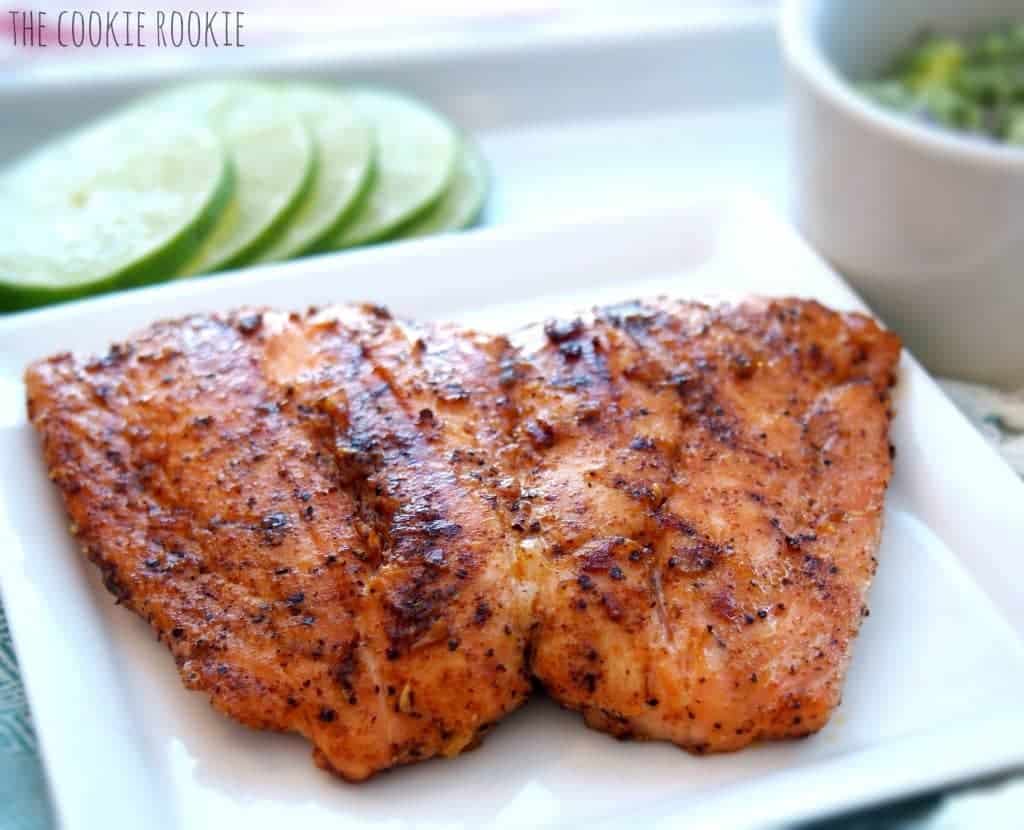 FAQ for Grilled Salmon
What is the Whole30 Diet?
Whole30 is a diet that involves removing all sugar, alcohol, grains, legumes, and dairy from your diet. You can find out more about Whole 30 on their website. It's not necessary to be on the Whole30 diet to enjoy this amazing Grilled Salmon Recipe.
How long does it take Salmon to cook on the grill?
For Salmon Filets that are approximately 1 inch thick, it should take about 8 minutes over a 500°F grill, or 5-7 minutes on an indoor grill such as a Foreman Grill that heats both sides of the fish. Super quick and easy!
How do you know when the Grilled Salmon is done cooking?
Grilled Salmon is done cooking when the internal temperature reads 145°F. You'll notice the fat beginning to leave the fish (it will look like some white on the sides of the salmon) right before it's done. Salmon is easy to over cook, so watch yours carefully!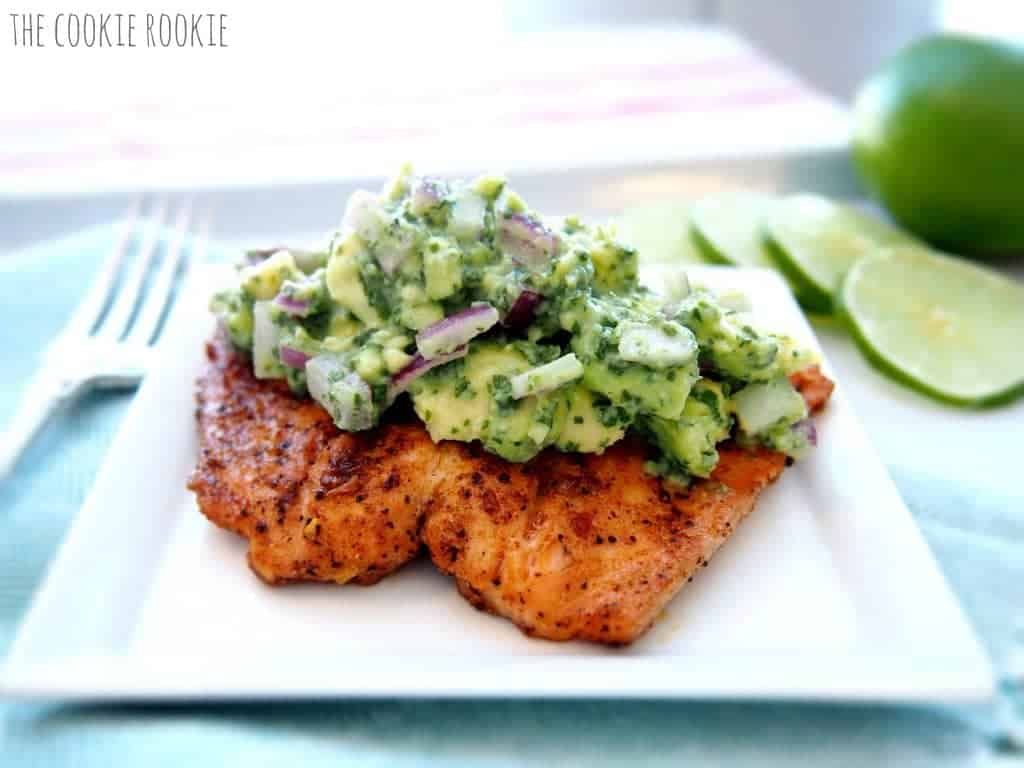 Best Salmon Recipe Ever
GRILLED SALMON WITH AVOCADO SALSA (WHOLE30 APPROVED) IS THE BEST RECIPE EVER!
If you're in the market for a delicious, easy, and healthy salmon recipe, you've come to the right place. This recipe has been pinned more than 2 million times and continues to be a hit because it's just so delicious. I'm so proud every time I hear someone say that this is the Best Salmon Recipe they've ever tried! You can feel like a 5 star chef in your own home!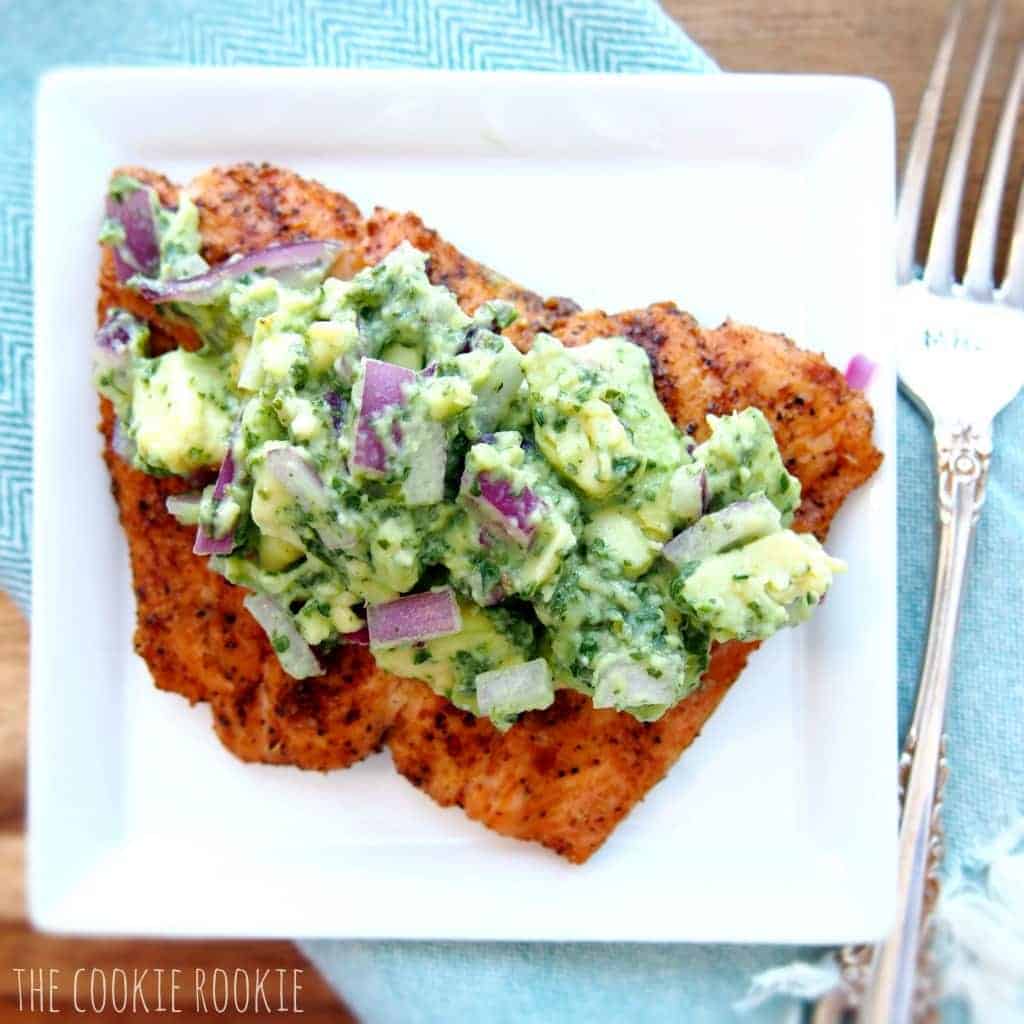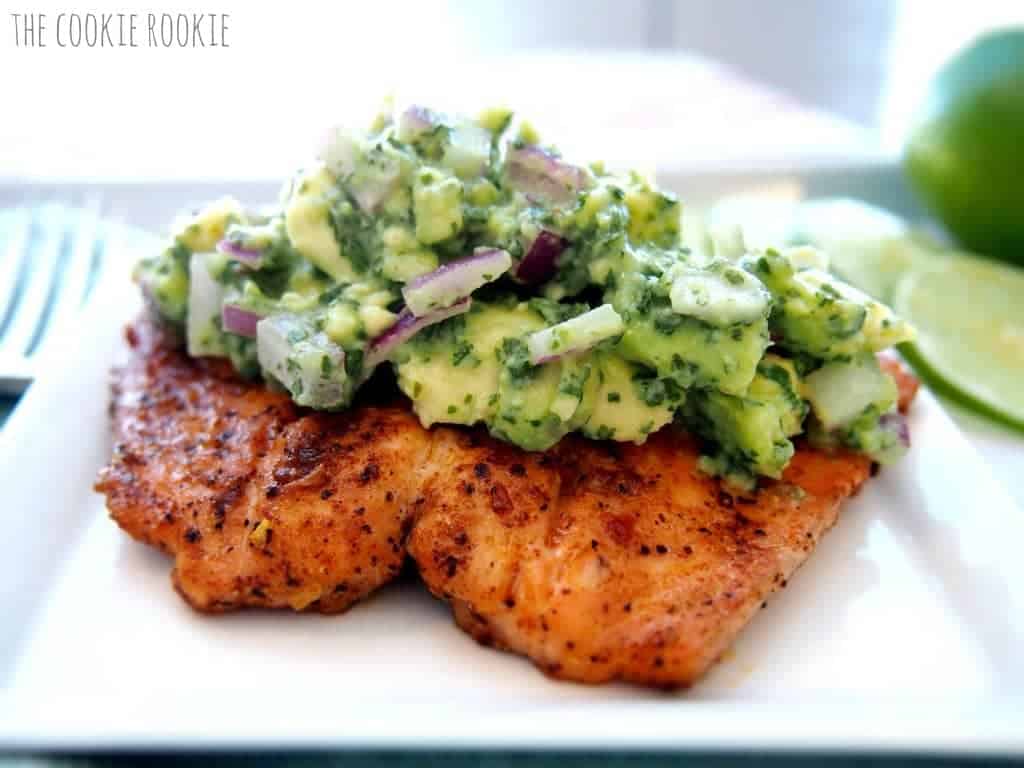 What do you serve with Grilled Salmon?
We love to pair this Grilled Salmon with healthy sides such a Lemon Butter Asparagus or Roasted Vegetables. This recipe is great because you really don't even need a side dish. The avocado salsa can serve as a side so you have an amazing 15 minute meal from start to finish on your plate!
Here are some other healthy sides we love with this Grilled Salmon Recipe: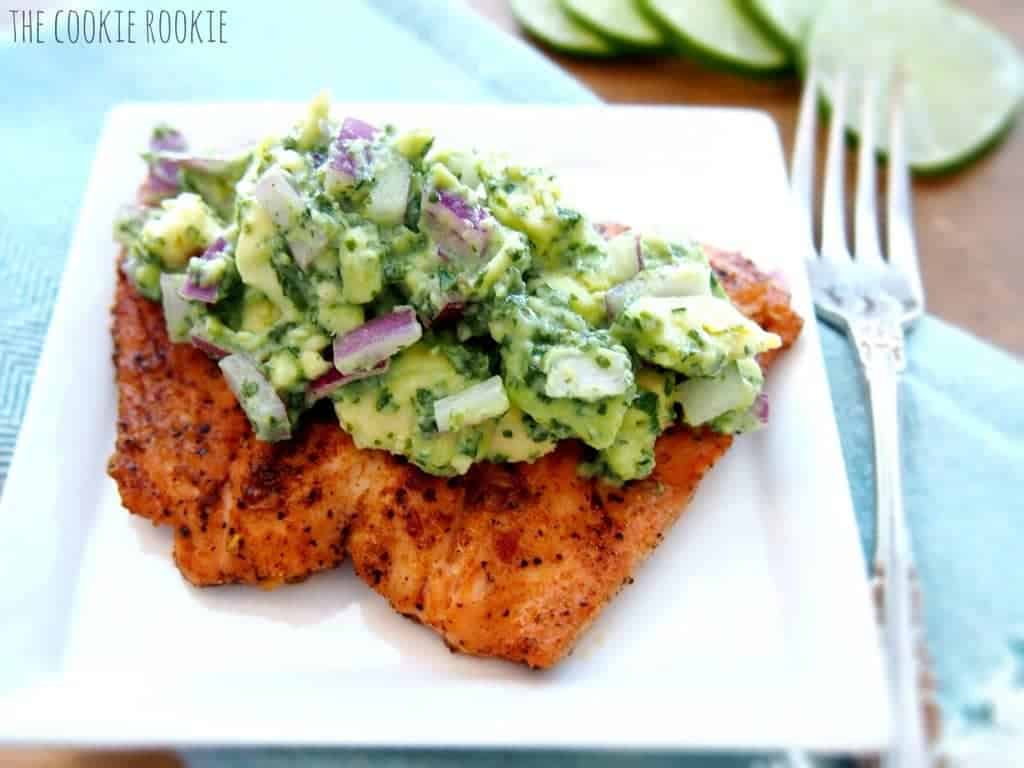 It's not often that I make Healthy Recipes, and especially Whole 30 Recipes, but this Grilled Salmon Recipe is an absolute favorite. I just might have to make more easy and delicious healthy meals! I hope you give it a try and let me know below how you like it!
If you love seafood but this recipe isn't quite right, here are some other favorites!
See the recipe card below or watch either video for How to Make Grilled Salmon with Avocado Salsa. Enjoy!
Looking for more healthy salmon recipes? Here are some favorites: