Grilled Salmon with Avocado Salsa is our favorite Healthy Whole30 Salmon Recipe! This spice-rubbed grilled salmon recipe is served with creamy avocado salsa. It's healthy, flavorful, easy, and so delicious. It's a flavor match made in Heaven.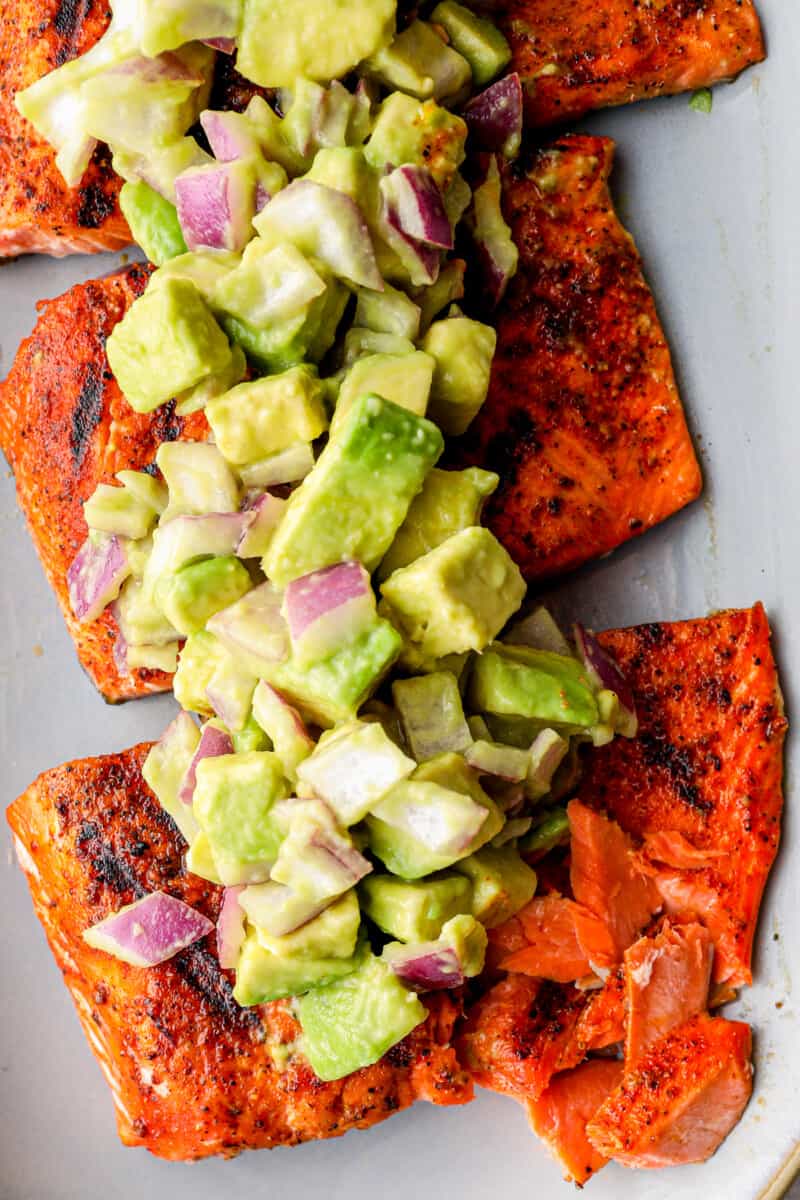 Whole 30 Grilled Salmon Recipe
Grilled Salmon with Avocado Salsa is so full of flavor. It's the best Whole30 healthy dinner ever!
My favorite recipes are the ones that are easy, yet incredibly delicious. This healthy salmon recipe is not only one of the best Whole30 recipes I've tried, but it's easy, delicious and good for you. That's a grand-slam homerun recipe, in my book.
Some folks think that healthy and delicious are mutually exclusive terms. They believe that meals can be healthy or delicious, but never both. Grilled Salmon with Avocado Salsa is both.
It fits into the Whole30 eating plan, so you know it's healthy, but it's become a reader favorite too. It's been a go-to recipe in our house since I first posted it in 2014. Deliciousness knows no bounds!
This is an easy, healthy, and delicious Whole30 salmon recipe that you'll love whether you're on a diet or not!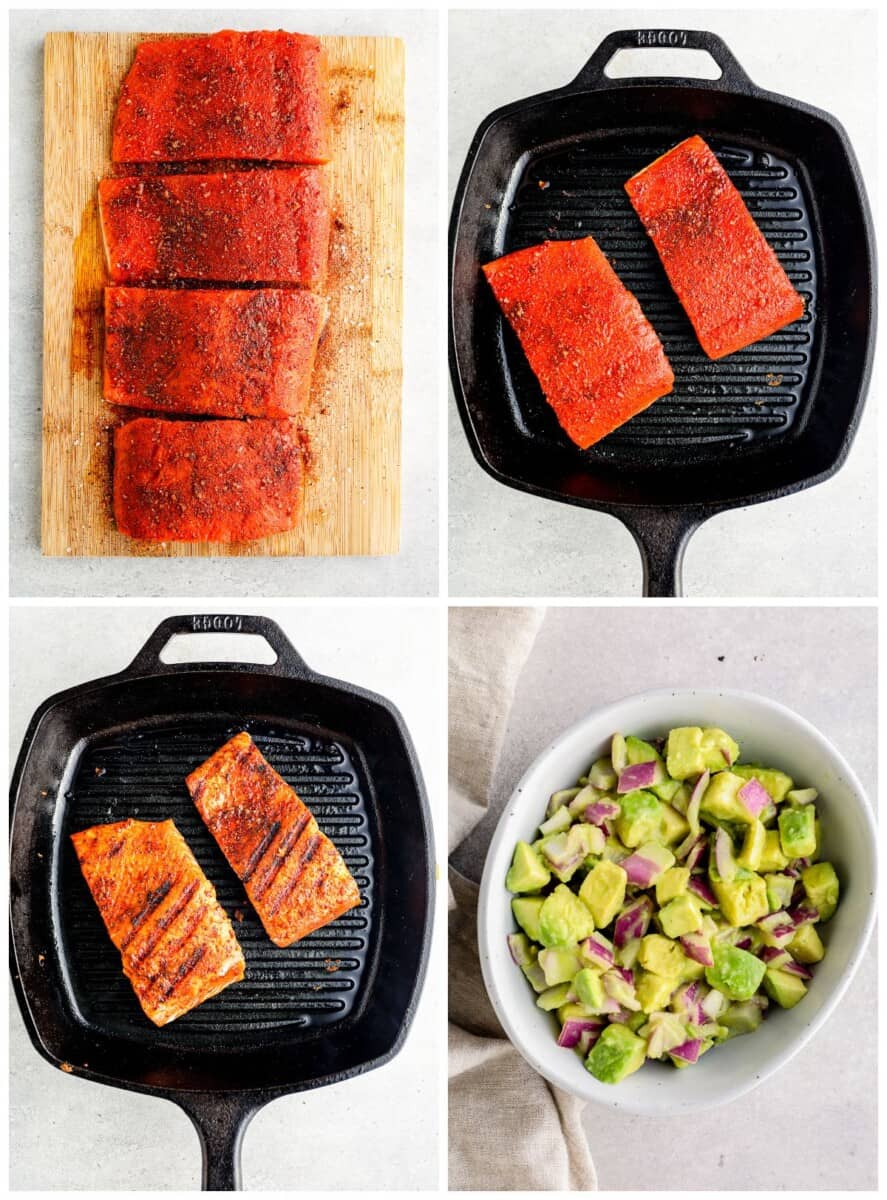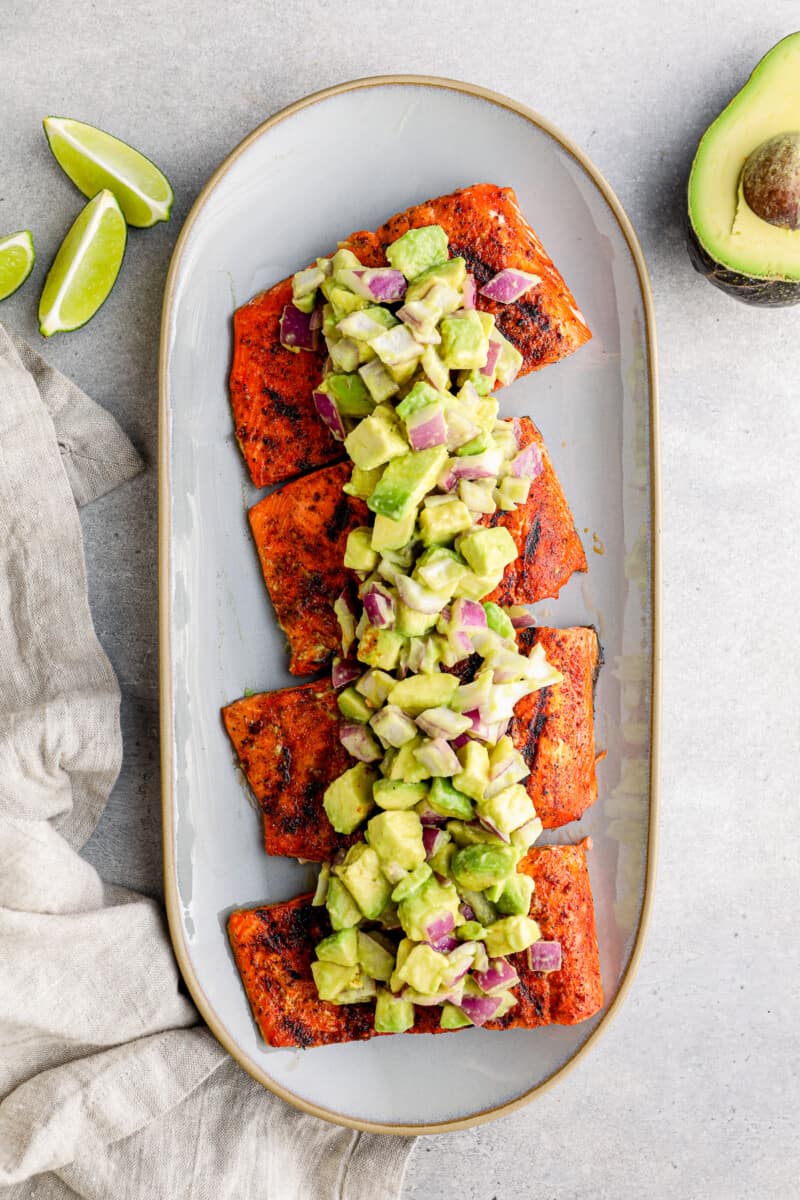 Healthy Salmon Avocado
I developed this easy grilled salmon recipe when a friend asked me to help her find a delicious Whole30-compliant recipe to share with her healthy eating group on Face Book.
After doing some research, I found out that Whole30 is a program that encourages participants to eat a super-healthy diet for 30 days. That means removing certain foods like sugar, grains, dairy, and legumes from your diet completely for a month.
I have heard a lot of people mentioning the Whole30 lifestyle change lately. It's an effective way to detox your system of all the yucky stuff and restart a healthy lifestyle. And to tell the truth, couldn't we all stand to eat a bit healthier?
This recipe fits into the program perfectly, so it's ideal to add into your usual weekly dinner rotation.
Why you'll love this Grilled Salmon with Avocado Salsa Recipe:
Fancy but healthy: This dish looks like a gourmet chef created it. If you didn't know it was super-healthy for you, you'd never guess. It's delicious, impressive….and even healthy!
It's easy: While Grilled Salmon With Avocado Salsa looks impressive, nobody needs to know that it's super-easy to put together. Take a look at the recipe card; it's a breeze!
It's salmon: Salmon may be healthy, but it's also scrumptious. Every time I go to a restaurant, I order salmon, because it is so delicious. Now you can make it and it's still every bit as tasty as the restaurant version.
How to Make Grilled Salmon
We prepare this grilled salmon on an indoor grill during the winter, and an outdoor grill during the summer. And it's made in under 15 minutes–an easy dinner we love to make year round.
Every time we make this Whole30 Grilled Salmon With Avocado Salsa, we add a little extra to the grill for our Cat, Dill. He's just as excited as we are for fresh seafood!
Make the rub and apply it to the salmon. Give it 30 minutes to chill and soak in. Preheat the grill.
Make the salsa: combine the avocado, onion, lemon juice and cilantro. Chill until ready to serve.
Grill the salmon until it flakes with a fork. (about 4 minutes per side.)
Top the cooked salmon with the Avocado Salsa and serve.
You can jump to the recipe card for full ingredients & instructions!
For the Grilled Salmon Rub
Before grilling, the salmon gets a rub of some delicious spices.
It's a simple mixture of:
salt
chili powder
cumin
paprika
onion powder
black pepper
Mix these spices together, brush olive oil onto the salmon filets. Cover with the rub mixture, then refrigerate for 30 minutes before grilling.
For the Avocado Salsa
The creamy avocado salsa (made with avocados, red onion, lime juice, and cilantro) is the perfect complement to the spices, keeping things fresh and delicious.
Ingredients:
avocado (cut into cubes)
red onion
lime juice
chopped fresh cilantro
Combine everything in a bowl and mix gently. You can keep it chunky or make it a little smoother if you prefer. Tip: this salsa is great for dipping and works with lots of other dishes too.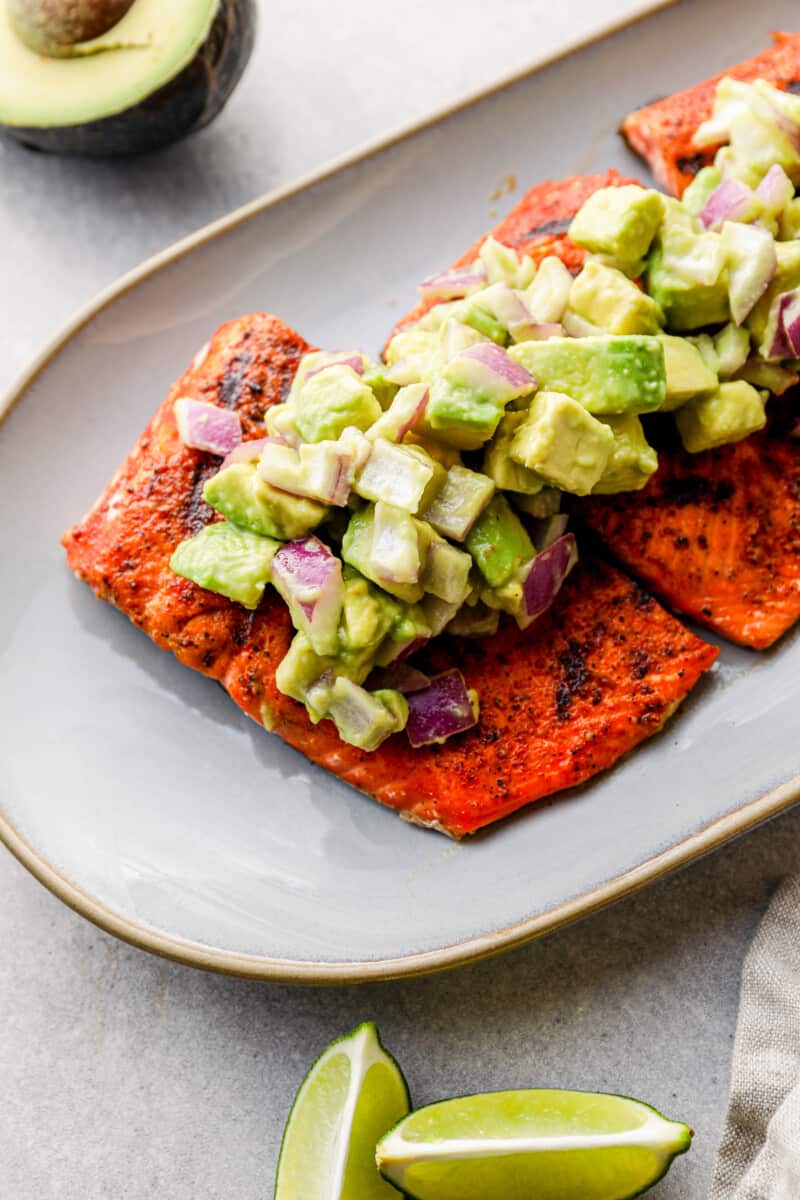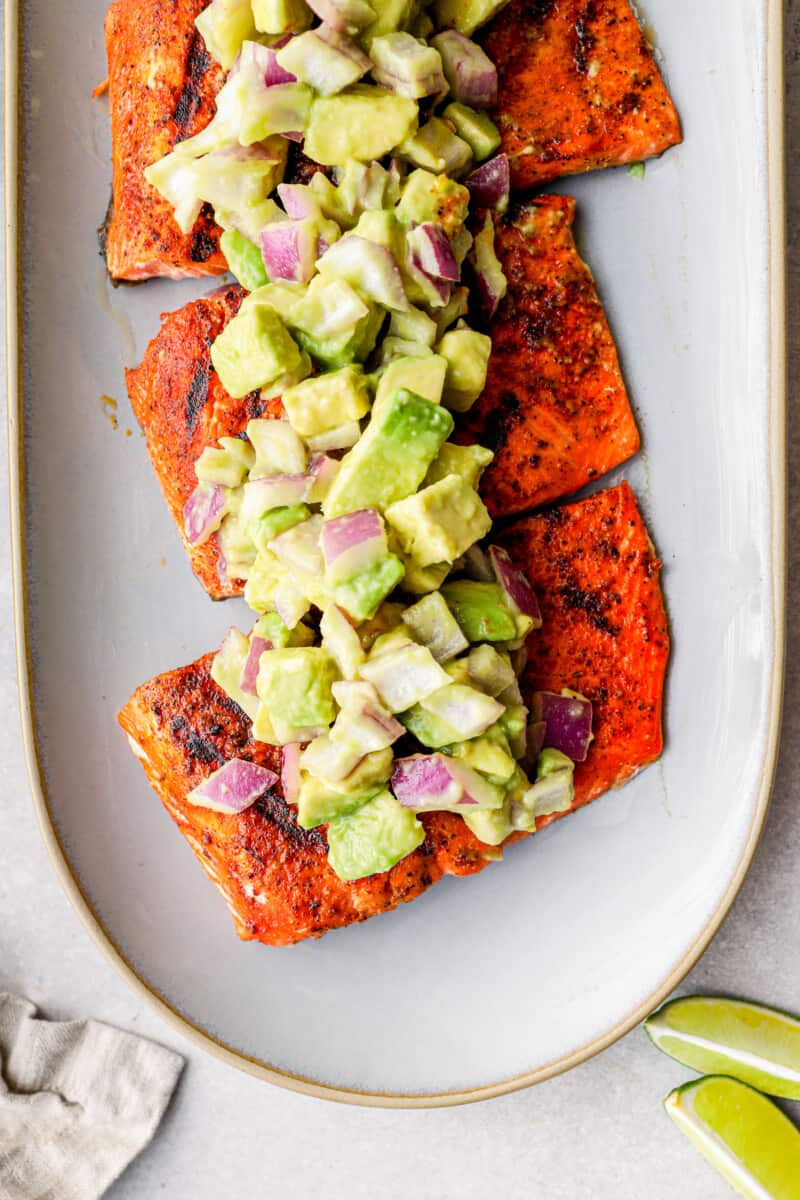 What is the Whole30 Diet?
Whole30 is a diet that involves removing all sugar, alcohol, grains, legumes, and dairy from your diet for 30 days. You can find out more about Whole 30 on their website.
But remember: It's not necessary to be on the Whole30 diet to enjoy this amazing grilled salmon recipe!
How Long Does it Take to Cook Salmon on the Grill?
For salmon filets that are approximately 1 inch thick, it should take about 8 minutes over a 500°F grill, or 5-7 minutes on an indoor grill that heats both sides of the fish. It's super quick and easy!
How do you know when the salmon is done?
Grilled salmon is done cooking when the internal temperature reads 145°F. Salmon is easy to overcook, so watch yours carefully!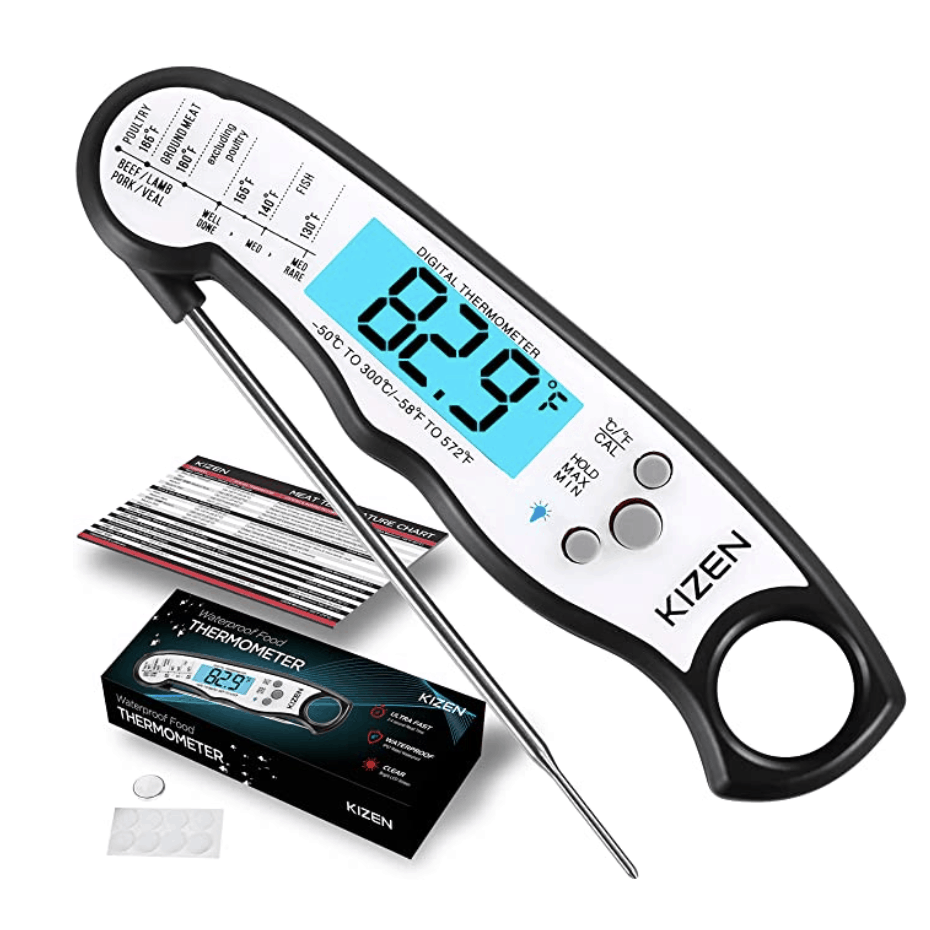 The Best meat thermometer!
I love using this meat thermometer for making sure the grilled salmon is 145 degrees! Easy for beginners & totally worth the $10 cost!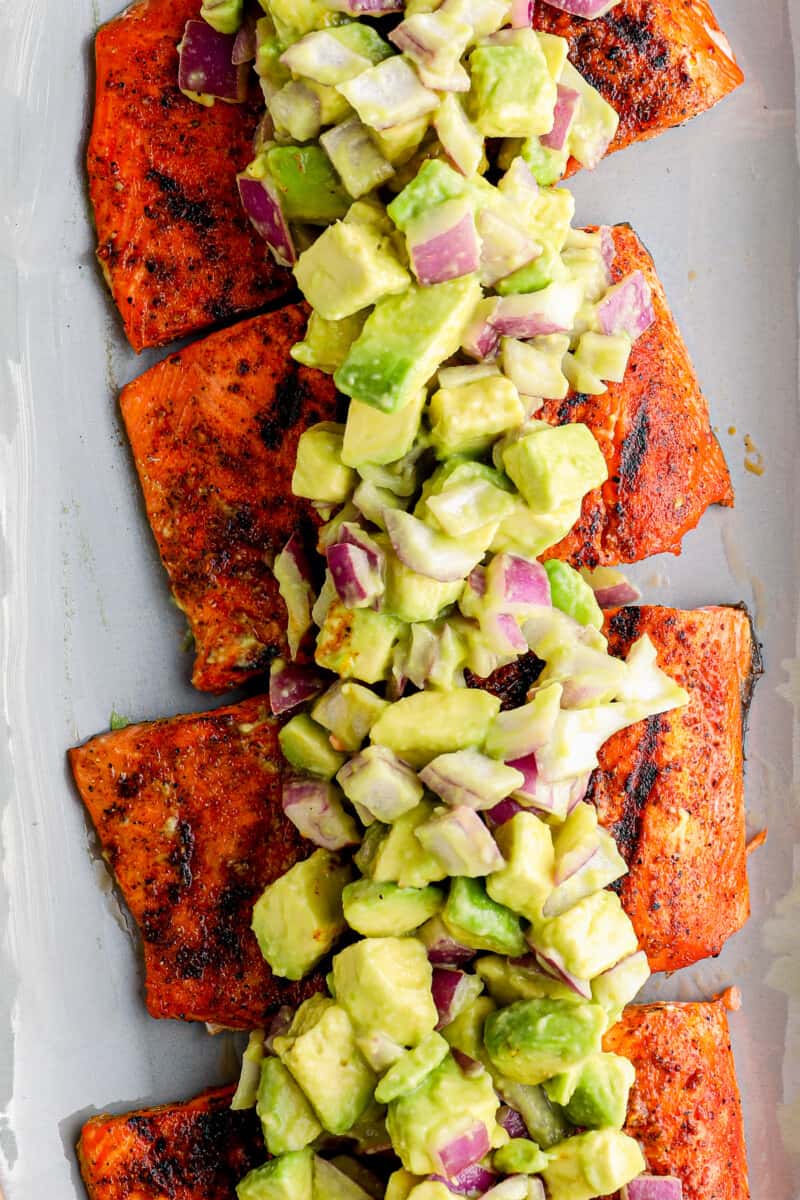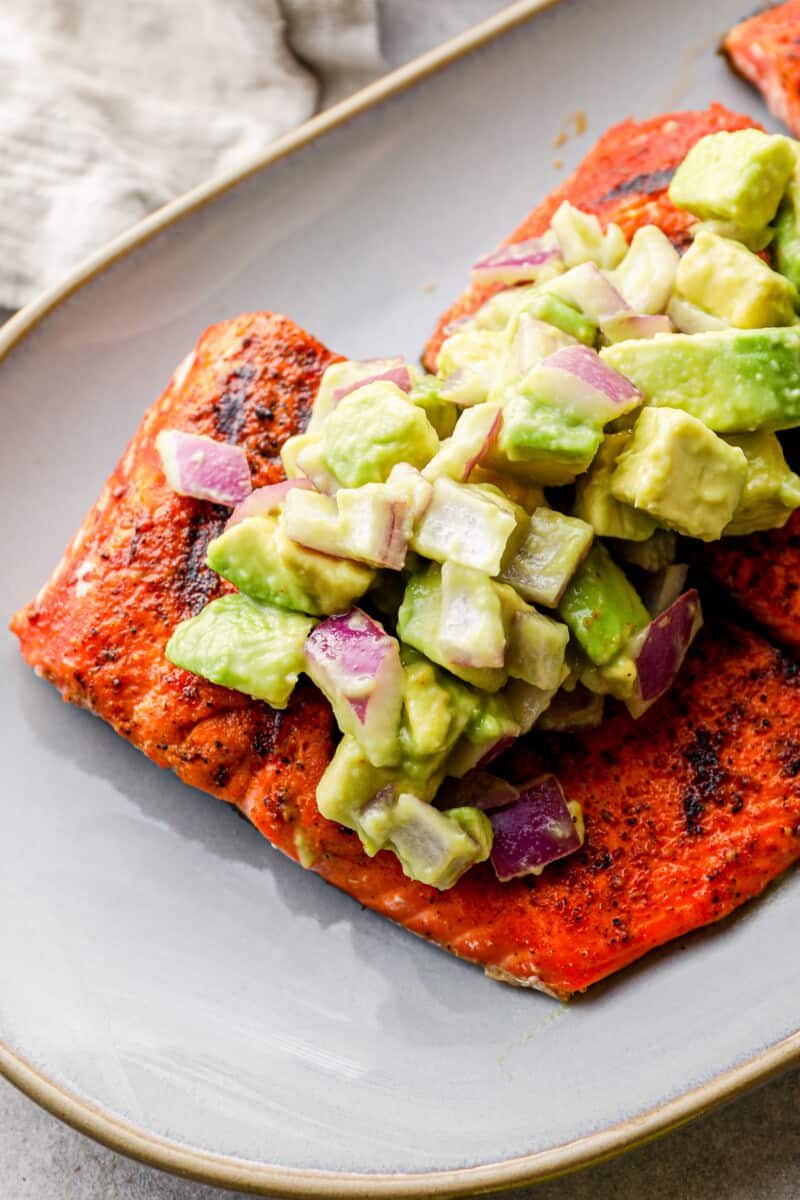 Best Healthy Salmon Recipe
If you're in the market for a delicious, easy, and healthy salmon recipe, you've come to the right place. This recipe has been pinned more than 2 million times and continues to be a hit because it's just so delicious.
I'm so proud every time I hear someone say that they've fallen in love with this recipe. You can feel like a 5-star chef in your own home!
Looking for more healthy salmon recipes? Here are some favorites:
What to Serve on the Side
We love to pair this grilled salmon with healthy sides such Lemon Butter Asparagus or Roasted Vegetables. This recipe really doesn't even need a side dish.
The avocado salsa can serve as a side, so you have an amazing 15-minute meal from start to finish on your plate!
Here are some other healthy sides we love to serve with salmon: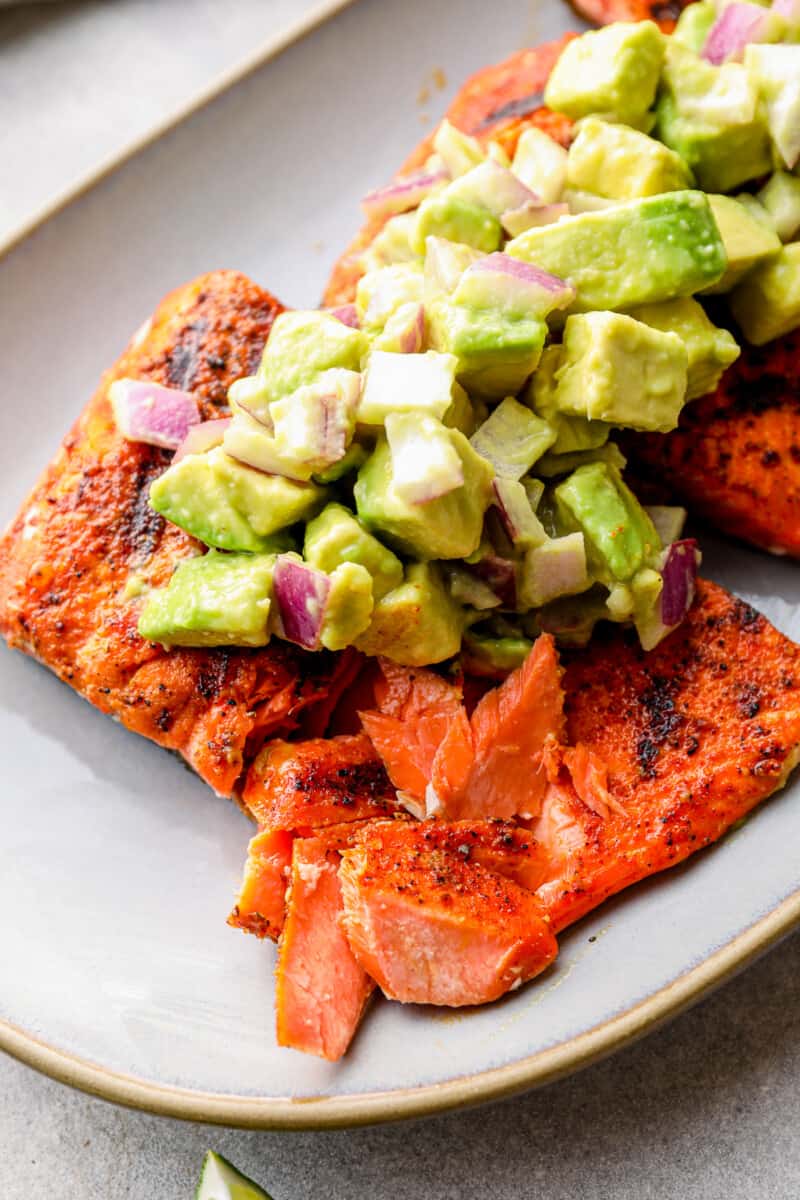 It's not often that I make healthy recipes, and especially Whole 30 Recipes, but this grilled salmon recipe is an absolute favorite. I just might have to make more easy and delicious healthy meals! I hope you give it a try and let me know below how you like it!
See the recipe card below or watch either video for How to Make Grilled Salmon with Avocado Salsa. Enjoy!
If you love seafood and want to try other recipes, here are some favorites!
If you make this recipe be sure to upload a photo in the comment section below or leave a rating. Enjoy! You can also jump to recipe.