Grilled Asparagus is the best simple and healthy side dish! It's covered in lemon butter and grilled to perfection. Lemon Asparagus is my favorite summer vegetable recipe, made in minutes. Best side dish ever!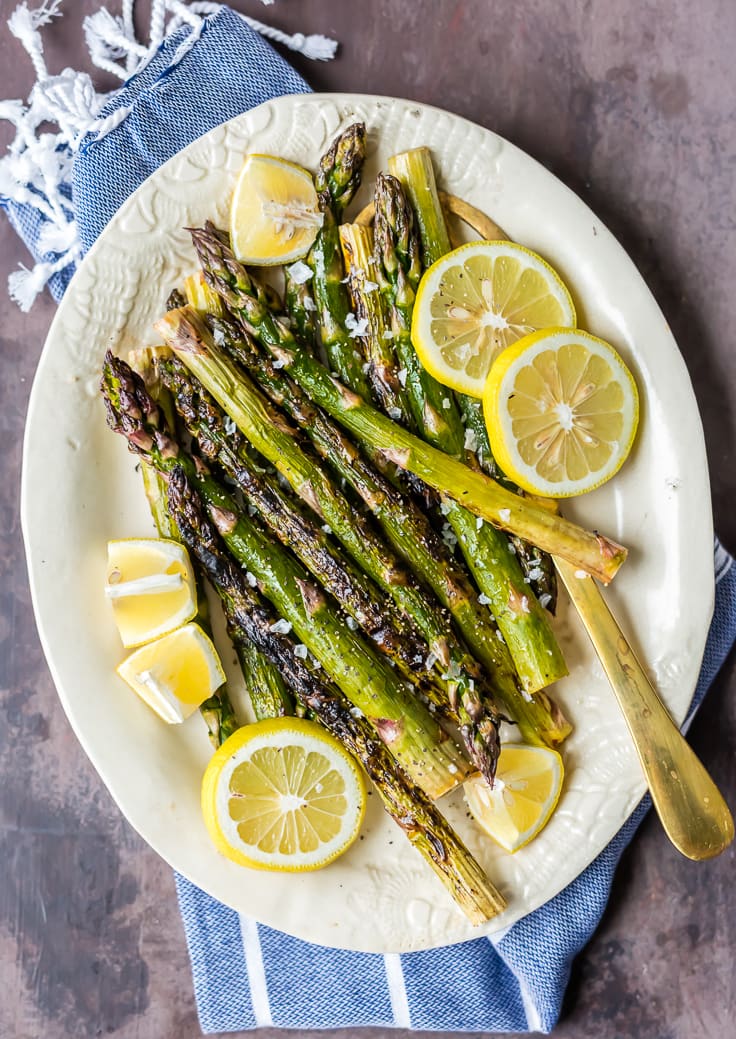 Grilled Asparagus Recipe
This grilled asparagus recipe is a summer favorite. Just marinate the asparagus in lemon butter, grill it up, and it's ready to go!
Every household needs that one simple recipe that you can go back to time and time again. That one delicious side dish that NEVER fails and always turns out picture perfect. And it really helps if it happens to be healthy too. This Grilled Lemon Butter Asparagus is that recipe for us!
Pat loves asparagus, so I'm always trying to come up with ways to make it new and exciting. But every time, we kind of wish we were just having this lemon asparagus instead. It's simple, delicious, healthy, and SO EASY. So much flavor with literally zero work!
I love the texture and flavor of this grilled asparagus, and it goes with every dish you can imagine. Serve it with chicken, pork, seafood, or anything else and it's just perfect. The flavors of light enough to complement every dish, but rich enough to make you want to keep eating more!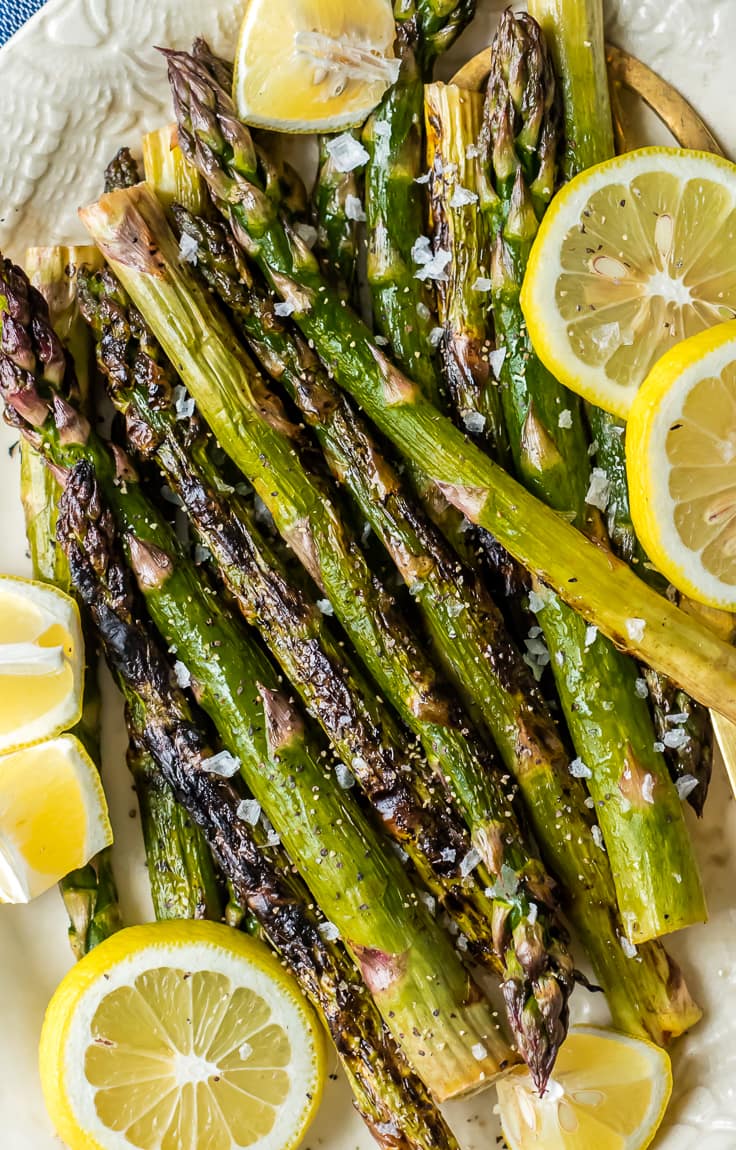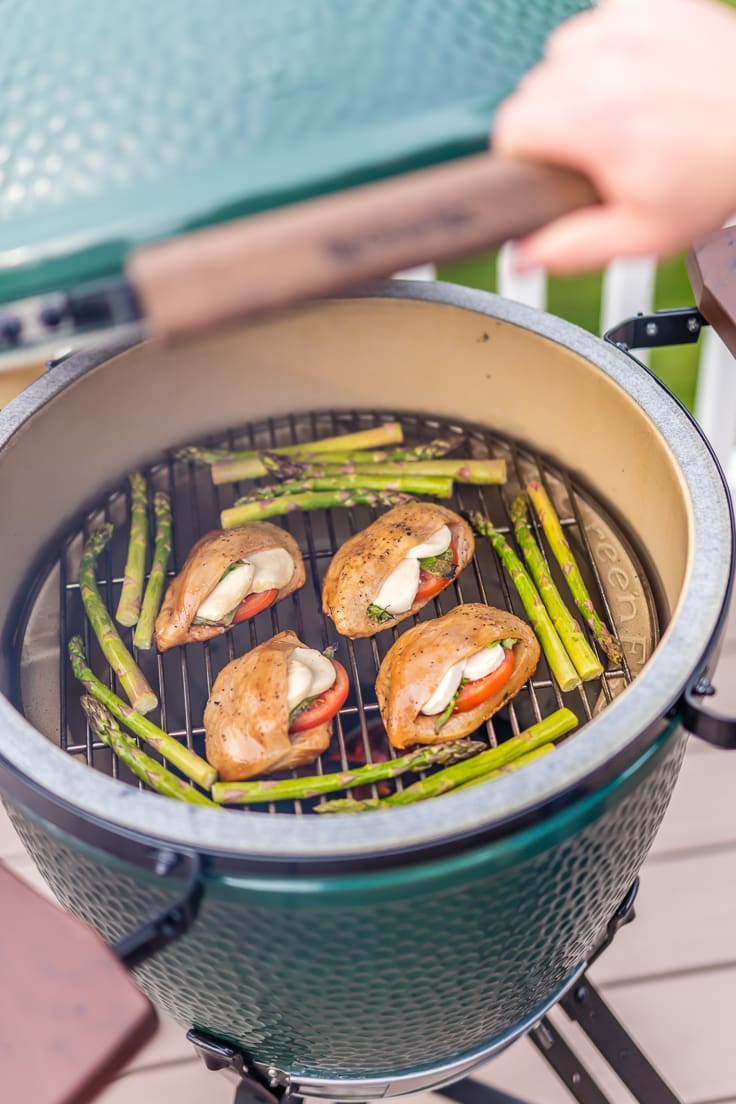 How to Make Lemon Butter Asparagus
Sometimes simple is best, and this perfect-for-summer Lemon Grilled Asparagus recipe is no exception. Just three ingredients (hint: every ingredient is in the title) stand between you and my very very favorite side dish of all time. The perfect pairing for everything from burgers to steak to salad.
Mix together the melted butter and lemon juice. Pour into a large ziplock bag and add in the asparagus. Make sure all of the asparagus is coated in the butter mixture.

Place in the fridge for about 30 minutes before grilling.

When ready to grill, heat grill to medium high (about 400-450 degrees F) and brush with canola oil.

Add the asparagus directly to the grill and grill for 7-10 minutes, flipping once.

When fully cooked, remove from the grill and season with salt and pepper to taste.
Eat your greens you guys! Basted in butter, but still a vegetable. Two thumbs up!
How long do you grill asparagus?
Cooking asparagus on the grill is such a quick and simple way to make it. It only takes about 7-10 minutes to make it tender and delicious!
What to Serve with Grilled Asparagus
This lemon asparagus truly goes with EVERYTHING. That's why it's one of my favorite sides, because I know I can make it any time. If I'm in a pinch and need something to go with the main dish, I know this will work perfectly!
I love serving this with burgers, ribs, steak, salmon, or any time we grill. It goes with the heavier meals just as well as the healthier ones!
But since this is GRILLED asparagus, I especially love serving it with my favorite grilled dishes so we can cook everything in one place. Here are some favorites: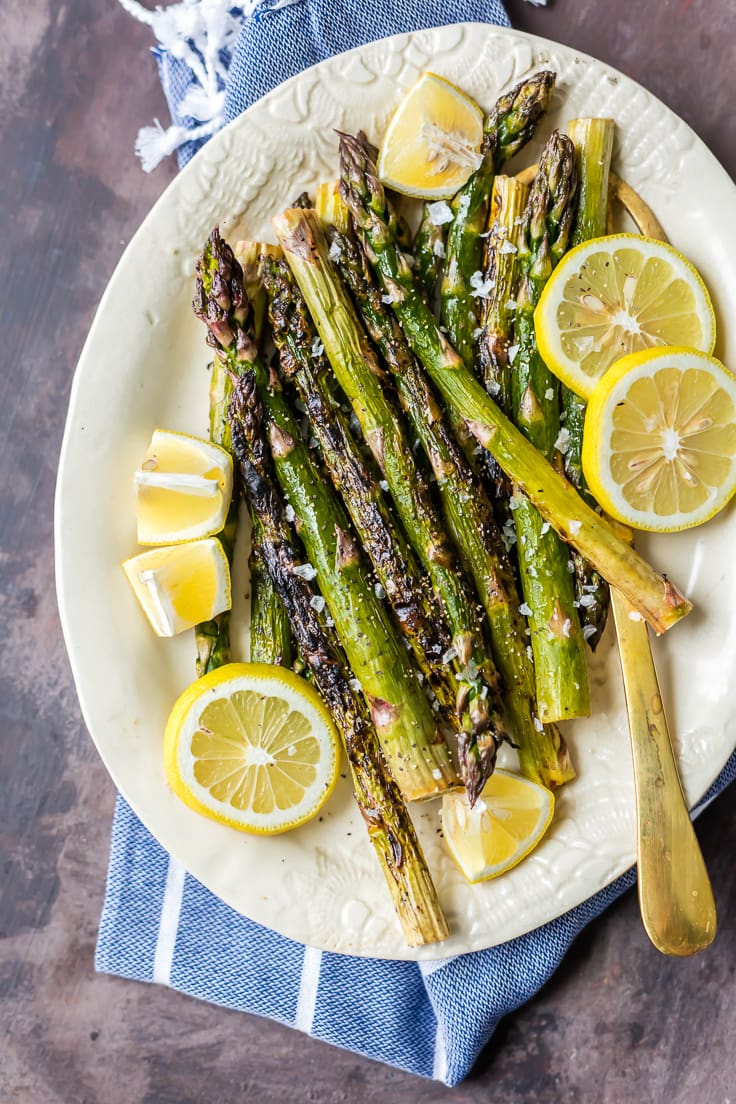 I truly never get tired of this grilled asparagus, and I think you'll see what I mean once you try it. So let these puppies marinate a bit, throw them on the grill, and be the hero of summer! I guarantee you'll be making this time and time again if you give it a try. That lemon butter really makes the asparagus melt in your mouth. Yum!
See the recipe card for details on how to make grilled asparagus with lemon butter. Enjoy!
Don't forget to try these other delicious asparagus recipes: