Grilled Asparagus is the best simple and healthy side dish! It's covered in lemon butter and grilled to perfection. Lemon Asparagus is my favorite summer vegetable recipe, made in minutes. Best side dish ever!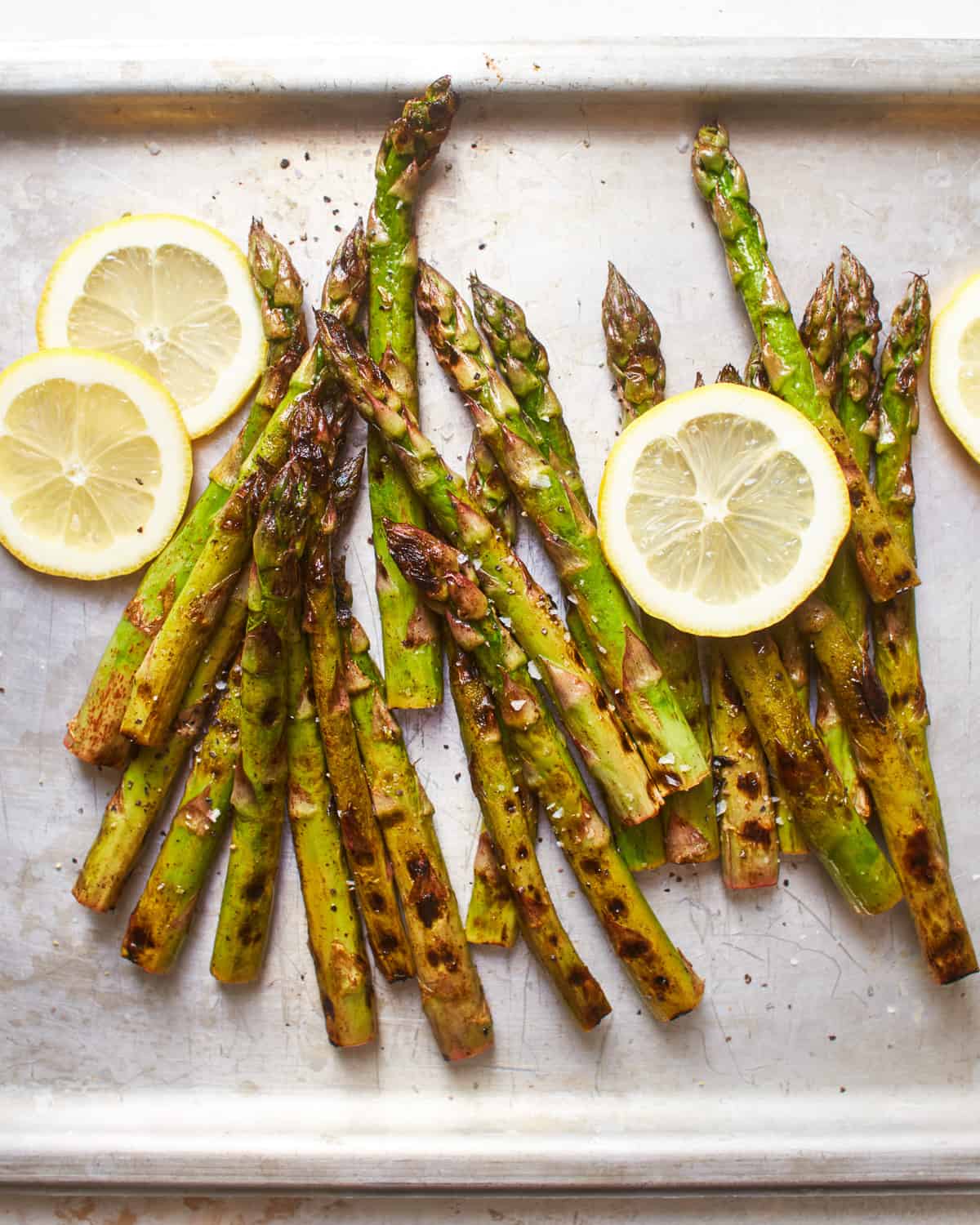 What's in this Grilled Asparagus Recipe?
Sometimes simple is best, and this perfect-for-summer lemon asparagus recipe is no exception. Just three ingredients stand between you and my very very favorite side dish of all time. The perfect pairing for everything from burgers to steak to salad.
Asparagus: I like nice, thick asparagus stalks for grilling, as they hold up better than thin ones.
Unsalted Butter: Adds richness and great flavor.
Lemon Juice: Adds acidity to cut the richness of the butter and bring out the vegetal flavor of the asparagus.
Salt + Pepper: Enhances the natural flavor do the asparagus.
Pro Tip: Brush a little bit of canola oil on the grill grates to keep the asparagus from sticking.
Variations on Asparagus on the Grill
For this asparagus, simple is better! Think of subtle ways to change the flavor, like swapping the butter for olive oil or the lemon juice for orange juice. Add a few pinches of red pepper flakes for a bit of spice. A sprinkling of freshly grated Parmesan cheese would be the perfect garnish for serving!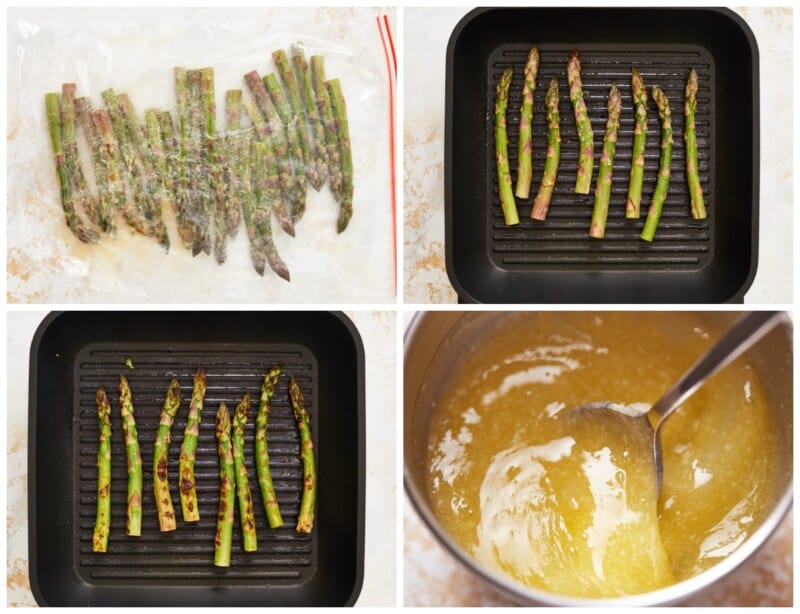 How long do you grill asparagus?
Cooking asparagus on the grill is such a quick and simple way to make it. It only takes about 7-10 minutes to make it tender and delicious!
Should you soak asparagus before grilling?
There's no need to soak your asparagus in water before grilling, but I do recommend letting it marinate in the butter/lemon juice mixture for at least 30 minutes for maximum flavor!
Should you par boil asparagus before grilling?
While you certainly could par boil your asparagus to cut down on the cooking time, it's really not necessary. The marinade penetrates the raw asparagus better than it would if it was par boiled.
How do you know when grilled asparagus is done?
To check for doneness, use a fork to pierce the thickest part of the asparagus. If it pierces easily, it's done cooking!
Why is my grilled asparagus soggy?
Soggy asparagus is usually the result of overcooking. You want to remove the asparagus from the grill as soon as it is fork-tender, as it will continue to cook a bit from the residual heat as it cools.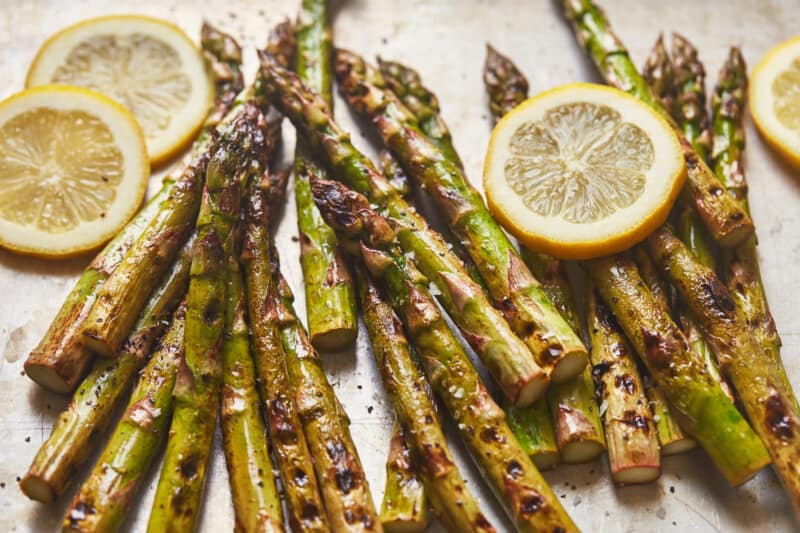 How to Store and Reheat
Store leftover asparagus in an airtight container in the refrigerator for up to 3 days. Reheat in a 400°F oven for about 5 minutes, or until heated through.
How to Freeze
Freeze asparagus in an airtight container or Ziplock bag for up to 3 months. Let thaw overnight in the refrigerator before reheating.
Serving Suggestions
This lemon asparagus truly goes with everything. That's why it's one of my favorite sides, because I know I can make it any time. If I'm in a pinch and need something to go with grilled chicken or any other main dish, I know this will work perfectly!
I love serving this with juicy grilled burgers, St. Louis grilled ribs, grilled flank steak, salmon foil packets, or any time we grill. It goes with the heavier meals just as well as the healthier ones!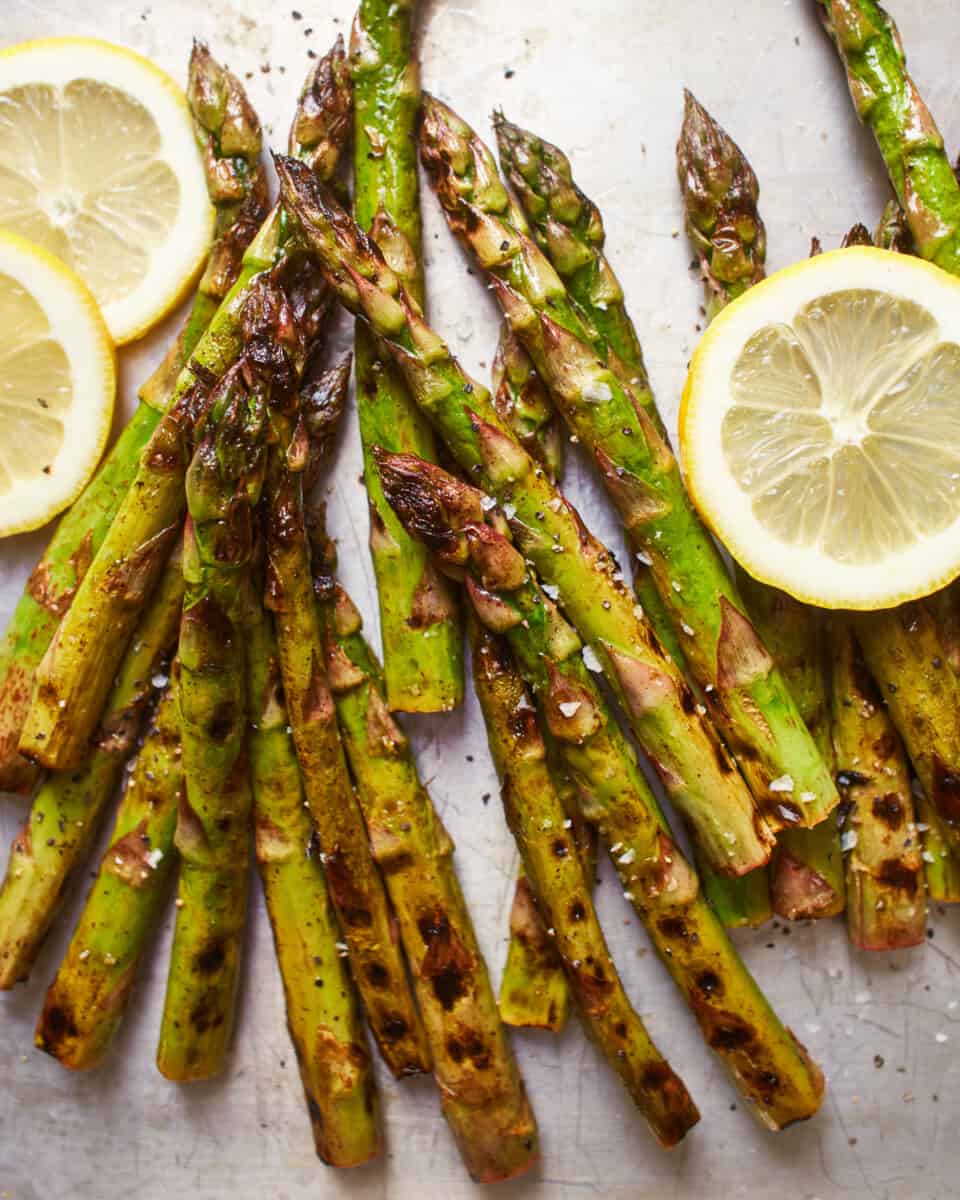 More Asparagus Recipes We Love