This delicious and healthy miso salmon recipe is perfect for an easy weeknight meal, and it's ready to enjoy in just 20 minutes. Cooked in the air fryer, this Japanese-inspired salmon comes out perfectly cooked, flakey and flavorful. Mix up your dinners with this easy recipe!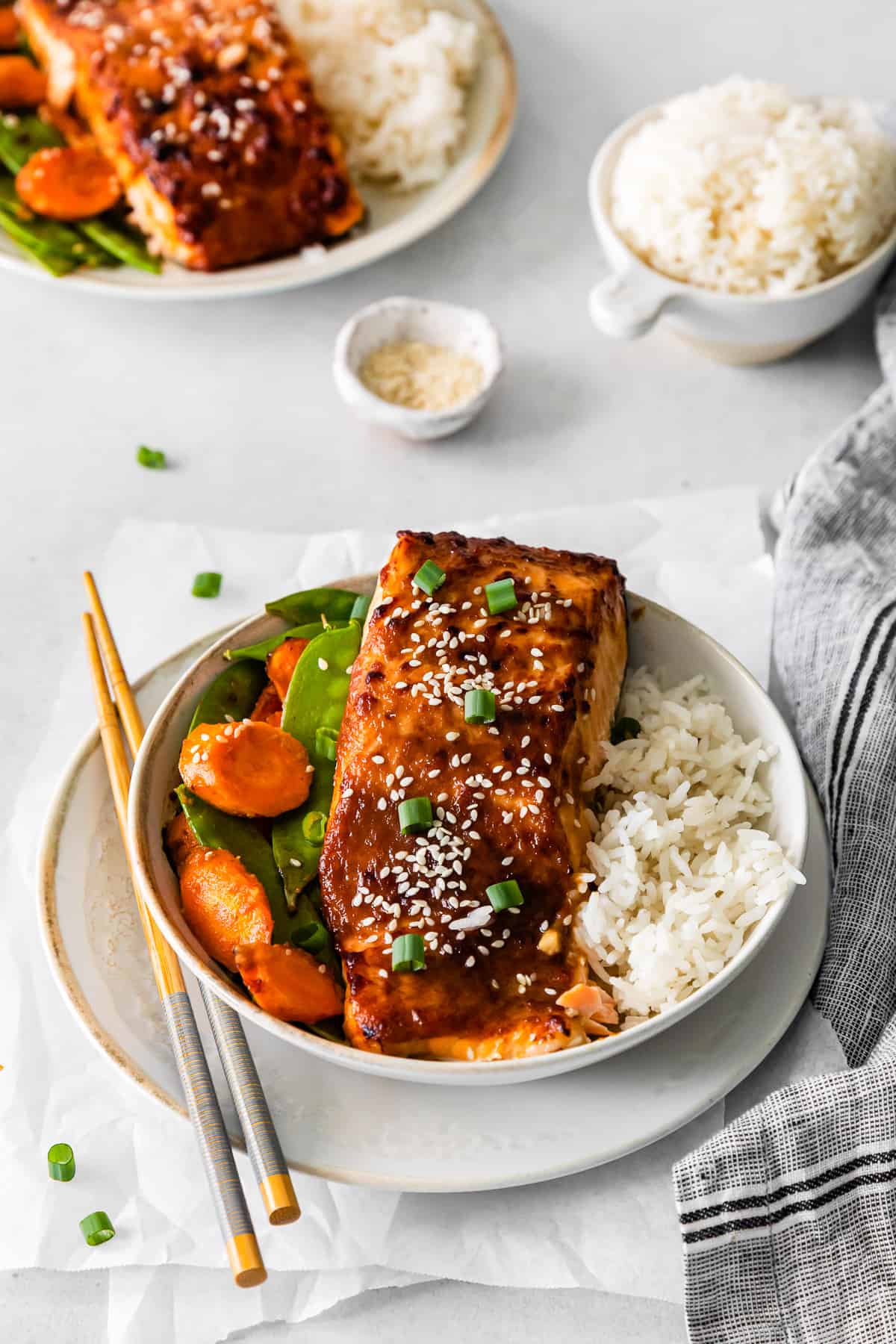 Miso Ginger Salmon
If you love Japanese cuisine, miso salmon, or air-fried salmon in general, you are going to adore this delicious air fryer miso salmon recipe. Cooked with carrots and sugar snap peas and served over rice, this easy dinner recipe is perfect after a long day.
Fresh salmon fillets are brushed with an umami miso glaze before being cooked perfectly in the air fryer. Made from scratch, this dinner is a healthy and tasty option that the whole family will love.
Be sure to try my Sheet Pan Lemon Salmon and Salmon Burgers too!
Why You'll Love this Miso Salmon Recipe:
Easy: Ready to serve in 20 minutes, this salmon dinner takes minutes to prep with a few ingredients and is quick to cook in the air fryer.
Healthy: This full meal fits perfectly into a well-balanced diet. Salmon is a great low-fat source of protein and you get lots of vitamins and minerals from the veggies.
Family-Friendly: This is one delicious dish that the whole family will love. Flavorful, but not spicy, it's a tasty way to get the goodness in!
If you are looking to get out of your dinner rut, this is one easy and tasty way of doing it! Skip the takeout and treat yourself to this glazed salmon instead, you'll be pleased you did!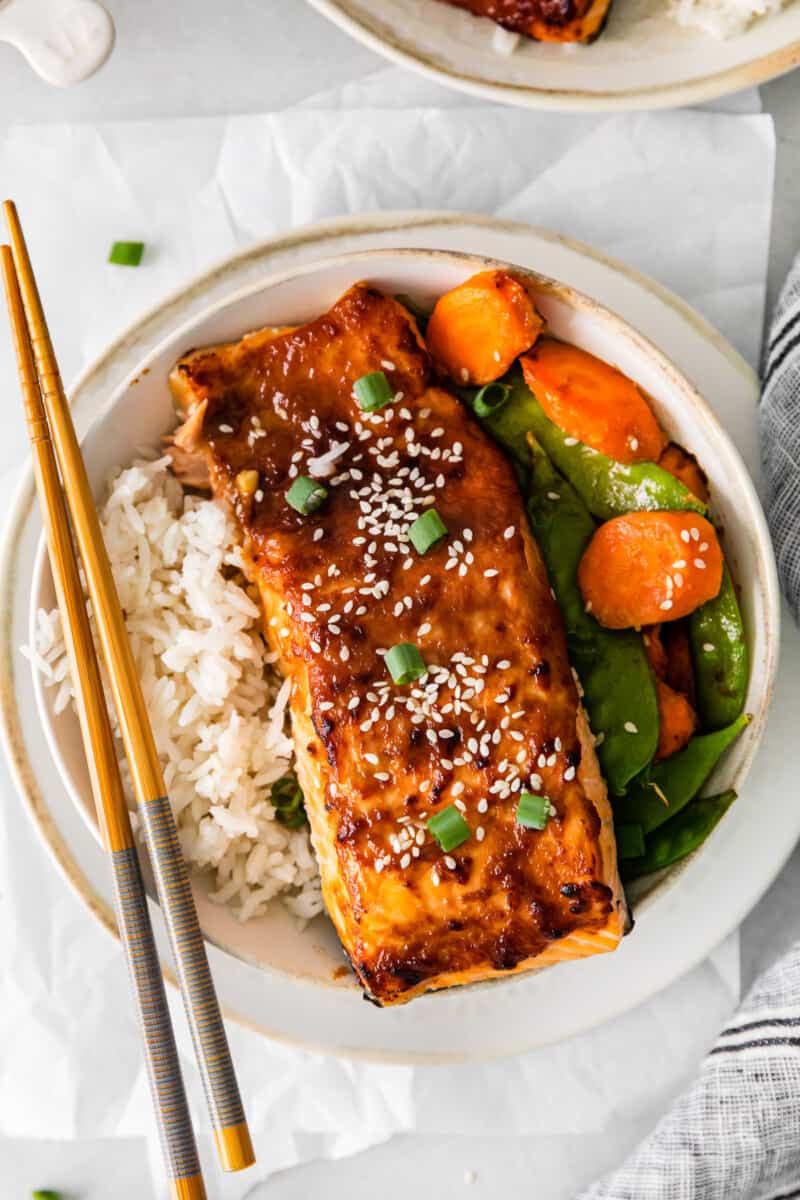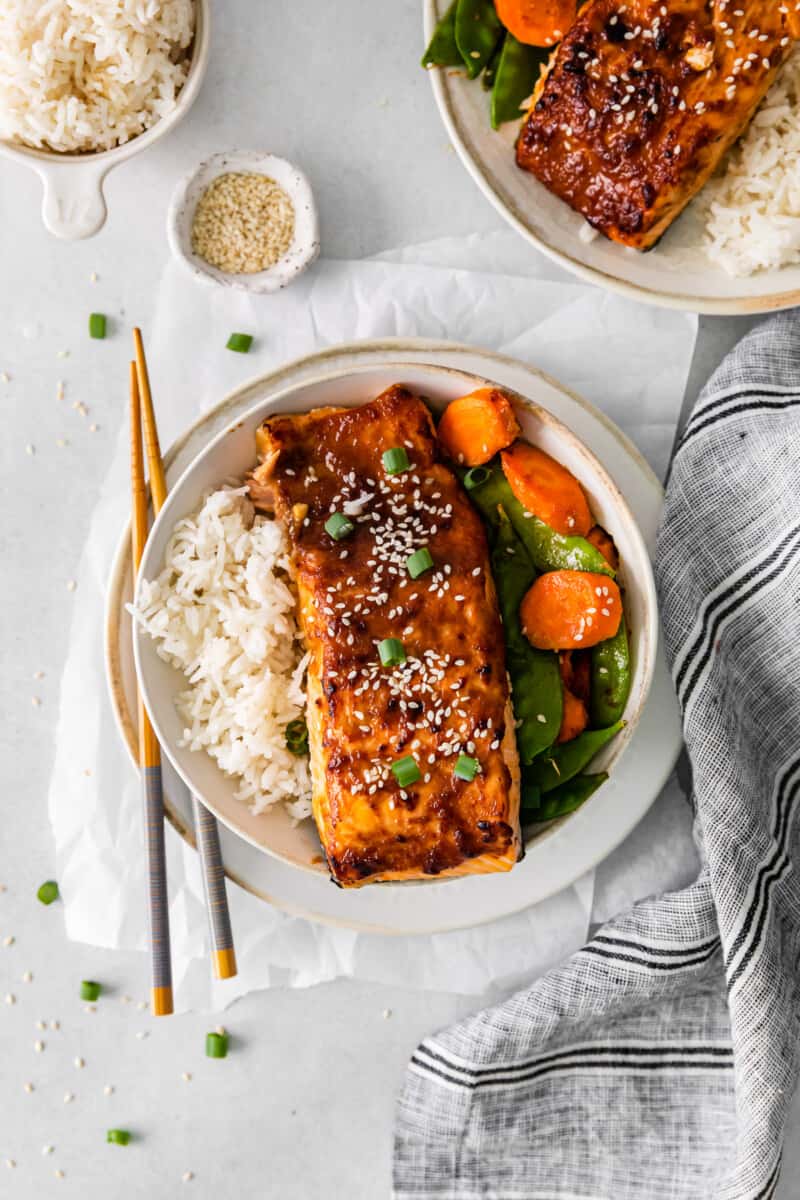 How to Make Air Fryer Miso Salmon
You can jump to the recipe card for full ingredients & instructions!
Stir together the ingredients for the miso sauce.
Brush the sauce over the salmon fillets.
Toss the carrots in the leftover sauce.
Place the salmon and carrots in the air fryer basket and cook.
Add the sugar snap peas to the basket for the last couple of minutes of cooking.
Serve over rice.
Recipe Notes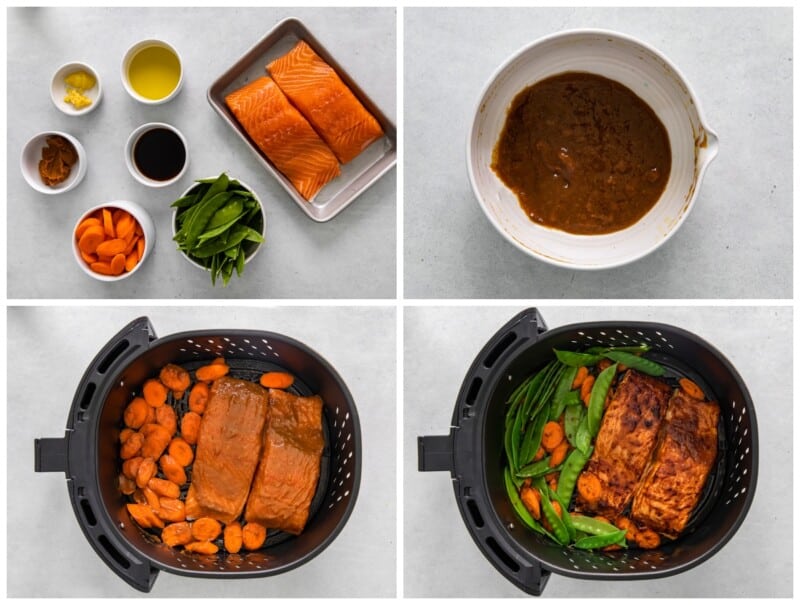 What is miso paste?
Miso is a traditional Japanese seasoning paste produced by fermenting soybeans with salt and kōji (a type of mold that's also used to make sake) and sometimes rice, barley, seaweed, or other ingredients. It lends an earthy, umami flavor to dishes.
What is the difference between red and white miso paste?
Both types of miso are made from soybeans, but white miso is usually fermented with rice, while red miso is fermented with barley or other grains. As a result, red miso usually has a stronger, saltier flavor and white miso is milder and sweeter.
Can I make this recipe with a different kind of fish?
Yes, you could use the miso glaze on trout, cod, or halibut in place of the salmon. Just keep in mind that you may need to adjust the cooking time according to the type and thickness of the fish.
Can I bake miso salmon in the oven?
Yes! Depending on how big your filets are, you can bake them at 400°F for about 10-12 minutes. Miso and soy sauce burn quickly, so it's important to brush off any excess marinade before baking.
How can I tell when salmon is finished cooking?
The easiest way to see if your salmon has finished cooking is to gently press down on the top of the fillet with a fork or your finger. If the flesh of the salmon flakes, it's finished cooking. The proper internal temperature of cooked salmon is 145°F.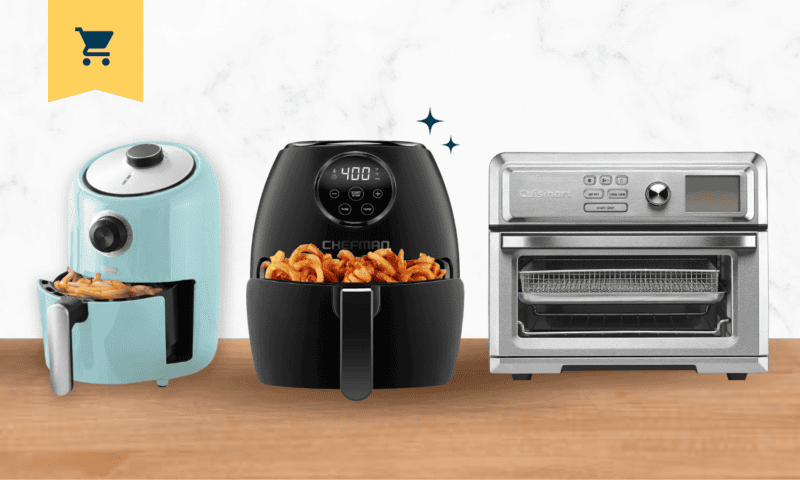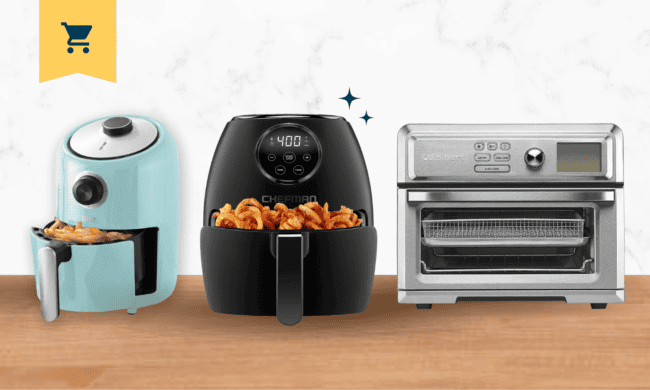 Best Small Air Fryers
We have reviewed our top 6 Small Air Fryers! Get reviews, pros, cons, and prices!
Top Small Air Fryers
Serving Suggestions
As it is, this miso salmon is a great full meal all by itself. If you prefer, you can cook the salmon separately and swap out the side dishes for other favorites instead. Try it with:
However you decide to serve it, this air fryer miso glazed salmon is sure to be a hit. With its bold flavors and flakey soft texture, it's perfect to enjoy any night of the week.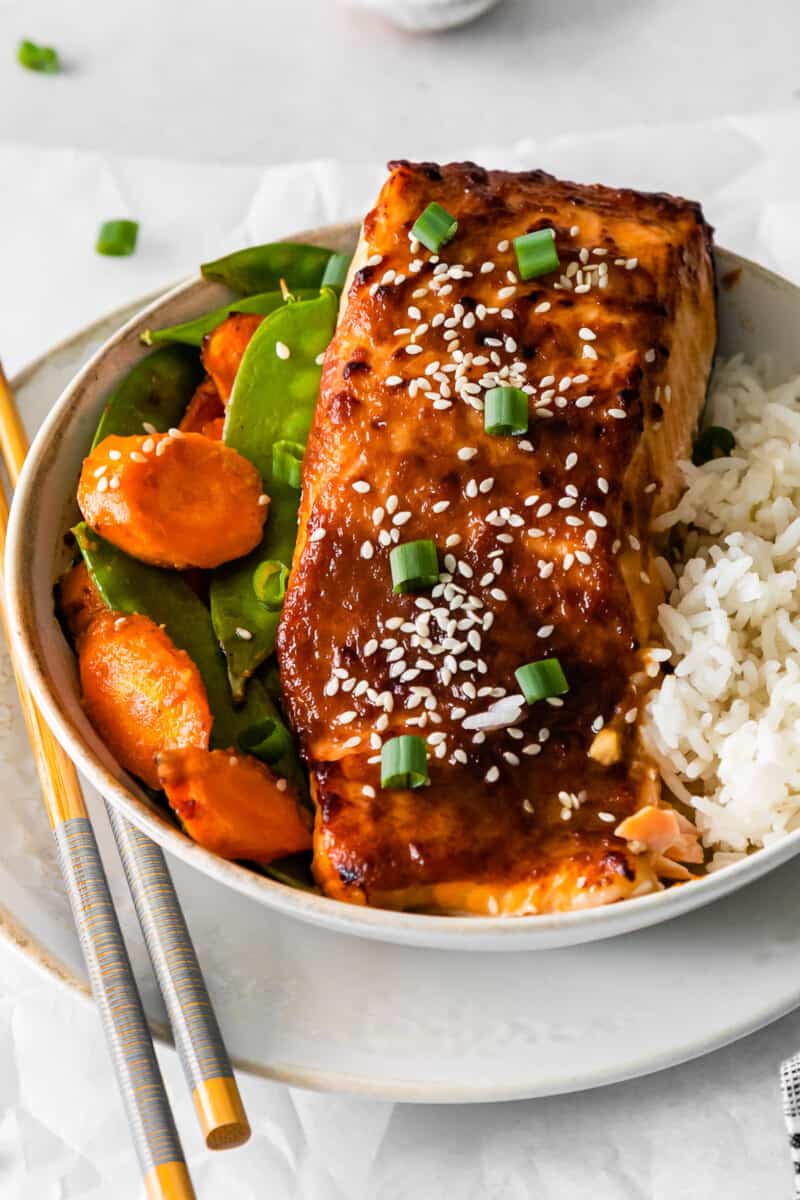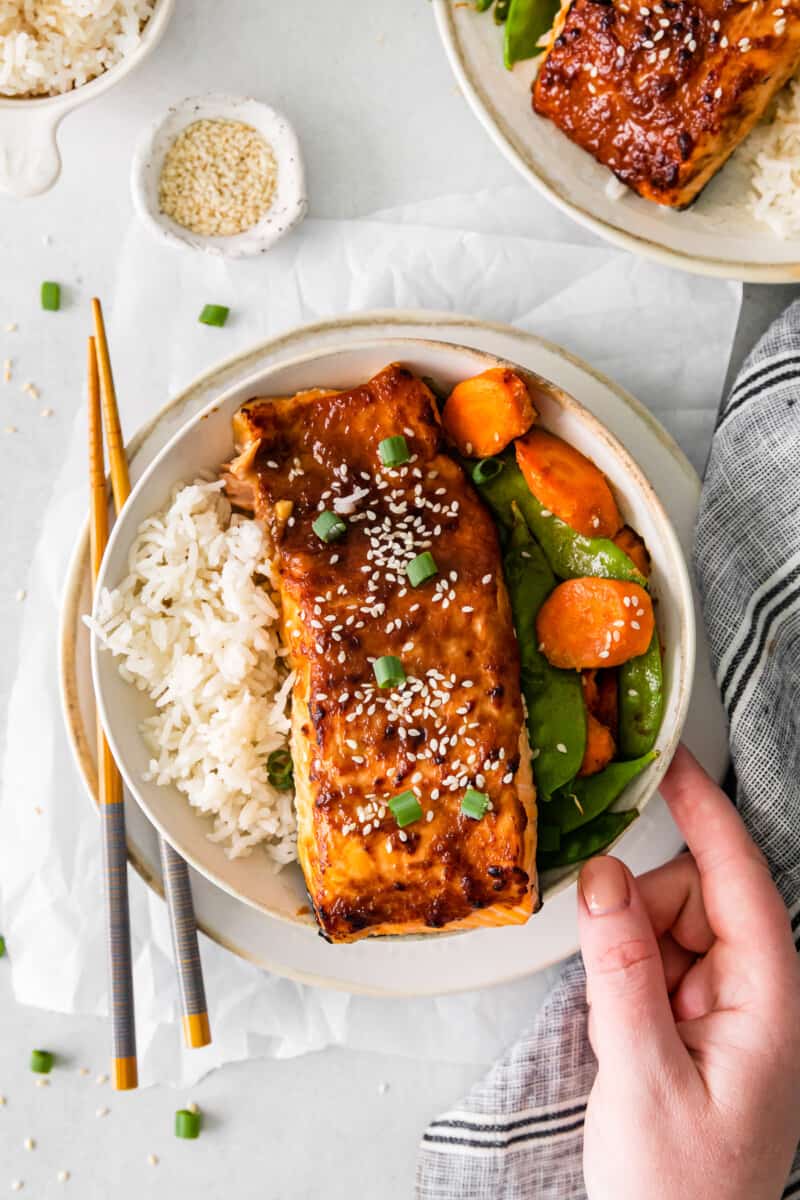 Storage Instructions
Store leftover air fryer miso salmon in an airtight container in the refrigerator for up to 3 days. I always recommend enjoying leftover salmon cold, but you can also reheat it gently in the microwave.
Freezing Instructions
Freeze air fryer miso salmon in an airtight container for up to 4 months. Allow salmon to thaw overnight in the refrigerator before reheating or enjoying cold.
Variations
I love carrots and snap peas with salmon, but you can also serve this salmon with baby bok choy, edamame, broccoli, peppers, or any other vegetable you enjoy.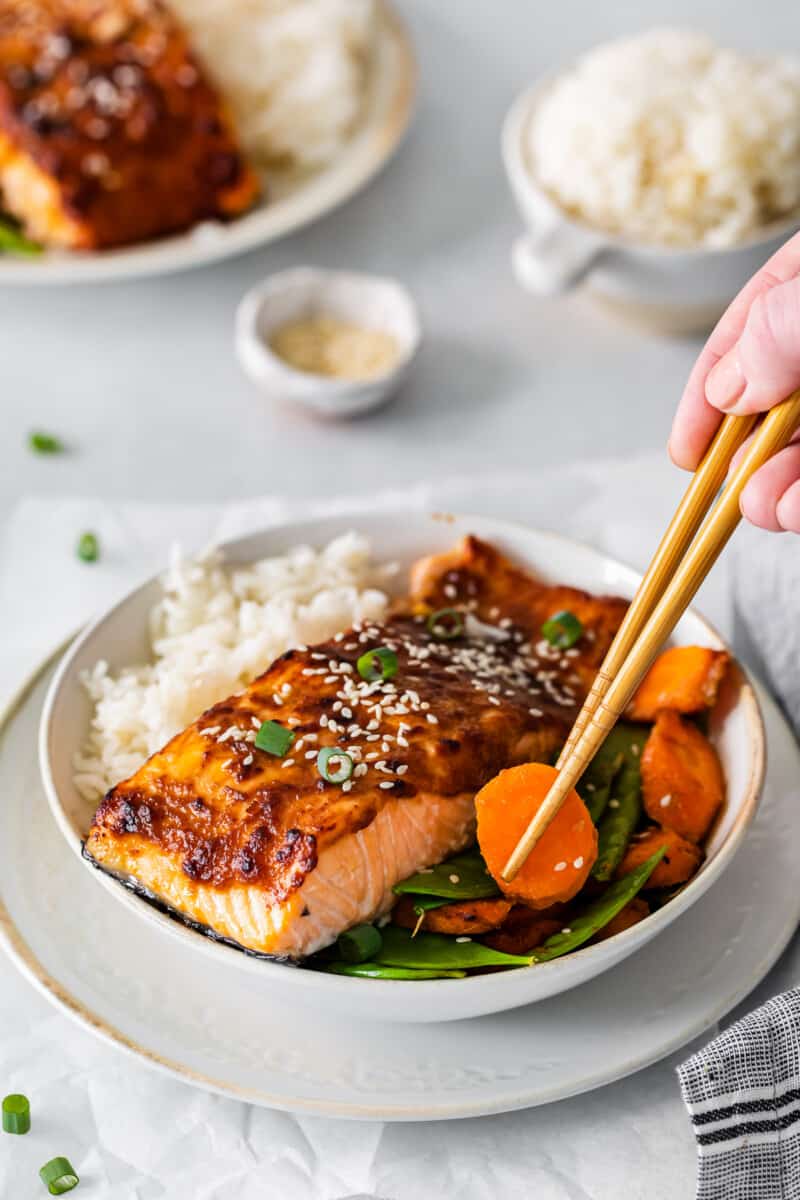 The umami flavors of the miso glaze are just so addictive, I'm pretty sure you'll be making this miso salmon more than once! So easy to prep and super quick to cook, you can have one tasty and healthy dinner on the table in a matter of minutes.
If you make this recipe be sure to upload a photo in the comment section below or leave a rating. Enjoy! You can also jump to recipe.