Skillet bread is mouth-wateringly delicious and so easy to make. Baking bread has never been easier–you only need a few ingredients, a cast iron skillet, and bit of time!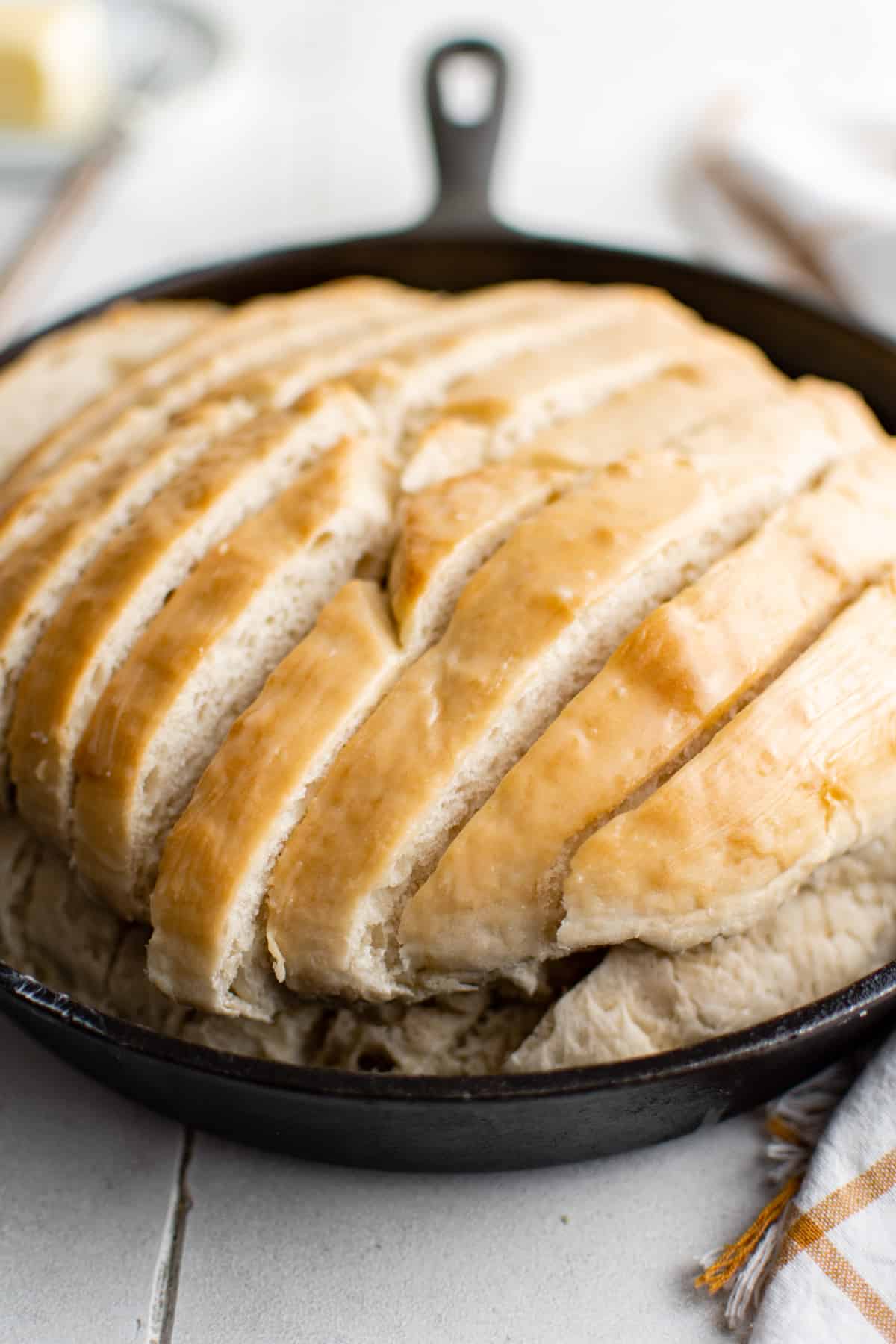 Cast Iron Skillet Bread
This cast iron bread recipe makes a pillowy soft skillet bread that pairs with almost any meal. Whip it up in less than 15 minutes and let it rise while you make dinner. Once it's golden brown, take it out and allow it to rest.
The whole kitchen is going to smell wonderful. Once the bread has cooled, slice and serve with a pat of butter and some honey for the ultimate mouthwatering experience!
Why You'll Love this Cast Iron Bread Recipe:
Easy-to-make: All you need is a few simple ingredients and a skillet to make this easy recipe. Homemade bread has never been easier to make!
Crisp golden crust: Skillet bread has a crusty outside and soft inside. This fresh bread makes for the perfect side with nearly any meal!
Scoring Skillet Bread
Baking a crusty bread like this requires scoring the top of the dough before placing it in the oven. This is to help the steam vent while it cooks. Also, the dough will naturally want to expand as it bakes, and creating a vent guides the dough, so that it doesn't ooze out of the sides.
You can makes any design or shape you like when scoring (cutting into the outer layer of dough). A simple X looks nice and is easy to do, but you can get creative if you like.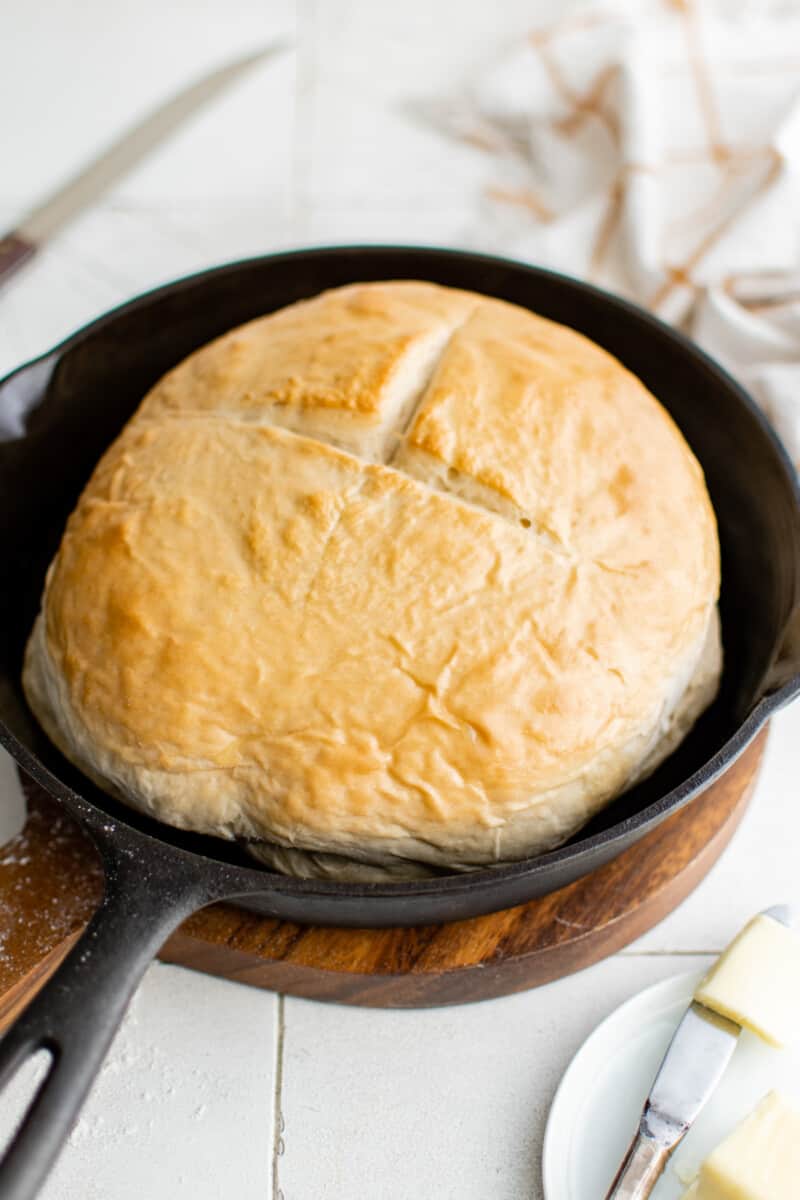 How to Make Skillet Bread
You can jump to the recipe card for full ingredients & instructions!
In the bowl of a stand mixer, whisk the water and sugar. See the recipe card at the bottom of this post for exact measurements.
Add yeast and allow it to activate. Then stir in the remaining ingredients and gradually add in the flour. If kneading by hand, see the recipe card.
Form dough into a ball and place it in a large bowl. Cover it with plastic wrap and let it rise at room temperature for two hours.
Preheat the oven and prepare the cast iron pan as instructed.
Sprinkle flour onto a smooth surface. Turn and knead dough. Tuck ends into itself to form a ball.
Place in prepared pan and press dough into it.
Bake until golden brown then let it rest for at least 15 minutes. Slice, serve, and enjoy!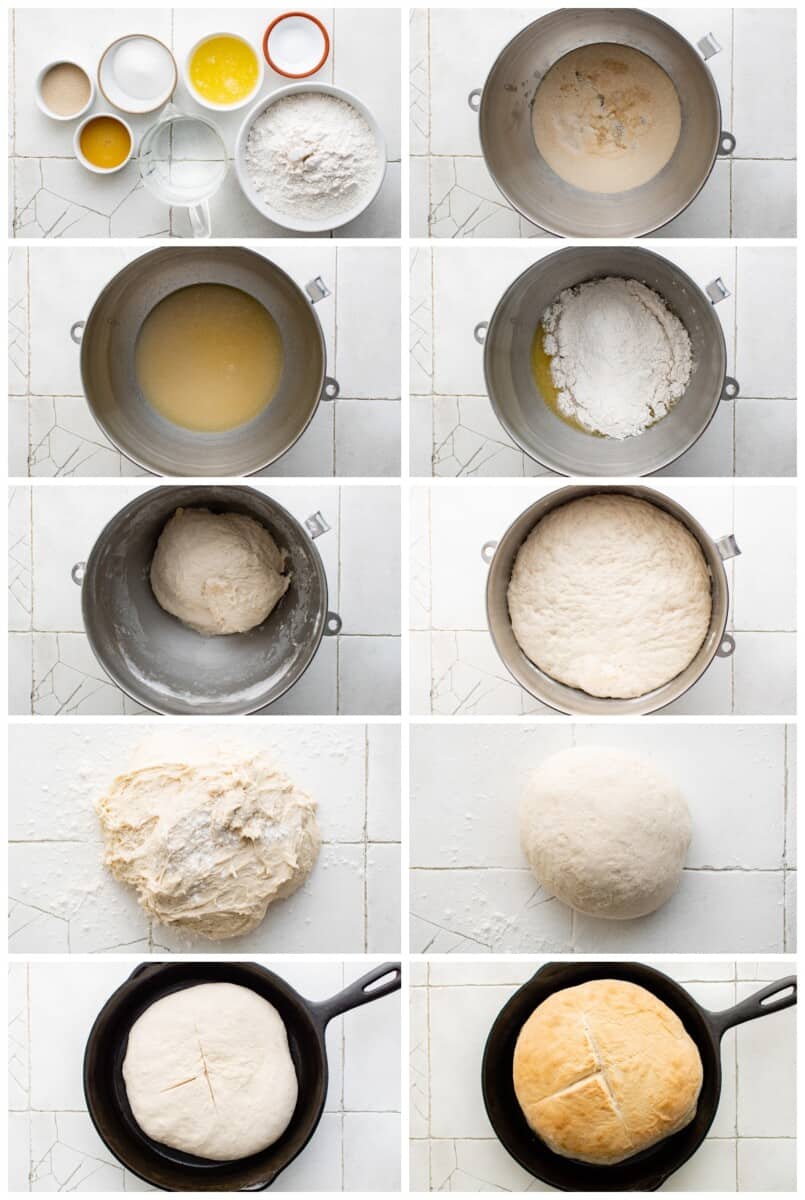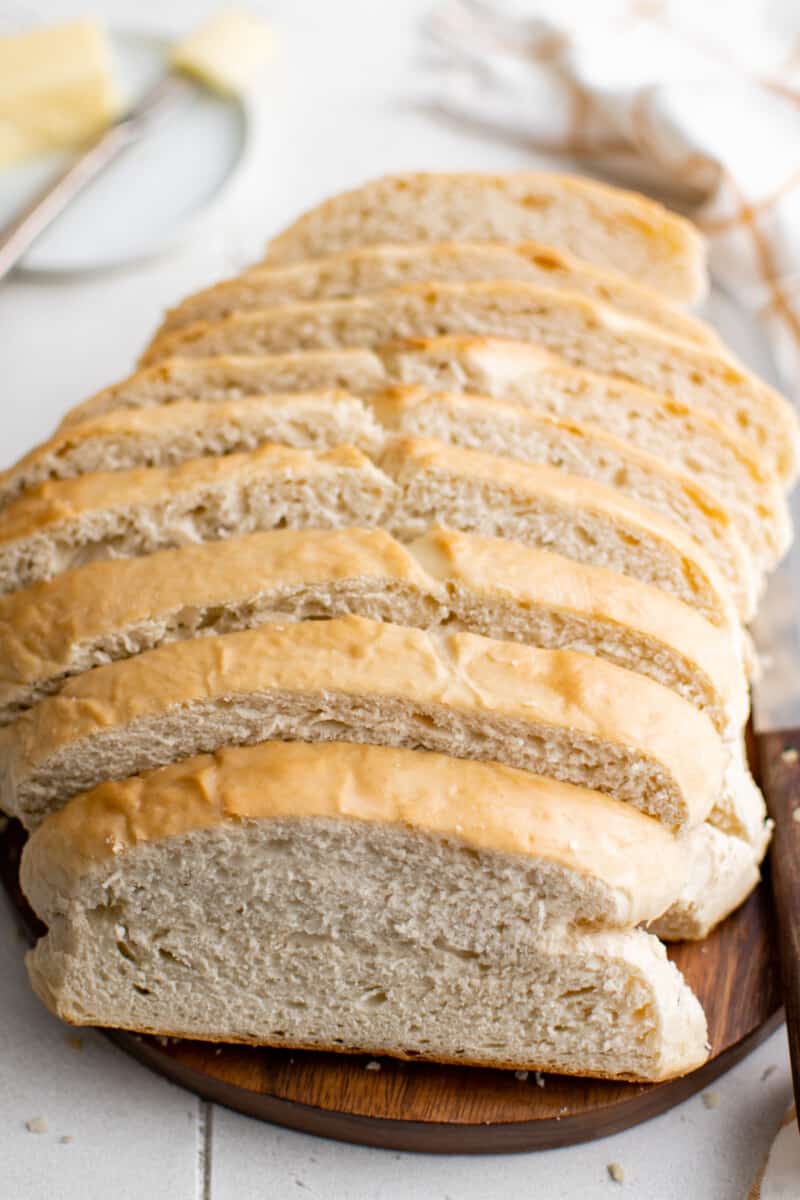 What is skillet bread?
Skillet bread is a simple, rustic loaf of bread baked in a cast iron skillet!
How does skillet bread differ from bread baked in a cast iron Dutch oven?
When bread is baked in a cast iron Dutch oven, it is usually covered for the first 30 minutes or so of baking, which creates steam. This steam helps the bread to rise higher and form a crispy crust. When the bread is baked in a cast iron skillet, it is uncovered the whole time and comes out a bit shorter and with a softer crust.
What does it mean to "proof" yeast?
To 'proof yeast' means to dissolve it in warm liquid (often with a little sugar) and leave it for a few minutes or until it is foamy. Proofing yeast ensures it is alive and vigorous enough to make your dough rise.
Why is my skillet bread dough so sticky?
This bread dough is meant to be a bit sticky, but if it is too sticky to work with, you can simply add more flour, a little at a time, until it is workable.
Why didn't my skillet bread rise properly?
Skillet bread does not rise as high as more traditional loaves of bread. However, if your skillet bread seems super dense and pancake-like, your yeast may be expired. Check the date on your yeast and discard any out-of-date envelopes. Furthermore, be sure to bloom the yeast in warm (not too hot!) water so that you don't kill it with too much heat.
Does bread bake faster in cast iron?
Given this recipe is still baked bread, it will require roughly 20-25 minutes to bake in the oven once prepared. On average, this is roughly half the time of other baked bread recipes without a skillet but recipes will vary.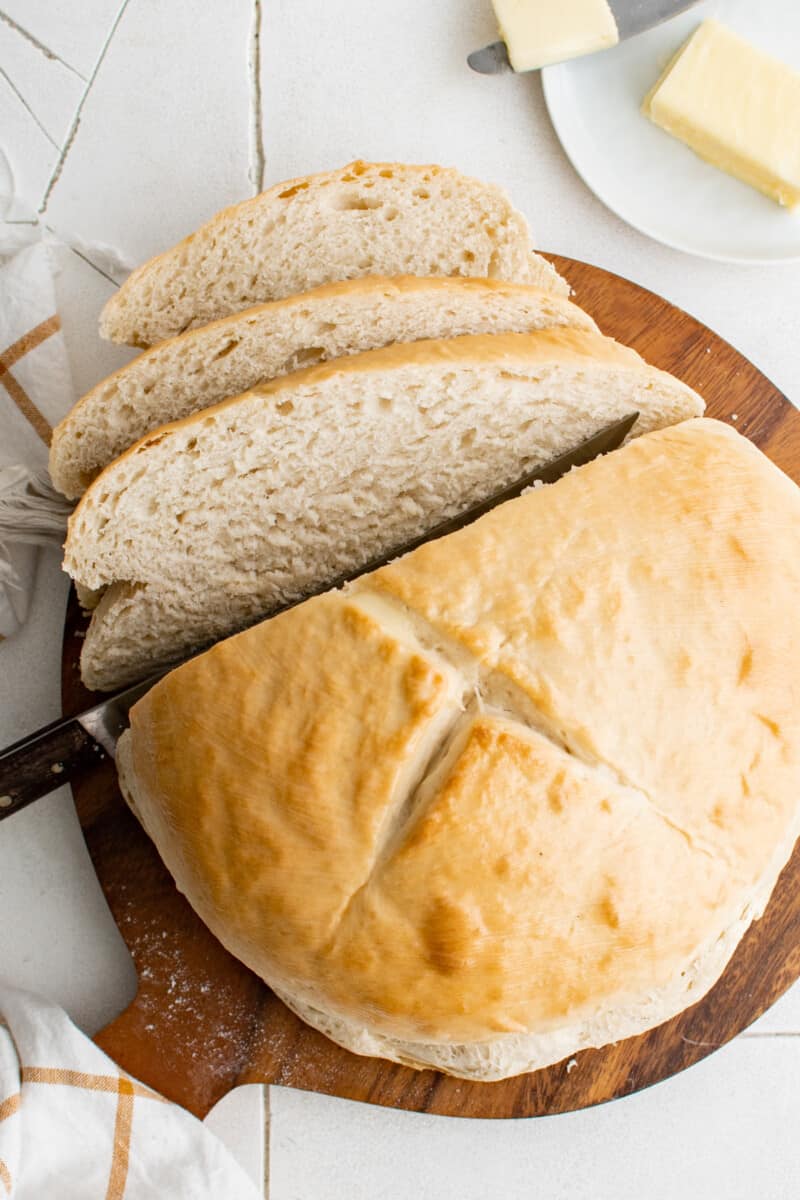 Make Ahead Instructions
The dough can be prepped through step 5 up to 1 day in advance. Simply place the dough in the refrigerator to rise rather than on the counter. Let the dough sit out on the counter for 30 minutes before shaping and baking.
Storage Instructions
Store leftover skillet bread in an airtight container at room temperature for up to 5 days. Do not refrigerate homemade bread.
Freezing Instructions
Freeze skillet bread whole or in individual slices tightly wrapped in 2 layers of plastic wrap and 1 layer of aluminum foil for up to 6 months. Let thaw overnight in the refrigerator before enjoying, or reheat directly from frozen in a 350°F oven until warmed through.
Variations
If using instant yeast, you can mix the flour, sugar, and yeast together and skip straight to step 3.
For chewier, crustier skillet bread, use bread flour in place of some or all of the all-purpose flour.
In place of the butter, you can use neutral oil or olive oil.
Omit the honey for a more savory bread.
Feel free to add the herbs of your choice to this bread, such as rosemary, basil, or thyme!
You could also add granulated garlic or onion.
For a softer crust, brush the bread with butter as soon as it comes out of the oven.
Scaling Up
This recipe is easily doubled and baked in 12-inch cast iron skillet! Add an additional 10-15 minutes to the baking time!
Tips for the Best Skillet Bread
Check your yeast before using it. If it is past its expiration date, toss it and use a new envelope.
Knead the dough until it is tacky, but not wet. It should be somewhat smooth.
Perfectly proofed bread dough will spring back slowly when poked with a clean finger. If the dough springs back quickly, it needs more time; if the does not spring back at all, it is over-proofed.
If your kitchen is too cold and your dough is not rising, place the bread dough in your turned-off oven with just the light on to rise.
Bake this bread only in a cast iron skillet. A different type of skillet will not get hot enough or distribute the heat evenly enough.
Fully baked bread will read 200°F internally on an instant-read thermometer.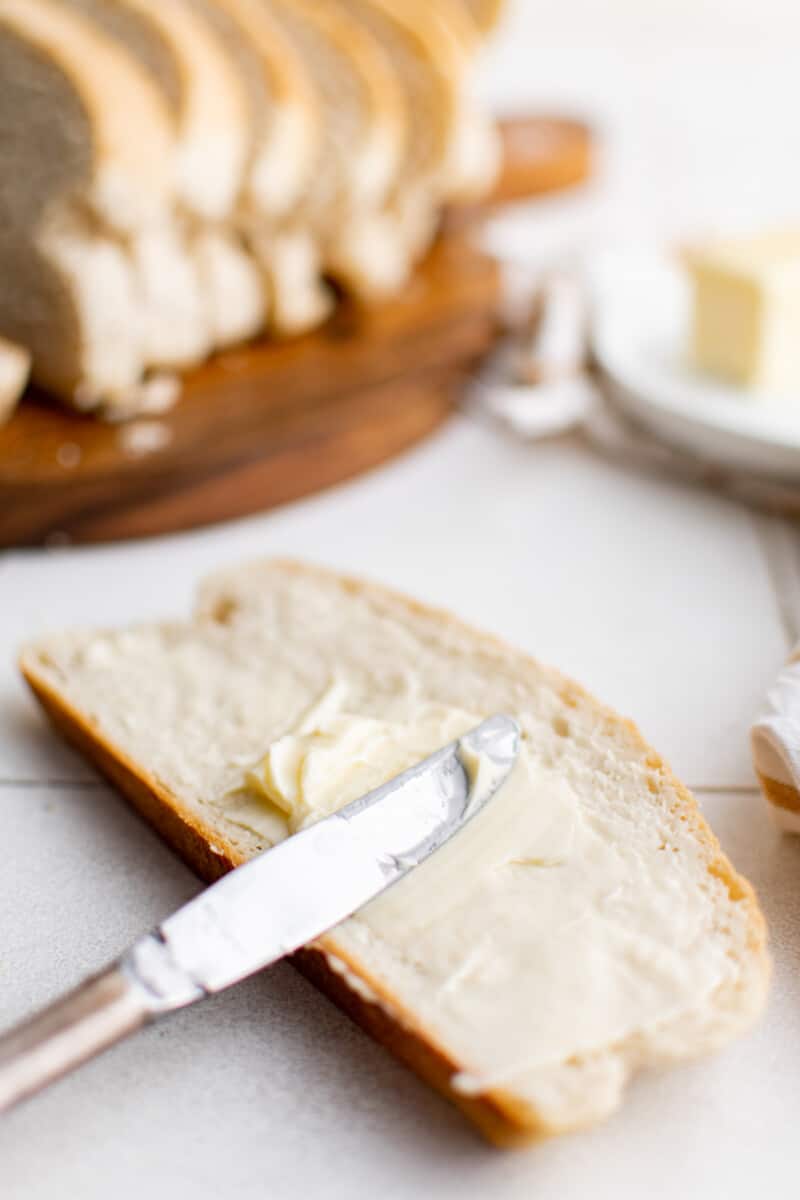 More Delicious Bread Recipes We Love
I hope you find this skillet bread easy to make and delightful to taste! Let me know in the comments below how your bread turned out and what you paired it with!
If you make this recipe be sure to upload a photo in the comment section below or leave a rating. Enjoy! You can also jump to recipe.