This homemade Angel Biscuits recipe leaves you with the most delicious bread rolls to serve with any meal. Prepping these fluffy yeast biscuits is easy, and they only need about 15 minutes to bake in the oven. The perfectly-golden, buttery tops and light texture are a delight to bite into!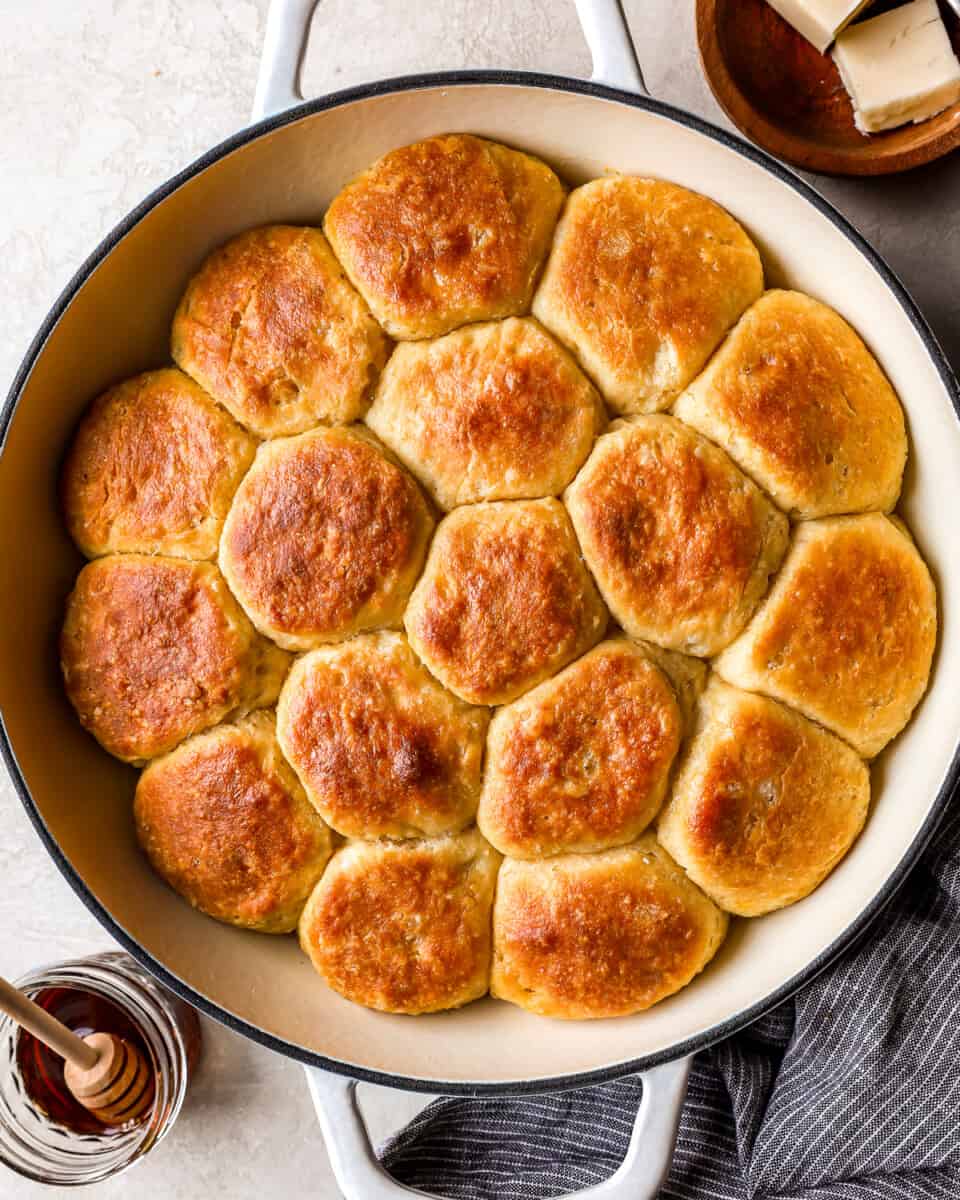 Why We Love This Angel Biscuits Recipe
Do you dream of homemade biscuits that are lighter than air? These angel biscuits are all that and more! A combination of 3 leavening agents makes these biscuits light, fluffy, and positively perfect!
Variations on Old Fashioned Angel Biscuits
These angel biscuits are a great base for any flavor profile you like, sweet or savory. For a savory biscuit, add some herbs, like rosemary, thyme, or chives to the dough. You could also fold in some shredded cheddar cheese! For a sweet biscuit, add a bit more sugar to the dough and a hint of cinnamon. Brush the biscuits with melted butter mixed with honey to enhance their sweet flavor even more!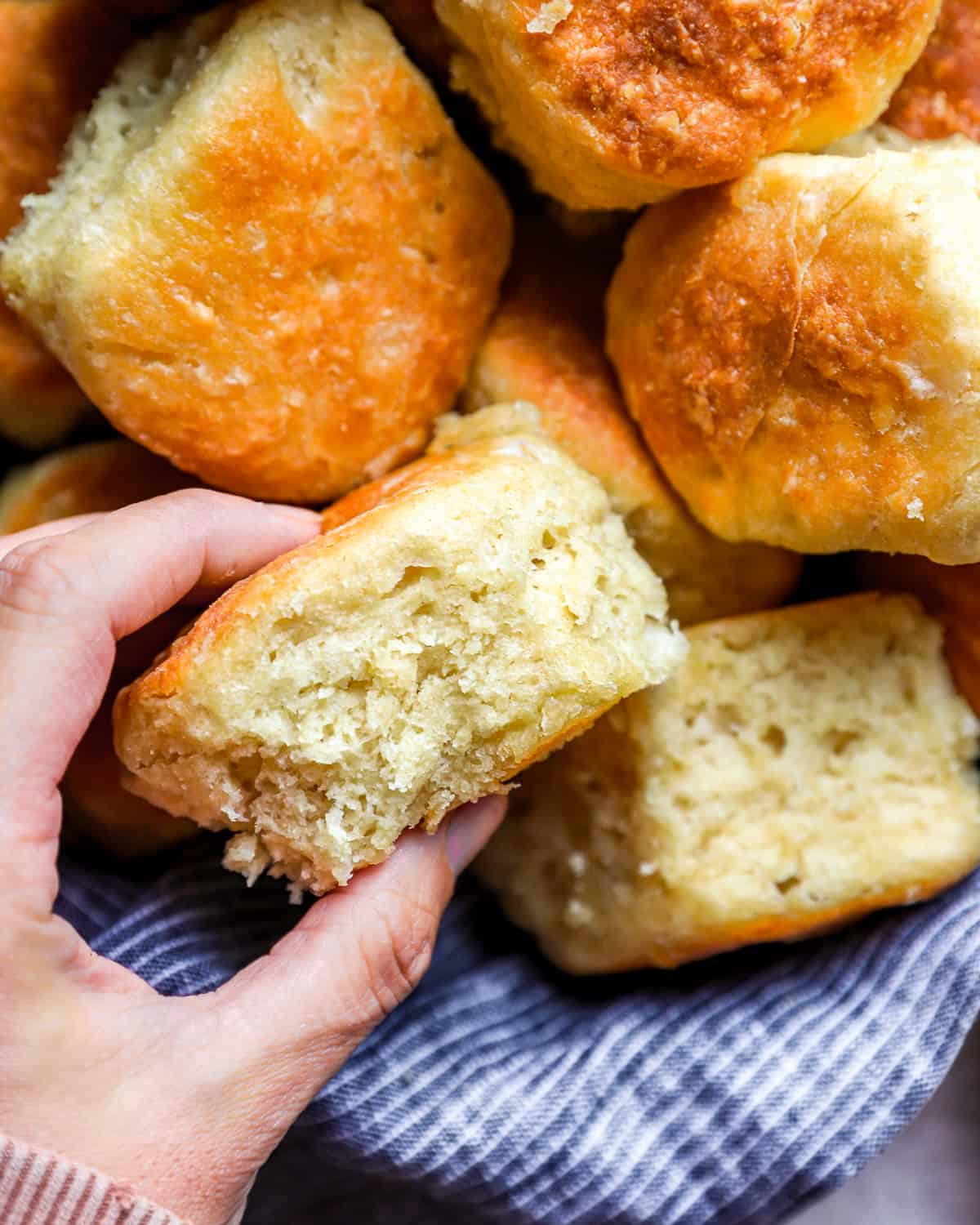 How to Store
Store leftover angel biscuits in an airtight container at room temperature for up to 3 days, or in the refrigerator for up to 1 week. Enjoy at room temperature or gently heated in the microwave.
How to Freeze
You can freeze angel biscuits before or after baking.
Freeze the biscuit dough uncovered on a lined baking sheet until solid, about 1-2 hours. Transfer the frozen biscuits to a Ziplock bag to store for up to 3 months. Bake directly from frozen, adding 5-10 extra minutes to the final bake time.
Freeze the baked biscuits in a single layer on a lined baking sheet until solid, about 1-2 hours. Transfer to a Ziplock bag to store for up to 1 month. Let thaw overnight in the refrigerator before enjoying.
Serving Suggestions
Serve these ultra-light angel biscuits with gravy, BBQ brisket, beef stew, or chicken mac and cheese soup. They also make a great base for strawberry shortcake cups, cinnamon sugar biscuit bites, or air fryer donuts.
Try them with this honey butter and you'll really feel like you're in heaven!
Why are they called angel biscuits?
These biscuits are named for their cloud-like texture, which is the result of using 3 different leaveners in the dough to produce lighter-than-air biscuits.
Which flour makes the best biscuits?
I prefer to use all-purpose flour because it's easy and readily available. Some people swear by White Lily pastry flour, but I think all-purpose works just fine!
Are biscuits better with butter or shortening?
I prefer my biscuits with butter because it makes them super tender and flaky. Plus, that buttery flavor is just divine!
What is the secret to a good biscuit?
The secret to a good biscuit is to use cold dairy products (butter and buttermilk) and brush on extra butter after baking!
Can you over mix biscuit dough?
Yes, you can absolutely over mix biscuit dough. This will lead to dense, crumbly biscuits, so be careful!
Should you let biscuit dough rest before baking?
Yes! This will allow the yeast time to get working, producing light and airy biscuits.
Can I leave biscuit dough overnight?
You can leave biscuit dough overnight, but you'll need to place it in the refrigerator. This will ensure the yeast doesn't overproof!
How do you make biscuits hold together?
To help your biscuits hold together, make sure to measure your flour using the spoon-and-level method so you don't use too much. Also, be sparing with how much flour you add to your work surface for rolling out.
How thick should you roll biscuit dough?
I like to roll my biscuits to a 1-inch thickness.
Should you brush butter on biscuits before baking?
Yes! The more butter, the better, so brush lots on before and after baking!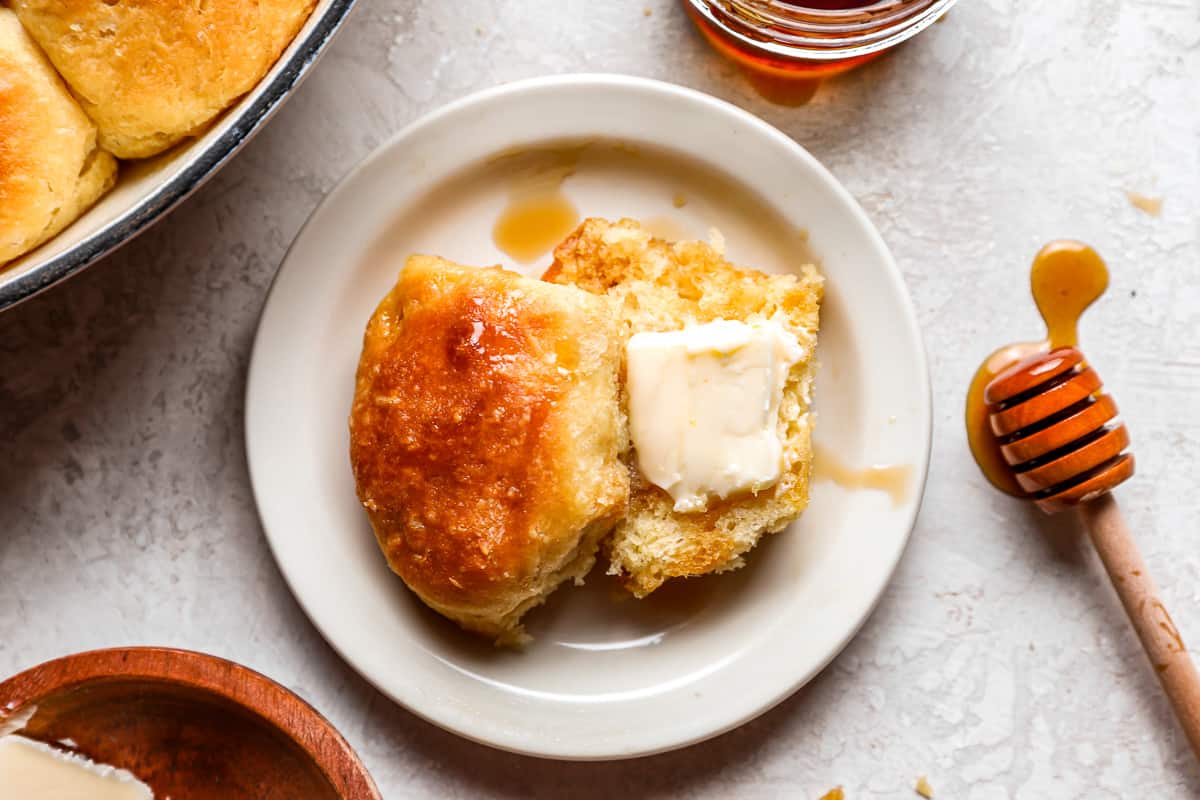 More Homemade Biscuit Recipes To Try
How to Make Angel Biscuits Step by Step
Bloom the Yeast: In a dish, combine 2¼ teaspoons (1 packet) of yeast with 1 tablespoon of granulated sugar, and ¼ cup of warm water. Let it sit for a few minutes until the yeast is foamy.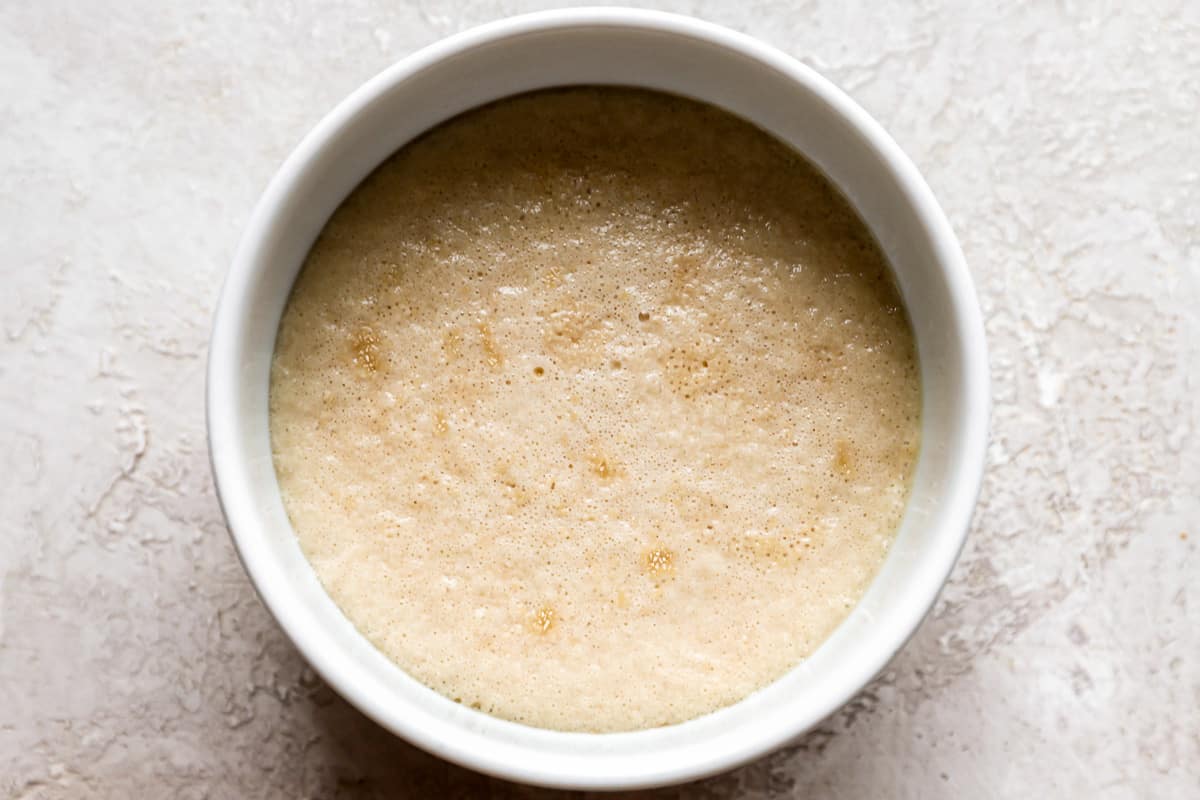 Mix the Dry: In a separate bowl, mix the 5 cups of all-purpose flour, the remaining 3 tablespoons of granulated sugar, 2 teaspoons of baking powder, 1½ teaspoons of baking soda, and 1 teaspoon of kosher salt together.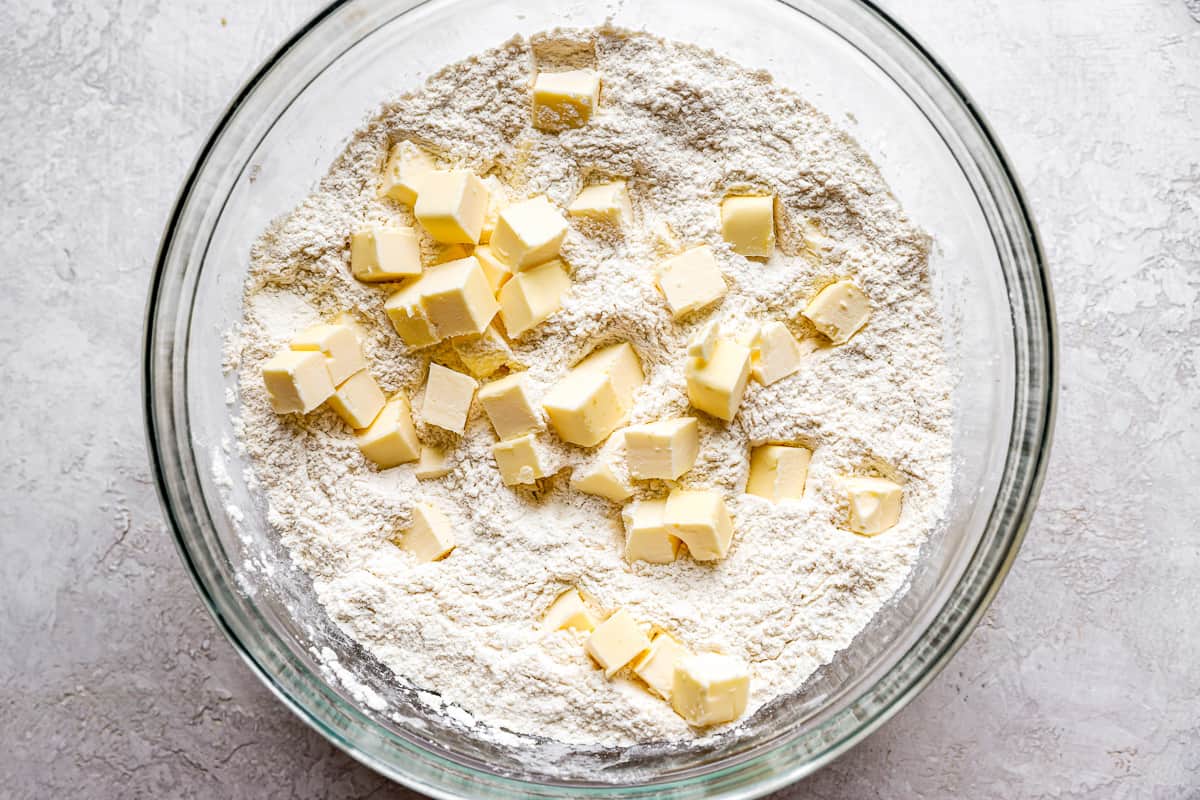 Cut in the Butter: Use a pastry blender or 2 butter knives to cut 1 cup of cold unsalted butter into the flour mixture until the texture is crumbly.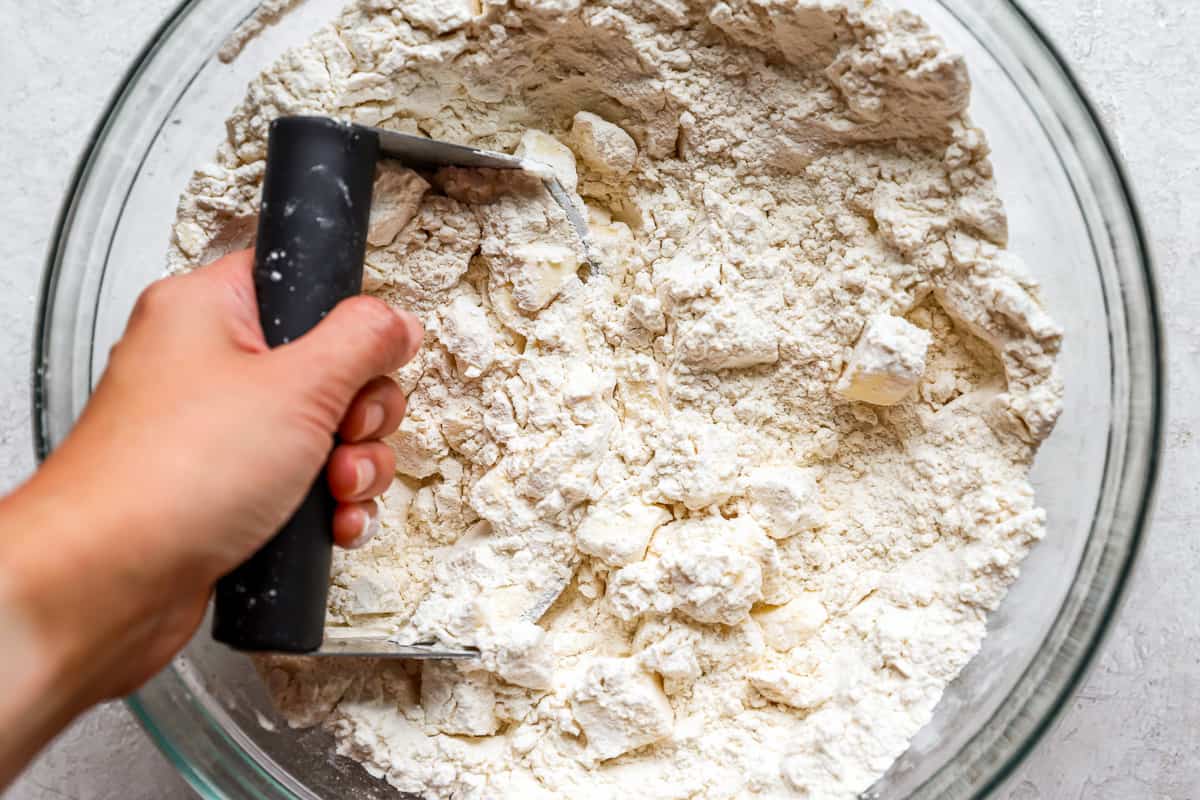 Mix the Wet: Combine the yeast mixture with 2 cups of buttermilk. Then, add it to the flour mixture and stir to combine.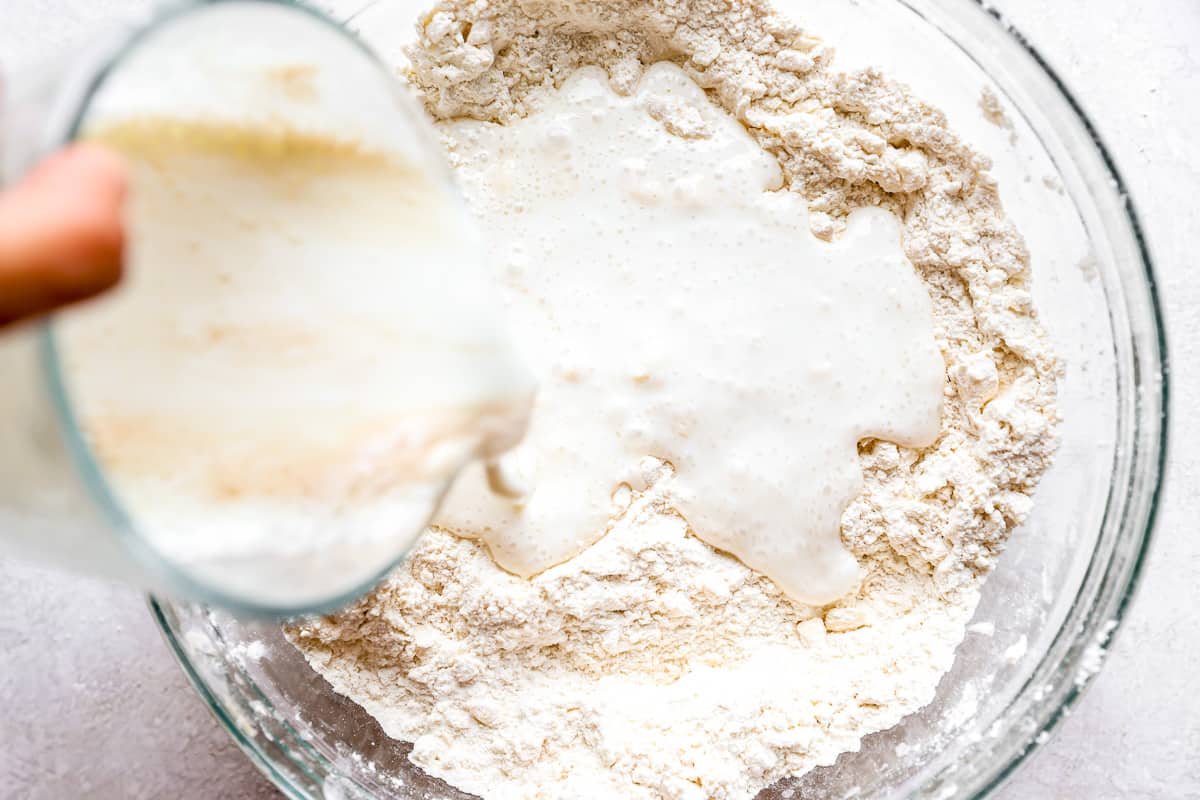 Fold the Dough: Turn the dough out onto a floured surface. Then, fold it in half 3-4 times, pressing down to flatten after each time.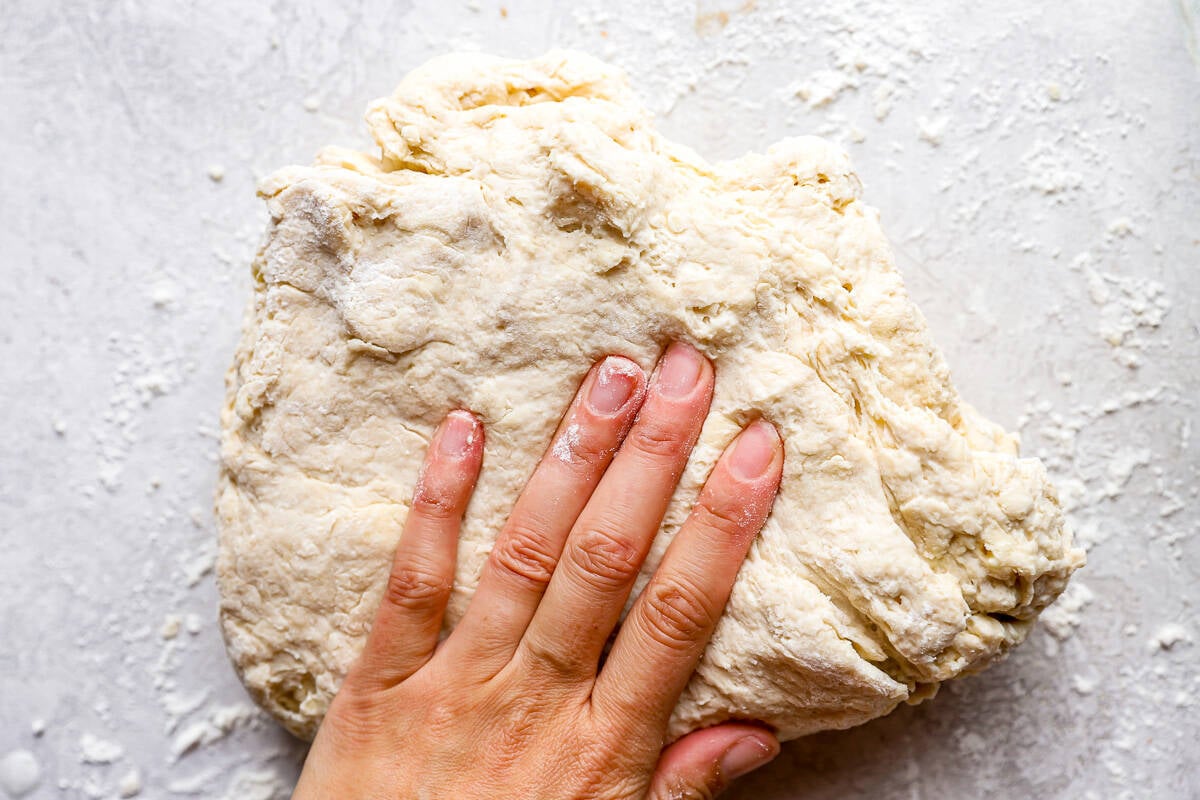 Roll and Cut: Using a rolling pin, roll out the dough to a 1-inch thickness. Use a round cookie cutter or the opening of a glass to cut out about 24 rounds.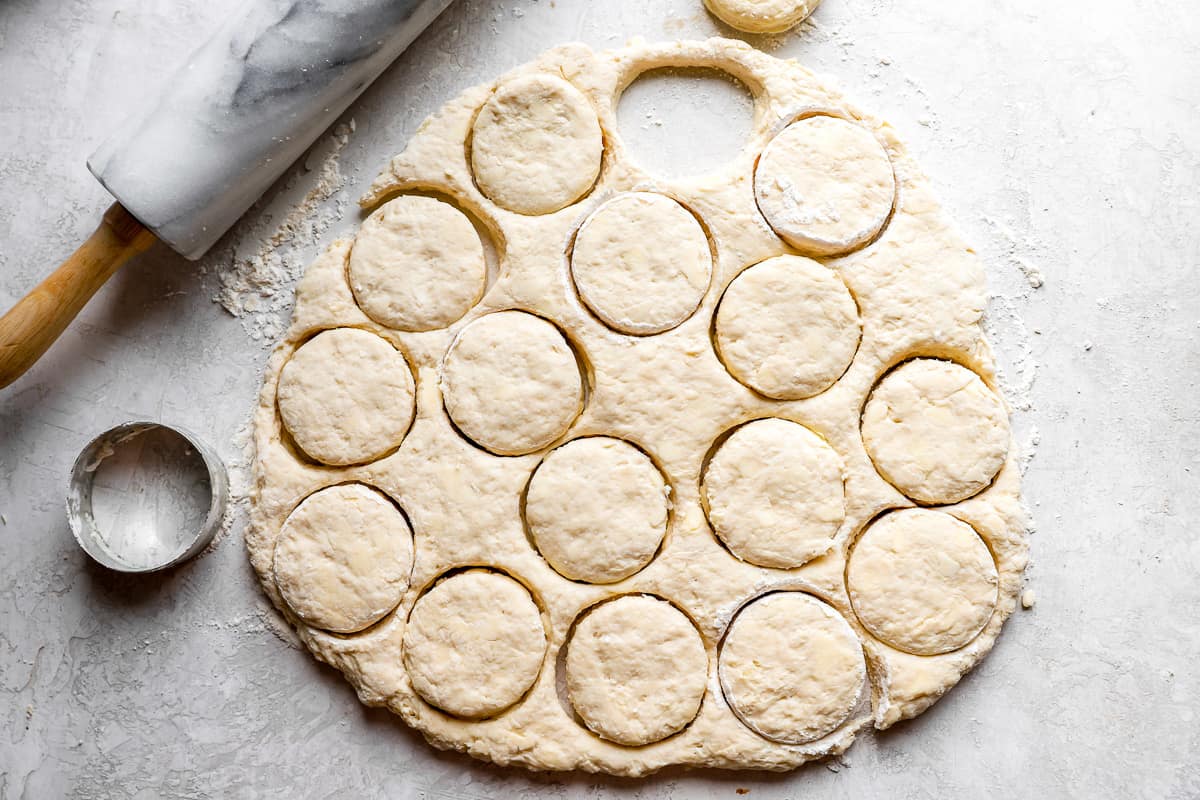 Rest the Biscuits: Place the biscuits in an oven-safe skillet or on a baking sheet. Cover with a towel and let them rest for 1 hour. Towards the end of the rest time, preheat the oven to 400°F.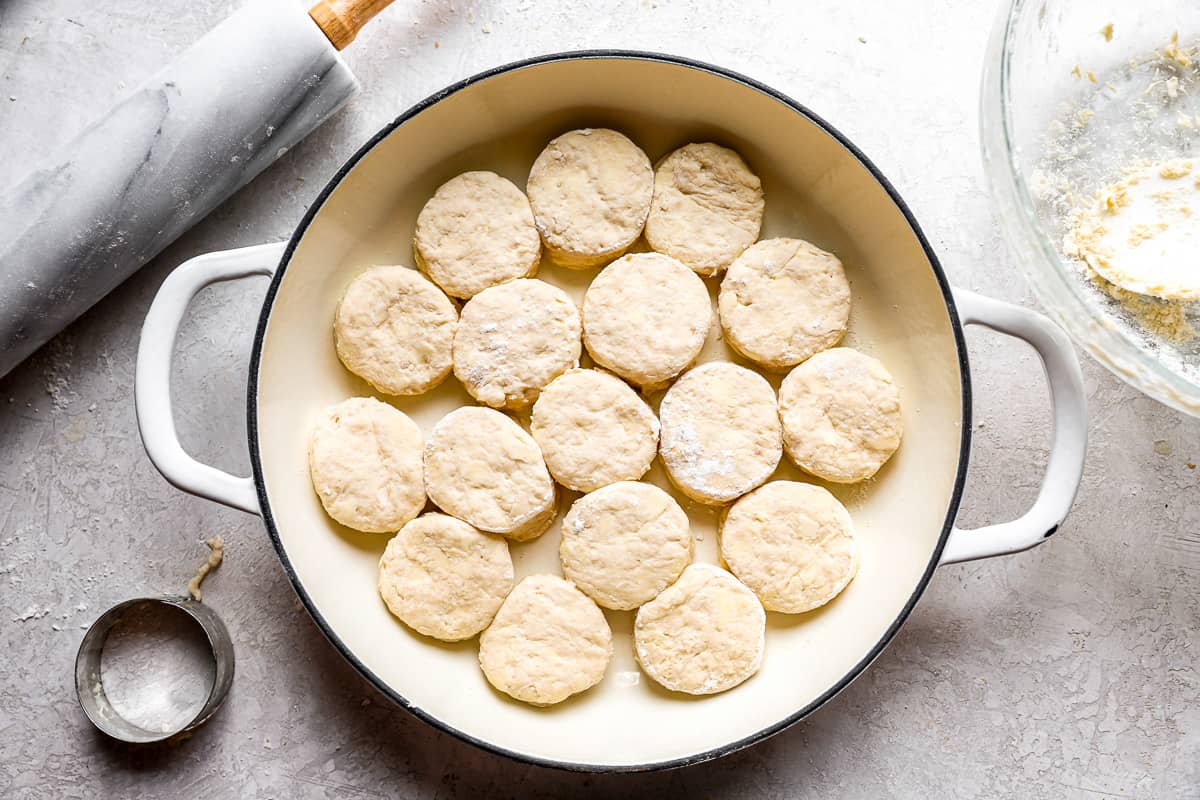 Brush and Bake: Brush the biscuits with ¼ cup of melted unsalted butter. Bake for 14-16 minutes until the biscuits are golden brown. Brush the biscuits with any leftover melted butter before serving.