Pull Apart Cheese Bread is an easy to make appetizer that the whole party will love! It's just what it sounds like – a loaf of crusty bread is sliced to pull apart and baked to perfection with two different kinds of cheese. There's also plenty of garlic butter to really send it over the top!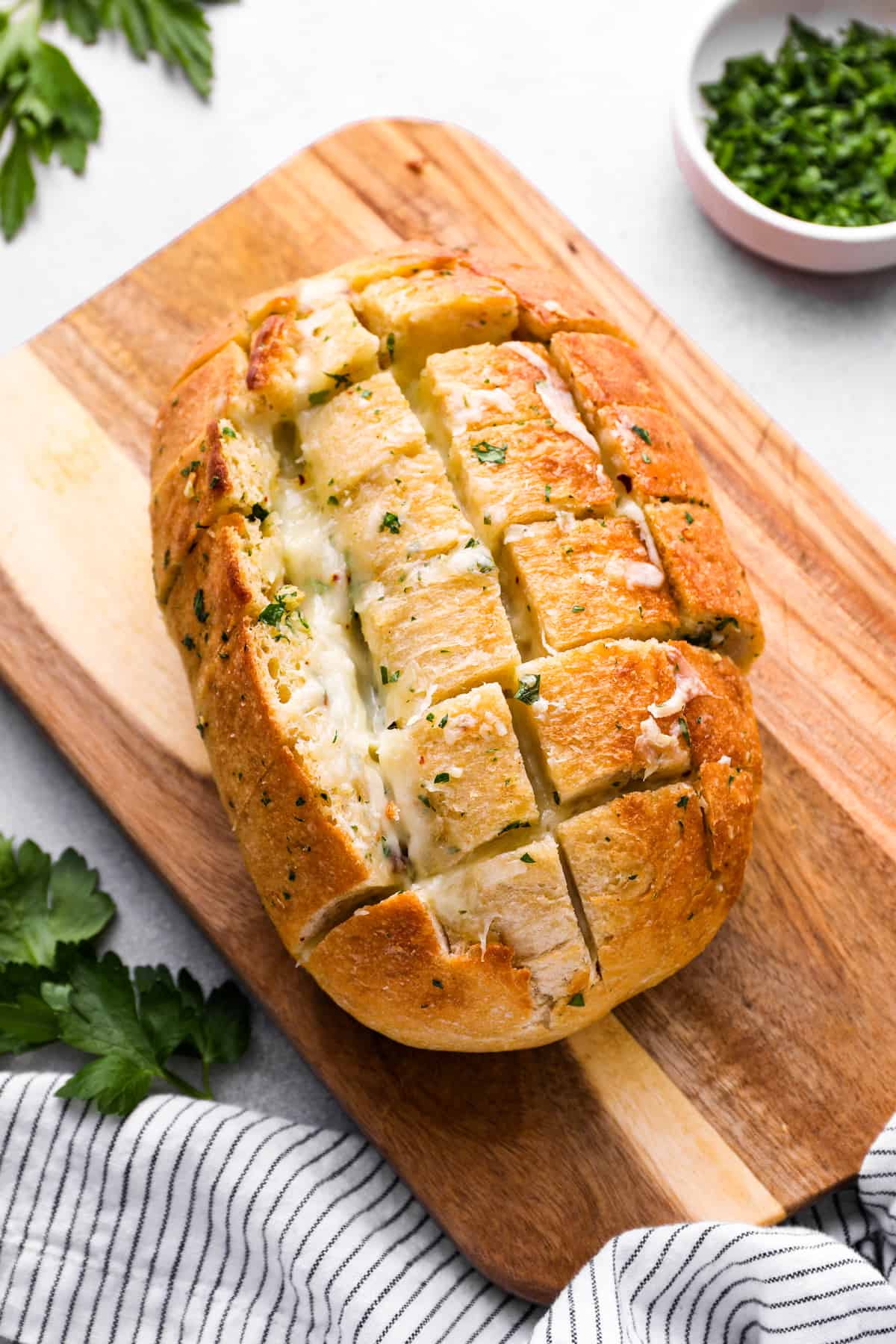 Cheesy Garlic Pull Apart Bread
Elevate your appetizer game with this Pull Apart Cheese Bread! Everyone at the party will be dying to get their hands on more than one bite, so you may even want to consider making a double batch. With a cheesy, garlicky bread this good, it's pretty impossible to not go back for more.
A loaf of crusty bread is sliced into the perfect pull apart pieces before being stuffed with cheeses and smothered with a flavorful garlic butter sauce. It gets baked in the oven for just a few minutes to create what might just be the BEST finger food ever! This is an easy recipe you'll love making for just about any occasion.
And of course it's great for pizza night or paired with your favorite pasta and wine.
Why You'll Love this Pull Apart Bread Recipe:
So Cheesy: Both mozzarella and fontina cheeses are stuffed in this bread to make it supremely cheesy. Be sure to really stuff it all into the bread for the best gooey pull!
Perfect for Parties: This pull apart cheese bread is always a huge hit at birthday parties, game days, and all other fun celebrations! Guests of all ages will love it.
Easy: Slice the bread, smother it with garlic butter, stuff it with cheese, bake, and enjoy. This is such an easy, cheesy, no-frills recipe!
The garlic butter is made delicious with ingredients like fresh garlic, aromatic parsley, and crushed red pepper flakes. It might just be my favorite part of the whole recipe… Well, except the cheese, of course. And the bread. Okay, I think I'm obsessed with the whole thing!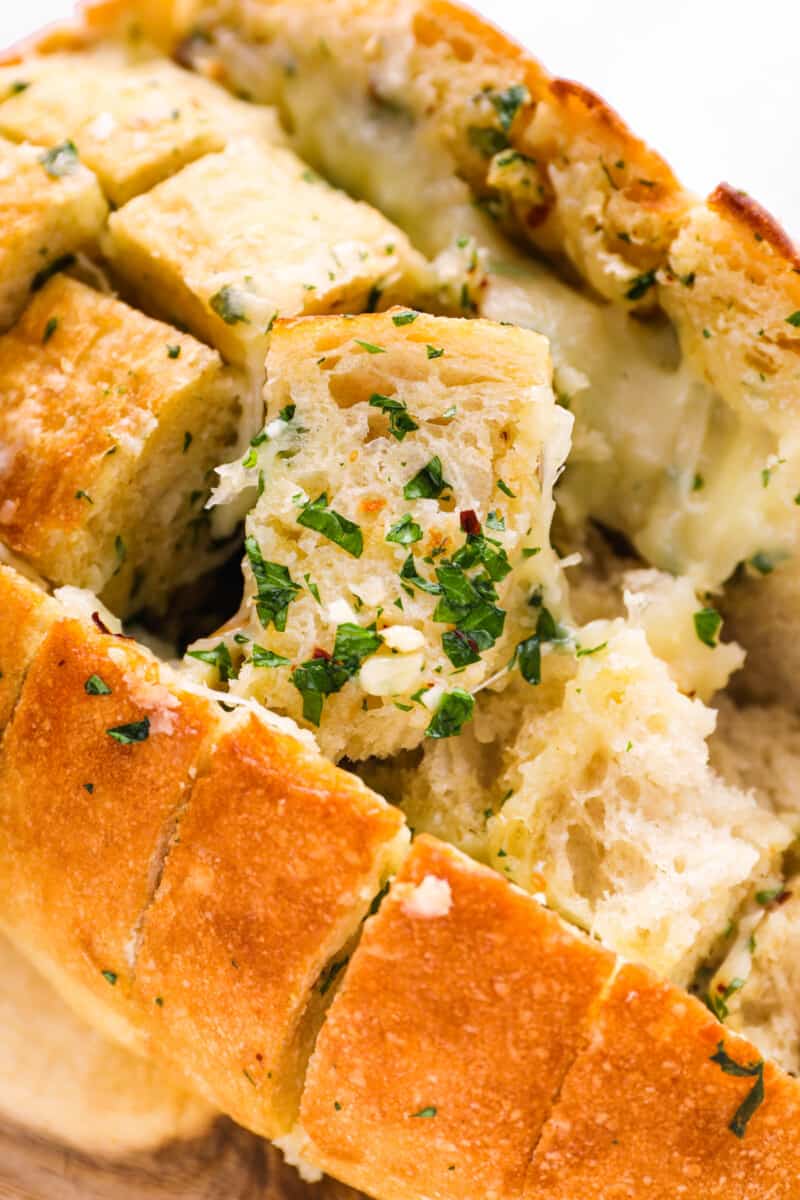 How to Make Pull Apart Cheese Bread
You can jump to the recipe card for full ingredients & instructions!
Make the garlic butter.
Slice the bread.
Brush the bread with the garlic butter.
Stuff the bread with the cheeses.
Wrap the loaf in foil and bake.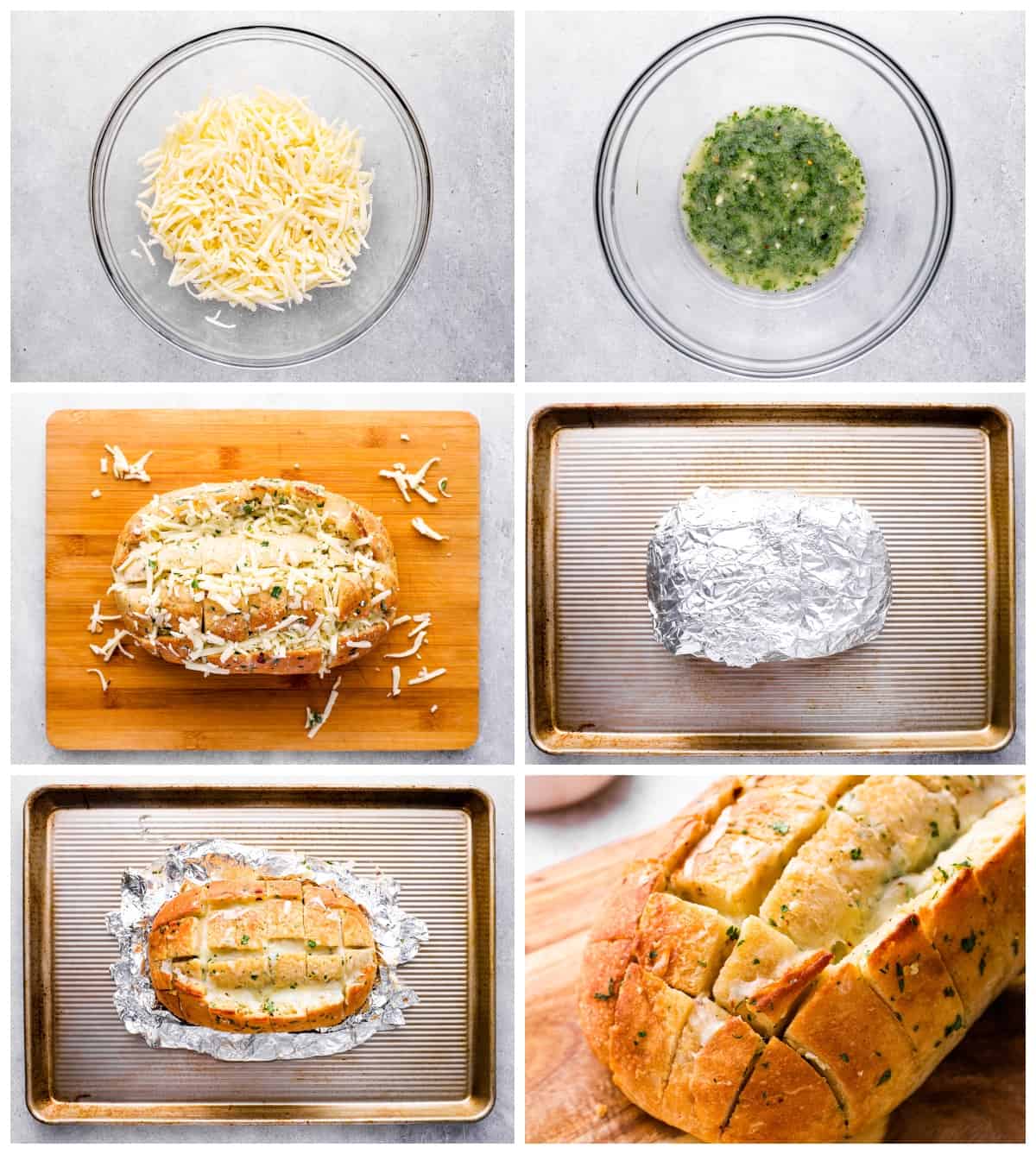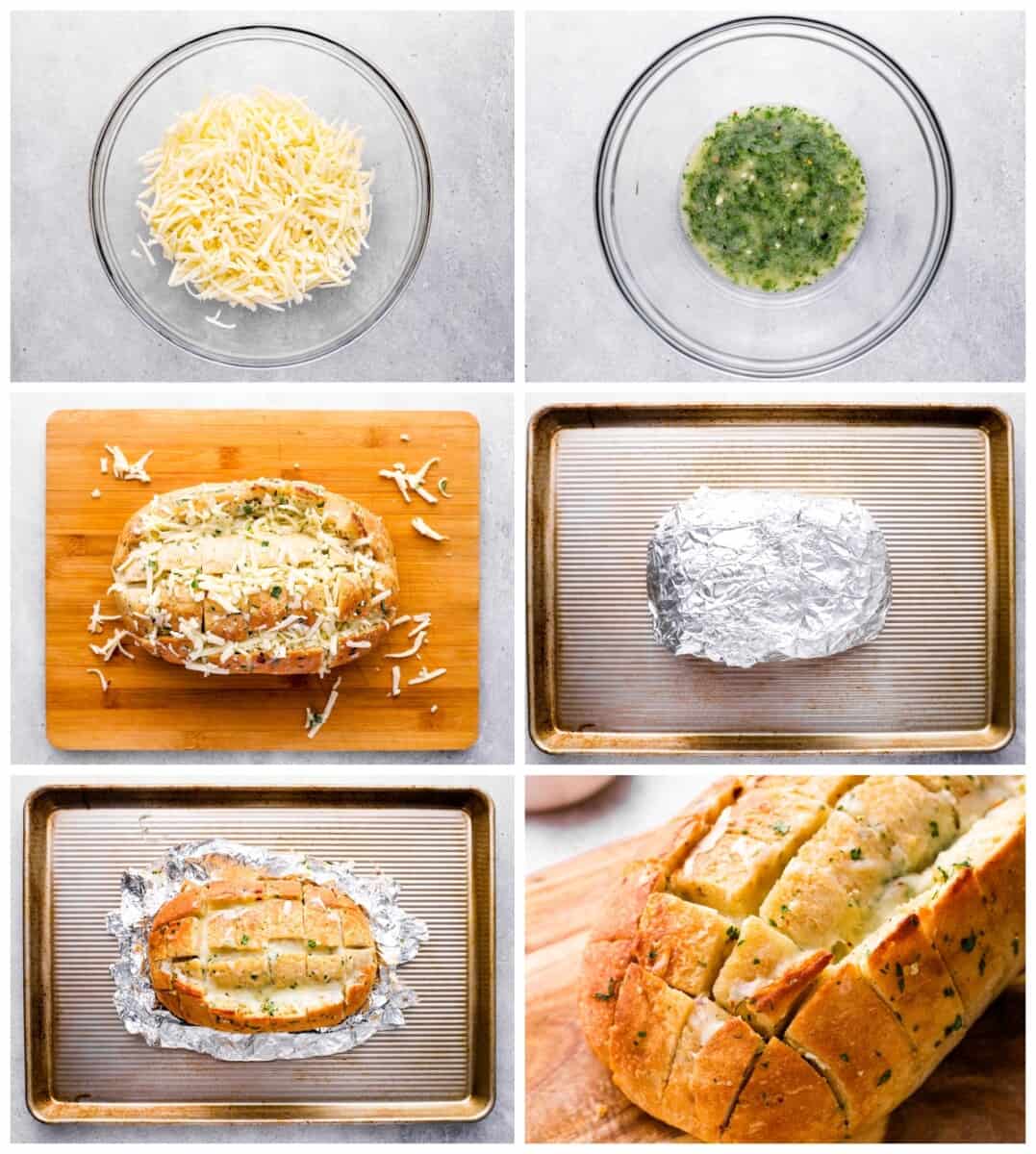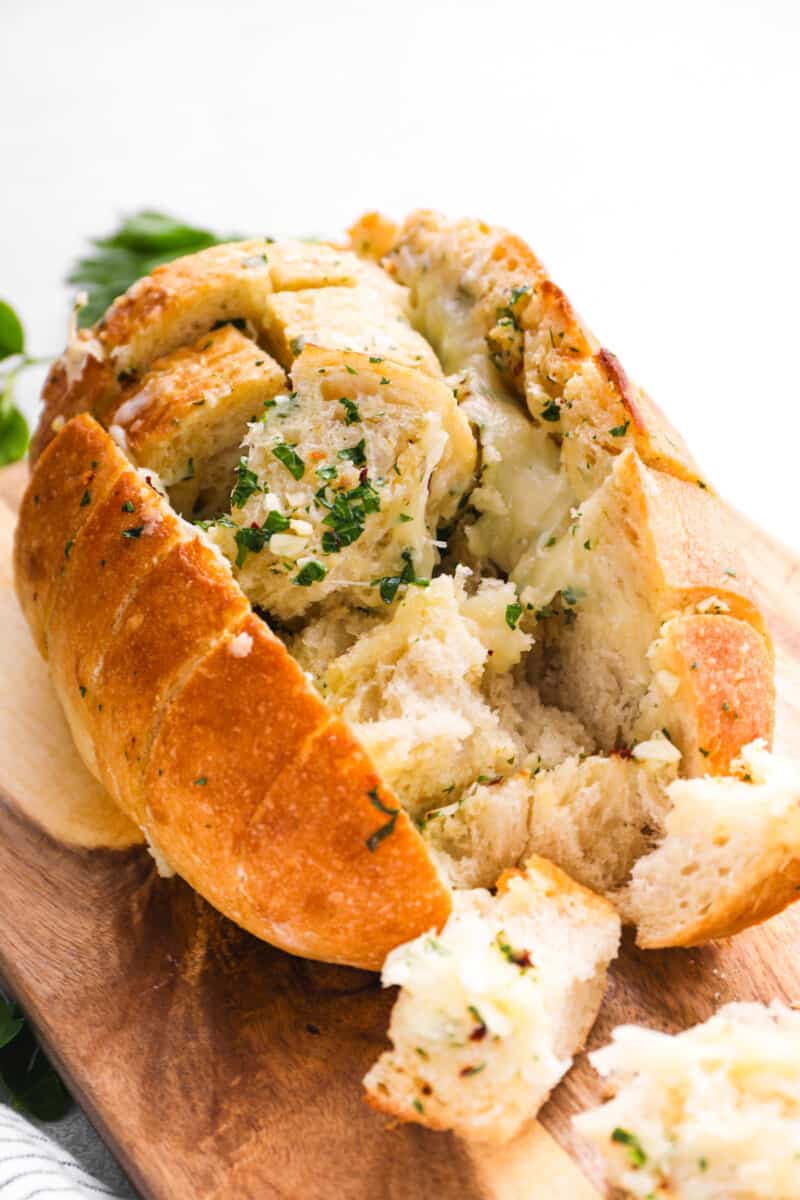 What is pull apart cheese bread?
Pull apart cheese bread is a fun, shareable appetizer made from bread sliced nearly all the way through and stuffed with garlicky butter and cheese!
Can I make pull apart cheese bread with oil instead of butter?
Absolutely! I recommend using olive oil for the best taste.
What is the best cheese for pull apart cheese bread?
I like to use a combination of mozzarella and fontina. I always recommend using mozzarella, but you could swap the fontina for cheddar cheese!
Can I make my own bread for pull apart cheese bread?
Absolutely! Using store-bought bread is a great time-saving hack, but you could use homemade bread instead!
Need to make this recipe a little more kid-friendly? Just omit those crushed red pepper flakes to make it better suited for younger guests. On the opposite side of that, you could always sprinkle in even more red pepper flakes to add a little extra spice!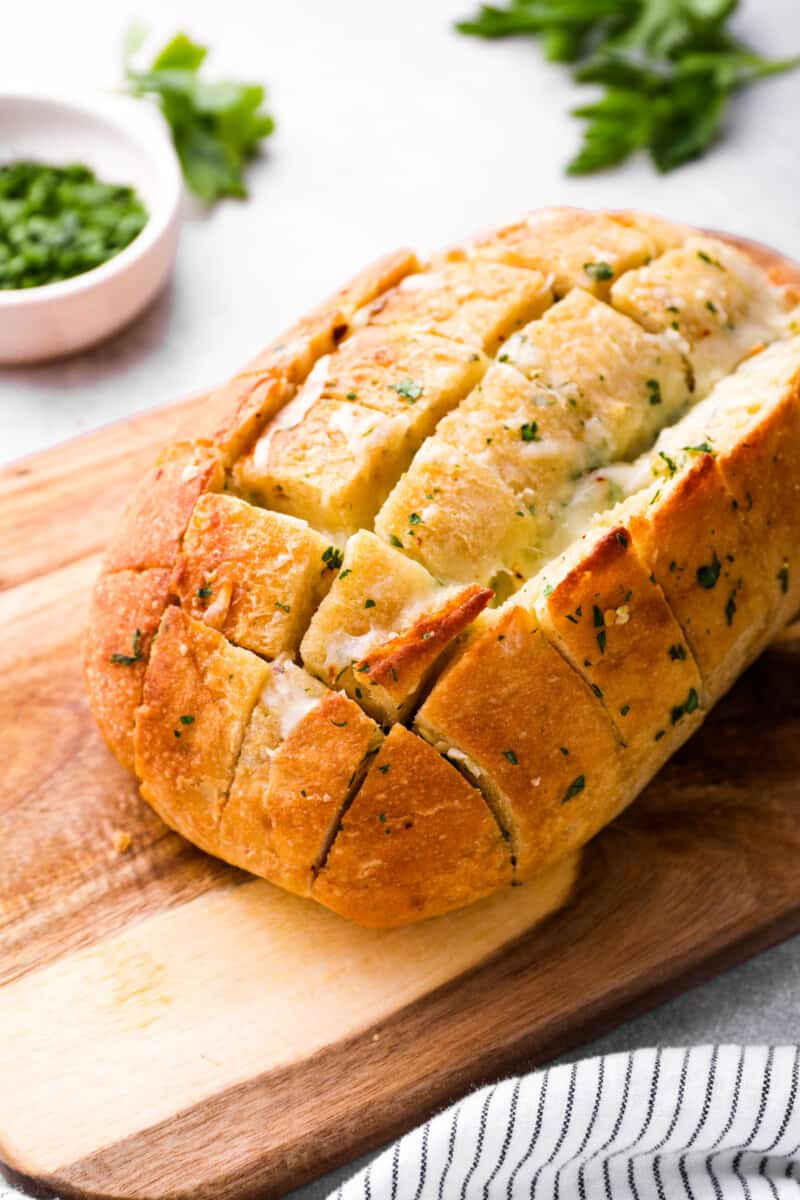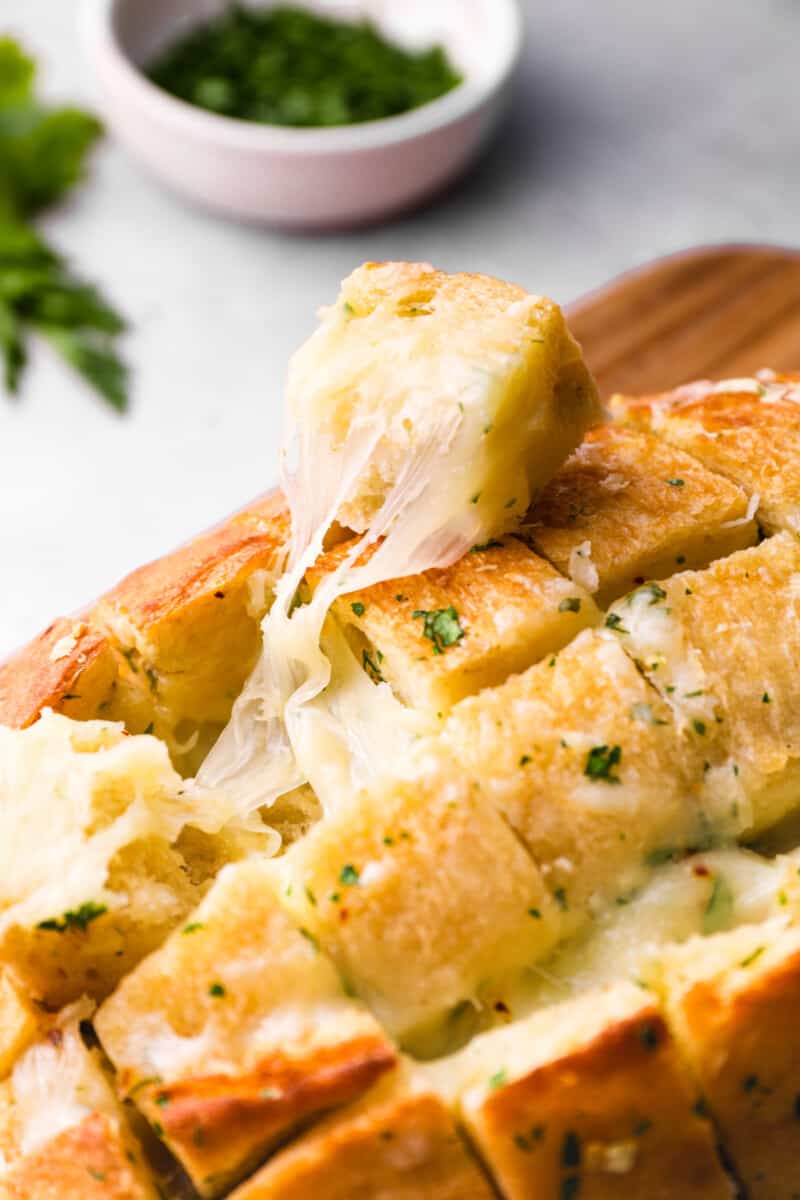 Make Ahead Instructions
To make pull apart cheese bread ahead of time, use room temperature butter (NOT melted); mix it together with the garlic, parsley, and red pepper flakes; smear it into the bread; stuff it with cheese; and wrap the bread in plastic wrap. Store it in the refrigerator until ready to bake.
Storage Instructions
Store leftover pull apart cheese bread wrapped in aluminum foil in the refrigerator for up to 3 days. Reheat in the microwave for 1-2 minutes, until the cheese has melted.
Freezing Instructions
Freeze pull apart cheese bread tightly wrapped in 2 layers of plastic wrap and 1 layer of aluminum foil for up to 6 months. Let thaw overnight in the refrigerator before reheating.
Substitutions
You can use homemade bread in place of store-bought.
You can use olive oil in place of the butter.
Try another herb like thyme, basil, or dill in place of the parsley!
You can use cheddar cheese in place of the fontina.
Tips for the Best Pull Apart Cheese Bread
Use a dense loaf of bread, such as sourdough, so that the bread won't fall apart too easily.
Make sure not to slice all the way through the bread; otherwise, the butter will leak out and pool at the bottom.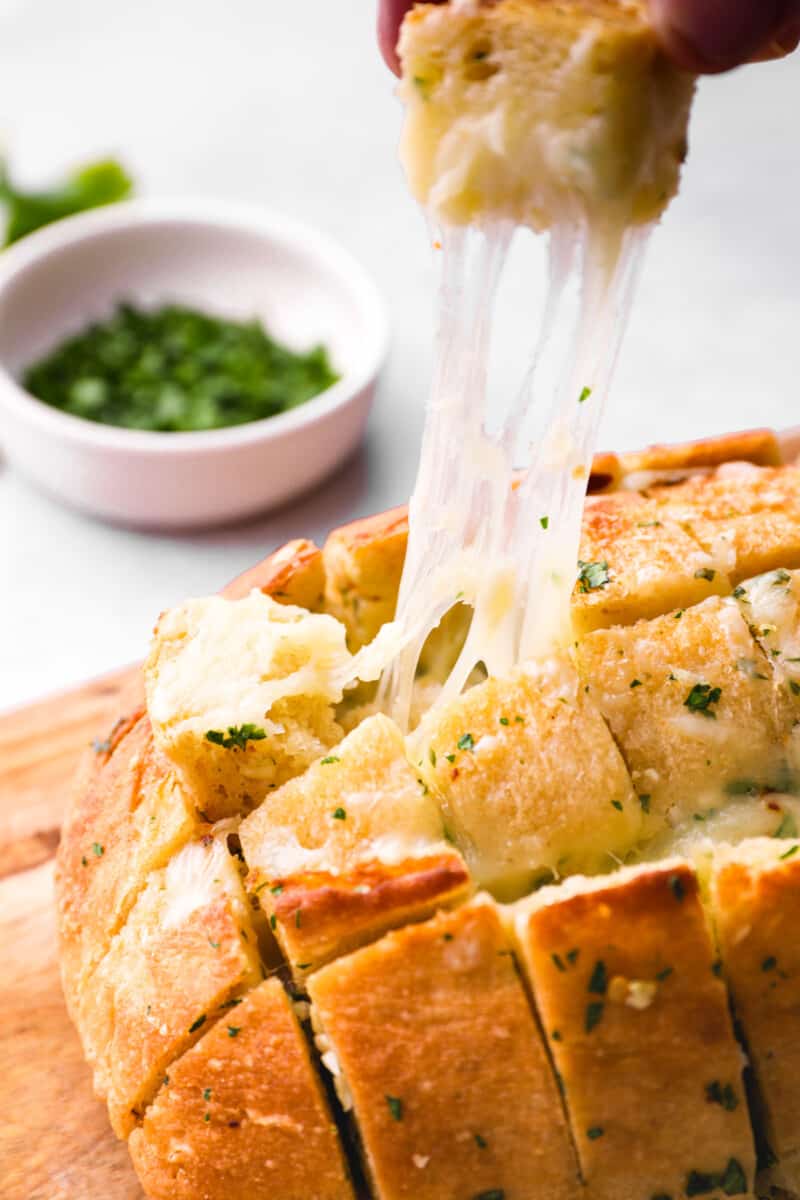 With just about 10 minutes of prep time needed, this Pull Apart Cheese Bread is definitely what I'd call hassle-free! Soft bread with crunchy crust is made delicious with lots of cheese and savory garlic butter. You'll be tempted to lick your fingers after just about every bite!
If you make this recipe be sure to upload a photo in the comment section below or leave a rating. Enjoy! You can also jump to recipe.