This easy No-Knead Focaccia is the perfect bread for any beginner baker! This recipe is delicious, impressive, and super simple. Anyone can make this cheesy homemade focaccia bread.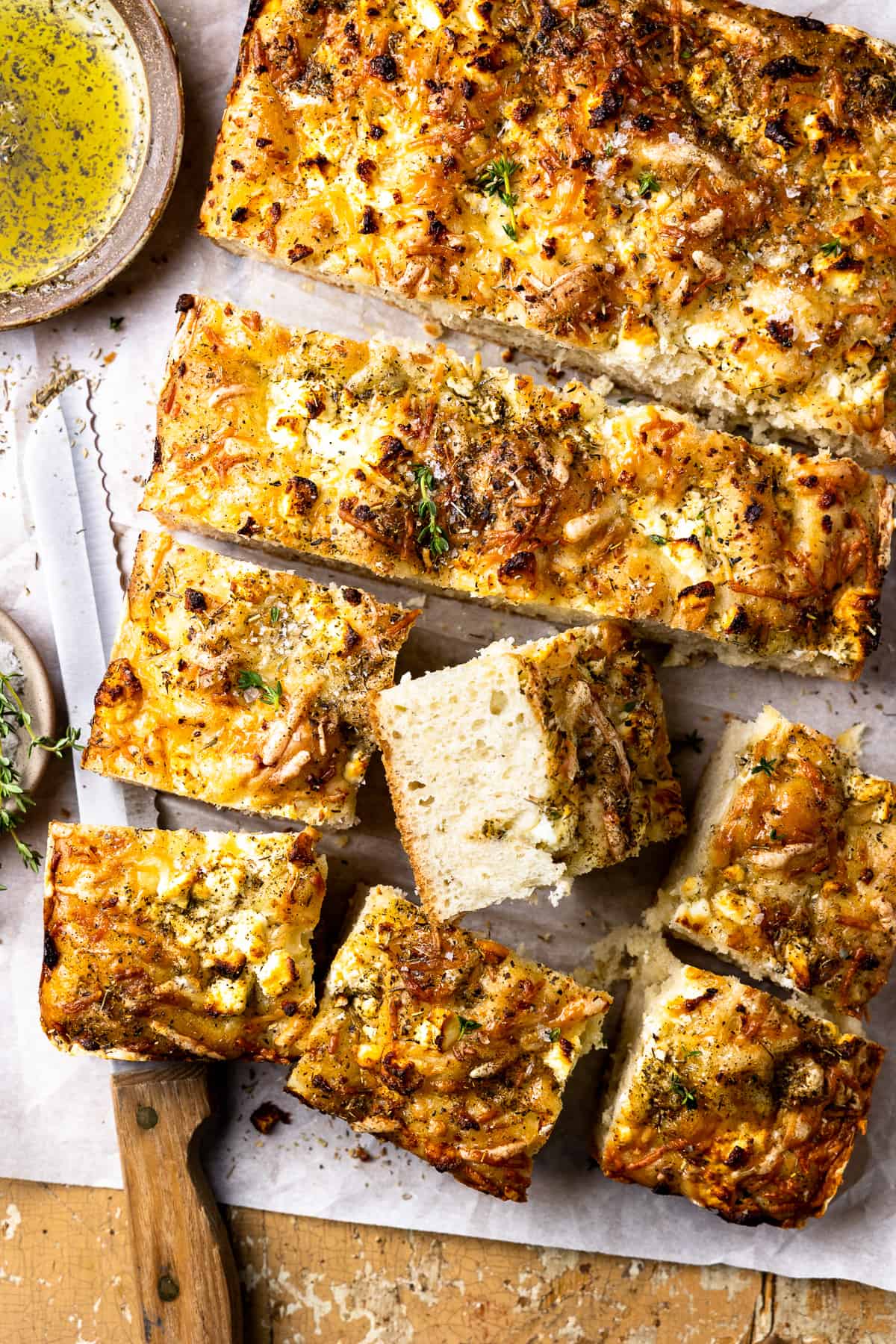 What's in Easy Focaccia?
I love my classic focaccia recipe, but this three cheese focaccia bread just adds the most delicious touch to dinner. If you love cheese as much as I do, you will devour this bread so fast. I used three different cheeses for the ultimate flavor.
Flour: This recipe is designed to work with all-purpose flour. For chewier focaccia bread, you can swap some or all of the flour for bread flour.
Yeast: Helps the bread to rise. I used rapid-rise yeast to speed up the process, and it made this recipe so much easier!
Sugar: Feeds the yeast so it can make plenty of those gorgeous bubbles!
Salt: Gives this focaccia bread a good base of flavor. I like to use kosher salt. If using a different finer-grain salt (like sea salt or table salt), use half as much by volume or the same amount by weight.
Water: Moistens the dough.
Olive Oil: I like to use extra virgin olive oil since it is a dominant flavor in the bread.
Italian Seasoning: Use any brand from the store, or make your own with this homemade Italian seasoning recipe.
Cheese: I used a mix of three cheeses: Parmesan, Mozzarella, and Feta. (You could substitute other cheeses if you prefer. Asiago would make a great addition!)
Pro Tip: If you use active dry or instant yeast, your dough will need to rise for about 1 hour for each of the two rises.
Variations on Topped Focaccia
There are so many ways to change up this cheesy focaccia. Swap the cheeses for your favorites to customize this bread to your tastes. Try adding several cloves of minced garlic to the dough for cheesy garlic focaccia. You can also add minced garlic or red pepper flakes to the last 2 tablespoons of olive oil for even more flavor. Try different fresh or dried herbs, such as sage, thyme, or oregano instead of Italian seasoning.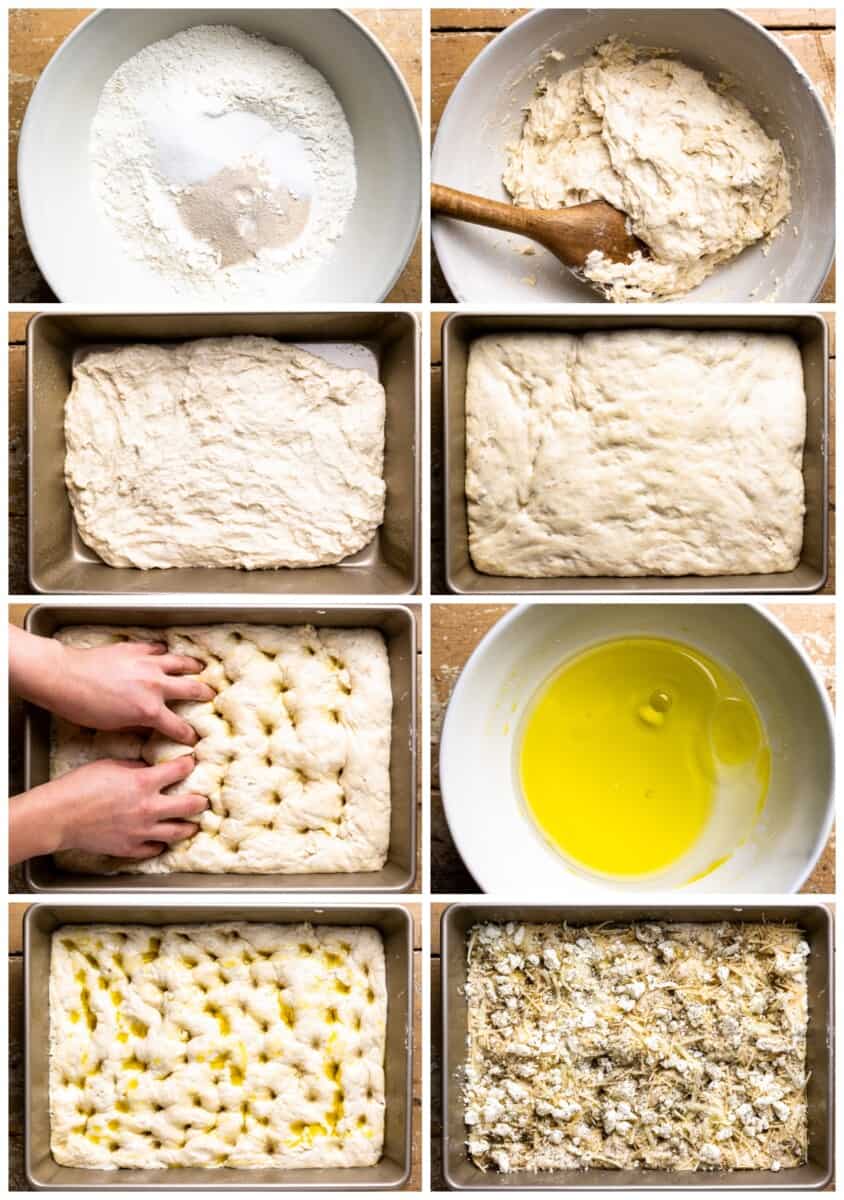 How is focaccia different from other breads?
While focaccia bread is made with the same staple ingredients as traditional breads, it contains more yeast for a fluffier texture and is dimpled to seal in moisture. It is also generously coated with olive oil for a rich taste!
What yeast should I use?
I recommend using some kind of instant yeast (aka rapid-rise yeast or quick-rise yeast) for this cheese focaccia recipe. It will make things go so much faster. Waiting for the dough to rise is the longest part of the recipe, so this secret ingredient makes it much easier. Using it was as easy as the package said. No testing required. You can mix it right in with your dry ingredients. It worked like a charm.
Can I use different cheeses?
Absolutely! I'd say use your favorite cheese or mix of cheeses here. I love Parmesan, mozzarella, and feta. Cheddar, Asiago, or gouda would also be good!
Why is my focaccia bread dense?
Dense or heavy bread is usually caused by under- or over-proofing. Be sure to proof the dough until it has doubled in size. If your dough is properly proofed, it should slowly spring back when pressed with one finger. If it springs back too quickly, it is under-proofed. If it does not spring back at all, it is over-proofed.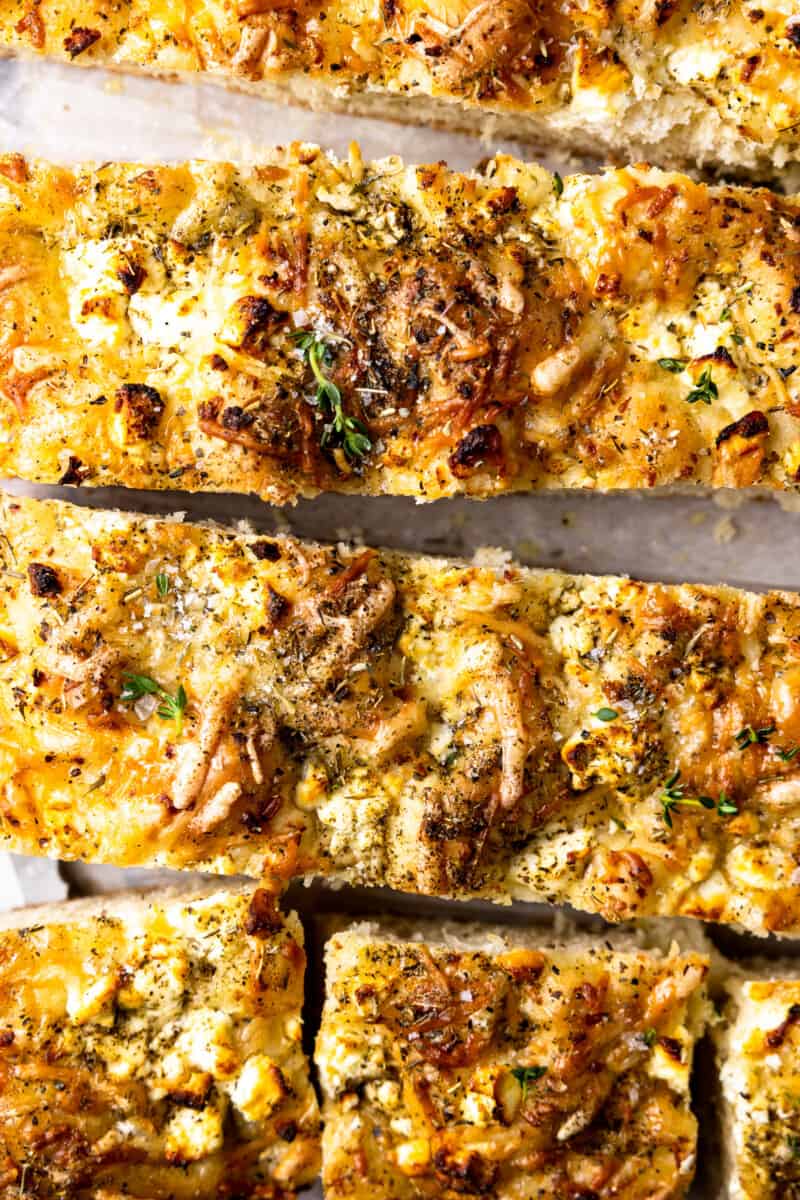 How to Make Ahead and Store Quick Focaccia
To make this cheesy focaccia bread in advance, follow the recipe through step 5, storing the dough tightly covered in the refrigerator overnight instead of on the counter for 30 minutes. The next day, unwrap the dough and let it come to room temperature for 10-15 minutes before continuing with the recipe as written.
Store leftover no knead focaccia in an airtight container at room temperature for up to 2 days.
How to Freeze and Reheat Cheese Focaccia Bread
Freeze no knead focaccia cut into individual slices wrapped in 2 layers of plastic wrap and 1 layer of aluminum foil for up to 1 month. Let thaw overnight in the refrigerator before reheating loosely wrapped in aluminum foil in a 350°F oven for 10-15 minutes.
What to Serve with Cheesy Focaccia
This no knead focaccia is the perfect appetizer before a delicious meal. It's great with Italian classics like Dutch Oven Lasagna, Cheesy Italian Stuffed Shells, Chicken Fettuccine Alfredo, or Pesto Baked Rigatoni. Use it as the bread for your next sandwich, or cube it into croutons for a salad. This bread is perfect for soaking up extra olive oil or sauces from your dinner. So add it to your plate and dip away!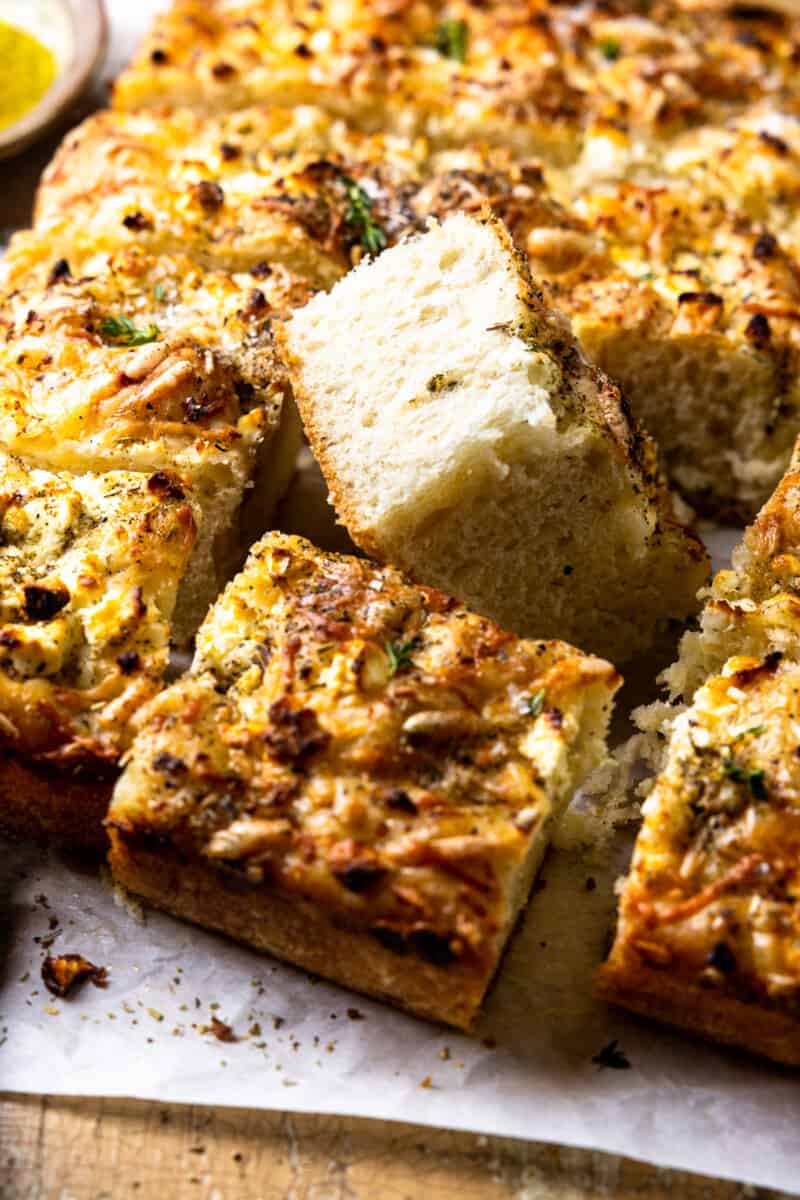 More Focaccia Bread Recipes We Love