This EASY Three Cheese Focaccia is the perfect bread for any beginner baker! This recipe is delicious, impressive, and super simple. Anyone can make this cheesy homemade focaccia bread.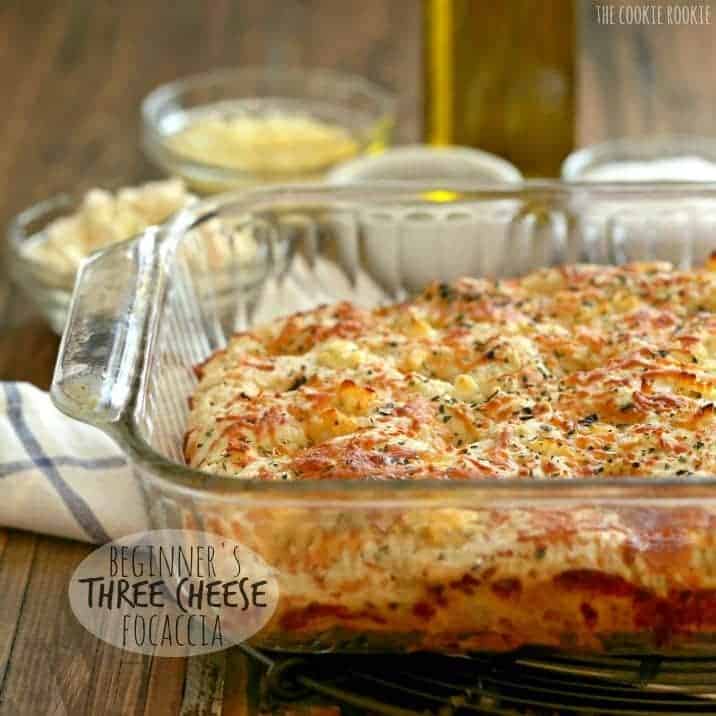 Bread is the perfect addition to any meal, especially when it involves cheese! I love my classic focaccia recipe, but this Three Cheese Focaccia Bread just adds the most delicious touch to dinner.
Why You Should Make This Cheese Focaccia Bread
Easy Homemade Bread – Making bread at home has never been easier! If you're new to breadmaking, this is a great place to start.
So Much Cheese – If you love cheese as much as I do, you will devour this bread so fast. I used three different cheeses for ultimate flavor.
Finish Any Meal – This cheesy bread truly goes with any meal. Make it for weeknight dinners with pasta, chicken, or anything you like. Serve it before the meal as an appetizer, or alongside your main dish.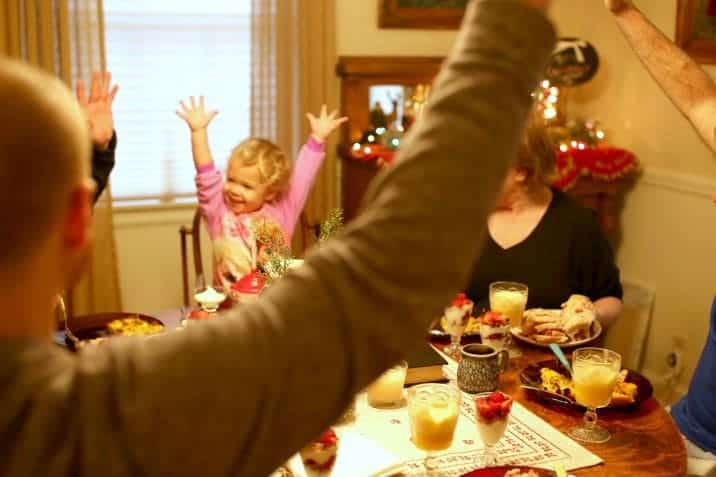 Ingredients List
Here's what you'll need for this easy focaccia recipe!
Flour
Sugar
Salt
Water
Yeast – I used a rapid rise yeast to speed up the process, and it made this recipe SO much easier!
Extra Virgin Olive Oil
Italian Seasoning – Use any brand from the store, or make your own with this homemade Italian seasoning recipe.
Cheese – I used a mix of three cheeses: Parmesan, Mozzarella, and Feta. (You could substitute other cheeses if you prefer. Asiago would make a great addition!)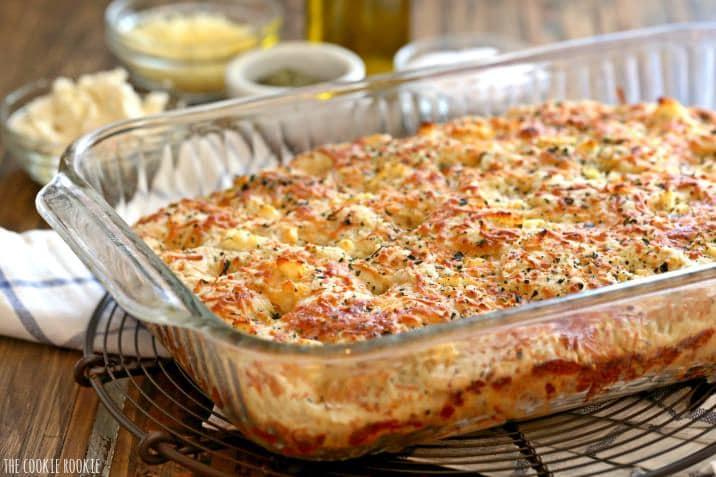 What yeast should I use?
I recommend using some kind of instant yeast (aka rapid-rise yeast or quick-rise yeast) for this cheese focaccia recipe. It will make things go so much faster. Waiting for the dough to rise is the longest part of the recipe, so this secret ingredient makes it much easier.
Using it was as easy as the package said. No testing required. You can mix it right in with your dry ingredients. It worked like a charm.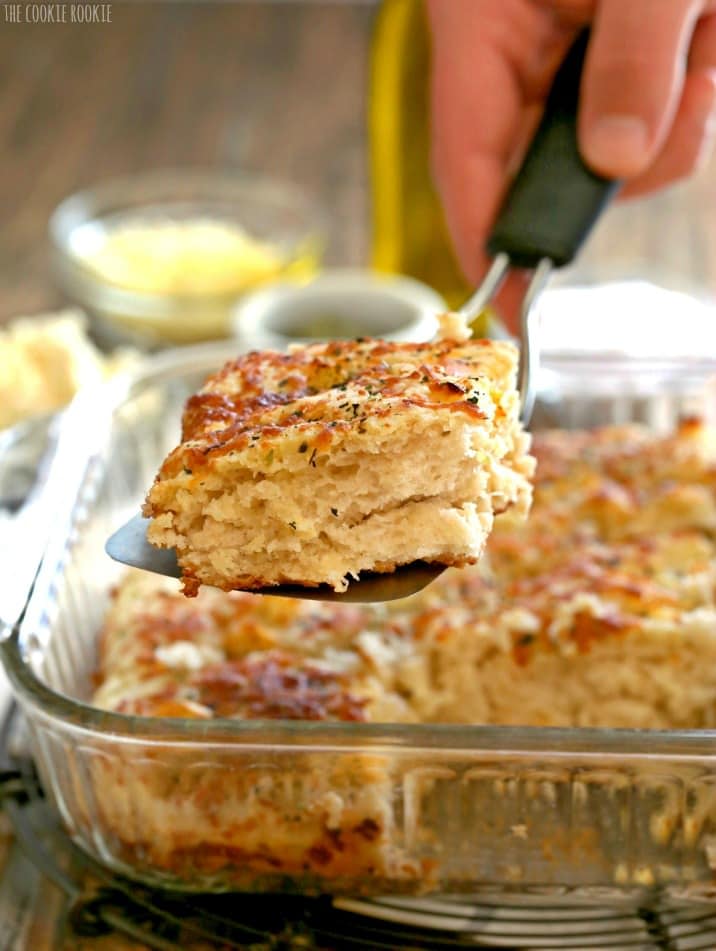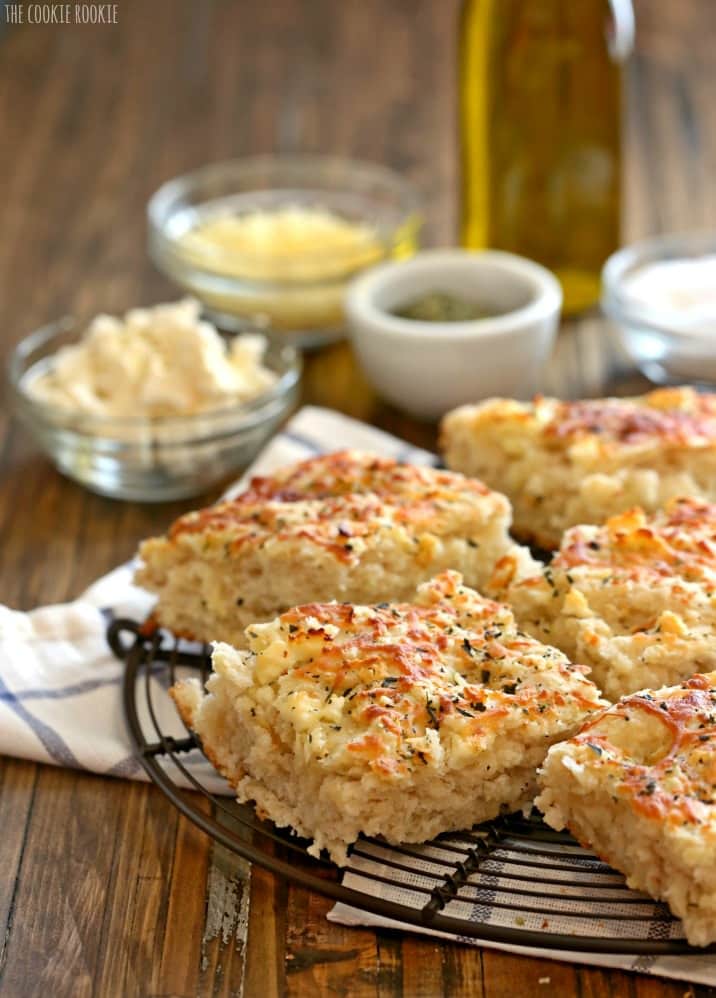 How to Make Cheese Focaccia Bread
Let's break down this recipe step by step so you can see just how easy this delicious bread can be. Be sure to check the recipe card below for the full detailed instructions.
Mix yeast into your dry ingredients.
Combine olive oil with very warm water. Tip: The water should be between 120-130°F. Very warm to the touch but not scalding hot. Best way to do this is heating it in the microwave for about 15 seconds.
Add warm water to the dry ingredients and stir until a dough forms, then place dough in greased pan.
Allow the dough to rise in a warm place.
Bake 30-35 minutes at 375°F.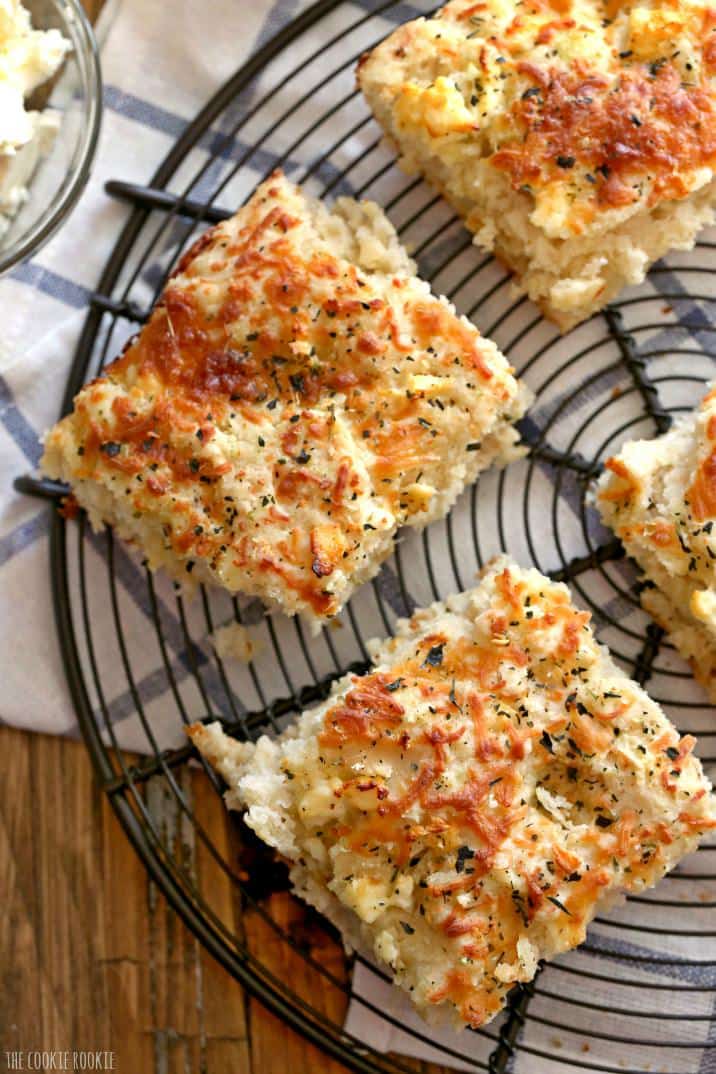 Tips for Rising the Dough
Once the dough is in the pan, it's time to let it rise. Here are some tips on how I did it with this cheese focaccia.
Use a thin kitchen towel to place on top of the pan.
Place the pan of dough in a warm place to rise. You want it to double in size.
A good way to speed up the rising process is to use your oven. I set our oven on 200°F for 2-3 minutes and then turned it off, let it sit 5 minutes, and then placed the bread inside to rise. It worked great!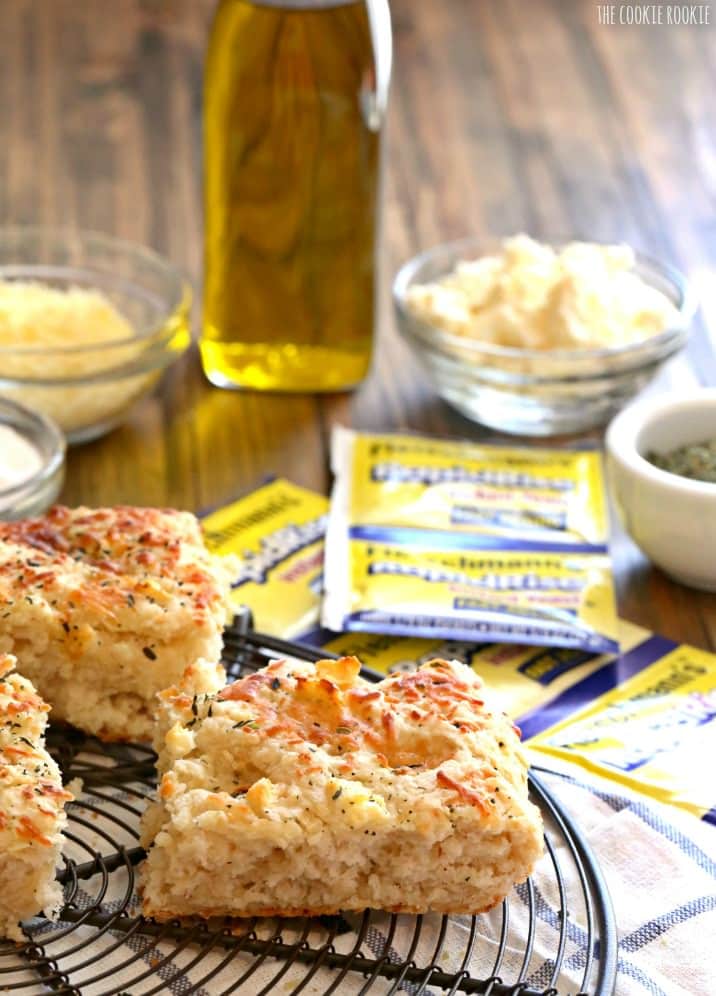 I can't wait for you and your family to try this super easy cheesy focaccia bread recipe! Whether you serve it as an appetizer or side dish, everyone will devour it and ask for more.
Here are a few recipes I recommend serving this bread with: