This EASY Three Cheese Focaccia is the perfect bread for any beginner baker! (LIKE ME!) Delicious, impressive, and super simple! Anyone can make homemade bread. If I can do it, you can do it!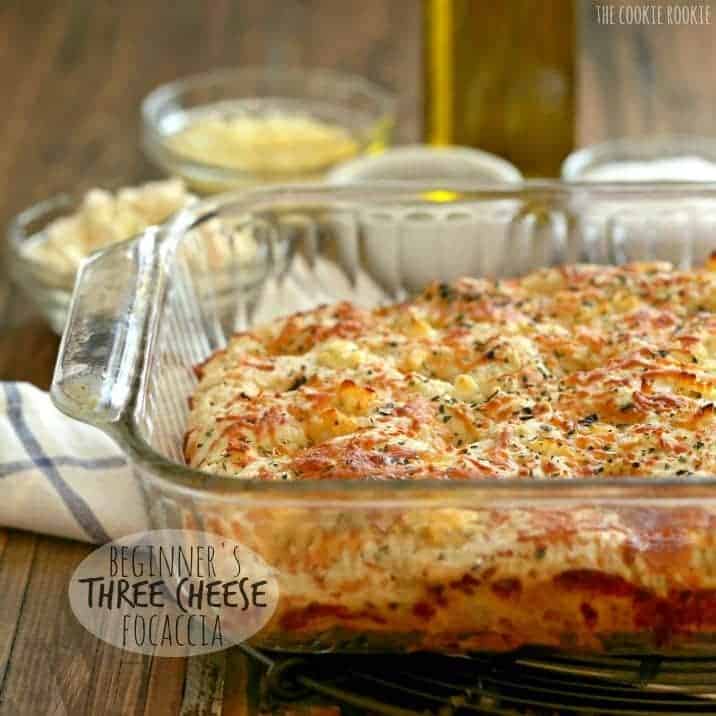 We went up to Kirksville (middle of nowhere, Missouri) for Christmas to visit my parents. It was a perfect weekend of playing "Password", tormenting my niece Desdi, and eating my mom's AMAZING FOOD. You guys…the food. I am very lucky to have my mother as a mother. It's partly why it took me so long to learn how to cook. I was so content letting her feed me, I never learned for myself. She made the most amazing desserts, and also literally the best meal I've had in my life. Black Pepper Beef Tenderloin. She hasn't posted it yet on Simply Sated, but let's all hope she does soon. I wanted to take home leftovers, but my brother's dog ate them all. We all almost cried. It was so so so amazing. "Everyone who thinks Doozie made a good meal, hold up your hands!"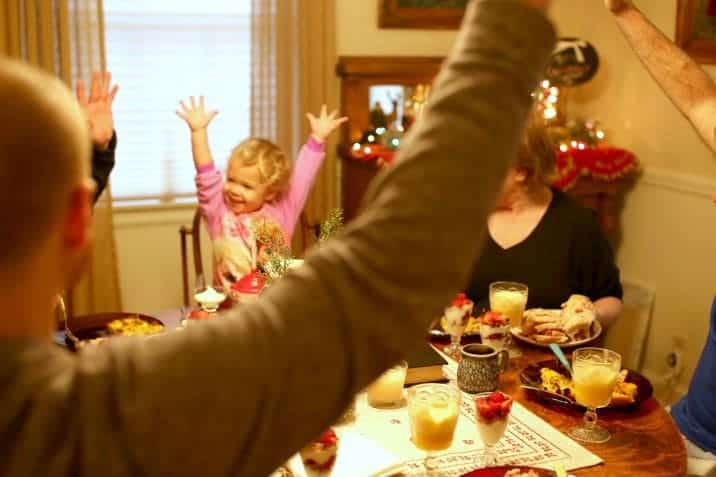 I may not have contributed much food-wise to Christmas in Kirksville (can you blame me???), but I did MAKE BREAD!!!! If that doesn't shock you, it should. I have only made two cakes in my life, and have never made bread. Baking is coming to me slowly but surely. I have always been scared to try it. Why was I so scared??
Is it possible that this delicious Beginner's Three Cheese Focaccia was both easy and delicious??
Not intimidating at all? Quick? Yes. All of those things are possible. I know, I was shocked too.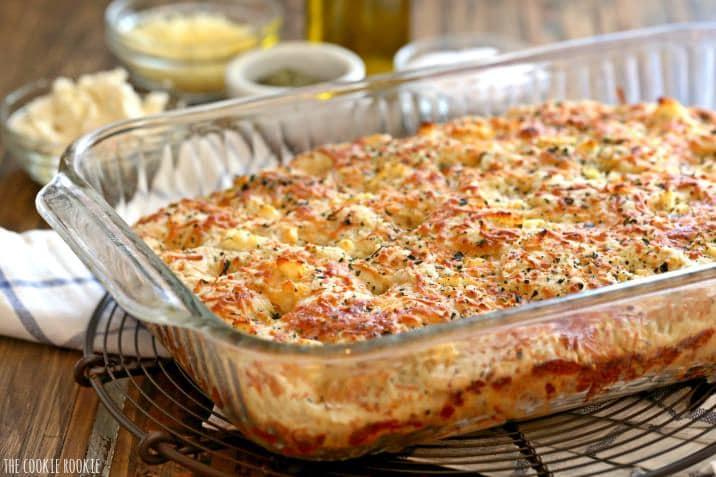 When I first was given Fleischmann's® RapidRise® Yeast…I wasn't sure what to think. My sister-in-law is a MASTER baker, and I've watched her test the yeast, slave over the perfect pie crust or cinnamon rolls, wait forever for yeast to rise. I didn't believe that the process for this Three Cheese Focaccia could be quick and easy. To be honest, that's what kept me away from bread making. The time. I'm into easy, not complicated. I was SO pleasantly surprised by this RapidRise yeast. It was as easy as the package said. No testing required. You can mix it right in with your dry ingredients. It worked like a charm. I was filled with pride! Look at that tasty, crusty, Three Cheese Focaccia! I made that!!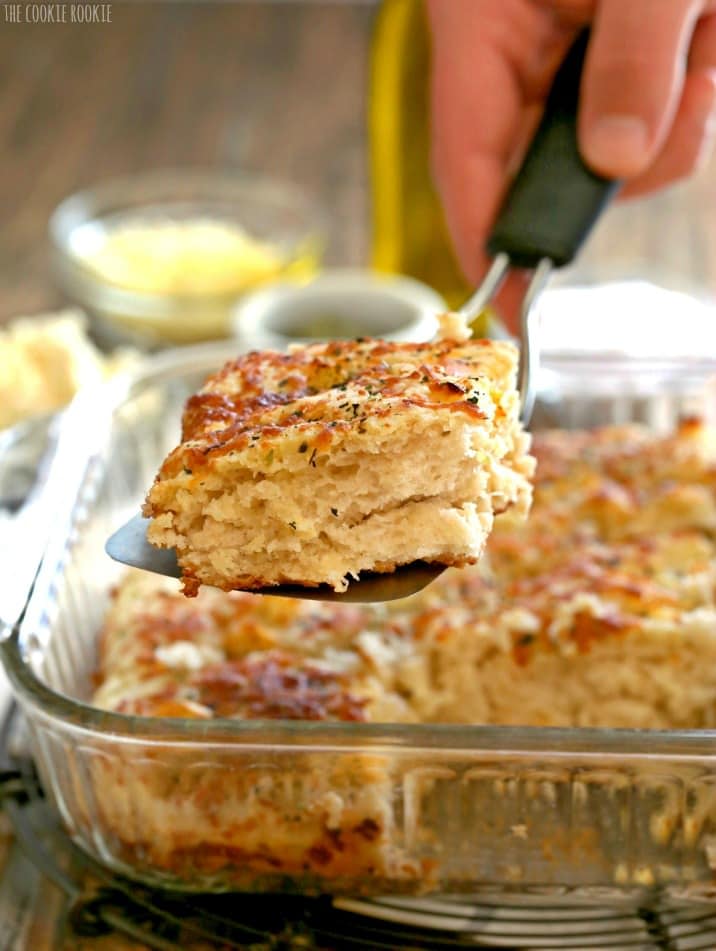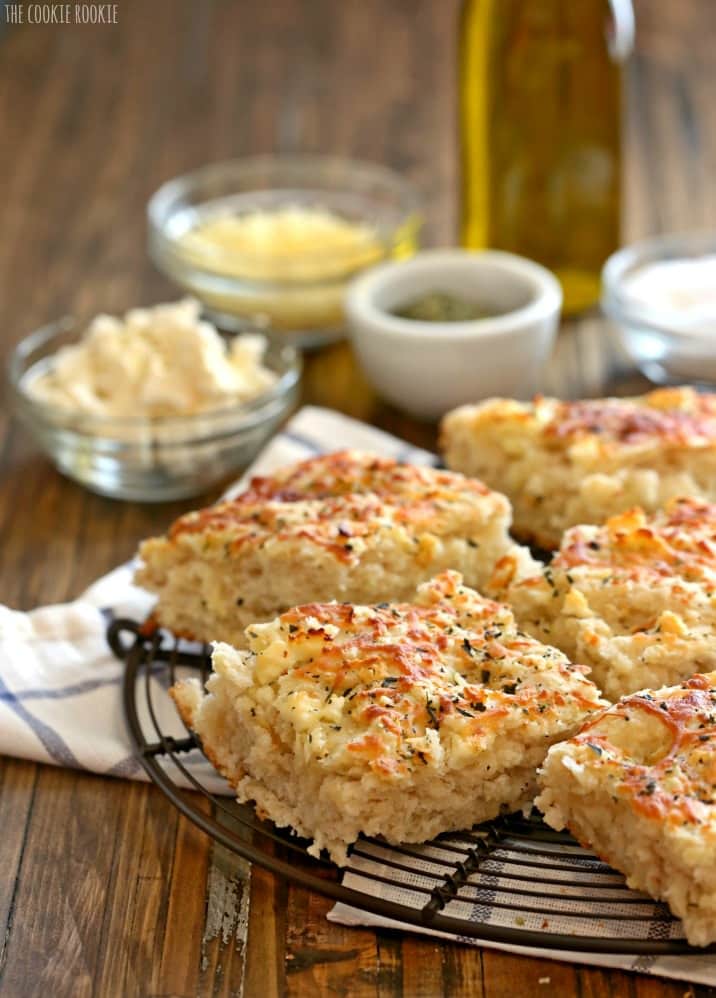 Let's break down the steps so you can see just how easy this delicious bread can be.
1) Mix your yeast into your dry ingredients (detailed below)
2) Combine with very warm water (Bread World has some AWESOME tips about this. Click HERE to see them all. The water should be between 120-130F…very warm to the touch but not scalding hot)
3) Allow the dough to rise in a warm place. We placed our oven on 200F for 2-3 minutes and then turned it off 5 minutes before placing the bread inside to rise.
4) Bake according to recipe
5) Enjoy Enjoy Enjoy!
Easy, right?? I know. I'm shocked too.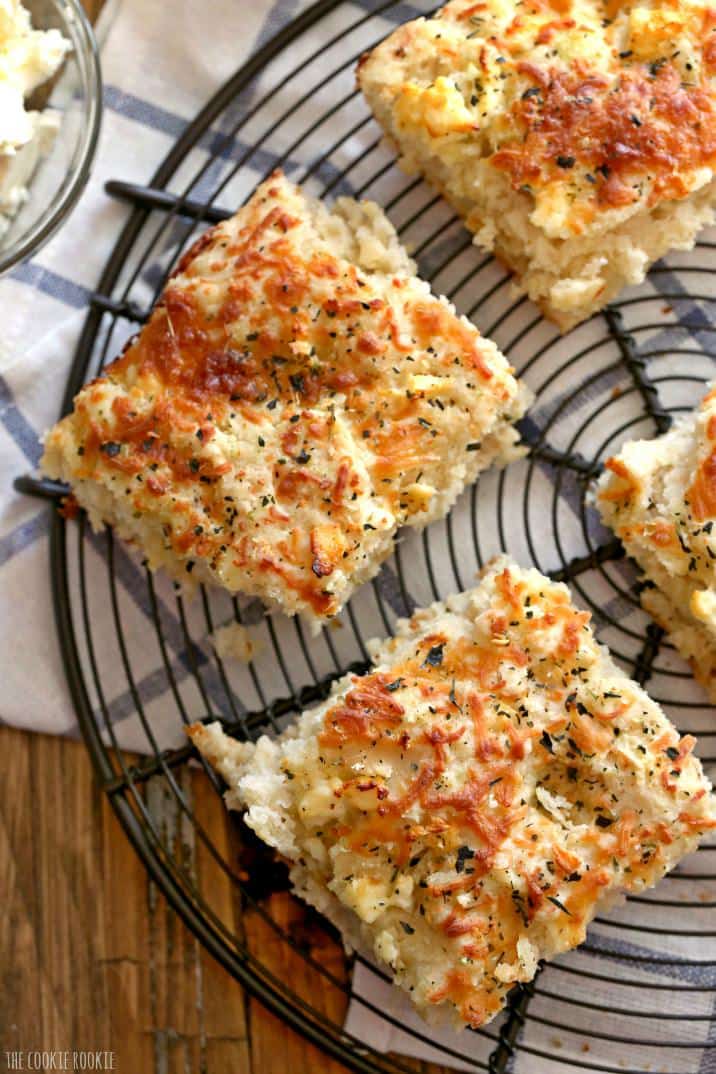 I saved this recipe to make with my mom over Christmas weekend (because I was scared to make it alone). I really shouldn't have been scared. Take the leap, it's SO easy! I can't wait to try more recipes for beginners, and maybe eventually even step it up to harder recipes! (NOT YET) You can find lots of fool-proof delicious recipes on Bread World HERE. I modified their Beginner's Focaccia by adding lots of cheese (duh.) Can't go wrong there!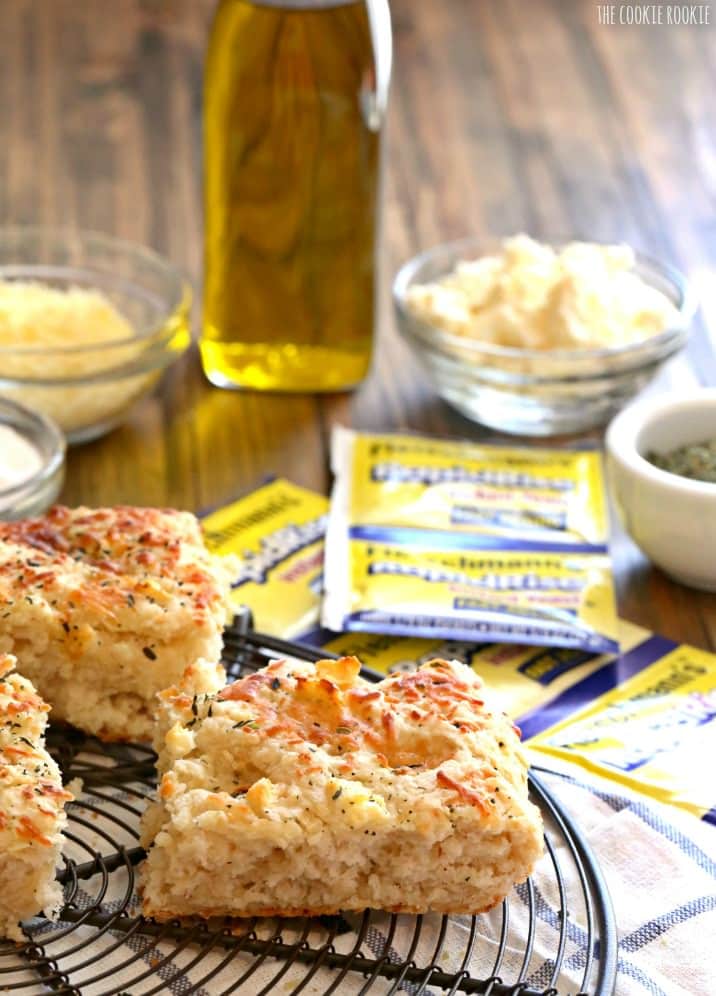 Enjoy!