Pumpkin Muffins are the perfect fall treat! Nothing says autumn like pumpkin, and these Pumpkin Spice Muffins are my absolute favorite. This easy pumpkin muffins recipe is sweet and flavorful. Eat these for breakfast, for dessert, or serve them at holiday parties to get in the spirit!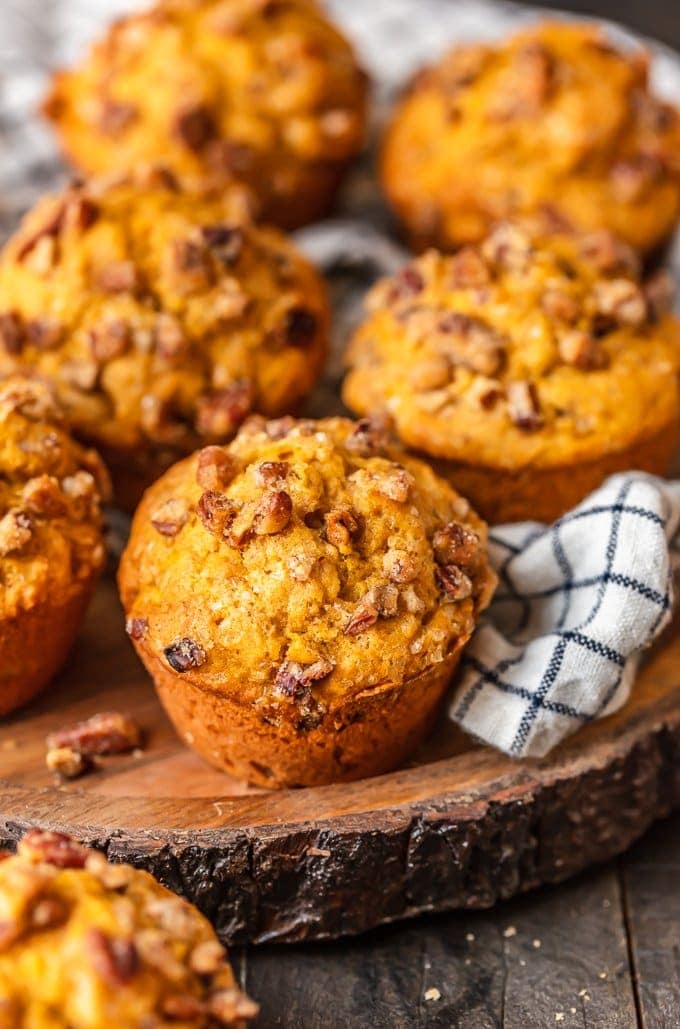 Pumpkin Muffins Recipe
This Pumpkin Muffins recipe is THE best thing to serve this fall. I love baking in autumn because it adds so much comfort and warmth when the days start getting chilly. And fresh-baked muffins just taste so good!
Pumpkin Spice Muffins are such a tasty treat that everyone will love. The muffins have the perfect pumpkin spice flavor, and honey roasted pecans are baked in to add the perfect crunch. There's so much flavor to savor in this easy muffins recipe!
Make a batch of these to eat for breakfast, for dessert, or just to grab on the go for a quick snack. They're so versatile and taste good any time of day! They are also a great fall recipe to bring to parties, make for family, or to add on to the holiday dessert table. There's never a bad time for pumpkin this season!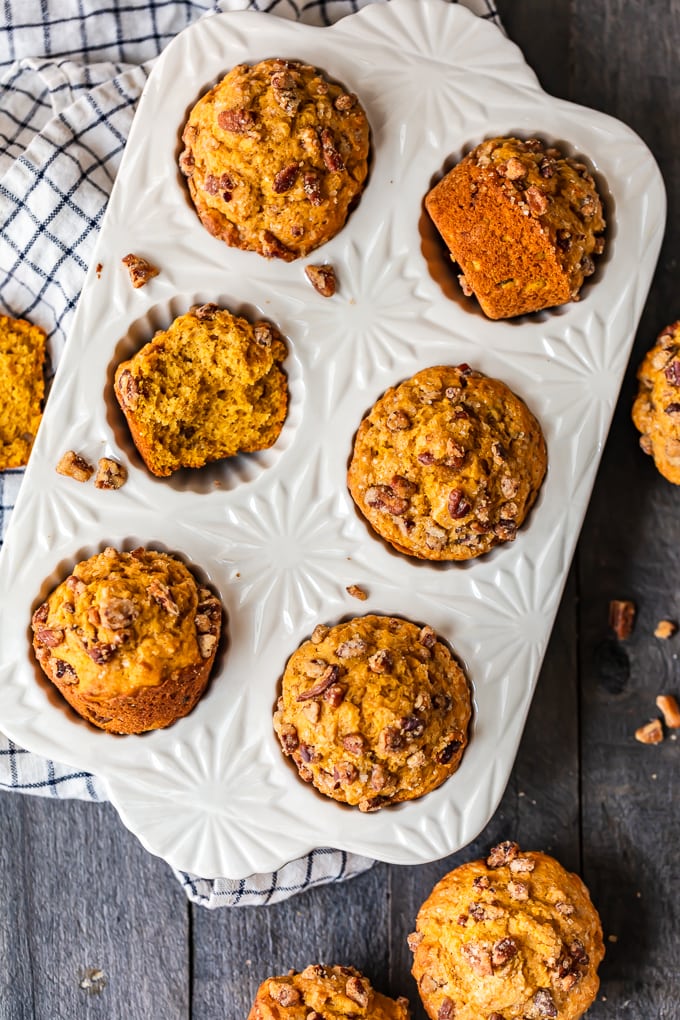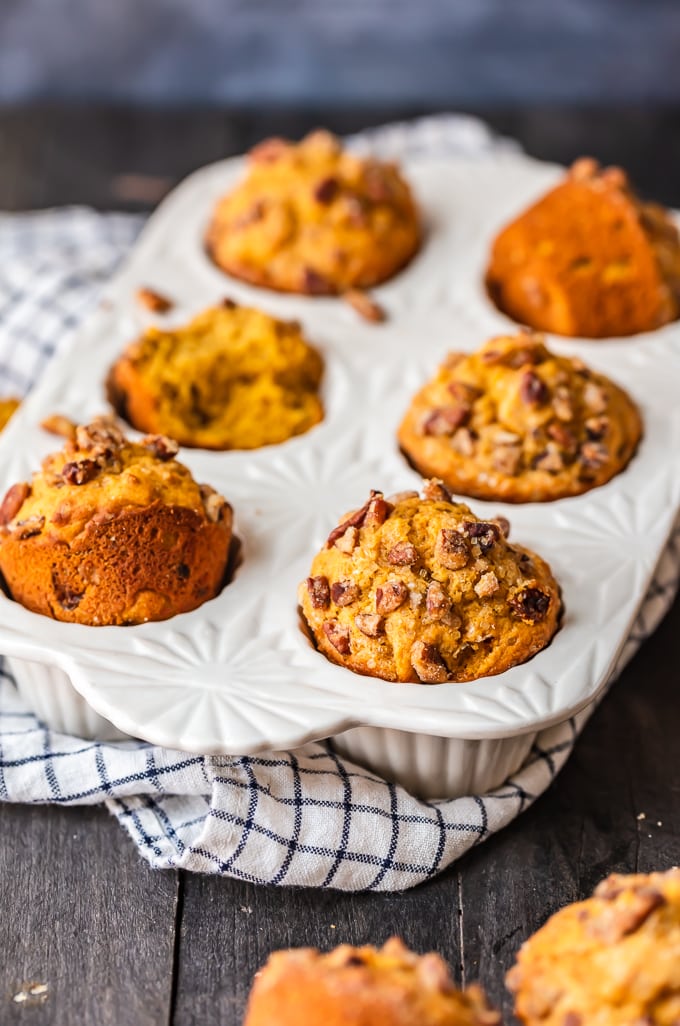 Pumpkin Spice Muffins
This easy pumpkin muffins recipe is my ideal fall treat. Pumpkin is the flavor of the season, and these muffins are just perfect! They're so simple to make from scratch and so easy to share with friends and family. This is one of my favorite recipes to bake, and I'll be making them all season long!
Here are some more pumpkin recipes to make this autumn: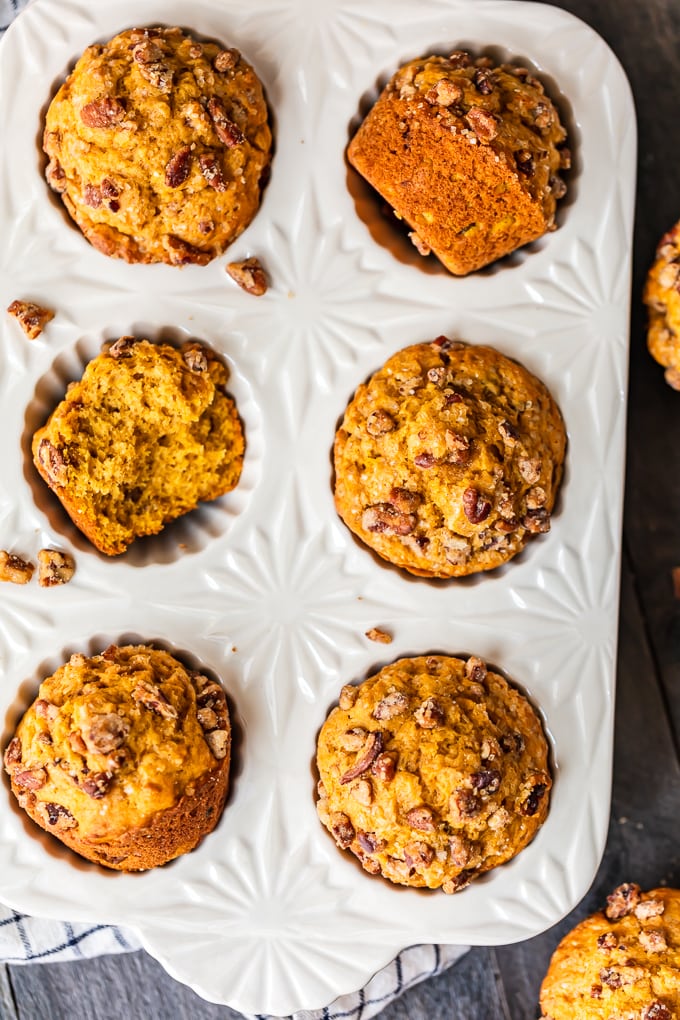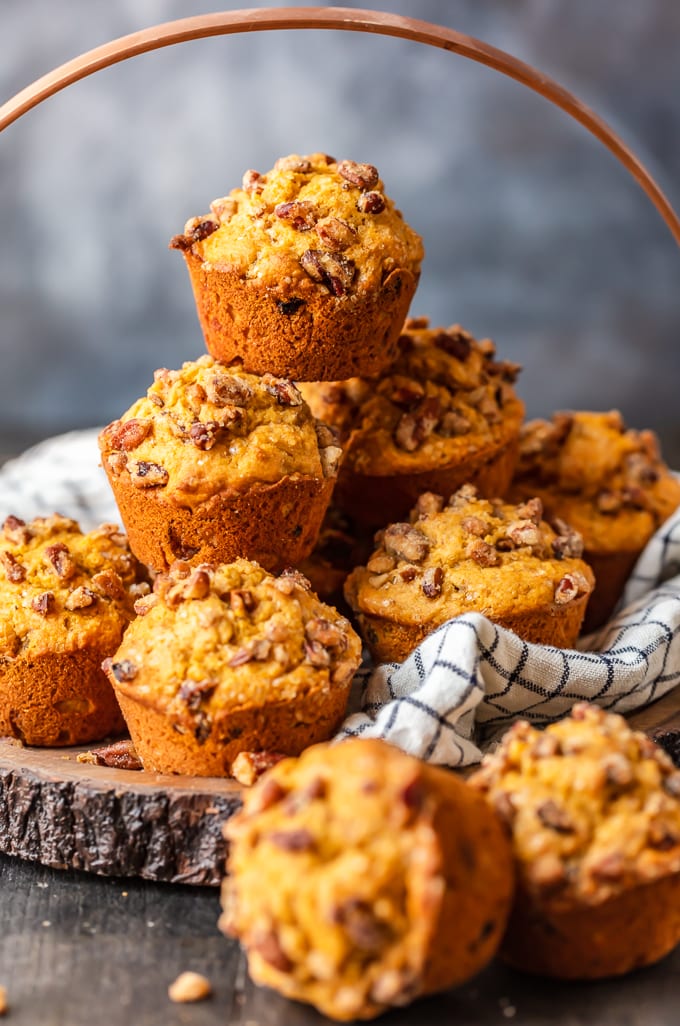 How to Make Pumpkin Muffins
One of the best things about this pumpkin muffins recipe is how EASY it is to make from scratch. It's pretty straightforward and doesn't take too long either. In less than an hour, you can have freshly-baked pumpkin spice muffins to devour!
Mix together baking soda, baking powder, flour, salt, spices, & 1/2 cup pecans
Beat butter until soft in a stand mixer, then add granulated sugar & brown sugar and mix until smooth
Adds eggs beat until incorporated, then add in vanilla
Add pumpkin puree & buttermilk, and mix at low speed
Add flour/spice mixture and blend slowly until dry ingredients are mixed in
Gently fold raisins into the batter (optional)
Pour batter into muffin tin and sprinkle pecans into each muffin cup
Bake pumpkin muffins for 16-25 minutes at 400°F
These muffins are so warm, so fresh, and so delicious! Let them cool slightly before serving. See full instructions in the recipe card.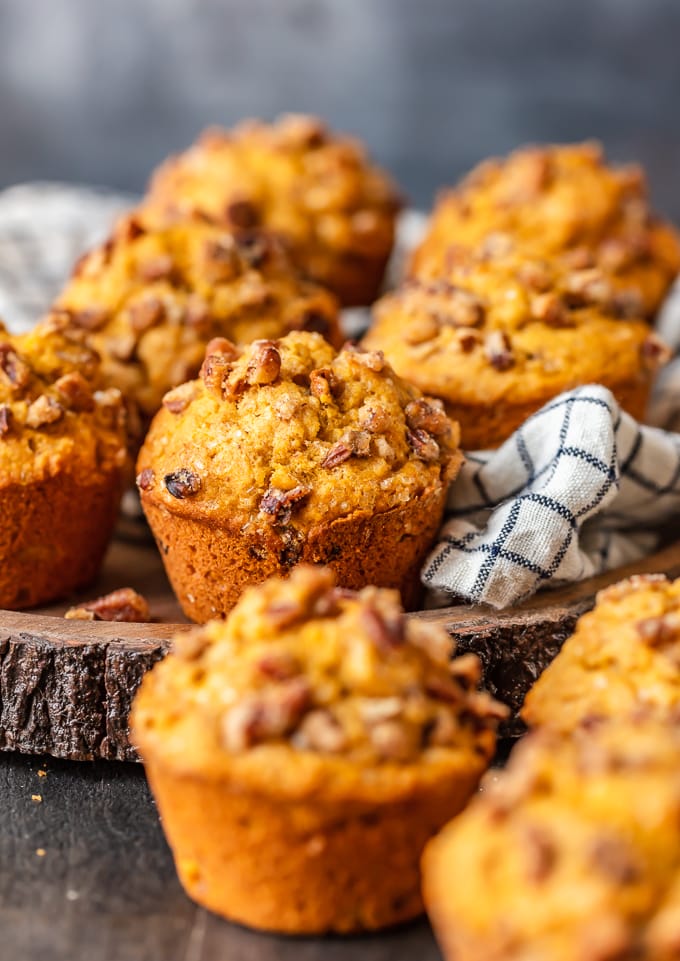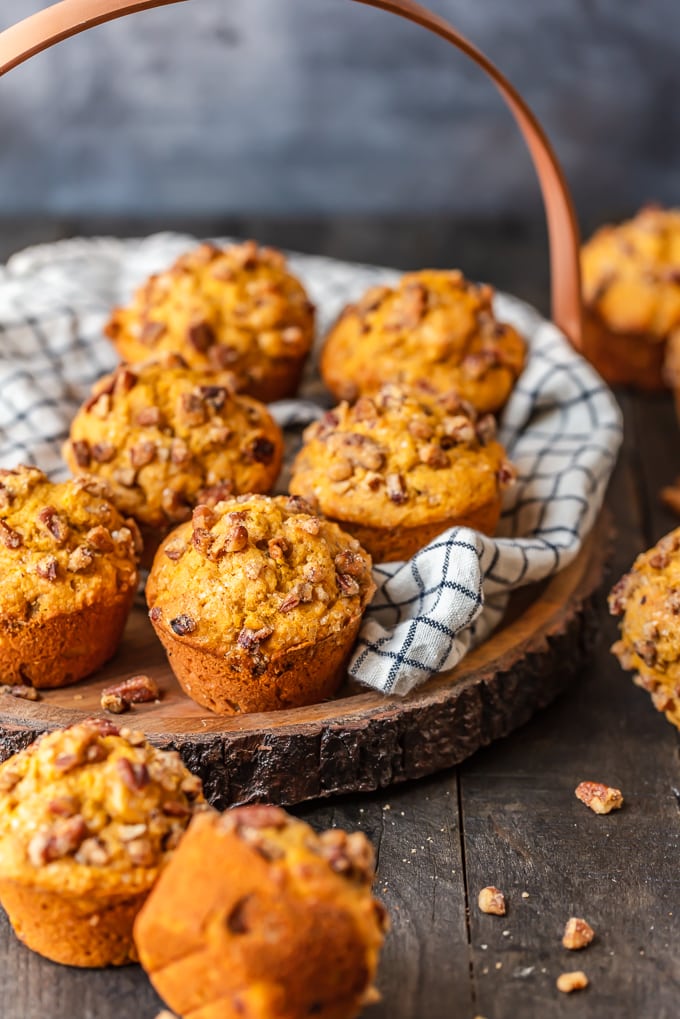 Easy Muffins Recipe for Fall
I absolutely love baking in the fall. Baked goods are welcome any time of year, but something about autumn really makes me want to heat up the oven and make something delicious. Freshly-baked muffins are so comforting when the air starts to get chilly, so they make for the best breakfast AND the best dessert.
They taste best straight out of the oven, but it's always nice to save a few to eat later in the week for a quick breakfast. Just store them in an airtight container and they'll stay pretty fresh for a few days!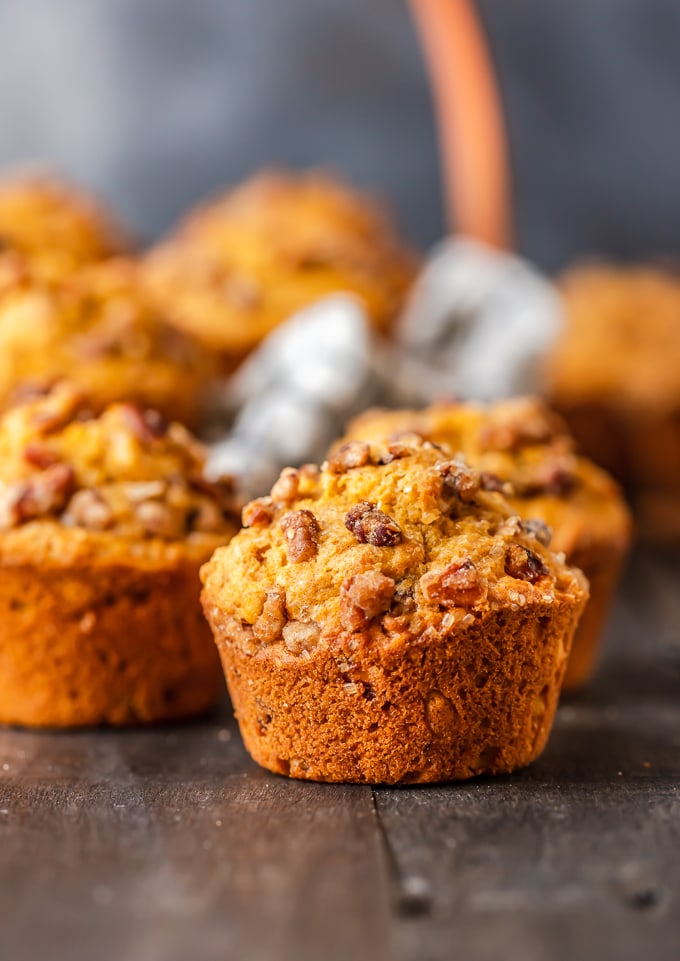 This recipe is going to be your absolute FAVORITE fall treat. Make a batch of these amazing pumpkin spice muffins any time you need a pick me up this season.
See the recipe card below for details on how to make Pumpkin Muffins. Enjoy!
Here are some more delicious recipes to bake this fall: