SKILLET CHICKEN CON QUESO is the ultimate one pot meal! Cheesy rice loaded with cilantro, pico de gallo, green chiles, and cream topped with taco spiced chicken. Comfort food has never been easier or cheesier!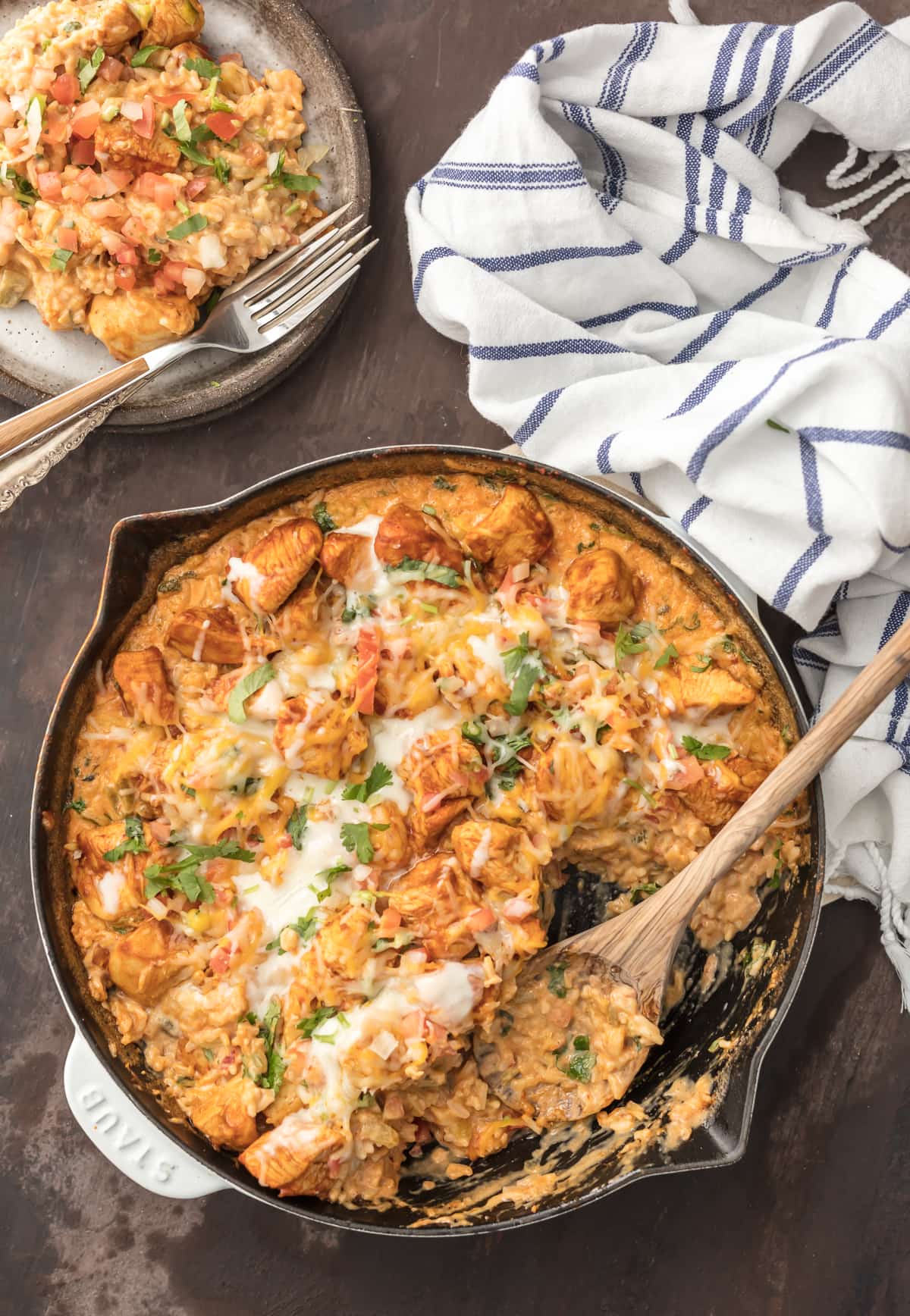 Every family needs a trusted, GO-TO one pot meal. I've tried so many, and they're one of my favorite things. Nothing better than a home cooked, comfort food style meal made in a skillet, with only one pan to clean at the end of the day. It just warms my heart and my stomach! This Skillet Chicken Con Queso is one of my favorites I have ever made, and Pat agreed! Its always a good day when Pat is as happy with a recipe as I am. (He is PICKY!) This Skillet Chicken Con Queso is sure to please even the pickiest of eaters. Who can resist cheesy rice, taco spiced chicken, cilantro, and so much more, all cooked in your favorite skillet. SIGN ME UP! (Be sure you also check out the most popular Queso on our site, and pair it all with our favorite Chicken Tacos!)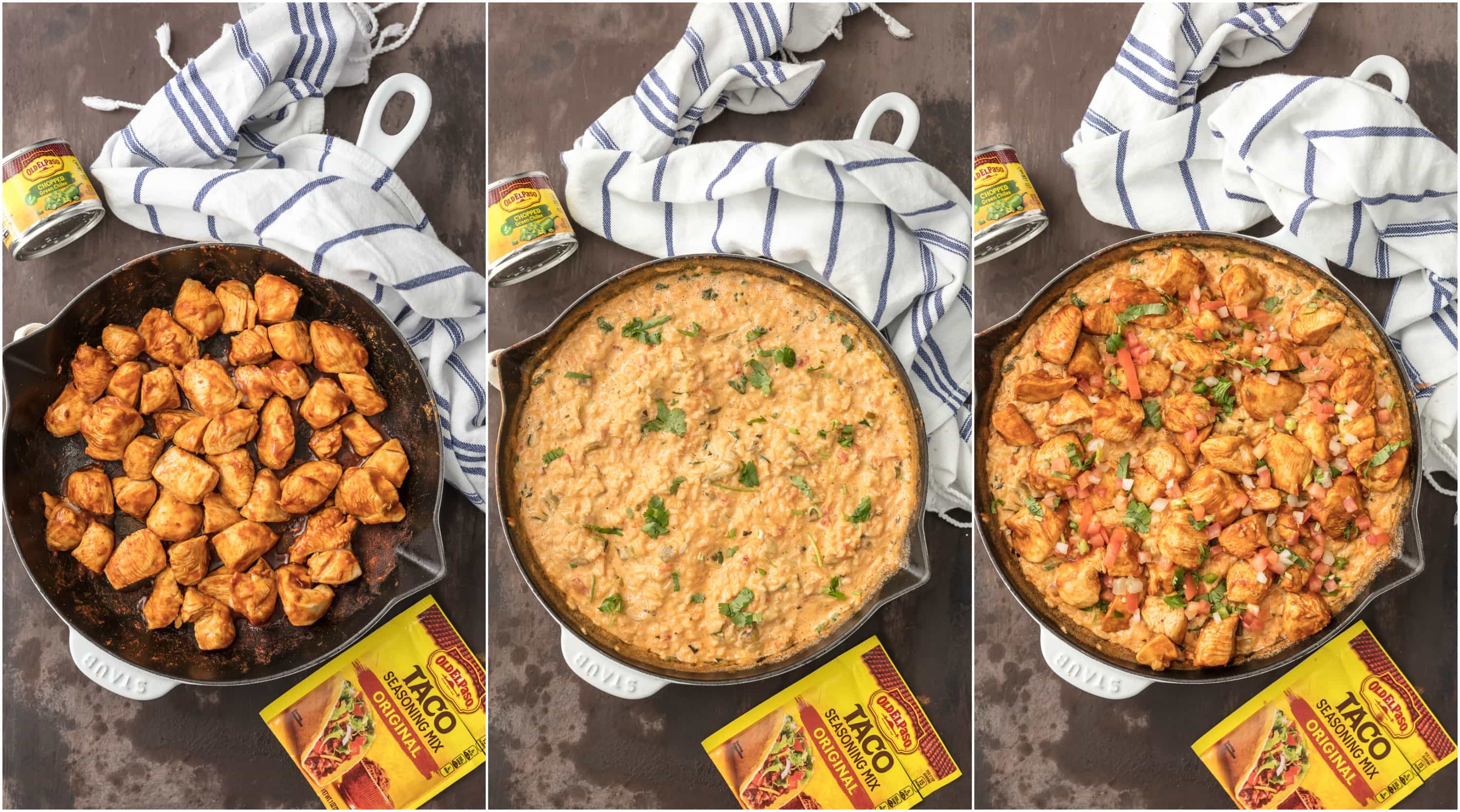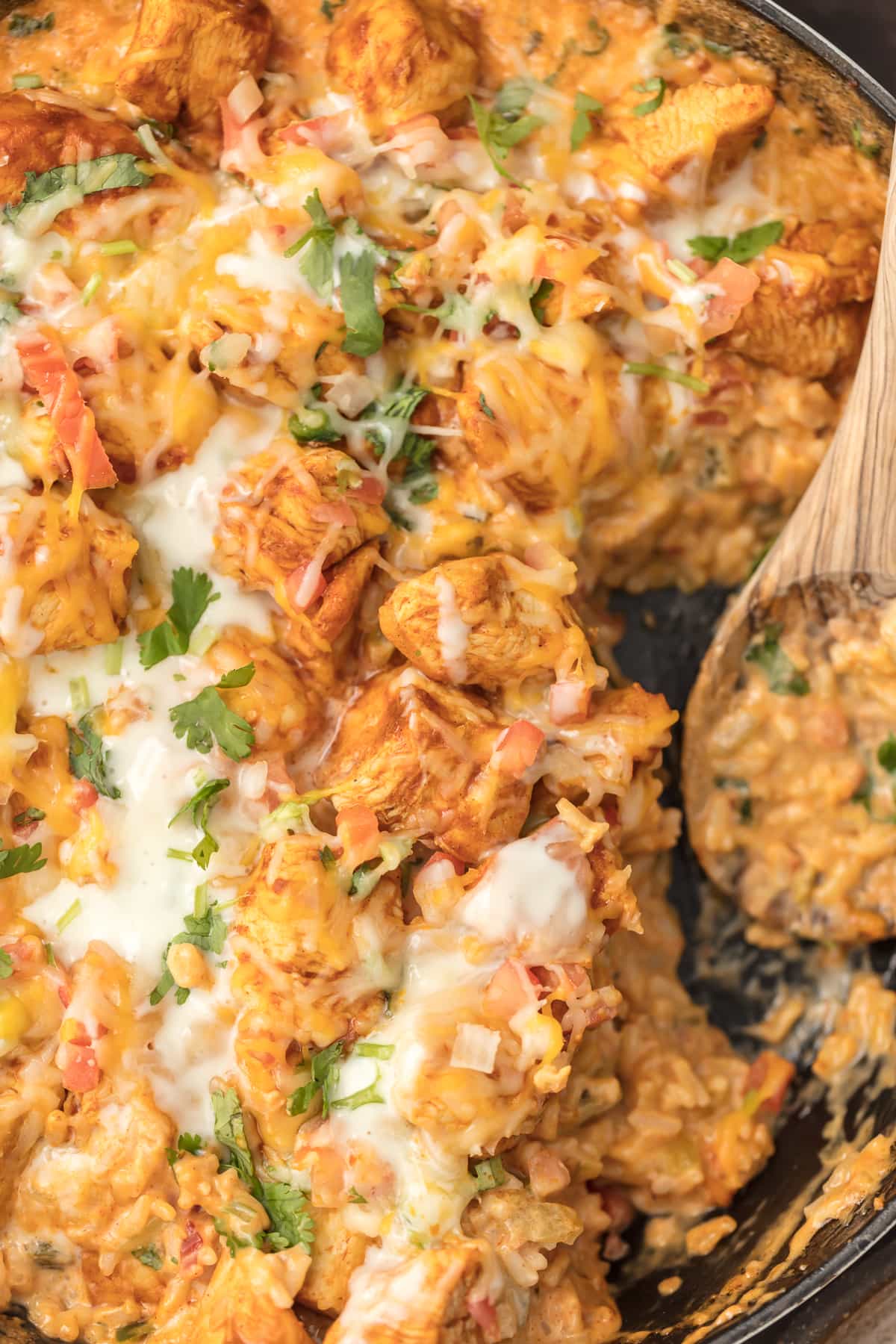 So often I'll have readers write and say my Mexican inspired recipes are their favorites on the site, and I agree. It's all thanks to Old El Paso and how easy they make cooking at home! They were a brand I loved long before I started finding my way around the kitchen, and I'm honored to be working with them today. I used their Taco Seasoning (OBSESSED) and their chopped green chiles (CANNOT GET ENOUGH) for this new recipe and they were the perfect flavor boosts to take it from good to great. I cannot wait for you guys to try this Chicken Con Queso!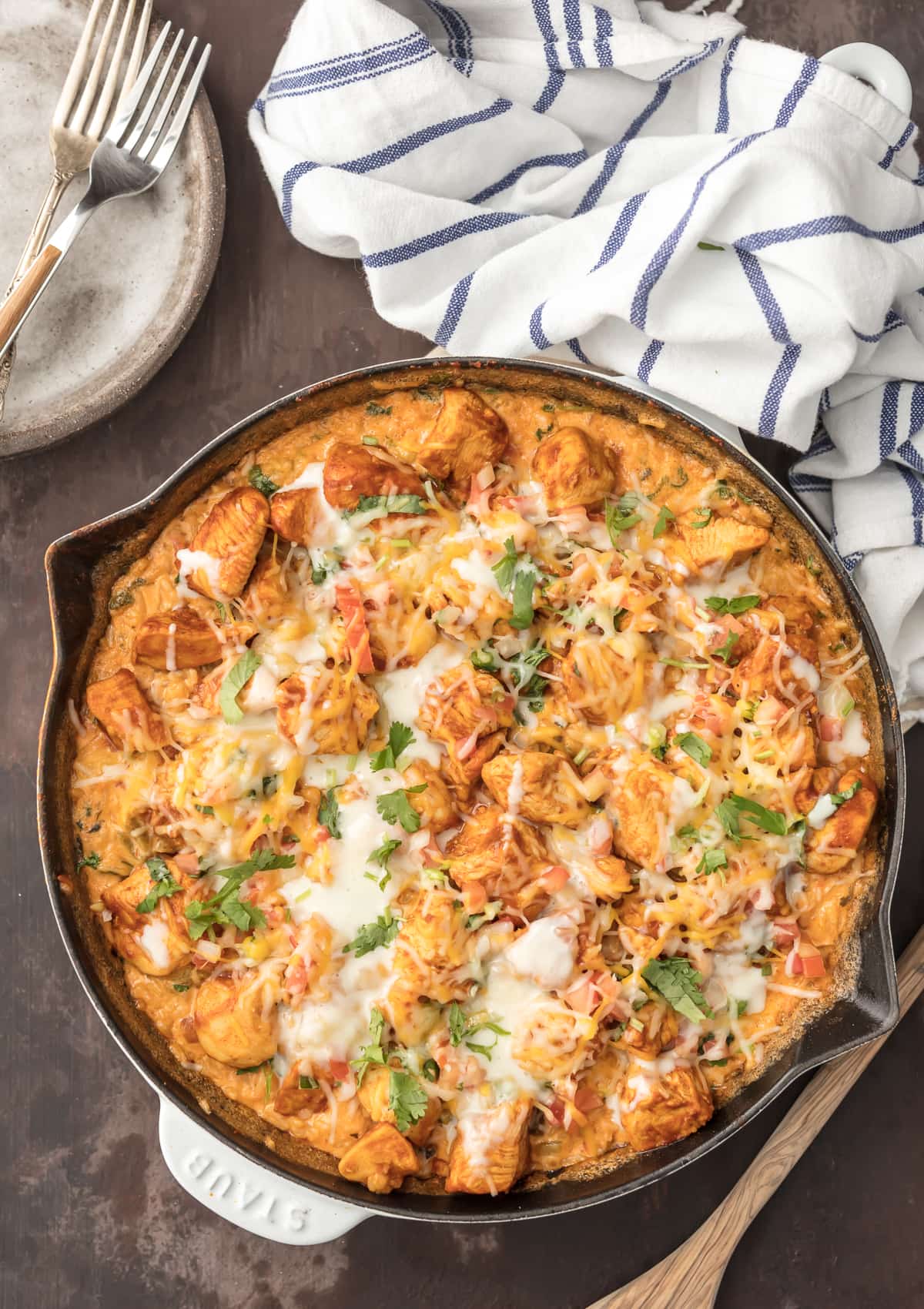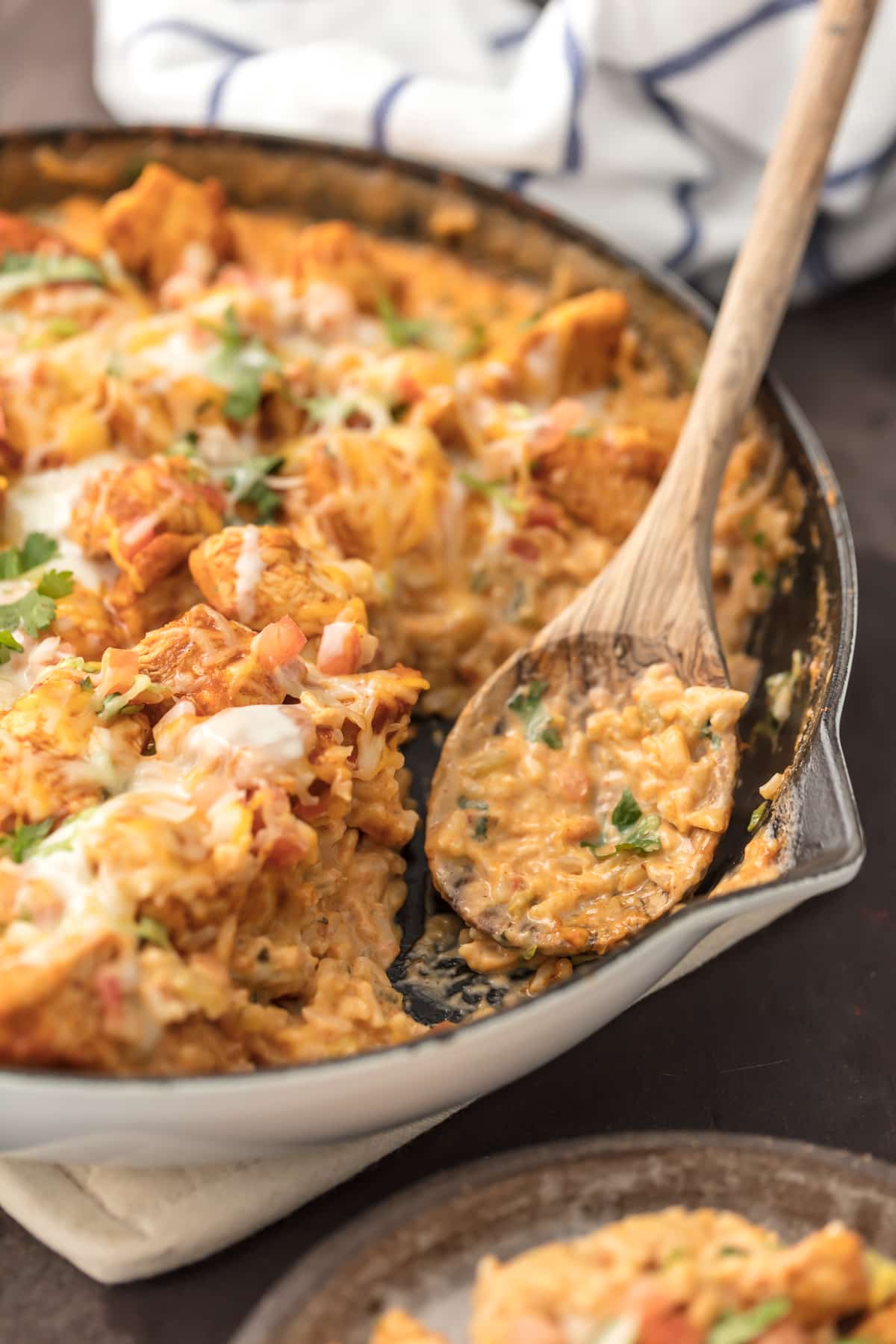 I realize it's Thanksgiving week, but we can't eat TURKEY all day every day! Change things up a bit with this easy one pot meal, and only have one pan to clean. It also makes for awesome leftovers, I'm actually eating some as we speak! Jealous?? Make this tonight!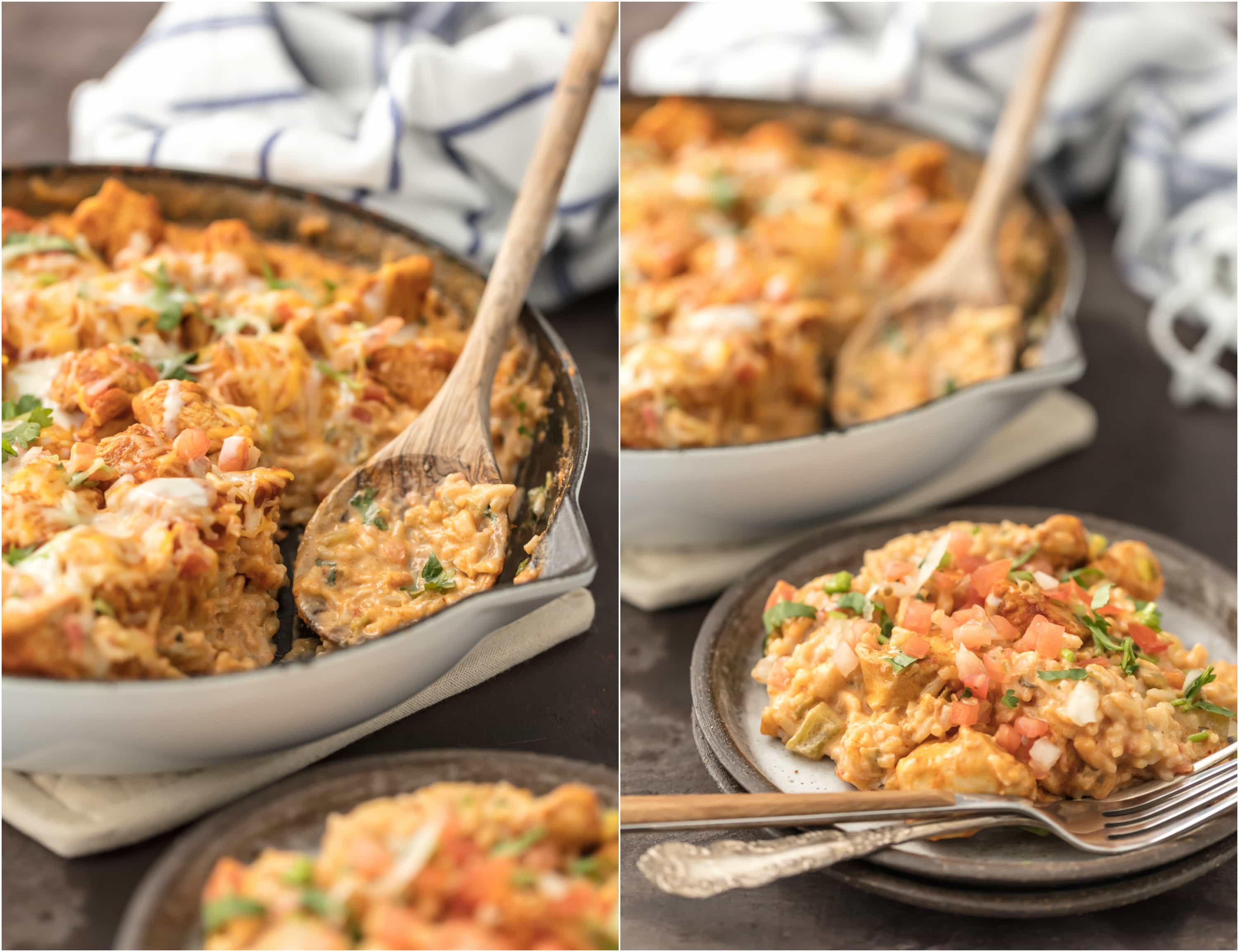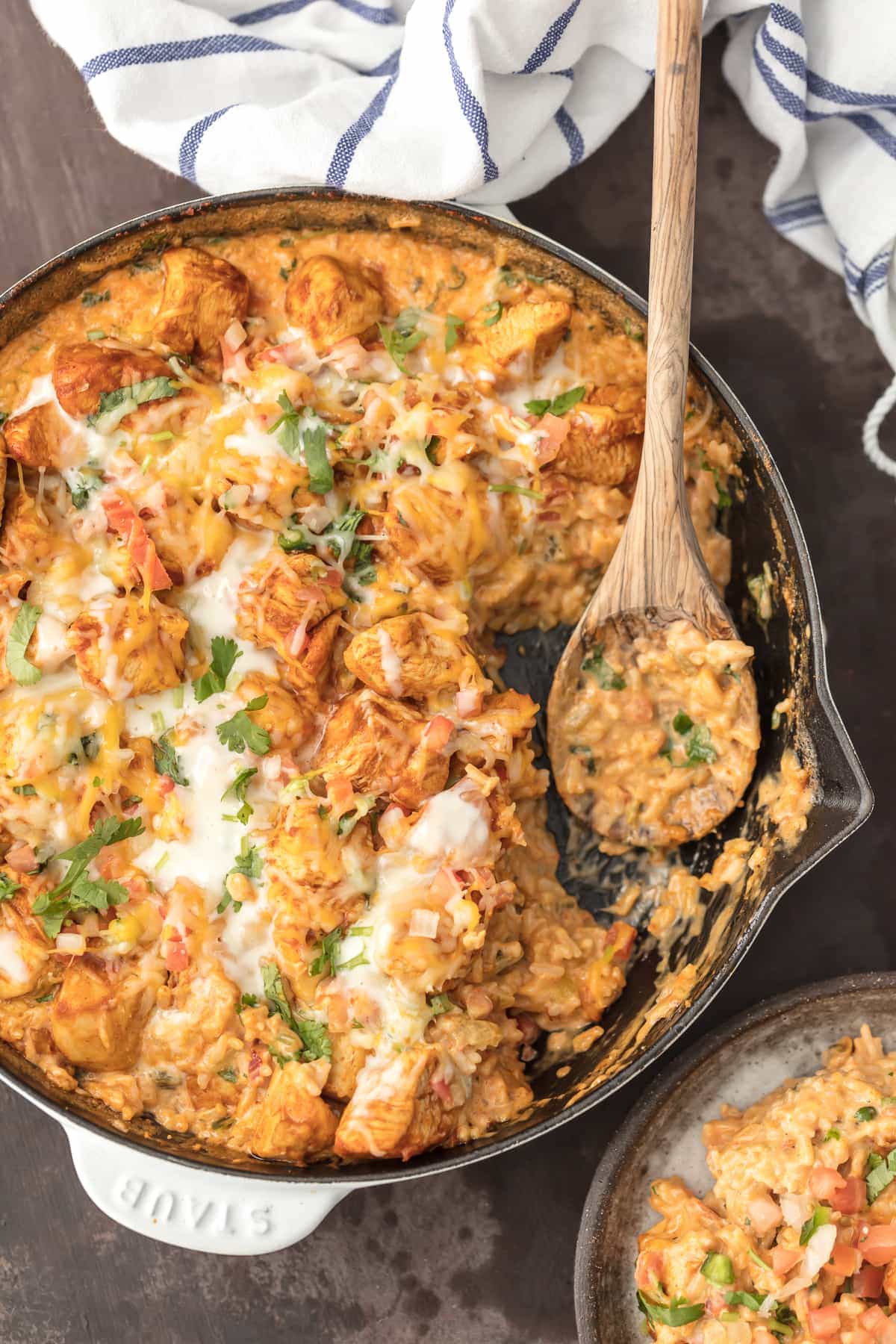 Enjoy!
Ingredients
1 tablespoon olive oil
3 large boneless skinless chicken breasts, cut into cubes
1 packet Old El Paso Taco seasoning
1 ½ tablespoons water
1 cup half and half or heavy cream
2 cups instant white rice
1 cup premade queso blanco (white queso from the store) (I really like Gordo's brand), melted
1 cup restaurant style salsa (thin salsa)
1/4 fresh cilantro, plus more for garnish
1 small can Old El Paso Green Chiles
½ cup pico de gallo or chopped tomatoes
1 cup Mexican blend cheese
Instructions
Heat the chicken cubes and olive oil in a large skillet over medium/high heat.
Sprinkle chicken with the taco seasoning, turning to make sure both sides are coated. Add in the 1 ½ tablespoons water to assist with coating all the chicken.
Turn the chicken as you cook, about 6-8 minutes until the chicken is just cooked through.
Place chicken on a plate and cover in foil to retain heat. Set aside.
In the same skillet, add the heavy cream and white rice. Stir to combine. Add in the melted queso and salsa. Stir to fully combine. Bring to a boil, then cover and reduce heat to simmer for 5 minutes or until the rice is fully cooked and fluffy.
Stir in cilantro, green chiles, and pico de gallo into the rice mixture.
Add the chicken back to skillet and nestle into the rice.
Cover with the 1 cup cheese.
Place skillet under the broiler for approximately 3-5 minutes or until the cheese is fully melted on top. Garnish with more cilantro if desired.
Enjoy!
7.6.4
2326
https://www.thecookierookie.com/skillet-chicken-con-queso/

JOIN OUR MAILING LIST
TO GET COOKING!
Subscibe to recieve all the latest, greatest, and EASIEST recipes sent straight to your email inbox. If we post something yummy, you'll be the first to know.