Chicken con Queso (Skillet Queso Chicken) is the ultimate one pot meal! Cheesy rice loaded with cilantro, pico de gallo, green chiles, and cream topped with taco spiced chicken. This one pan recipe is so cheesy, easy, and amazing. I used to always order Pollo con Queso at Mexican Restaurants and now I can easily make it at home. Chicken and Cheese…is there anything better?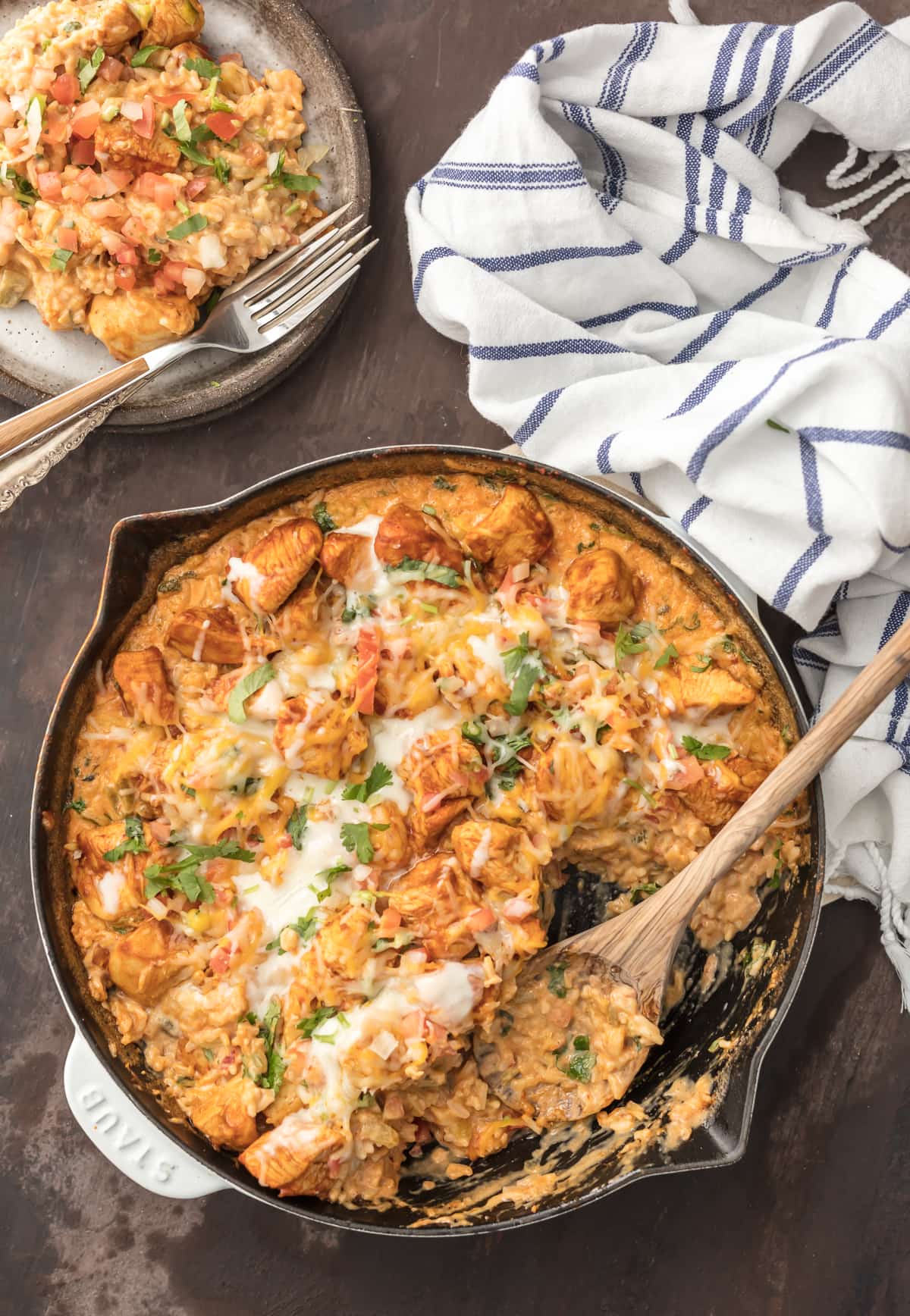 ONE PAN Chicken con Queso!
Every family needs a trusted, GO-TO one pot meal. I've tried so many, and they're one of my favorite things. Nothing better than a home cooked, comfort food style meal made in a skillet, with only one pan to clean at the end of the day. It just warms my heart and my stomach! This Skillet Chicken Con Queso is one of my favorites I have ever made, and Pat agreed!
Its always a good day when Pat is as happy with a recipe as I am. (He is PICKY!) This Skillet Chicken Con Queso is sure to please even the pickiest of eaters. Who can resist cheesy rice, taco spiced chicken, cilantro, and so much more, all cooked in your favorite skillet. SIGN ME UP!
If you're looking for more traditional queso, we have you covered there as well! Be sure to try our Loaded Velveeta Queso Dip (Cowboy Dip), Crock Pot Queso Fundido, Beer Cheese Dip (Only 3 Ingredients!), Dairy Free Queso, and of course our FAVORITE Homemade White Queso Recipe! <— This is the Queso we actually used for this recipe as well. I've linked to it in the recipe card so that you'll be good to go. Whew…I love cheese!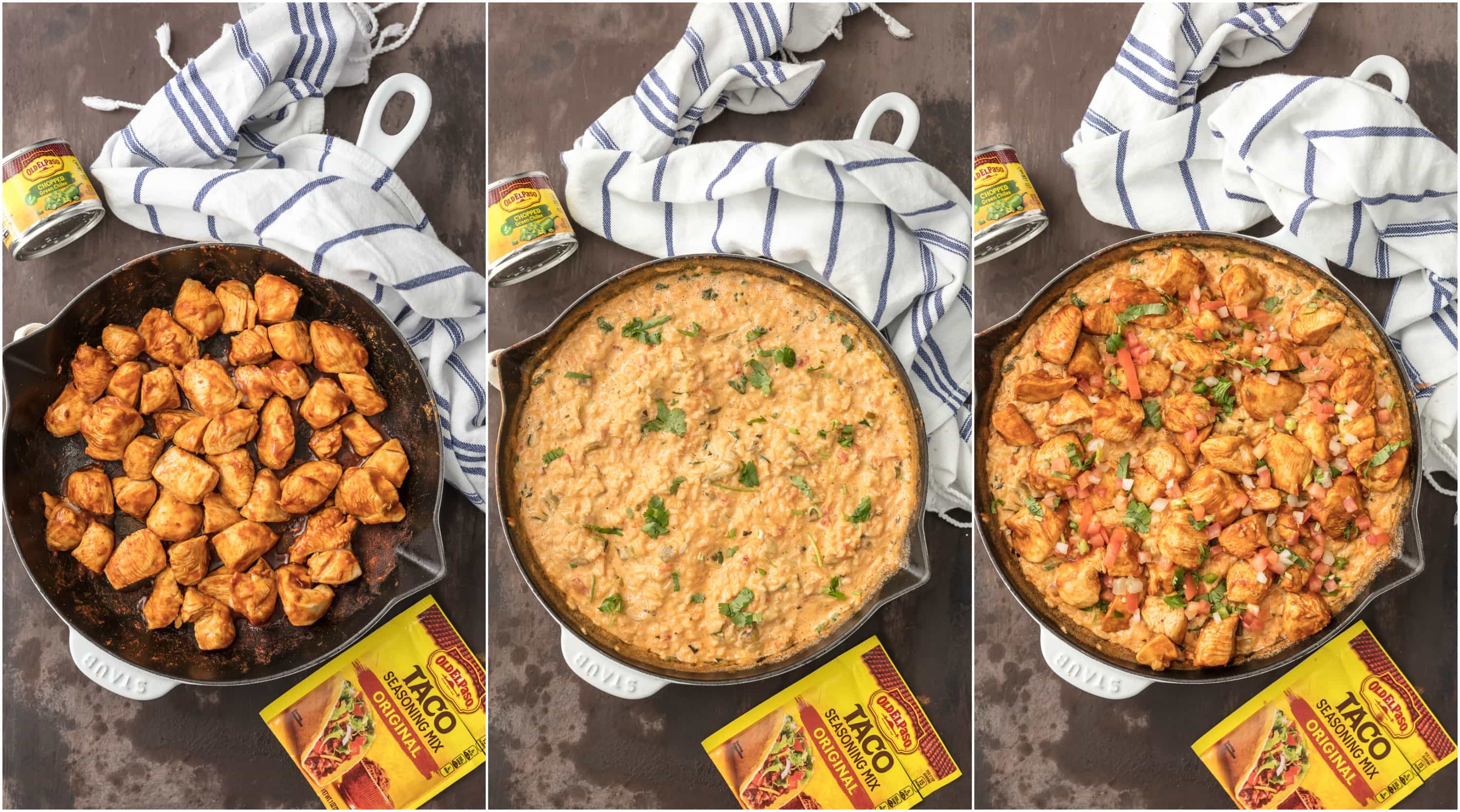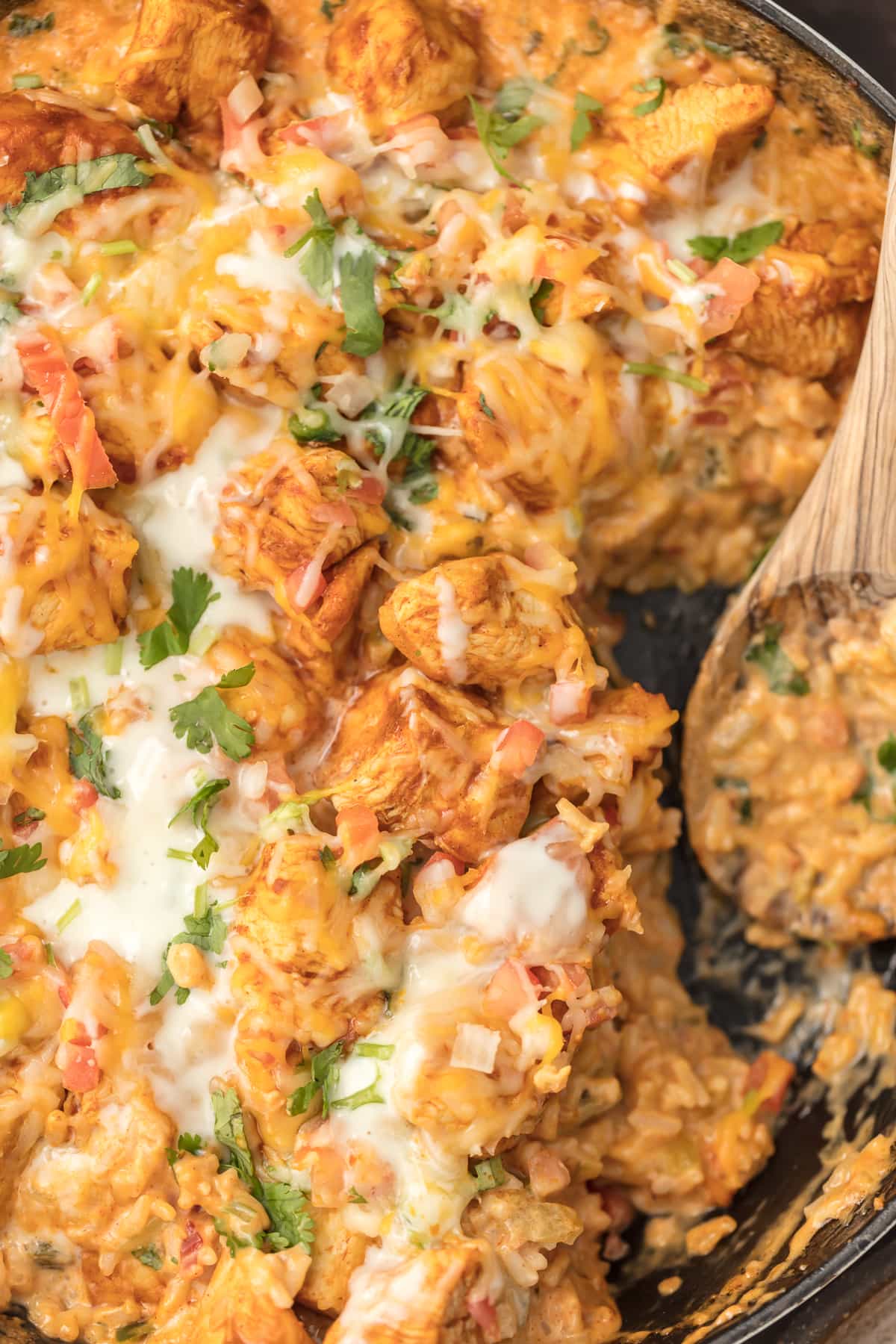 So often I'll have readers write and say my Mexican inspired recipes are their favorites on the site, and I agree. It's all thanks to Old El Paso and how easy they make cooking at home! They were a brand I loved long before I started finding my way around the kitchen, and I'm honored to be working with them today.
I used their Taco Seasoning (OBSESSED) and their chopped green chiles (CANNOT GET ENOUGH) for this new recipe and they were the perfect flavor boosts to take it from good to great. I cannot wait for you guys to try this Chicken Con Queso!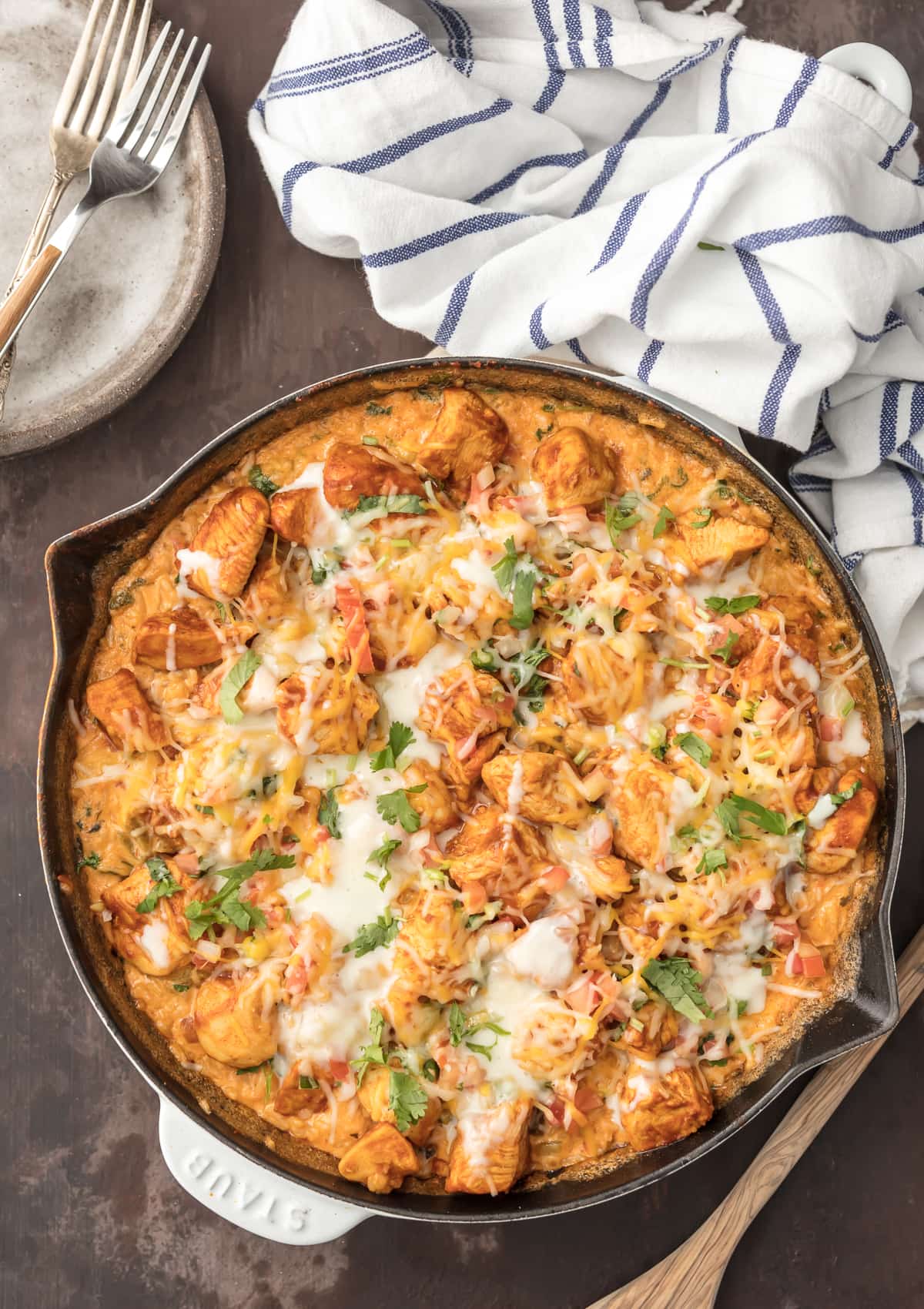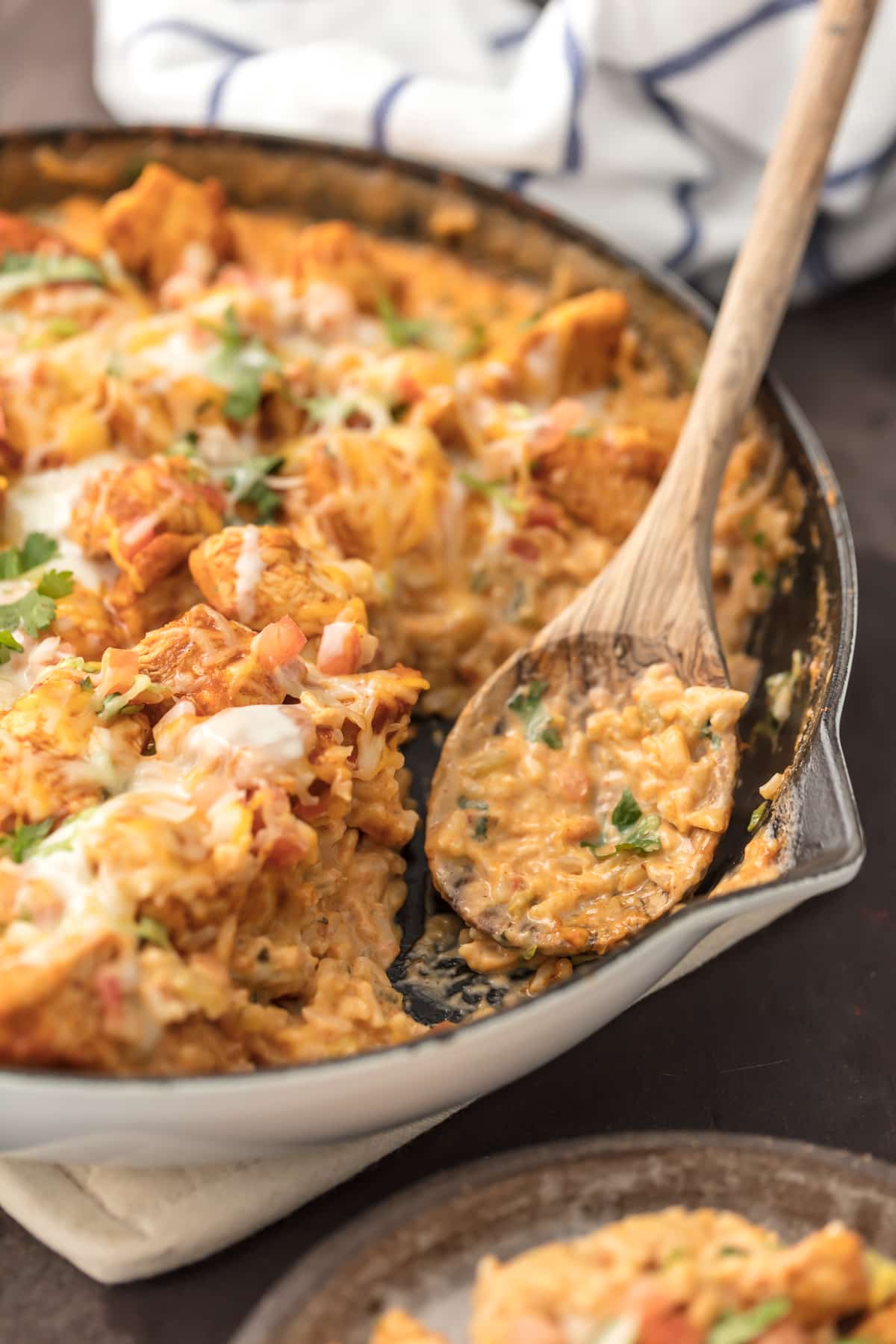 How to Make Chicken con Queso
I realize it's Thanksgiving week, but we can't eat TURKEY all day every day! Change things up a bit with this easy one pot meal, and only have one pan to clean. It also makes for awesome leftovers, I'm actually eating some as we speak! Jealous?? Make this tonight!
If you're in the mood for Mexican but this Chicken con Queso isn't quite right, I'd love to recommend our Baked Chicken Tacos, Enchilada Stuffed Peppers, or Sheet Pan Chicken Nachos. Something for everyone.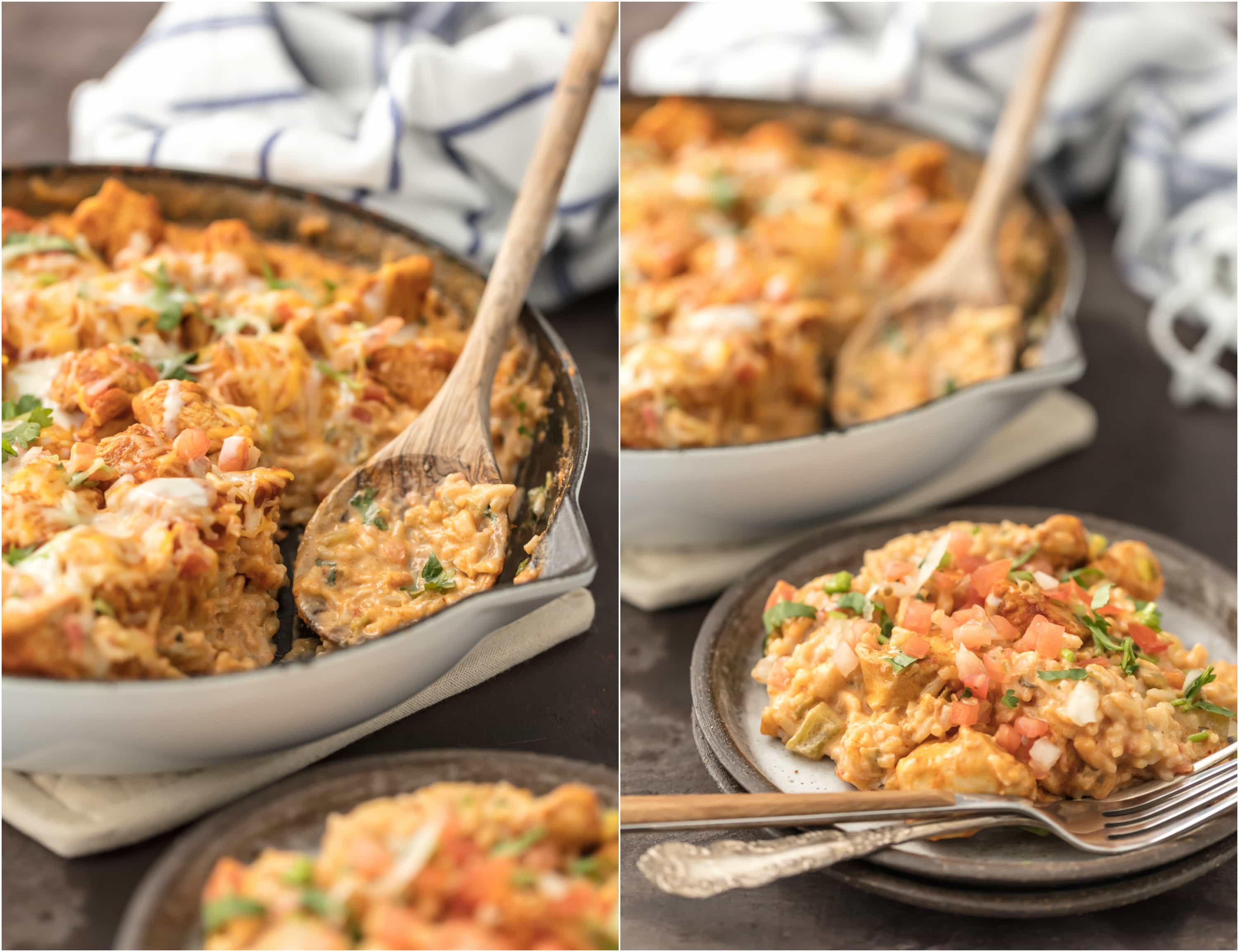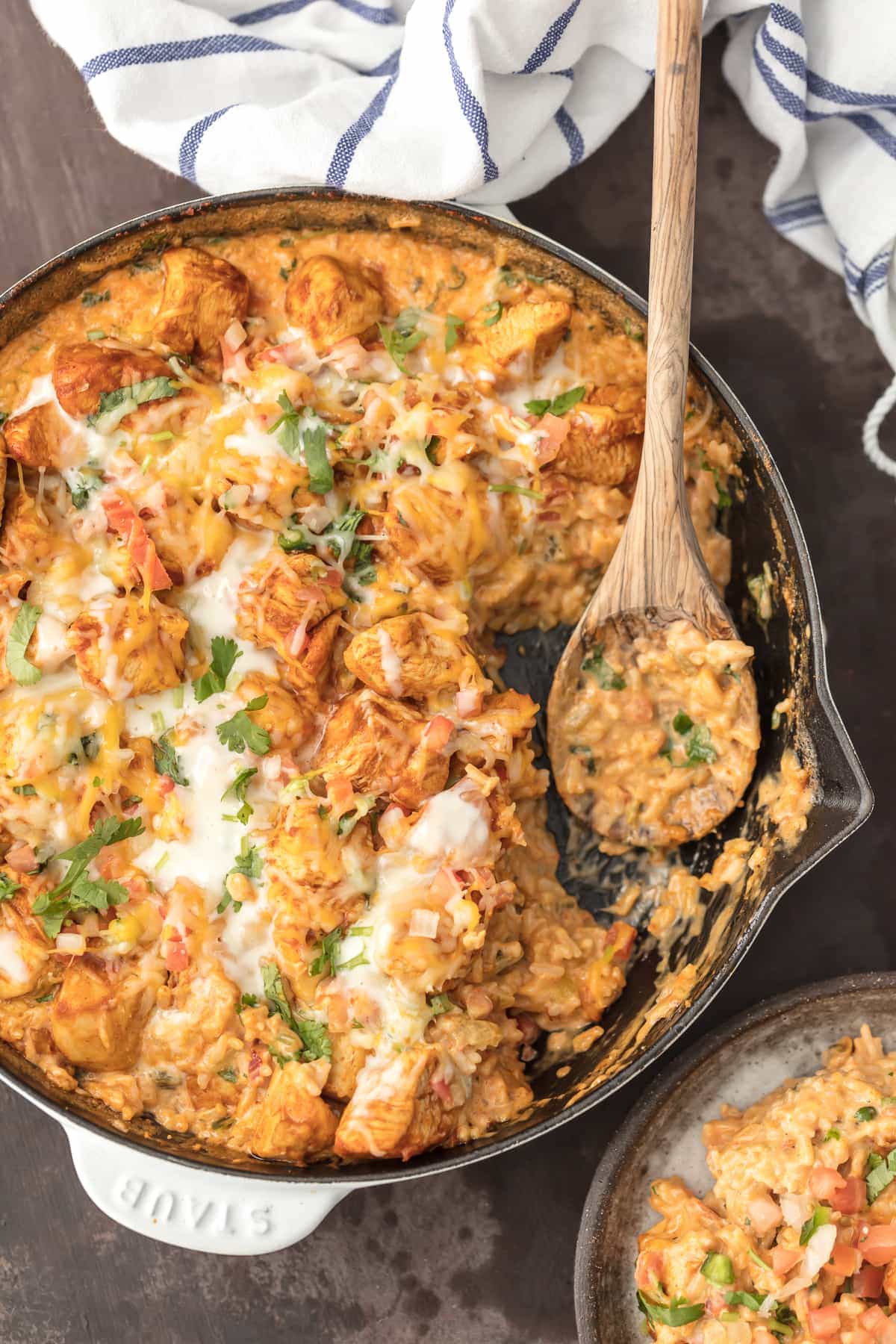 I hope you take one look at this easy cheesy Chicken and Rice and head straight to the grocery store for the ingredients. You won't regret it! This is one of our favorite Easy Mexican Meals. You can make it without the Chicken for an amazing side dish as well! Let me know how you like it.
See the recipe card below for full details on How to Make Chicken con Queso. Enjoy!