Vegetable soup is the perfect lunch, dinner, or appetizer for the cold of winter. This Hearty Vegetable Soup recipe is healthy, but still filling and satisfying. It's packed full of veggies like zucchini, carrot, celery, green beans, potatoes, and lots more. This recipe is so easy to make and you're going to love having this in your fridge (or freezer) for easy and healthy lunches!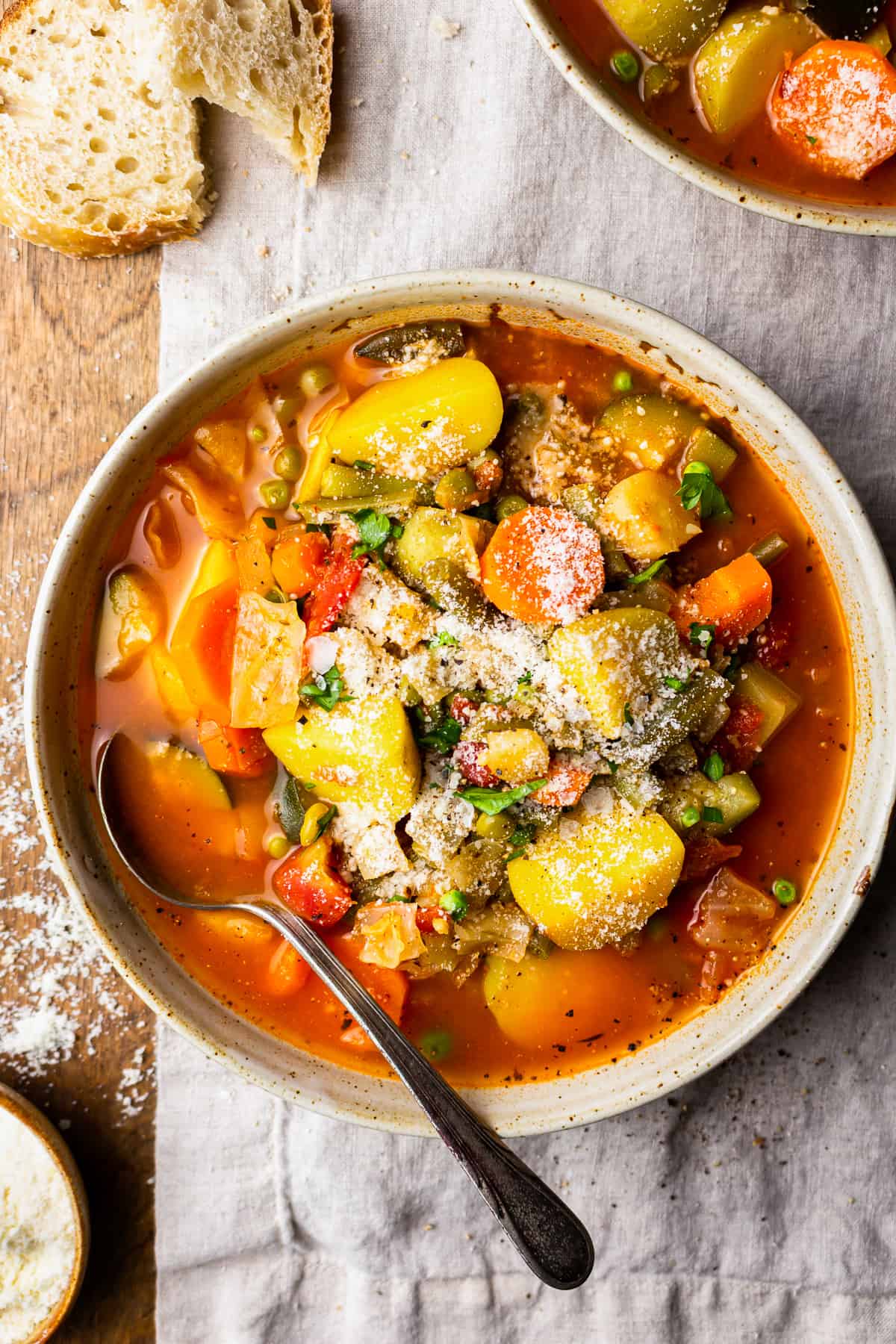 Vegetable Soup
This hearty vegetable soup recipe is so classic and so delicious! It's filled with so many amazing veggies, plus it's so comforting.
This soup is just filled with vegetables, including potatoes, zucchini, green beans, peas, celery, parsnips, and more. And of course you can skip or substitute veggies as needed.
It's become such a popular recipe around here. Not only is this vegetable soup tasty, but it's so easy to make. Soups are the perfect pantry meal, because you can just grab what you have and go. And I especially love this soup for meal prep, because it holds up for a long time in the freezer.
All it takes is some chopping and a bit of simmering until you've got a homemade soup everyone will love!
Why You'll Love this Hearty Vegetable Soup Recipe:
EASY: There's not much to this recipe. Throw everything into a pot and let it cook. So easy!
HEALTHY: What could be healthier than a soup full of vegetables? And you won't be missing out on any flavor here.
FREEZER SOUP: This homemade vegetable soup is freezer-friendly! Which means you can make it ahead of time and grab it when you need it.
This easy vegetable soup is a recipe you'll definitely want to add to your dinner or lunch prep. And it yields a pot full and makes great leftovers!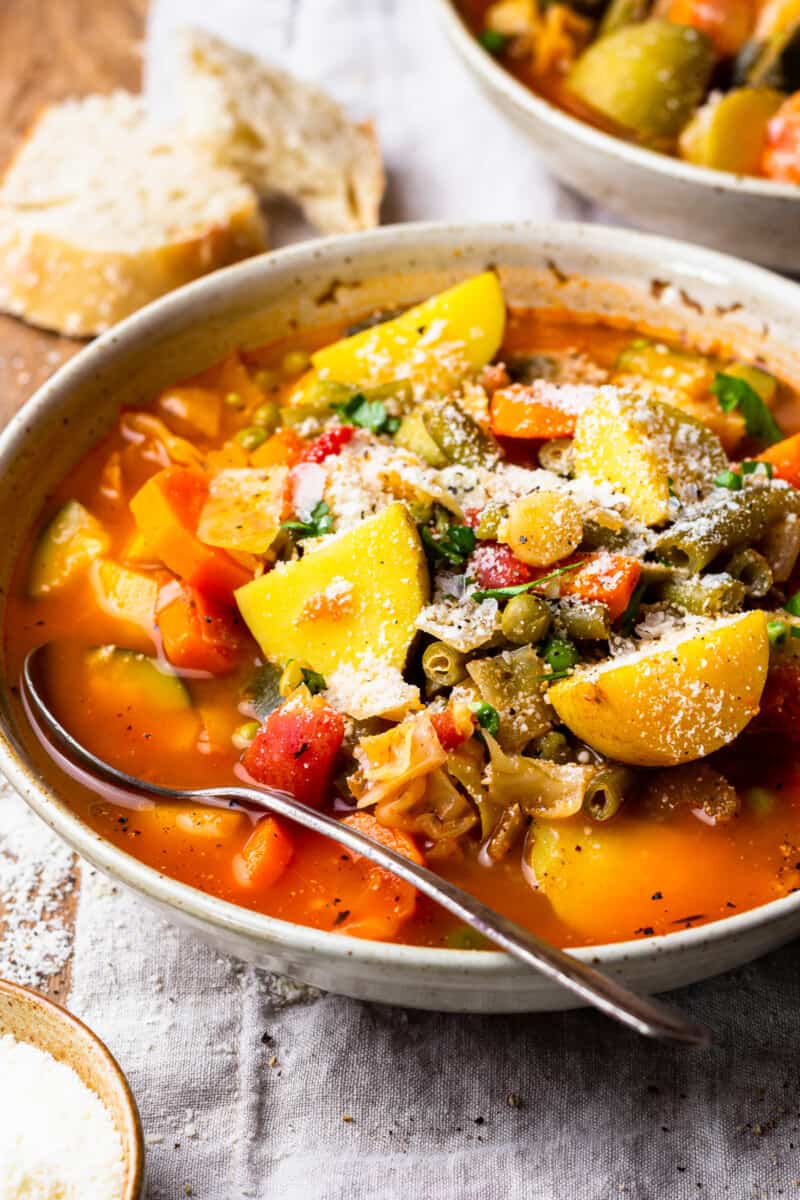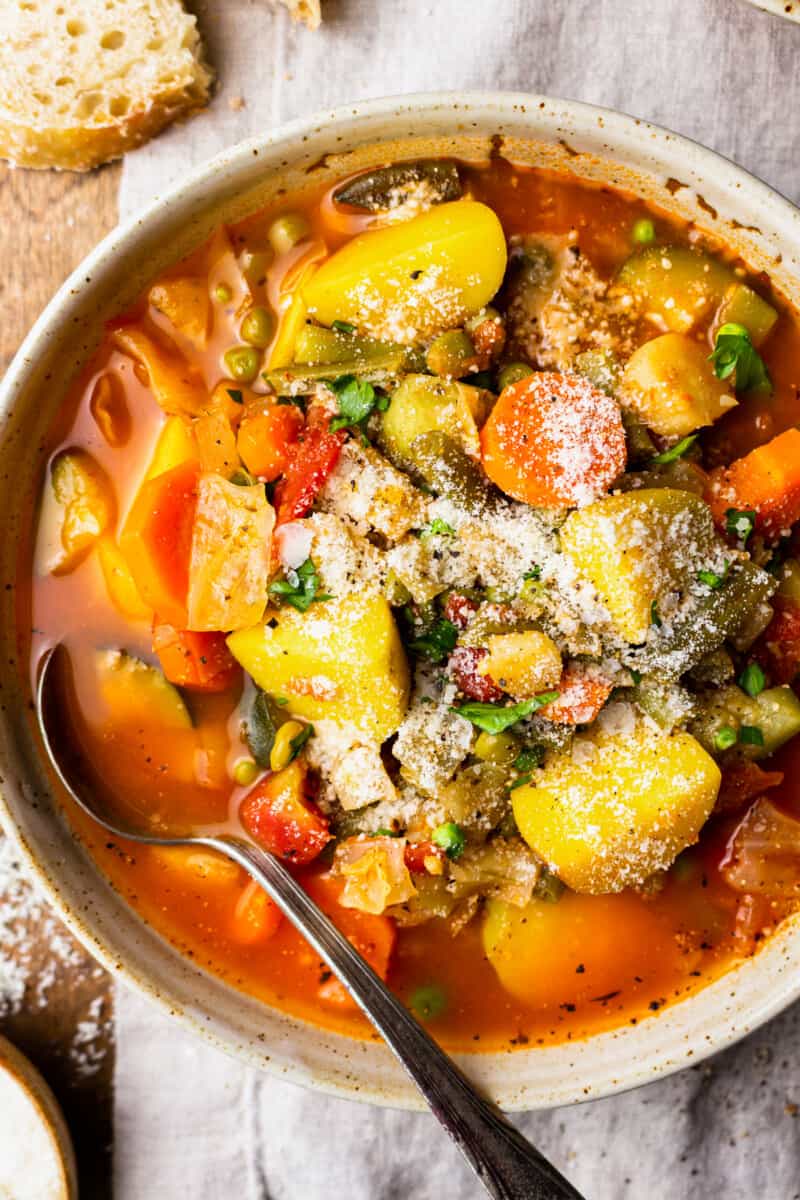 Ingredients
Vegetables: For this soup recipe we're using carrots, celery, parsnips, green beans, zucchini, potatoes, cabbage, and onions.
Tomatoes: We use both canned tomatoes and tomato paste to create the tomato base for our vegetable soup.
Broth: I recommend chicken broth for the perfect flavor, but you could use vegetable broth instead.
Seasoning: To season, we use a mix of herbs and spices, like rosemary, red pepper flakes, and seasoned salt.
Butter
Oil
Water
How To Make Hearty Vegetable Soup
Be sure to see the recipe card below for full ingredients & instructions!
Chop and Prep: Chop up and prepare all of the ingredients so they're ready to go into the soup.
Sauté Veggies: Sauté the onions, garlic, carrots, parsnips, celery, and green beans to soften them.
Add Ingredients: Add all of the soup ingredients into a large pot.
Cook: Bring soup to a boil, then reduce heat and simmer until fully cooked and warmed through.
Serve: Garnish and serve the soup, and enjoy!
This recipe makes a large batch of vegetable soup, so prepare for leftovers! Keep them in the fridge to eat all week, or store them in the freezer.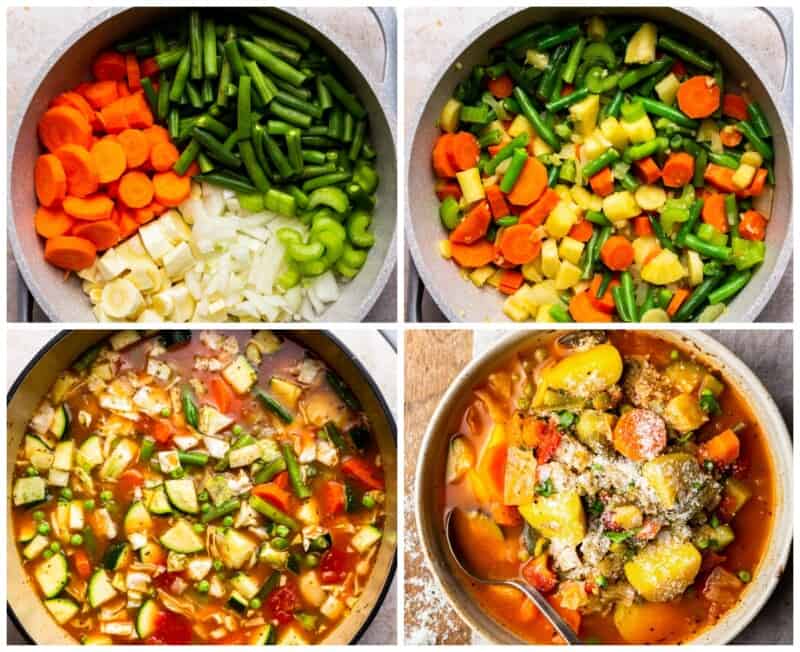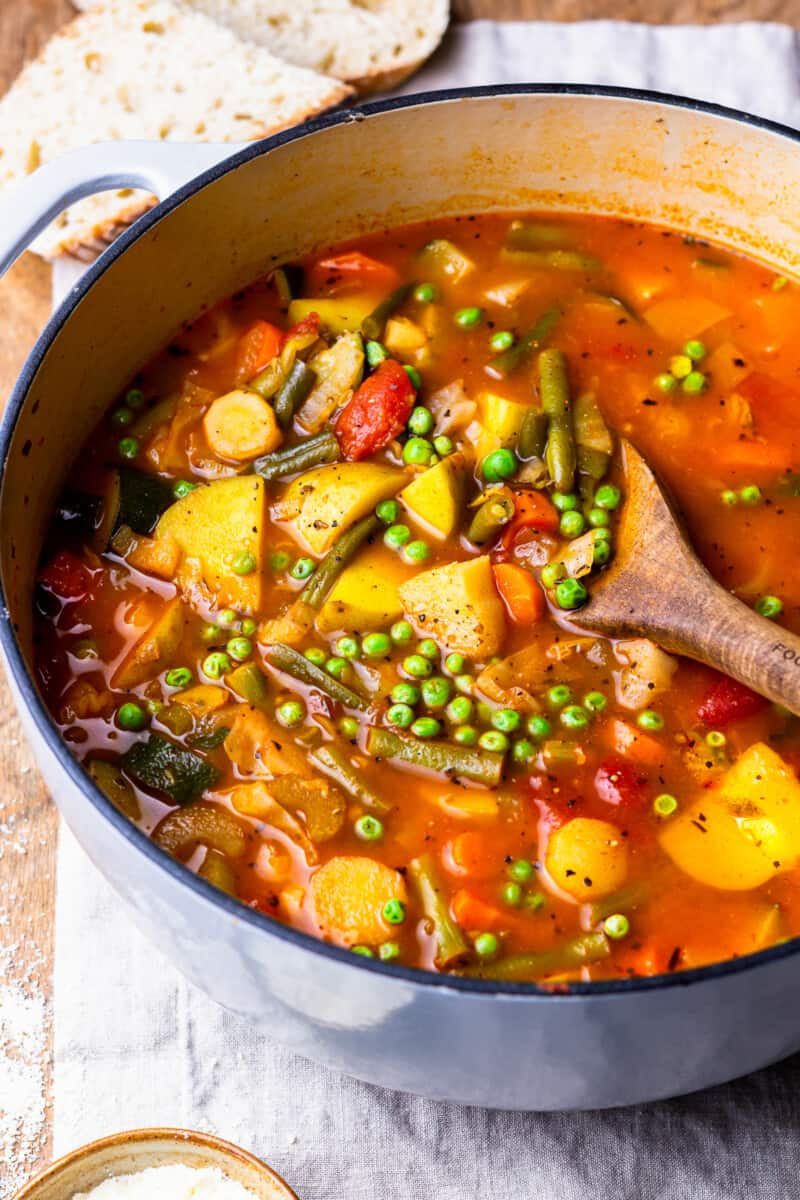 What vegetables are best for vegetable soup?
This soup is filled with sooo many delicious veggies, all of which hold up well in soup and taste great together.
Parsnips
Potatoes
Carrots
Green Beans
Celery
Zucchini
Peas
Cabbage
Onions
You can skip or substitute vegetables as needed. If you don't like something on the list, leave it out. If you have something else in your fridge or pantry you want to use up, add it in!
It's so easy to change up the veggies in this hearty soup as you please. Sweet potatoes, winter squash, asparagus, and turnips would all be great additions.
Is vegetable soup healthy?
Definitely! This soup is FILLED with all kinds of vegetables, when means you're getting lots of different nutrients, all in one delicious bowl.
Can I add meat to this soup?
This is a great vegetarian recipe, but you can add meat if you prefer! Feel free to add ground beef, sausage, shredded chicken, or whatever you prefer. Just brown meat and add it into the pot with everything else.
Can I make this ahead of time?
You can prep all the veggies and ingredients ahead of time by chopping things up so they're ready to thrown into the pot and simmer. And of course you can just cook the soup fully ahead of time, and reheat to eat. Soups are great for reheating, so it'll be just as good a couple days later.
How long does homemade vegetable soup last?
Store leftovers in airtight containers, and it will keep in the refrigerator up to 5 days.
Do you cook veggies before adding them into soup?
Some of the vegetables should be par-cooked before adding them into the soup, just to soften them up a bit. Sauté the green beans, parsnips, onion, celery, and carrots.
Serving Suggestions
Vegetable soup is the perfect thing to serve for lunch or dinner, or even as a pre-dinner appetizer. Make it along with a salad or sandwich, or just serve with a hearty bread. Or add a baked potato on the side for a comforting dinner.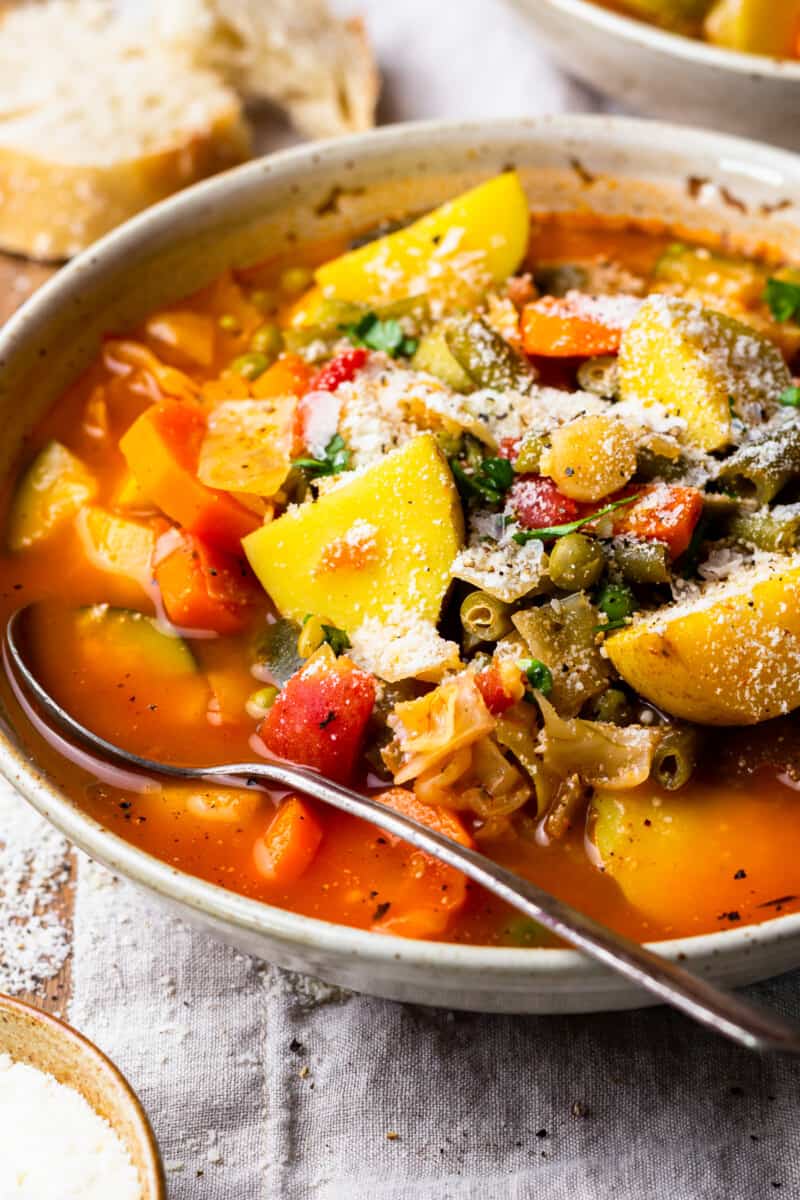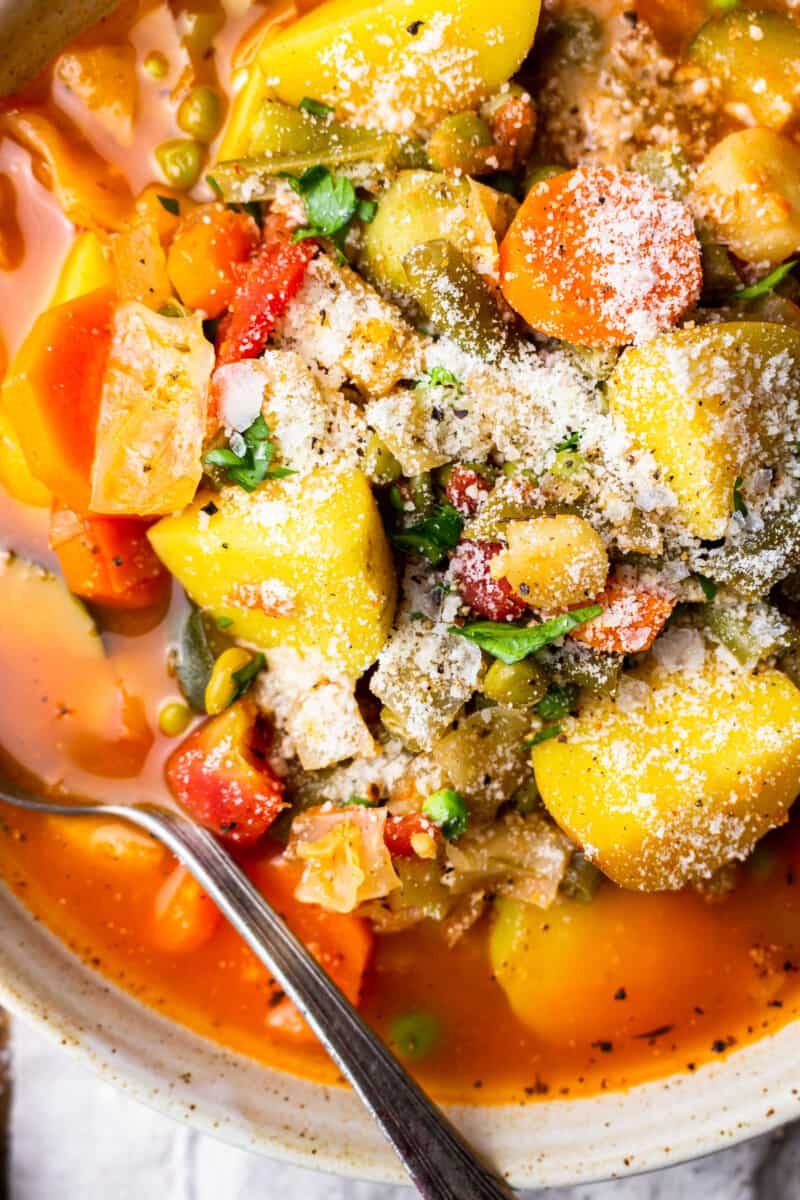 This vegetable soup recipe is just so delicious, so hearty, and so healthy! It's perfect for winter, when you need something comforting to warm you up. But just as tasty in the summer, when you need something packed with veggies for lunch.
Tips!
Double the recipe. Soups are easy to make in large batches, and are one of the most freezer-friendly dishes around. So, double up on ingredients, grab a larger pot and make two meals instead of one.
Make sure to sweat the vegetable. To make a good soup, you have to build flavors as you go. Vegetables like onion, garlic, celery and carrots — referred to as 'aromatics' — are part of most soup recipes for this very reason, sautéed in oil or butter as a first step of flavor-making. Be sure they're cooked long enough to be softened (and release their flavor) before moving on to the next step.
Chop in spoon sizes. When chopping vegetables, think about how big you want them to be on the spoon. It'll be much easier to eat if they're bite-sized.
Make sure to simmer. Once soup has come to a boil, reduce to a simmer and make sure that it stays there. Boil things too vigorously, and the vegetables will get too mushy.
Change up the veggies. I love the combination of vegetables in this soup (lots of winter veggies good for the colder months), but the great thing about soup is that it's a good way to clean out your fridge. So if you are missing one of the listed vegetables, but maybe have something else, give it a try!
Can I make vegetable soup in a crock pot?
To make this vegetable soup in a crock pot:
Saute onions, carrots, garlic for a few minutes, add garlic saute 1 minute longer.
Add to slow cooker along with potatoes, other veg, herbs, salt and pepper.
Cook until veggies are tender, on high heat about 3 hours or low heat about 6 – 7 hours.
Add peas during the last 30 minutes.
Can you freeze vegetable soup?
Yes, in fact this soup can be prepared and then frozen for a quick and easy dinner on another day.
The best way to freeze soup is by first letting it cool in an ice bath.
Next, pour it into a zip-top plastic freezer bag and then simply lay it flat in the freezer. Or you can use sealed containers.
The soup should last from 4-6 months in the freezer.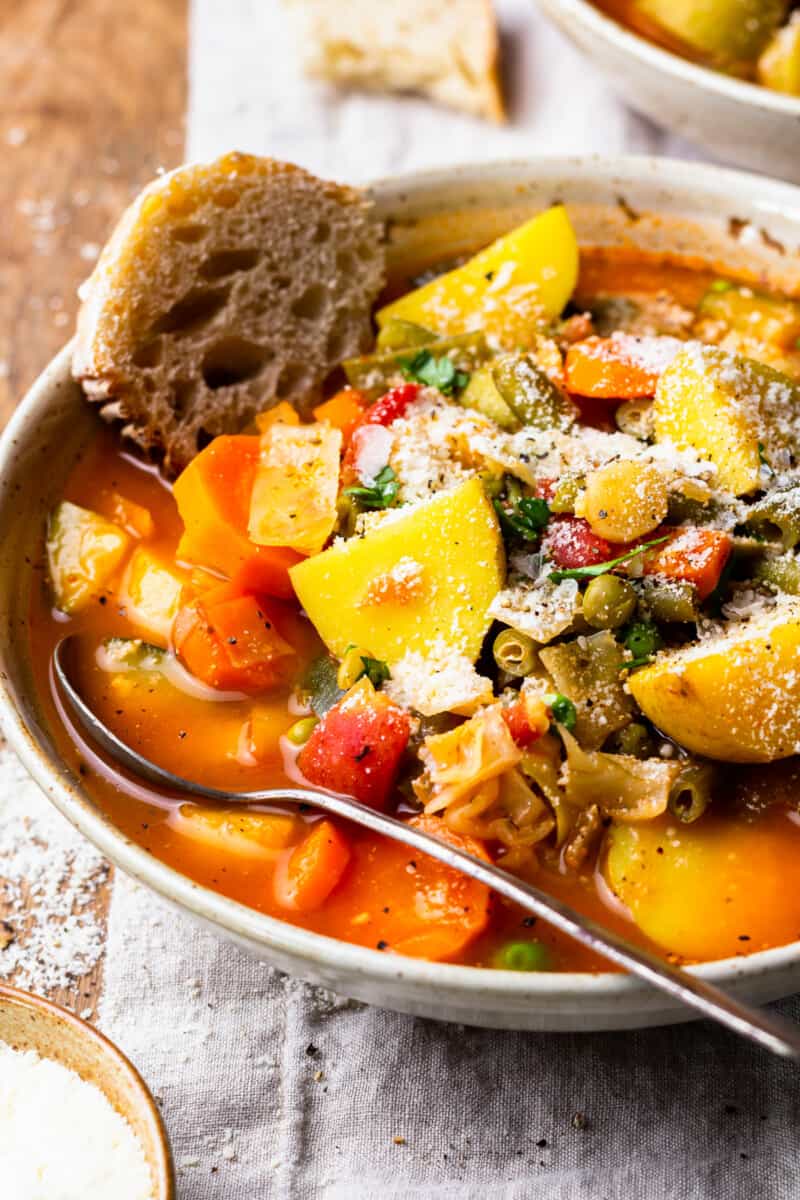 This super easy, hearty, homemade vegetable soup recipe is definitely a favorite. I love to make a big batch to freeze every winter so I have some ready to go at all times. It's the perfect dinner and a great appetizer soup to serve before the meal. Absolutely delicious!
More Easy Soups We Love
If you make this recipe be sure to upload a photo in the comment section below or leave a rating. Enjoy!