Homemade Pico de Gallo is a MUST MAKE for Summer and especially Cinco de Mayo. We love this EASY, quick, and flavorful Salsa Fresca that's loaded with fresh tomatoes, onion, lime juice, cilantro, and jalapeno peppers. This Pico de Gallo Recipe is the perfect topping for steak or chicken or is perfect for chips and salsa. Best recipe for Summer!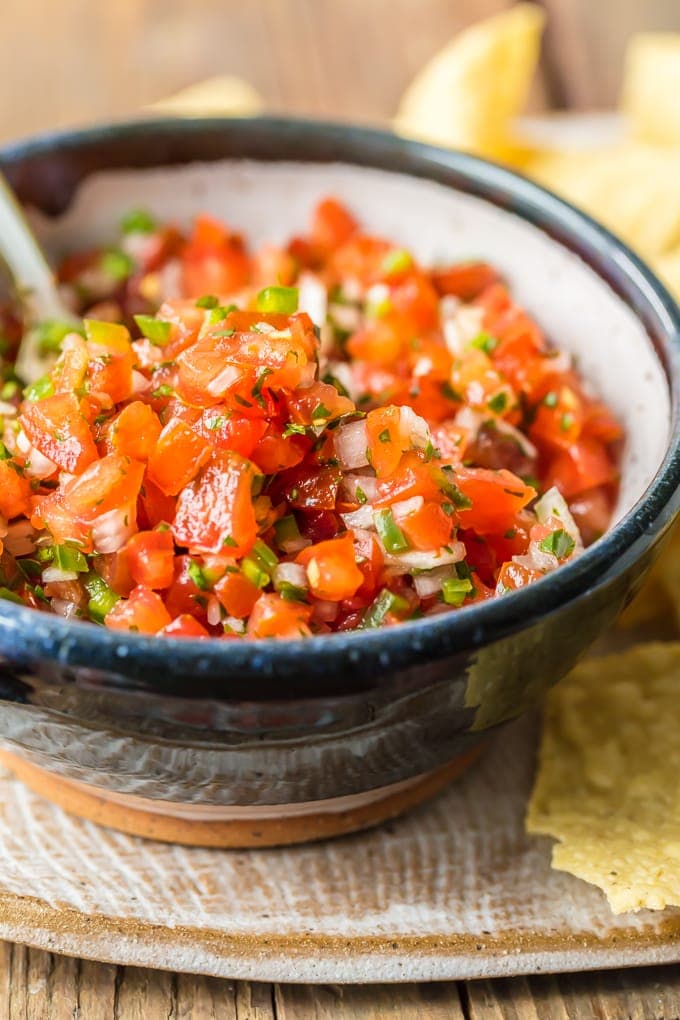 Pico de Gallo Recipe
This Homemade Pico de Gallo Recipe (Salsa Fresca) is one of our go-to healthy snacks, especially for Summer.
An amazing Pico de Gallo Recipe can take a good party to an amazing fiesta! Homemade Pico de Gallo, also called Salsa Fresca or Salsa Cruda is one of my favorite appetizers to make on a Summer night, margarita in hand, sitting in a deck chair under the sunshine. Henry can play in the grass, Scout can meander around the neighborhood, and I can enjoy my chips and pico!
Homemade Pico de Gallo is a great appetizer or side dish recipe for celebrating Cinco de Mayo, or making year round.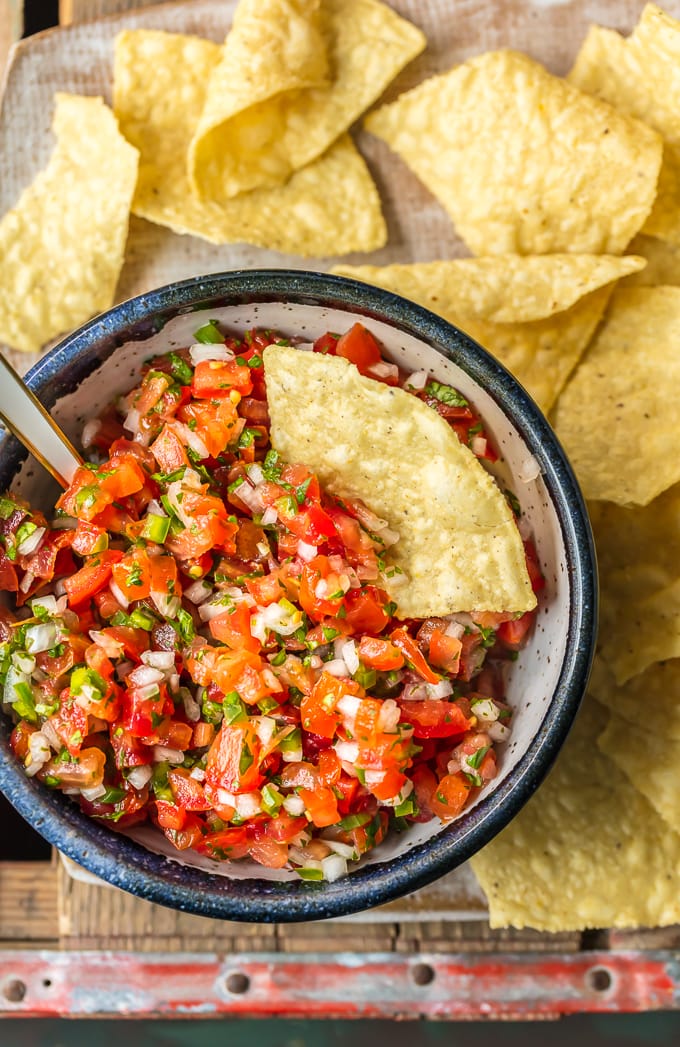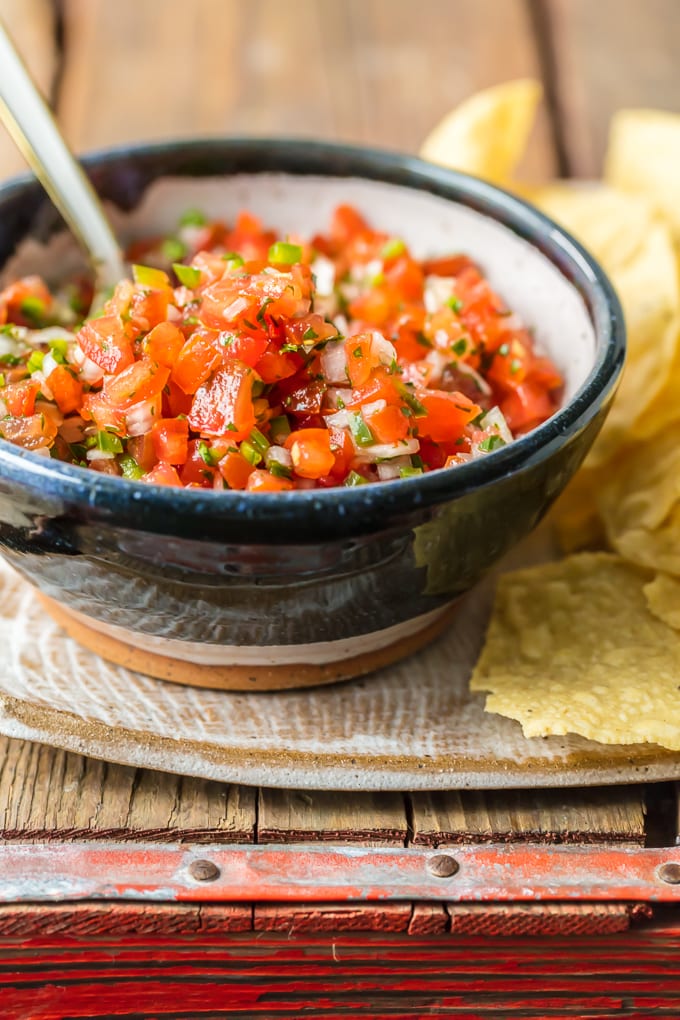 What is the difference between Pico de Gallo and Salsa?
Although salsa and pico de gallo recipes have many of the same ingredients, their consistencies are quite different. Salsa is usually much thinner/soupier while Pico de Gallo is thicker and more like a salad. For example, you could eat Pico as a side with a fork, while salsa has more liquid and is better suited as a dip. Pico de Gallo can be a dip as well, but only has a little liquid, mostly from the tomatoes. Traditional salsa is cooked, while Pico de Gallo is fresh.
Another difference between Salsa and Pico de Gallo is that Salsa can be preserved/canned and pico de gallo cannot. Once it is preserved or canned, it's no longer fresh, and therefore becomes a salsa. Kinda confusing…semantics semantics. :)
How long does Fresh Pico de Gallo last in the fridge?
Fresh Pico de Gallo properly stored in an airtight container should last up to 3 days in the fridge. Over time, the tomatoes and cilantro will get droopy and lose their freshness. Pico de Gallo shouldn't be frozen, unfortunately! Better enjoy it while it's fresh!
What are the origins of Pico de Gallo, aka Salsa Fresca?
In Spanish, Pico de Gallo literally means "beak of the rooster". Originally, it was a salad made of jicama slaw, peanuts, oranges, and onion. Although that flavor combo actually sounds pretty delicious, the flavors of homemade pico de gallo have changed over time.
Today, wherever you are in the world, a pico de gallo recipe will consist of fresh chiles, cilantro, tomato, onion, and lime juice. Of course there are variations, but that is the core of the recipe. The simple salt and pepper mixed with the lime juice and peppers bring all the flavor and heat, distinguishing this easy appetizer from run of the mill diced tomatoes.
I think its so fun that the flavors of Pico de Gallo, or Salsa Fresca, make up the Mexican Flag. These flavors and this recipe are simply PERFECT for Cinco de Mayo!
How to make Pico de Gallo
We have written detailed instructions in the recipe card below, but the abbreviated version is as follows:
Season your diced tomatoes and allow to drain of excess liquid.
Toss all the ingredients together and stir to combine, being careful not to squish the tomatoes while stirring. You want to keep the ingredients as in tact as possible.
Eat within 4 hours or store in the fridge for up to 3 days.
Be sure to serve with homemade tortilla chips and a delicious and cold Margarita!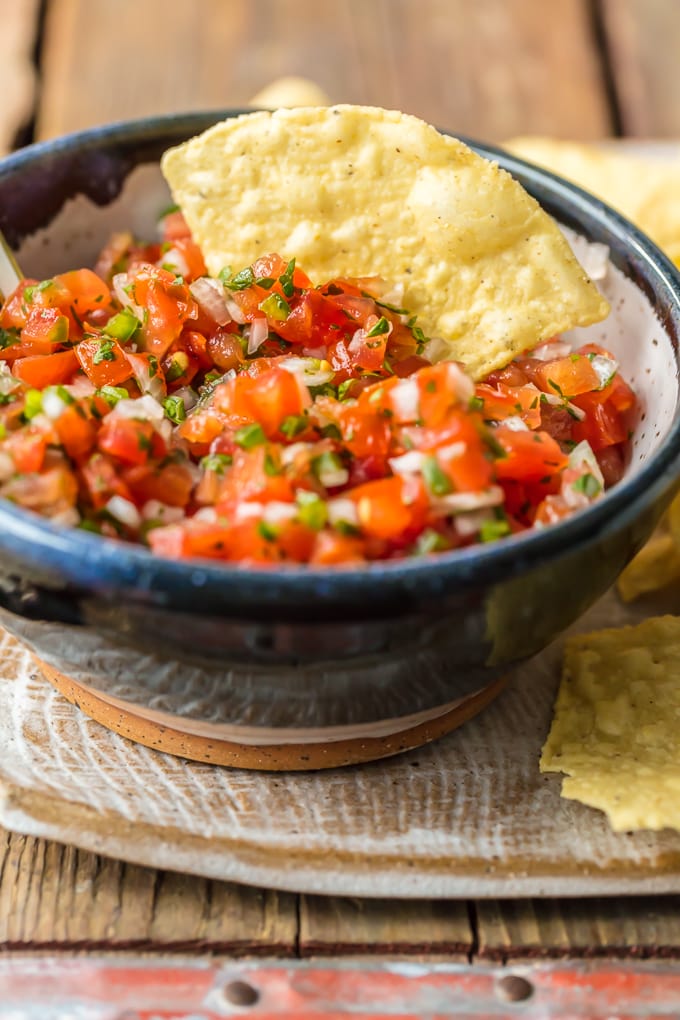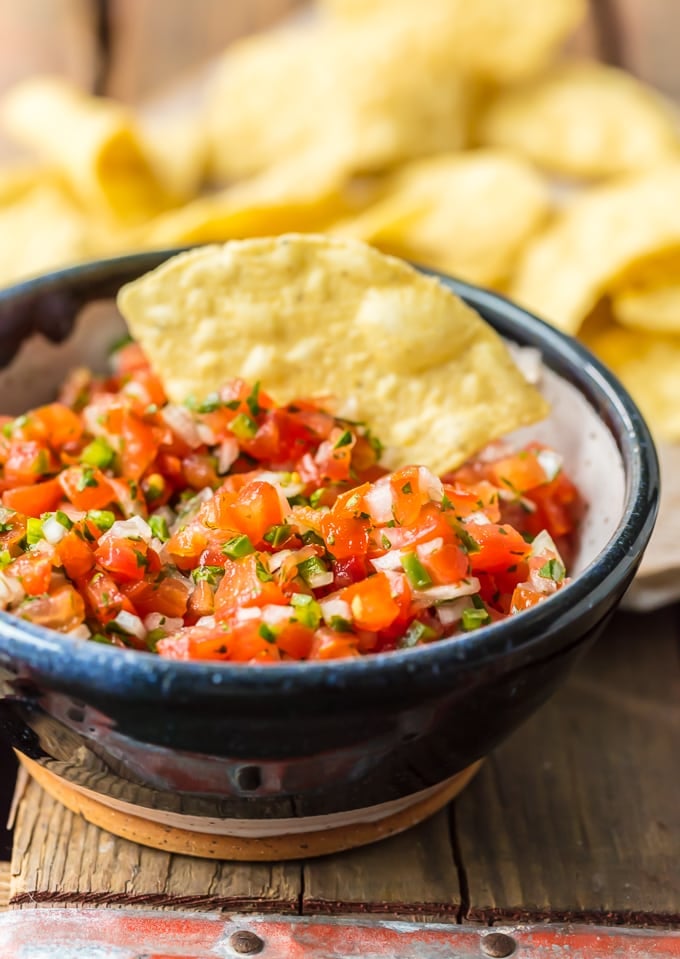 Other Cinco de Mayo Recipes we love
You've come to the right place if you're looking for Tex Mex or Mexican recipes perfect for celebrating Cinco de Mayo. We have everything from appetizers to main courses, just begging to be made for our favorite holiday! Here are some of our go-to celebratory recipes!
Drink Pairings
There's nothing better to pair with Homemade Pico de Gallo than an amazing Margarita! We have compiled all our favorite Margarita Recipes in the ULTIMATE MARGARITA GUIDE. From classic to unique to flavored to frozen, we have you covered! Be sure to check it out today.
Make some fresh Pico de Gallo for Taco Night! Check out the full Taco Tuesday Guide for more tips, ideas, and recipes.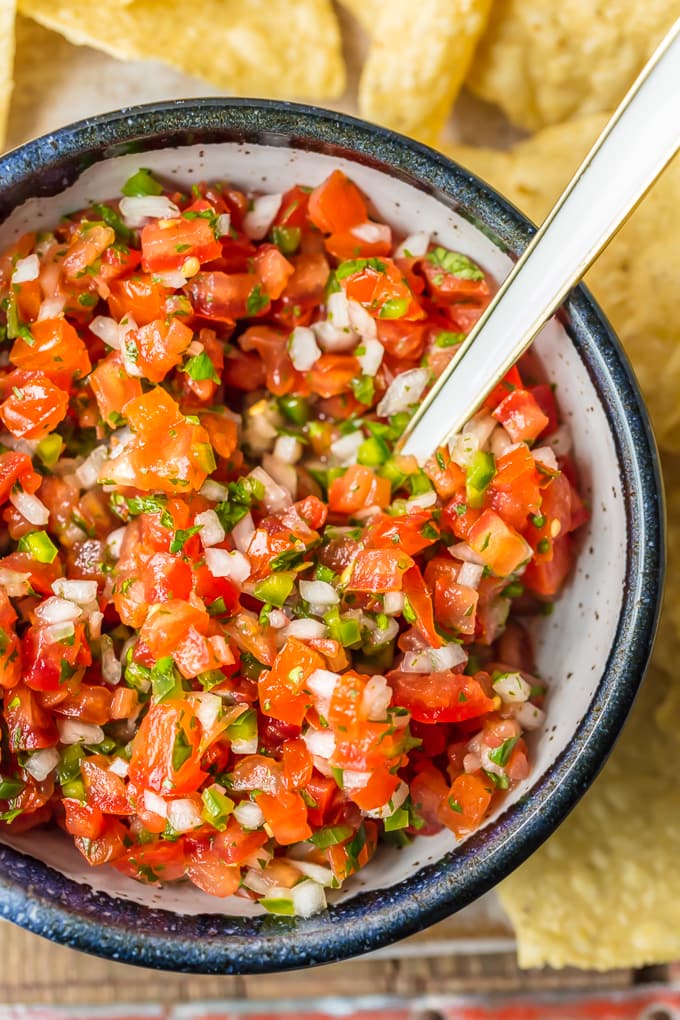 Homemade Pico de Gallo is an absolute Summer Recipe MUST MAKE. Like I said before, you better pair this easy Salsa Fresca with an ice cold margarita!
Our favorite Margarita Recipes include our Skinny Margarita, Best Pitcher Margarita, Strawberry Margarita Punch, Broiled Grapefruit Margarita, White Wine Margaritas, and of course Frozen Watermelon Margaritas! We have you covered on the Tex Mex front my dears!
See the recipe card for details on How to Make Homemade Pico de Gallo. Enjoy!