Pico de Gallo is an easy, fresh, and flavorful little dip you can make any time! Also known as Salsa Fresca, this recipe is loaded with fresh tomatoes, onion, lime juice, cilantro, and chili peppers. This homemade Pico de Gallo recipe is great for chips and salsa, and it's also the perfect topping for chicken and Mexican dishes.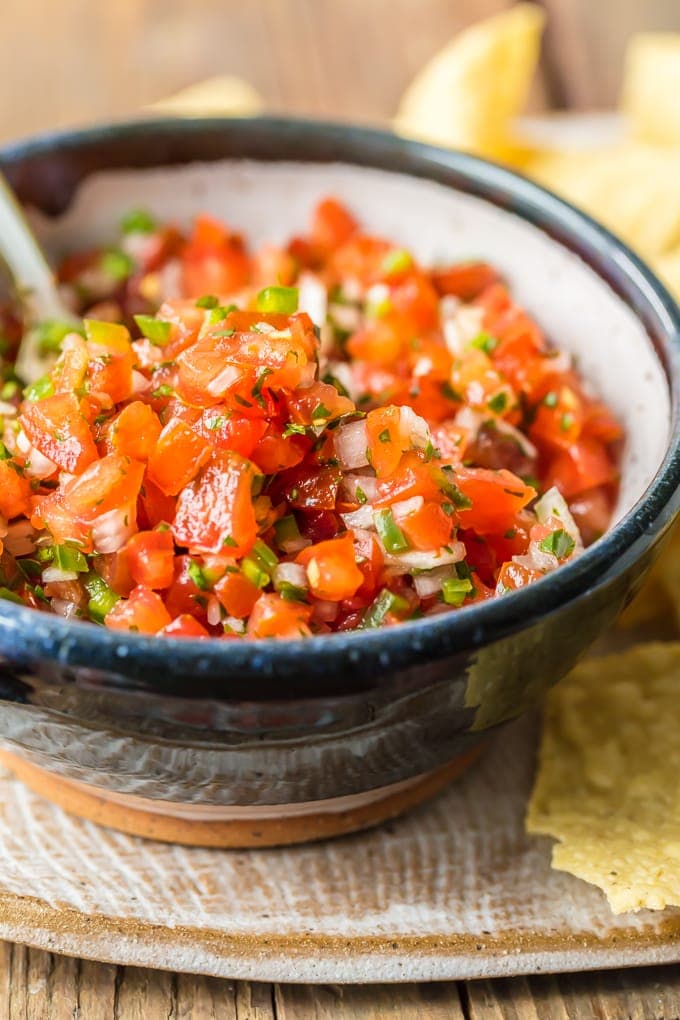 Pico de Gallo
This homemade pico de gallo recipe (aka salsa fresca) is one of our go-to healthy dips. It's a great dip for appetizers, afternoon snacks, or to serve alongside your favorite Mexican dishes at dinner.
Learn how to make pico de gallo so you can turn any good party into an amazing fiesta! It's super quick and easy, and it tastes so good. It's great for any kind of party or gathering.
This is one of my favorite appetizers to make on a summer night, margarita in hand, sitting in a deck chair under the sunshine. Just add some salty, crispy tortilla chips and you're ready to chow down!
Why You'll Love this Pico de Gallo Recipe:
QUICK DIP: This homemade salsa fresca is SO quick and easy to throw together. It won't take more than 10 minutes, and there's no cooking involved.
FLAVORFUL: Fresh tomatoes with all the other ingredients makes for a super flavorful mix. It's so delicious!
VERSATILE: This is a surprisingly versatile recipe. It's a great dip, but it can also be served as more of a topping, garnish, or side.
Homemade Pico de Gallo is a great table dip, appetizer, or side dish for celebrating Cinco de Mayo or taco night. And of course you can make it year round, for any occasion!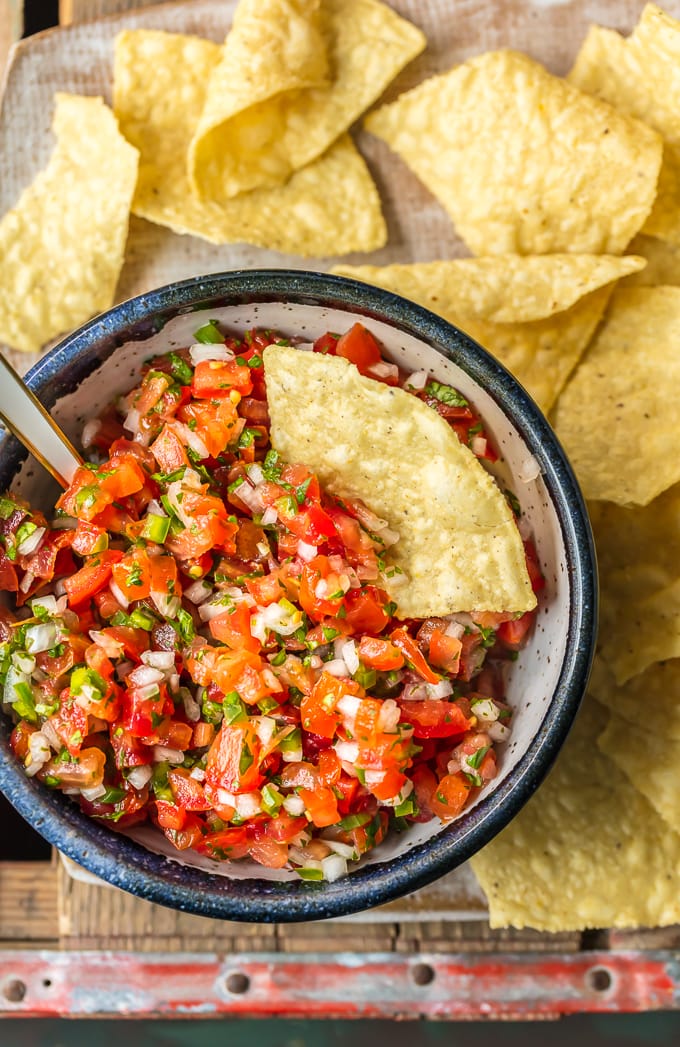 What is pico de gallo?
Pico de gallo is a salsa-like dip made of raw, chopped tomatoes, onions, chili peppers, lime juice, and salt. It's a fresh, chunky dip that is traditionally served as a table salsa to be eaten with chips. You can also use it as more of a garnish or topping. It's sometimes known as salsa fresca.
Ingredients
Tomatoes: Your salsa fresca will taste so much better with good quality, ripe tomatoes. The fresher, the better!
Onions: White onions are your best option here since they are more mild than red onions. Remember, these will be raw!
Chili Peppers: I recommend using jalapenos, or serrano peppers if you want something hotter.
Cilantro: Finely chopped cilantro tastes delicious mixed into pico de gallo. But you can skip it, or use another leafy herb instead (parsley, basil).
Lime Juice: Squeeze fresh lime juice to taste. It adds a great acidic, fruity twist to the salsa.
Salt: Salt actually helps to release liquid/juices from the tomatoes! That's why (as you'll see) we salt the tomatoes first and drain. We don't want a liquidy salsa, so this is important. Salt will also be used to season to taste.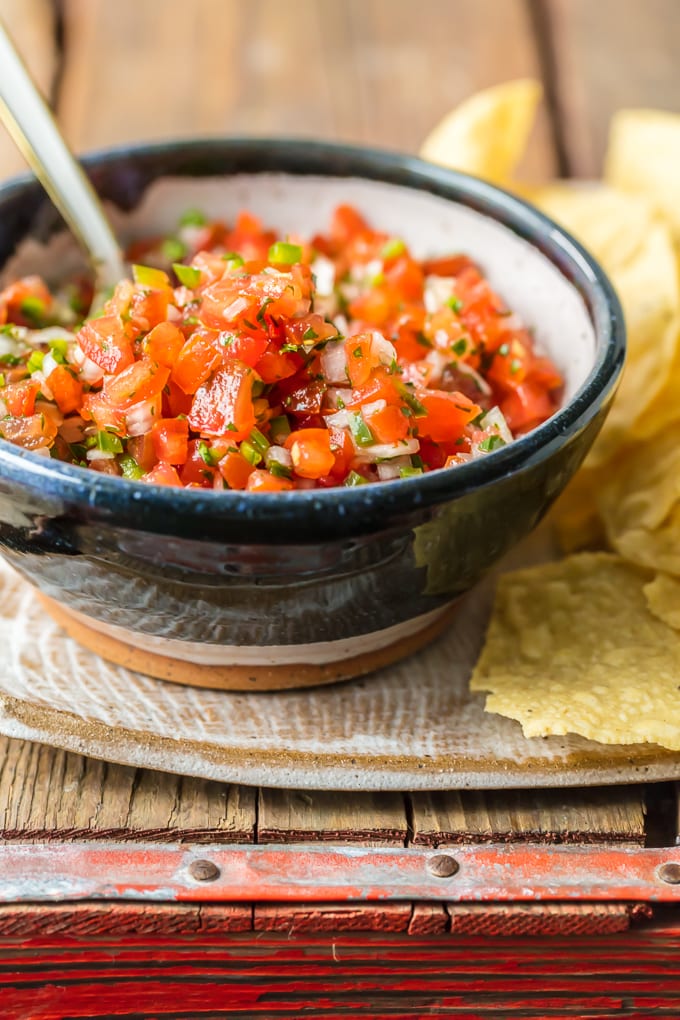 How to Make Pico de Gallo
Be sure to see the recipe card below for full ingredients & instructions!
Start by dicing and chopping up all of your fresh ingredients.
Sprinkle diced tomatoes with salt, and place in a strainer to drain excess liquid.
Combine all ingredients in a bowl, and gently toss to mix.
Season to taste with lime juice and salt.
Eat within 4 hours or store in the fridge for up to 3 days.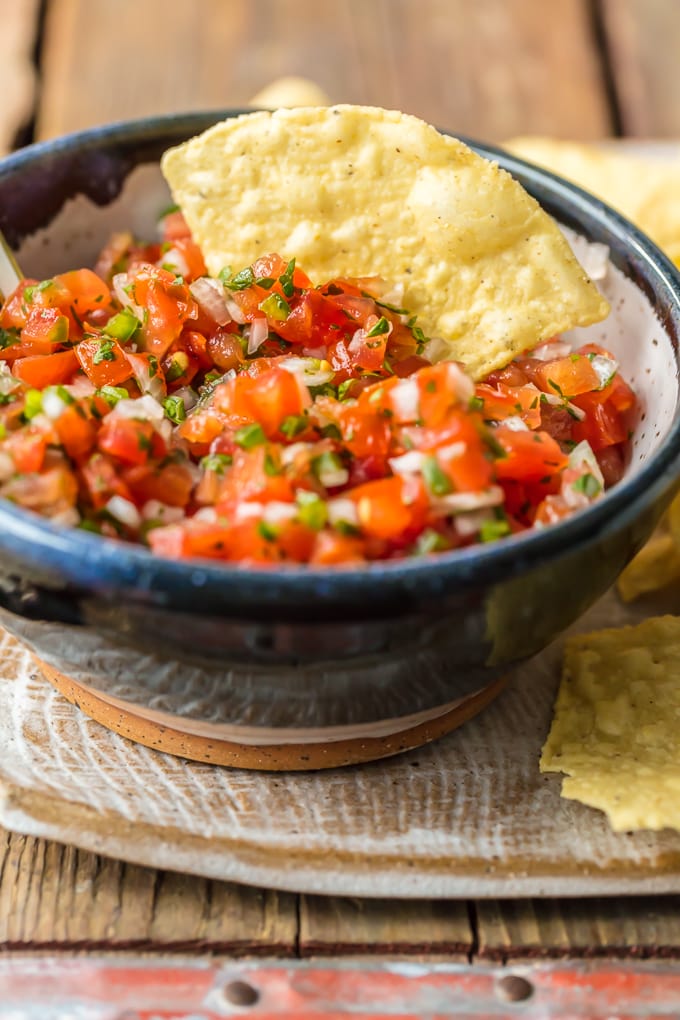 What's in pico de gallo?
A traditional pico de gallo recipe is a mix of tomatoes, onions, chilis, cilantro, salt, and lime juice.
Is salsa fresca healthy?
Yes, this salsa fresca recipe is so simple, with just a few fresh ingredients. It's low calorie, and it's just fruits and herbs. So it makes a great healthy little dip!
What are the best tomatoes for pico de gallo?
Use fresh, ripe tomatoes for the best and most flavorful results. If you can't find super fresh tomatoes (particularly in the winter), use Roma or cherry tomatoes.
Is pico de gallo spicy?
The chili peppers do add a bit of spice, but you can make it more or less spicy as you please. You can remove the seeds and membrane from the chilis to make it less hot. While serrano peppers are a great way to add more heat.
What do you use pico de gallo for?
It's typically served as a table dip with chips, but it also makes a great topping or garnish for all your favorite Mexican dishes.
Can you freeze it?
I don't recommend freezing it. The ingredients will be best fresh, and the freezer/thawing can mess with the texture. But it's such a quick recipe to throw together fresh!
Serving Suggestions
The best way to serve this easy pico de gallo recipe is along with some tortilla chips. You can't go wrong with the classic chips and salsa combination. And it never hurts to add a margarita for a simple happy hour, or pre-dinner appetizer. If you want something non-alcoholic instead, this Pineapple Agua Fresca is delicious!
It's also a great topping to use on tacos, burritos, fajitas, salads, taco bowls, chicken, steak, or any Mexican dish.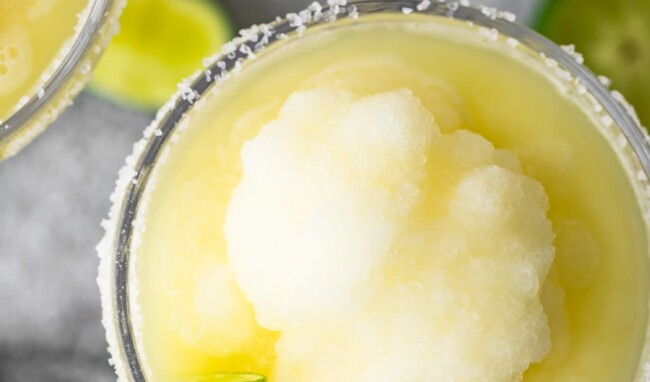 Cheers my Dears
20 Best Margarita Recipes
See our guide for How to Make Margaritas including all our fave go-to recipes.
See Guide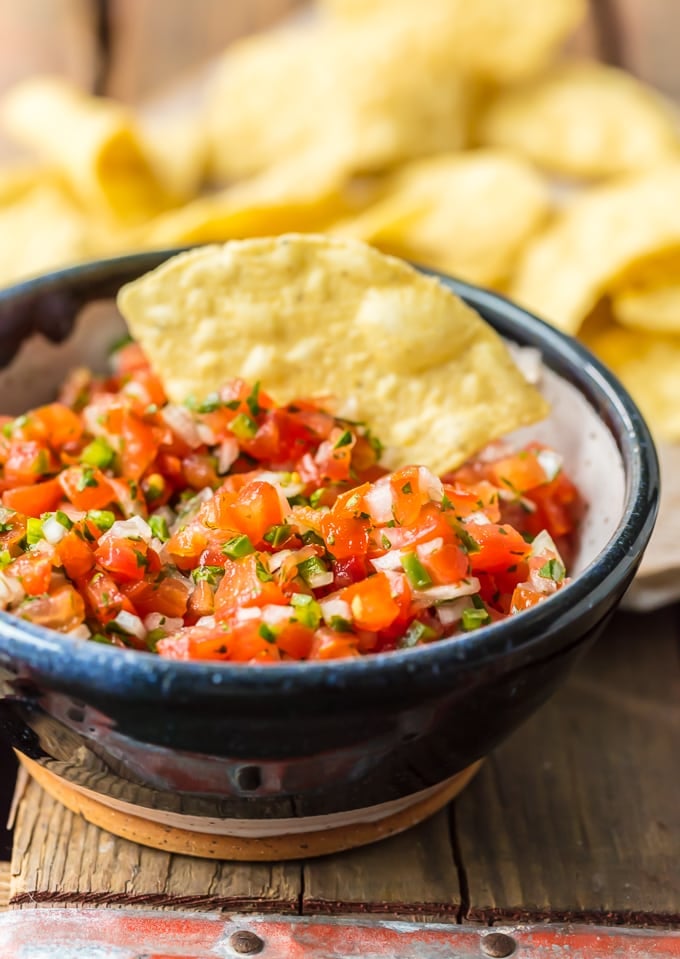 Tips!
Feel free to leave out or substitute any ingredients you don't like or don't have. Cilantro can be left out, you can use a different type of chili pepper, or you can even make a fruitier version instead (add mango or pineapple!).
This salsa fresca recipe is best eaten FRESH, but it can be kept in the fridge to chill before serving.
Keep leftovers in the fridge for up to 3 days. It will become a bit more liquidy the longer it sits, but it still tastes quite good, especially as a topping.
How long does Pico de Gallo last in the fridge?
Fresh-made Pico de Gallo should be stored in an airtight container, and it will last up to 3 days in the fridge. Over time, the tomatoes and cilantro will get droopy and lose their freshness. So it's best to eat while fresh!
What is the difference between Pico de Gallo and Salsa?
Pico de gallo is also called salsa fresca, so yes, it is a type of salsa. However, it is a little bit different than most of the salsa you might think of.
The main difference is the consistency. Salsas (aka sauces) are usually more liquidy, with varying degrees of chunkiness. While pico de gallo is mainly just chunks of ingredients, mostly dry, like a garnish or salad. We removed as much of the liquid as possible!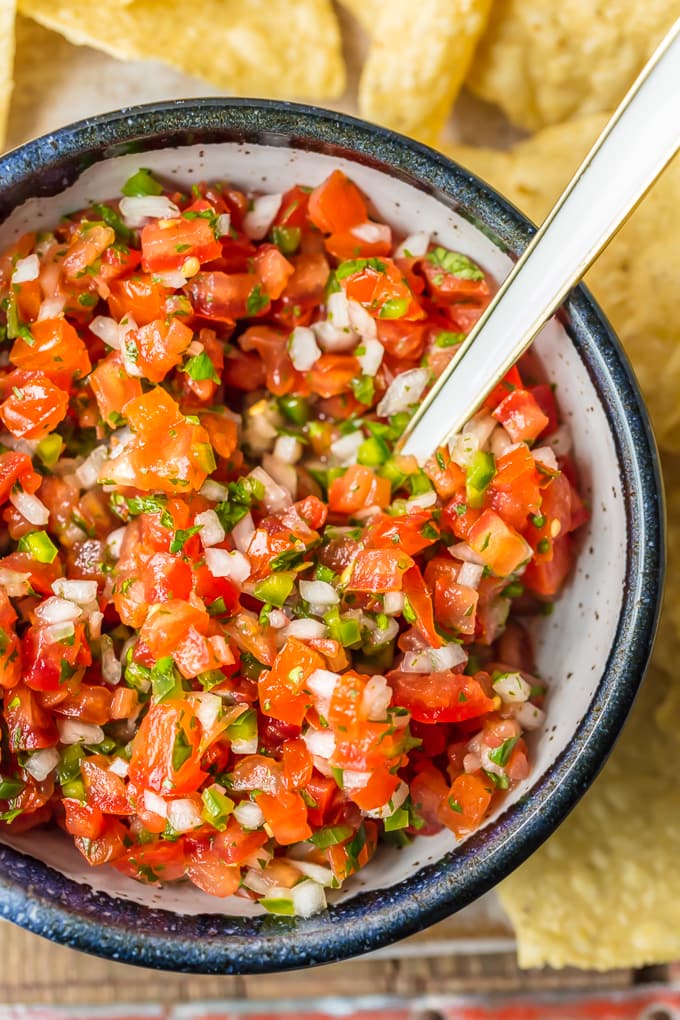 This easy, fresh, homemade Pico de Gallo recipe is an absolute MUST anytime you need a simple dip or salsa. Like I said before, you'll want to pair this Salsa Fresca with an ice cold margarita, especially on Cinco de Mayo. Enjoy!
If you make this recipe be sure to upload a photo in the comment section below or leave a rating. Enjoy!