Pico de Gallo is an easy, fresh, and flavorful little dip you can make any time! Also known as Salsa Fresca, this recipe is loaded with fresh tomatoes, onion, lime juice, cilantro, and chili peppers. This homemade Pico de Gallo recipe is great for chips and salsa, and it's also the perfect topping for chicken and Mexican dishes.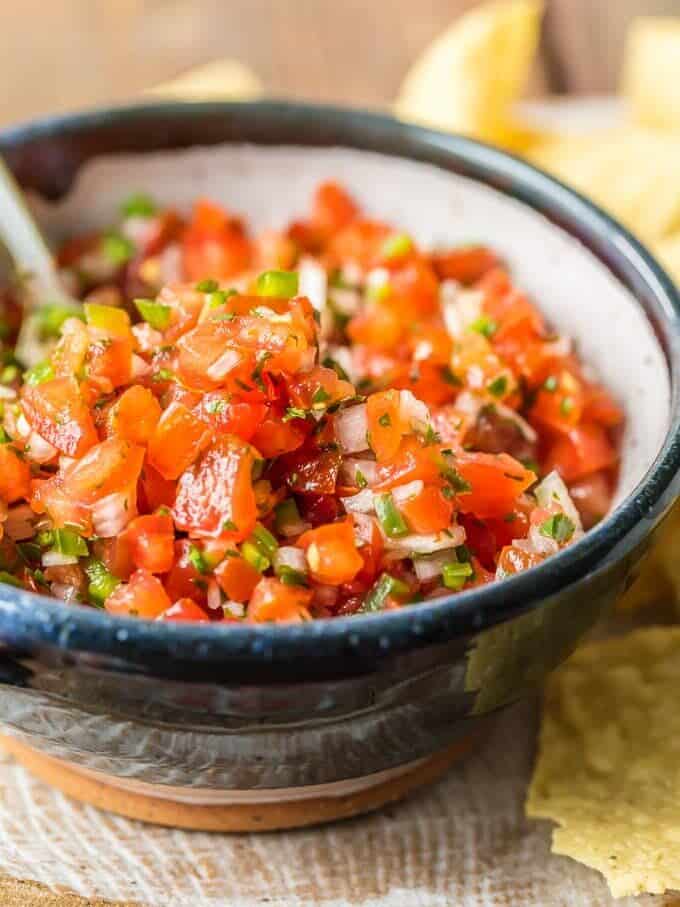 What's in this Pico de Gallo Recipe?
This homemade pico de gallo recipe (aka salsa fresca) is one of our go-to healthy dips. It's a great dip for appetizers, afternoon snacks, or to serve alongside your favorite Mexican dishes at dinner.
Tomatoes: Your salsa fresca will taste so much better with good quality, ripe tomatoes. The fresher, the better!
Salt: Salt actually helps to release liquid/juices from the tomatoes! That's why (as you'll see) we salt the tomatoes first and drain. We don't want a liquidy salsa, so this is important. Salt will also be used to season to taste.
Onions: White onions are your best option here since they are milder than red onions. Remember, these will be raw!
Chili Peppers: I recommend using jalapenos, or serrano peppers if you want something hotter.
Cilantro: Finely chopped cilantro tastes delicious mixed into pico de gallo. But you can skip it, or use another leafy herb instead (parsley, basil).
Lime Juice: Squeeze fresh lime juice to taste. It adds a great acidic, fruity twist to the salsa.
Pro Tip: If your raw onions are a bit too strong, try soaking them in ice water for about 10 minutes before adding them to the pico.
Variations on Salsa Fresca
There are so many ways to change up this pico de gallo once you get a hang of the basics. Try one of these fan favorites:
Mango Pico de Gallo: Add diced fresh mango.
Pineapple Pico de Gallo: Add diced fresh pineapple (canned also works!)
Corn Pico de Gallo: Add fresh or canned corn kernels (drain if canned).
Pico de Gallo with Avocado: Add diced fresh avocado.
Cabbage Pico de Gallo: Add chopped green cabbage.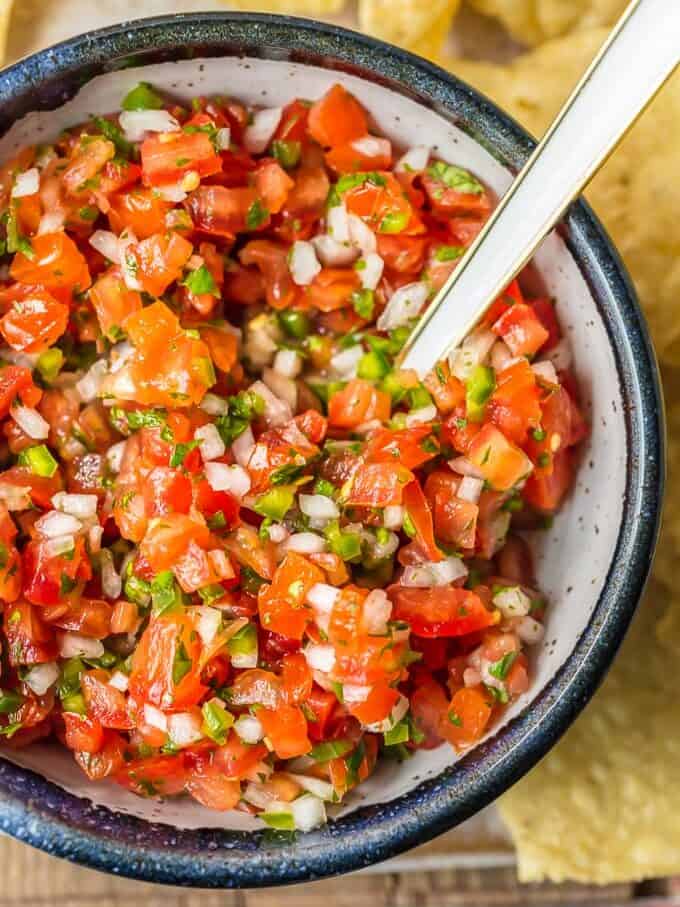 What is pico de gallo?
Pico de gallo is a salsa-like dip made of raw, chopped tomatoes, onions, chili peppers, lime juice, and salt. It's a fresh, chunky dip that is traditionally served as a table salsa to be eaten with chips. You can also use it as more of a garnish or topping. It's sometimes known as salsa fresca.
What does "pico de gallo" mean?
Translated from Spanish, "pico de gallo" literally means "beak of rooster." Some believe this is because it was originally eaten by pinching between the thumb and finger, making the shape of a rooster's beak.
Is pico de gallo healthy?
Yes, this salsa fresca recipe is so simple, with just a few fresh ingredients. It's low calorie, and it's just fruits and herbs. So it makes a great healthy little dip!
What is the difference between pico de gallo and Salsa?
Pico de gallo is also called salsa fresca, so yes, it is a type of salsa. However, it is a little bit different than most of the salsa you might think of.
The main difference is the consistency. Salsas (aka sauces) are usually more liquidy, with varying degrees of chunkiness. While pico de gallo is mainly just chunks of ingredients, mostly dry, like a garnish or salad. We removed as much of the liquid as possible!
What are the best tomatoes?
Use fresh, ripe tomatoes for the best and most flavorful results. If you can't find super fresh tomatoes (particularly in the winter), use Roma or cherry tomatoes.
Is pico de gallo spicy?
The chili peppers do add a bit of spice, but you can make it more or less spicy as you please. You can remove the seeds and membrane from the chilis to make it less hot. While serrano peppers are a great way to add more heat.
What goes with pico de gallo?
It's typically served as a table dip with chips, but it also makes a great topping or garnish for all your favorite Mexican dishes.
How long does pico de gallo last?
Fresh-made Pico de Gallo should be stored in an airtight container, and it will last up to 3 days in the fridge. Over time, the tomatoes and cilantro will get droopy and lose their freshness. So it's best to eat while fresh!
Can you freeze pico de gallo?
I don't recommend freezing it. The ingredients will be best fresh, and the freezer/thawing can mess with the texture. But it's such a quick recipe to throw together fresh!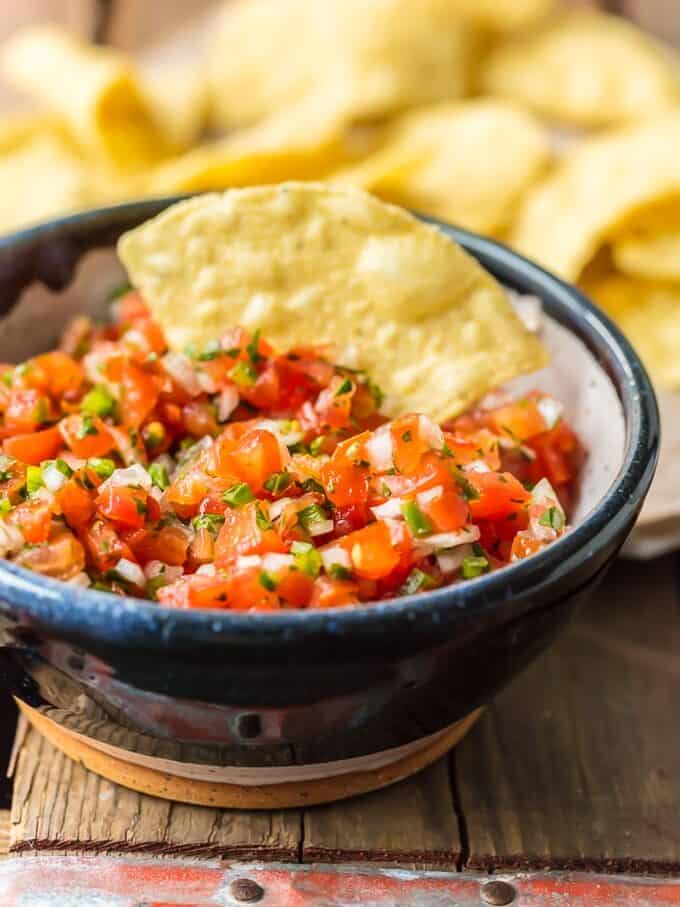 How to Store
Store leftover pico de gallo in an airtight container in the refrigerator for up to 3 days. Toss gently before serving cold. I do not recommend freezing salsa fresca.
Serving Suggestions
This is one of my favorite appetizers to make on a summer night, margarita in hand, sitting in a deck chair under the sunshine. Just add some salty, crispy tortilla chips and you're ready to chow down! If you want something non-alcoholic instead, this Pineapple Agua Fresca is delicious!
It's also a great topping to use on baked chicken tacos, crockpot chicken burritos, steak fajitas, shrimp salads, taco bowls, pan seared chicken, grilled steak, or any Mexican dish.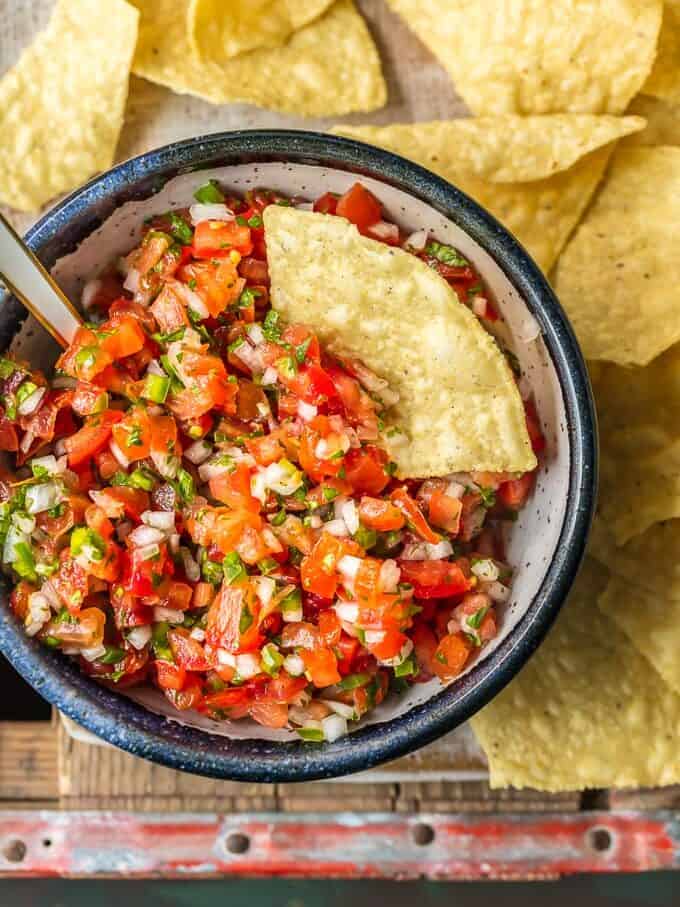 More Salsa Recipes We Love