STICKY TOFFEE PUDDING CAKE is the ultimate holiday dessert! This toffee pudding poke cake is the perfect dessert recipe for spoiling your family this Christmas. Top it off with whipped cream or ice cream for an extra special treat!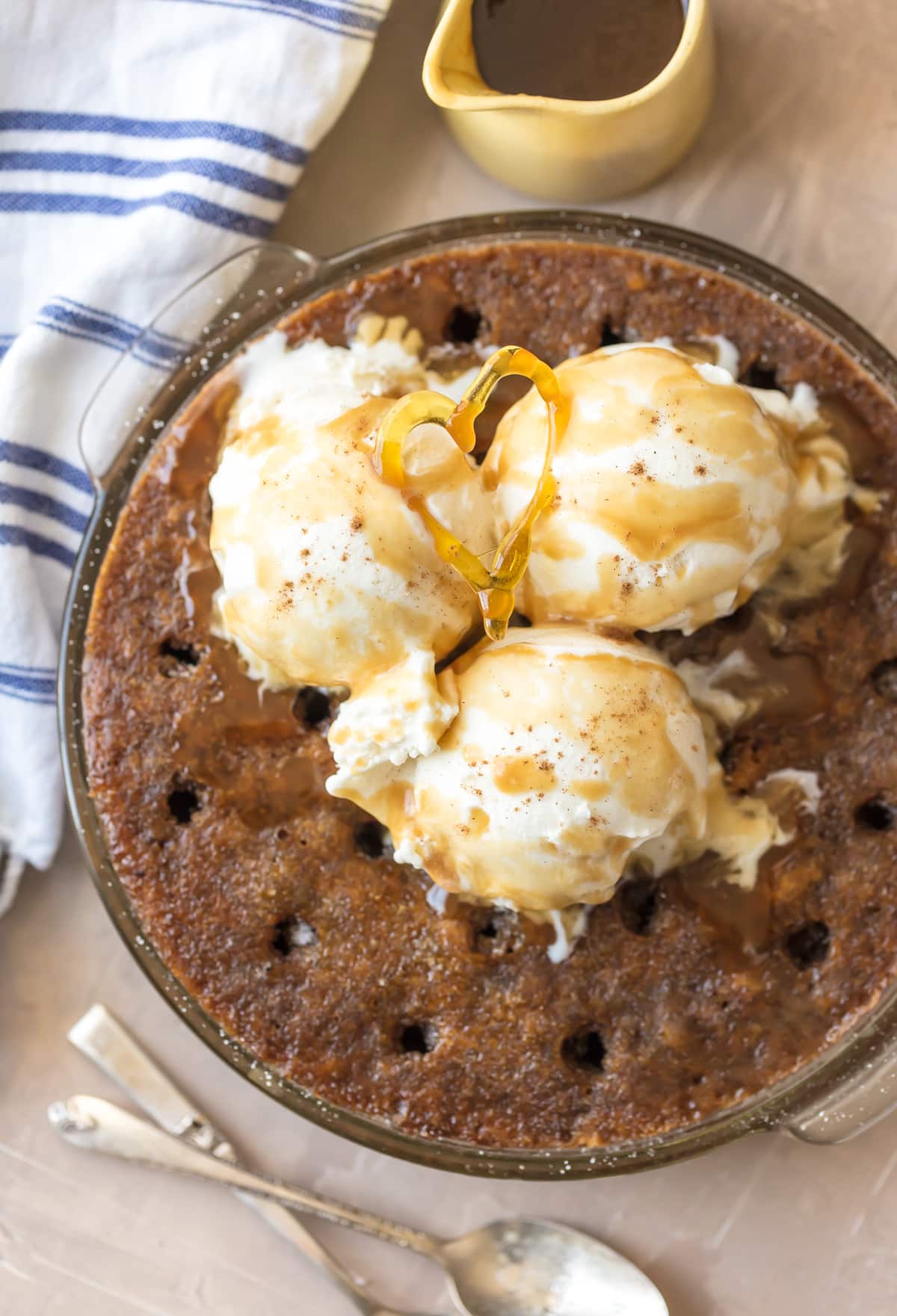 Easy Sticky Toffee Pudding Recipe
Sticky Toffee Pudding Cake is one amazing holiday dessert. This delicious pudding poke cake is topped with the most delicious toffee sauce. It's sure to please everyone who tries it!
Sticky Toffee Pudding Cake is the absolute ultimate Christmas dessert! I'm blessed to have an amazing cook as a mother, and this is one of her creations! Mom and Dad lived in London when my dad taught overseas for a semester, and she came back making this delicious new dessert called Sticky Toffee Pudding.
She made it for Christmas a couple years ago and I've been hooked ever since. Fast forward to this year, when she came over with an updated and easier version, Sticky Toffee Pudding Poke Cake! This ooey gooey dessert is loaded with flavor and even has a brûlée top. It's beautiful, it's delicious, and it's oh so addicting. This is the perfect holiday cake to serve on Christmas. Once you've tasted it you'll be making it again year after year.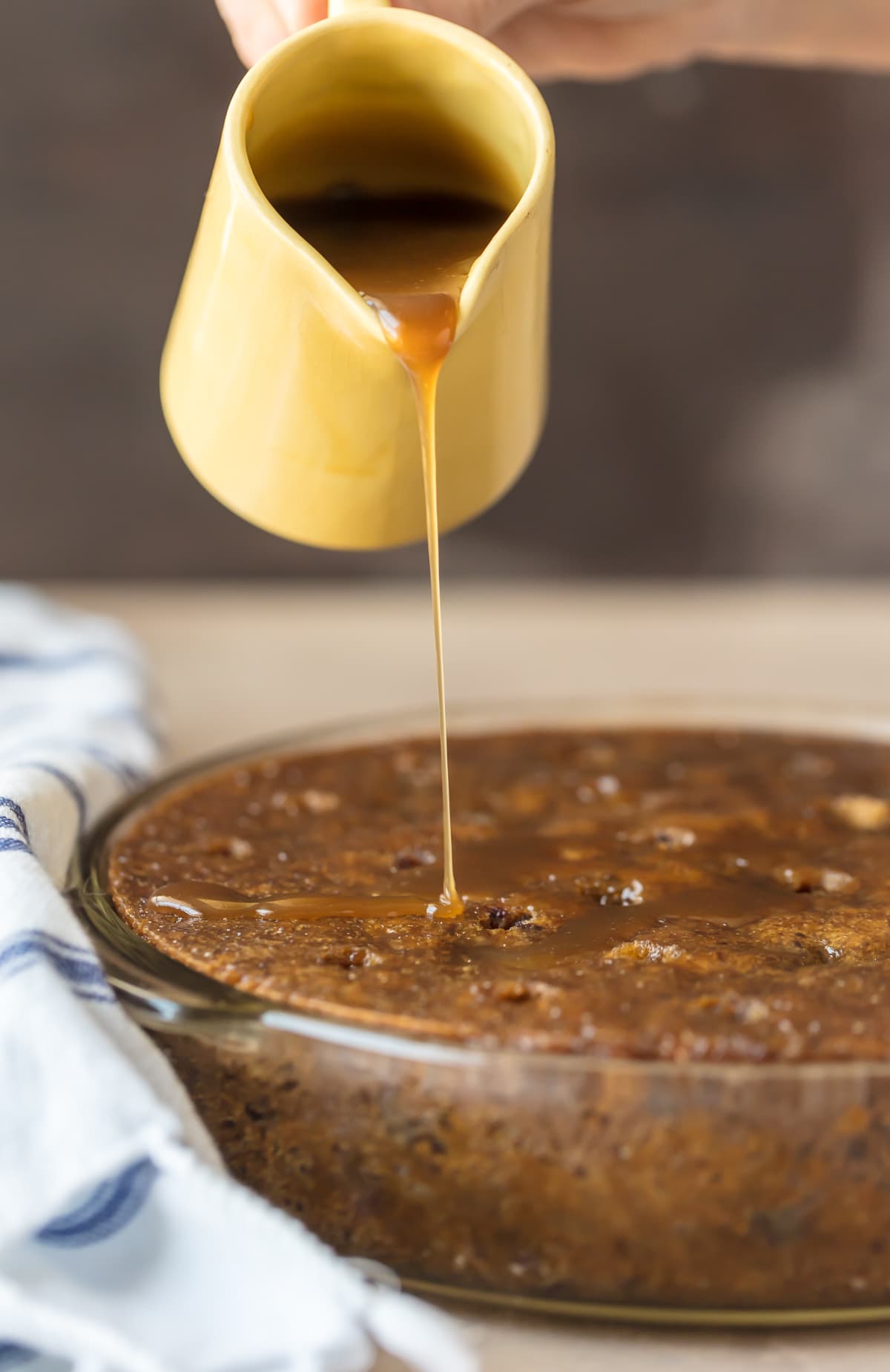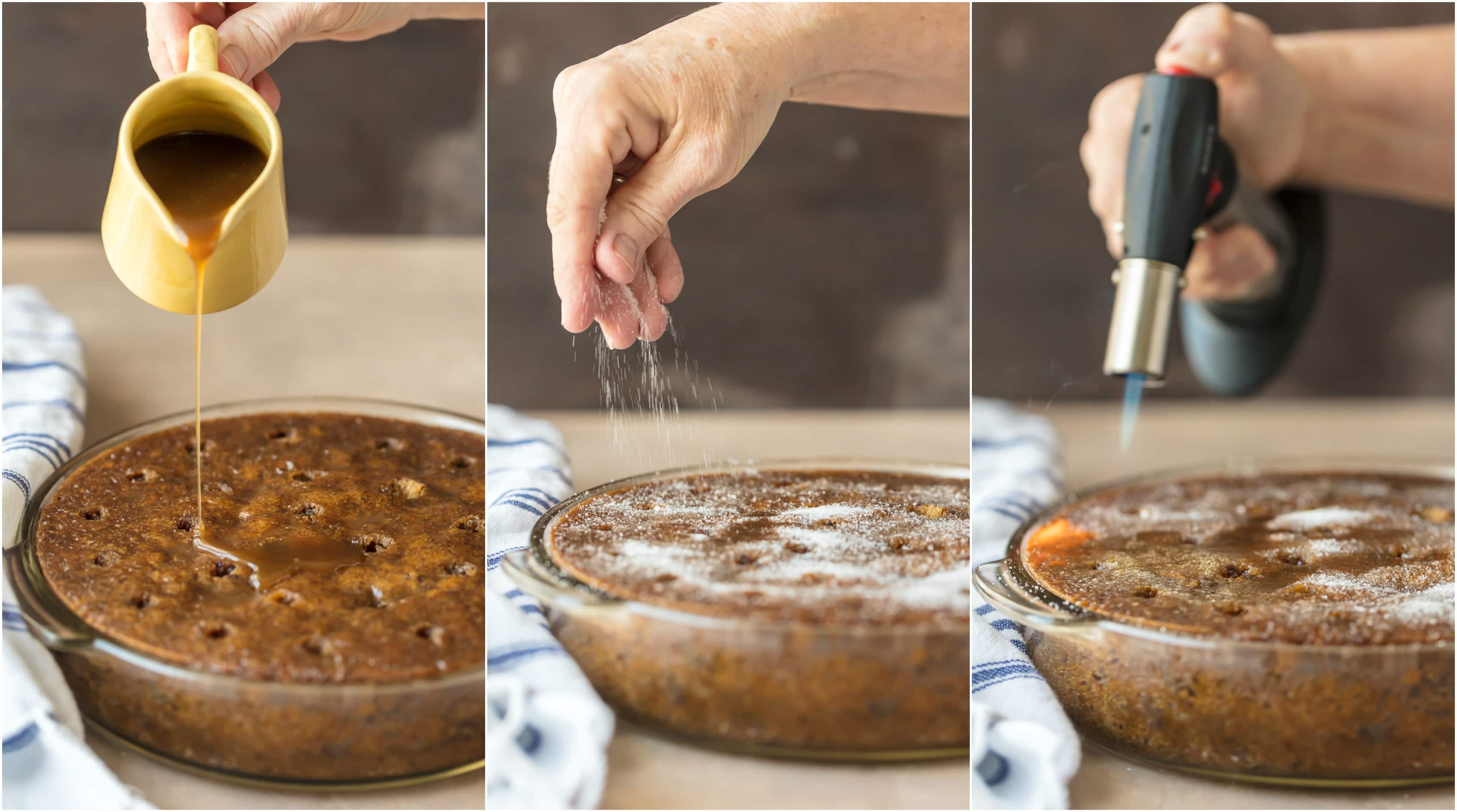 Easy Toffee Sauce
The Sticky Toffee Pudding Poke Cake is so good, but this toffee sauce is what really brings it all together! It's seriously amazing–I taste it in my DREAMS I tell you! It's made with butter, brown sugar, heavy cream, rum, and lemon juice. It all blends together so perfectly to make a tasty toffee sauce. Pour it over the cake after it's baked, and let it fall into the poke holes to really fill it with flavor. Yum!
To make the Toffee Sauce:
Melt butter in a saucepan, then mix in brown sugar. Whisk until sugar has dissolved.
Remove from heat, and whisk in cream and rum.
Place it back over low heat and cook until it becomes frothy.
Remove sauce from heat and stir in the lemon juice.
Set the toffee sauce aside until the cake is ready.
While we were making this cake we thought…why don't we add some sugar and light in on fire, aka brûlée the top? We just loved the way it turned out. It's optional, but isn't that so fun?! It adds just a touch of crispy layer to the top of the cake. It gives it an extra special flair that's perfect for holidays or special occasions.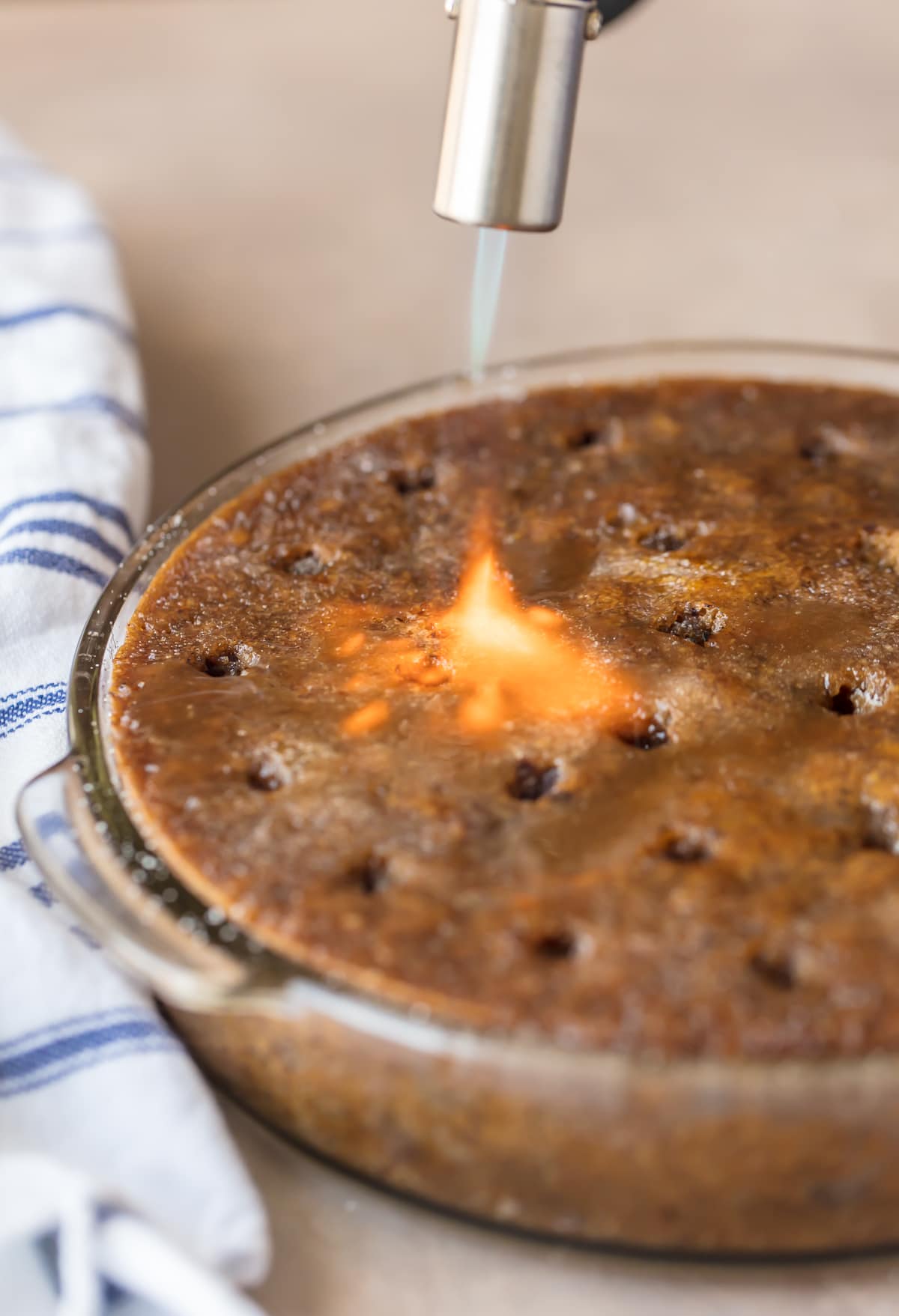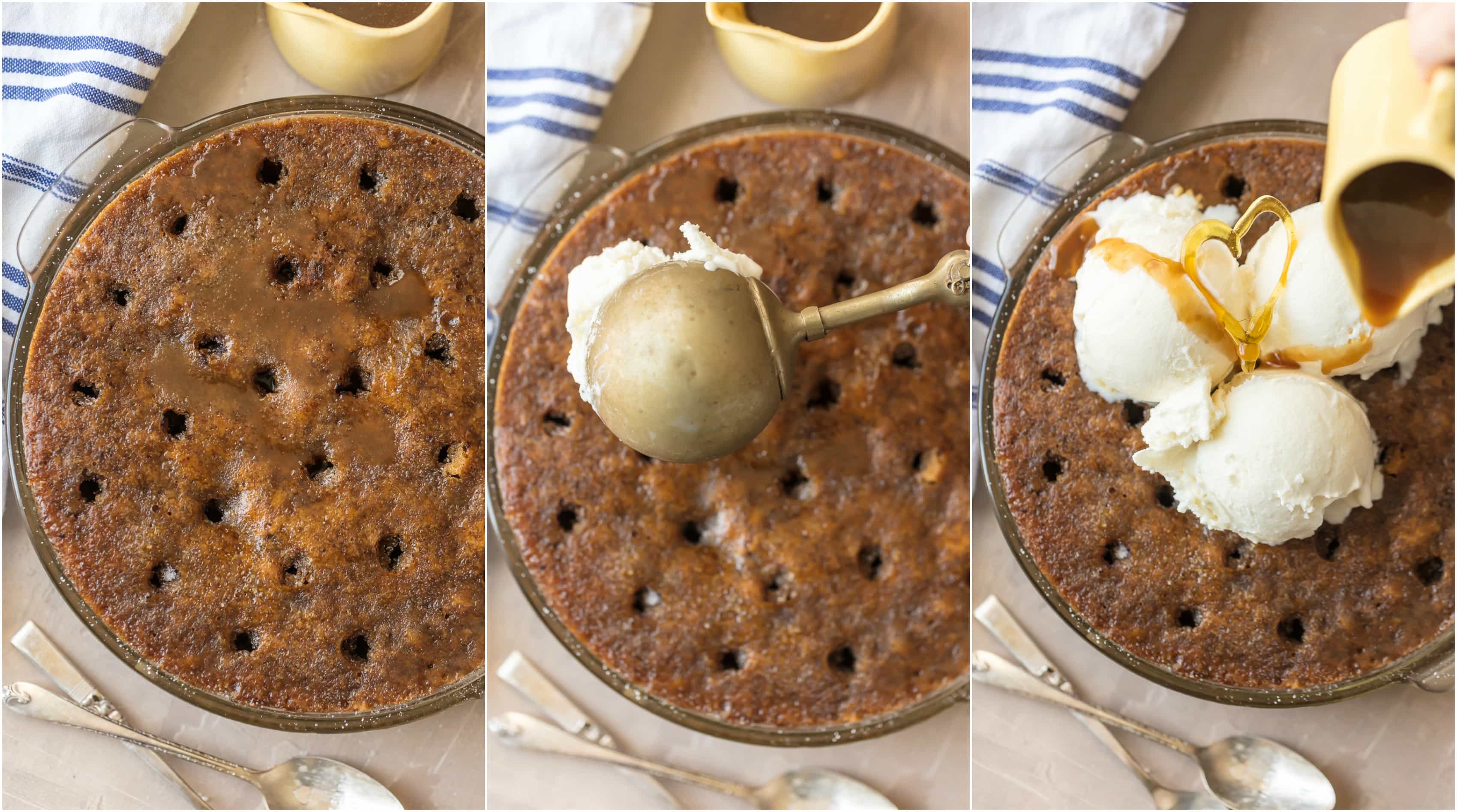 How to Make Sticky Toffee Pudding Cake
This Sticky Toffee Pudding Cake is such a fun treat. It's made with dates, which is what gives it that "sticky" sweet flavor. It is essentially Sticky Toffee Pudding in poke cake form and I can't get enough of it!
Once the cake is baked, immediately poke small holes into it (that's what makes it a poke cake), and pour the toffee sauce all over so that it seeps in. Let the cake cool, and then you can serve it with more sauce on top.
This Sticky Toffee Pudding Poke Cake is great topped with simple whipped cream, but I especially love it when served warm and loaded with vanilla ice cream. Sure, you can cut pieces and eat it in a civilized manner, but I prefer to just pass out spoons and all dig in. Talk about a sweet treat!
If you have leftovers, or if you decide to make it ahead of time, you can easily save it for later. Just cover it with plastic wrap and it will keep for 3 days. See the recipe card below for detailed instructions.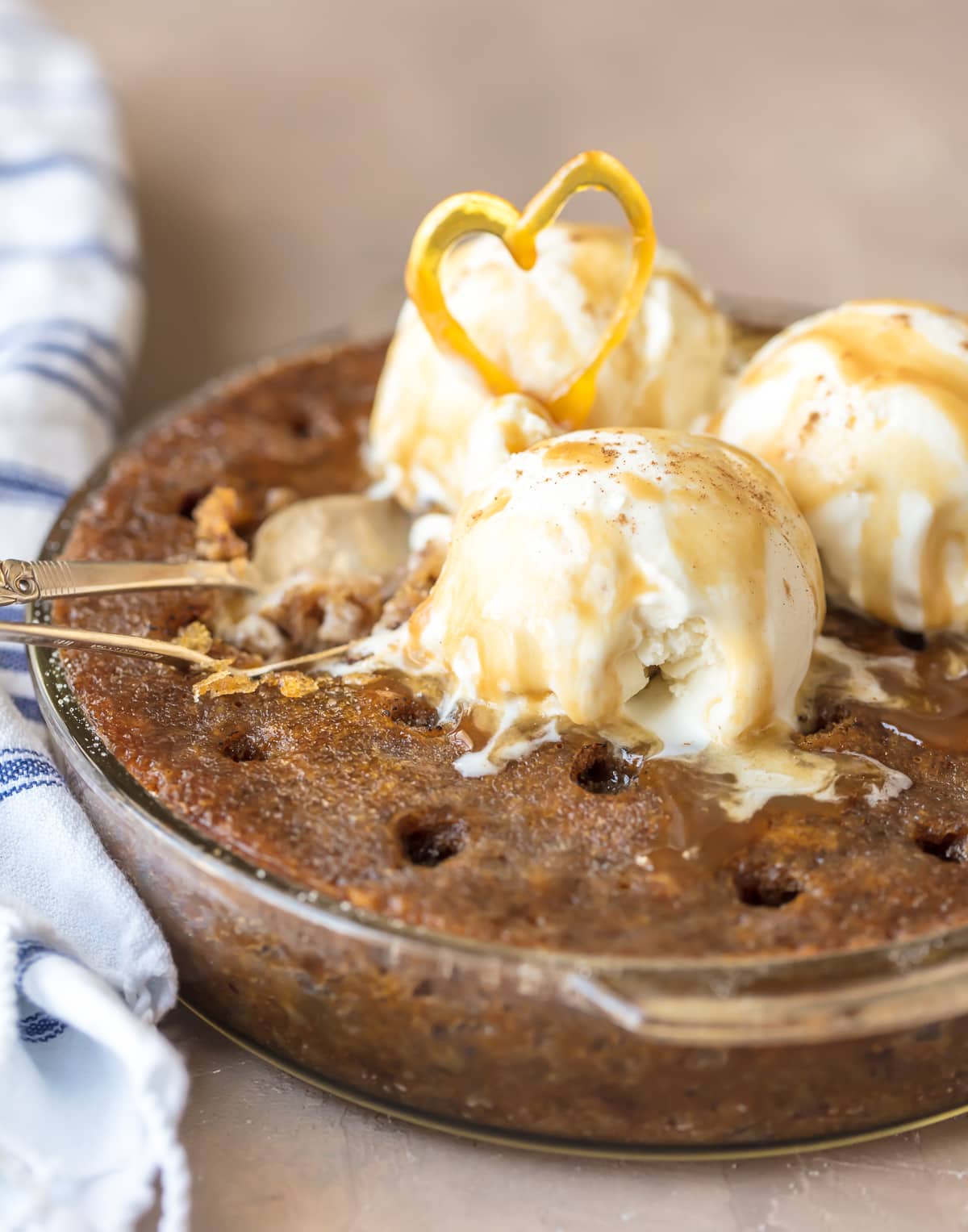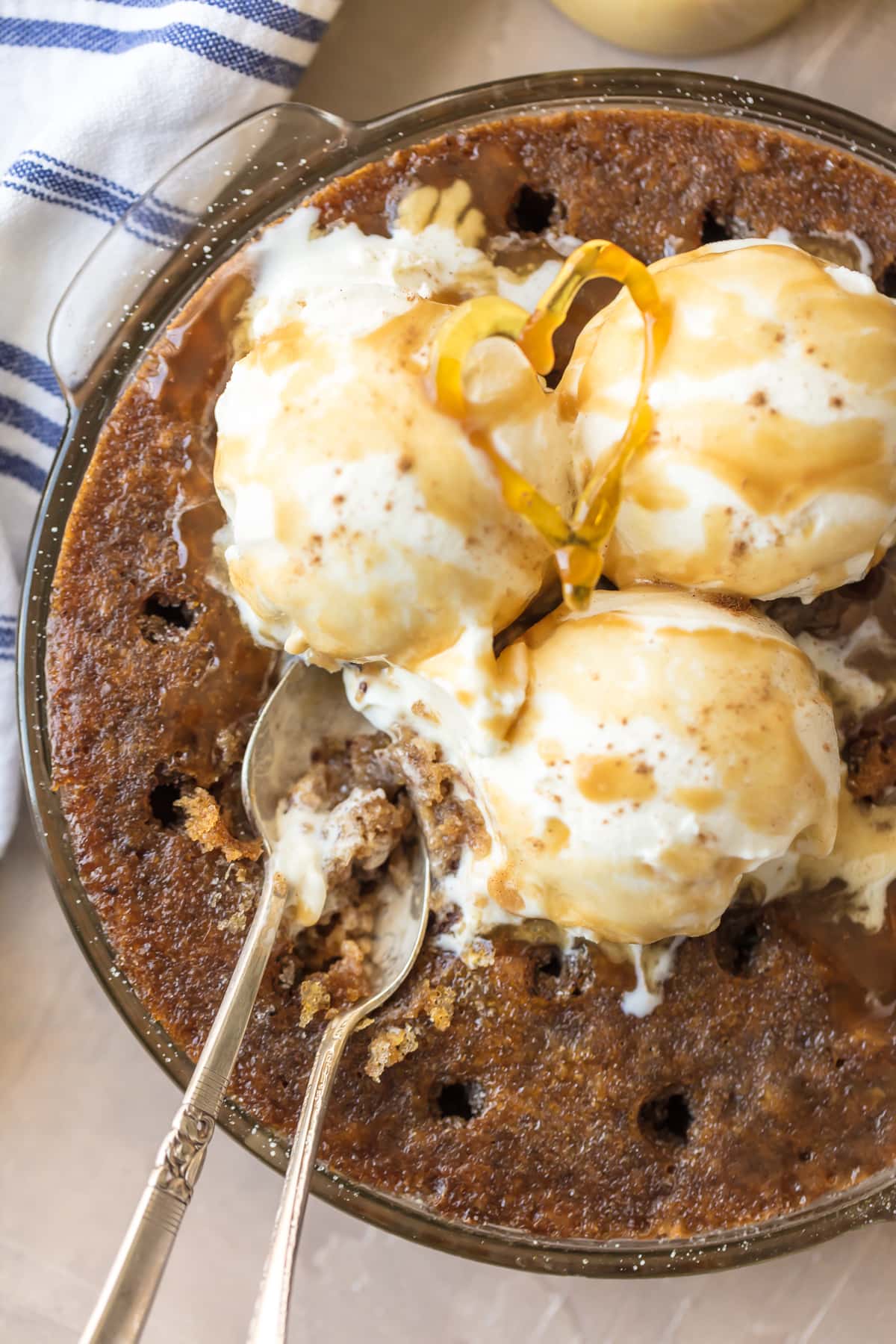 Sticky Toffee Pudding Poke Cake will forever make me think of Christmas, but it's a dessert I know we will enjoy year round. Basically give me a reason to celebrate and I'll make this dessert. Can you blame me?
If you like this recipe, be sure to check out these other easy cake recipes: