This OREO POKE CAKE RECIPE is one of our favorite EASY and delicious cakes to throw together for any occasion. This moist and flavorful cookies and cream cake is layered with chocolate cake, Oreo pudding, cool whip, and crushed Oreos! It's the perfect OREO CAKE RECIPE for birthday parties, holiday get togethers, or for celebrating making it to Friday. So good!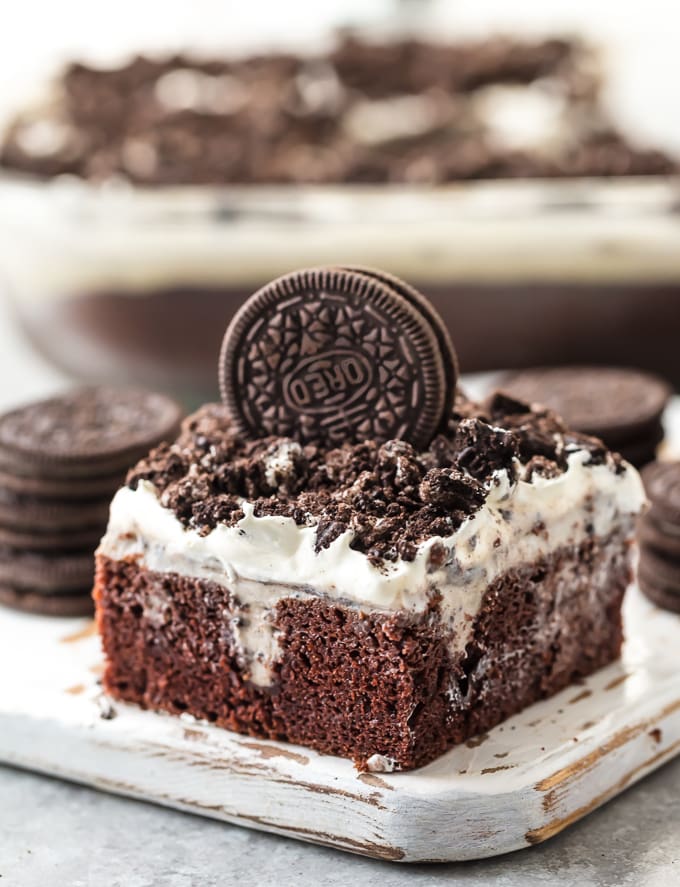 Oreo Cake Recipe
I've always been a sucker for Oreos. Oreo Cheesecake, Oreo Blizzards, just plain ole Oreos…I'm a huge fan! There's something about the flavors of a cookies and cream cake that takes me back to childhood and puts an instant smile on my face.
When I'm in the mood for an easy and amazing poke cake recipe, especially when going to a potluck or feeding a crowd, this CREAMY OREO POKE CAKE is at the top of my list.
It uses all kinds of shortcuts but is still DELICIOUS and typically devoured in minutes. You're gonna love this one!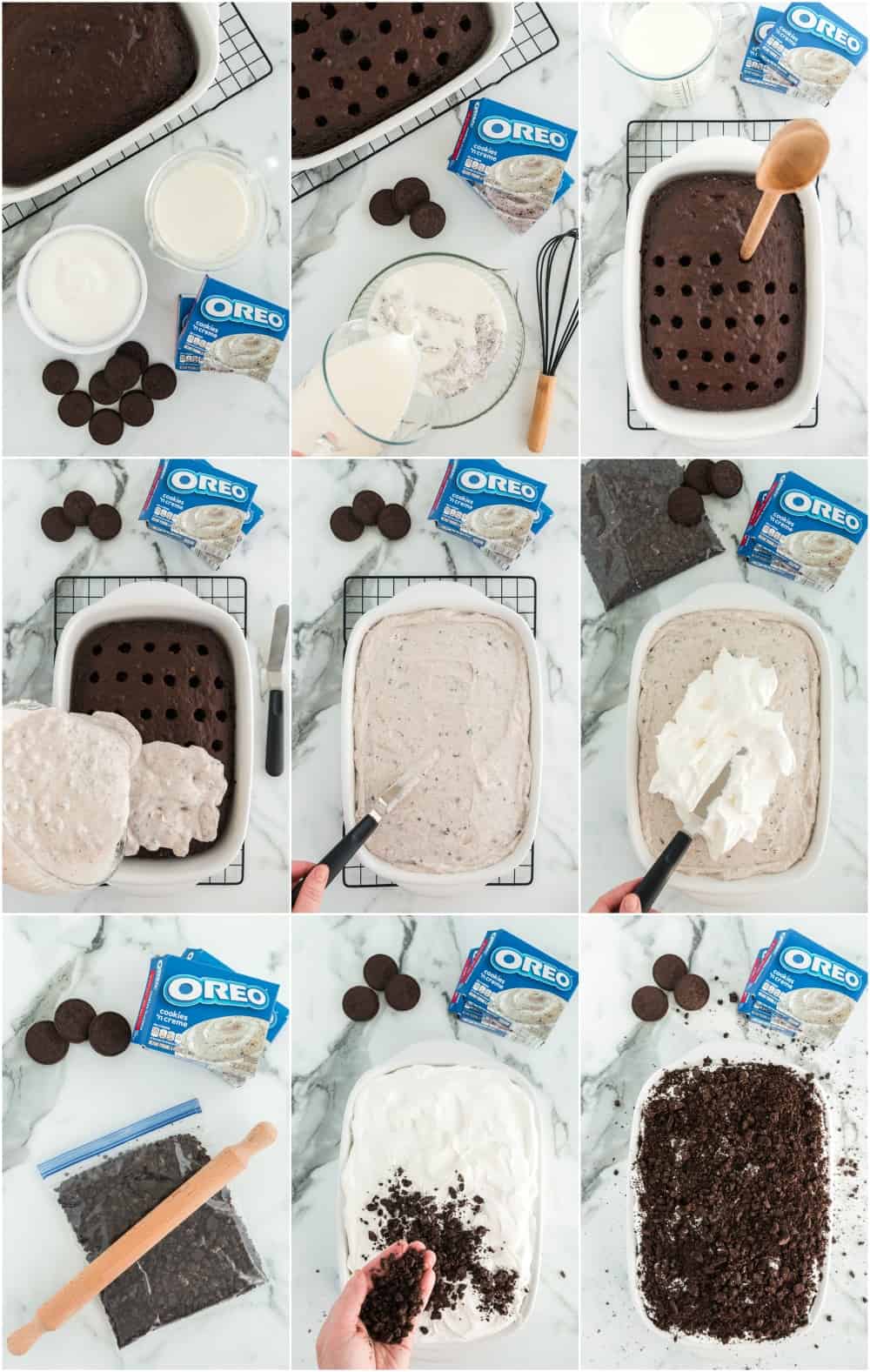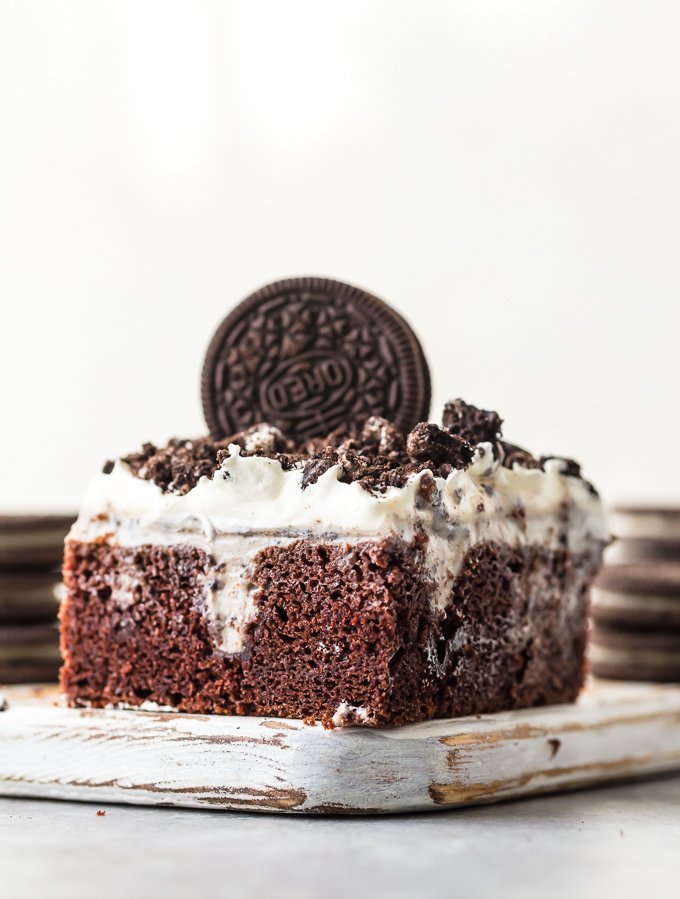 Oreo Poke Cake for a Crowd
I just love the way the Oreo pudding seeps down into the moist chocolate cake to create the ultimate flavor combination. This would be a great cake to make for Valentine's Day, birthday parties (Henry's first bday is in March and I still need a good smash cake recipe…send it my way if you have one!), work potlucks, Summer BBQs, and more!
It's certainly a cookies and cream cake that you can make year-round ranging from Summer to Christmas.
Luckily kids and adults alike are all enamored with this delicious and OH SO SIMPLE Oreo poke cake recipe.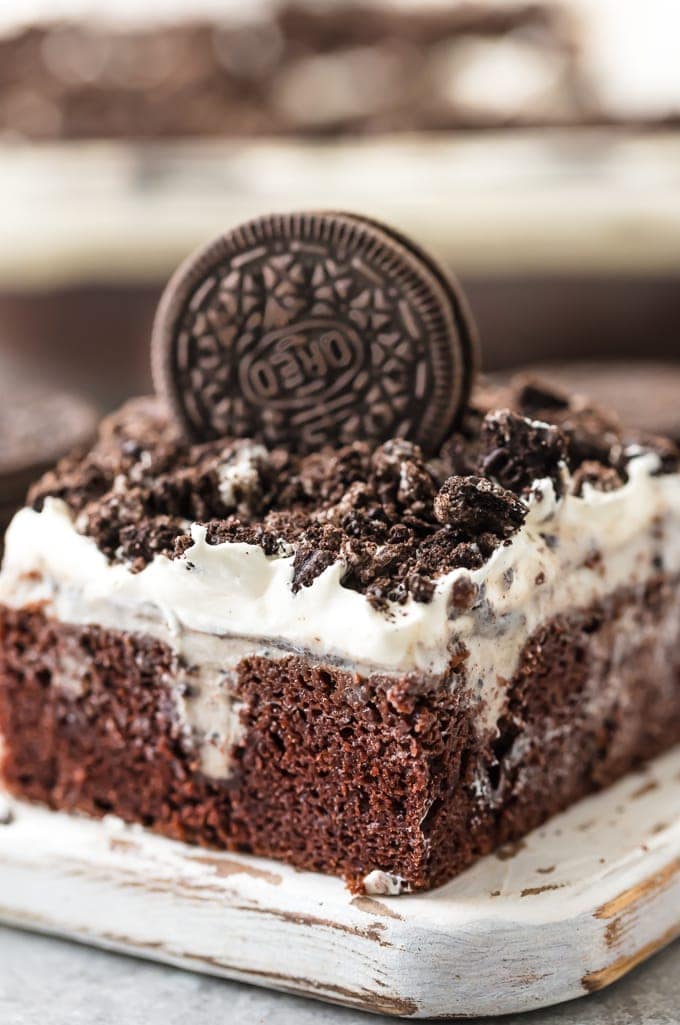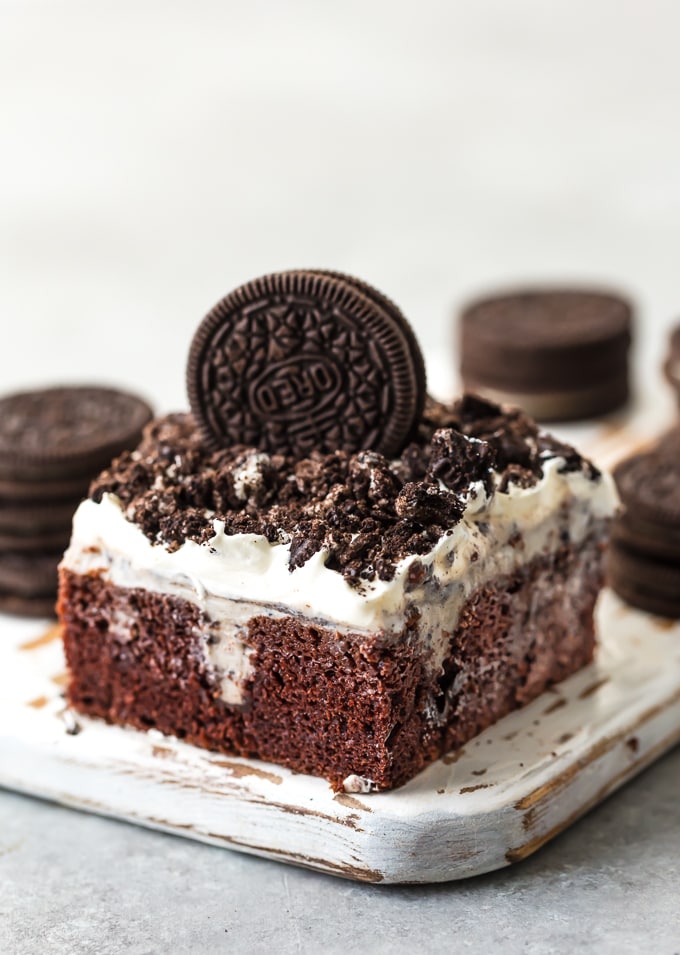 How do you make an Oreo cake?
I never get tired of the cookies and cream flavor of an Oreo cake. That's why I love this Oreo Poke Cake!
The good news is that you probably already have the ingredients for this Oreo Poke Cake recipe in your pantry. All you really need is a chocolate cake mix, Oreo pudding, and some Oreos of course!
That's a win because I know you want to make this NOW and you totally should. You won't regret it, and neither will your loved ones.
What is a Poke Cake?
If you've never had a poke cake, you're in for a treat! The great thing about poke cake recipes is that after baking the cake, you can poke holes in the cake.
When you pour the pudding, frosting, or cream (whatever you might be using for your poke cake recipe), it fills in the holes to create an extra flavorful dessert. That's what makes this Oreo poke cake so creamy!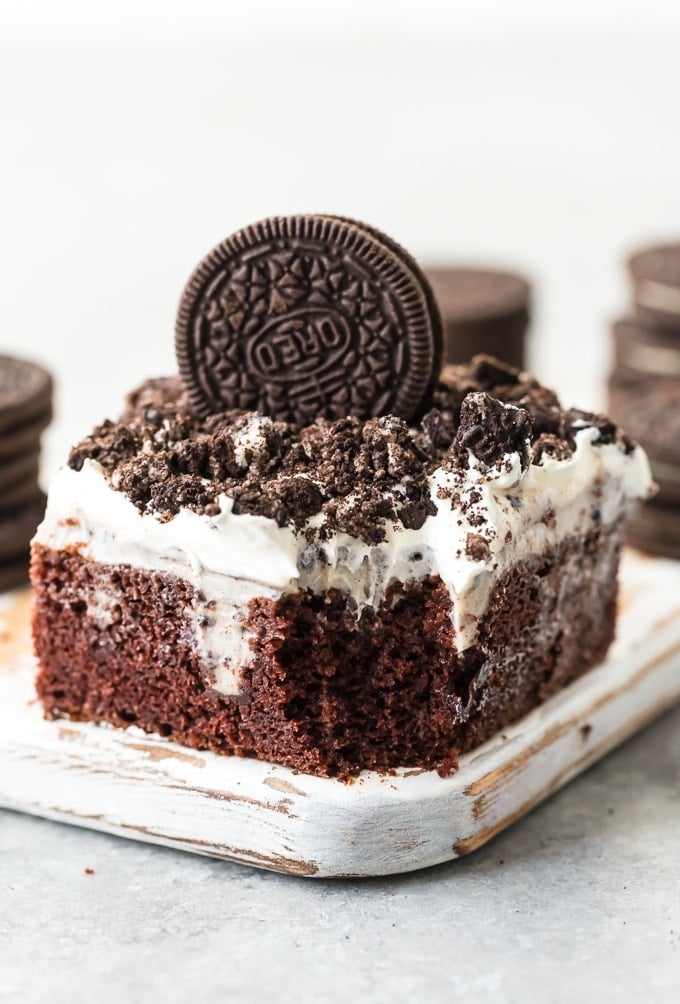 Easy Oreo Cake??? Yes PLEASE! I can't turn down this delicious dessert, and I have a feeling you won't be able to either!
More Poke Cake Recipes
If you like this Oreo Poke Cake Recipe, be sure to check out ALL our favorite Poke Cake Recipes! They make for such a creative, easy, and delicious dessert! This Sticky Toffee Pudding Poke Cake is soooo yummy.
If you want even more desserts, try our S'mores Cookies, Magic Chocolate Cake with White Icing, the Chocolate Peanut Butter Cup Pound Cake, Instant Pot Oreo Cheesecake, this Chocolate Lasagna, or this easy French Silk Pie.
Watch the video or see the recipe card below for full details on how to make this Oreo Poke Cake Recipe. Enjoy!