This Strawberry Buttermilk Cake is so soft, light, and moist. It's the perfect dessert with just the right flavor! This fresh strawberry cake has just a hint of citrus from the fresh lemon juice and orange zest. I love the strawberry lemon flavor combination in this moist and delicious cake recipe!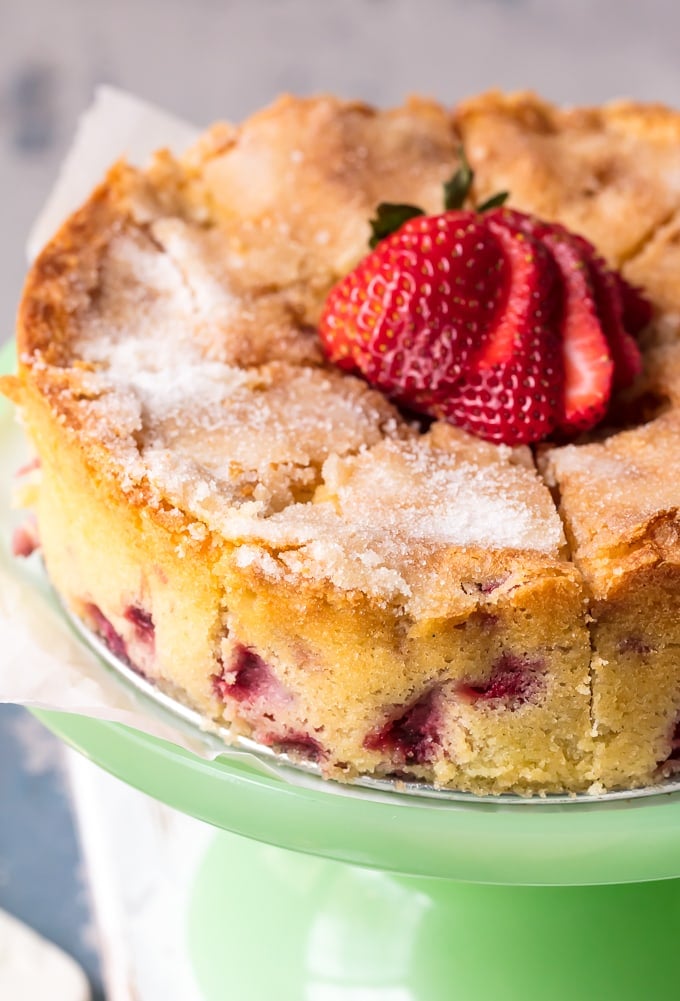 Buttermilk Cake Recipe
Buttermilk Cake is one of my favorite desserts. It's light, soft, moist, tender, full of flavor…it's everything you could want in a cake. And this Strawberry Buttermilk Cake has the perfect strawberry lemon flavor.
I really just love cakes of all kinds, and I've got plenty of them to share here. Whether it's a bundt cake, a pound cake, a poke cake, a cheesecake, or a cupcake, I can never have enough cake!
This Lemon Strawberry Cake is the perfect addition. Fresh strawberries, lemon juice, buttermilk, and topped with a sprinkling of sugar, this cake is too tasty.
This cake is just so pretty and it makes things feel a little bit fancy. Serve this Strawberry Buttermilk Cake for an afternoon get together with tea or champagne, or just serve it for a nice dessert.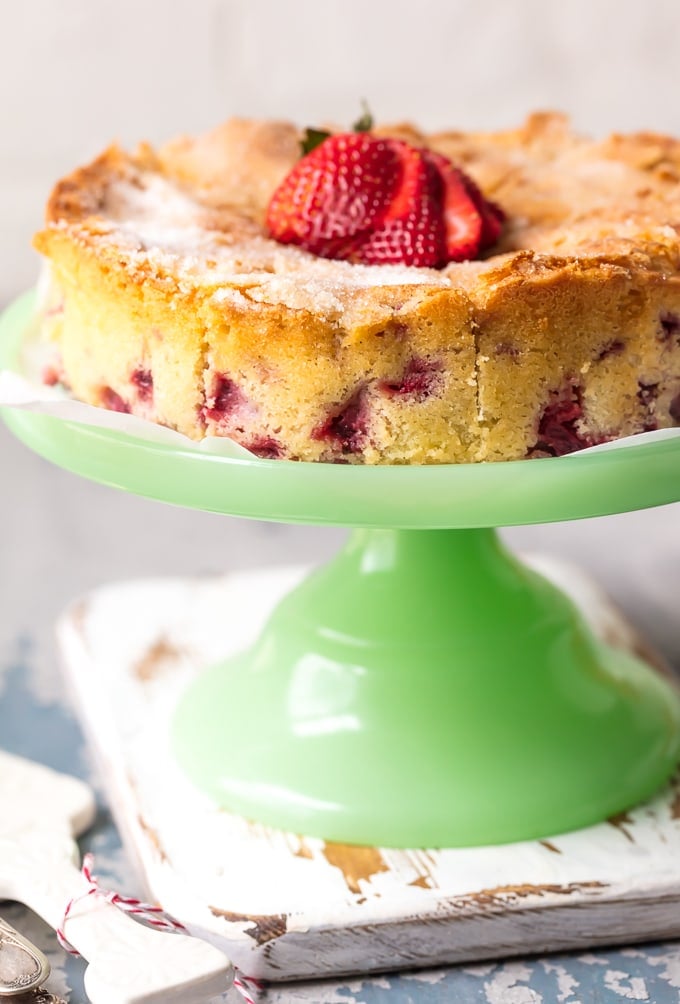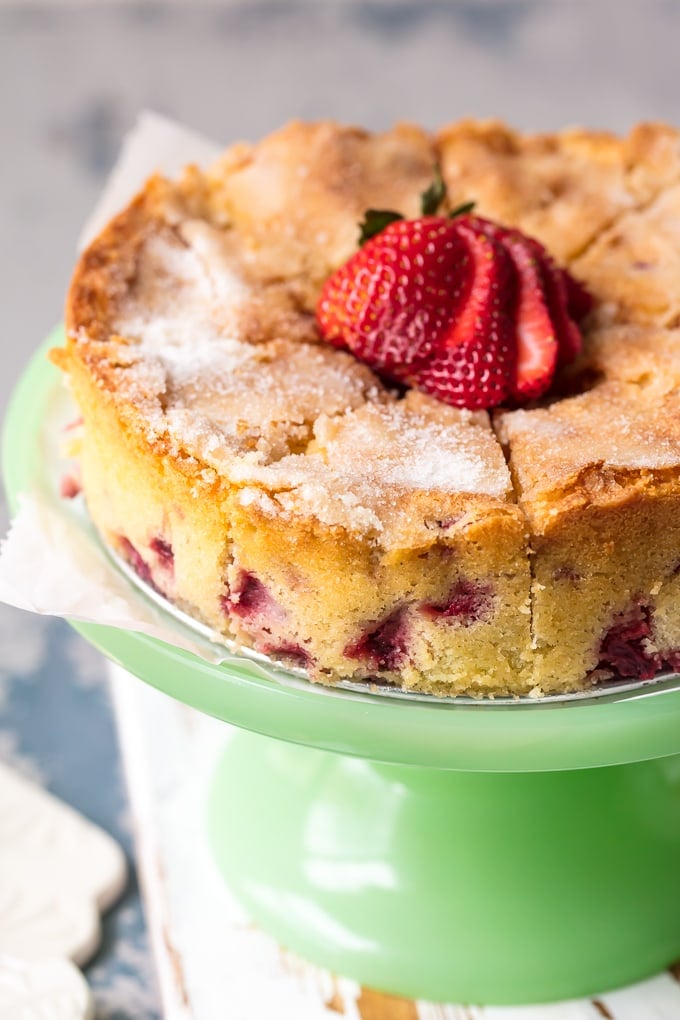 Lemon Strawberry Cake
The mix of strawberry and citrus makes the most perfect, sweet, light cake flavor. This Lemon Strawberry Cake has just a hint of citrus mixed in with the fresh strawberries, and none of it is overwhelming. It just tastes so light, a little bit sweet, and totally delicious!
What is the purpose of buttermilk in a cake?
There are actually quite a few reasons to use buttermilk in baking. Buttermilk makes cake (and other baked goods) extra soft and moist. That what makes this buttermilk cake recipe so good! It also adds a tangy flavor to recipes, which is great when you want something that isn't overly sweet. It also has less fat than regular milk, which is just a bonus really.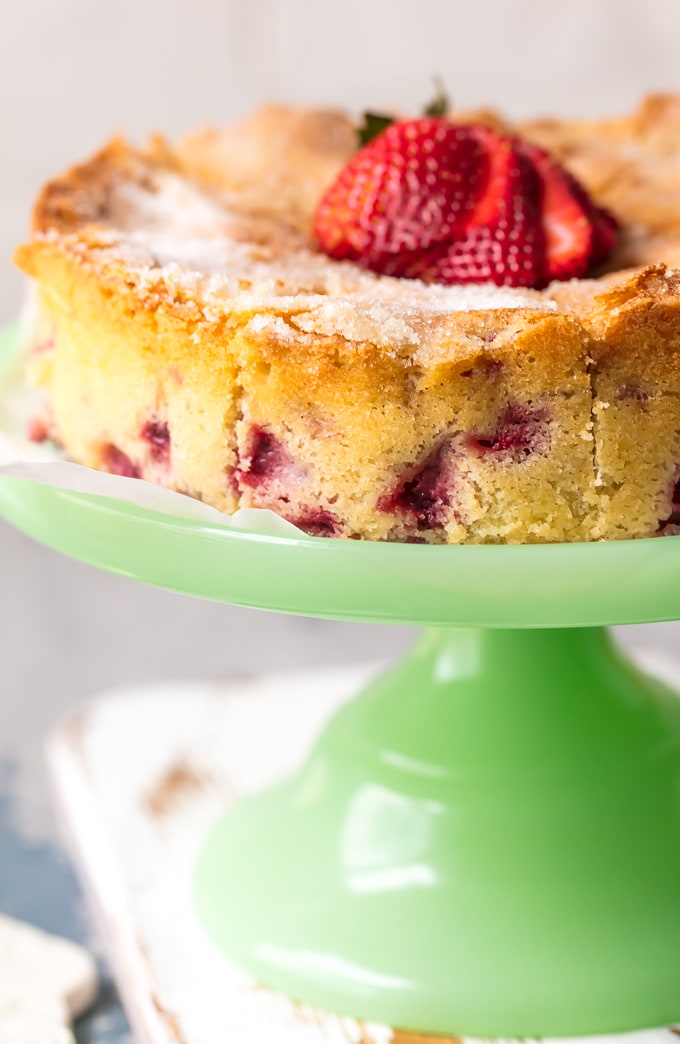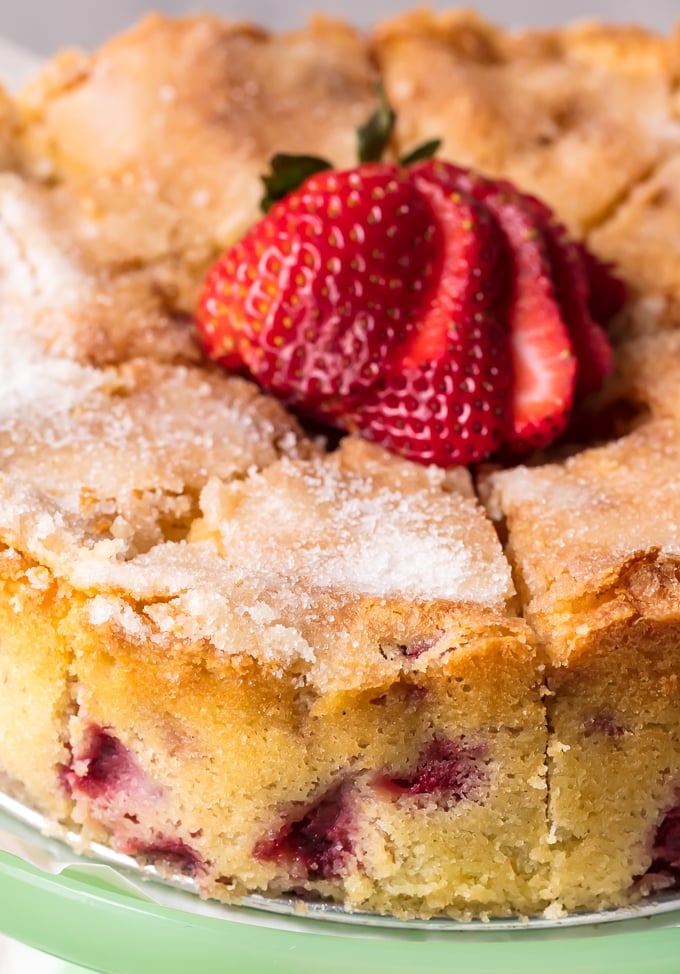 How to Make Buttermilk Cake
Buttermilk cake are pretty easy to make. I find them to be quite simple and I love how incredibly moist they end up being. This Strawberry Cake is just takes a few steps and out pops a perfect strawberry lemon buttermilk cake!
Step by Step Recipe:
Whisk together flour, baking powder, and salt
In another bowl, blend together the butter & sugar for 3-4 minutes, until it becomes light and fluffy
Beat in the eggs (one at a time), then the lemon juice, then citrus zest
Mix sour cream and buttermilk together
Add flour mixture, buttermilk mixture, and butter mixture into a bowl, alternating between each layer; start and end with flour mix
Mix until flour is incorporated
Gently fold in the fresh strawberries
Pour buttermilk cake batter into baking pan
Bake at 350°F for 35-45 minutes
The cake should not jiggle at all, and the top will look golden. Let the cake cool before slicing. Serve with extra strawberries and sugar sprinkled on top! See the recipe card for full instructions!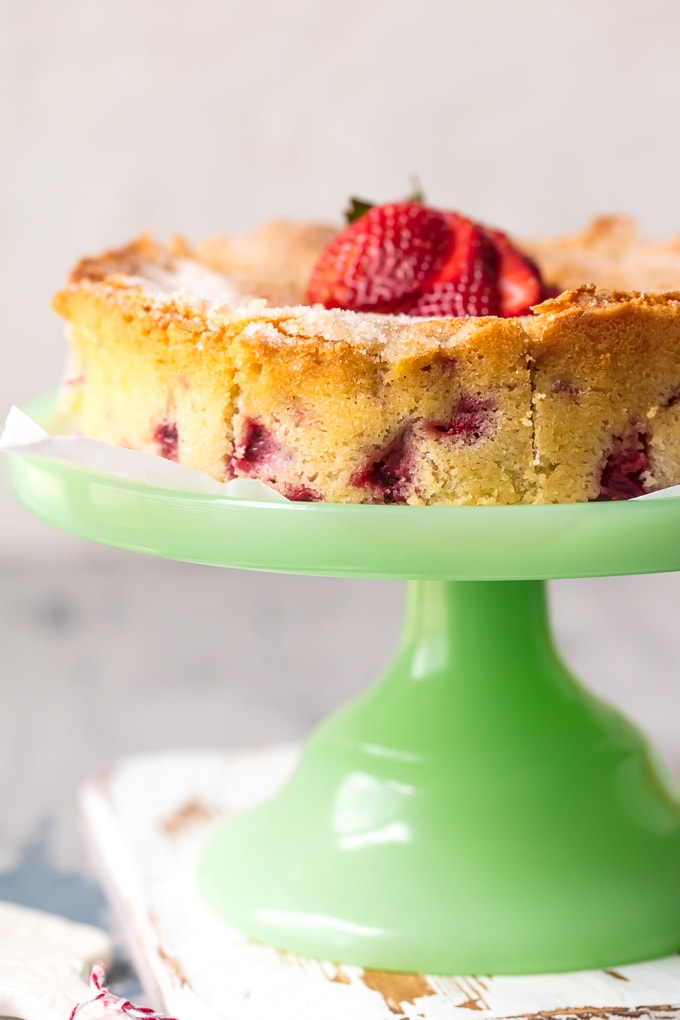 I'm so obsessed with this light and moist Strawberry Buttermilk Cake recipe! The flavor of this lemon strawberry cake is absolutely perfect, with lots of fresh strawberries and just a hint of citrus. You're gonna love this cake!
If you like this strawberry cake, try these other strawberry dessert recipes: