This RASPBERRY MOSCOW MULE CAKE makes life a little bit sweeter! Made with fresh raspberries, ginger beer, raspberry moscow mule simple syrup, and fresh lime glaze! YUM!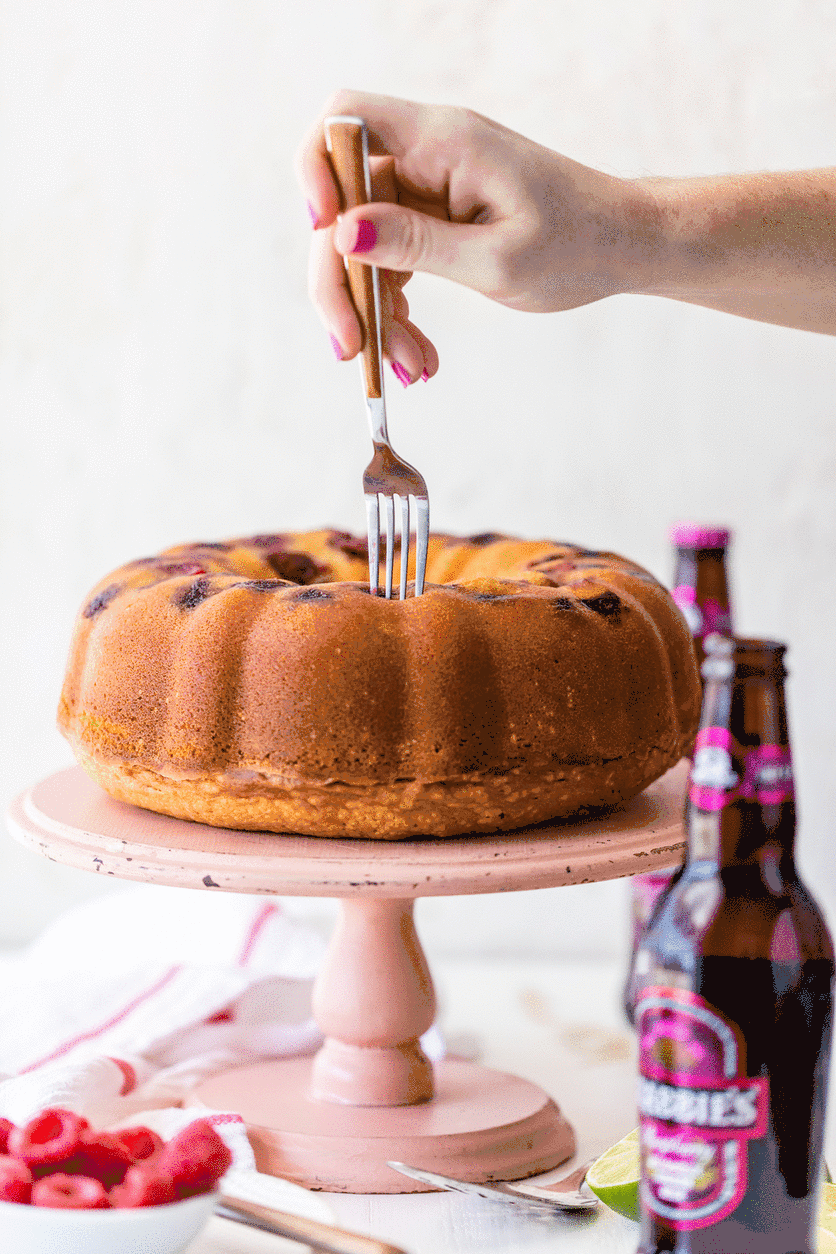 This Raspberry Moscow Mule Cake is epic for a couple reasons. It's my FIRST cake I've ever baked from scratch. YOU GUYS. I know I'm 34 and I should have baked a cake from scratch before…but I haven't. I've been concentrating on learning all the cheesy easy recipes and kinda skimped on the baking. Well…now I'm hooked. Not only is this from scratch, but it's also EASY, delicious, full of flavor, and kinda pretty if I do say so myself! Is there anything more festive than a fun and bright Raspberry Moscow Mule Cake?? I don't think so!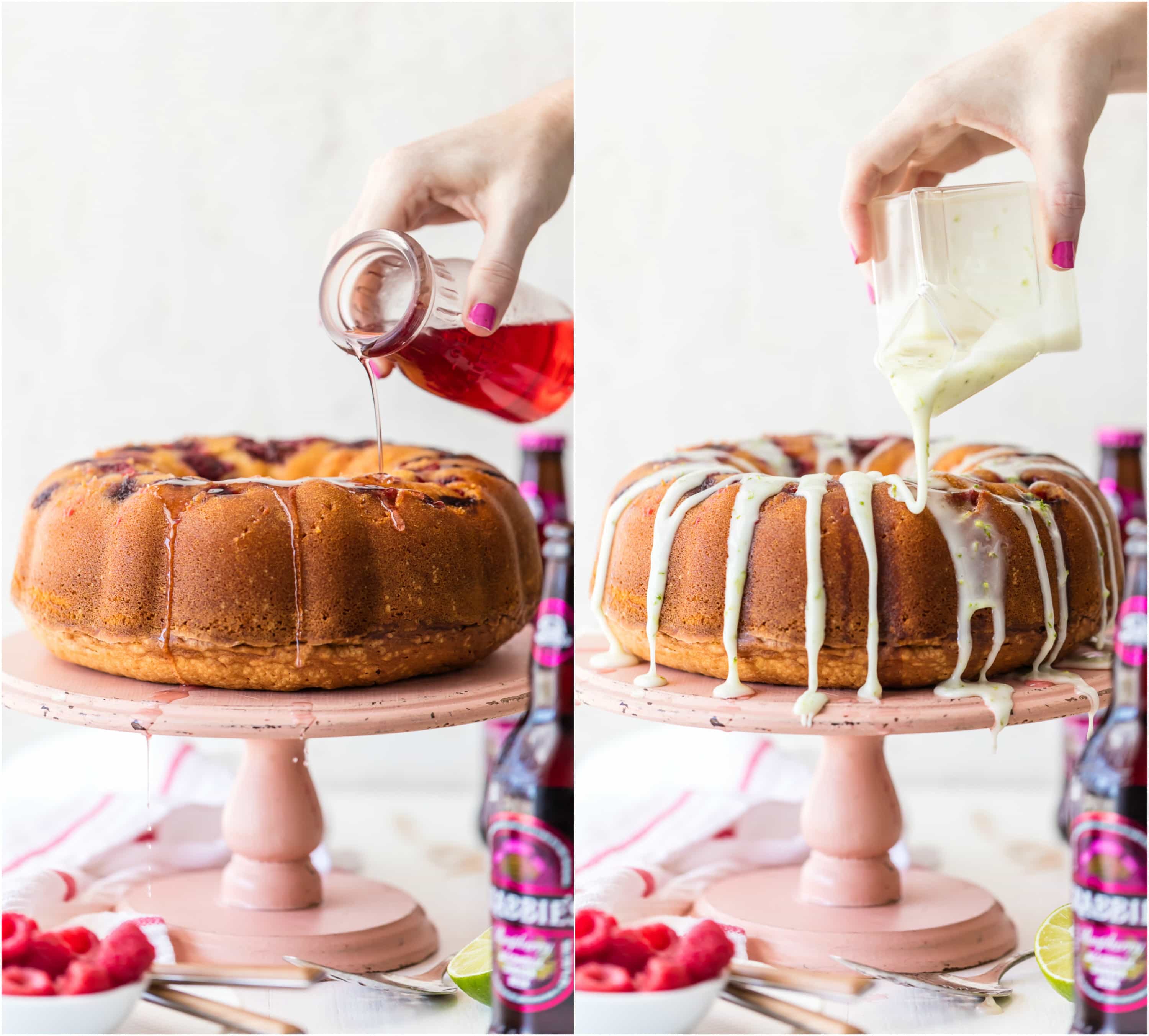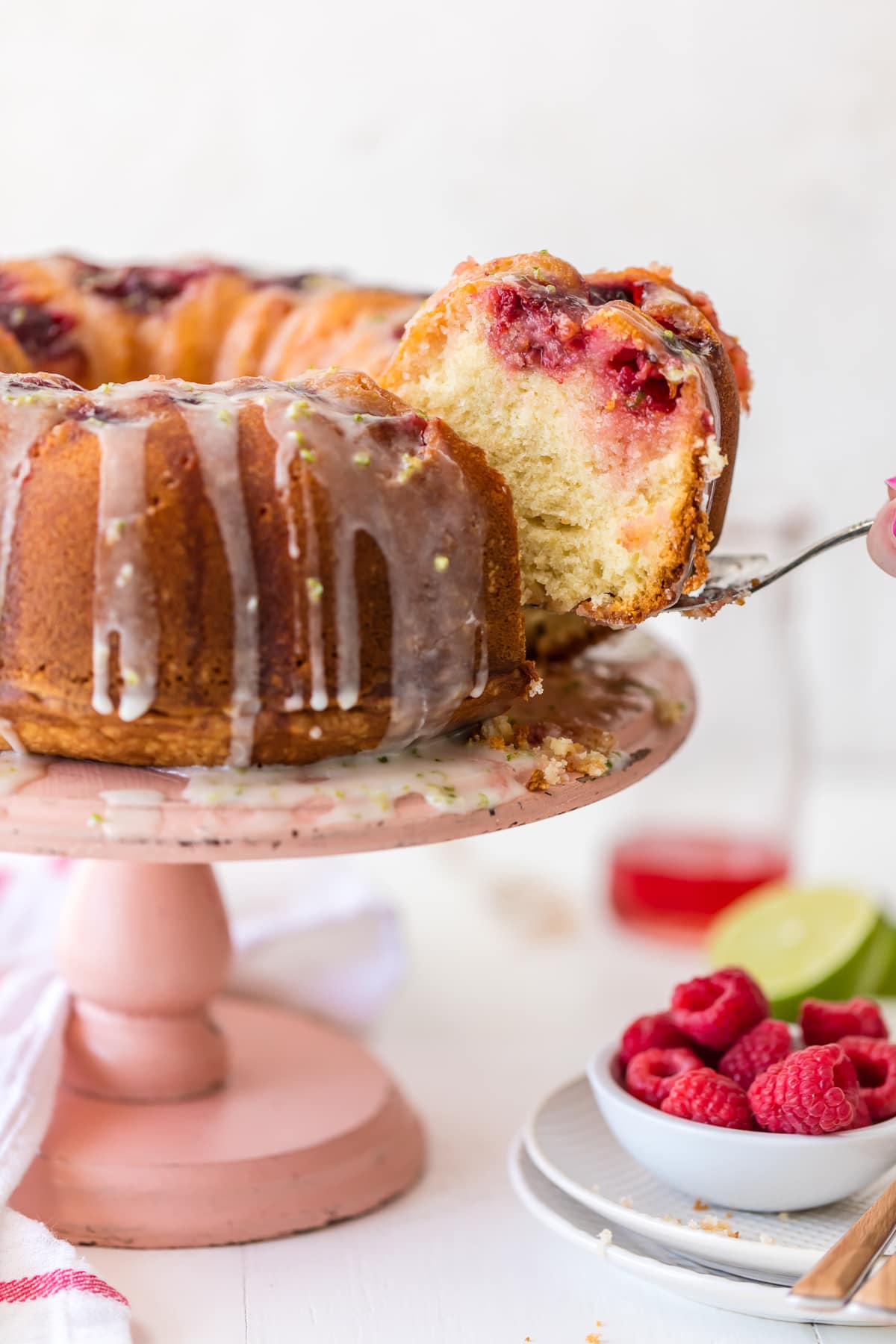 The secret ingredient that makes this Raspberry Moscow Mule Cake EXTRA moist and amazing is my favvvvvve Crabbie's Alcoholic Ginger Beer. YOU GUYS…I am OBSESSED with this stuff. (You might remember my Garlic Ginger Pulled Pork and Moscow Mule Mimosas from earlier in the year!) Crabbie's originated in Edinburgh, Scotland with a rich history that dates back to 1801, and has recently made its way to the states and I couldn't be more excited. Obviously, I love to drink it.
It's the perfect combination of crisp and refreshing; made from a secret recipe of four special ingredients and natural ginger that is cold-steeped for up to six weeks! I love that it's not too sweet; making it the absolute best ingredient for cocktails OR cooking! You can find more recipe ideas and of course where to buy near you HERE. The other thing that's great is that it comes in FLAVORS! I used the Scottish Raspberry flavor for this Raspberry Moscow Mule Cake and OMG! So perfectly tart. Obsessed.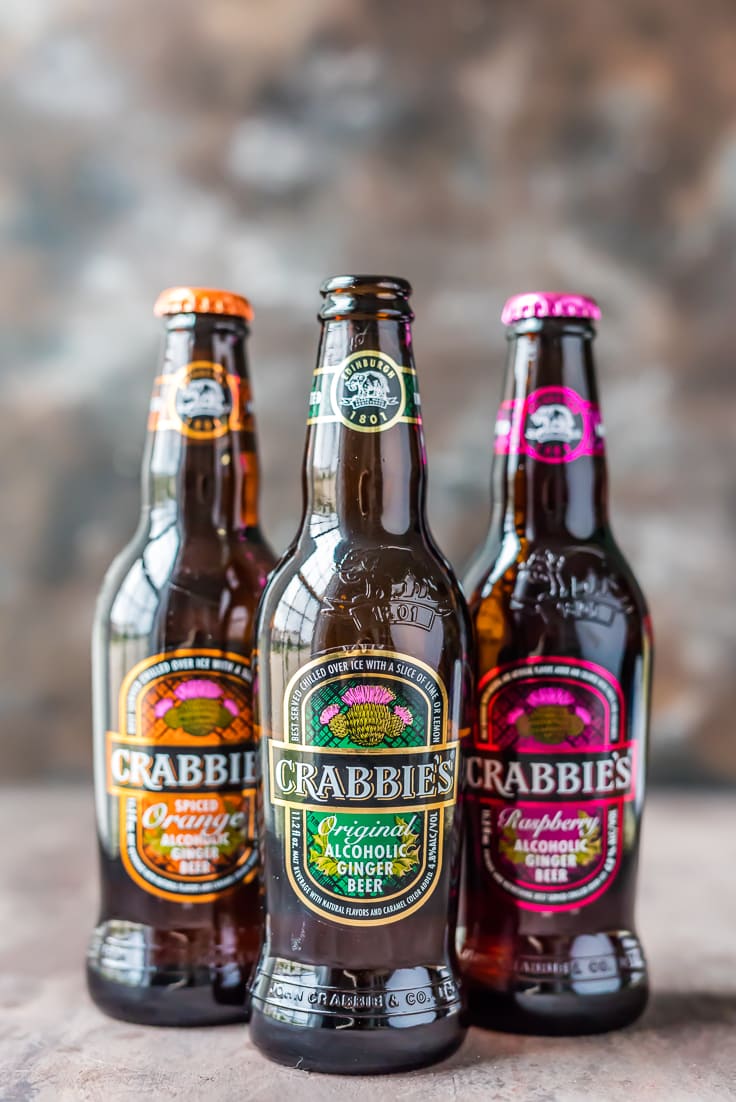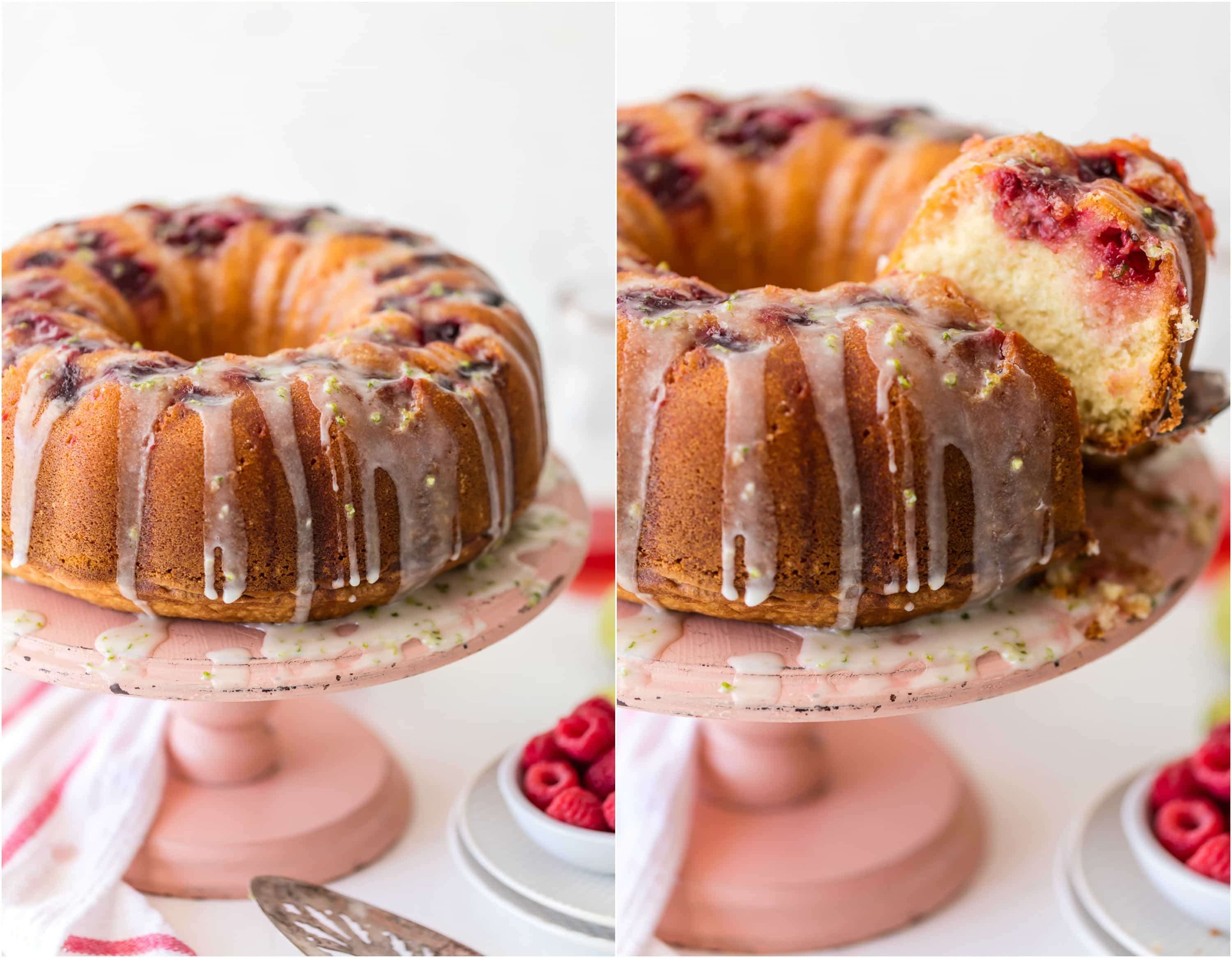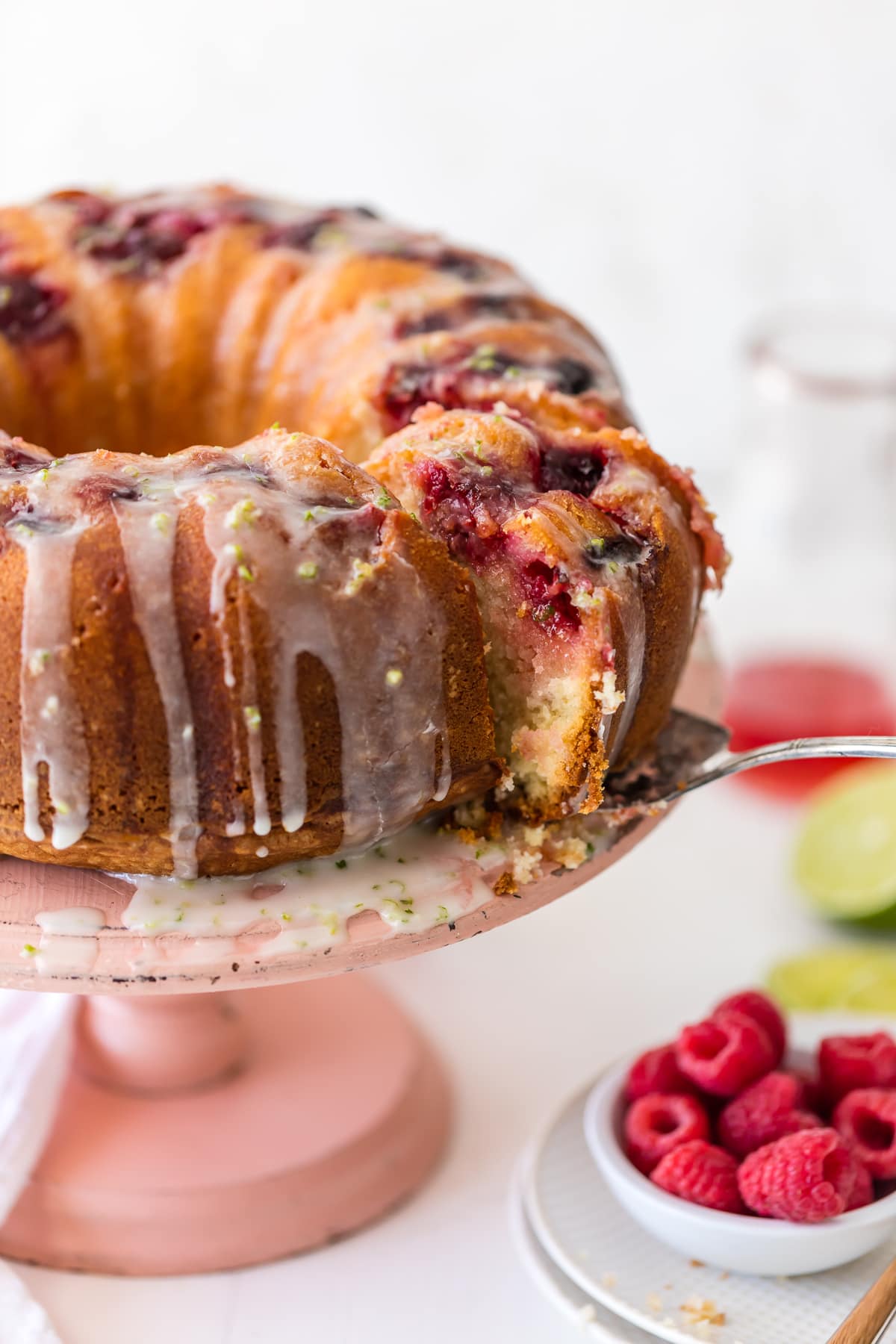 I just love how this cake bakes up fluffy and perfect every time. If I can do it, you can do it! TRUST ME. I have cake anxiety, but this cake made me PROUD! I modeled it after my girl Jocelyn's Blood Orange Mimosa Cake from her ridiculously amazing book, Grandbaby Cakes! I changed a bunch of things around to make this a Raspberry Moscow Mule cake versus the Blood Orange Mimosa, but I used her cake as a template. She's a genius so we are all in good hands! Thanks lady!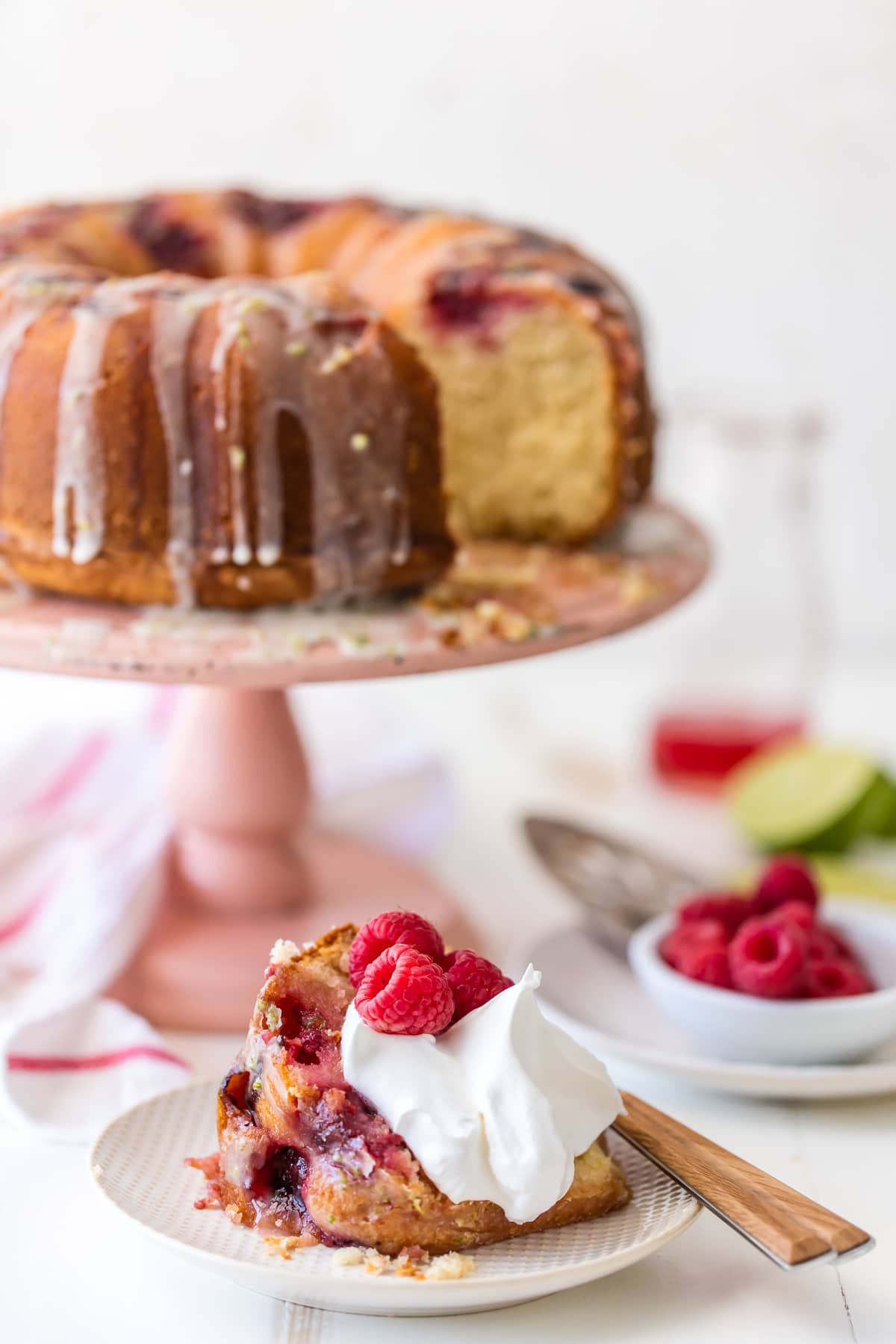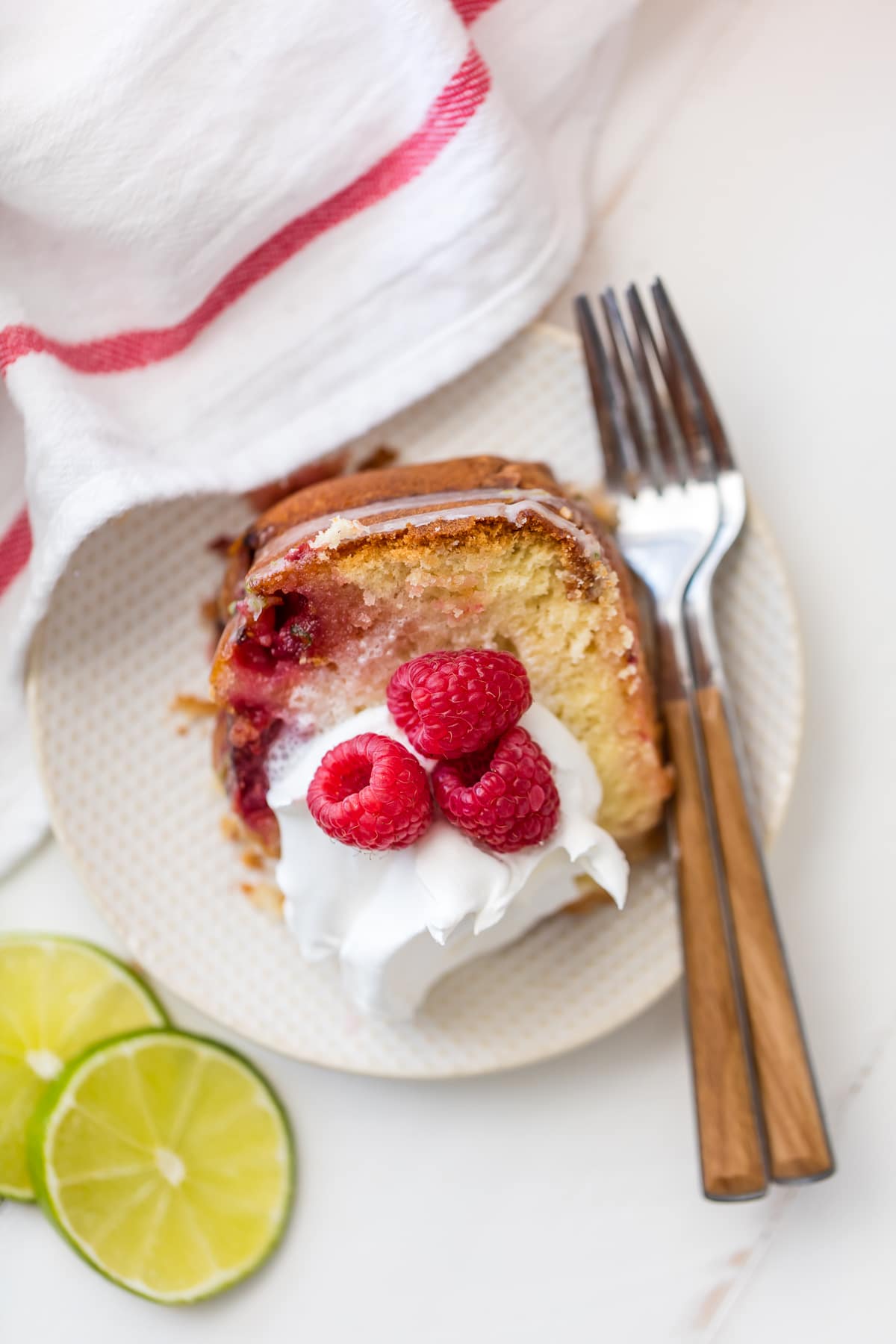 I hope you love this festive Raspberry Moscow Mule Cake as much as we do. I hope it makes you proud to bake it from scratch! Who runs the world??? WE DO! Enjoy :)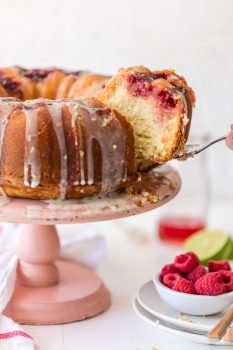 Raspberry Moscow Mule Cake
This RASPBERRY MOSCOW MULE CAKE makes life a little bit sweeter! Made with fresh raspberries, ginger beer, raspberry moscow mule simple syrup, and fresh lime glaze! YUM!
Print
Ingredients
For the Cake
1 ½

cups

3 sticks unsalted butter, room temperature

2 ¾

cups

sugar

5

large eggs

room temperature

3

cups

sifted cake flour

1

tablespoon

pure vanilla extract

½

teaspoon

salt

1

cup

Crabbie's Scottish Raspberry Ginger Beer

1

pint

fresh raspberries
For the Simple Syrup
½

cup

Crabbie's Scottish Raspberry Ginger Beer

½

cup

sugar

¼

cup

freshly squeezed lime juice
For the Fresh Lime Glaze
1 ½

cups

powdered sugar

4

tablespoons

freshly squeezed lime juice

zest from one lime
Instructions
To Make the Cake:
Preheat your oven to 315 degrees F. Lightly flour a 6 cup bundt cake pan or spray with nonstick spray.

In the bowl of a stand mixer, use the paddle attachment to combine the sugar and butter. Cream together for 5-7 minutes or until the butter is pale and fluffy.

Add in the eggs, one at a time. Mix for about 30 seconds in between one egg. You may need to scrape down the sides in between eggs as well. Add in the vanilla and salt.

Reduce the speed to just above low and add the flour in one cup at a time. Once combined (be careful not to over mix), add in the ginger beer slowly so it doesn't splash up. Turn off the mixer and set aside.

Add the raspberries to the bottom of the bundt cake pan, spreading them out to cover the bottom.

Pour the cake batter over the raspberries and smooth out the top.

Bake for 75-80 minutes, or until a toothpick inserted into the center of the cake comes out clean.

Allow the cake to cool for at least 10 minutes. One the cake is cooled, transfer to a plate and set aside. Once cooled to room temperature, poke all over with a fork. Pour the simple syrup over the cake, the more the better! Then pour on the lime glaze. Top with fresh whipped cream and strawberries to serve. Enjoy! (see below for how to make simple syrup and glaze)
For Simple Syrup:
Heat a small sauce pan over medium high heat. Add in the ginger beer, sugar, and lime juice, stir to combine. Allow the mixture to come to a light boil and then reduce to a simmer. Simmer for 5-7 minutes or until the syrup is slightly reduced.
For Lime Glaze:
In a medium bowl, stir together the powdered sugar and lime juice. Once combined, stir in the lime zest.

Enjoy!
This recipe was written in a partnership with Crabbie's Ginger Beer. As always, all opinions are 100% my own. Thanks for supporting the brands that help support The Cookie Rookie!