Strawberry Lemonade Party Punch is a fun summer punch recipe to enjoy on hot days. This alcoholic party punch is made with Everclear, giving it the perfect kick for parties. It's such a refreshing flavor, best served over ice with a few fresh strawberry or lemon slices. This punch recipe is perfect to serve all summer long, or even for the holidays.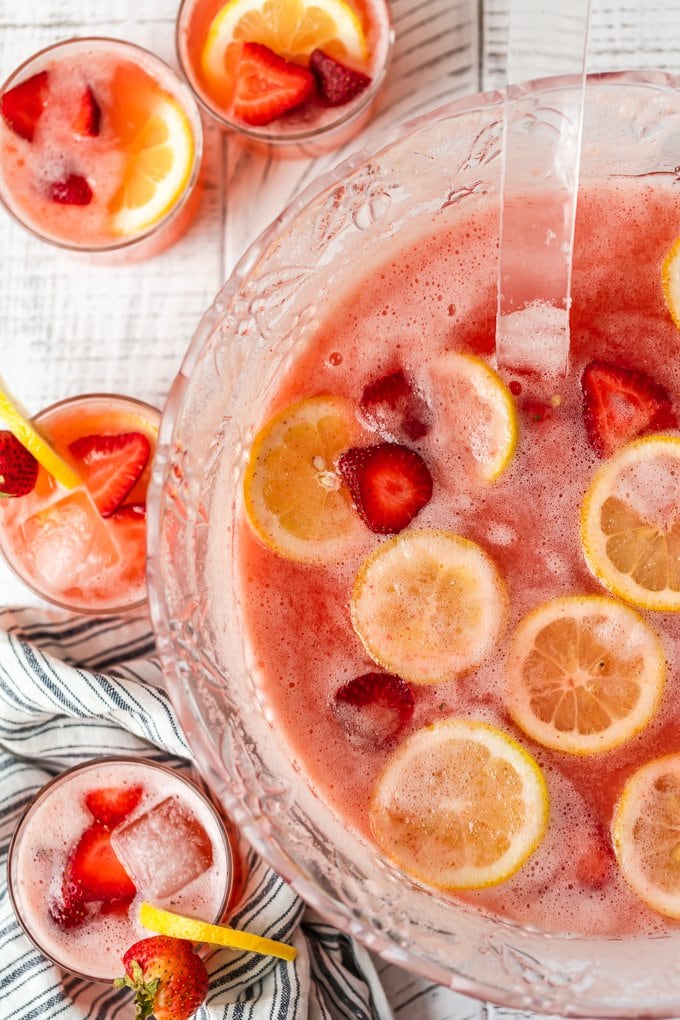 Strawberry Lemonade Party Punch
Strawberry Lemonade Party Punch is the refreshing punch recipe you need for Summer of Fall parties!
This strawberry lemonade party punch recipe is absolutely delicious! There's nothing like a refreshing lemonade on a hot summer day. Even better is a strawberry lemonade…and even BETTER is a lemonade party punch made with Everclear!
I love this fun summer punch recipe for BBQs and parties. It's the perfect balance of sweet and tart, and it's got the kick it needs for a fun get together with friends. Sipping on a glass of this party punch over ice is the dream on a hot day, and I love serving it to my guests. Everyone loves it!
This punch recipe is great for holidays any time of year. Strawberry Lemonade screams summer, but it's just as tasty on Christmas or New Year's! A delicious punch for every occasion.
Make this refreshing Strawberry Lemonade Party Punch for summer parties or holidays!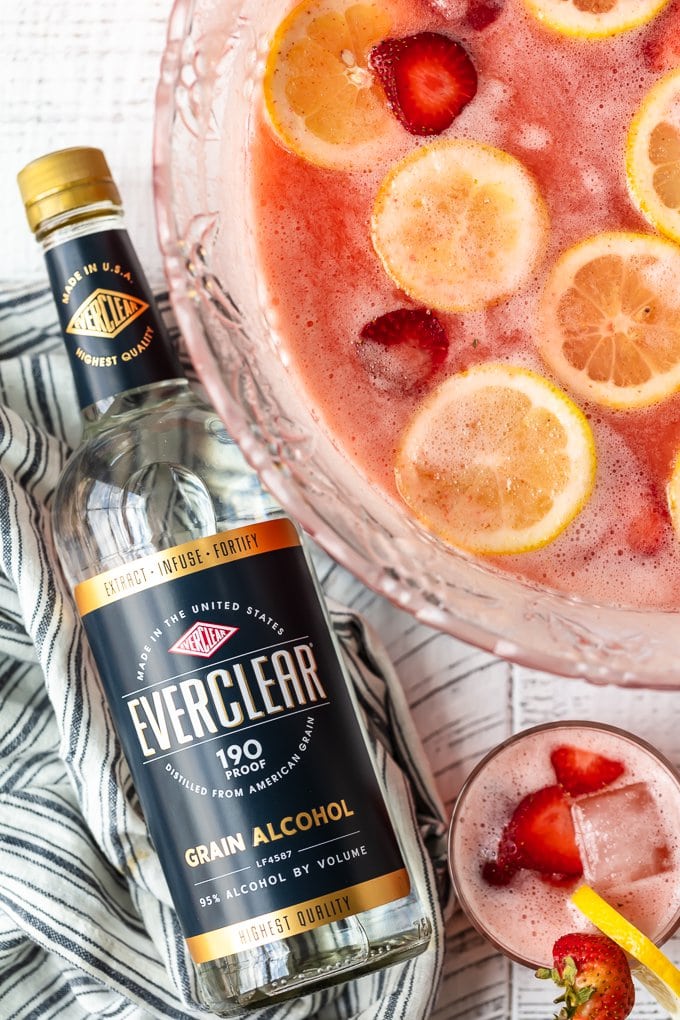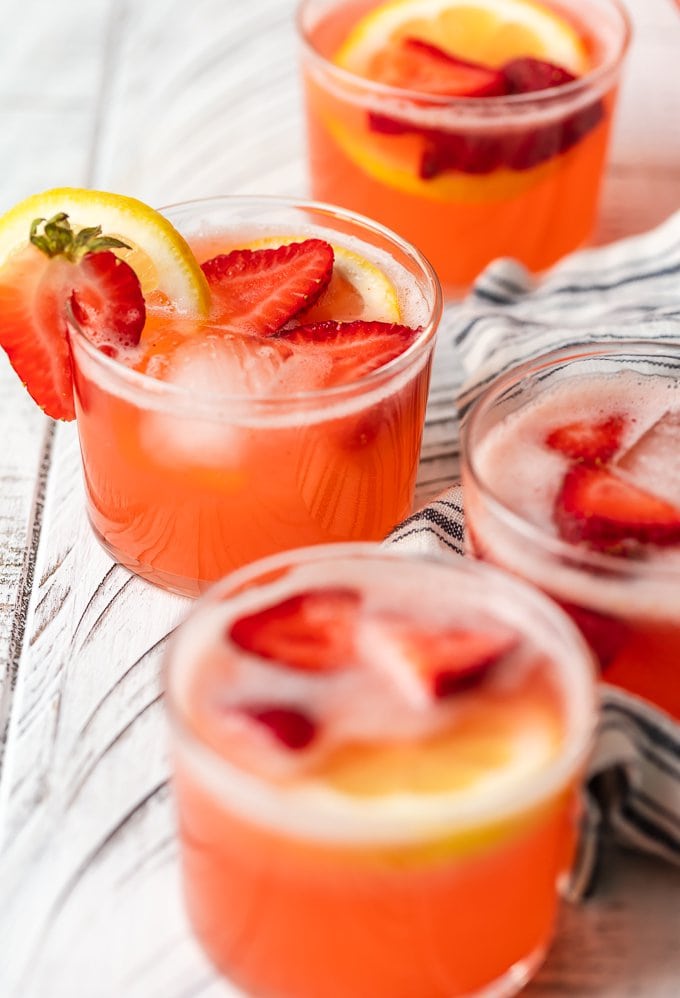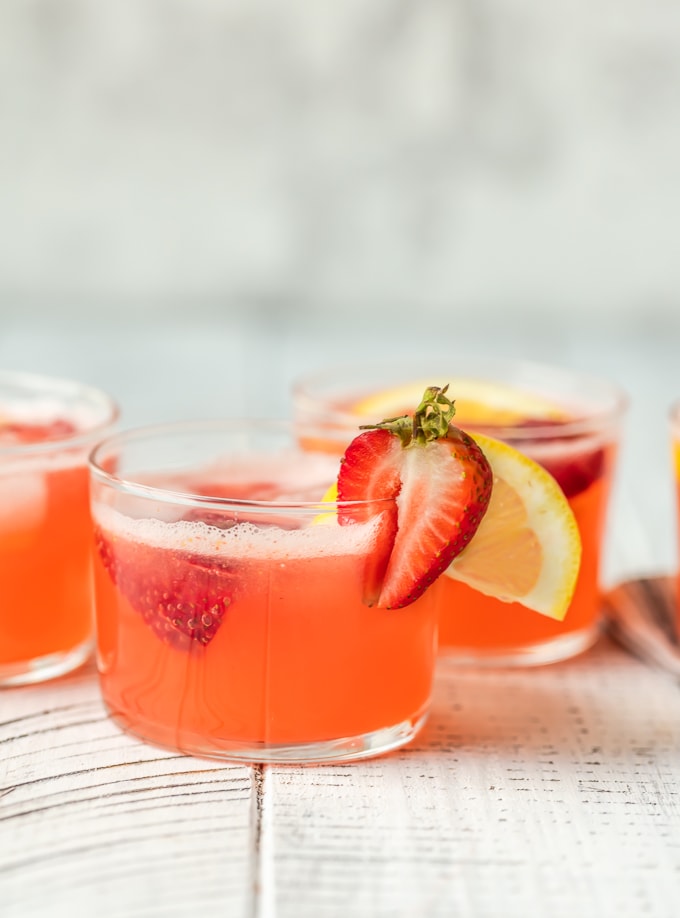 The ultimate Fruit Punch Cocktail Recipe with Everclear
You faithful readers might remember that last year I had an awesome time coming up with vodka infusions with Everclear®. I found out just how fun and versatile this (INEXPENSIVE) 190 proof grain alcohol can be.
I made everything from Homemade Apple Pie Vodka to Homemade Strawberry Shortcake Vodka (those make awesome homemade Christmas gifts by the way!).
Everclear is perfect for any Party Punch Recipe because its tasteless, odorless, and packs a fun party punch with every sip. A little goes a long way, which is also perfect for serving a crowd.
We have used Everclear in some of our favorite punch recipes such as Cherry Vanilla Punch and Easy Holiday Punch! It's ALWAYS a crowd favorite. This Summertime version will grace our tables year round, from now until Valentine's Day!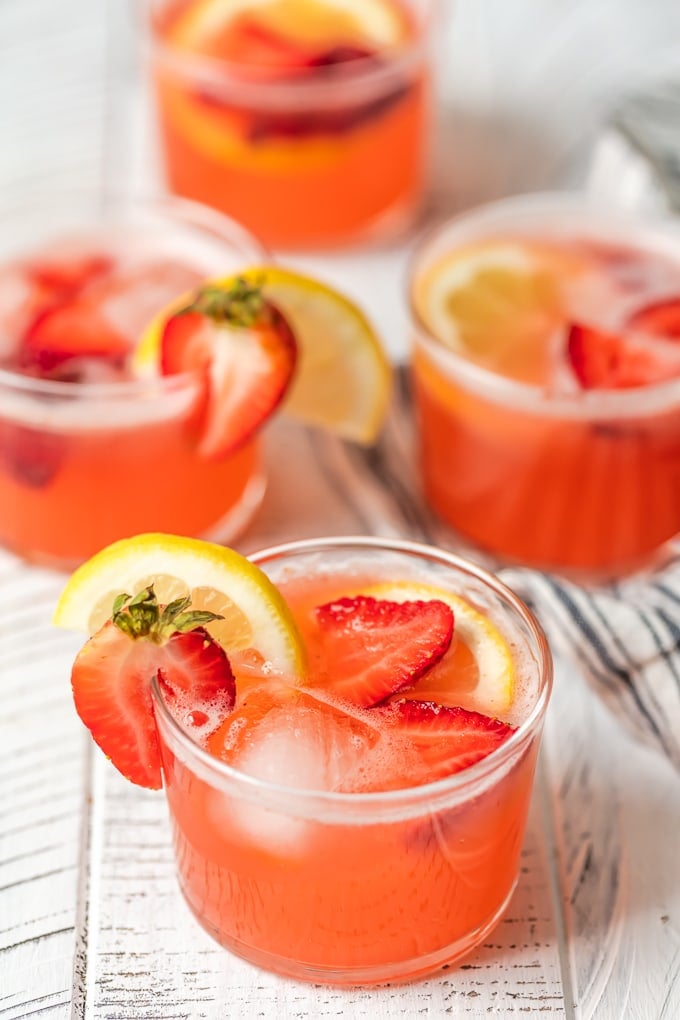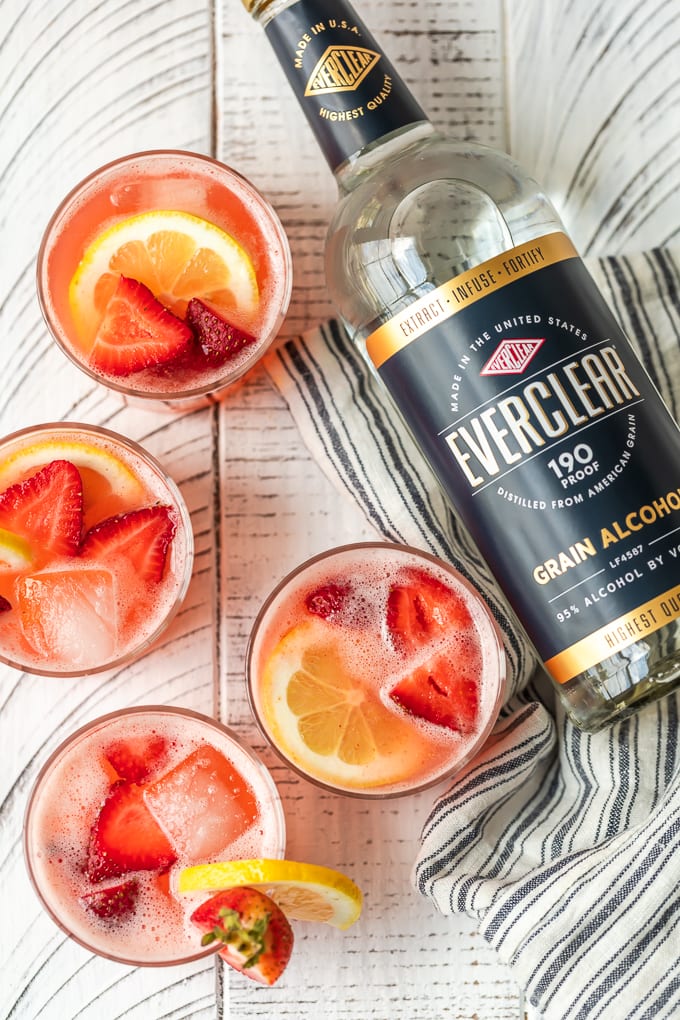 Perfect Summer Punch Recipe
During the heat of summer, all I want is a refreshing drink to cool things down. It's gotta taste GOOD to make sure I keep sipping.
That's why the party drink is just as crucial as the party food! Every summer party needs the perfect summer punch recipe to keep everyone feeling fresh.
This strawberry lemonade party punch is the ideal summer drink, because everyone loves lemonade when it's hot outside. This drink is so delicious and so easy to make.
Your party guests will love it just as much as you do! Make it for your next BBQ, a fun backyard party, or even make it for a casual evening out on the patio.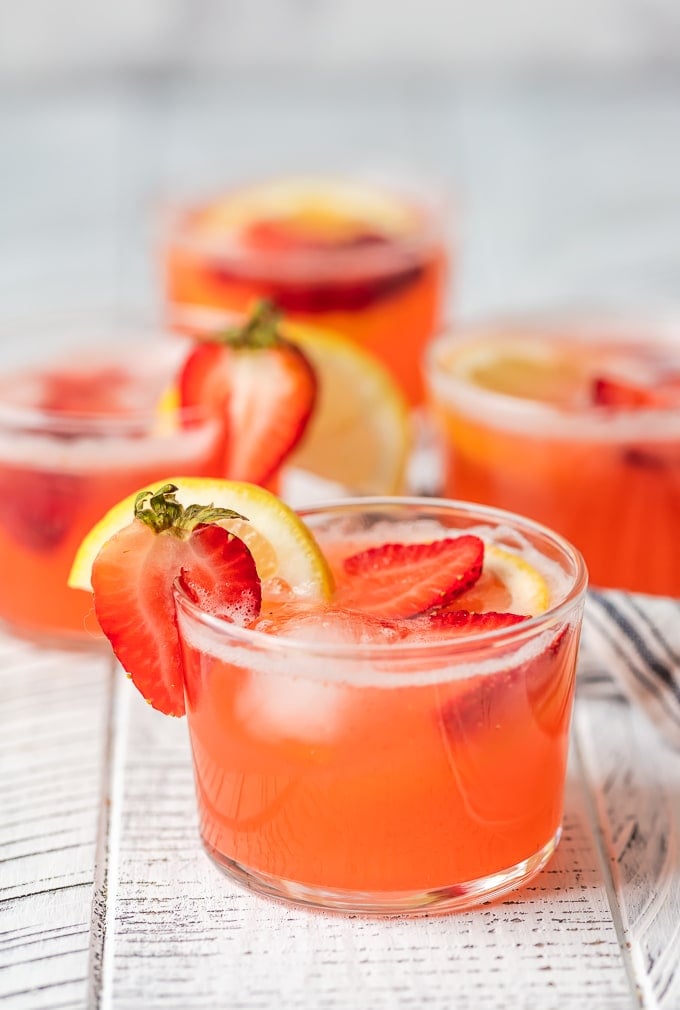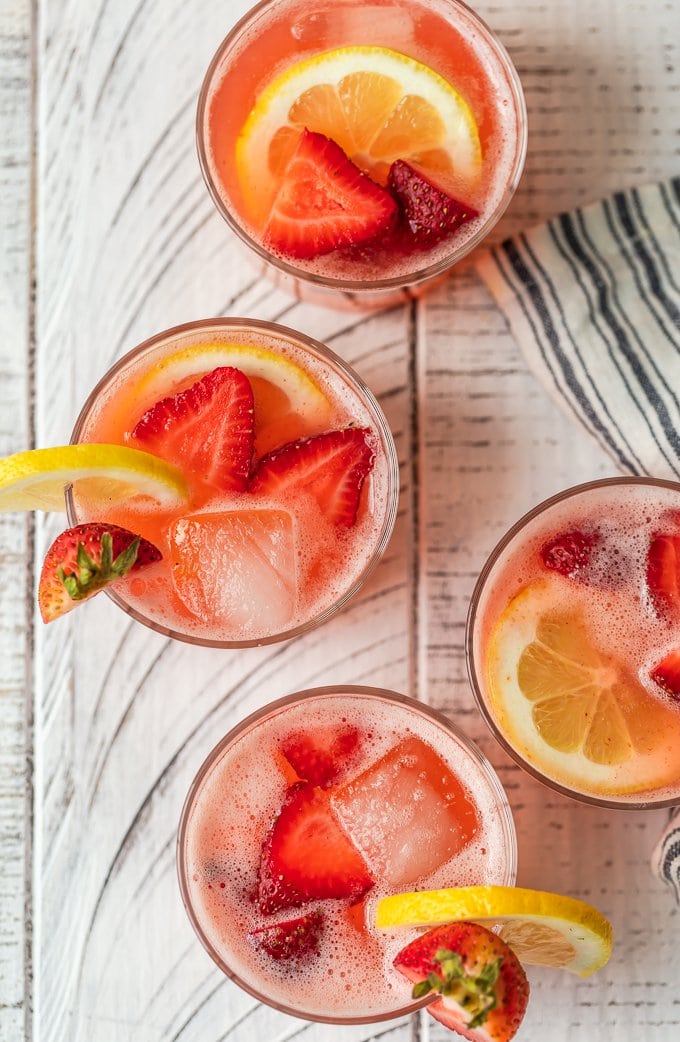 How to Make Strawberry Lemonade Party Punch
Strawberry Lemonade Party Punch is super easy to make, which makes it ideal for a party. Just mix all of your ingredients together in a punch bowl or large pitcher, and serve over ice!
You can refrigerate it if you're making it ahead of time so that it's nice and cold when it's party time.
How to Make Strawberry Lemonade Punch:
Use a high-powered blender to mix frozen strawberries and lemonade
If the mixture still isn't smooth, use a mesh strainer to remove strawberry chunks
Pour into bowl or pitcher
Add in the lemon lime soda and Everclear and stir well
Slice some lemon and fresh strawberries to add into the punch bowl
PRO TIP: Use frozen strawberries in place of ice in the punch bowl so that you don't water down the flavor! Works like a charm and it's pretty to boot. Win win.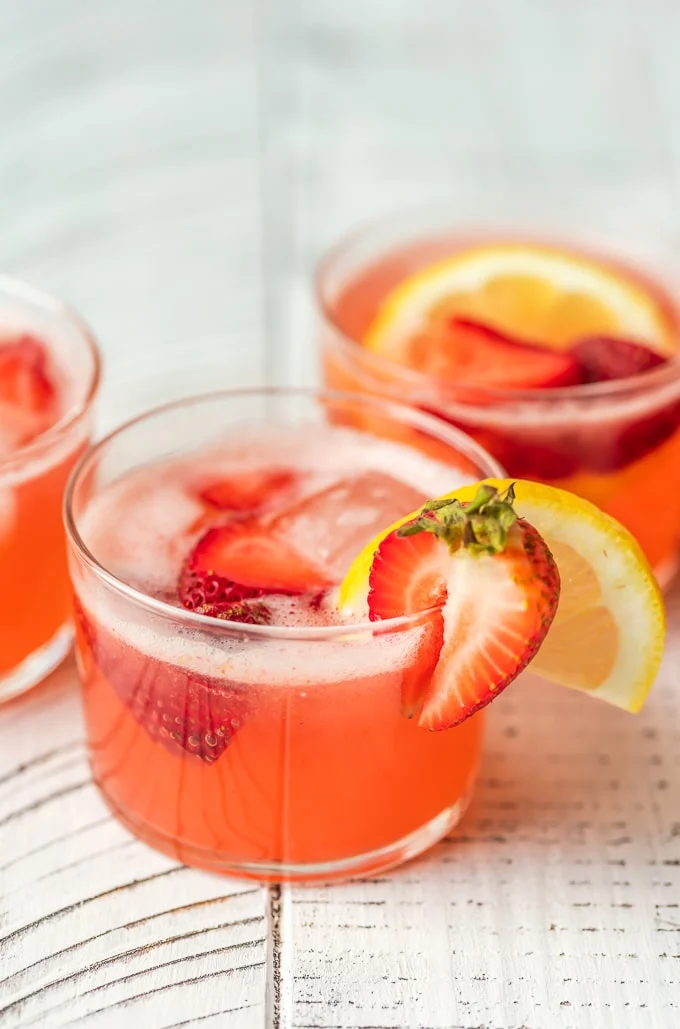 You are going to love this delicious Strawberry Lemonade party punch recipe! It's so refreshing and so tasty, the perfect summer punch recipe.
Make this for summer parties, backyard BBQs, or even for the holidays. I'd love to sip on a glass of this as we countdown to New Year's. Whenever you serve it, guests will love it!
If you like this summer punch recipe, try these other tasty party punch recipes:
If you make this recipe be sure to upload a photo in the comment section below or leave a rating. Enjoy! You can also jump to recipe.