This fun and festive Sparkling Strawberry Margarita Punch is such a delicious and easy party drink recipe. If you like margaritas, you'll love this Champagne punch. Cheers to New Year's Eve, Cinco de Mayo, and more!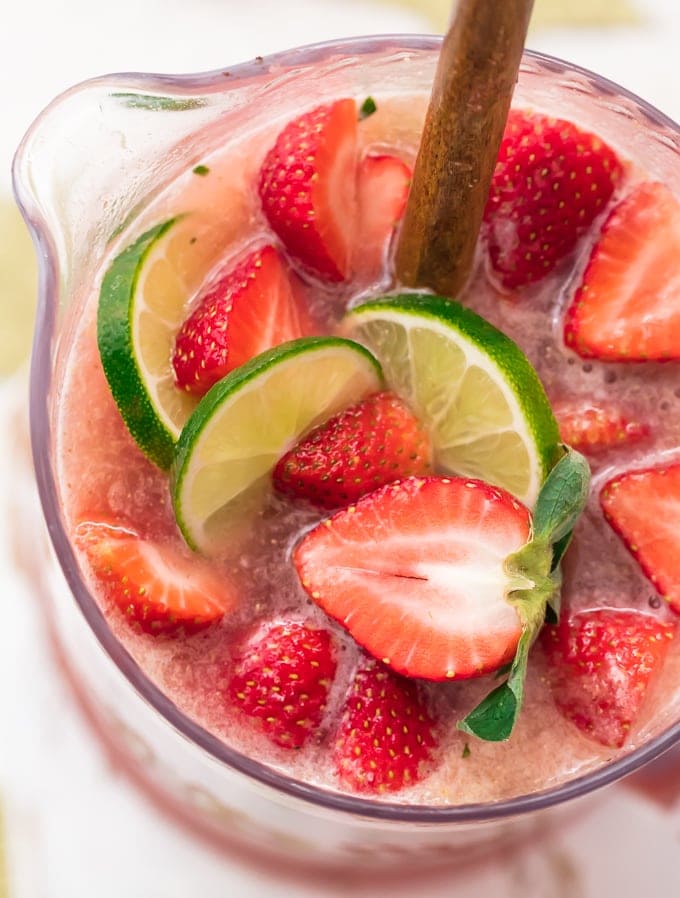 What's in this Champagne Punch recipe?
Turn a delicious strawberry margarita into a sparkling party punch that will serve a whole crowd! You only need a few things, just mix and serve.
Frozen Strawberries: Frozen is best for convenience, but it also acts as an icy component to keep the punch cool.
Lemon Lime Soda: Any brand of soda will work.
Frozen Limeade: A can of frozen concentrate adds flavor and, again, helps to create that cool icy texture of a margarita.
Orange Juice: Be sure to grab juice with no pulp!
Tequila: It wouldn't be a margarita without tequila! I recommend using your favorite brand, though it doesn't need to be the top shelf stuff.
Champagne: You'll need a full bottle of dry champagne (I highly recommend using a Brut champagne). This gives the punch a fizzy, sparkling quality.
If the strawberry lime punch mixture (before adding in the alcohol) is too tart, stir in a cup or two of water to dilute and balance out the flavor to your liking.
Can I make this strawberry party punch without alcohol?
You can easily turn this into a non-alcoholic punch so everyone can enjoy it. Simply skip the champagne and tequila. You can use club soda, sparkling cider, sparkling juices, or another fizzy drink to keep the sparkling quality of this recipe, but it tastes pretty good without it too.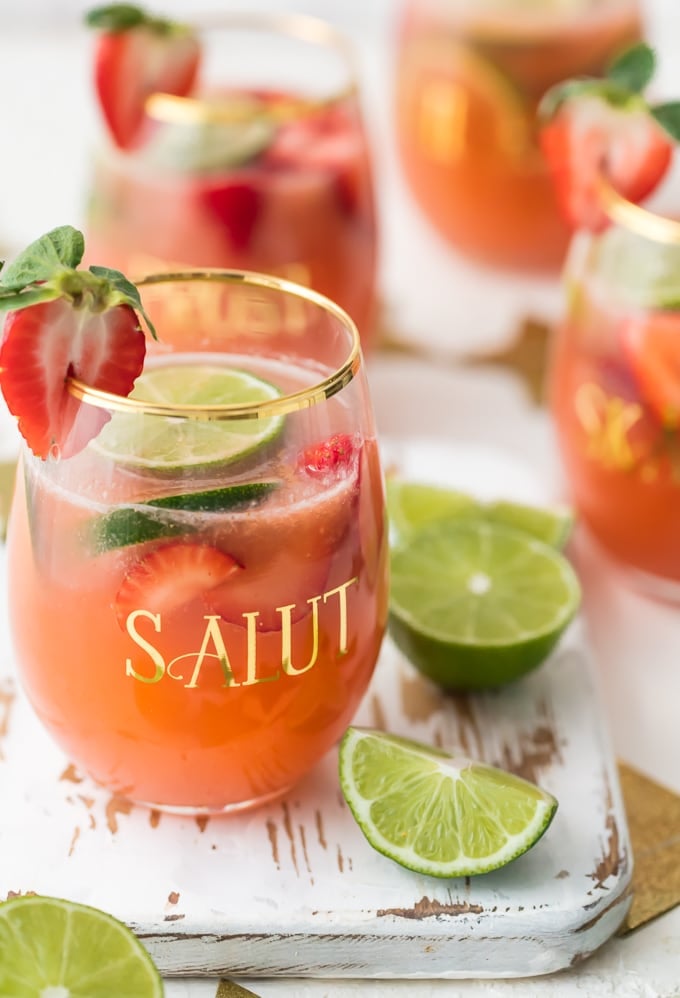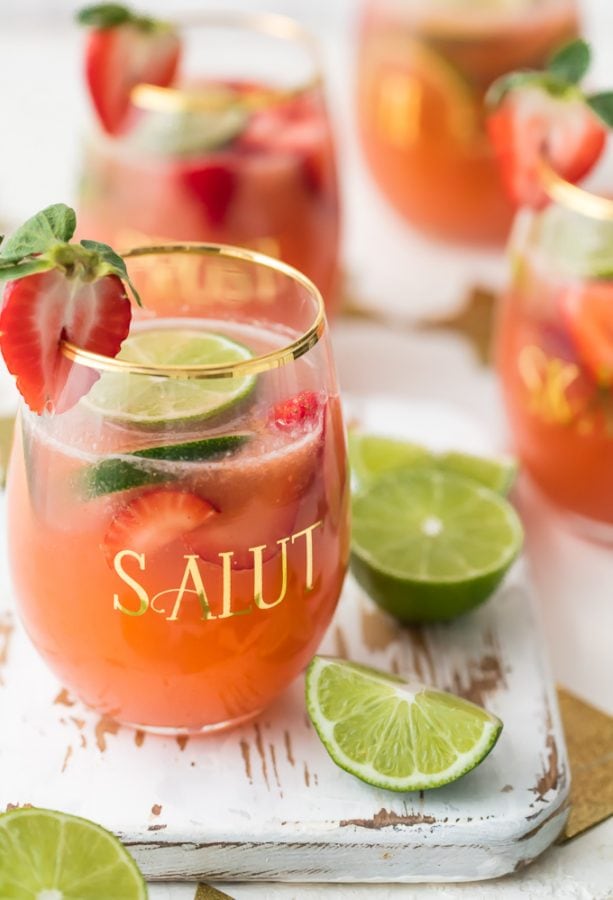 What's the best champagne to use in a punch recipe?
Use Champagne or any sparkling wine labeled Brut, which is the driest variety. In my experience, sparkling wines labeled "dry" and even "extra dry" are not dry enough, so go for Brut if you can.
Can I use fresh strawberries instead?
Frozen berries work best for this, but you can use fresh strawberries if you prefer. It will create a foam after blending, which you may want to skim off. They also won't have the icy texture of frozen, but you can add in some ice to balance it out. But you can definitely use fresh strawberries to garnish!
Can I make a larger batch?
This recipe makes enough for 8 servings. If you want to make this punch for a larger crowd, increase the ingredients, keeping to the same ratio (although you can add more or less alcohol as you please). The recipe card below will help you increase or decrease the recipe as needed.
How to Store Strawberry Margarita Punch
This champagne punch is best if served right after making–and since it only takes about 5-10 minutes, I recommend waiting until right before the party.
But if you do want to make it ahead of time, or if you have leftovers, simply store it in the refrigerator up to 2 days. Give it a good stir before drinking.
What to Serve with Margarita Punch
This sparkling strawberry margarita punch makes a great cocktail for any party, so you'll probably want to serve it up with plenty of appetizers. Try these enchilada cups, tortilla chips and easy guacamole, fruity bruschetta, or these this Instant Pot Queso. And if you really want to celebrate, make any of these Cinco de Mayo appetizers!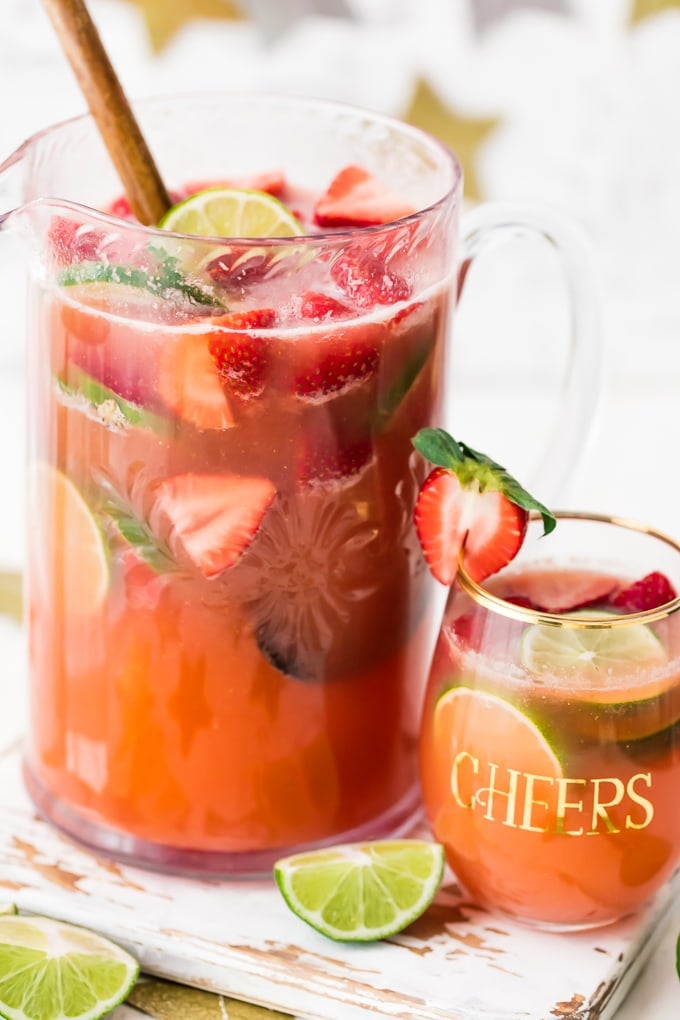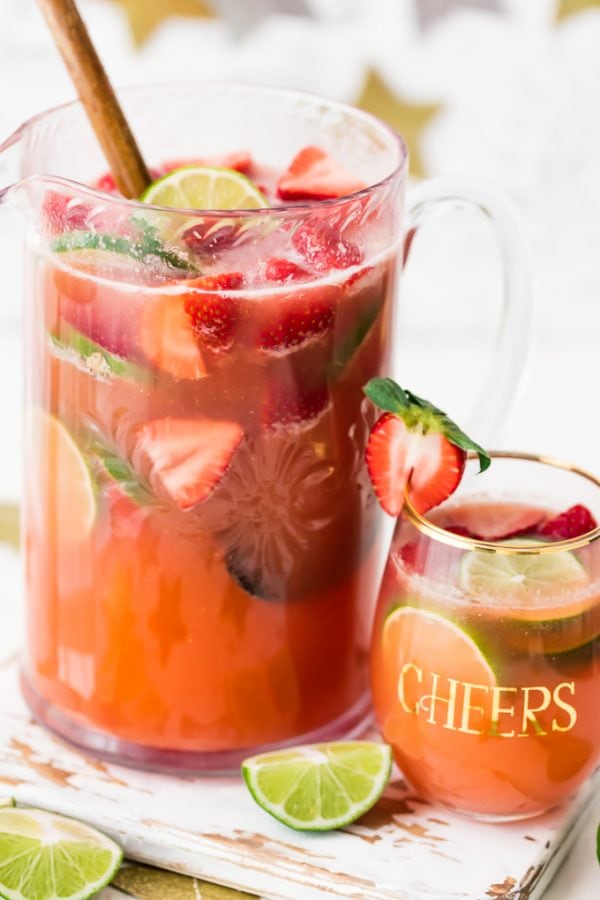 Looking for more party punch recipes? You'll love this Cranberry Limeade Champagne Punch, Ice Cream Punch, and Strawberry Lemonade Punch.
If you make this recipe be sure to upload a photo in the comment section below or leave a rating. Enjoy! You can also jump to recipe.