This fun and festive Sparkling Strawberry Margarita Punch is such a delicious and easy party drink recipe. If you like margaritas, you'll LOVE this punch. Cheers to New Year's Eve, Cinco de Mayo, and more!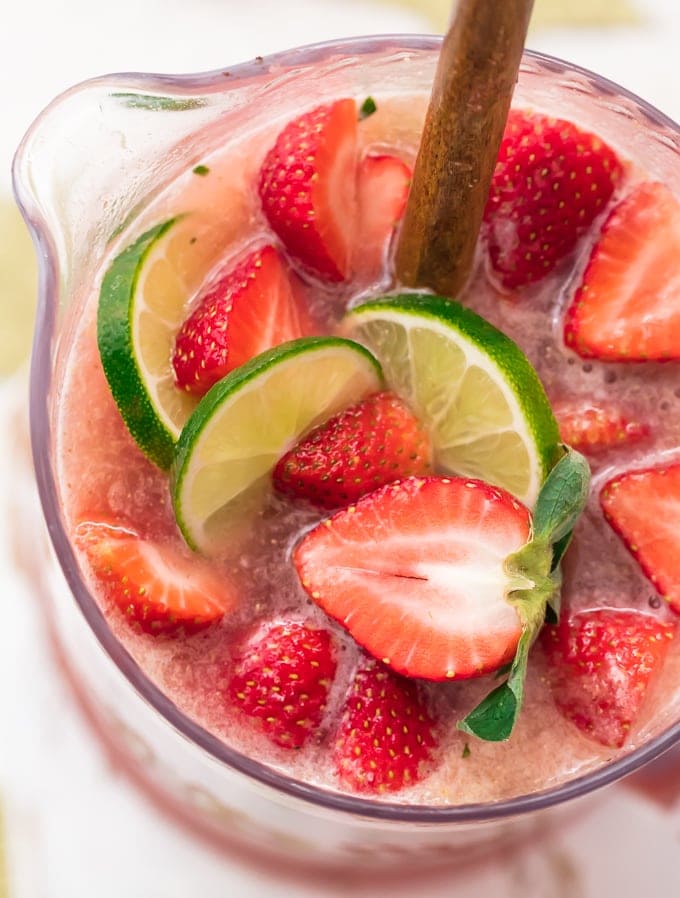 Celebrate every New Year's Eve (and so many other times throughout the year) with this Sparkling Strawberry Margarita Punch. It's SO EASY, so fun, pretty, and a perfect drink for a crowd. I plan to sip it this Sunday and then again next Friday for our first girl's bunco night.
Why this is so good
Celebrate any occasion with this gorgeous pink party drink.
A fresh, fizzy and delicious punch, loaded with strawberries.
Perfect for a big crowd, serve up in a punch bowl or a big pitcher.
So easy to make, just 5 mins to whip up in the blender.
Ingredients
Strawberries – use frozen strawberries, this helps keep the punch cool too.
Soda – a zesty lemon/lime soda.
Limeade – frozen from concentrate.
Orange Juice – no pulp, you want a smooth punch.
Tequila – Exotico Blanco Tequila is a lovely smooth tipple. Adjust to how strong you want it!
Champagne – dry or a sparkling wine.
Garnish – fresh limes and strawberries.
How to make this Strawberry Margarita Punch
In a blender, mix together the frozen strawberries with the soda until smooth. Then, pour the mix into a pitcher and add the limeade concentrate. Combine the mix with orange juice, taste and adjust with more water if needed.
Finally, stir in the tequila and champagne, garnish with strawberries and lime slices.
Cheers!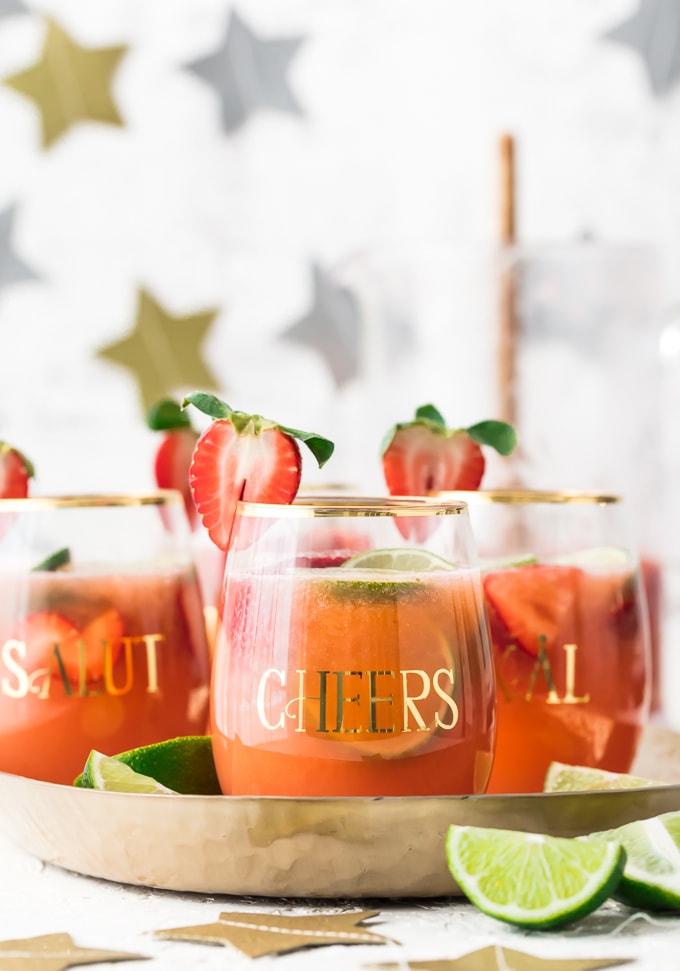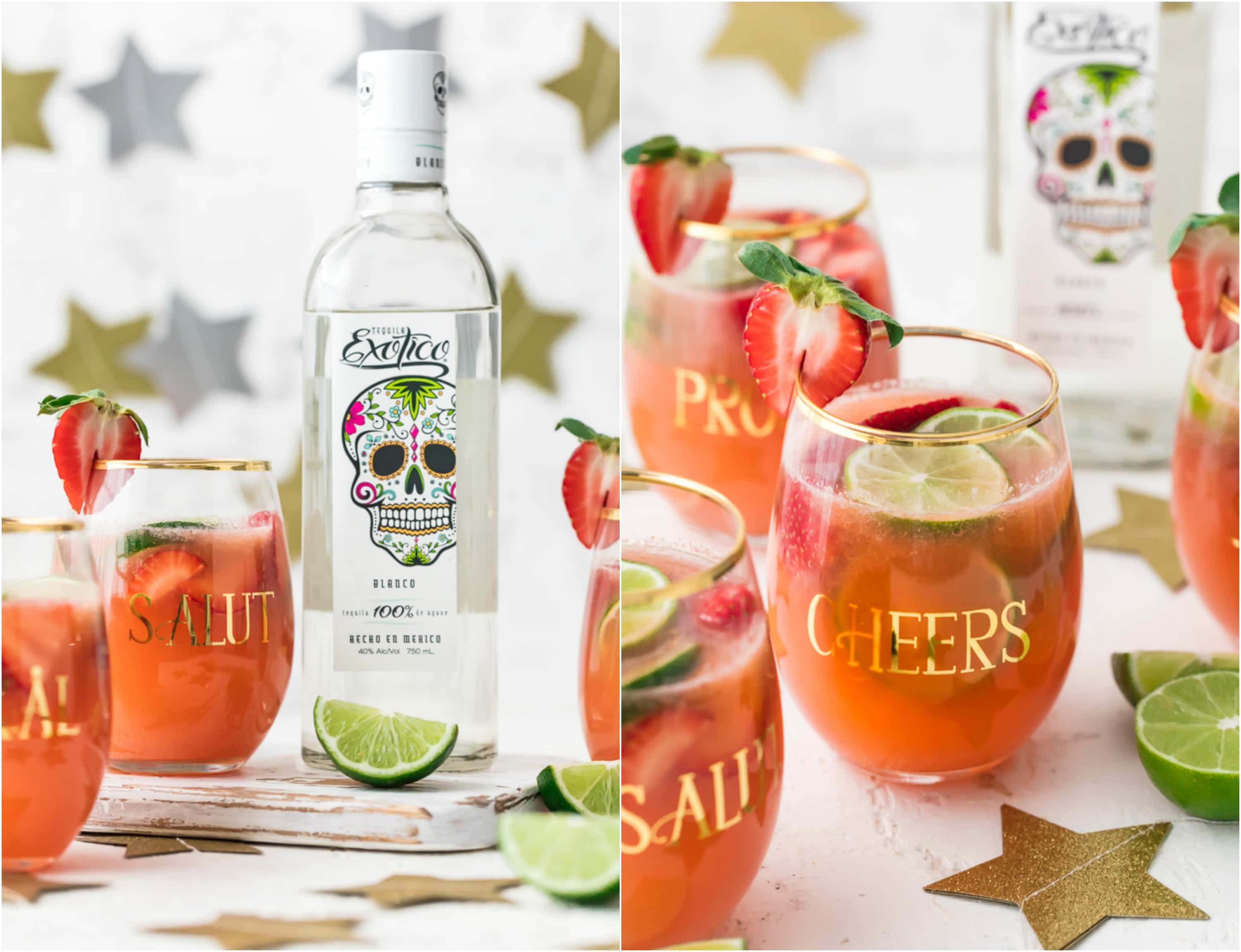 An easy party punch!
Making margaritas with a blender is super easy! We're making this Sparkling Strawberry Margarita Punch in a blender today. Watch the video at the bottom, for a quick demonstration!
I love the tartness of the limeade and strawberries mixed with the tequila and champagne. It's the perfect balance for this strawberry margarita punch. I don't think I'll ever get tired of creating new Margarita recipes…although I think I might have just found my new favorite. Can you blame me?!
The best Tequila for Strawberry Margaritas
You guys might remember my Mulled Wine Margaritas from last month (cold nights like today are the best time to make that awesome drink!). I'm SO darn excited about my new partnership with Exotico Tequila. It's made by one of my favorite companies, Luxco, right here in Saint Louis. I'm so proud to be representing this award winning tequila as they're made with 100% blue agave, has a great price point that can't be beat for the quality, and look at those amazingly cool bottles.
I used their Blanco Tequila for today's Sparkling Strawberry Margarita Punch and it was absolutely perfect. Exotico Blanco Tequila won GOLD & BLANCO TEQUILA OF THE YEAR in the 2016 New York International Spirits Competition. I'm so proud! Click HERE to find out where to buy.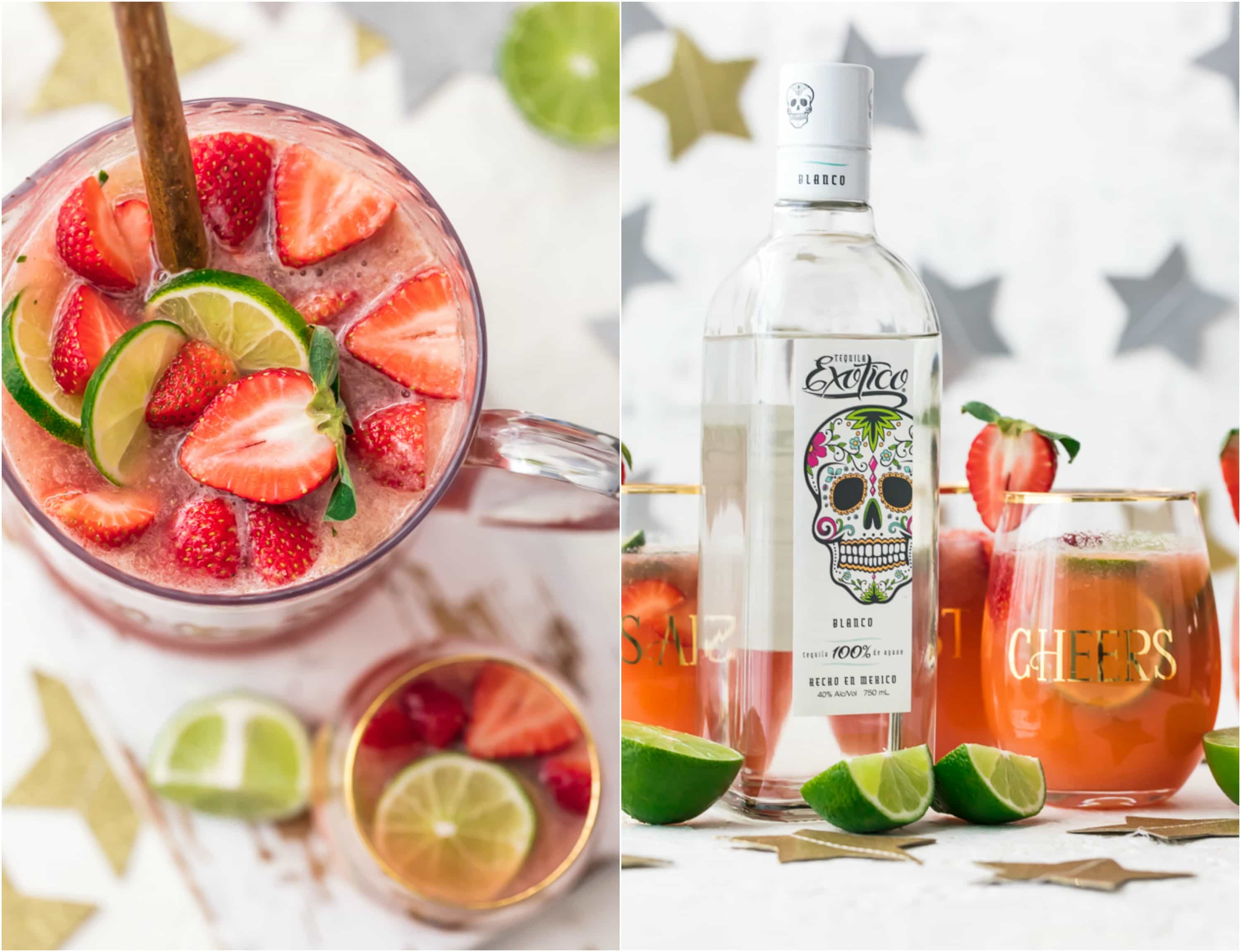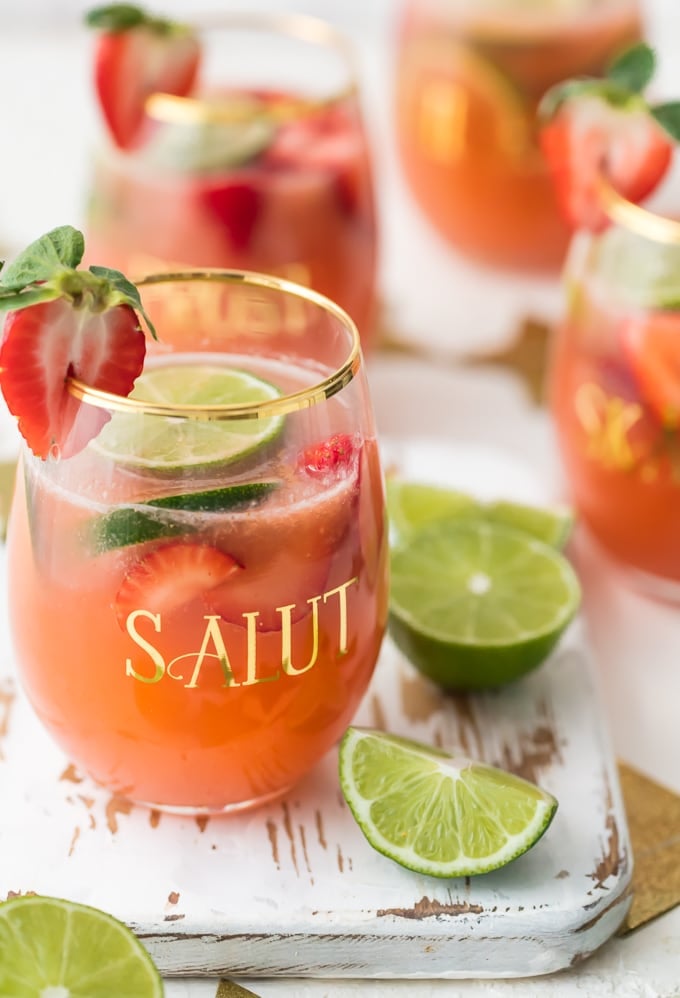 Best Champagne for this punch
Use Champagne or any sparkling wine labeled BRUT, which is the driest variety. Confusingly enough, sparkling wines labeled "dry" and even "extra dry" are not as dry as you want or need for this recipe.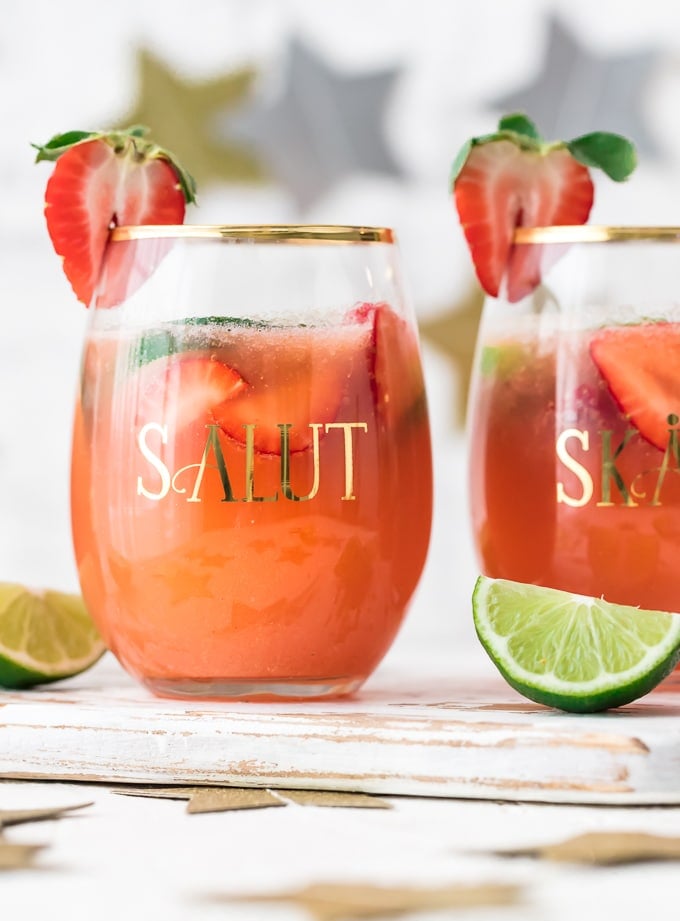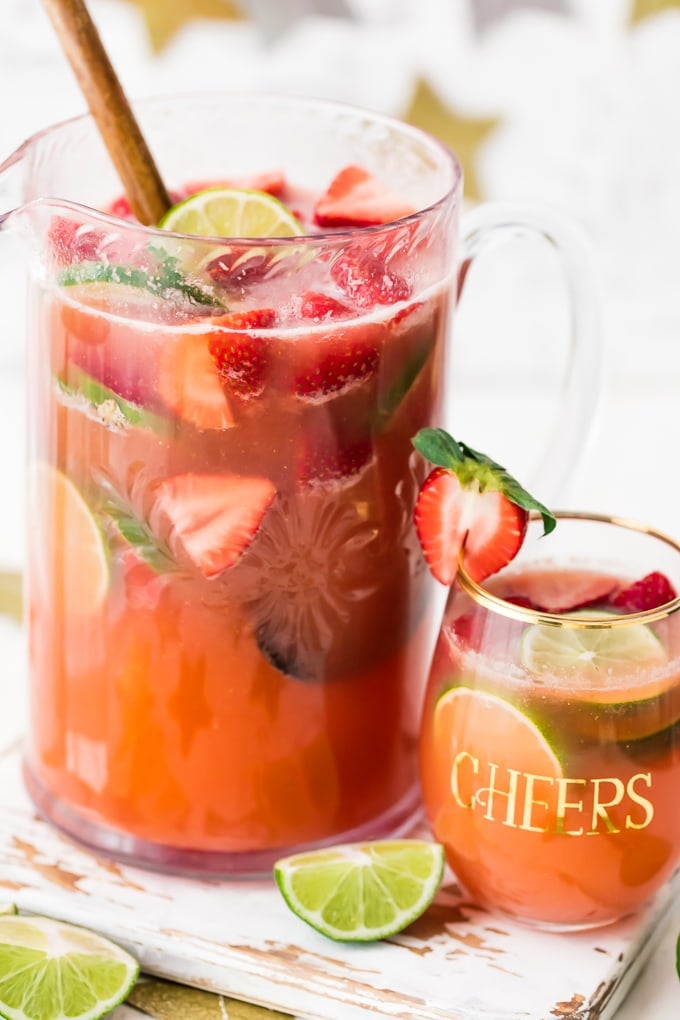 Make the Ultimate Margaritas Every Time
Margaritas are one of my favorite cocktails. So I have compiled all of the best recipes in our Best Margaritas Guide! Be sure to check it out for all our best tips, tricks, barware, variations, and more!
Every party (especially New Years Eve parties!) needs this Sparkling Champagne Margarita Punch. The refreshing mix of tequila, champagne, lime, and strawberry is so fun!
Top Tips
You absolutely do not need a punch bowl to make this recipe. Simply use pitchers.
You can use fresh strawberries for this, but it will create a slight foam after blending, which you may want to skim off. Ideally frozen work best for this.
Adjust the tequila to the levels you like, but be weary, this Champagne Punch is light, easy drinking, and refreshing. It sips away more quickly than you think!
Add more water to the mix if it is too tart for your taste.
Check out these other delicious cocktails
Have you tried this Strawberry Margarita Punch? Feel fre to leave a star rating and I'd love to hear from you in the comments below! Also, watch the video or see the recipe card below to see how to make this fizzy tipple.