This fun and festive Sparkling Strawberry Margarita Punch is such a delicious and easy party drink recipe. Strawberry Limeade meets Champagne Margaritas in the most amazing beverage. If you like Strawberry Margaritas, you'll LOVE this Sparkling Margarita Punch. Cheers to New Year's Eve, Cinco de Mayo, and more!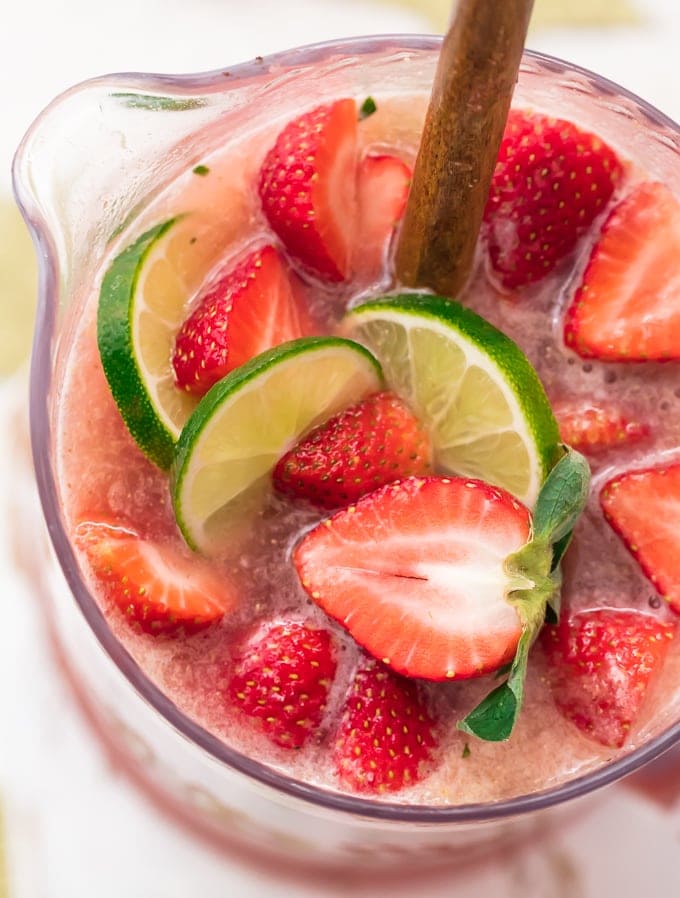 Strawberry Champagne Margarita Punch
I combined all the best flavors for this Strawberry Champagne Margarita Punch recipe!
I cannot believe that Thanksgiving and Christmas have passed us by and now we are staring at 2018. What in the world? No one told me when you have a baby the year literally passes by like lightning. Well, actually lots of people told me, but it's hard to believe it until it happens. Before I know it Henry will be off to college and I'll be crying myself to sleep every night.
Until then, I plan to celebrate every New Year's Eve (and so many other times throughout the year) with this Sparkling Strawberry Margarita Punch. It's SO EASY, so fun, pretty, and just perfect for a crowd. I plan to sip it this Sunday and then again next Friday for our first girl's bunco night. Nothing better than Strawberry Limeade Margarita Punch to make bunco that much more fun!
Celebrate any occasion with this Sparkling Champagne Margarita Punch!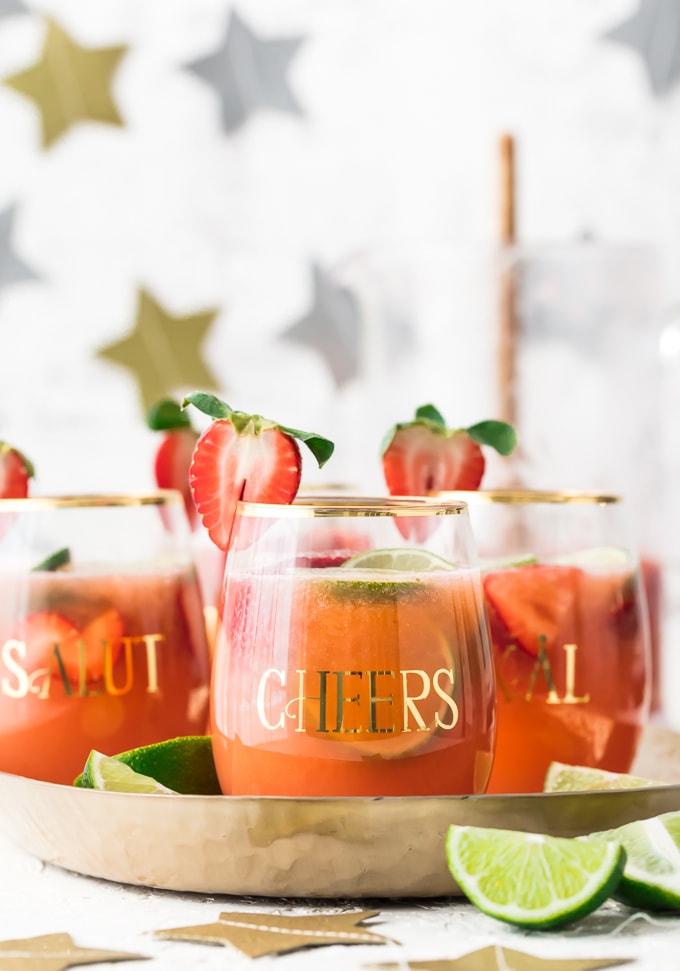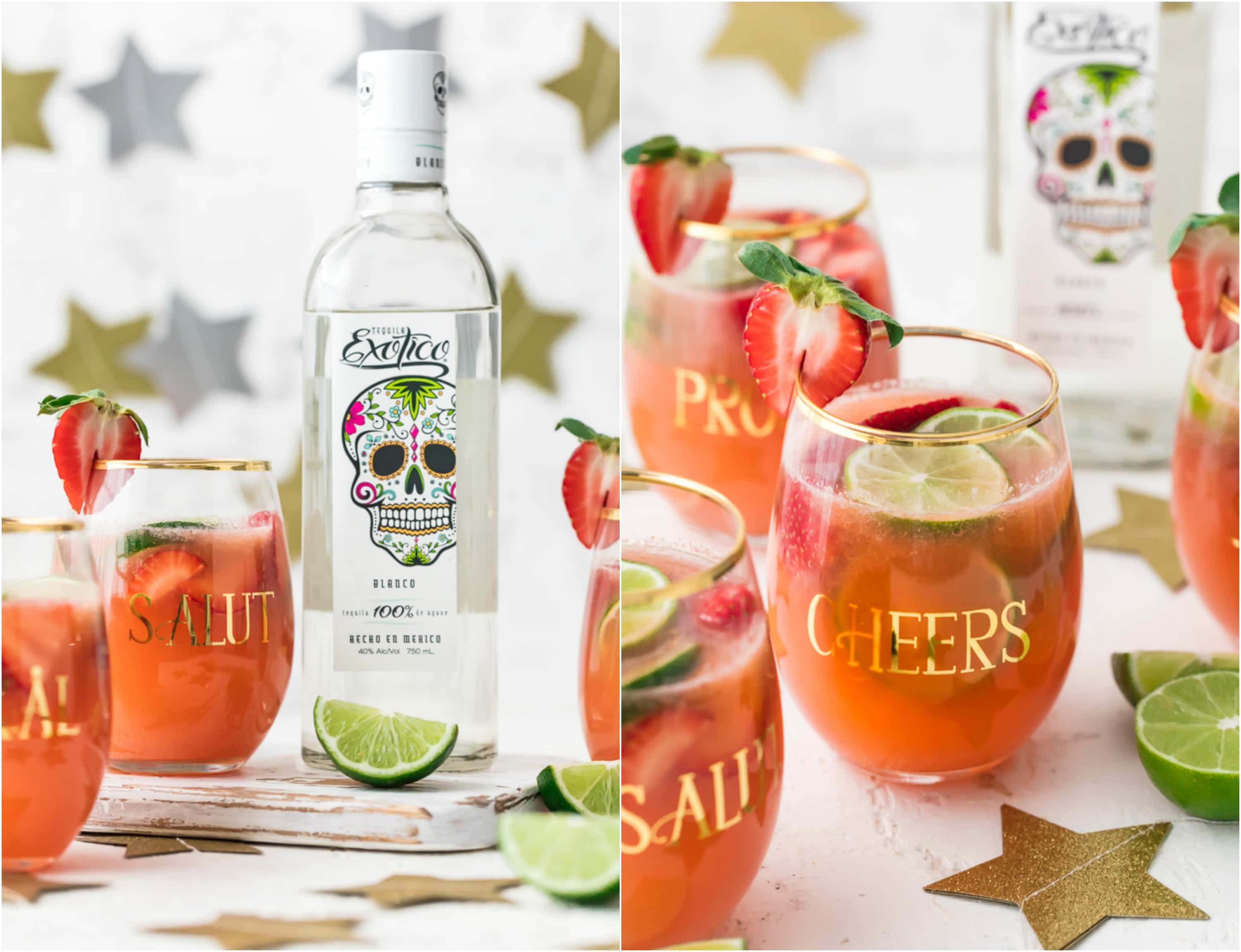 The Best Tequila for Strawberry Margaritas
You guys might remember my Mulled Wine Margaritas from last month (cold nights like today are the best time to make that awesome drink!). I'm SO darn excited about my new partnership with Exotico Tequila. It's made by one of my favorite companies, Luxco, right here in Saint Louis. I'm so proud to be representing this award winning tequila as they're made with 100% blue agave, has a great price point that can't be beat for the quality, and look at those amazingly cool bottles.
I used their Blanco Tequila for today's Sparkling Strawberry Margarita Punch and it was absolutely perfect. Exotico Blanco Tequila won GOLD & BLANCO TEQUILA OF THE YEAR in the 2016 New York International Spirits Competition. I'm so proud! Click HERE to find out where to buy.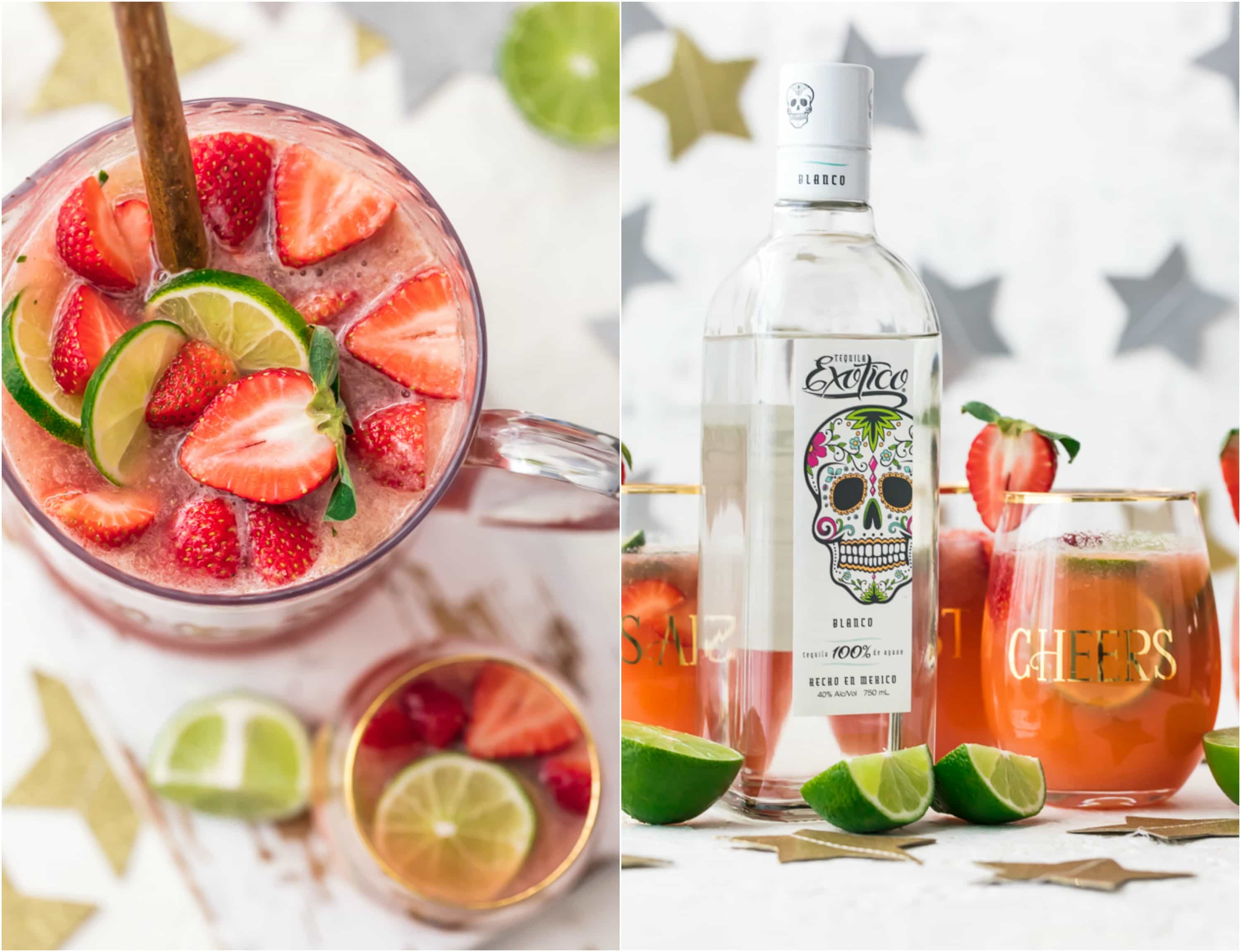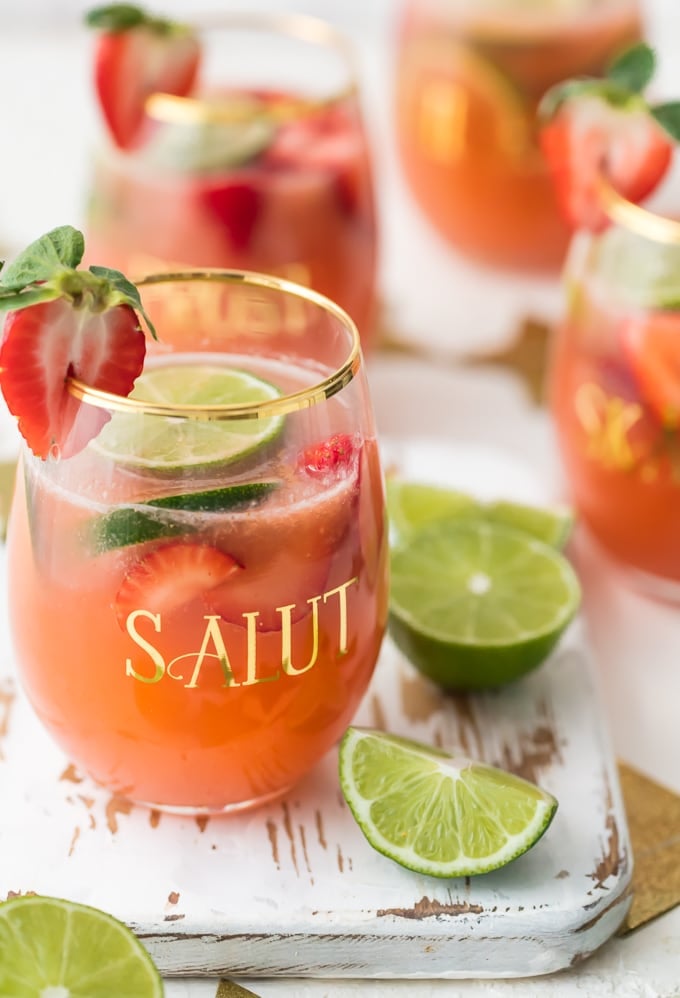 How do you make strawberry margaritas with a blender?
Making margaritas with a blender is super easy! We're making this Sparkling Strawberry Margarita Punch in a blender today. Watch the video below for a quick demonstration!
What's in this Strawberry Limeade Punch?
This refreshing Strawberry Margarita Punch contains just a few simple ingredients:
Frozen Strawberries
Lemon Lime Soda
Limeade Concentrate
Exotico Blanco Tequila
Orange Juice
Dry Champange
I love the tartness of the limeade and strawberries mixed with the tequila and champagne. It's the perfect balance for this strawberry margarita punch. I don't think I'll ever get tired of creating new Margarita recipes…although I think I might have just found my new favorite. Can you blame me?!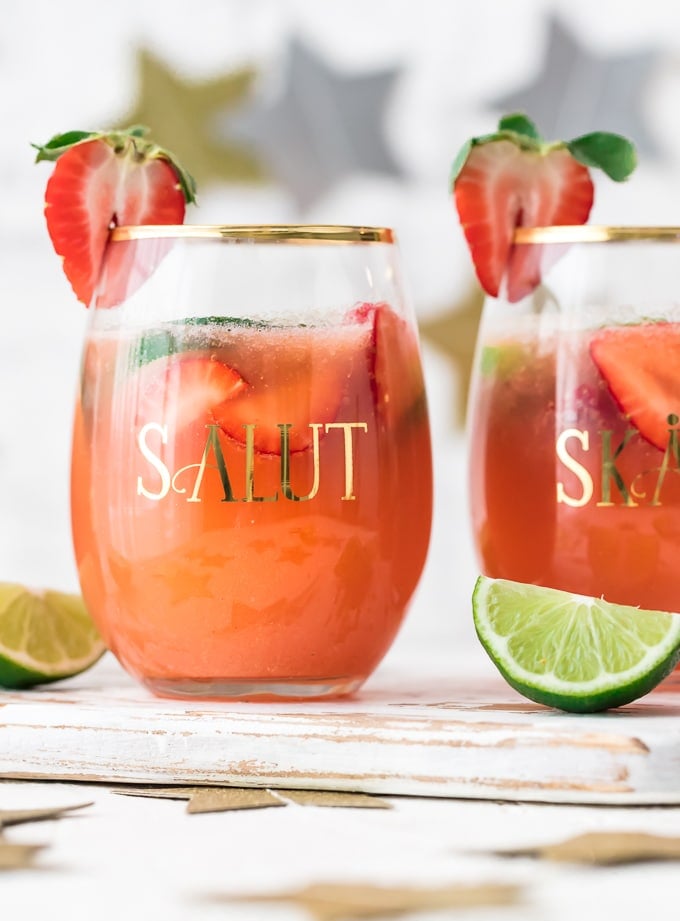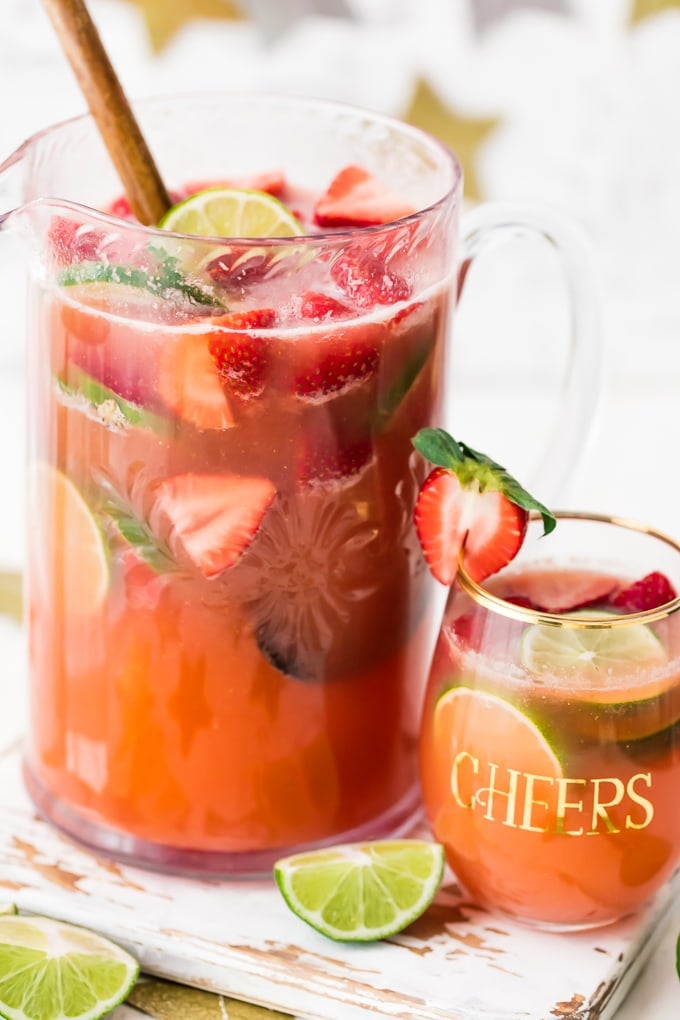 Make the Ultimate Margaritas Every Time
Margaritas are one of my favorite cocktails. So I have compiled all of the best recipes in our Best Margaritas Guide! Be sure to check it out for all our best tips, tricks, barware, variations, and more!
Every party (especially New Years Eve parties!) needs this Sparkling Champagne Margarita Punch. The refreshing mix of tequila, champagne, lime, and strawberry is so fun!
If you enjoyed this Strawberry Limeade Margarita, try these other drink recipes too:
Watch the video or see the recipe card below to see how to make Sparkling Strawberry Margarita Punch! Cheers.