Minestrone Soup is the perfect soup for winter! It's hearty, delicious, and so easy to make. This is the best minestrone soup recipe, made with Orzo and crispy Pancetta. Yum!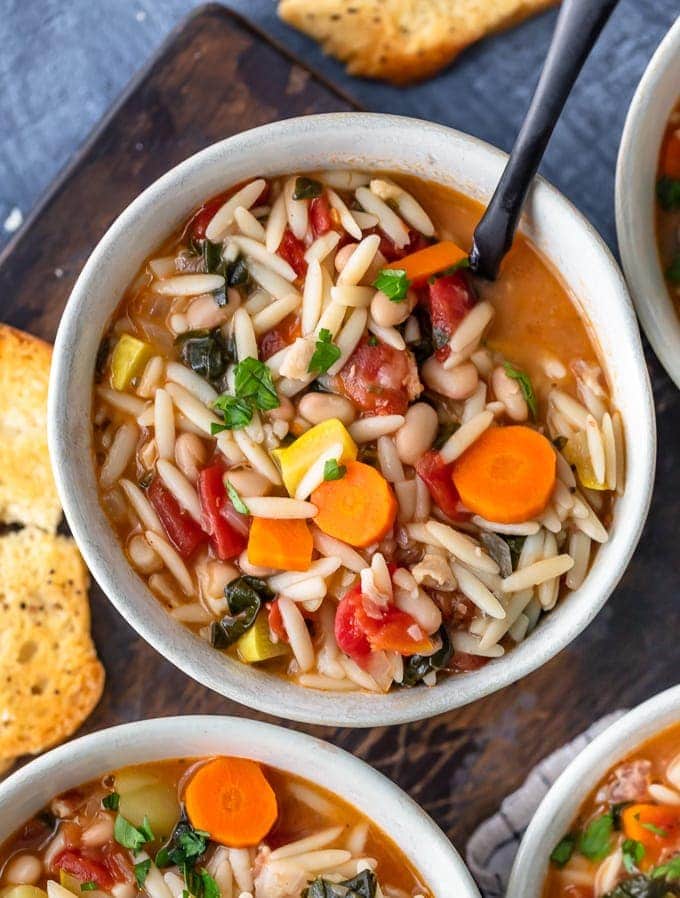 Minestrone Soup Recipe
Minestrone Soup is one of my favorite winter dishes. Try this easy minestrone soup recipe with Pancetta for a simple yet delicious meal!
Winter calls for soups! I can't imagine going through the entire season without eating soup, and if there is anyone that doesn't eat soup during the cold, dark months of the year…well, I don't understand it. You're missing out!
To add to my favorite soup recipes here on the site, today I'm sharing the BEST Minestrone Soup Recipe. Yes, the best. You can do all kinds of things with Minestrone, adding a million different kinds of ingredients, but this is my favorite way to make it.
It's filled with Orzo, beans, squash, carrots, and so much more. Plus Pancetta! It's topped off with some crispy pancetta to add an extra kick of flavor, and it is so good!
Make this hearty soup recipe this winter and you won't be disappointed. Get a big batch going and save some for later in the season (when you just can't be bothered to cook anymore). It's one of the best soups!
This easy Minestrone Soup recipe will fill you up all winter long. It's filled with veggies, beans, Orzo, and Pancetta. Yum!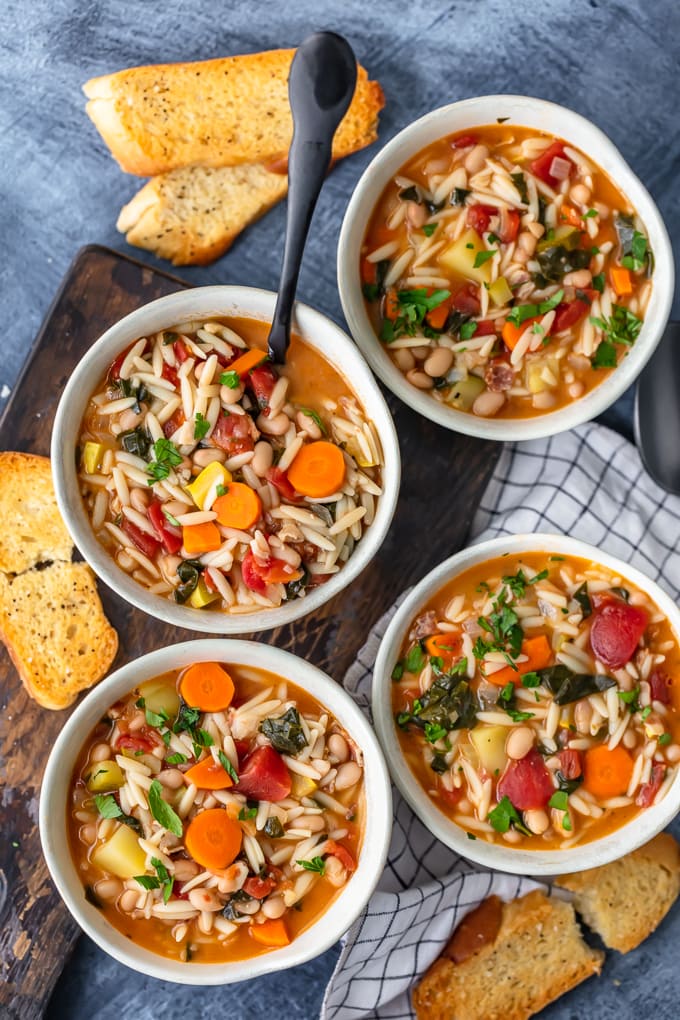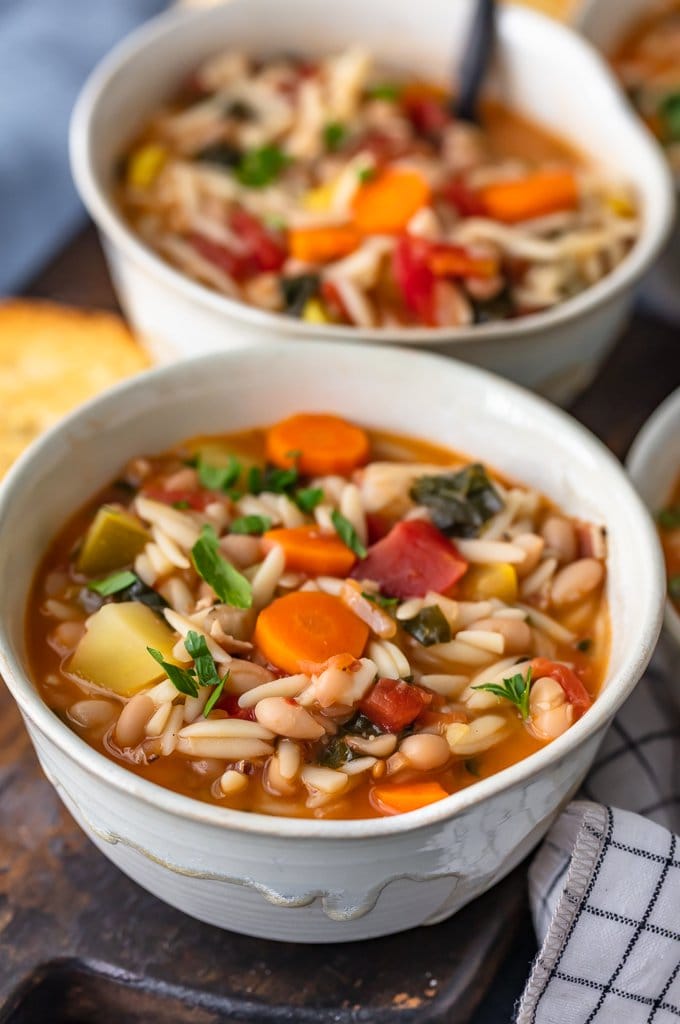 What is Minestrone Soup?
To put it simply, minestrone soup is a thick vegetable soup. One of the awesome things about it is that there isn't a hard set recipe you have to follow to make it.
It's an easy soup recipe with lots of room to change things up or just use what you have. This variety means you'll see a lot of different soups referred to as minestrone.
It's generally a thick, hearty soup filled with all kinds of vegetables, beans, and usually also includes some form of rice or pasta. This easy minestrone soup recipe is my favorite way to make this dish, using Orzo and some of my favorite veggies.
Best Minestrone Soup Ingredients
This is the best minestrone soup recipe if you ask me! I love how hearty and filling it is, and all of the different vegetables and ingredients make it so fun and colorful.
Traditionally, people would use whatever vegetables were in season, on whatever they had on hand, to make this dish. So there really is no wrong way to make it. Follow our recipe as is, or make a few substitutions if needed!
Here's what we put in our recipe:
Chicken or Vegetable Broth
Orzo
Carrots
Celery
Onion
Zucchini
Summer Squash
Potatoes
Great Northern Beans
V8 Juice
Garlic
Diced Tomatoes
Pancetta
In addition, there are a few others spices and seasonings thrown in. Minestrone soup does not always have meat, but I had to add in some crispy Pancetta for a little extra kick. Of course you can leave this out if you prefer (but it adds so much flavor!).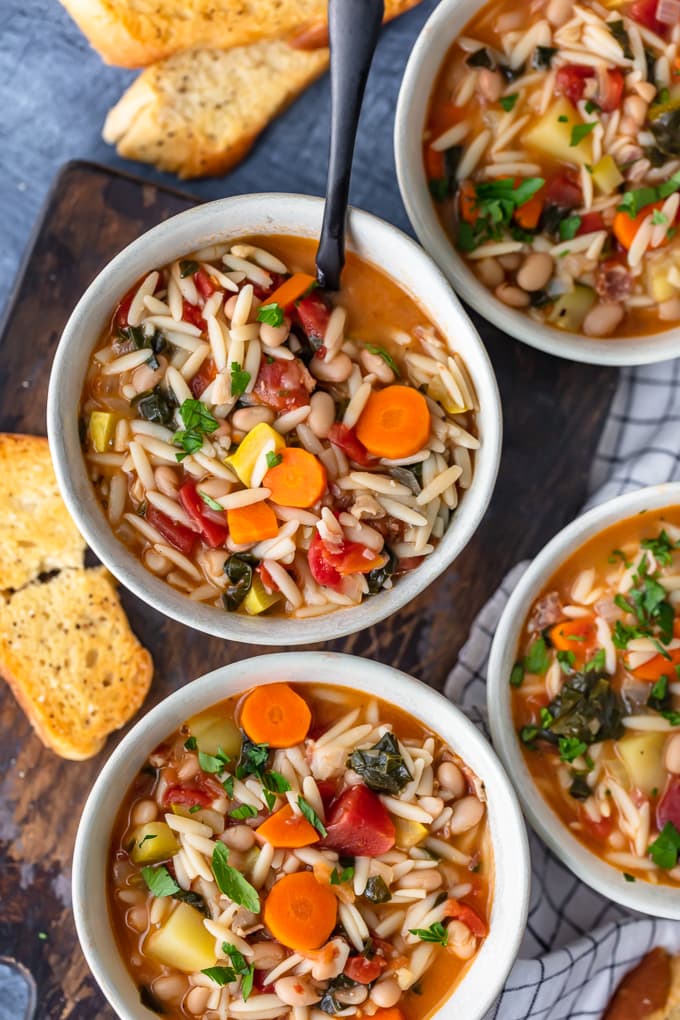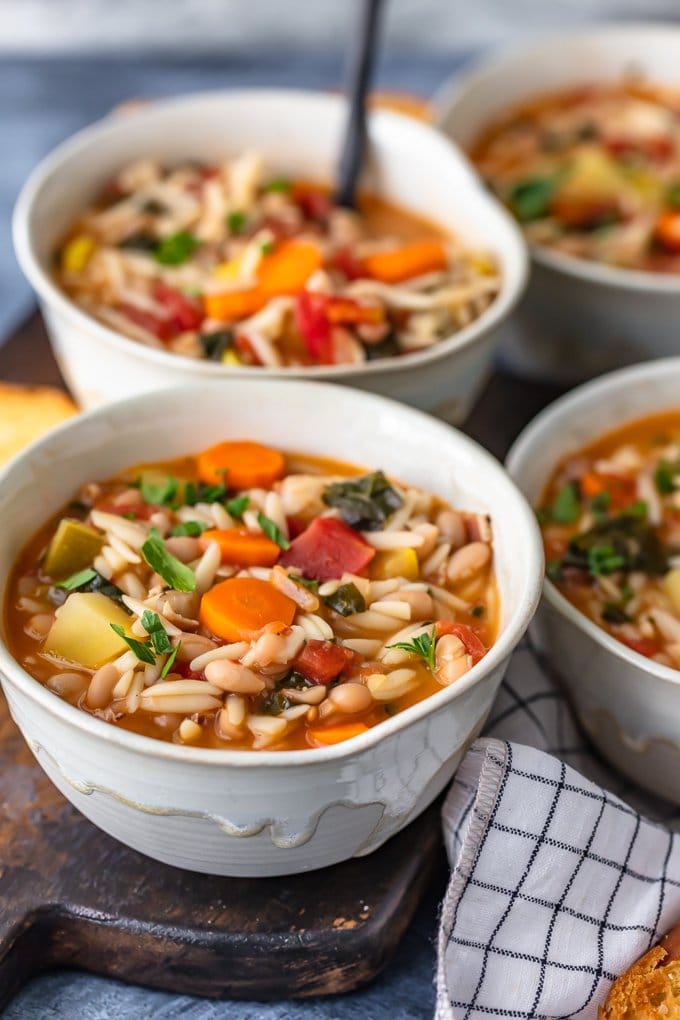 How to Make Minestrone Soup
This easy winter soup recipe may contain a lot of ingredients, but it's still so simple to make.
All you really have to do is add in your veggies one by one to cook up, then finally add in the broth and the rest of the ingredients. Let it all simmer until it's cooked, and done!
Here's a quick overview:
Start by cooking up the pancetta until crisp, then set it aside for later.
Next, cook the carrots and celery, then add in onions, then zucchini and squash, then garlic. Cook about 2 minutes before adding in each ingredient.
Add in tomatoes, V8 juice, broth, and seasonings, then bring to a boil.
Then add in the potatoes and orzo, letting it simmer about 10 minutes (or until Orzo is cooked).
Lastly, add in the beans and cook another 5 minutes, then season soup to taste.
To serve the minestrone soup, fill your bowls, then top each with the crispy Pancetta, plus a bit of grated cheese and basil.
I recommend serving your soup alongside some hearty bread! Check the recipe card below for more detailed instructions.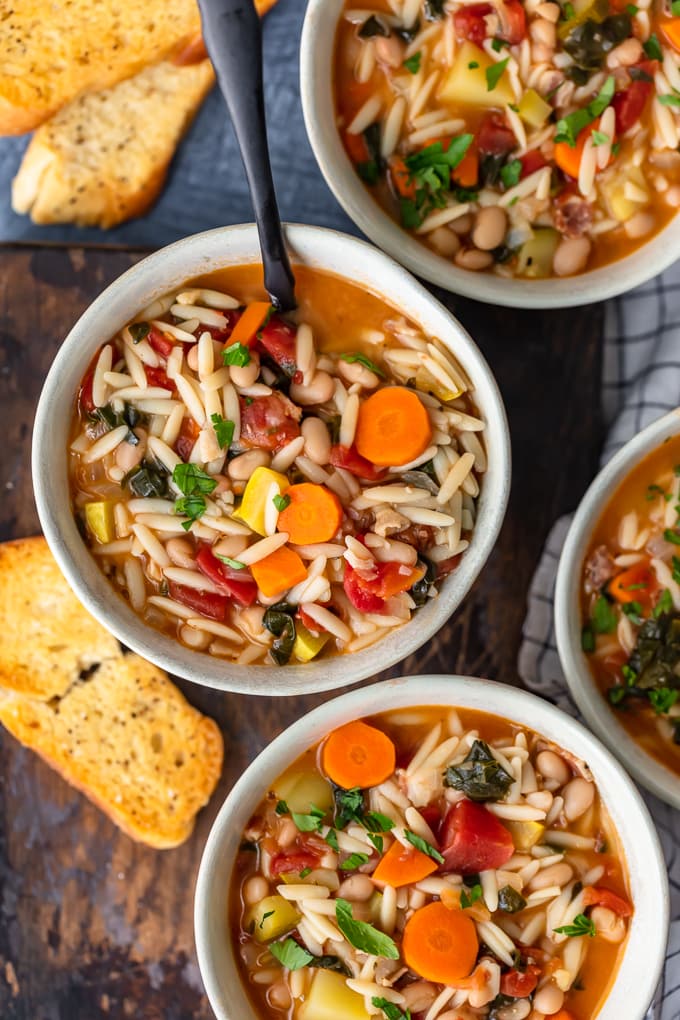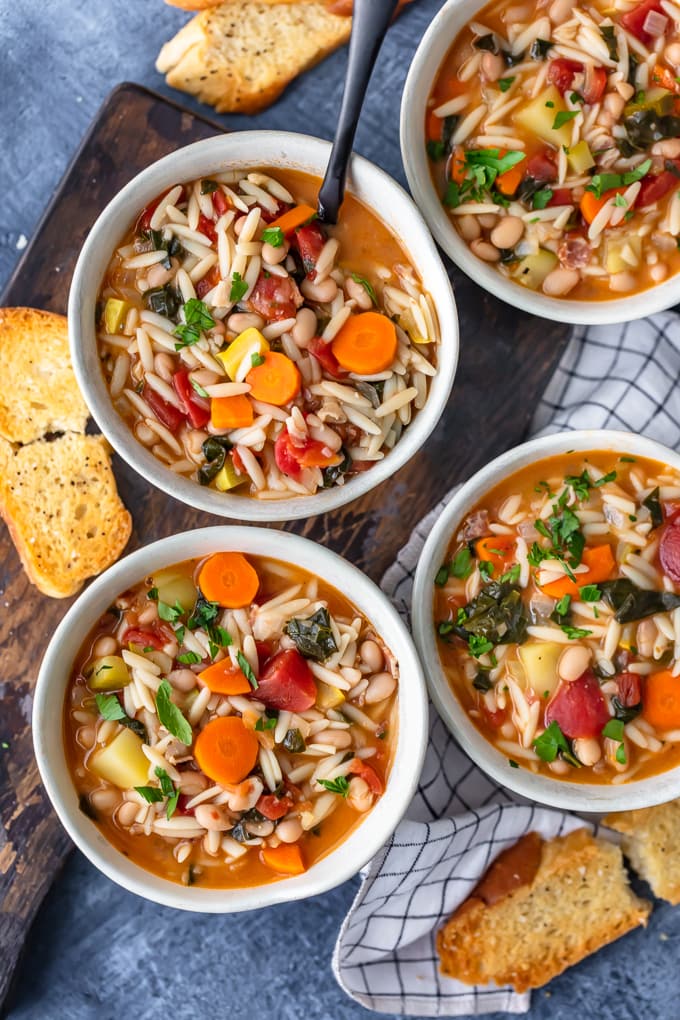 Why is it called Minestrone Soup?
Minestrone basically just means "soup" in Italian, so calling it Minestrone soup is kind of redundant.
But these days it does refer to a specific style of soup, usually something that is thick and filled with vegetables, beans, grains, etc.
What vegetables do you put in minestrone soup?
You can put any type of vegetables you like in minestrone soup. There is no fixed recipe. Traditionally. people would add in whatever seasonal ingredients they had available, so you can use what you have.
Some great vegetables to add in would be squash, carrots, potatoes, corn, tomatoes, celery…I love eating minestrone soup in the winter, so I think those hearty winter veggies are perfect for this dish!
Can minestrone soup be frozen?
Yes, you can absolutely freeze minestrone soup! So make a big batch of it early in the season, and then freeze it up so you can eat it throughout the winter.
Freezing soups for easy dinners is my favorite thing to do this time of year!
To freeze minestrone soup:
Let it cool to room temperature before storing.
Ladle it into freezer-safe container or resealable bags. (Portion it off to make it easier when thawing and reheating)
You can freeze the soup for 3-4 months.
To reheat it, let it thaw in the refrigerator overnight, or set it to room temperature before cooking. Then just let it simmer on the stove top, stirring regularly, until it is heated through.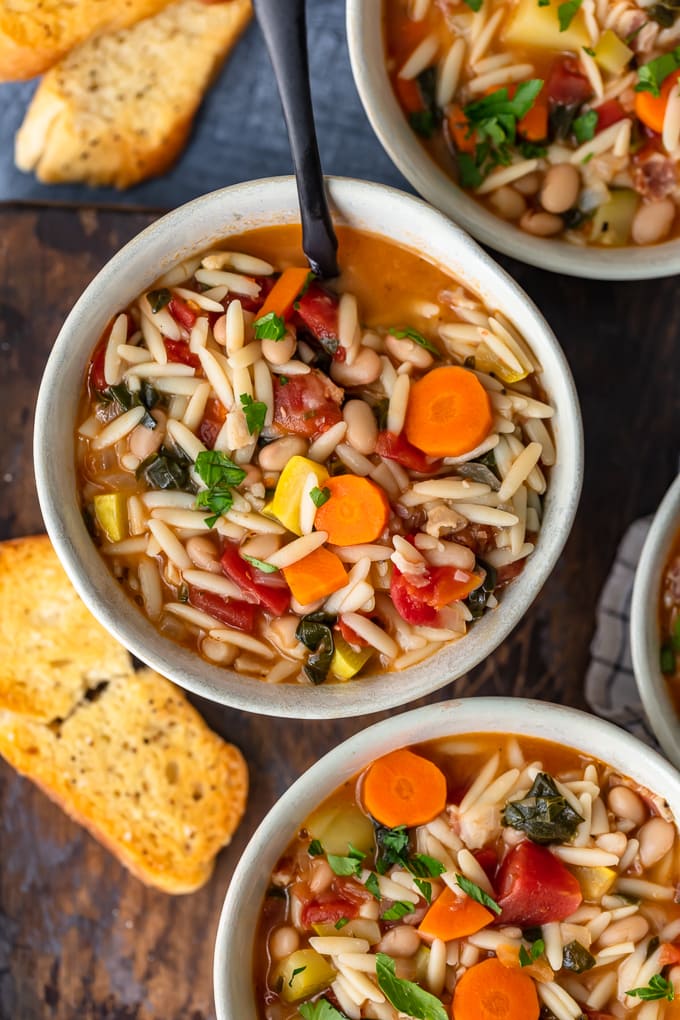 I can't wait for you to try this soup! I absolutely love it and I know you will to. If you don't have every ingredient on this list, feel free to make a few substitutions, and let me know what you think. Happy soup season!
If you like this recipe, you'll love our other favorite soup recipes too:
If you make this recipe be sure to upload a photo in the comment section below or leave a rating. Enjoy! You can also jump to recipe.