Macaroni Soup is about to be your new favorite comfort food! I've combined delicious, creamy soup with cheeeesy macaroni and cheese to create the perfect dish: Chicken Mac and Cheese Soup. You're going to want to eat a bowl of this every day!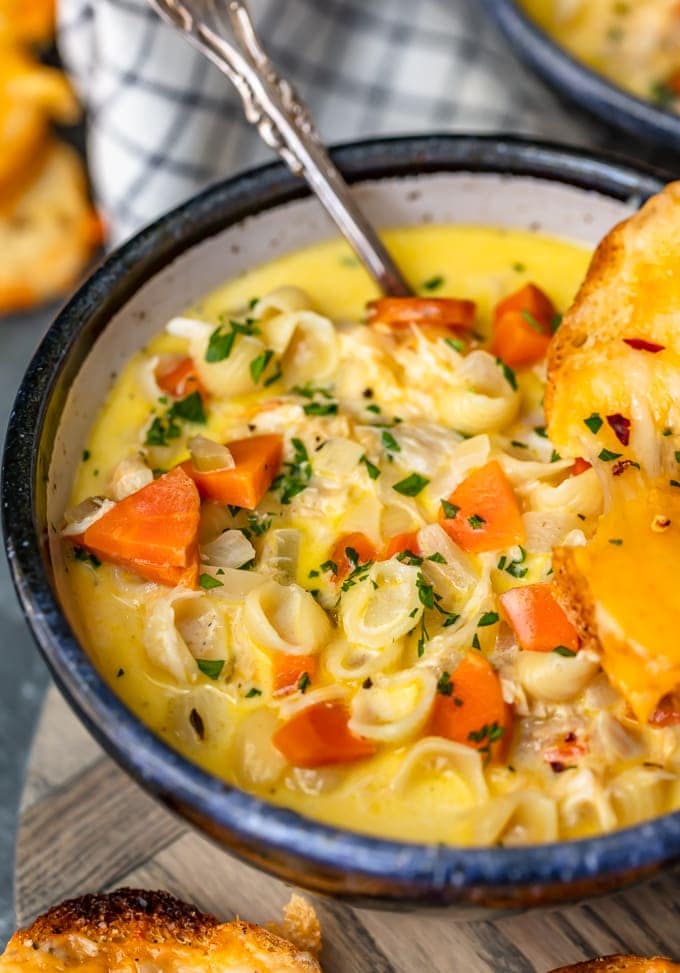 Macaroni Soup
Macaroni Soup is the magical combination of two of the best comfort foods ever: macaroni and cheese, and soup! It's cheesy, it's creamy, and it's quite possibly the most comforting recipe I've ever made. A big bowl of this stuff is exactly what you need this fall and winter season!
I have so many mac and cheese recipes, and a lot of amazing soup recipes too. It's about time I combined them into one perfect dish! This Chicken Mac and Cheese Soup is everything I love about food. It's warm, it's filled with cheese…and that's about all that matters to me. Mac and cheese in soup form is just my kind of meal!
This Macaroni Soup is made with chicken, lots of cheese, some veggies, and shell pasta. The base has the creamiest texture, while the noodles and veggies give it a heartiness to fill you up. And we're serving it with the perfect side, cheesy crostini. This toasted bread with a layer of melted cheese goes so well with the mac and cheese soup!
Make this Macaroni Soup asap for the most comforting meal of your life! Everyone will love it, and I guarantee you'll be making it over and over again this season.
Chicken Mac and Cheese Soup is your new favorite comfort food. This cheese Macaroni Soup is basically everything you've ever dreamed of in one bowl!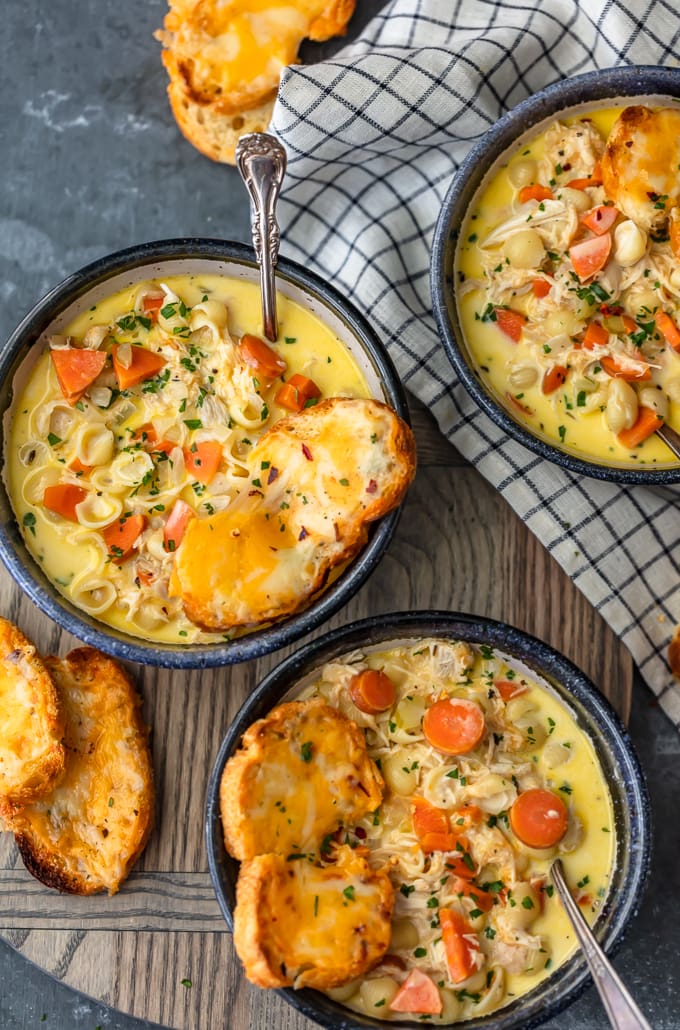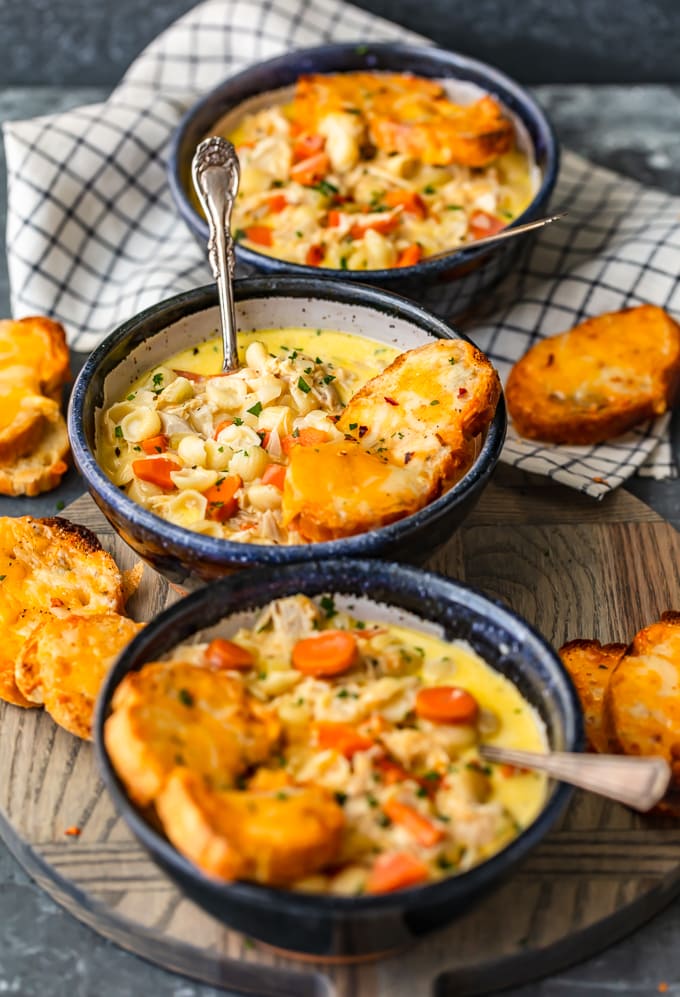 Chicken Mac and Cheese Soup
I love macaroni and cheese. I love soup. I love chicken. The obvious thing to do is to combine them all into one perfectly delicious dish! This Chicken Mac and Cheese Soup does just that. It's one of the best comfort food recipes I've ever made and/or eaten, which means I'm going to be making it all winter long! I don't care what the health gurus say, we need our cheese and our carbs during the colder months of the year, so I'm going to fill myself with this macaroni soup and be happy about it.
What's in this Chicken Macaroni Soup recipe?
Chicken
Carrots
Celery
Shell pasta
Chicken Stock
Multiple types of cheese (because 1 is never enough)
Half & Half
White Wine
Nutmeg
Thyme
Dijon Mustard
Onion
It's basically the perfect mac and cheese recipe in soup form, with chicken and veggies thrown in for good measure. I'm obsessed with this recipe and I think you will be too!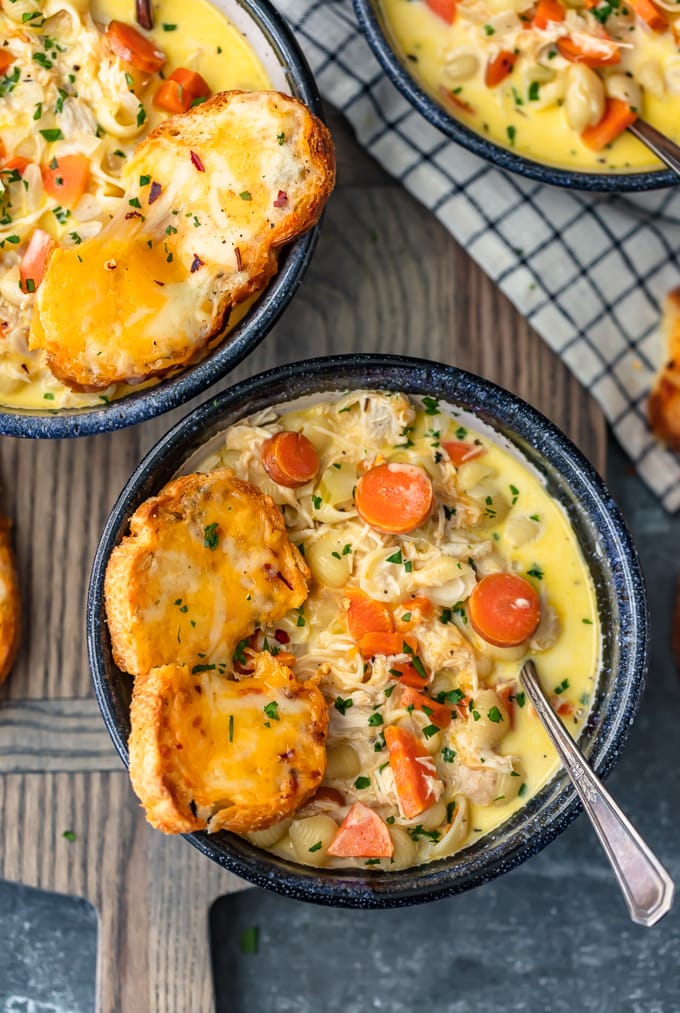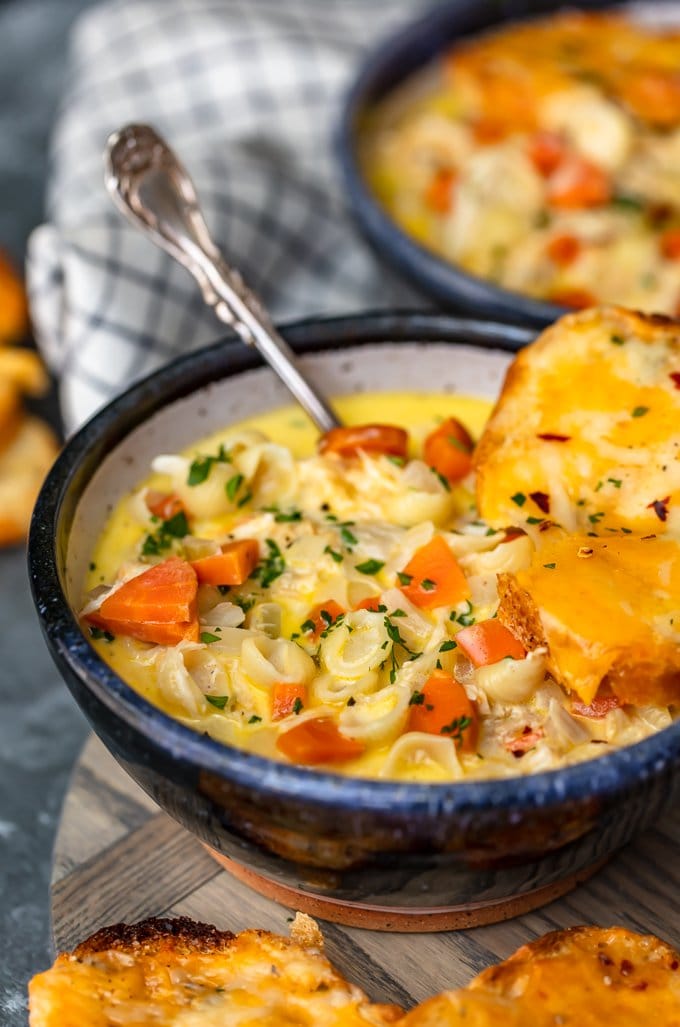 How to Make Macaroni Soup
This Macaroni Soup is a pretty straight-forward recipe. Just like most soup recipes, everything will be cooked in one pot, and it is just a matter of adding in your ingredients at the right time and letting it all simmer and cook together. Simple!
How to make Chicken Mac and Cheese Soup:
Prepare the Chicken – Start by seasoning your chicken breasts, then add them into dutch oven after melting the butter. Cook the chicken for about 3 minutes on each side, then removed from the pot and set aside.
Make the Soup – Start with the carrots and celery in the dutch oven for a few minutes, then add in the onions to cook. Slowly stir in the chicken stock and wine, then bring to a boil. Add in the seasonings and the pasta shells, and let it simmer for about 30 minutes (until pasta is cooked through).
Finishing Touches – Cut or shred the chicken breasts, then add them into the soup along with the milk. Let the soup simmer another 10 minutes, and then stir in the cheese to melt.
This macaroni soup comes out just right, with a creamy texture, a cheesy flavor, and the perfect amount of veggies and herbs to finish it off. Yum! Check the recipe card for more detailed instructions. And don't forget to make the cheesy crostini to serve with this soup recipe!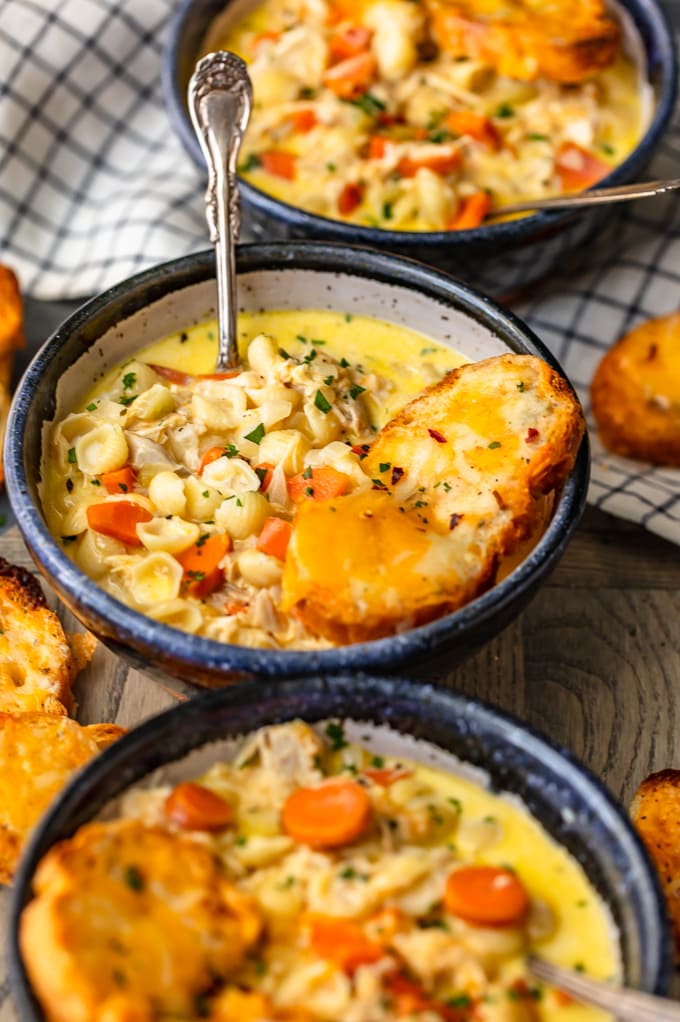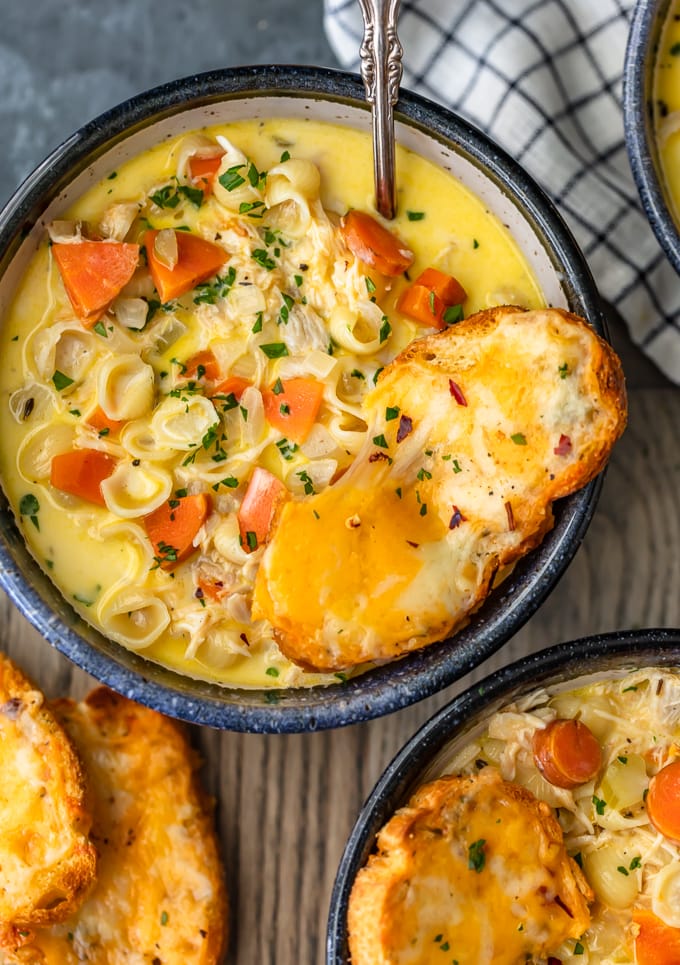 Cheesy Toasted Crostini Recipe
This cheesy Macaroni Soup is sooo good, and I think the cheesy crostini is the perfect addition to this simple meal. I love having hearty, crusty bread to serve with soups because I'm a big fan of dipping. And what better way to highlight the CHEESE part of mac and cheese soup than to serve it with CHEESY bread? Yes, I have a cheese problem. But this Cheesy Toasted Crostini recipe really adds something to the comfort aspect of this dish, so don't skip it!
Just take a baguette, cut it into thin slices, bake the bread with olive oil, then pile the cheese on top and broil it. It's such a simple addition to this macaroni soup but it makes all the difference!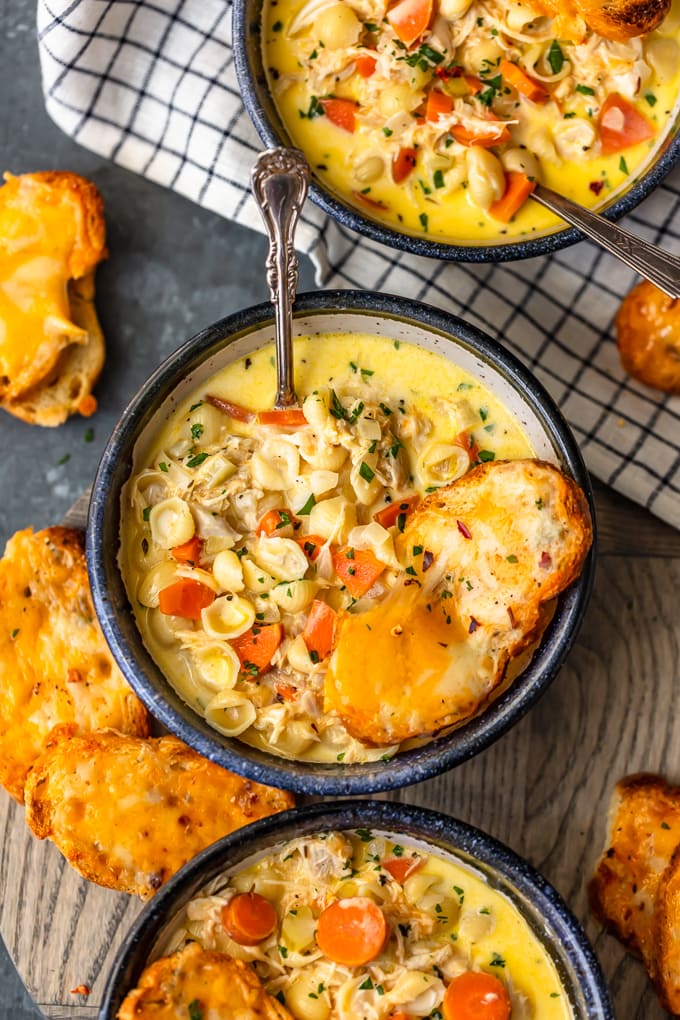 Are you sold on this chicken mac and cheese/soup hybrid yet? It is by far the most comforting food ever, and I know you'll love it. Make this cheesy macaroni soup ASAP!
See the recipe card below for details on how to make Macaroni Soup with Chicken. Enjoy!
If you enjoyed this recipe, you'll love these delicious recipes too: