This healthy Cabbage Soup recipe is filled with vegetables, broth, and of course, lots of cabbage. You'd never guess this delicious and cozy soup has zero Weight Watchers Points! It's low-calorie and filled with nutrients, so it's perfect for any diet, detox, weight loss, or healthy meal plan. No need to sacrifice taste for this one!
What's in Cabbage Soup?
The only ingredients you need for this healthy soup recipe are a bunch of veggies, broth, tomato paste, and some seasonings.
Cabbage: Use chopped cabbage for this soup. The magic of this ingredient is that it has lots of texture and it's nutritious, but it's super low calorie.
Broth: Use a non-fat, low-sodium broth for the healthiest option. I like using beef broth, but you can use veggie or chicken broth instead.
Tomato Paste: Tomato paste adds a delicious richness to the base.
Vegetables: The recipe calls for carrots, green beans, zucchini, onion, and diced tomatoes.
Seasonings: Mix in some basil and oregano to perfect the taste!
Pro Tip: Swap out the veggies to your liking. Try adding sweet peas, bell peppers, squash, or kale.
What are the health benefits of cabbage soup?
So what makes cabbage so healthy? Well, it's a super low-calorie vegetable, but it's also filled with tons of awesome nutrients. It's a good source of vitamins K and C, as well as things like folate, fiber, and manganese. And it can help reduce inflammation, assist in digestion, lower cholesterol, and more.
All of that makes this cabbage soup great for Weight Watchers or another diet program, a new year's detox, or general weight loss. And of course, it's delicious enough that you'll want to add it to your regular diet.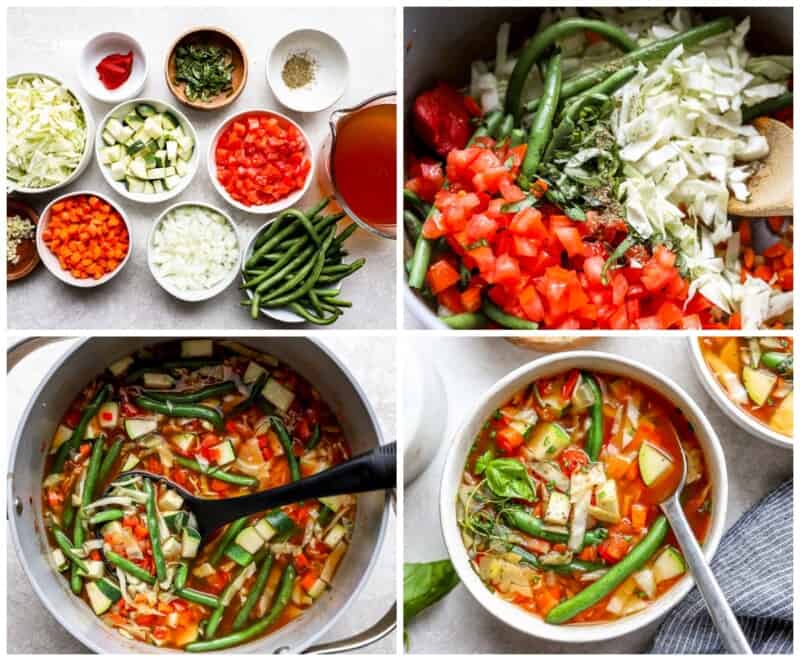 How long does it take to cook cabbage soup?
This soup takes about 25 minutes total to cook.
Is cabbage soup good for weight loss?
This weight watchers cabbage soup is good for weight loss because it's super low in calories, but it's still filled with lots of veggies and things that are good for you. It's zero weight watchers points, so if you are following that program, this is definitely a soup you'll want to add to your diet.
How many calories are in a bowl of cabbage soup?
This weight watchers cabbage soup recipe has about 42 calories per serving. That's basically nothing, so eat as many bowls of this stuff as you want!
Can I make this soup spicy?
Add in some spicy peppers with the other vegetables, like jalapeños. You can also mix in red pepper flakes, cayenne pepper, and/or chili powder with the other seasonings.
When should I add in the vegetables?
Each vegetable should be added in as directed, because some will need longer to cook than others. Carrots need the longest to cook, while zucchini should be added closer to the end.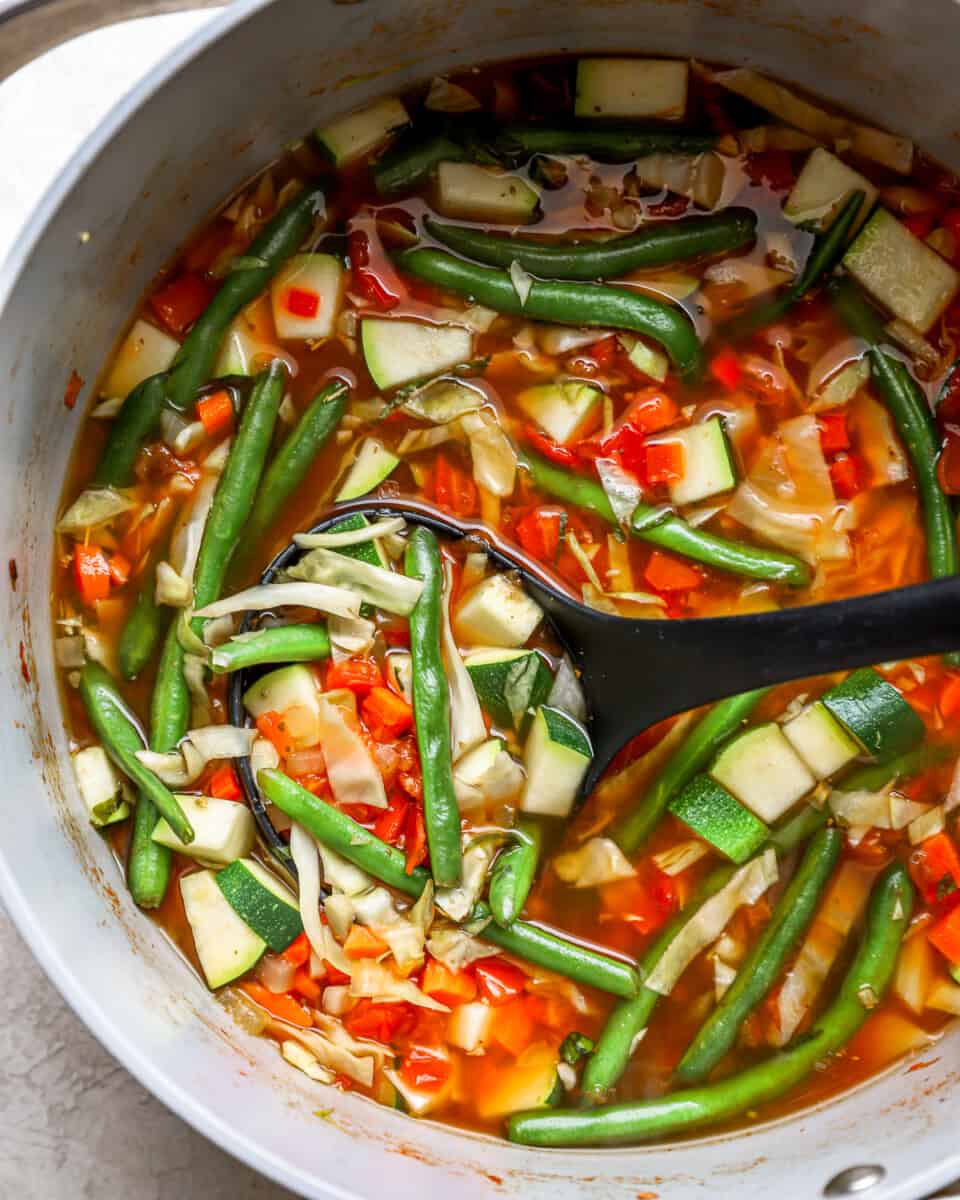 How to Store and Reheat
Store leftovers in an airtight container, and keep them in the refrigerator for up to 4 days. Reheat on the stovetop over medium-low or in the microwave in 30-second increments until warmed through.
How to Freeze Cabbage Soup
This Weight Watchers soup recipe is freezer-friendly, so you can make a batch and store it for easy, healthy meals. It's a great meal prep recipe!
Pour the soup into freezer-safe containers, and freeze it for up to 3 months. Let thaw overnight in the refrigerator before reheating.
What to Serve with Healthy Cabbage Soup
This cabbage soup is great on its own, but you can make it a more filling meal by adding some protein. I love to add poached or shredded chicken to mine! These pesto shrimp are also delish!
Pair it with a green detox smoothie or my favorite lemonade cleanse!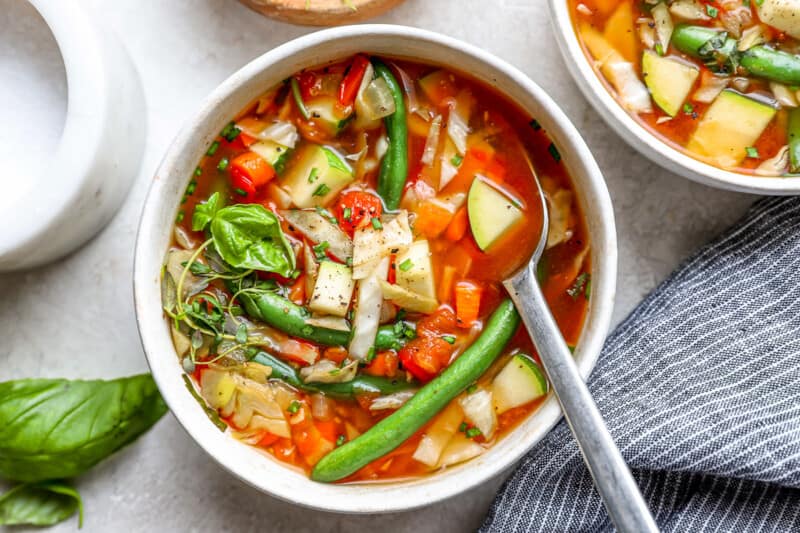 More Healthy Soup Recipes We Love