This Weight Watchers Cabbage Soup recipe is the perfect healthy soup recipe. You'd never guess this SUPER HEALTHY CABBAGE SOUP has ZERO Weight Watchers Points! Filled with veggies and tons of flavor, this is a favorite healthy comfort food recipe.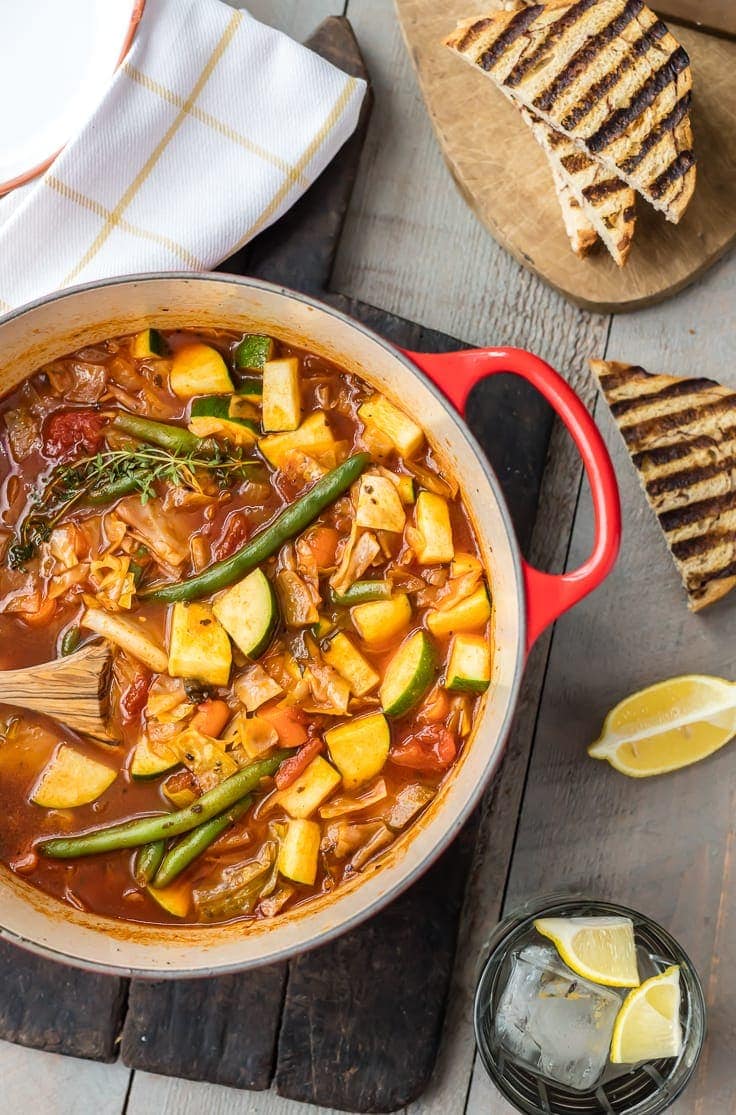 Healthy Cabbage Soup Recipe
This Weight Watchers Cabbage Soup is the healthy soup recipe you need this winter! Whether you're doing the cabbage soup diet, or just looking for something healthy and easy, this is the recipe for you.
I haven't been posting too many healthy recipes lately. I mean, this week I posted Chili Dogs and a Texas Sheet Cake Skillet…I'm not the best at living the healthy lifestyle all the time, but some days just call for a detox. On days like today, I crave EASY recipes that also happen to be HEALTHY! I know, imagine that.
To be honest, before this recipe, I had never had Cabbage Soup. I wasn't sure what to think and I was skeptical at best. BUT, after tasting it, I am a changed woman! This super healthy cabbage soup recipe is DELICIOUS! It's packed full of flavor and it's skinny. That's the kind of recipe I need more of.
This weight watchers cabbage soup is perfect for those trying to be a bit healthier. Whether you follow the program, or you're just looking for a healthy soup recipe to make this season, you've come to the right place!
This Cabbage Soup Recipe is a lifesaver! It's easy, it's tasty, and it's healthy. One of my new favorite healthy soup recipes to add to my diet!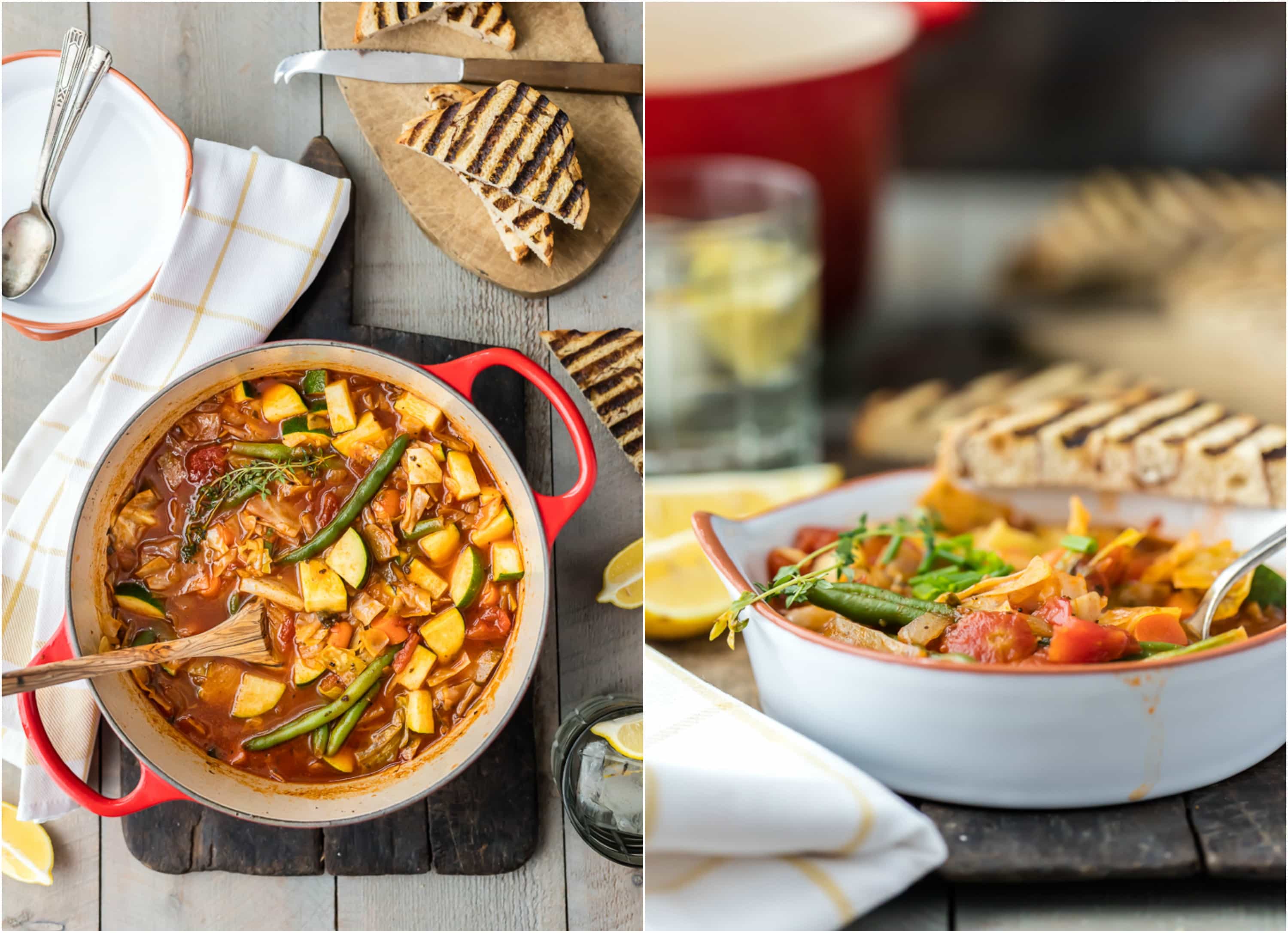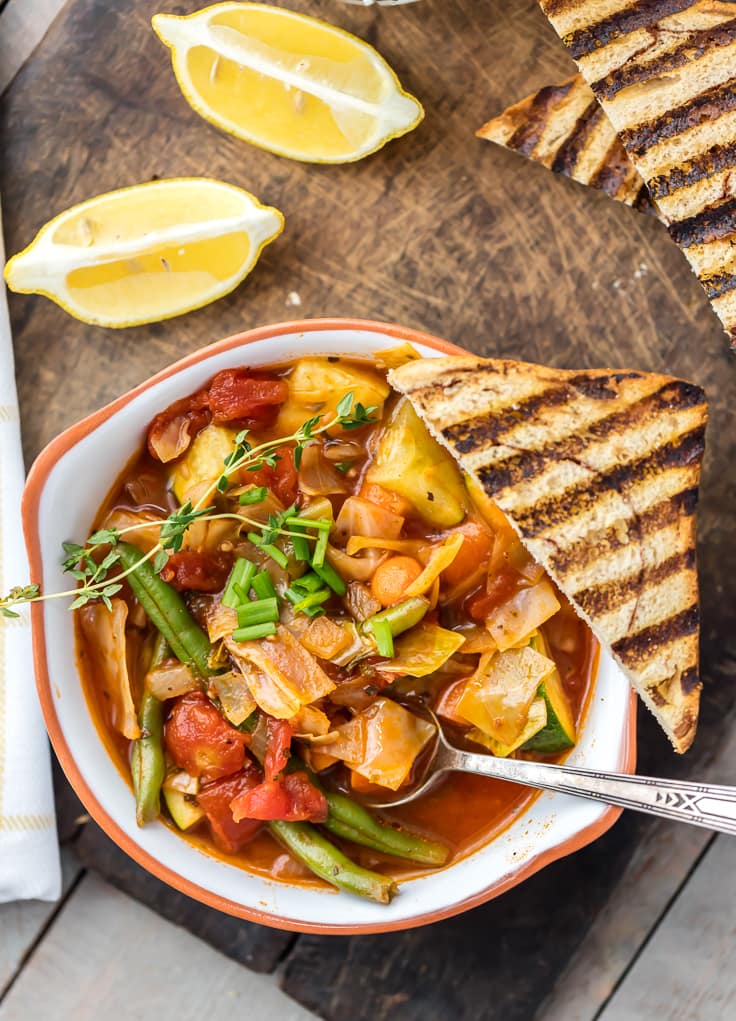 Weight Watchers Cabbage Soup
I love that this soup has ZERO Weight Watchers Points. I mean, that's amazing. A delicious soup that's easy to make, AND it won't use up any of those precious points. If you're following the program, this is basically a dream recipe. Win!
At first, I really wasn't sure that I could like a healthy soup recipe this much. But after making and eating this weight watchers cabbage soup, I realize how wrong I was. You can have something tasty AND healthy.
Such a great thing to realize! I know tomorrow I'll be back to the cheesy soups, but for today, I feel pretty proud of making something that's good for you. Healthy Cabbage Soup for everyone!
What are the health benefits of cabbage?
So what makes cabbage so healthy? Well, it's a super low calorie vegetable, but it's also filled with tons of awesome nutrients. It's a good source of vitamins K and C, as well as things like folate, fiber, and manganese.
It can help reduce inflammation, assist in digestion, lower cholesterol, and more. So this cabbage soup recipe is such a great thing to add into your regular diet.
Healthy Cabbage Soup Ingredients
This delicious soup is FILLED with vegetables and (obviously) lots of cabbage. Cabbage is one of those foods that ends up being "negative calories" since your body uses more energy to digest it. But everything in this healthy soup recipe is good for you, so you can feel awesome about eating it.
What to put in cabbage soup:
Cabbage
Beef Broth (non-fat, low sodium)
Garlic
Tomato Paste
Onions
Carrots
Green Beans
Zucchini
Tomatoes
Basil
Oregano
How to Make Cabbage Soup
I've gone on and one about how healthy this cabbage soup recipe is, but guess what? It's also SUPER EASY. You can't beat a recipe that is easy to make, tastes good, and is good for you. A true triple threat!
Start with a large pot and spray it with olive oil.
Add in carrots, onions, and garlic, and saute for about 5 minutes.
Stir in the broth, tomatoes, tomato paste, cabbage, green beans, and spices.
Reduce heat and let the soup simmer for 10 minute, then add in the zucchini and continue simmering for another 10 minutes.
And that's it! A delicious healthy cabbage soup ready in just about 30 minutes. Have a bowl for dinner and enjoy!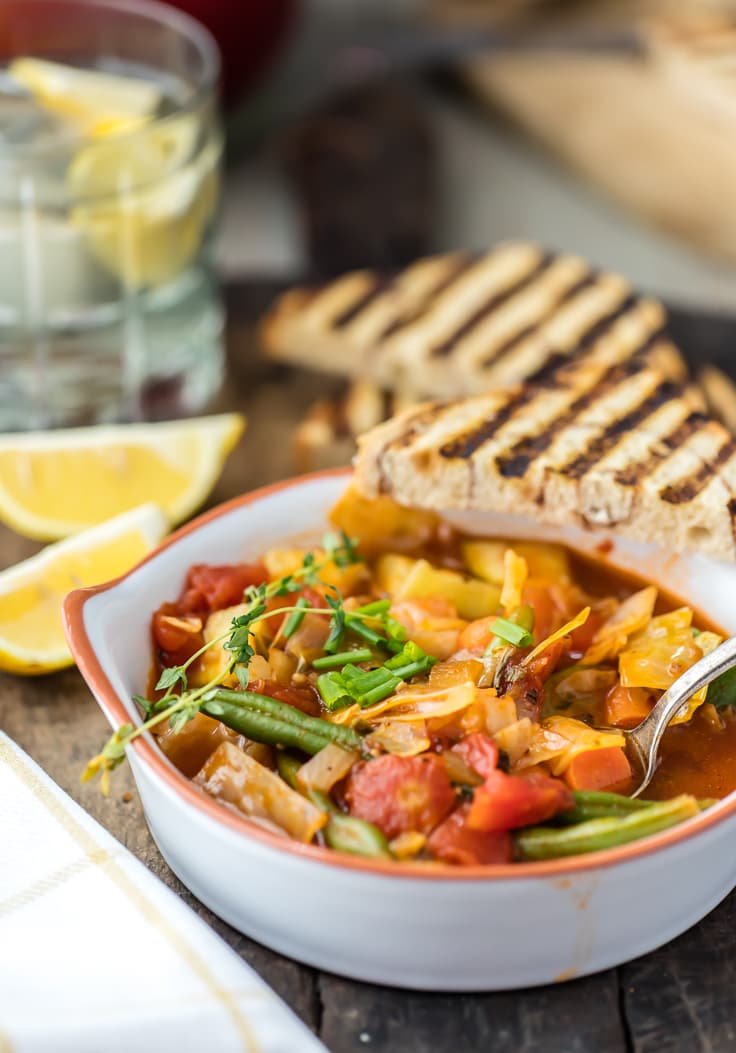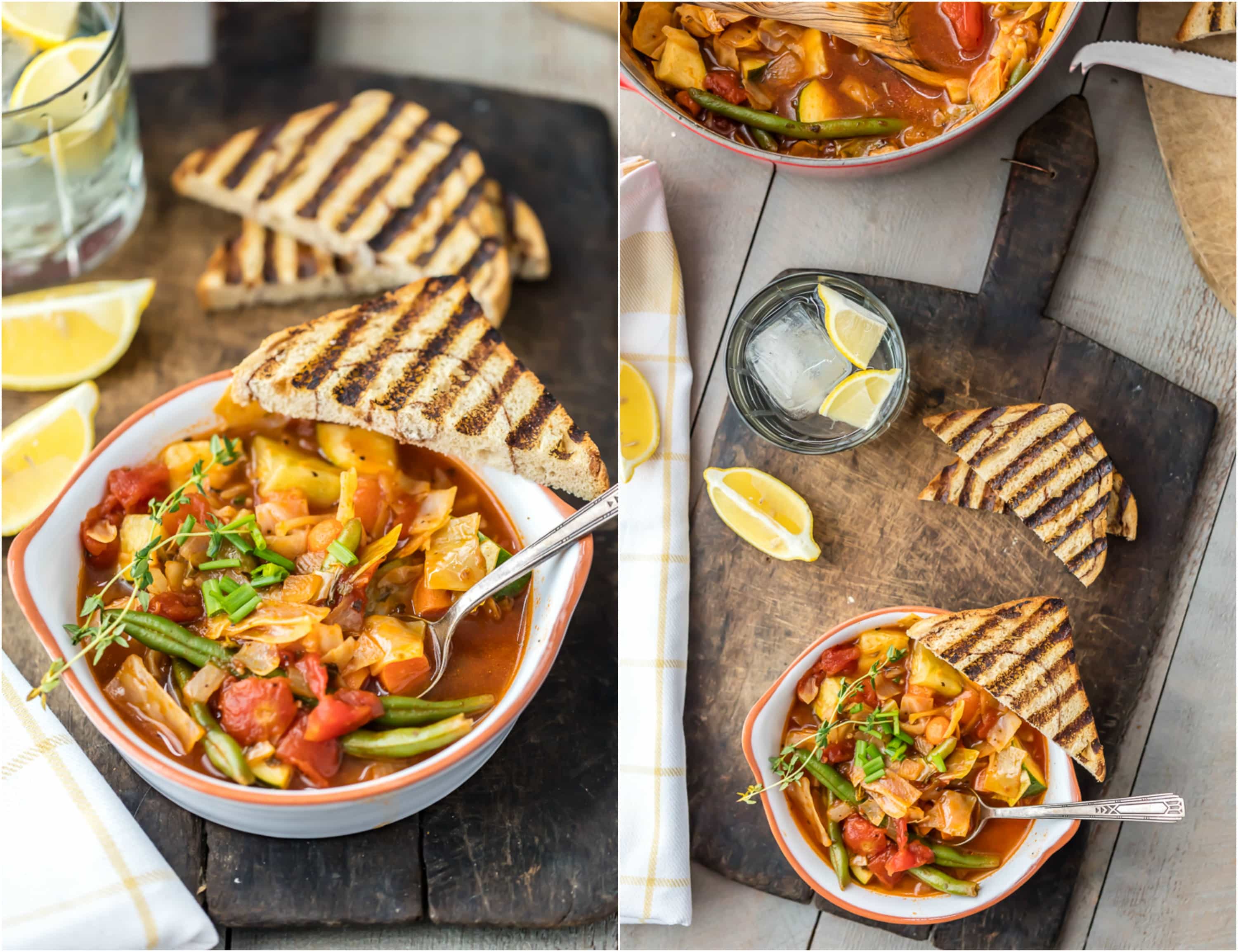 Is cabbage soup good for weight loss?
A lot of people might use this soup as part of the "cabbage soup diet", where you basically just eat a lot of cabbage soup for a week, and only a handful of other healthy foods. But you don't have to take part in that diet to take advantage of the benefits of this healthy cabbage soup.
This weight watchers cabbage soup is good for weight loss because it's super low in calories, but it's still filled with lots of veggies and things that are good for you. It's ZERO weight watchers points, so if you are following that program, this is definitely a soup you'll want to add to your diet.
How many calories are in a bowl of cabbage soup?
This weight watchers cabbage soup recipe has about 78 calories per serving. That's basically nothing, so eat as many bowls of this stuff as you want!
Healthy Soup Recipes
I'll admit that I really really LOVE my creamy, cheesy soups (Mac and Cheese Soup, Cheesy Chicken Chowder, Crockpot Broccoli Cheese Soup, to name a few…). But I'm happy to say that I've made lots of REALLY delicious healthy soup recipes too. Soups are such a great comfort food for winter, but soups can be comforting and still really good for you. This cabbage soup recipe is just one example.
Here are some more healthy soup recipes to try this season: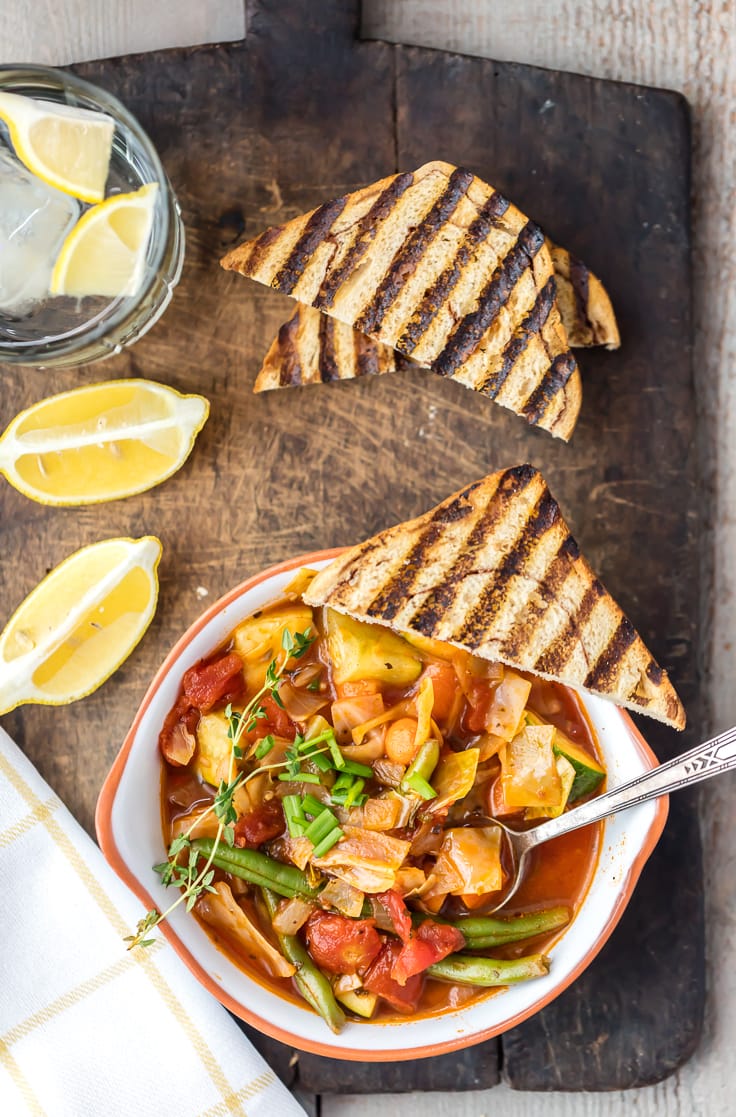 Whether you're following the Weight Watchers program, trying out the Cabbage Soup Diet, or just looking for a healthy soup recipe for the winter, you have to try my healthy cabbage soup recipe. I think you might just love it!
Watch the Video and See the recipe card for details on how to make this Healthy Cabbage Soup Recipe. Enjoy!
If you like this weight watchers cabbage soup, try these other healthy recipes too: