Creamy Chicken Tortilla Soup is one of my favorite fall soup recipes. It's creamy, it's delicious, and it's filled with all of my favorite Tex-Mex ingredients. This easy soup recipe is perfect for any night of the week, and it's so easy to save and reheat later!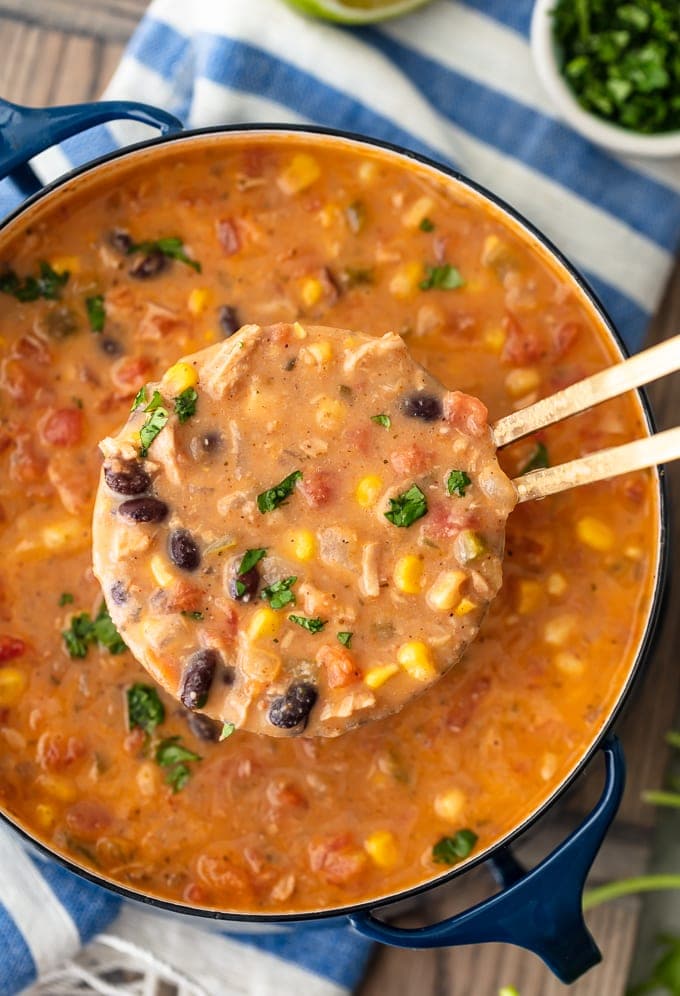 Creamy Chicken Tortilla Soup
Creamy Chicken Tortilla Soup is one of the best soups ever! Make a batch of this hearty soup for simple dinners that everyone will love!
I love Chicken Tortilla Soup! It's definitely a classic if you ask me, and it's one of my favorite soups to make when it starts to get chilly outside. It's filled with all of my favorite Tex-Mex ingredients, like cheese, beans, corns, tomatoes, and so much more. I've made an Instant Pot Chicken Tortilla Soup and a Healthy Slow Cooker Chicken Tortilla Soup, but I think it's about time I share a regular stove top recipe!
This Creamy Chicken Tortilla Soup is SO good. It's made on the stove, so if you don't have slow cookers and instant pots, don't worry! I love the extra creamy texture of this recipe compared to regular chicken tortilla soup. It really adds something special and brings the flavor up a notch. It just makes this bowl of soup that much more comforting on a cold day!
Make this soup for dinner any night of the week and everyone will love it. Save any extra soup in the freezer and you can reheat it all season long!
Creamy Chicken Tortilla Soup has all of the Tex-Mex flavors you love mixed into one creamy, dreamy soup recipe that is perfect for fall and winter!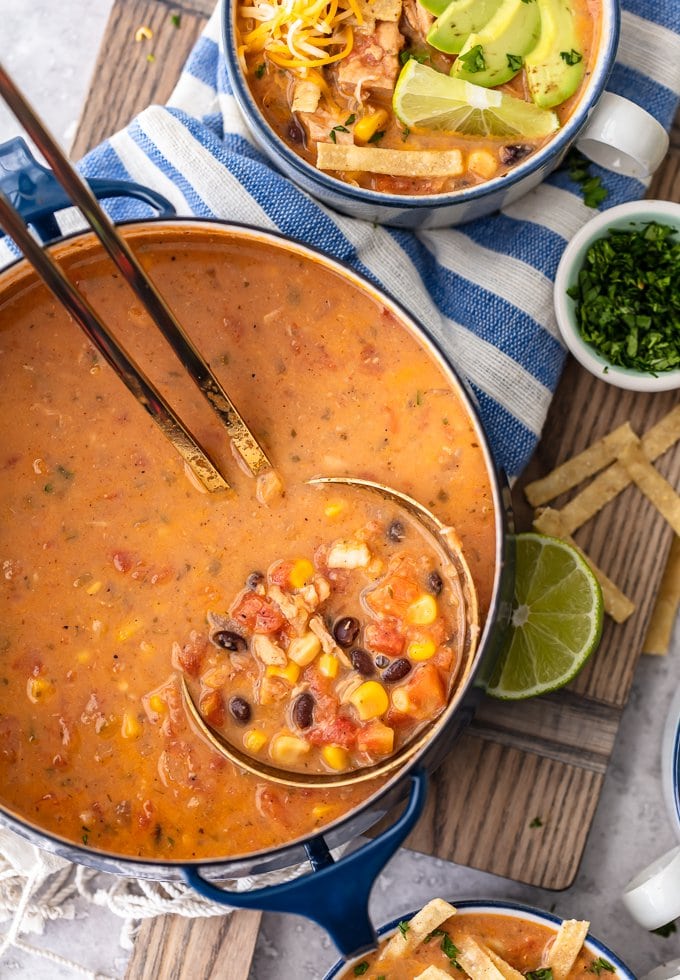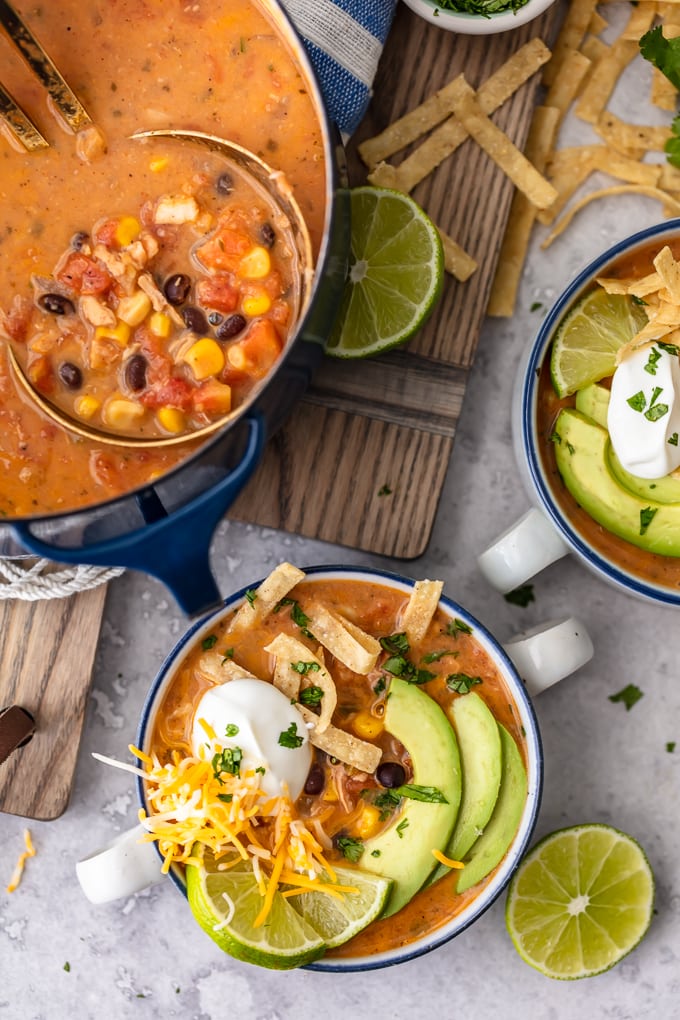 What's in Chicken Tortilla Soup
This creamy chicken tortilla soup recipe has allllll of my favorite things. I'm a big fan of Mexican and Tex-Mex dishes, so of course this soup is a favorite. It's loaded with everything I'd put in tacos or burritos, but in soup form!
Creamy Chicken Tortilla Soup Ingredients:
Chicken Stock
Black Beans
Onions
Garlic
Jalapeno
Chicken
Jalapenos
Diced Tomatoes
Corn
Heavy Cream
In addition to those tasty ingredients, there are plenty of spices to add flavor, tortilla strips to add that crunch, and lots of extra toppings for serving (shredded cheese, sour cream, and avocado)!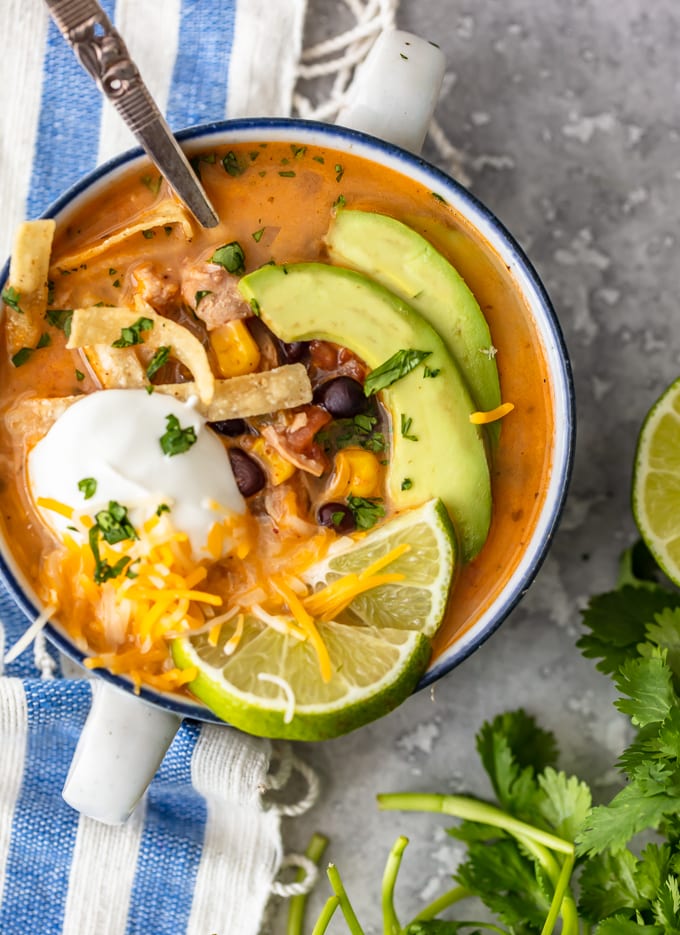 How to Make Creamy Chicken Tortilla Soup
Make this delicious soup recipe with ease! Creamy Chicken Tortilla Soup is a simple process, easy enough to make any time. You can even make it ahead if time during weekend meal prep, and refrigerate or freeze it for another time.
Crush tortilla chips and chop up veggies according to the ingredient list, & set aside.
Heat vegetable oil in dutch oven over medium heat.
Add onions to the pot and cook 3 minutes, then add jalapenos and cook for 1 more minute, then add garlic and cook for 30 more seconds.
Pour in chicken broth, corn, beans, tomatoes, crushed tortilla chips, & spices and reduce heat.
Place whole chicken breasts into the pot and let the soup simmer for 20 minutes (chicken will cook through during this time).
Remove the chicken breasts from the pot and shred the meat, then return shredded chicken to the pot.
Stir in the lime juice and heavy cream, and cook until fully heated through.
When ready to serve, just make a big bowl and add in your favorite toppings. We love using shredded cheese, tortilla strips, sour cream, and avocado! Check the recipe card for more detailed instructions.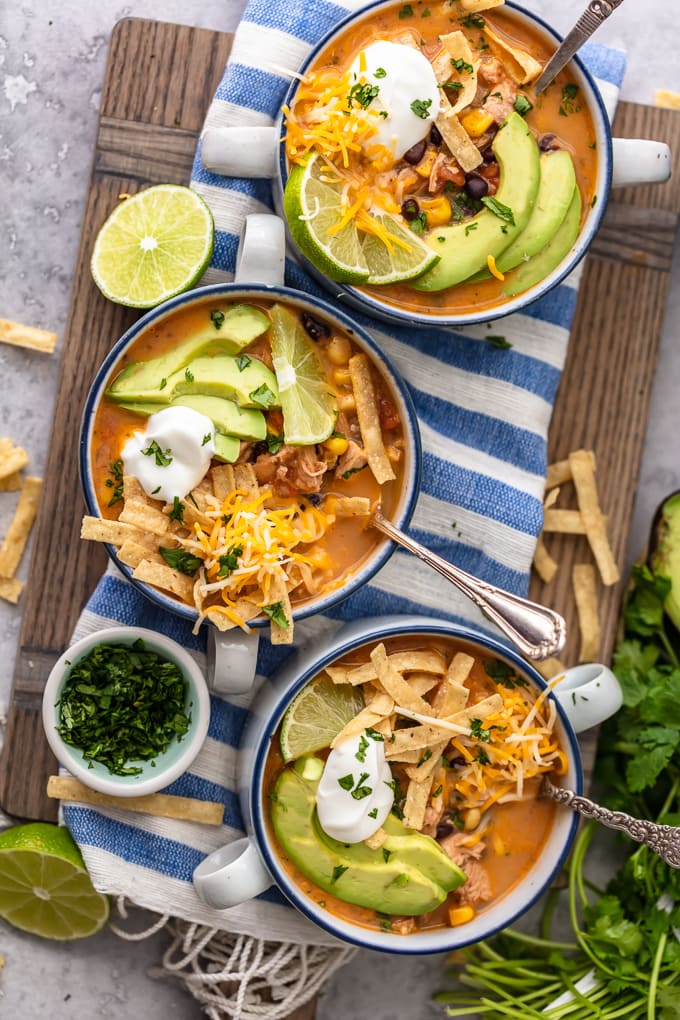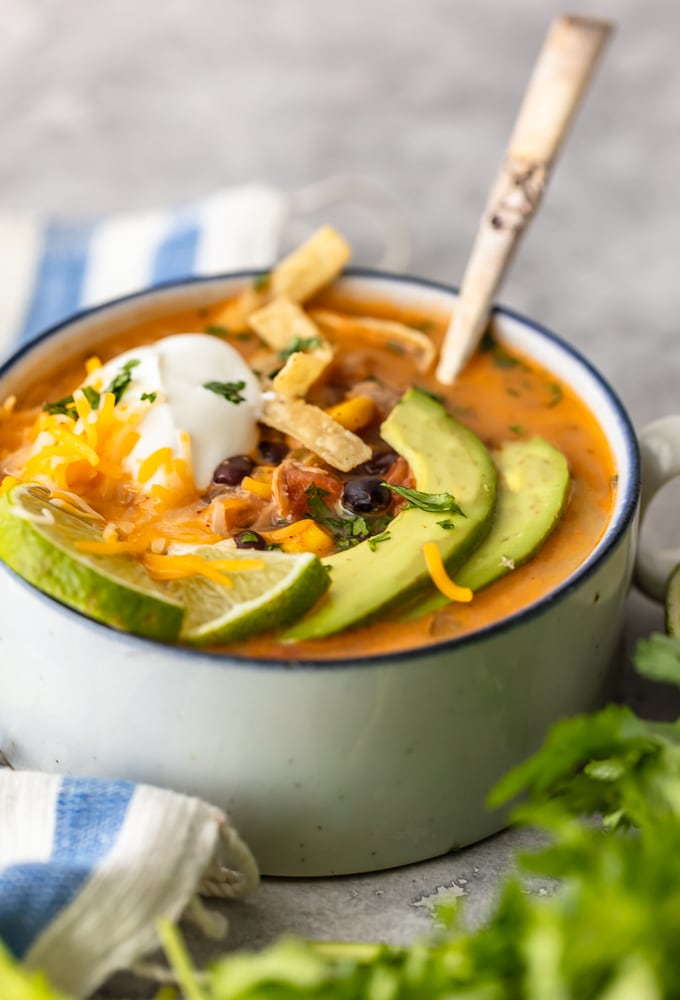 Is chicken tortilla soup healthy?
This creamy chicken tortilla soup is relatively good for you. Healthy means something different to everyone, but it's filled with veggies, beans, and chicken so it is a nice whole meal. It's also not too bad calorie-wise. However, if you really want a healthy version, check out our Healthy Chicken Tortilla Soup Recipe instead!
How do you make chicken tortilla soup creamy?
There's no water in this recipe to thin things out. We're just using chicken stock for the liquid, which really adds a nice thickness to the soup. At the end stir in heavy cream to really add in the creamy texture!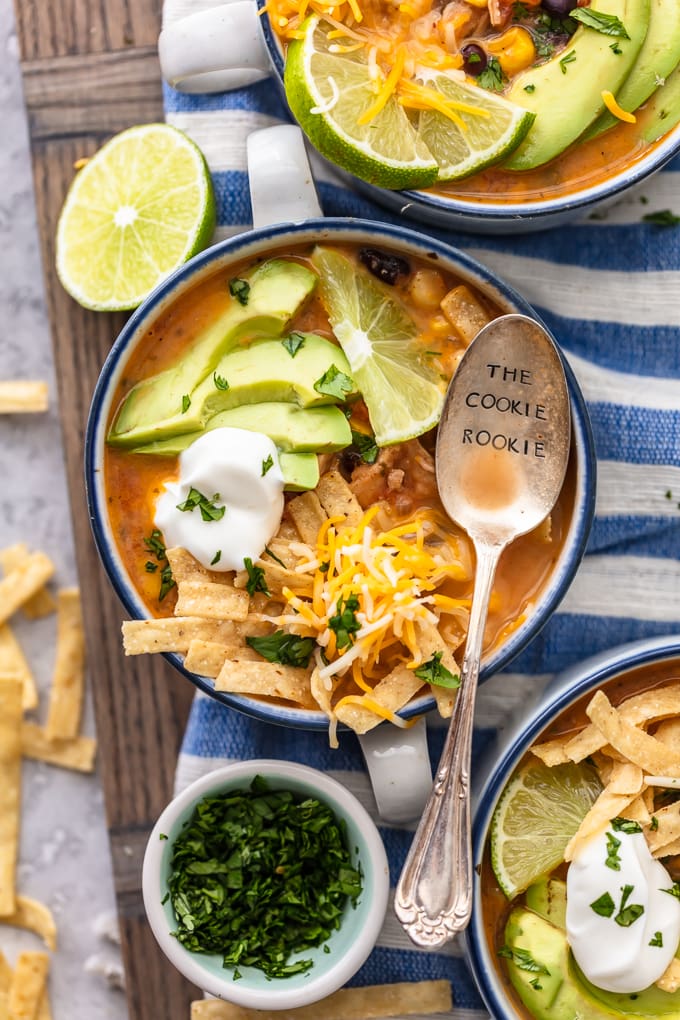 Make this Creamy Chicken Tortilla Soup your new go-to soup recipe this fall and winter season! It's soooo creamy and so absolutely delicious. Freeze a batch of it so you can grab it and reheat it any time you're craving this tasty soup.
See the recipe card below for details on how to make Creamy Chicken Tortilla Soup. Enjoy!
If you like this recipe, try these other tasty soup recipes too: