Bourbon Chicken is one of our favorite easy Chinese Takeout meals to make at home on busy nights. This Bourbon Chicken Recipe is the best sweet and spicy chicken recipe, with the best bourbon chicken sauce. Even better, you can make it in minutes! So much flavor and so little fuss!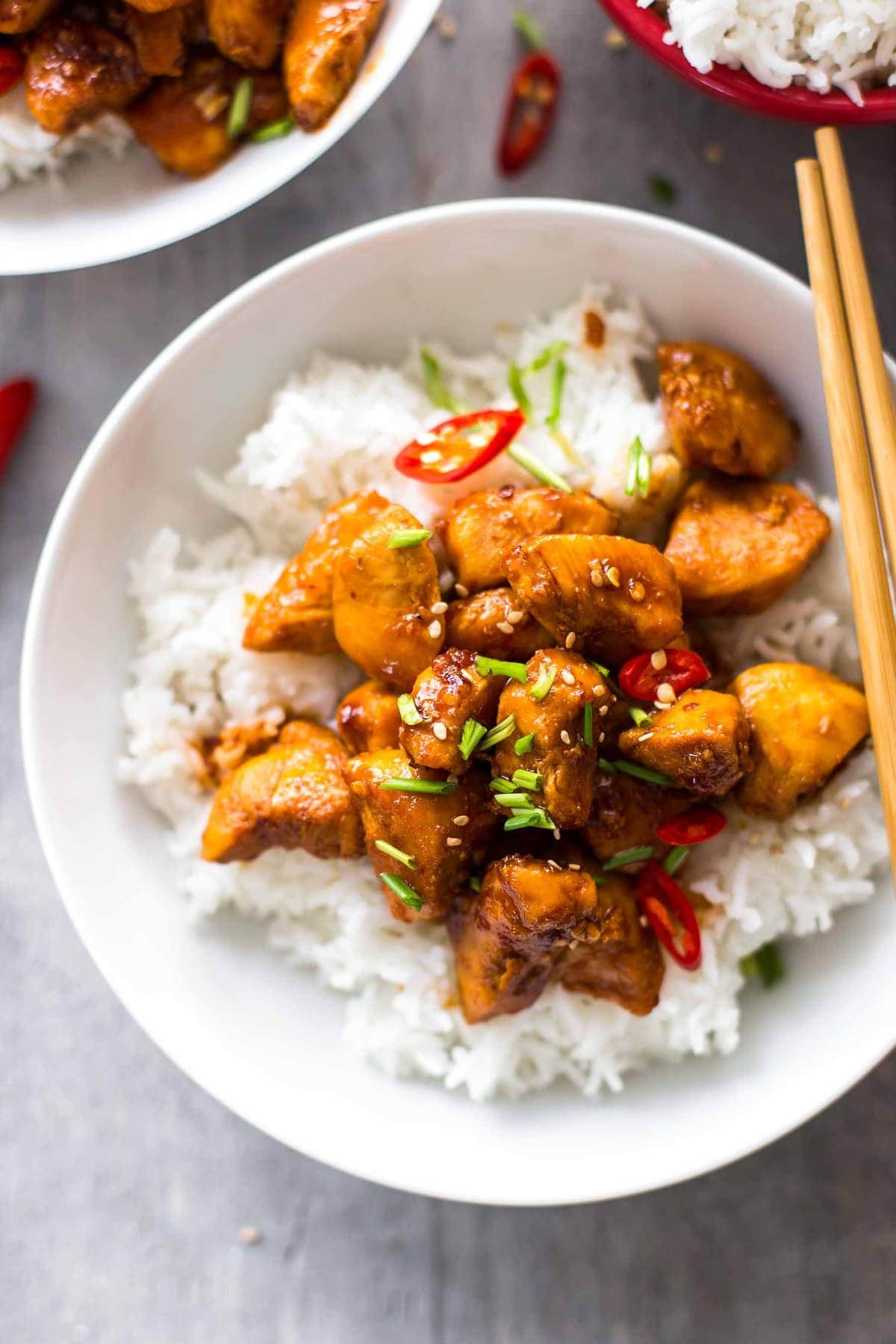 Bourbon Chicken Recipe
Bourbon Chicken is one of our favorite Chinese take out meals, so I'm really excited to be able to make it at home. This recipe includes the best bourbon chicken sauce!
Chinese takeout used to be one of my favorite go-to meals on lazy nights. When you just want some good food to eat at home on the couch while watching reality TV…this is what I went for. Bourbon Chicken with lots of rice. While ordering from a Chinese restaurant might seem easier, I finally decided to just start making it myself instead.
And you know what? Making this Bourbon Chicken recipe at home is actually easier than takeout. Crazy right? I never thought I'd see the day when cooking seemed easier than picking something up from a restaurant, but I've been proven wrong. Plus this recipe tastes better, and it just feels healthier. Basically, it's just all around a better option.
Just cook up some chicken in the best bourbon chicken sauce, serve it over white rice, and enjoy. Let the lazy night of reality TV and Chinese food begin!
This Sweet & Spicy Bourbon Chicken recipe is so easy and so delicious. The perfect simple meal to eat on weeknights!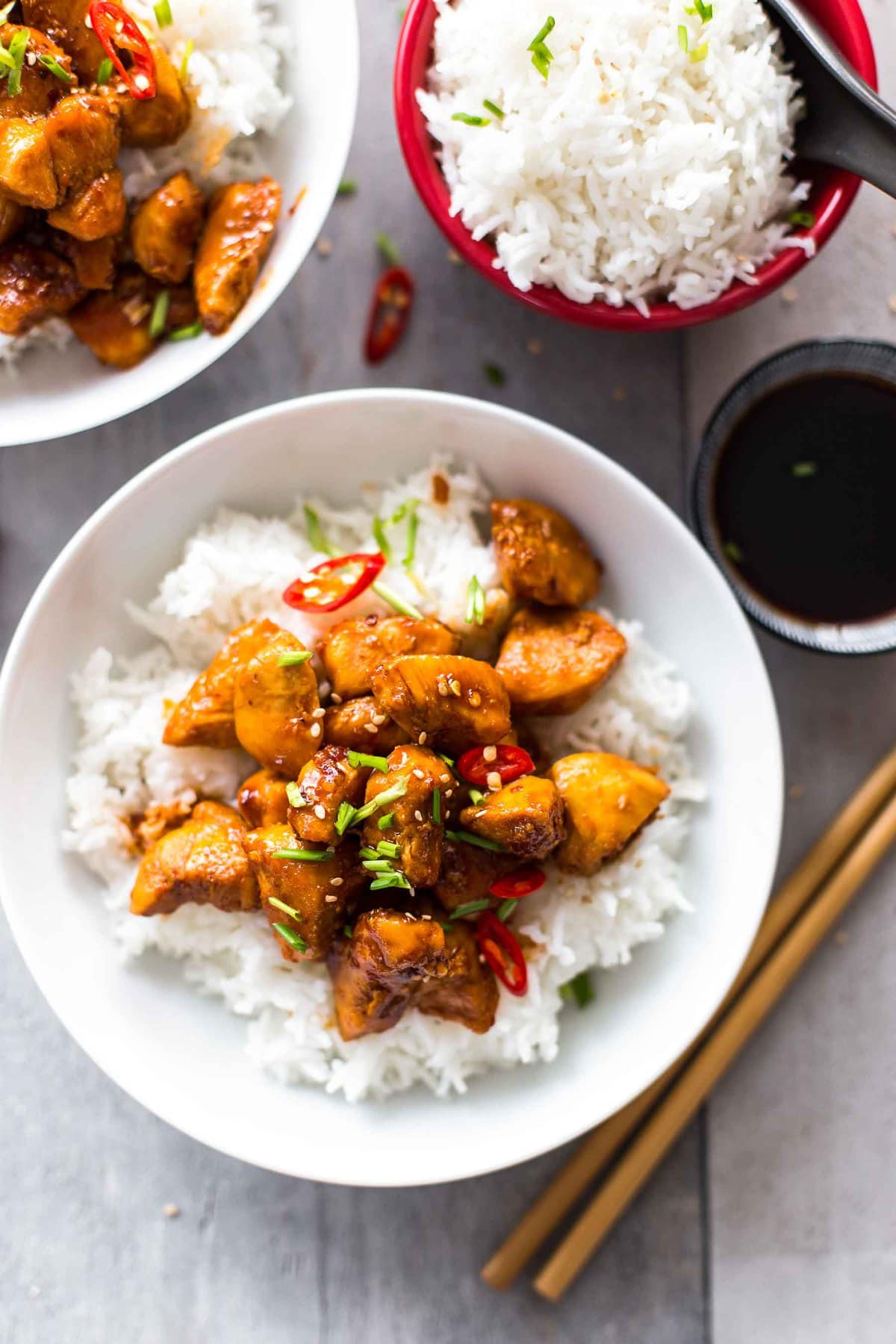 Bourbon Chicken Sauce
The real standout of this recipe is the bourbon chicken sauce. I mean, it's not Bourbon Chicken without the sweet and spicy sauce, and that's what we're here for. So yes, the sauce recipe is important!
Bourbon Chicken Sauce Ingredients:
Soy Sauce
Cider Vinegar
Brown Sugar
Ketchup
Ginger
Garlic
Red Pepper Flakes
Apple Juice (or apple sauce)
Water
Bourbon (optional but highly recommended)
The recipe is essentially just throwing the sauce ingredients into a pan, cooking the chicken in it, and then serving with rice. So simple and so delicious!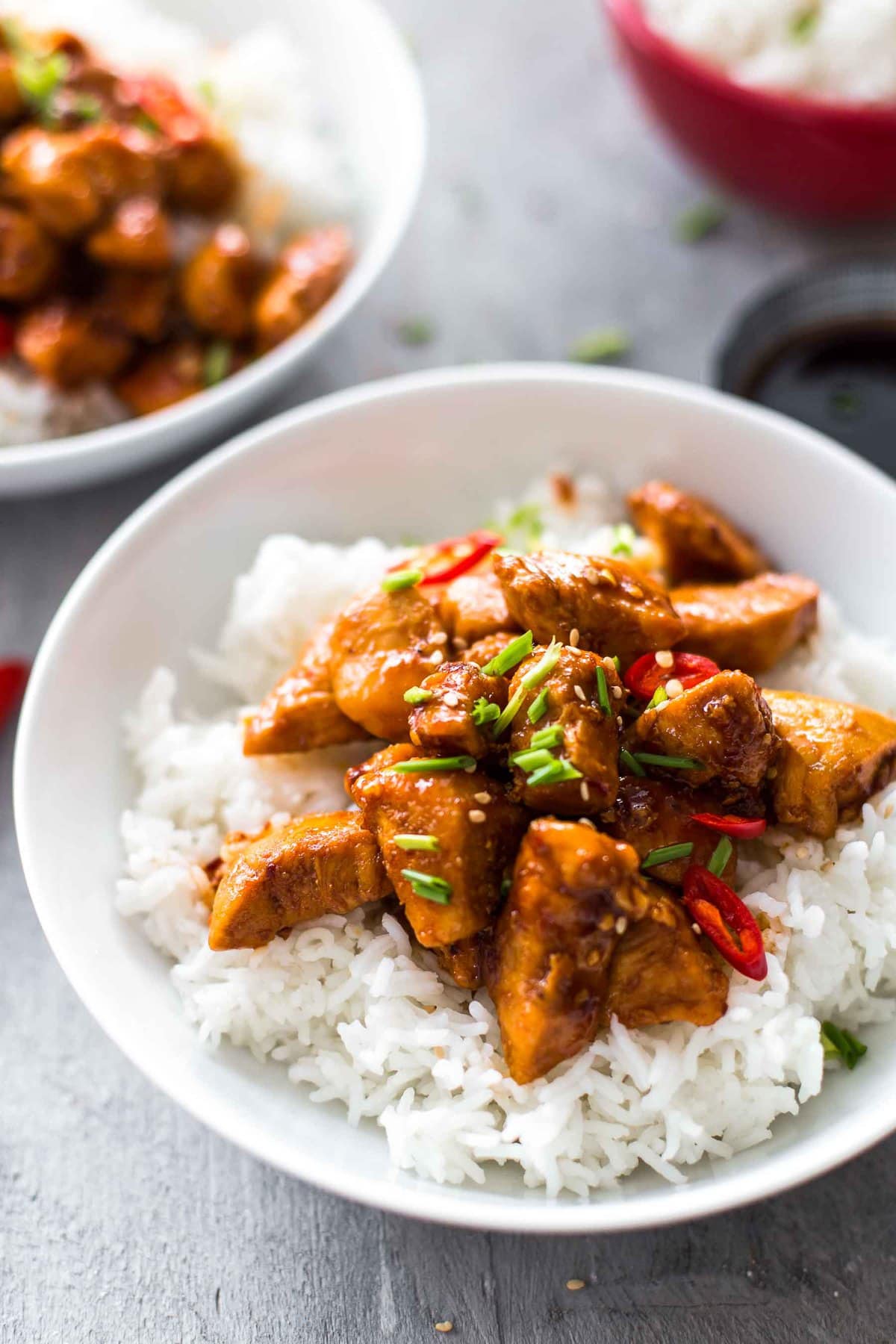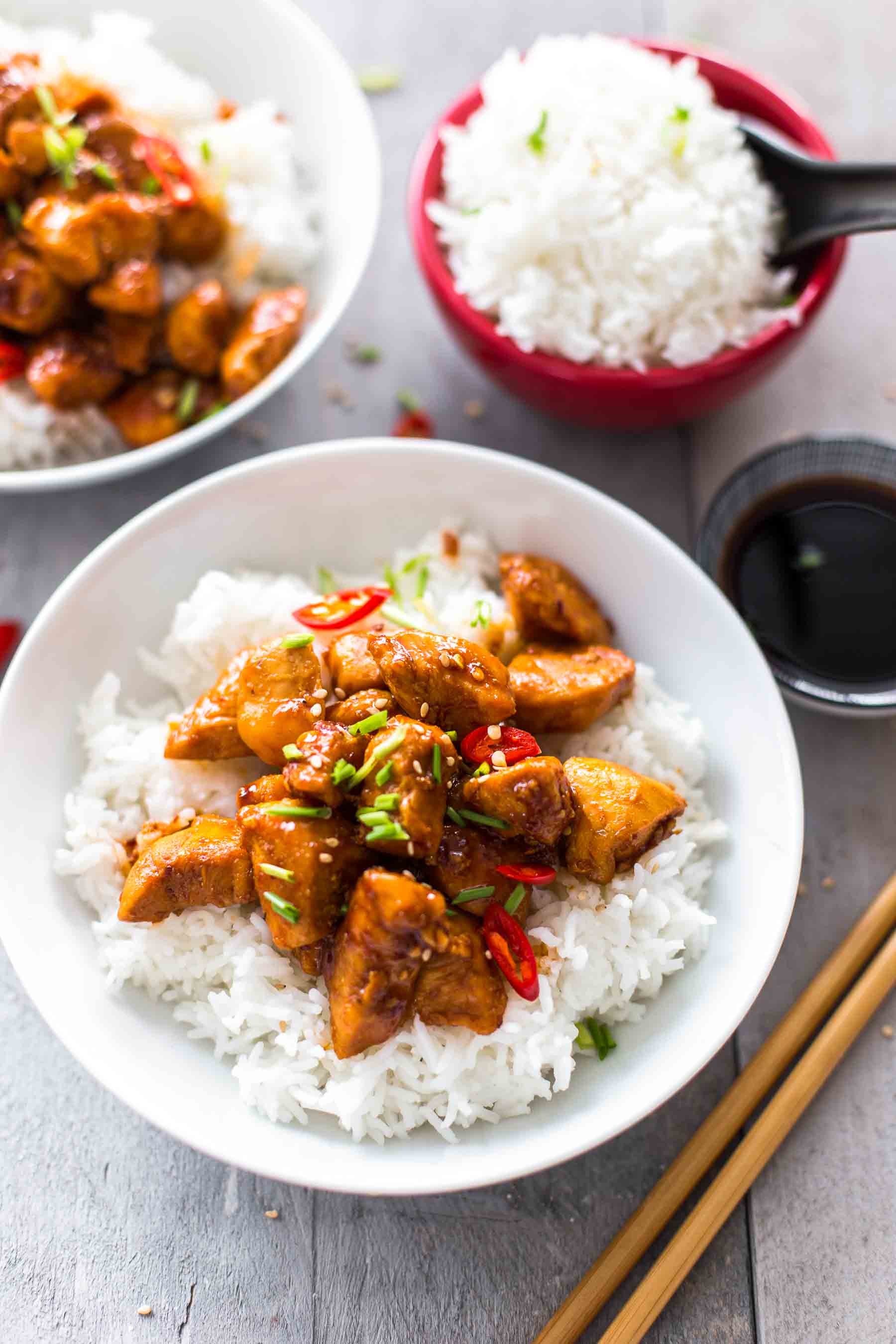 How to Make Bourbon Chicken
This Bourbon Chicken recipe is beyond easy. There's really nothing to it. Cook the chicken, make the sauce, let it simmer, and done! It's a quick dinner to make, and even quicker to eat. I love making this on nights when I'm craving something delicious, but just don't feel like cooking. Anyone can throw chicken into a skillet for 30 minutes. Plus my little secret…I serve it with minute rice to make it as easy as possible!
How to make Bourbon Chicken at home:
Cut chicken breasts into bite-sized pieces.
Cook the chicken in a skillet, just until browned, then remove them from the pan.
Add the rest of the ingredients into the skillet and let everything cook together.
Place the chicken back into the skillet, bring the mixture to a boil, reduce heat, and then let it simmer for 20 minutes until the sauce thickens.
When the chicken is ready, serve it over rice. If you want to save any leftover chicken, just place it all in an airtight container and refrigerate it. It will keep for a few days.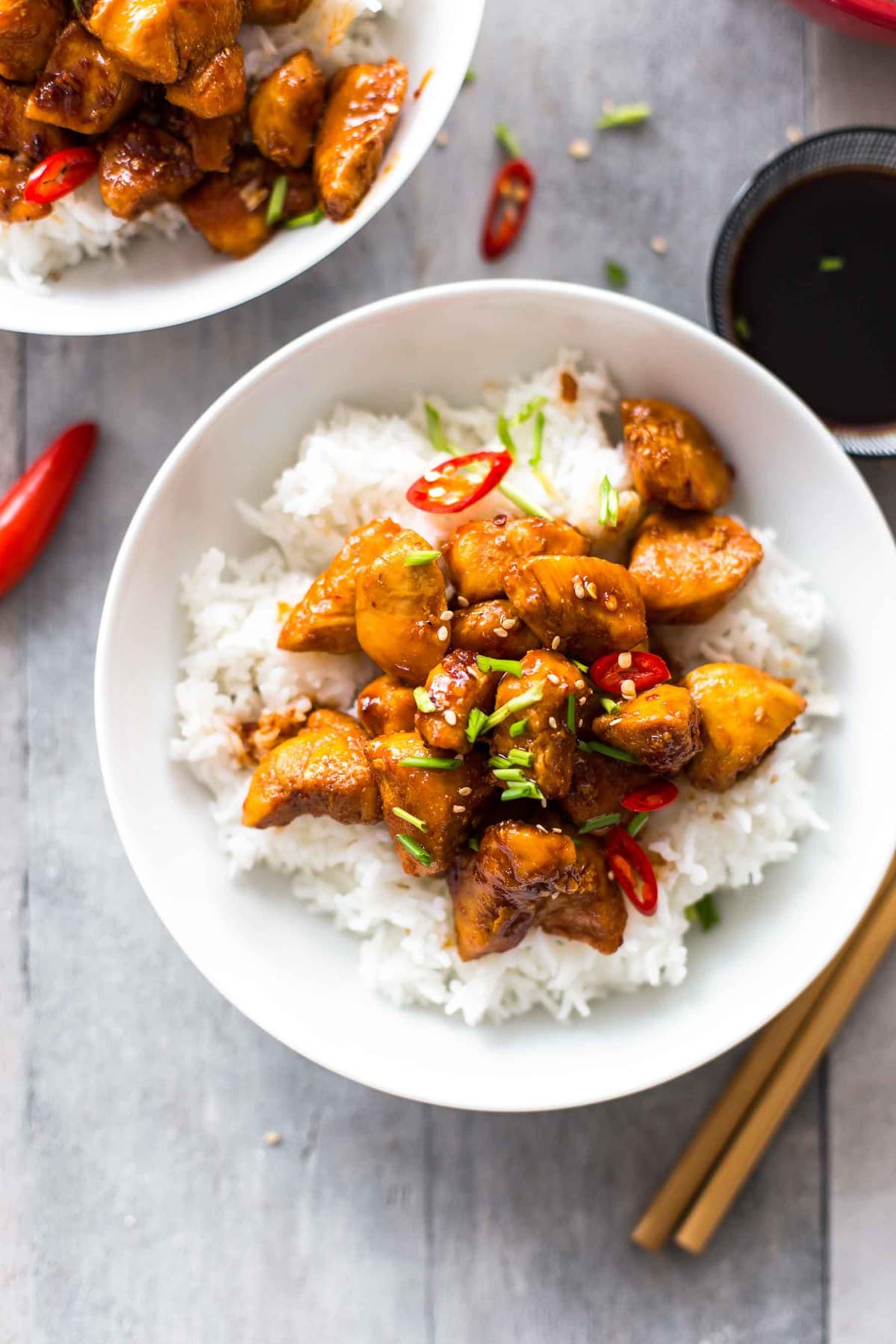 And there you have it! An easy and tasty Bourbon Chicken recipe you can make at home. I really do love eating this in front of the TV on lazy nights, but it also makes a great simple date night meal. Something delicious but super easy to make–you can't go wrong!
Watch the Video and Check the recipe card for details on how to make Bourbon Chicken. Enjoy!
If you like this recipe, try some of our other Asian-inspired favorites: