Chicken Satay with Peanut Sauce is a classic Asian dish that's super easy to make at home. Start with a delicious chicken satay marinade, make the chicken skewers, and serve with the easy peanut satay sauce. Add a side of rice and veggies, and you've got the perfect weeknight meal!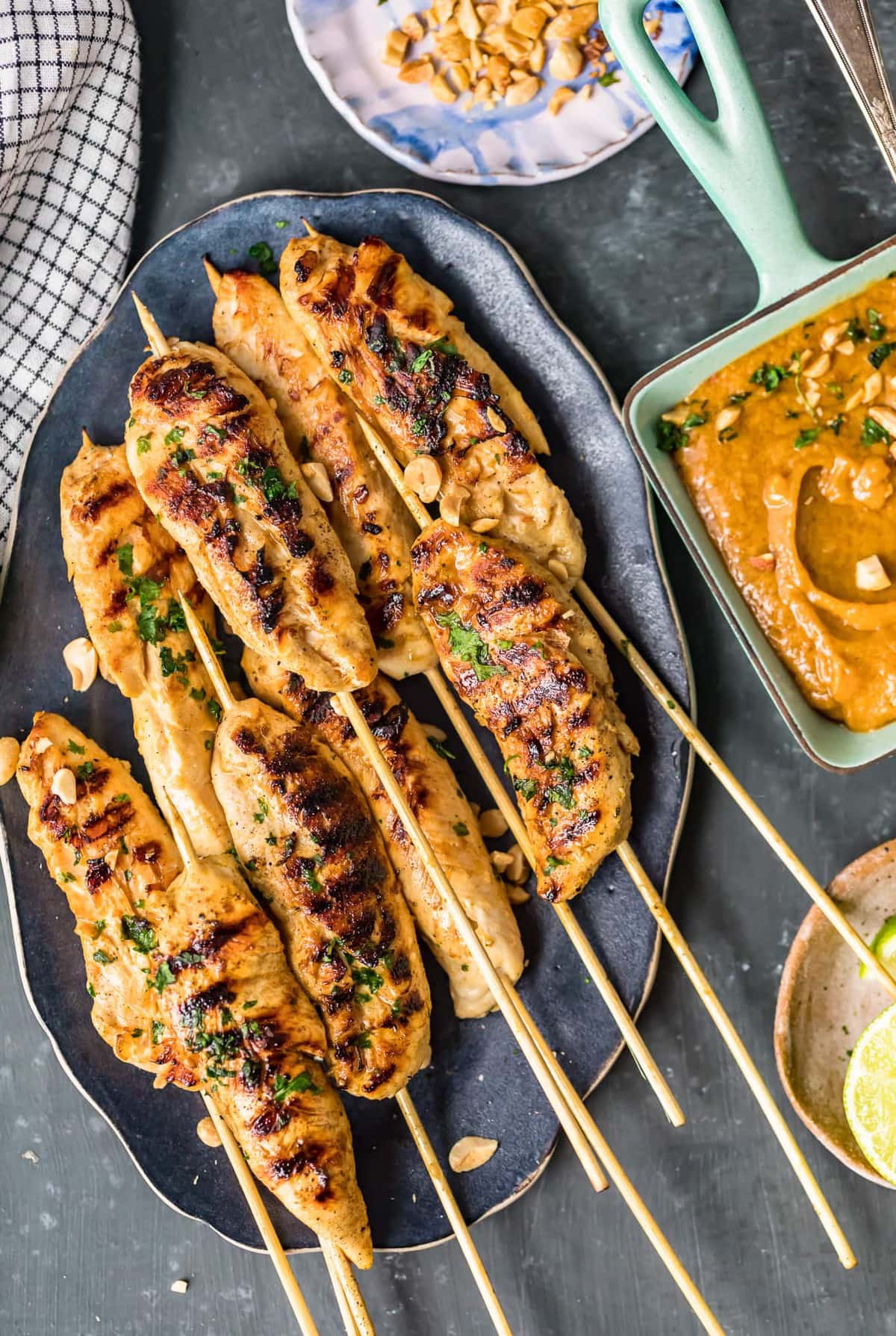 Chicken Satay with Peanut Sauce
This Thai Chicken Satay recipe is so delicious and so easy to make. Tender chicken skewers made with a sweet, spicy, and creamy peanut sauce!
I absolutely love the flavors that come along with Asian foods. The mixture of sweet and spicy is just so amazing, and kind of addicting. And Chicken Satay with Peanut Sauce is one of my favorite dishes!
We used Gourmet Garden Stir-in Garlic Paste as well as Gourmet Garden Stir-in Garlic Paste to give this Chicken Satay a unique and bold flavor, with none of the fuss! (I despise chopping/peeling garlic and ginger!!! The Gourmet Garden's pastes last for three months and are ready to go right from your fridge!
The satay marinade adds so much flavor to the chicken skewers, so they taste incredible right off the grill. But of course the recipe wouldn't be complete without the delicious satay peanut sauce for dipping.
This is such a great meal for summertime, and extra fun for parties. Everyone can grab a skewer, dip, and enjoy!
Try these Chicken Satay Skewers with Thai Peanut Sauce for a fun and easy meal!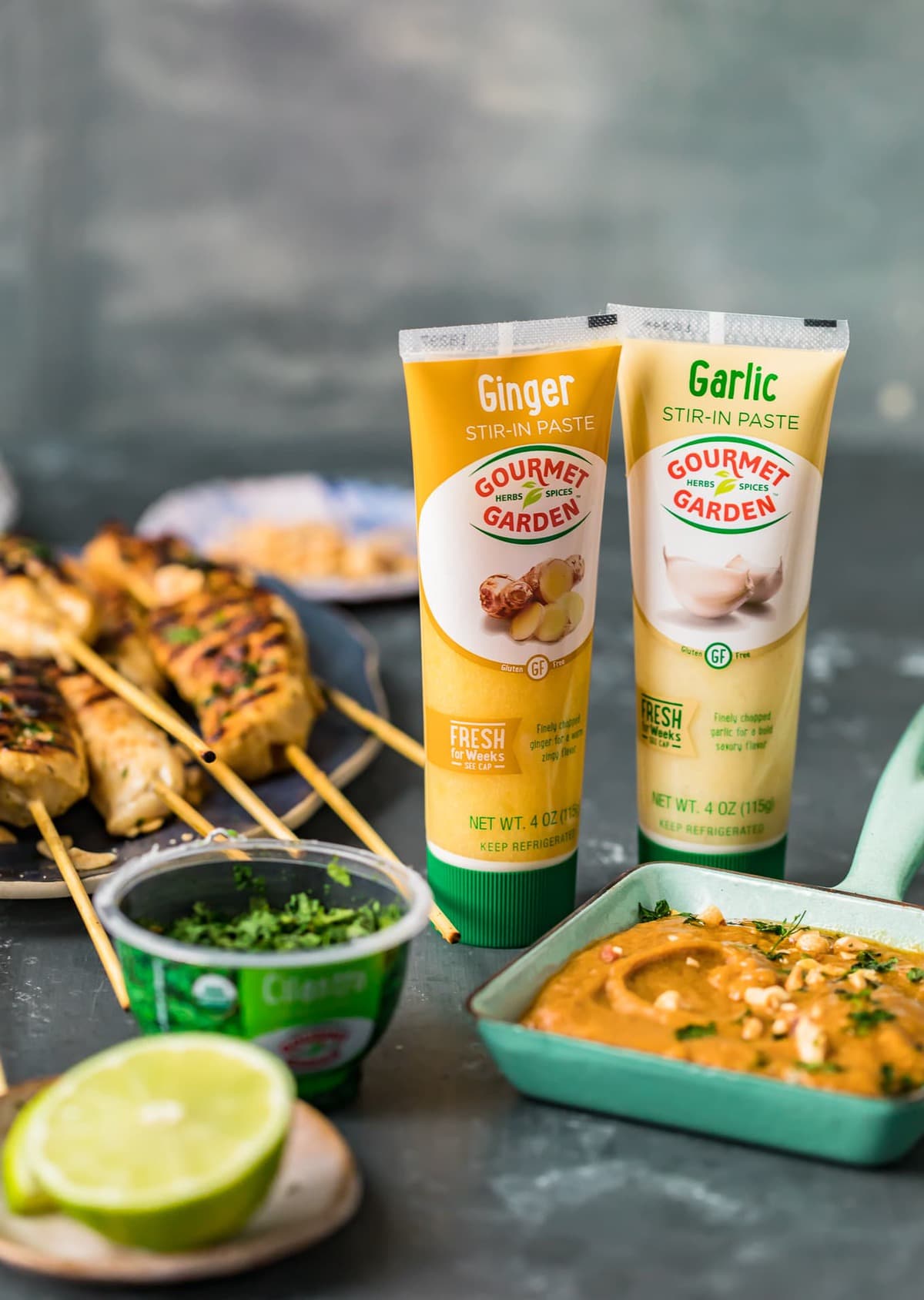 Thai Chicken Satay Recipe
This Thai Chicken Satay recipe is becoming a staple in our house. The more I cook, the more I realize how easy my favorite dishes are to make at home. Recipes always seem complicated until you break them down. This is just grilled chicken skewers with a delicious satay marinade, paired with an easy peanut sauce. Simple!
What is Satay Sauce made from?
Thai Satay Sauce is typically a peanut sauce. Our recipe includes the following ingredients:
Creamy Peanut Butter
Lime Juice
Vegetable Oil
Curry Powder
Gourmet Garden Stir-in Garlic Paste
Gourmet Garden Lightly Dried Cilantro
Coconut Milk
Sriracha
Brown Sugar
Four Weeks of Fresh
I only want to cook if I can find EASY RECIPES that knock things out of the park every time. I'm so excited to be working with Gourmet Garden this year to showcase their amazing lightly dried herbs and spices, and stir-in pastes to show you exactly how they can make your life EASIER and even more DELICIOUS.
What could be easier than lightly dried herbs and herb pastes that stay fresh for a minimum of 4 weeks in the fridge (the pastes are even longer!) and are ready to go when you need them. No washing, chopping, peeling, or dicing required. LOVE!
For this recipe I used three of my favorite Gourmet Garden products, Stir In Ginger Paste, Stir In Garlic Paste, and Lightly Dried Cilantro. Each one is super simple, fresh, and packing a punch that makes this Chicken Satay Recipe unique and AMAZING.
This Stir-In Garlic and Ginger pastes are ready to use when you are. I don't have time to peel, slice, and chop garlic. When it's already in a paste, I'm more likely to eat fresh!
This is my 3rd recipe in a series of four. Be sure to check out my other recipes in the series, Creamy Garlic Shrimp and Texas Toast Garlic Bread!
I hope you'll try Gourmet Garden during your next trip to the grocery store. You can find them in the produce section, next to the fresh herbs. Once at home, you need to store them in your refrigerator to keep them fresh.Trust me, these lightly dried herbs and pastes have ALL the flavor and none of the fuss. Exactly how I love things!
To our family, using Gourmet Garden means less trips to the grocery store, less food waste, less fretting over if I have the ingredients I need, and more flavor. More time with Henry. More time dreaming up recipes to show to you!
Look for the Gourmet Garden products right in the produce section, next to the pre-cut produce and fresh herbs. Once at home, you need to store them in your refrigerator to keep them fresh.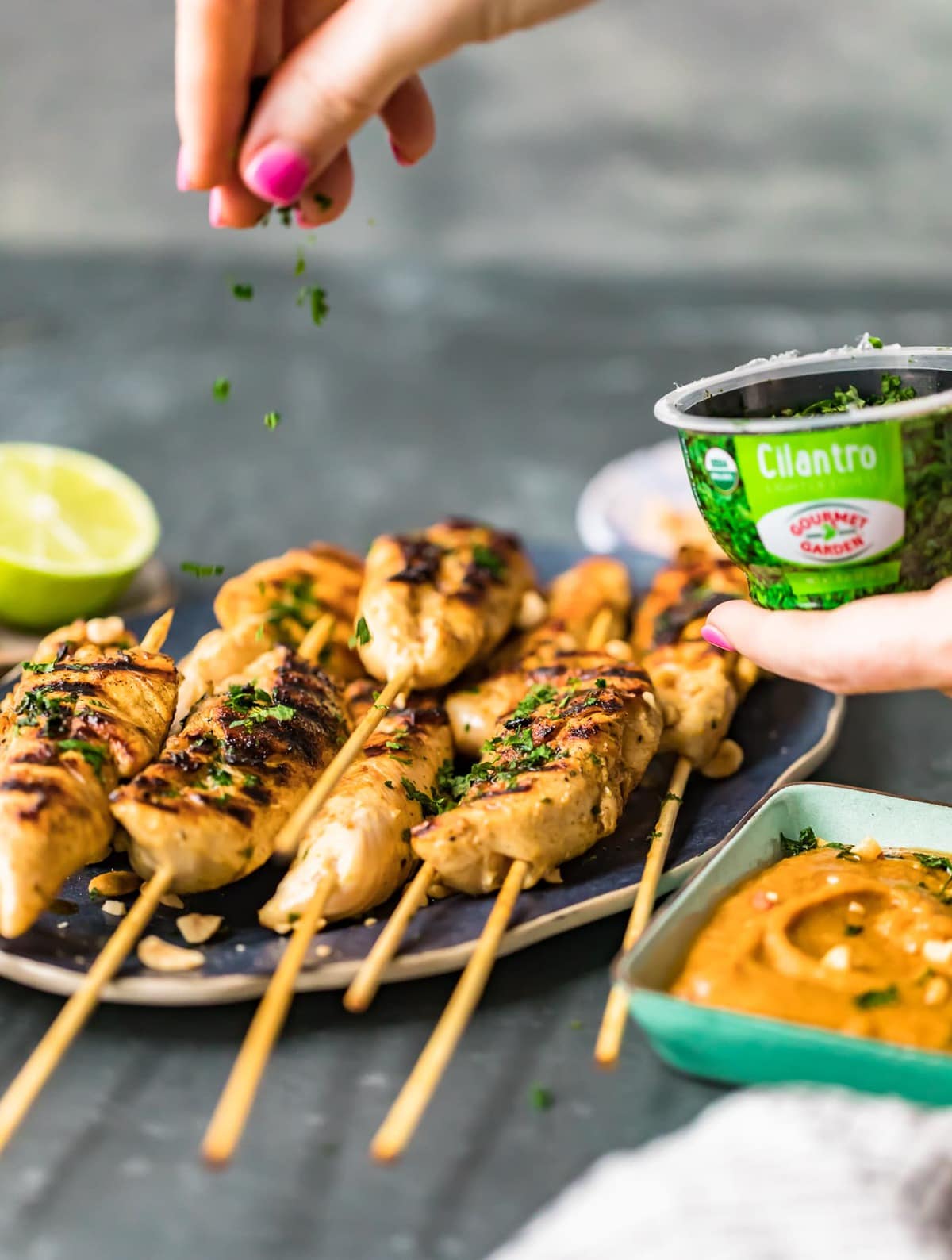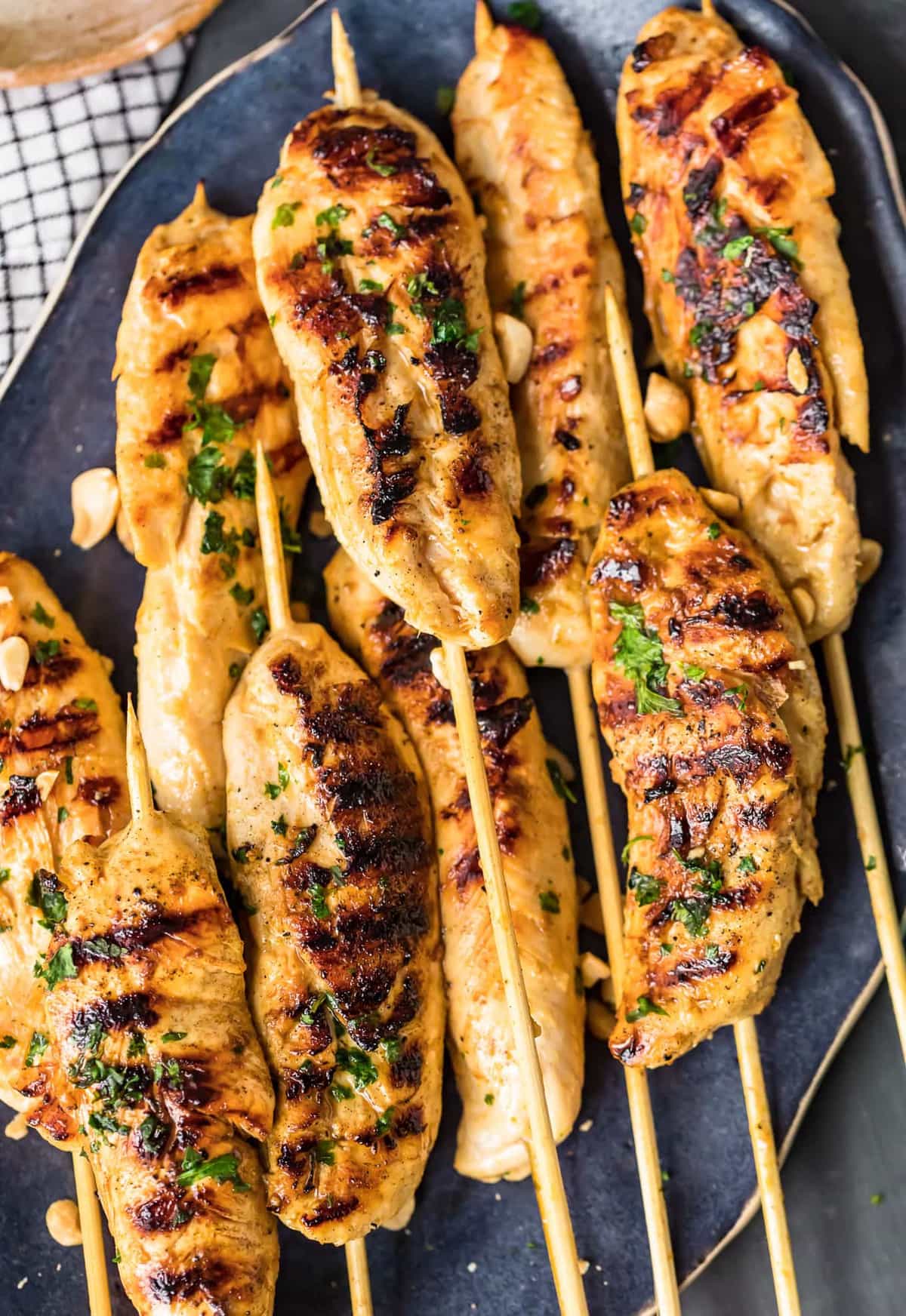 How to Make Chicken Satay with Peanut Sauce
Like I said before, this chicken satay with peanut sauce is as easy as it gets. This recipe is perfect for summer, because you can marinate the chicken, throw it on the grill for a few minutes, and then serve it with this delicious satay sauce. And the peanut sauce just requires pressing a button on the food processor!
How to make chicken satay:
Make the satay marinade by combining coconut milk, soy sauce, lime juice, garlic paste, brown sugar, ginger paste, cilantro, and curry powder.
Pour the marinade into a ziplock bag, along with the chicken tenders, and let it marinate in the refrigerator for at least 30 minutes.
While the chicken marinates, makes the peanut satay sauce. Place all peanut sauce ingredients into a food processor and blend until smooth. (Use coconut milk to thin it out if needed.)
Once it's done marinating, place each piece of chicken on a wooden skewer. Place them on the grill and cook 3-5 minutes on each side.
Serve them fresh off the grill and enjoy! Check the recipe card for more detailed instructions.
Let the chicken marinate while you're at work, or get it in the fridge as soon as you get home, and you can have dinner ready in no time!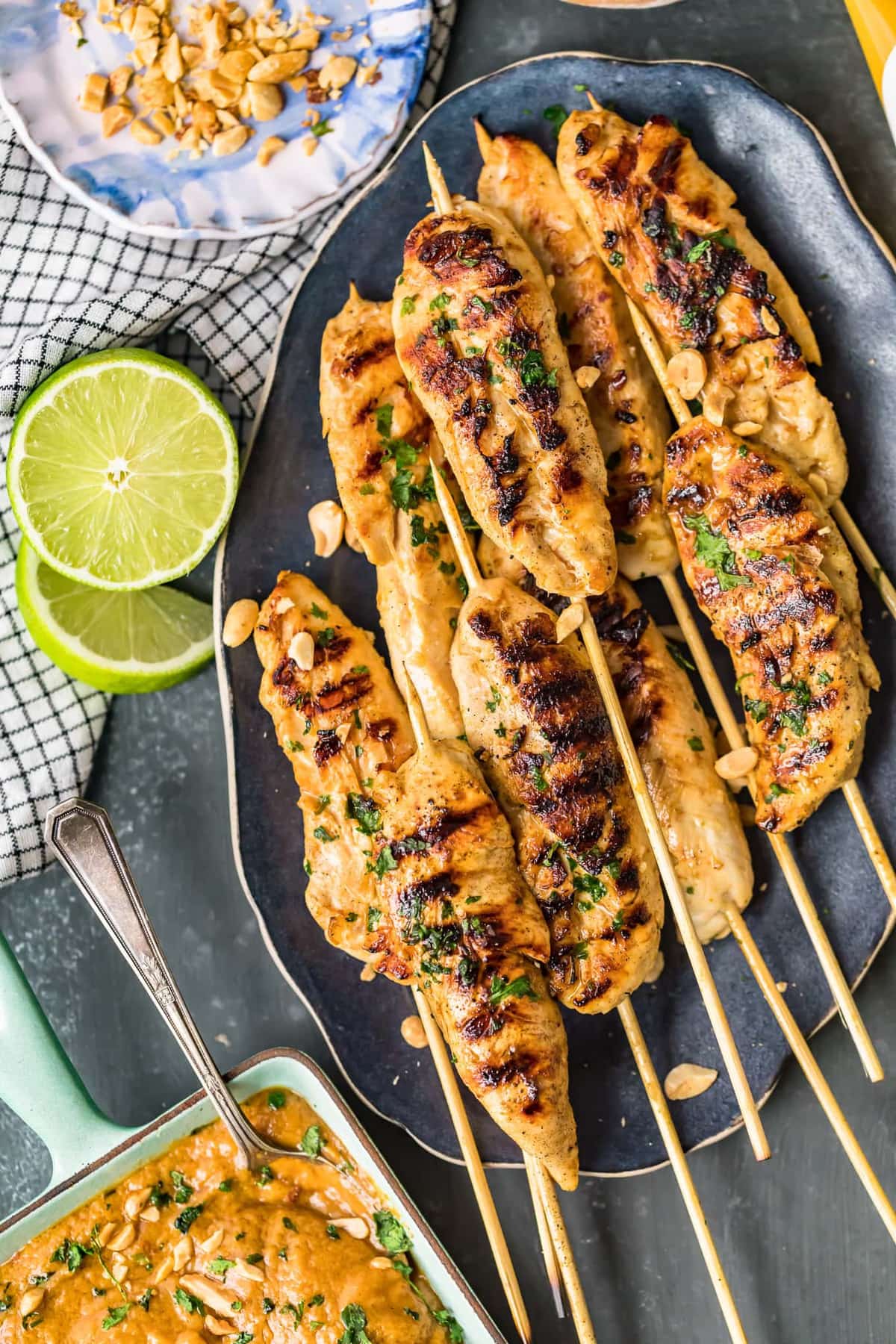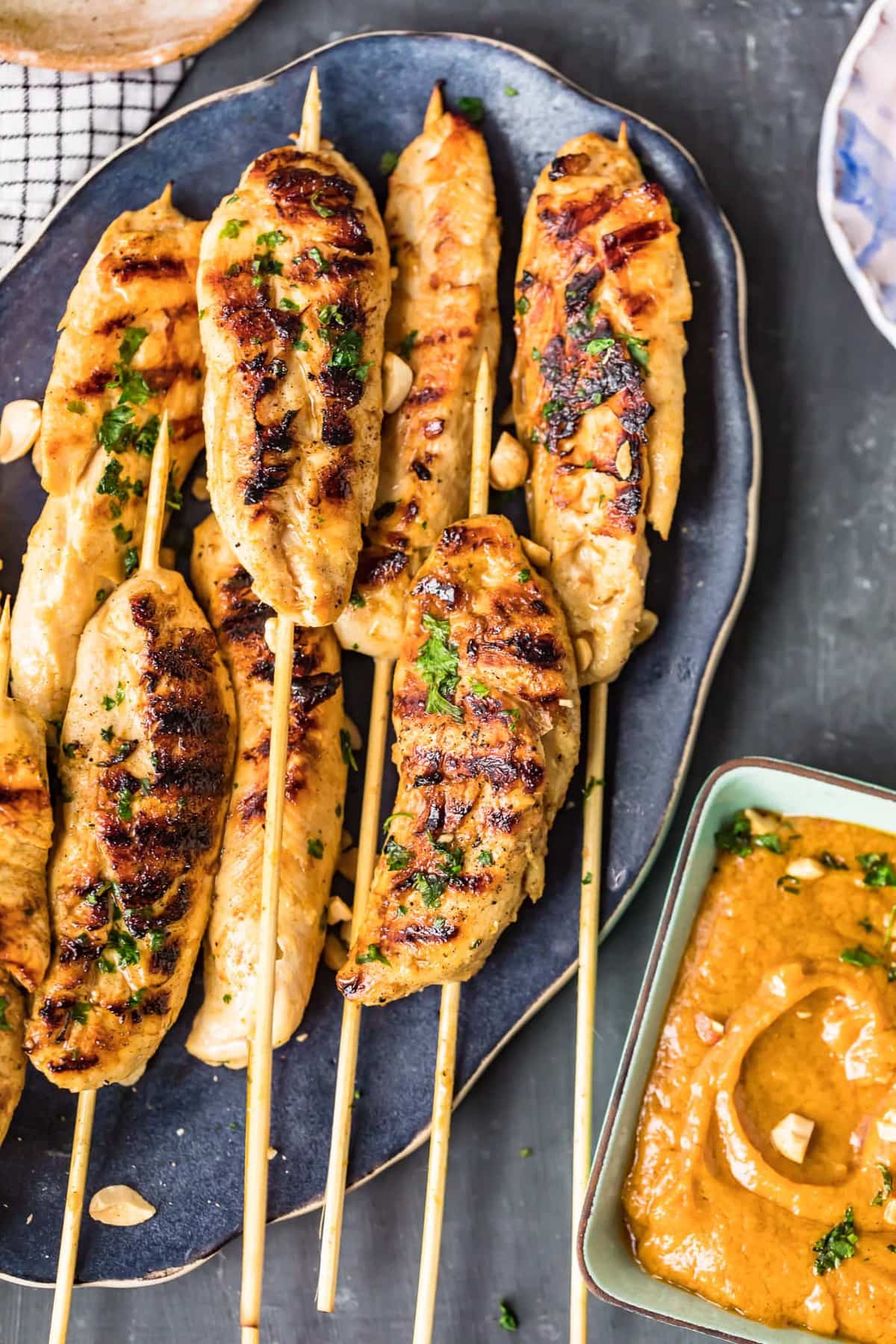 Where is Chicken Satay from?
Satay is a Southeast Asian cuisine that originated in Indonesia, although it's now popular in many other countries. Thai satay is often served with a peanut sauce, like what we're making in this chicken satay recipe.
What to serve with satay chicken skewers?
The best thing to serve along with chicken satay is rice. Ginger rice, coconut rice, fried rice, etc. Mix in some of the peanut sauce and some veggies, and it becomes the perfect side dish.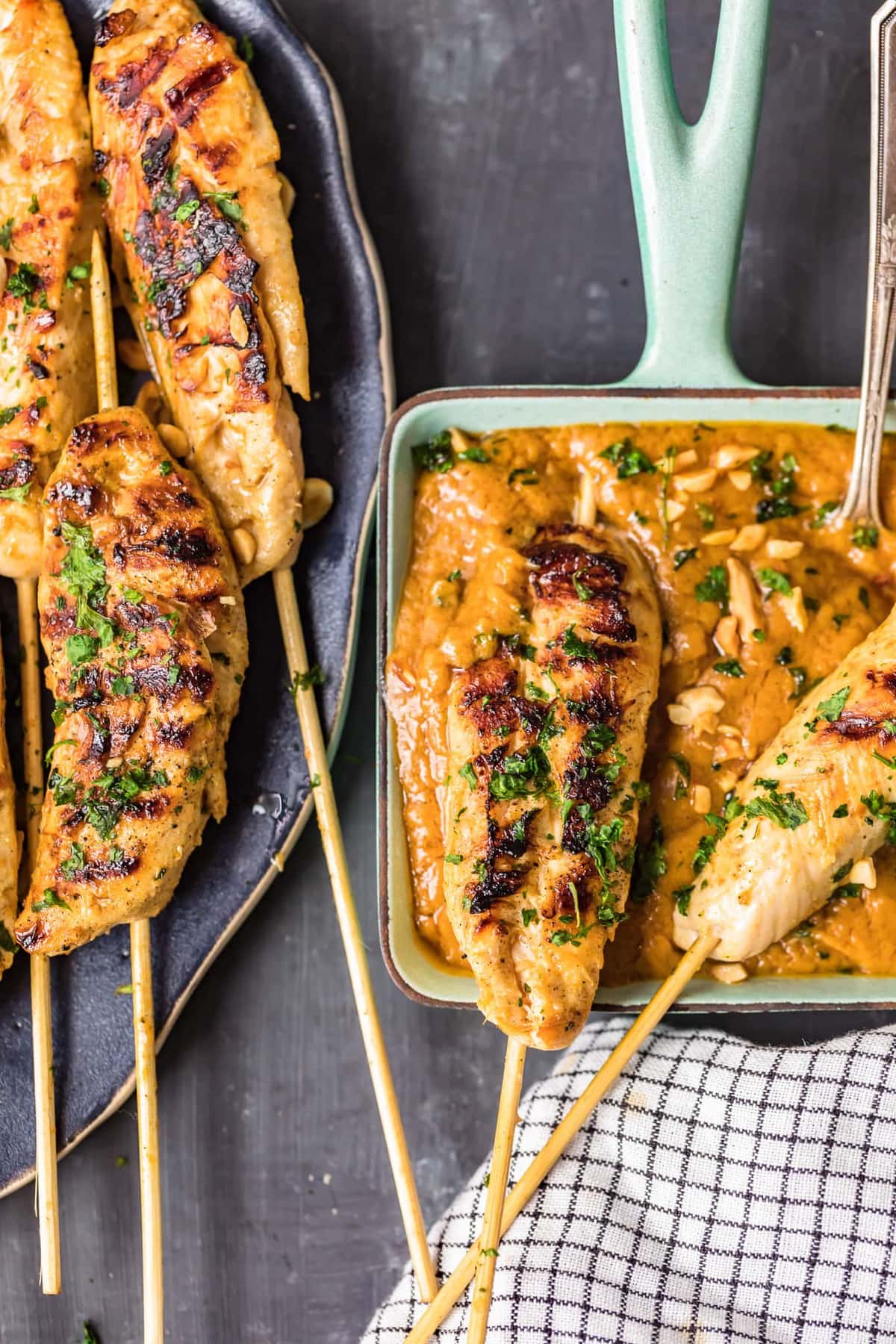 I hope you love these Thai chicken satay skewers as much as we do. The peanut satay sauce is just SO good!
See the recipe card for details on how to make Chicken Satay with Peanut Sauce. Enjoy!
Try these other Asian-inspired recipes: