Beef Lo Mein is the perfect one pot family meal. This delicious beef lo mein recipe is a great 30 minute meal, made from scratch that the whole family will love. Ditch the takeout this week and serve up this homemade version of one of your favorites.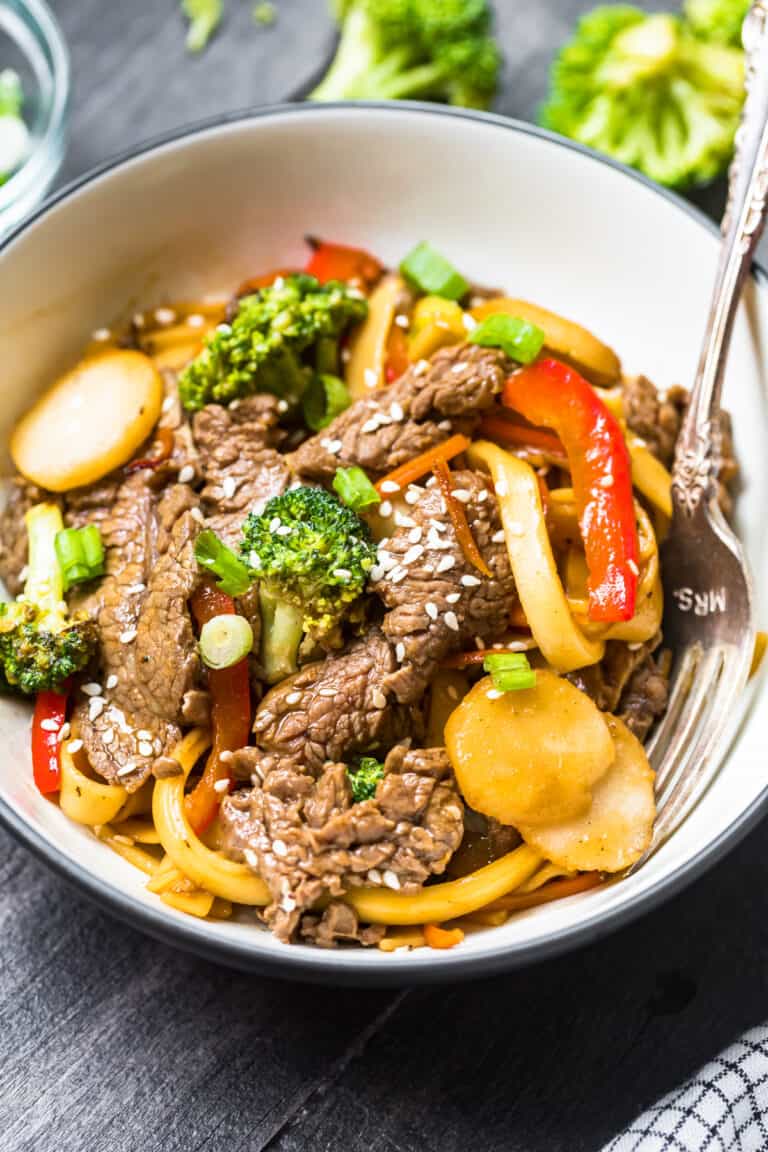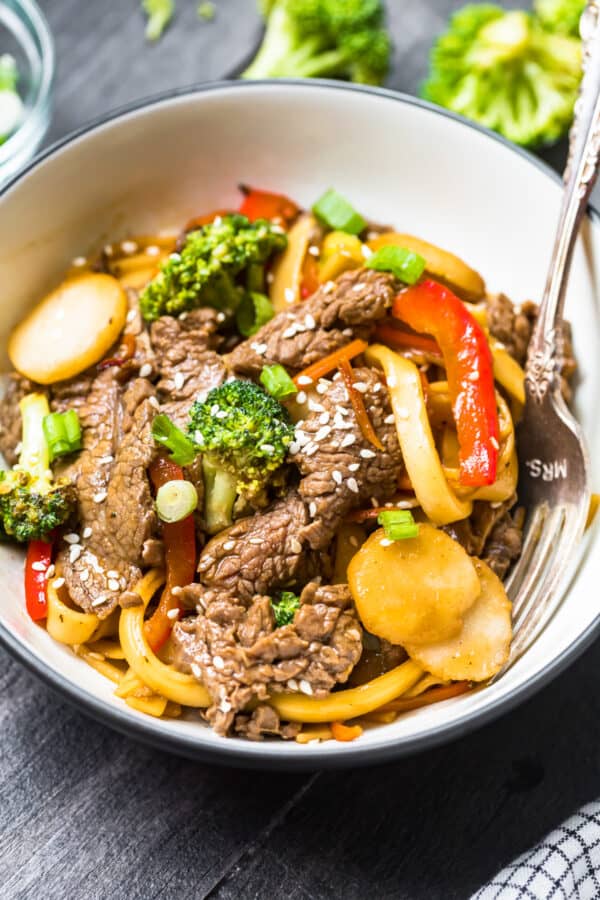 Easy Beef Lo Mein
If your are stuck for what to make for dinner this week and are tempted to order in, you have to give this easy Chinese beef lo mein recipe a go!
It's loaded full of flavor and super quick and easy to make.
Why you will love this beef lo mein recipe!
One pot recipe: Yep, that's right, this meal all comes together in one skillet meaning less clean up time, which is always a bonus!
Healthy: There's always a time and a place for a takeout, but cooking this recipe from scratch is way more healthier than ordering in.
30 minute recipe: It takes less time to make beef lo main at home than ordering in! No excuses not to try it!
Prefer chicken? Try this chicken lo Mein recipe instead! Or go meatless and try this vegetable lo mein.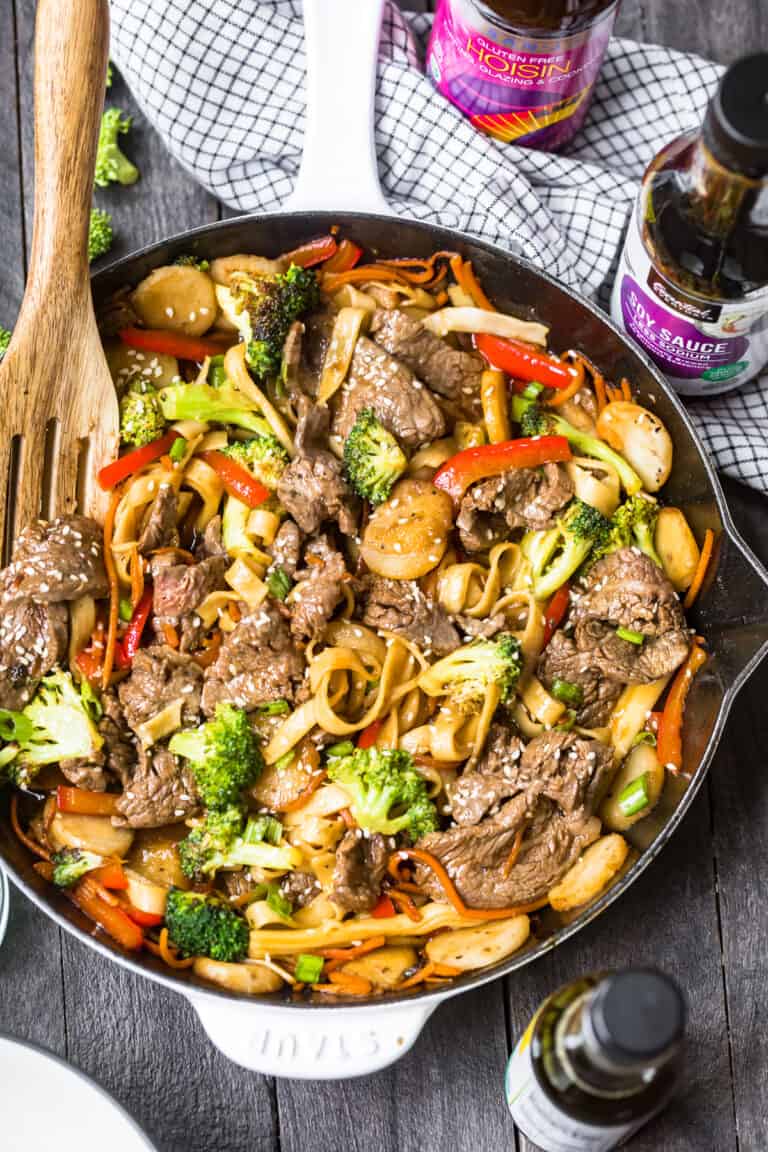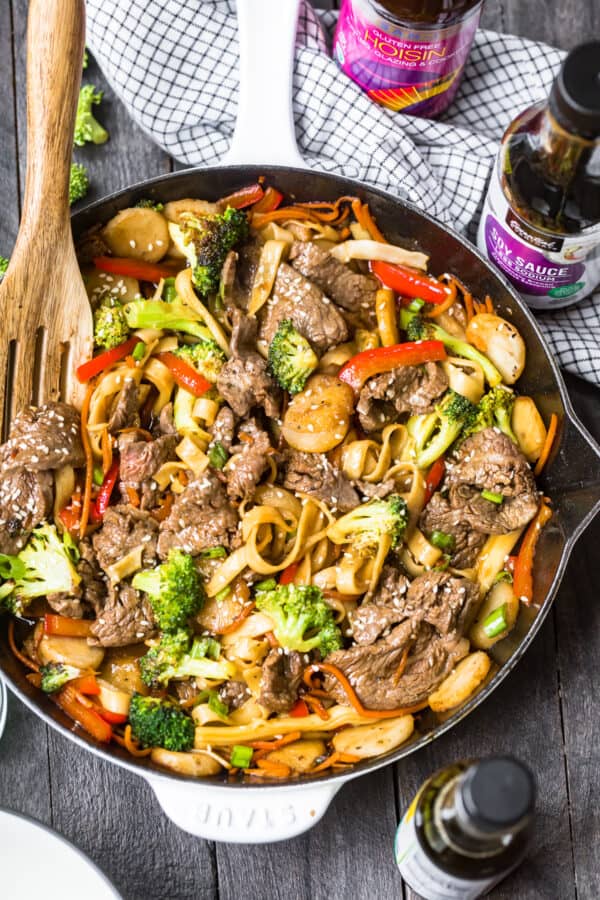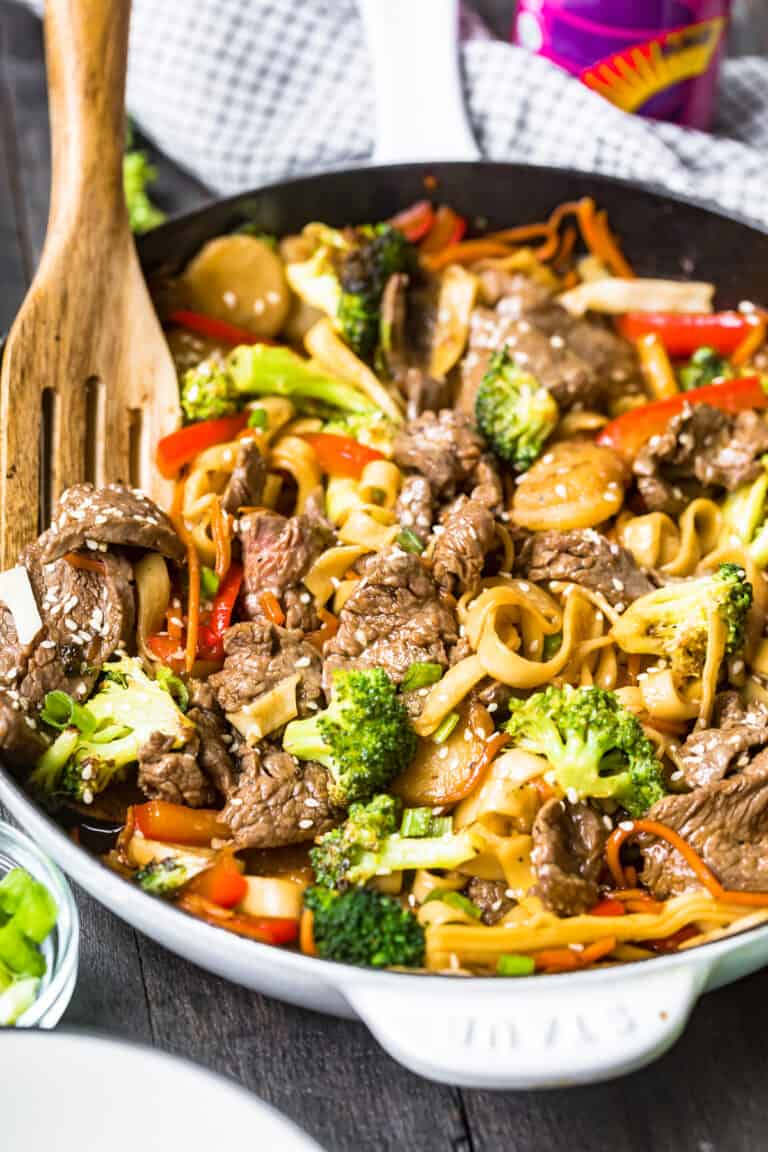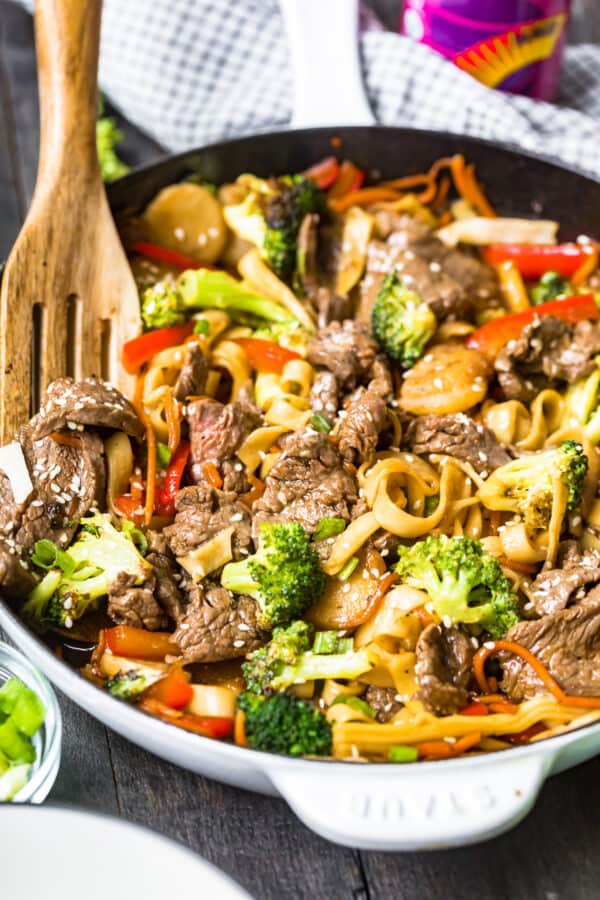 Ingredients in Beef Lo Mein
You might remember last year when I had the awesome opportunity to visit some soybean farms in Maryland. I talked about it in my post for Everything Edamame (YUM!). It was a truly awesome and eye opening experience and I'll be forever grateful.
Ever since my trip, I've loved using products that contain soy. I remember the farmers and how hard they work to make the world a better place. How hard they work to make our food safe and sustainable. During this odd year of 2020, I think about farmers a lot and how much they are keeping us going.
Believe it or not, soy sauce and hoisin sauce are made from soybeans! We get SO many products from Soy; from Vegetable Oil to makeup products; but I have a soft spot in my heart for soy sauce. Such a quick and easy way to add a HUGE burst of flavor to any meal, just like this beef lo mein.
Sustainability in Farming
While we couldn't travel this year because of Covid 19, I recently I got the opportunity to meet with a panel of experts in food sustainability. So much knowledge on one zoom call!!
The panel included a farmer, registered dietician, grocery store executive, and food scientist. I loved learning from them about sustainable food. How to help the Earth all while feeding its people. How to know what foods is right for your family. How to navigate the grocery store to find all the best, sustainable foods.
We learned about grocery tips like what to look for on packaging, how both fresh and shelf stable foods can be healthy, sustainable food practices, environmental safety, and more.
What's important to me is trusting the experts (shelf stable doesn't mean bad. It's okay to buy foods that work best for your family and we can trust the FDA) using quality ingredients, and knowing where to go for learning more. The brands and grocery stores we support can make a difference to the Earth, so its important to support ones that focus on sustainability.
My favorite resource for all things nutrition and food is BestFoodFacts.org. It's an amazing website with SO much knowledge. If you're interested in learning more, it's the perfect place to start.
How can Farms be sustainable?
There are lots of things that farmers do to remain sustainable and help the Earth. Plant tissue sampling, no till, and cover crops are just three ways they make sure their land is healthy year over year. The science is amazing, and I've come to respect farms and farmers more and more. They truly are the backbone of our country.
Processed Foods
Another way to think about food sustainability is when we think about process foods. Saying food is processed shouldn't be a negative thing. It doesn't always strip food of nutrients. Sometimes it even adds to the nutrients.
It helps keep food costs down, helps food last longer, and helps feed the population. Do your due diligence to make sure the brands you buy are doing the right things when it comes to food sustainability, but once you know it can be trusted, feel great about your decisions.
One way to be sure food was processed correctly is with food labels. Certifications and labels can be found on the food you can trust. Keep your eyes open and don't be afraid to branch out at the grocery store.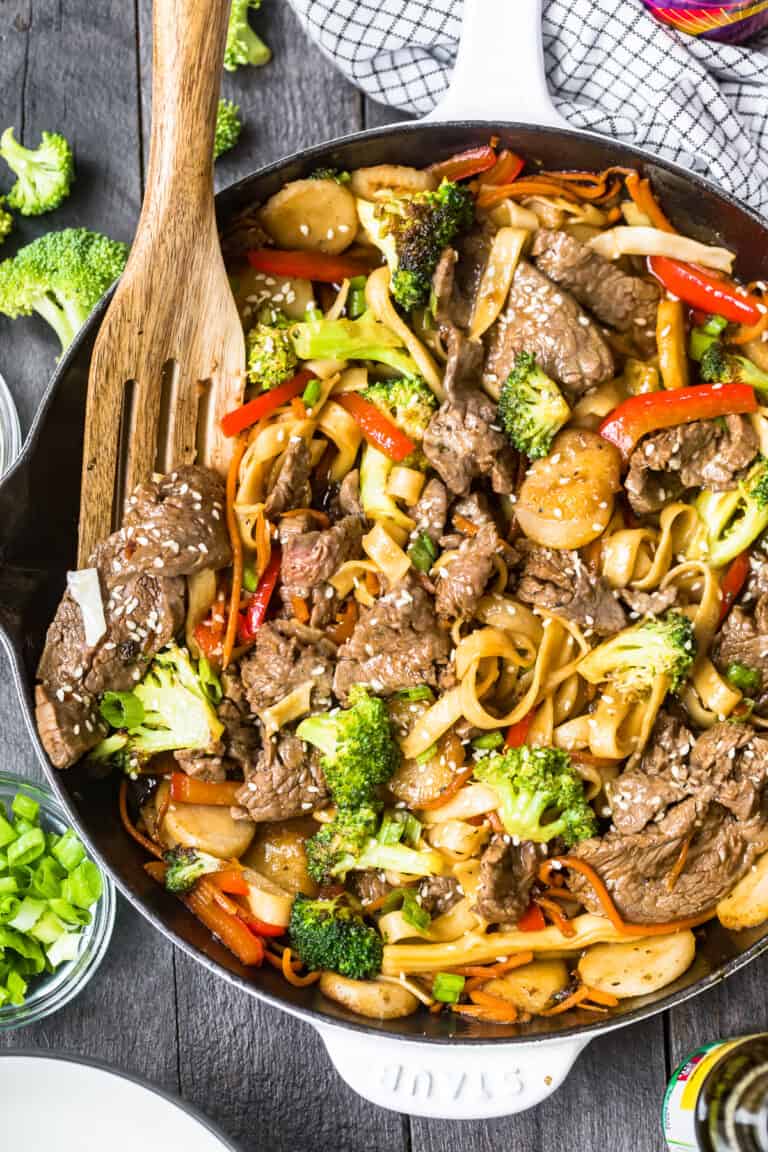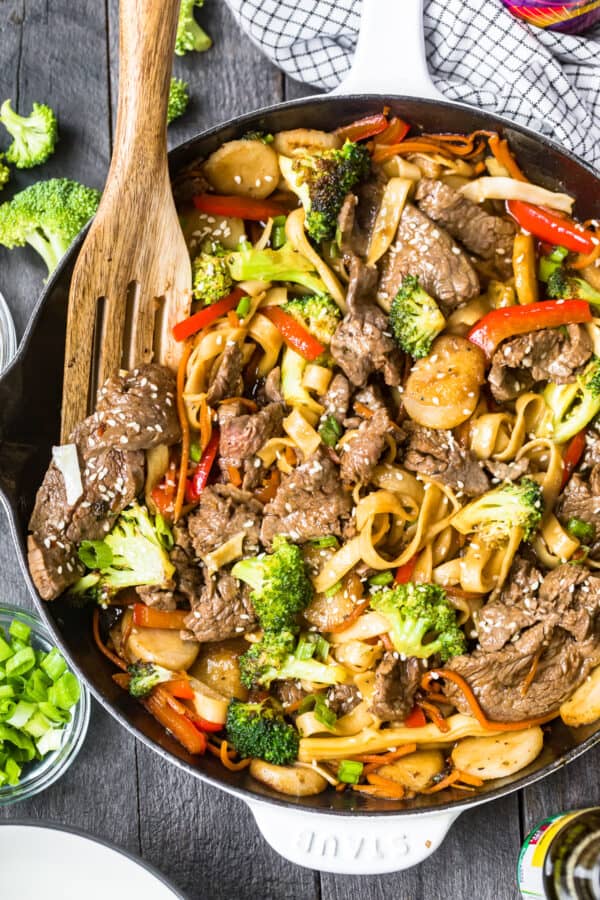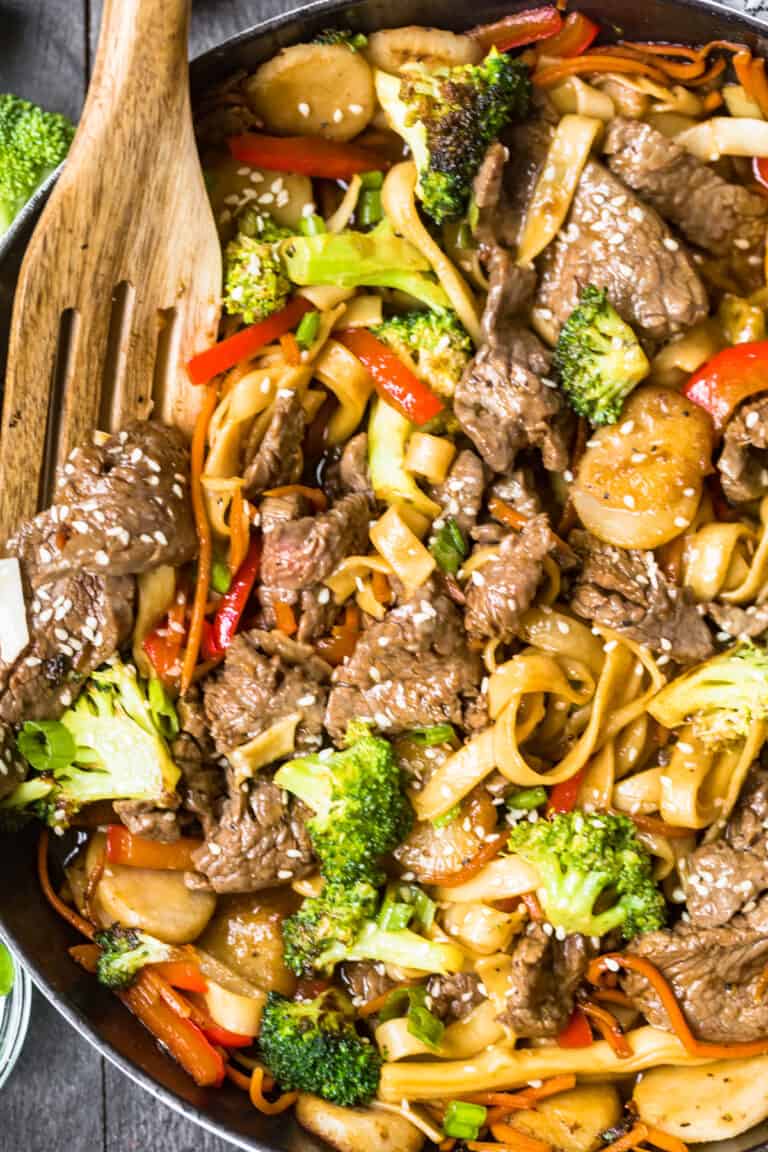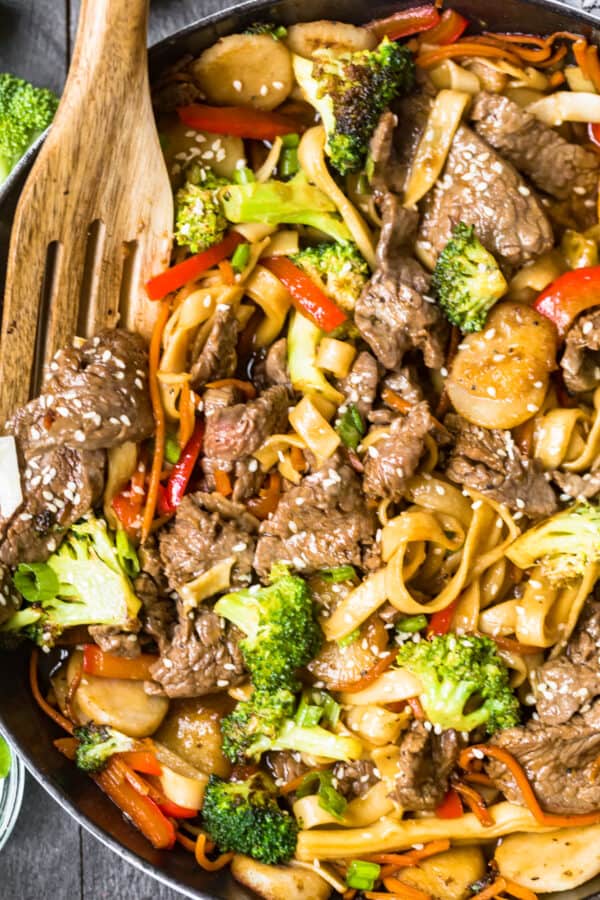 How to make beef lo mein
You can jump to the recipe card for full ingredients & instructions!
Cook the noodles according to package instructions. Also broil the broccoli.
Season the steak and cook in the skillet. Remove and let rest.
Cook the garlic and ginger in the skillet then add the vegetables.
Whisk together the ingredients for the sauce.
Add the noodles and beef to the skillet, pour over sauce and toss to combine.
Serve garnished with sliced green onion and sesame seeds.
More One Pan Meals
This Beef Lo Mein Recipe is SO simple and made in just one pan. We love recipes that are quick to clean up. See some other favorites below.
See All One Pot Recipes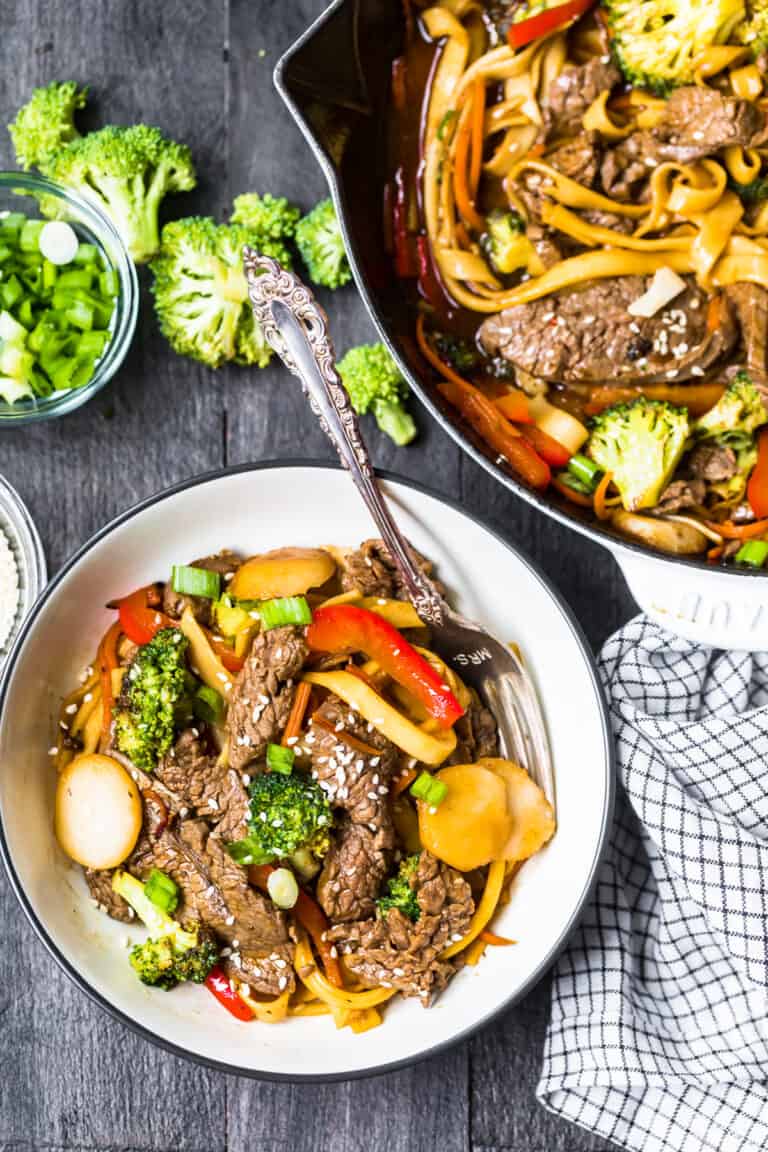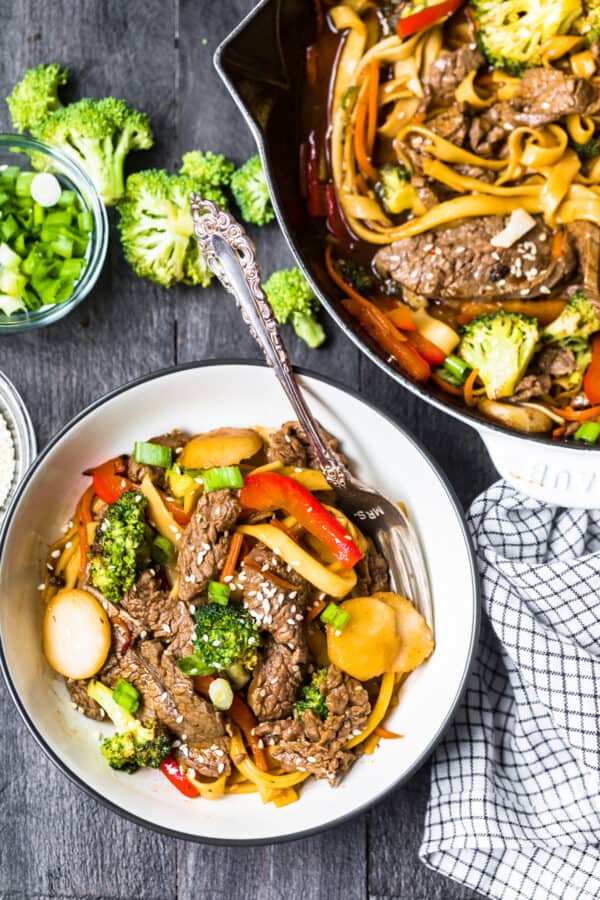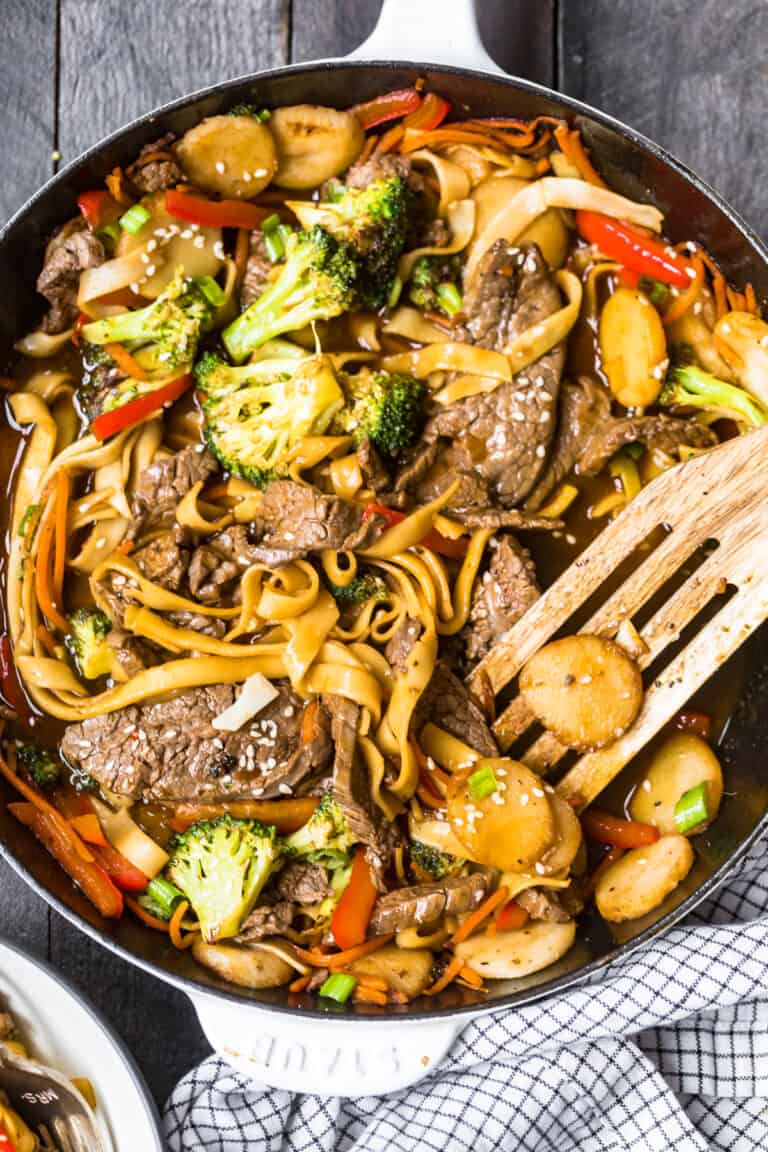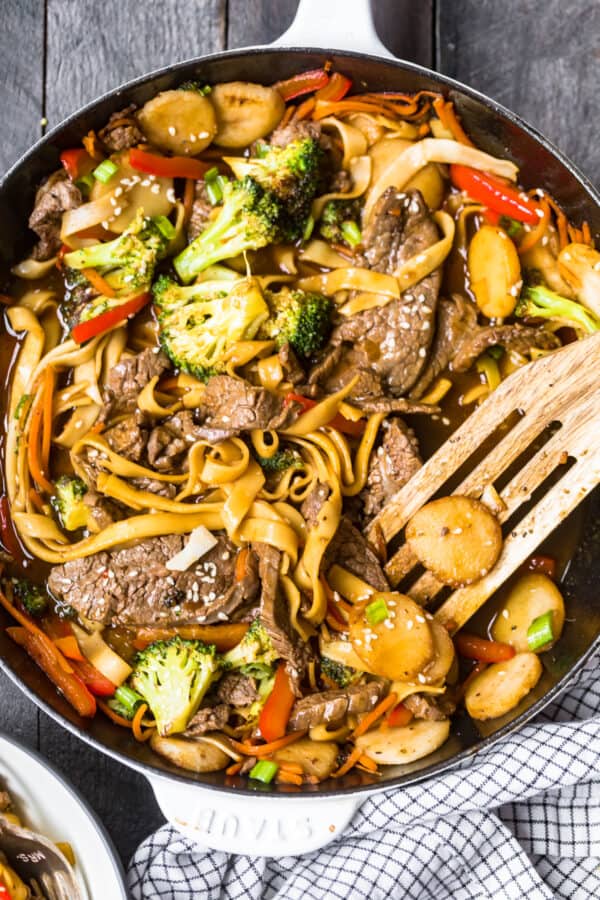 What's the best beef to use in this beef lo mein recipe?
I like to use flank steak for this dish. It's a really rich cut of beef and cooks quickly. If you don't have flank steak, you can use skirt or sirloin.
What are the best noodles to use?
Egg noodles are the best option to use in this dish and you can use fresh or dried. Dried egg noodles are widely available and can be found near the sweet and sour sauces.
Is it okay that these noodles aren't fresh and are shelf stable? YES!! We have been taught to believe that shelf stable foods aren't good for us, despite being approved by the FDA. Due to that, we waste 1/3 of the food we purchase. 1/3!!!!!!
I know that our family isn't perfect when it comes to food waste, but I try to pick items that I know our family can eat. Shelf stable is a huge part of that since we are just a family of 3.
During the panel about food sustainability, this is what stuck out to me the most. Trust our experts, feel empowered to make the decisions that are best for your family, and support brands and stores that promote sustainability.
What's the difference between beef lo mein and beef chow mein?
These two dishes are fairly similar, but there are a few key differences:
Lo mein noodles are cooked before being added to the rest of the ingredients.
Chow mein noodles are stir fried.
Lo mein is a saucy dish and chow mein is a dry dish.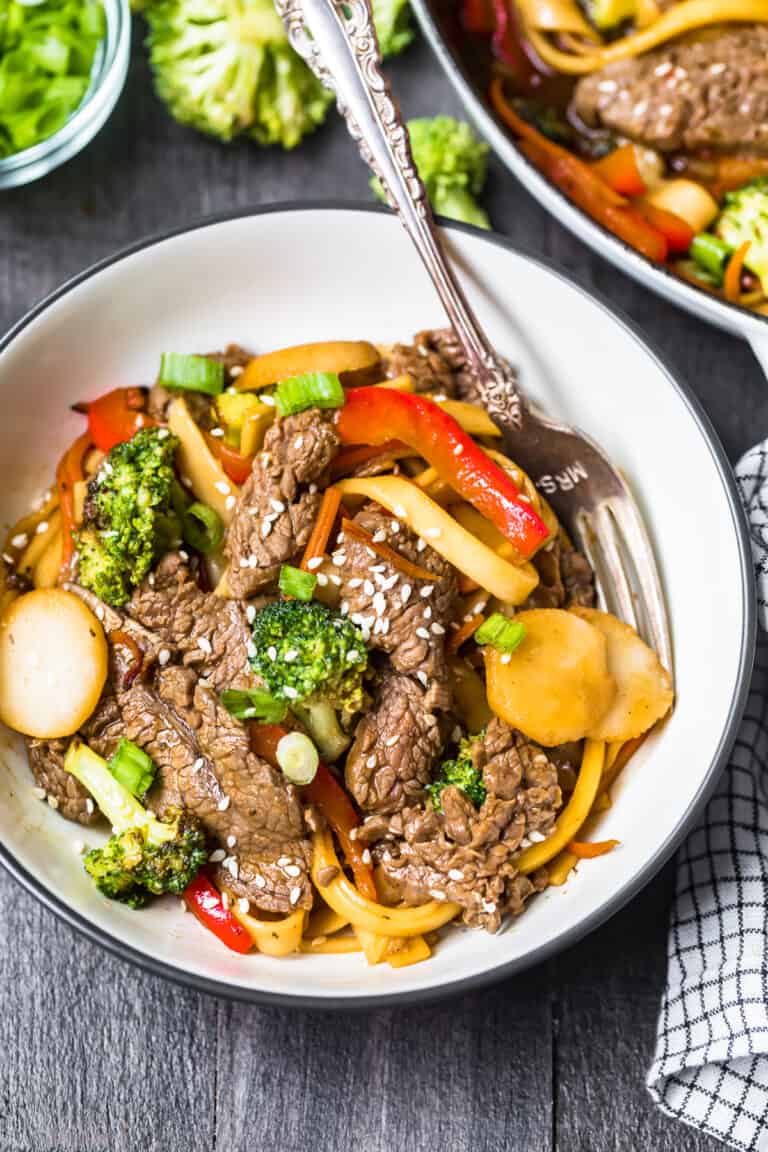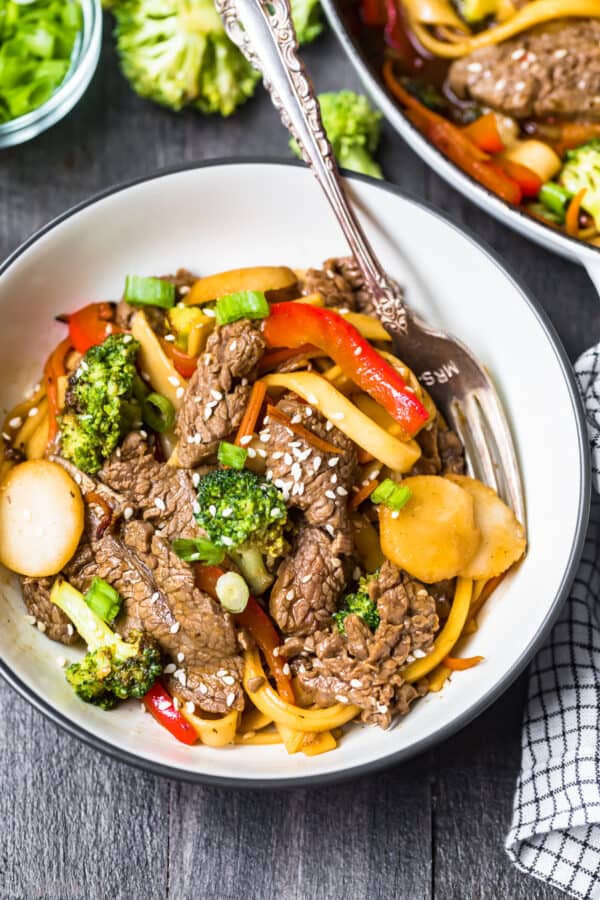 Tips!
Cut the steak finely and against the grain so that it is nice and tender when cooked. It is easier to cut the steak when it is cold straight out of the fridge, and you can also pop it in the freezer for 10 minutes to make it even easier to cut thinly.
This dish is best served as soon as it's made, but leftovers can be stored in the fridge for 3 to 4 days.
Feel free to add in other vegetables to this dish. Mushrooms work really well!
If you make this recipe be sure to upload a photo in the comment section below or leave a rating. Enjoy! You can also jump to recipe.