Honey Chicken serves up crispy fried chicken morsels in a lip-smacking, sweet honey sauce! Perfect for an easy and delicious weeknight dinner.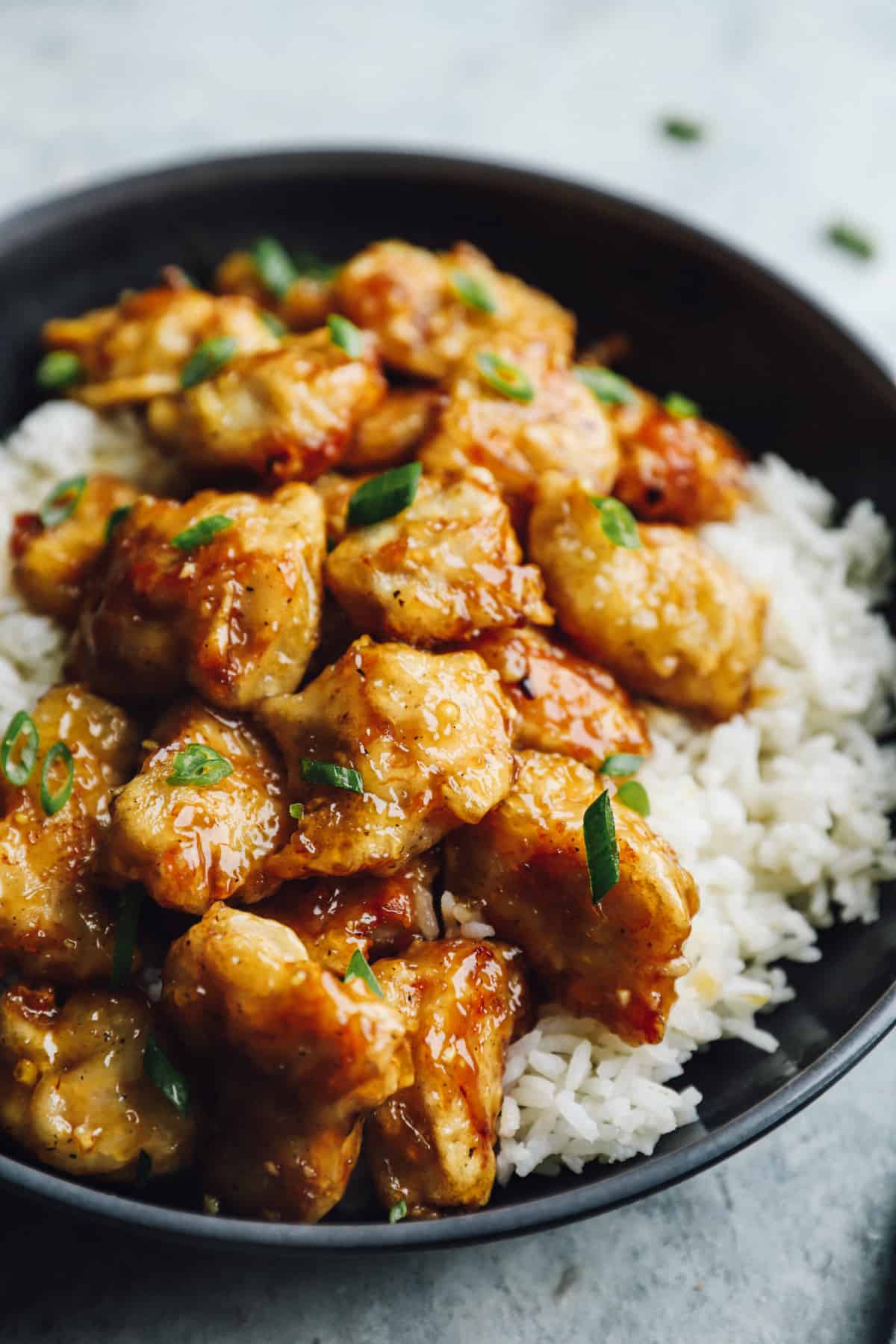 What's in this Honey Chicken Recipe?
It really is so easy to whip up this PF Chang's favorite in your own kitchen! Tender chunks of chicken in a crispy batter, slathered in a sweet and savory honey sauce. This easy chicken recipe rivals take-out any day of the week, it's a new favorite in our house!
Vegetable Oil: The perfect high smoke point neutral oil for frying.
Chicken: Boneless, skinless chicken breasts cut into chunks are the perfect meat for this recipe.
Salt + Pepper: Seasons the chicken and batter.
All-Purpose Flour: Helps the batter to adhere to the chicken chunks.
Cornstarch: Helps the chicken to get an extra-crispy golden brown coating when it is fried.
Baking Powder: Helps draw moisture to the surface to create a crispy, craggy coating.
Cold Water: Helps to dissolve the cornstarch without making it clumpy.
Honey: Gives this chicken its sweet floral flavor.
Rice Vinegar: Adds a bit of acidity to balance the sweetness.
Soy Sauce: Adds a salty, savory, umami flavor to the sauce.
Sesame Oil: Adds a nutty flavor to the sauce.
Garlic: Adds an earthy flavor to the sauce.
Ginger: Adds brightness, freshness, and spice to the sauce.
Crushed Red Pepper Flakes: While totally optional, red pepper flakes add a bit of a kick to this dish if you like spicy!
Cooked White Rice: The perfect neutral base to serve this flavorful chicken over.
Pro Tip: If you like dark meat, you can use chicken thighs instead of breasts!
Variations on Honey Glazed Chicken
This sweet, savory, crunchy chicken is so delicious all by itself. But you can certainly make some modifications to change up the flavor!
Sesame: Add sesame seeds for an added nutty flavor and texture.
Orange: Use orange juice instead of rice vinegar in the honey sauce for a tangy twist on the classic recipe.
Mustard: Mix Dijon mustard into the honey sauce for a tangy and slightly spicy flavor.
Sriracha: Add Sriracha hot sauce to the honey sauce for a spicy twist on the classic recipe.
Chipotle: Add chipotle powder to the honey sauce for a smoky, spicy flavor.
Lime: Squeeze fresh lime juice over the crispy chicken for a bright, citrusy flavor that complements the sweetness of the honey.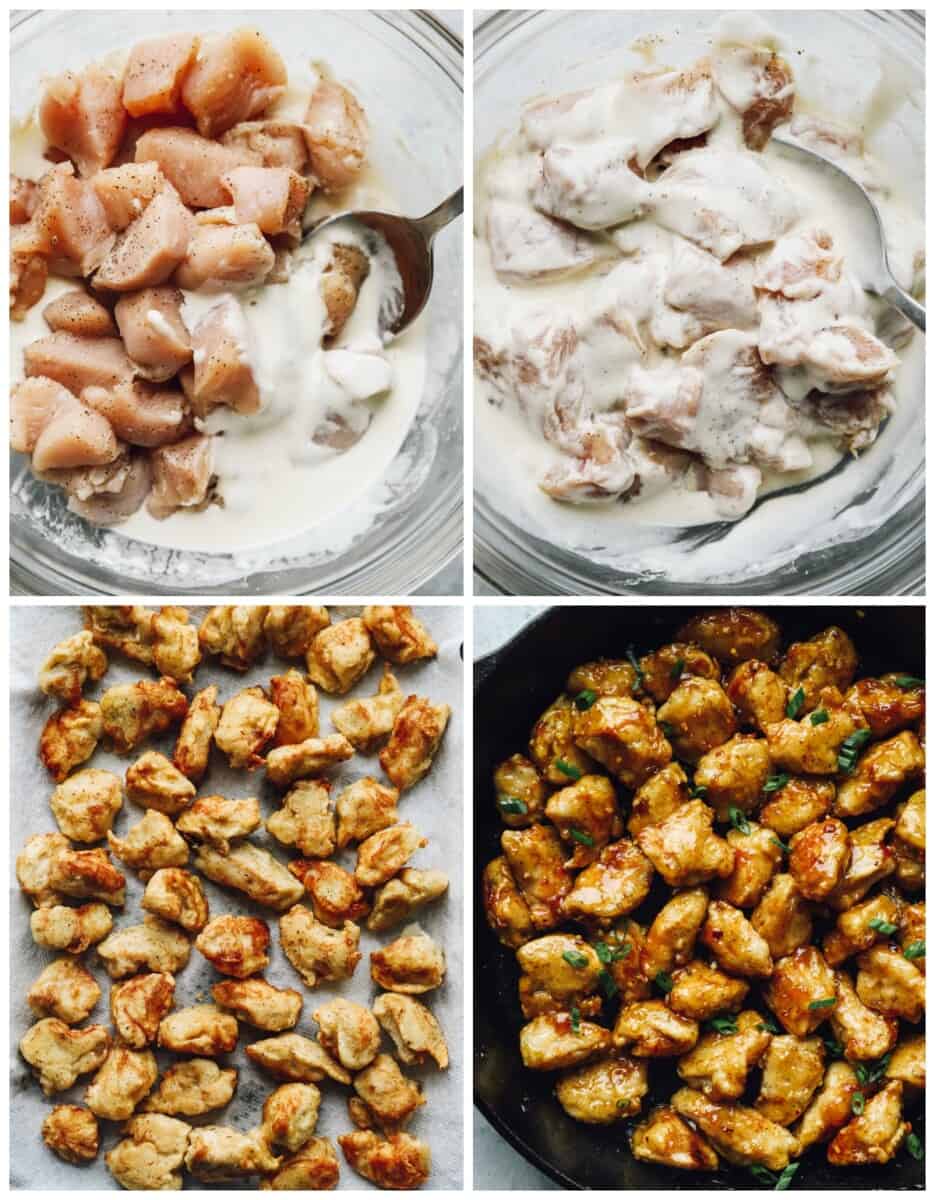 What is honey chicken?
This recipe is based on PF Chang's Crispy Honey Chicken, which is a dish of battered and fried chicken pieces in a sweet honey sauce.
Is honey chicken the same thing as orange chicken?
No, it is not the same thing as orange chicken. Honey chicken is sweet with notes of soy sauce and ginger, while orange chicken is a bit spicier with a strong citrus flavor.
Can I make this with chicken thighs instead of breasts?
Yes, you can! I recommend using boneless, skinless thighs and cutting them into bite-sized pieces.
What should I do if I can't find fresh ginger?
If you can't find fresh ginger, use 1¼ teaspoons of ground ginger in its place.
How can I make it spicier?
To make this chicken spicier, add the optional ½ teaspoon of red pepper flakes.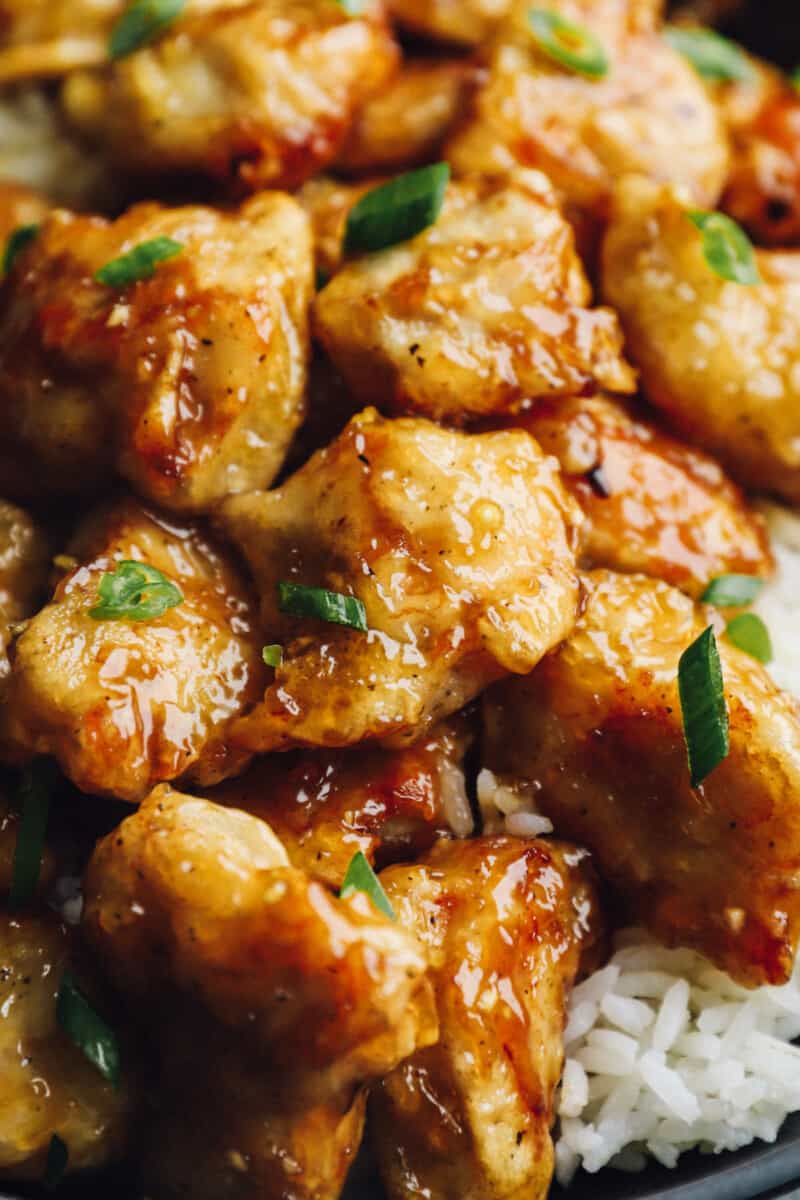 How to Store and Reheat
Store leftover chicken in an airtight container in the refrigerator for up to 3 days. Reheat in the microwave in 30-second increments until warmed through.
How to Freeze
I recommend freezing the chicken and the sauce separately for the best results. Freeze the cooked chicken in an airtight container for up to 3 months, and freeze the sauce in a Ziplock bag. Allow the chicken and sauce to thaw in the refrigerator overnight before reheating and tossing together.
Serving Suggestions
Serve this chicken with your favorite Asian sides. I love white rice, ham fried rice, cauliflower fried rice, or vegetable lo mein. Start off your meal with an Asian cucumber salad, egg rolls, and crab rangoon. The easy homemade honey sauce is so delicious, you'll want to use it on everything and anything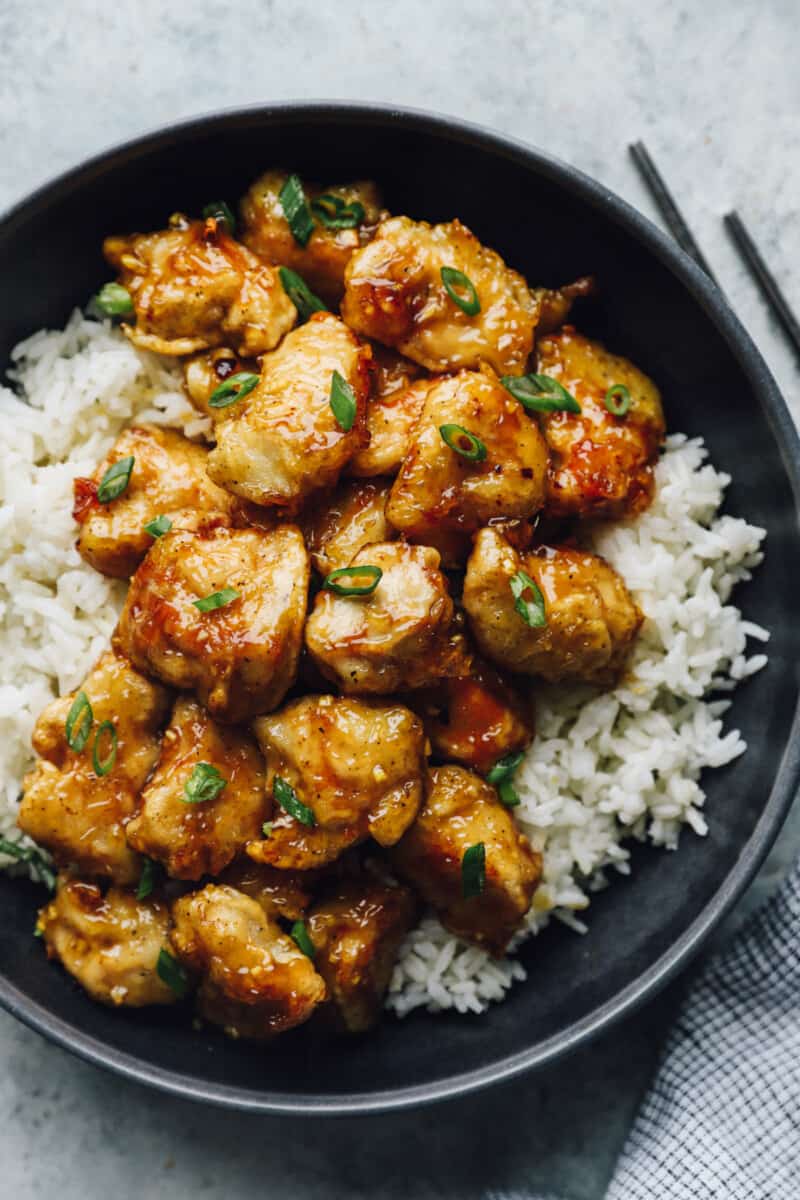 More Honey Chicken Recipes We Love