This easy Kung Pao Chicken recipe is deliciously spicy and cooks in 15 minutes! Marinated cubes of juicy chicken are cooked up in a stir fry with lots of colorful veggies, peanuts, chilies, and the most amazing Kung Pao sauce.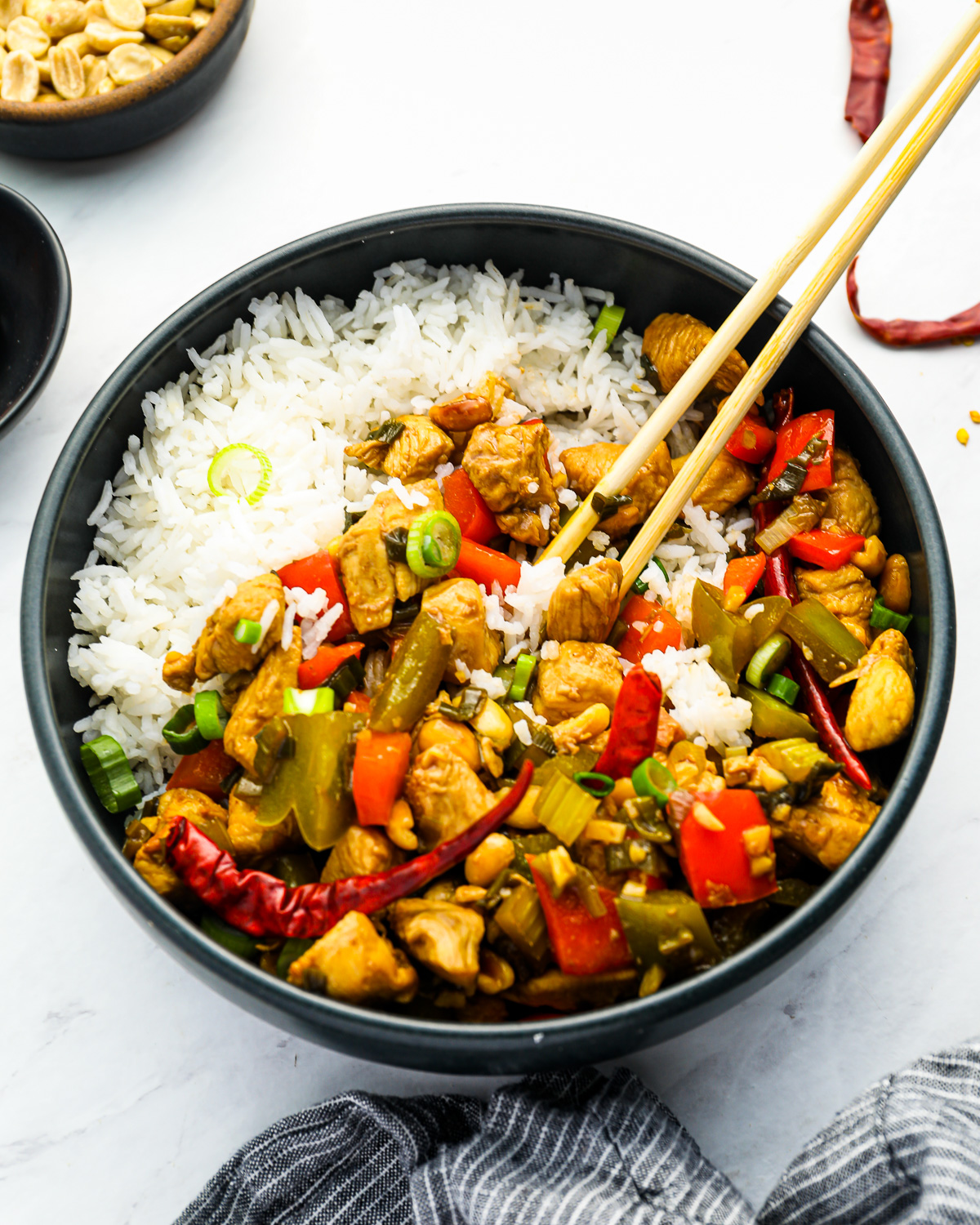 What's in this Kung Pao Chicken Recipe?
Make this Chinese takeout favorite from the comfort of your own home with just a few fun and unique ingredients and many pantry staples.
Chicken: I prefer to use boneless, skinless chicken breasts, but you can also use thighs.
Shaoxing Wine: Also known as "yellow wine", it has a sweet and dry flavor that compliments the chicken and the sauce. Sherry vinegar makes a good substitute in a pinch.
Soy Sauce: Adds a salty and umami element to the marinade and the sauce.
Cornstarch: Helps thicken the marinade and the kung pao sauce.
Chicken Broth: Forms the base of the sauce, adding a rich and savory flavor.
Black Vinegar: An aged vinegar with a deep malty flavor that adds complexity to the dish. Balsamic vinegar makes a good substitute if you're unable to find it.
Granulated Sugar: Adds a touch of sweetness to the sauce.
Hoisin Sauce: Adds a salty and sweet element.
Sesame Oil: Adds a bit of a nutty flavor to the sauce.
Vegetable Oil: Helps the chicken and vegetables cook without burning.
Bell Peppers: Add an earthy and vegetal flavor and crunch to the dish.
Celery: Adds a mild herbal flavor and crunch.
Garlic + Ginger: Classic Asian seasonings that enhance the overall flavor of the dish.
Scallions: Add a pop of color and freshness.
Chinese Chilies: Make this dish pleasantly spicy. You can use arbol chilies if you're unable to find Chinese chilies.
Unsalted Peanuts: Add a delightful crunch and nutty flavor to the dish.
Pro Tip: You can find Shaoxing wine, black vinegar, and Chinese chilies at most Asian grocery stores.
Variations on Chinese Kung Pao Chicken
This kung pao sauce and marinade pairs well with a wide variety of proteins, like tofu, shrimp, flank steak, or mushrooms. Try swapping out the peanuts for cashews for a milder flavor; add chunks of pineapples for a sweet and tangy variation; or add some creamy peanut butter to the sauce for a creamier texture and a more peanut-forward flavor.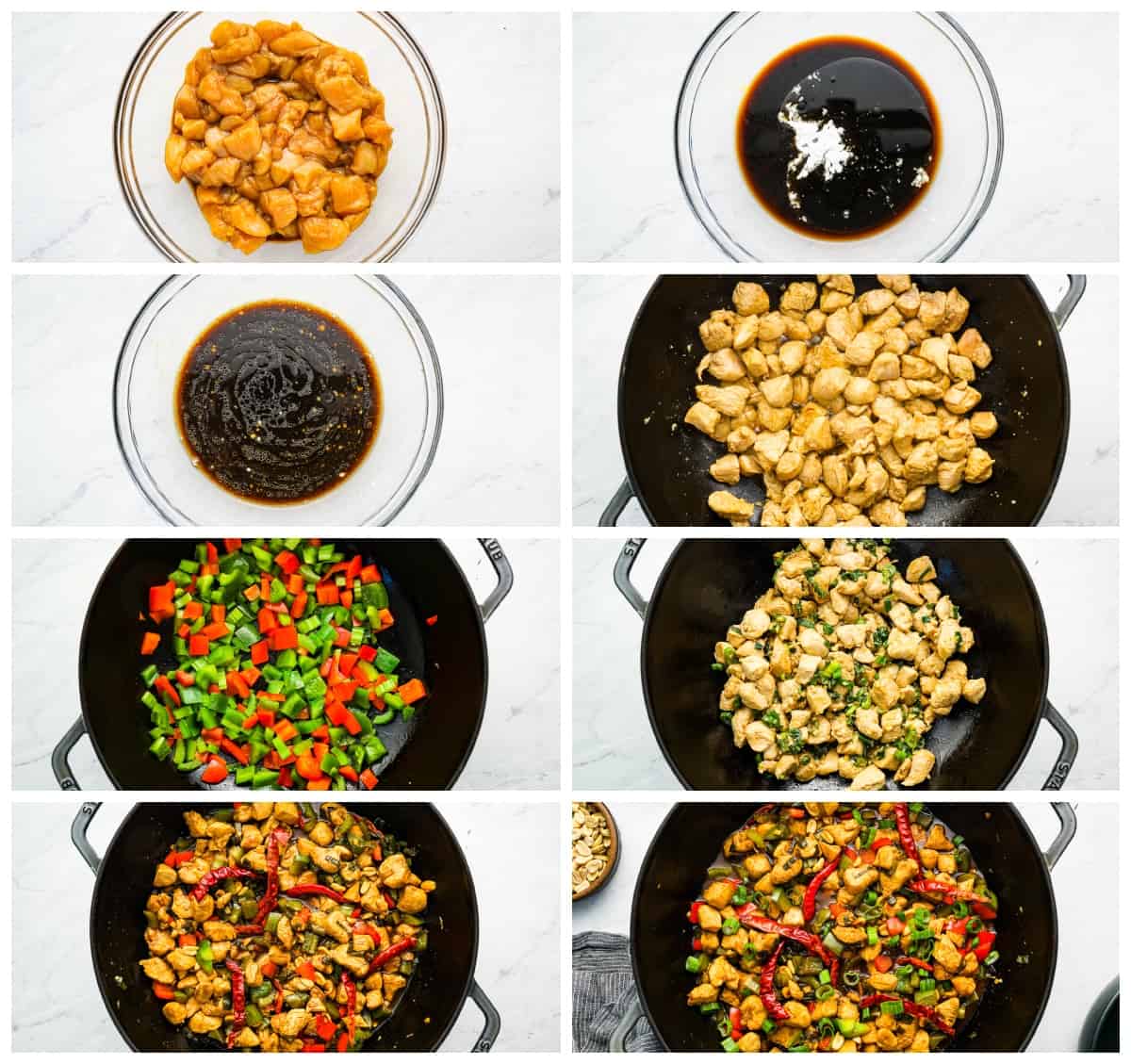 What is kung pao chicken?
This dish is a spicy stir fry made from cubed chicken, peanuts, vegetables, and chili peppers.
Is Kung Pao chicken the same as Szechuan chicken?
While the two dishes are similar, Szechuan chicken is much spicier!
What does kung pao chicken taste like?
It is savory and sweet with a spicy kick and a bit of nuttiness from the peanuts.
Is kung pao chicken spicy?
It is spicy, but not overbearingly so. If you're sensitive to spice, you can reduce or omit the Chinese chilis.
Which is sweeter, kung pao or general tso?
Kung pao chicken is hot and spicy, whereas general tso is sweet and slightly spicy.
Is kung pao chicken healthy?
This dish is a great source of protein, potassium, vitamin A, and vitamin C. However, it is also high in saturated fat, cholesterol, and sodium, so enjoy it in moderation as part of a balanced diet.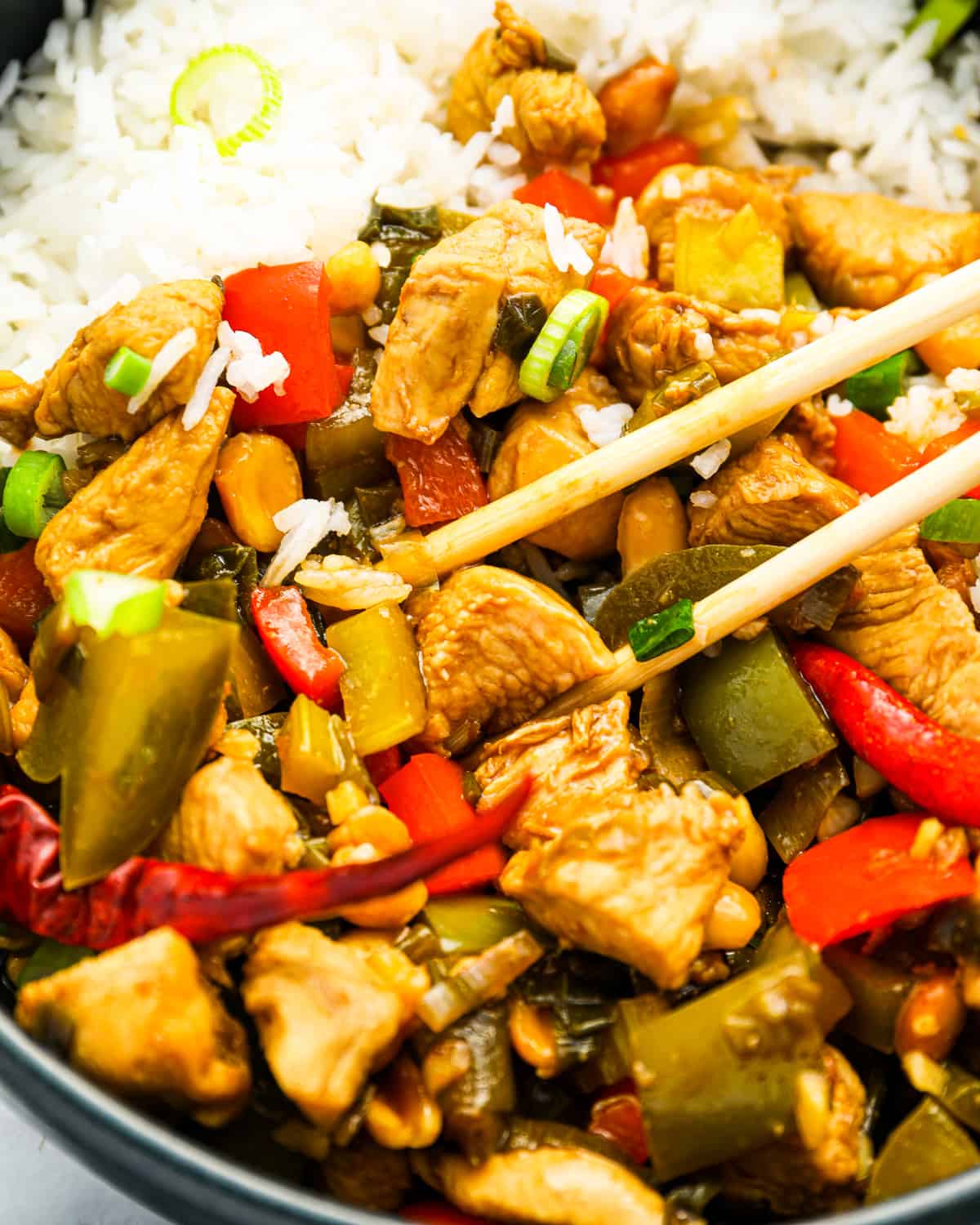 How to Store and Reheat
Store leftover kung pao chicken in an airtight container in the refrigerator for up to 3 days. Reheat in a saucepan set over medium-low heat or in the microwave in 30-second increments until warmed through.
How to Freeze
Freeze leftovers in an airtight container or Ziplock bag for up to 3 months. Let thaw overnight in the refrigerator before reheating.
Serving Suggestions
Serve this sweet and spicy kung pao chicken recipe with basmati rice, ham fried rice, or vegetable lo mein. Start with a warming bowl of egg drop soup, some crab rangoon, or an egg roll for the true takeout-at-home experience.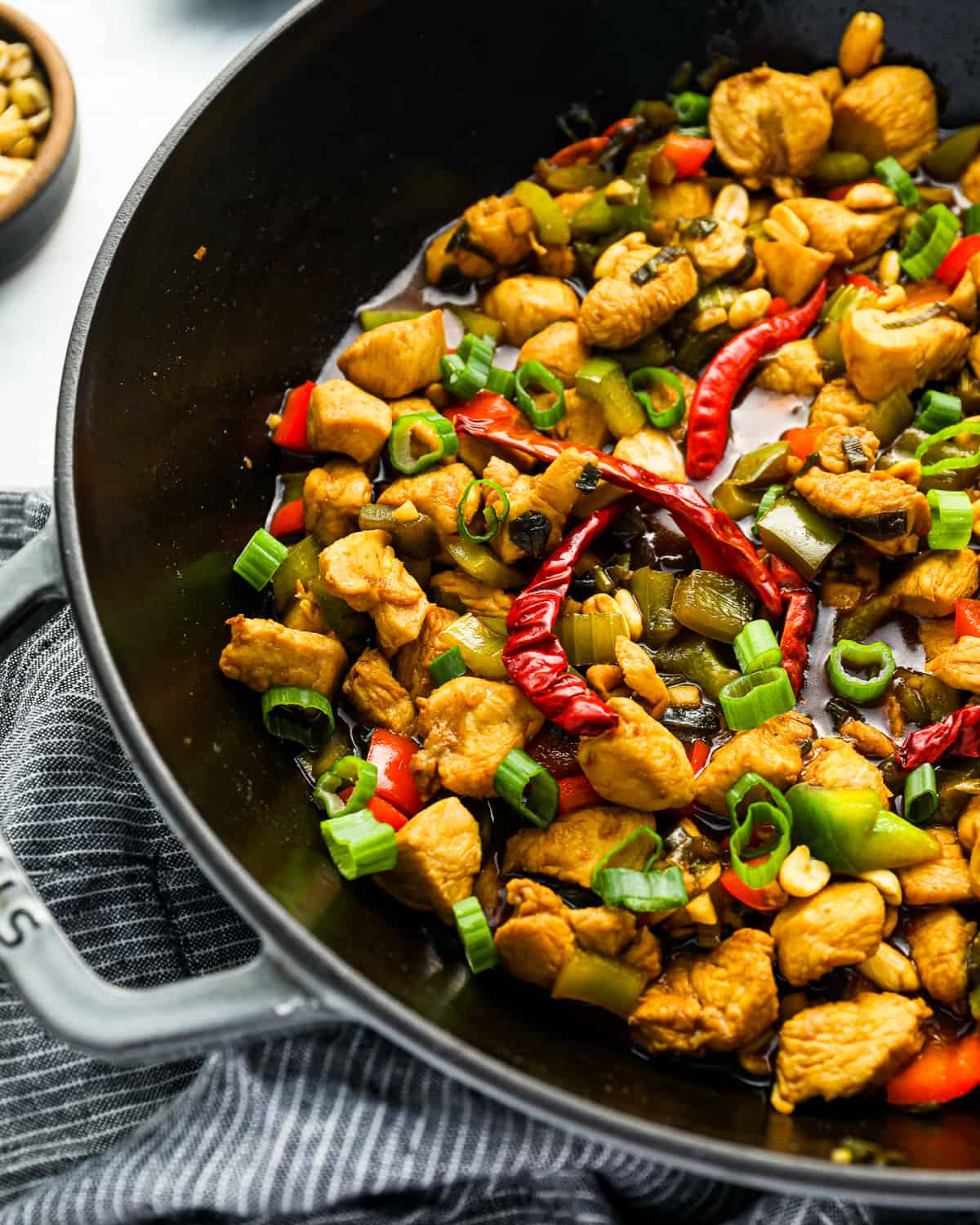 More Chicken Stir Fry Recipes We Love