This crockpot cashew chicken, is an easy and delicious dinner everyone can enjoy! Instead of ordering out, make this in your crockpot effortlessly. You won't be sorry!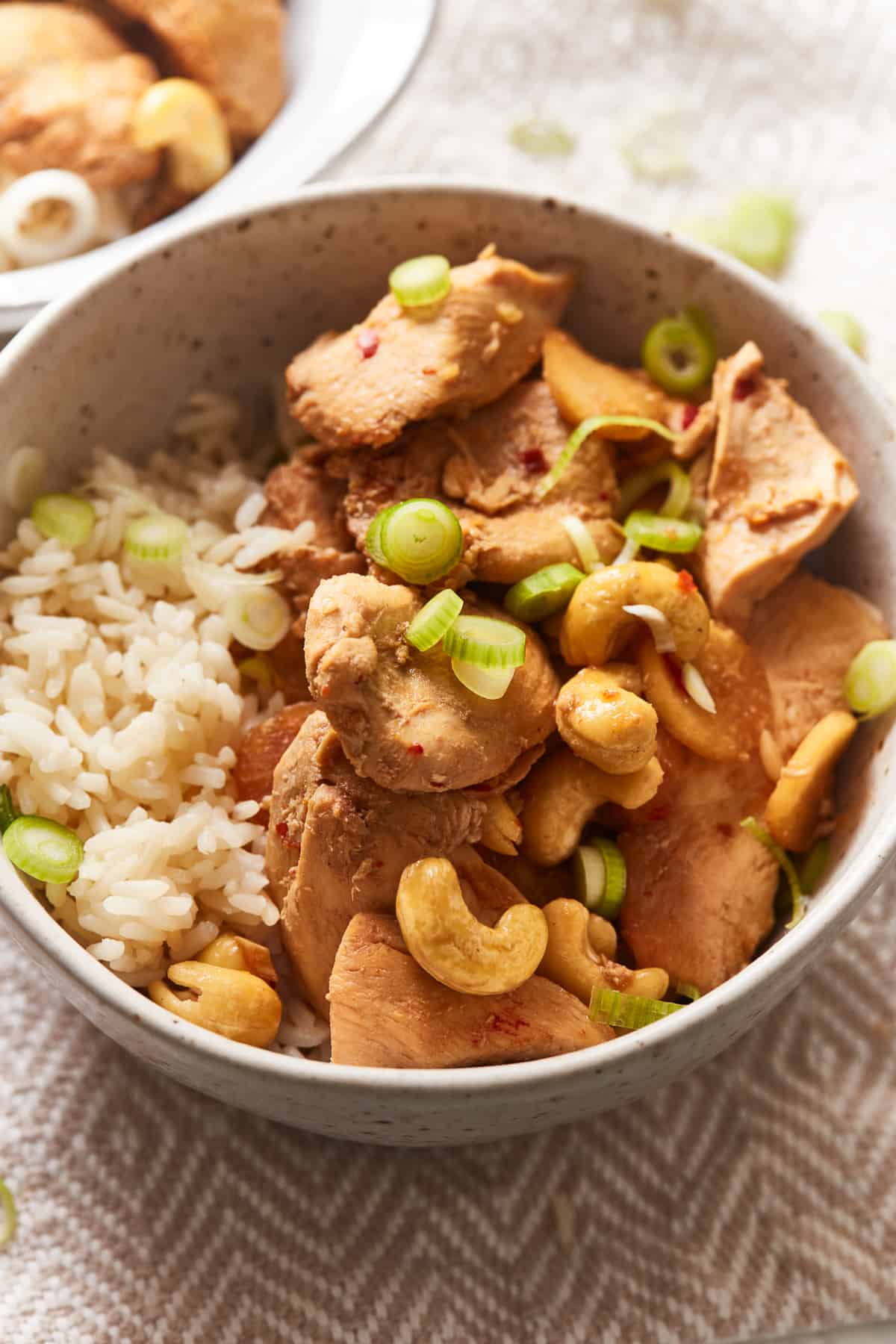 What's in Slow Cooker Cashew Chicken?
Most of the ingredients on this list are stored cupboard ingredients such as ketchup, brown sugar, soy sauce, and vinegar so it couldn't be easier and they all add a ton of flavor.
Oil: When sautéeing meat, it's best to use a high smoke point oil. I used canola oil, but you could use vegetable or avocado oil instead.
Chicken: Boneless, skinless chicken tenders are easy to slice into strips. You could also use chicken breasts or thighs.
Soy Sauce: Low-sodium soy sauce adds salty umami flavor to this dish.
Vinegar: Apple cider vinegar adds acidity to the dish.
Ketchup: Adds concentrated tomato flavor. You could use tomato paste instead.
Brown Sugar: Dark brown sugar adds a rich sweetness to the dish to balance out the saltiness and acidity.
Garlic and Ginger: Classic Asian flavors. I don not recommend substituting with ground spices.
Red Pepper Flakes: Add a touch of spice to the dish. You can use more or less as desired.
Water Chestnuts: Water chestnuts are optional but they add freshness and texture! I don't know why I love them so much in Cashew Chicken, but I feel they're a must. Extra crunch is never a problem!
Cashews: Make this dish cashew chicken! I like to use halves, but you can use whole cashews as well.
Pro Tip: For a gluten-free version, swap the soy sauce for tamari or coconut aminos.
Spicy Cashew Chicken
If you like your cashew chicken spicy, feel free to increase the amount of crushed red pepper flakes, or swap the ketchup for sambal oelek chili paste for even more spice.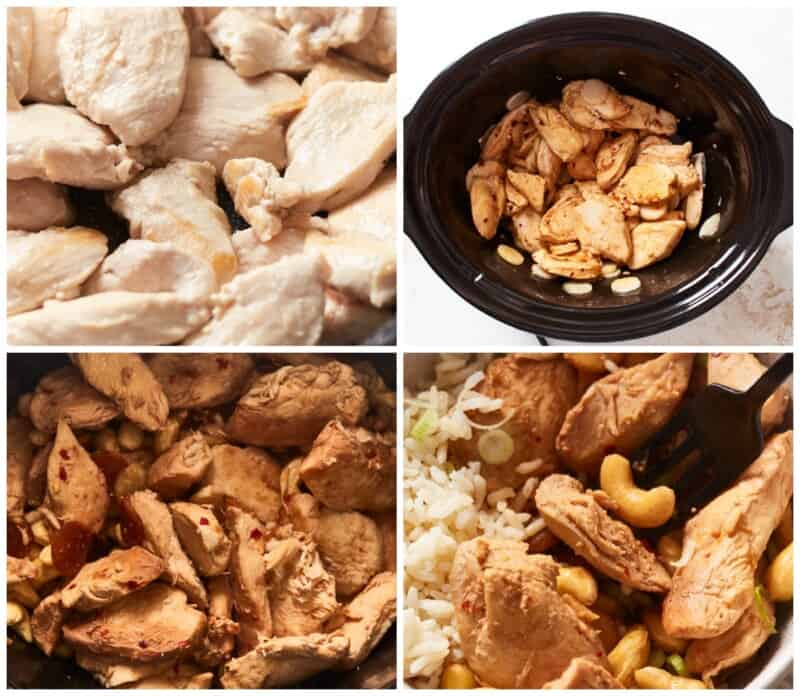 What's the best chicken for crockpot cashew chicken?
I like to use boneless, skinless chicken tenders because they're easy to cut into strips. Boneless, skinless chicken breasts or thighs also work.
Can I use something other than cashews in cashew chicken?
Cashews give this dish its distinctive flavor, so I don't recommend replacing them unless there is a food allergy. Some common replacements are pumpkin or sunflower seeds. Keep in mind that this will change the overall flavor of the dish, though.
Can I make crockpot cashew chicken ahead of time?
Once you have made your slow cooker cashew chicken, it will be safe to keep it on warm mode for up to 2 hours. Once cooled, store covered in the fridge and it will keep well for up to 4 days. Reheat on the stovetop to warm through to serve.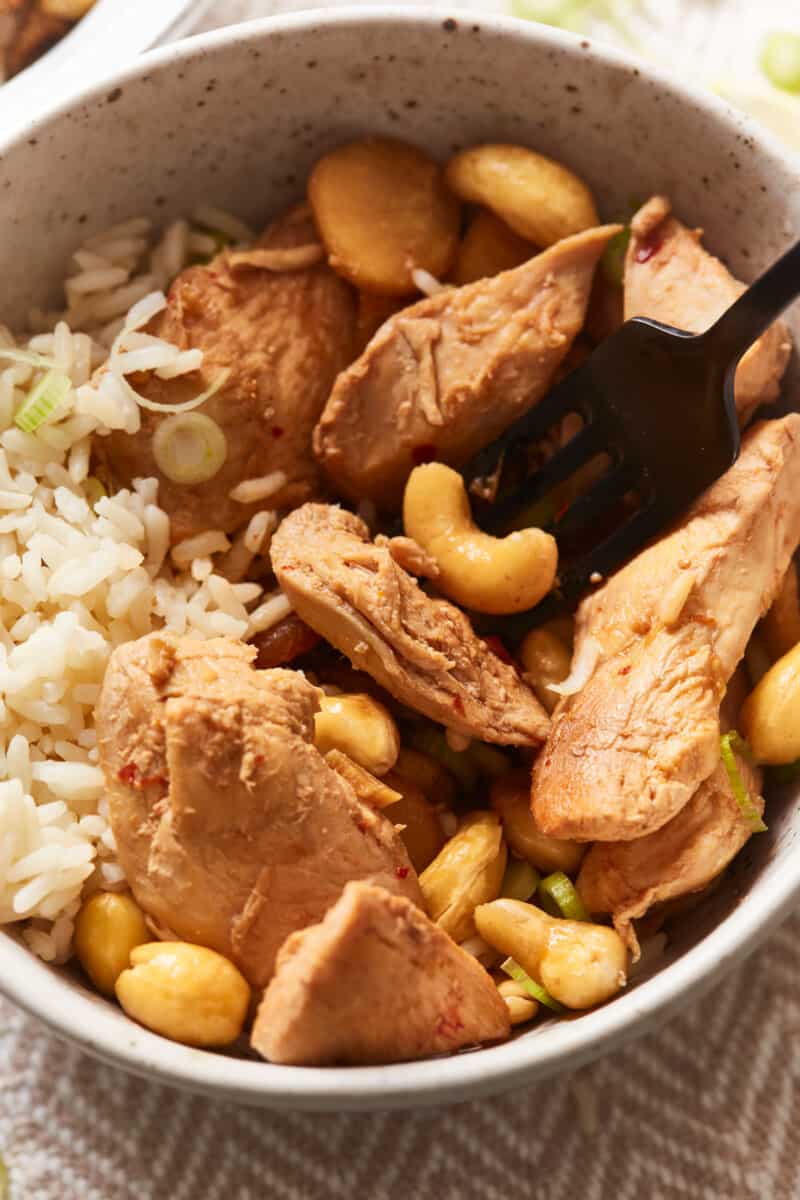 How to Store and Reheat Cashew Chicken
Store leftover crockpot cashew chicken in an airtight container in the refrigerator for up to 3 days. Reheat on the stovetop over medium-low heat until warmed through.
How to Freeze Chinese Cashew Chicken
Freeze crockpot cashew chicken in an airtight container or Ziplock bag for up to 3 months. Let thaw overnight in the refrigerator before reheating.
What to Serve with Easy Cashew Chicken
I love to serve my cashew chicken with rice, scallions, and an extra sprinkling of cashews on top. It's simple and delicious! Other sides that would go well are broccoli, green beans, roasted veggies, or vegetable lo mein.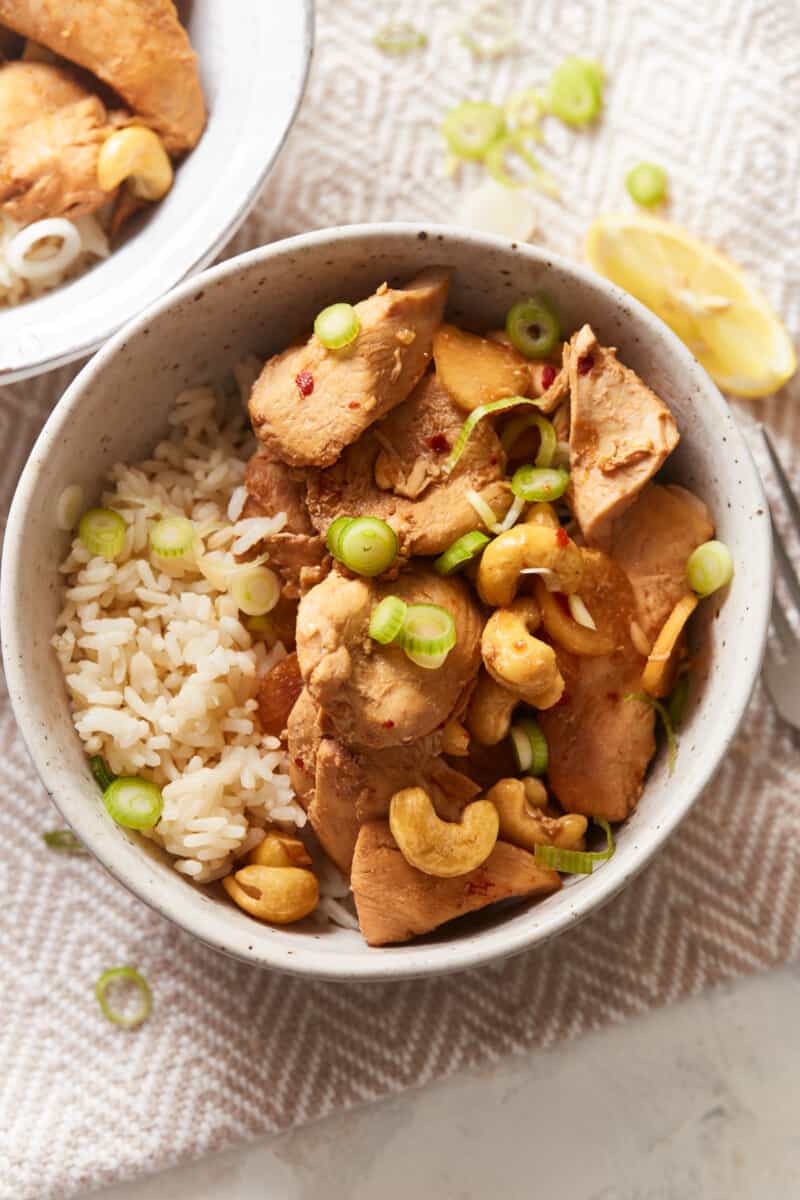 More Asian Chicken Recipes We Love