Slow Cooker Cashew Chicken, an easy and delicious dinner everyone can enjoy! Instead of ordering out, make this in your crockpot. You won't be sorry.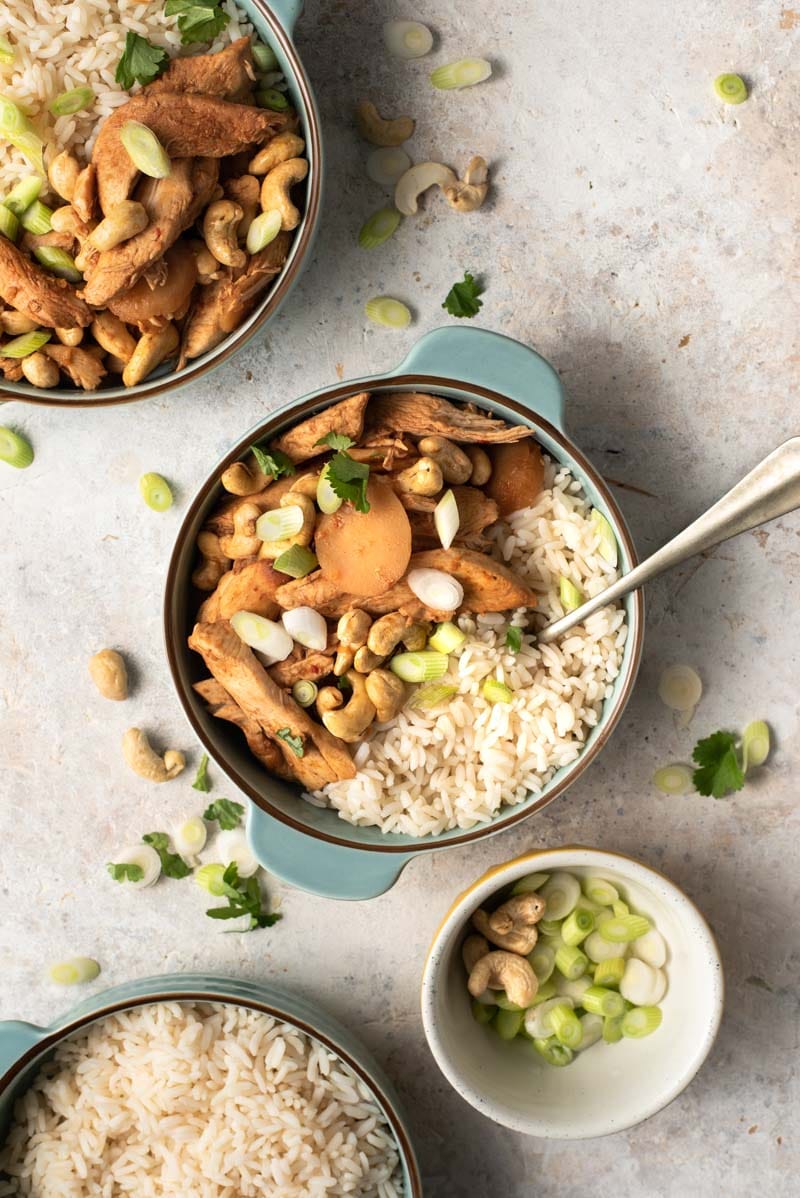 This Cashew Chicken recipe is the easiest way to get your Chinese takeout fix minus the guilt or bloated feeling afterward!
This recipe is made with simple and easy ingredients that you probably already have in your kitchen and what's even better is that there is basically zero prep time involved apart from browning chicken…and if you consider that work you are lazier than me (and that's saying something!).
Ingredients for Making Cashew Chicken
Chicken – boneless and skinless tenders sliced into small strips
Canola oil – to brown the chicken
Soy sauce – adds seasoning
Apple cider vinegar or rice wine vinegar – a key ingredient for an authentic flavor
Ketchup – adds tang and sweet flavors
Dark brown sugar – for sweetness
Minced garlic & ginger – make sure to use fresh for the best flavor and don't use ground powder
Red pepper flakes – I love adding a little spicy kick to this recipe but you can add more or less to your preference
Diced water chestnuts – adds freshness
Cashew halves optional – gives a nice crunch and texture
Most of the ingredients on this list are store cupboard ingredients such as ketchup, brown sugar, soy sauce and vinegar so it couldn't be easier and they all add a TON of flavor.
Tip: A few essential flavors here are ginger, garlic and vinegar so try not to skip those and don't sub them for ground garlic or ginger you just won't get the same authentic taste.
How to Make Slow Cooker Cashew Chicken
Heat oil on medium high heat in a large skillet. Add chicken and cook each side for 2 minutes until browned.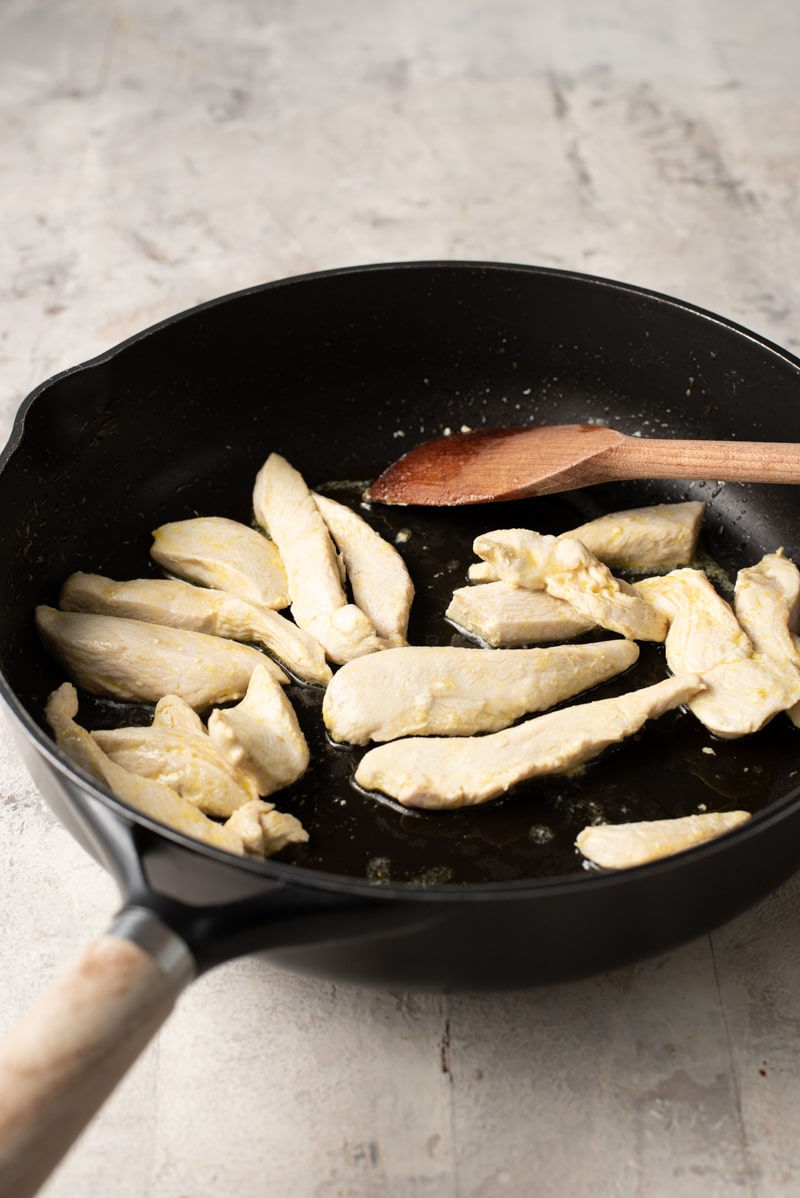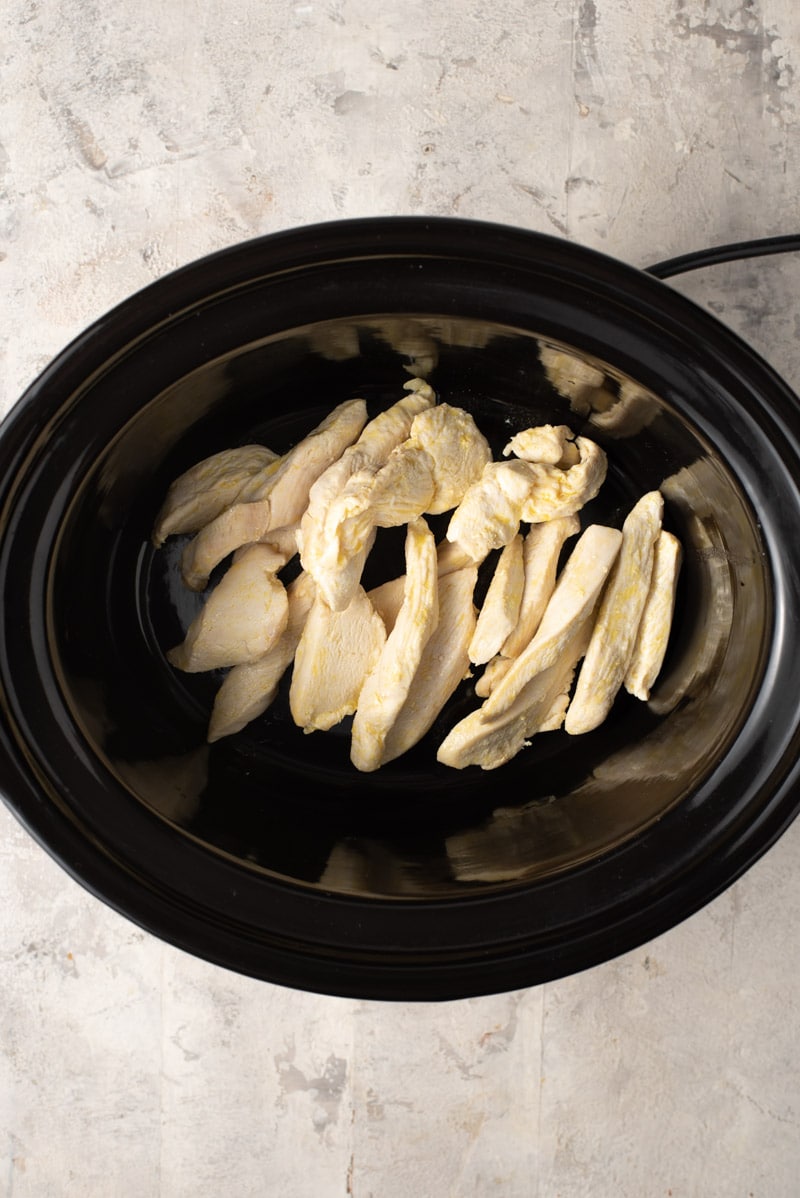 Place chicken in the slow cooker and top with soy sauce, vinegar, ketchup, brown sugar, garlic, ginger, red pepper flakes, and water chestnuts (optional). Stir to combine.
Tip: Water chestnuts are optional but they add freshness and texture! I don't know why I love them so much in Cashew Chicken, but I feel they're a must. Extra crunch is never a problem!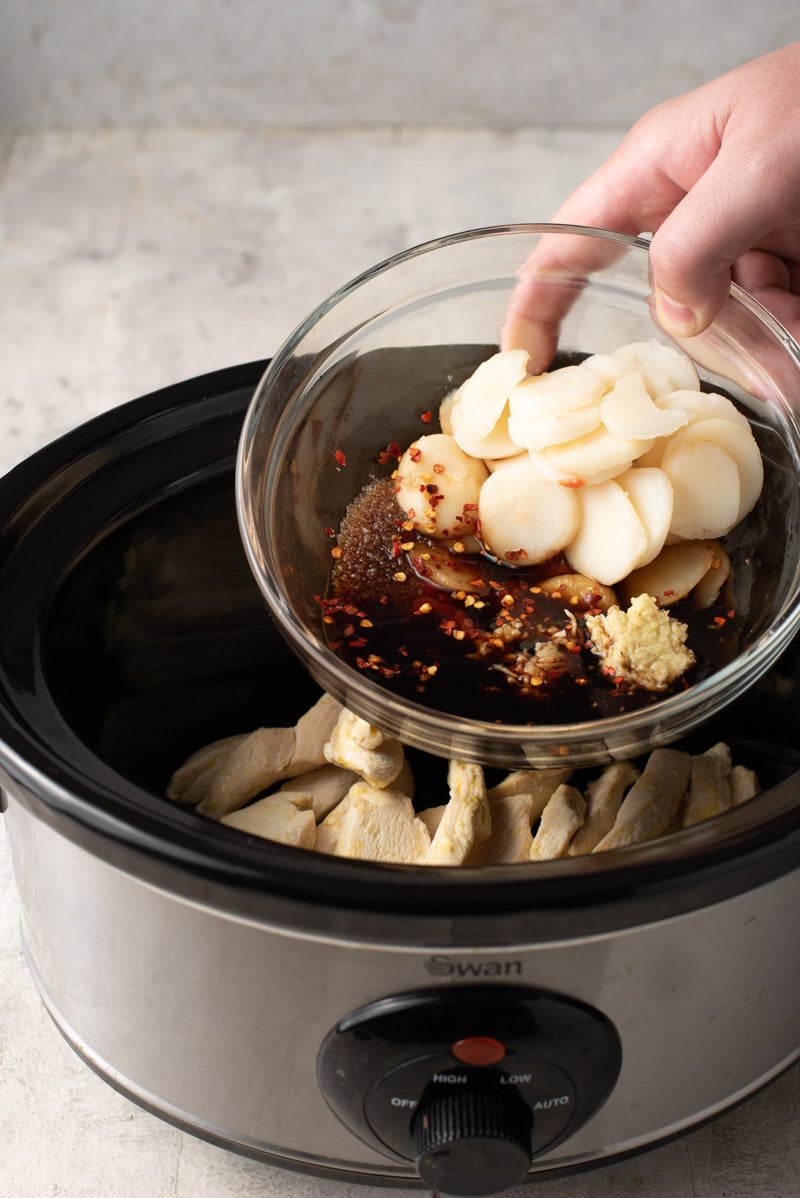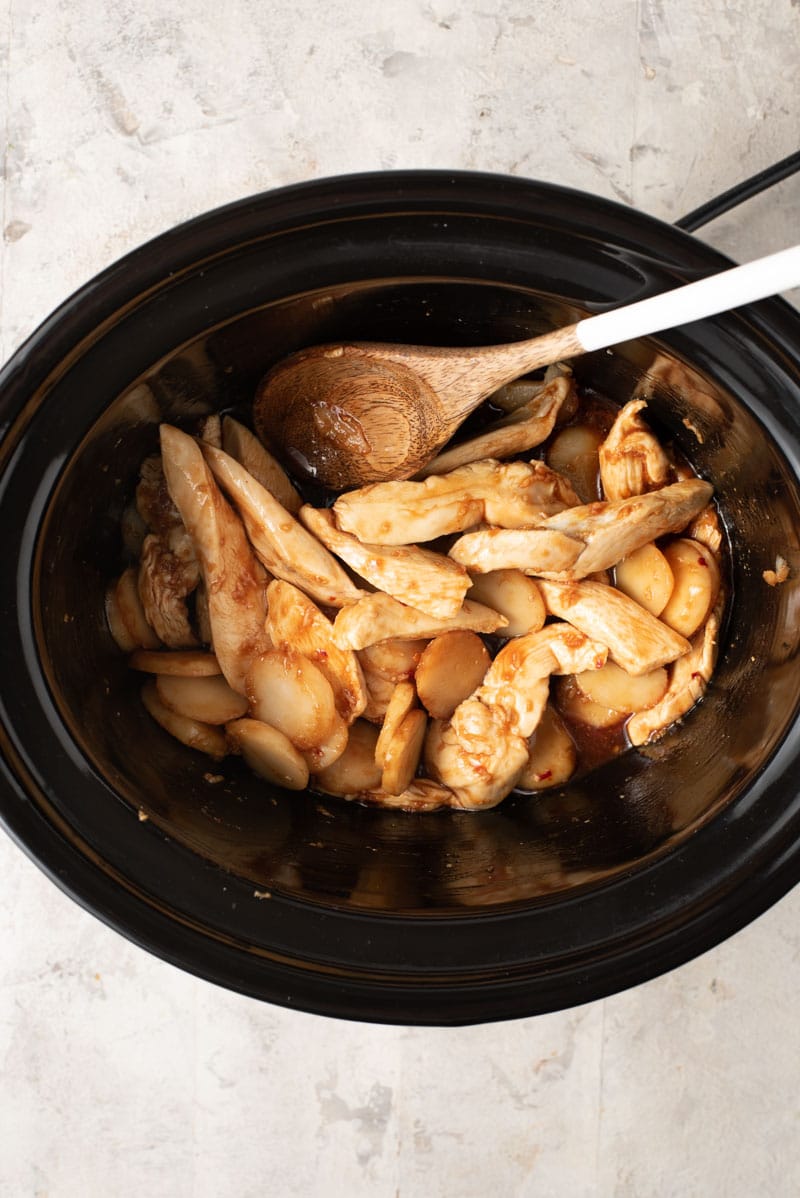 Cook for 2 hours on high or 4 hours on low. Minutes before done, stir in cashews. Serve over rice. Enjoy!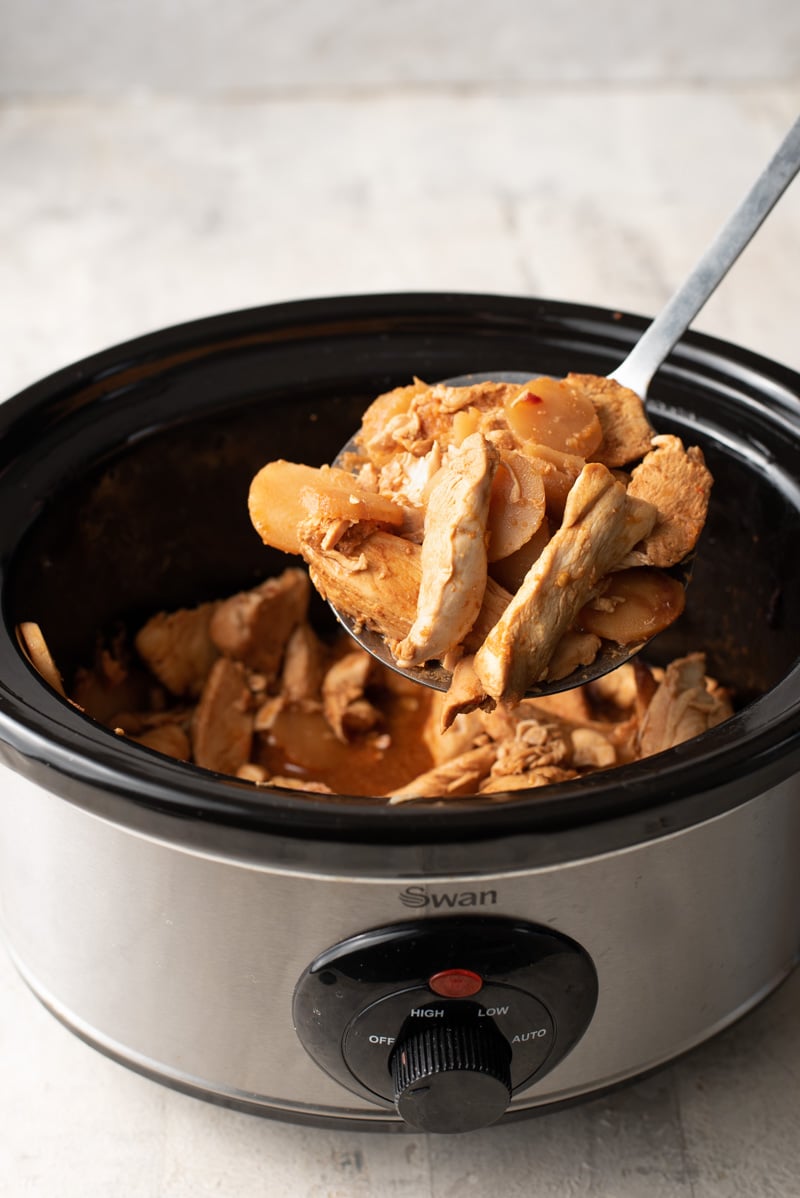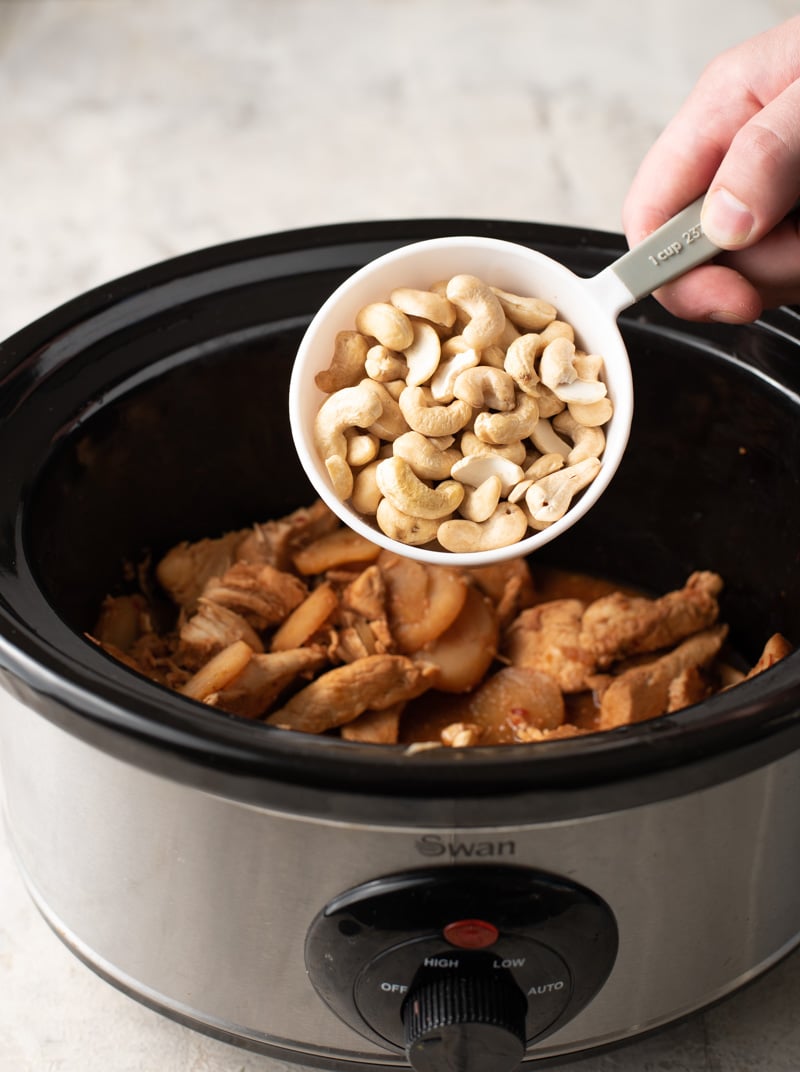 What to Serve with Cashew Chicken
I love to serve my cashew chicken with rice, scallions and an extra sprinkling of cashews on the top it's simple and delicious! Other sides that would go well is steamed broccoli or any roasted or stead veggies or Asian Noodles.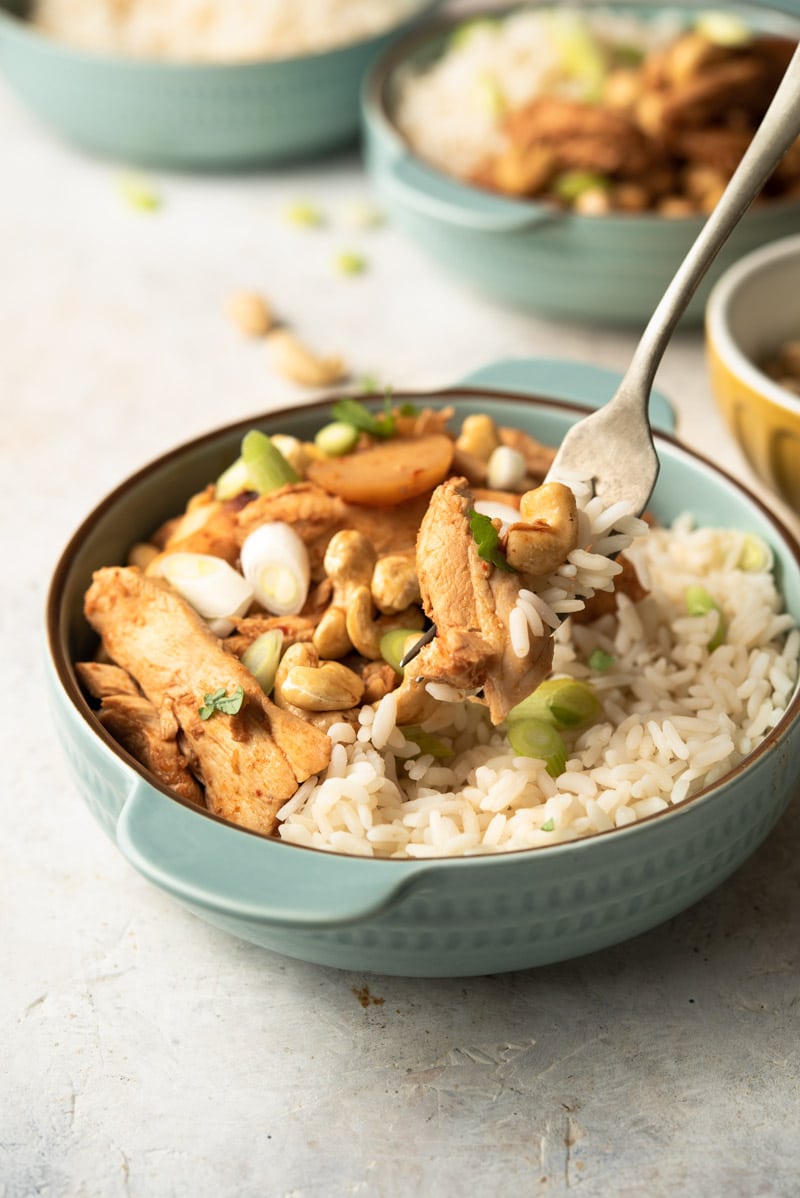 Top Tips for Making Slow Cooker Cashew Chicken
Don't be tempted to add more liquid it doesn't seem like much in the slow cooker but it's enough
You can also use chicken thighs in the recipe (boneless and skinless)
Make sure to add the cashews in at the end so they have crunch and bite to them
Add more or less red pepper flakes to your preference
Use this as an easy meal prep recipe and portion it out for dinner every night.
More Chicken Recipes You Might Like: