This Bourbon Slush cocktail drink is loved by all who come to my house on Christmas Eve. We have this Orange Bourbon Slush every year and it's such a fun and easy drink recipe, you have no reason not to try it!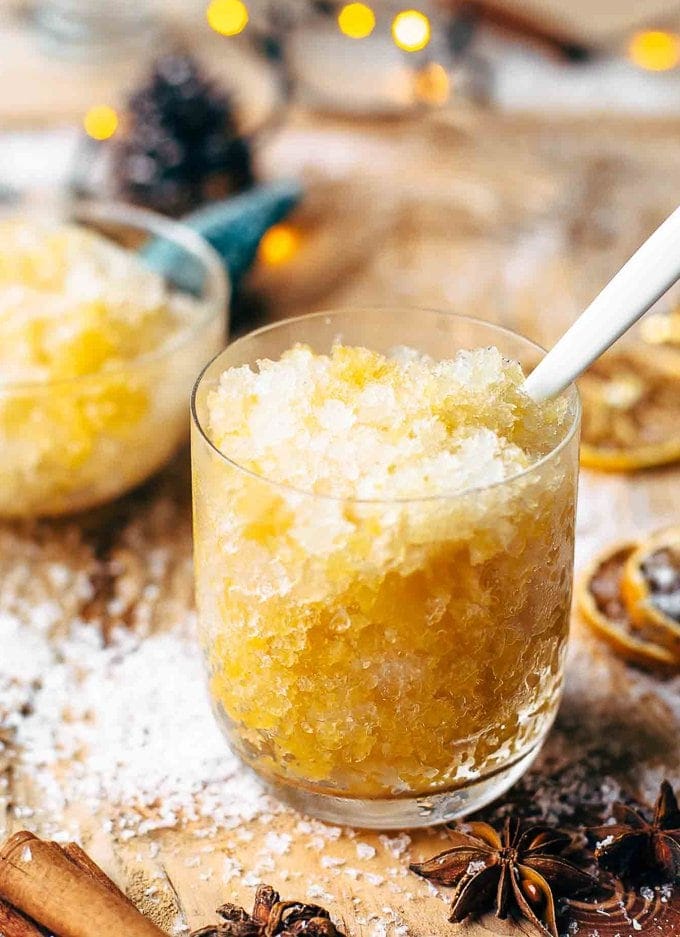 Bourbon Slush
Orange Bourbon Slush is a fun and delicious treat that has become a holiday tradition in our family. This slushie cocktail will put a smile on everyone's face!
This Orange Bourbon Slush is a Christmas Eve tradition in my family, so I'm really excited to share it with all of you this year!
My grandma started making this delicious concoction back in 1989, and she made it every Christmas Eve when we were growing up. Of course I didn't get to DRINK any of it until I was 21, but I know the adults enjoyed it for many years before me!
I love having fun drinks, cocktails, and treats during the holidays. I have so many to choose from, but this bourbon slush always makes an appearance around Christmas time!
It's the perfect mixture of orange juice, lemonade, tea, and bourbon, in an icy, slushie form. It's like a dessert and drink in one. And even though we like them for the holidays, an icy treat like this would taste just as good during the heat of summer.
Make these cocktail slushies this Christmas season, and it just might become a new holiday tradition for your family too!
This Orange Bourbon Slush recipe is a fun icy treat that everyone will love. The orange flavor mixed with Bourbon is just perfect!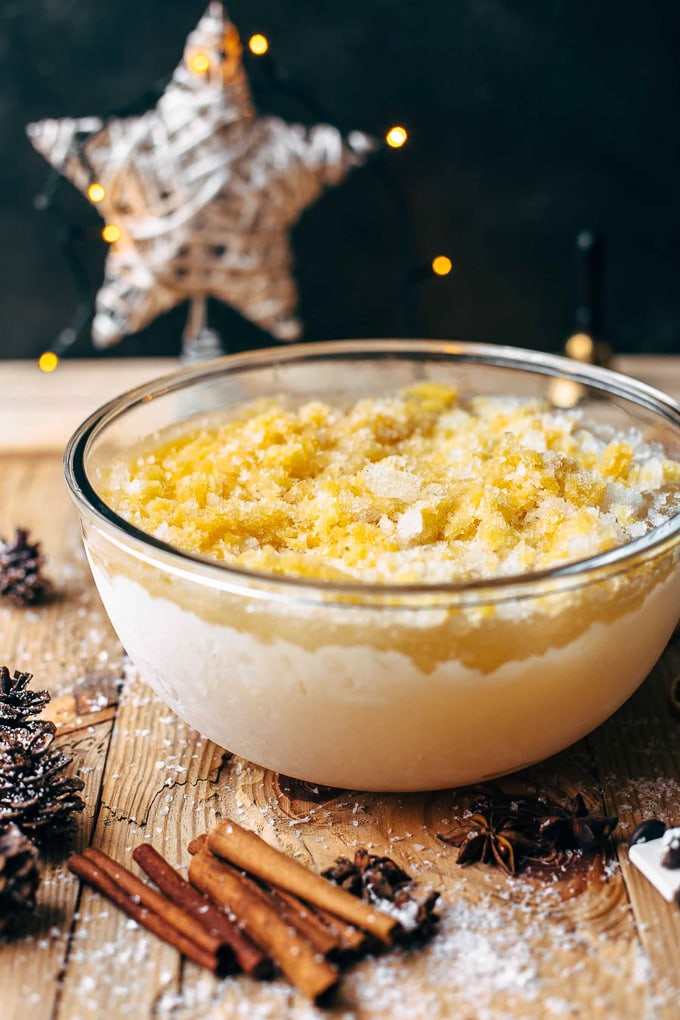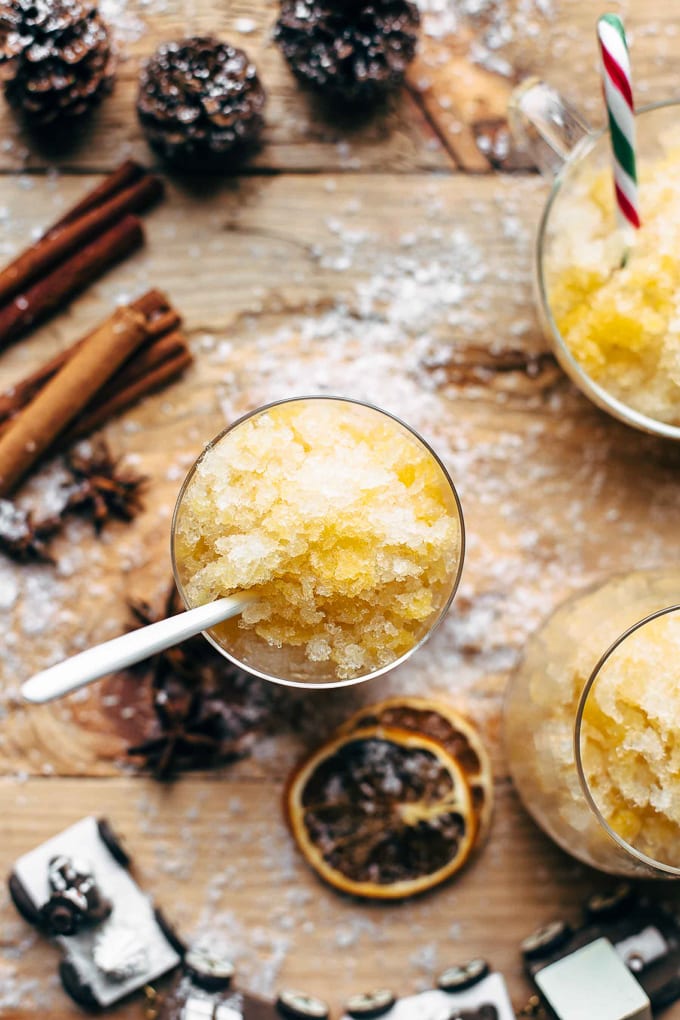 Easy Orange Bourbon Slush Recipe
I remember when my grandma used to give me a little taste of the orange ice when I was younger. I knew that someday, I'd be able to drink these delicious orange slushes on Christmas Eve along with everyone else!
This Bourbon Slush drink is so refreshing and festive, and it's easy to make. It's the perfect compliment to my other favorite Christmas drink, the Caramel Apple Hot Toddy.
I love having both hot and cold drink options for holiday party guests so they can choose. But everyone ends up with a bit of this icy treat, because it's so hard to resist!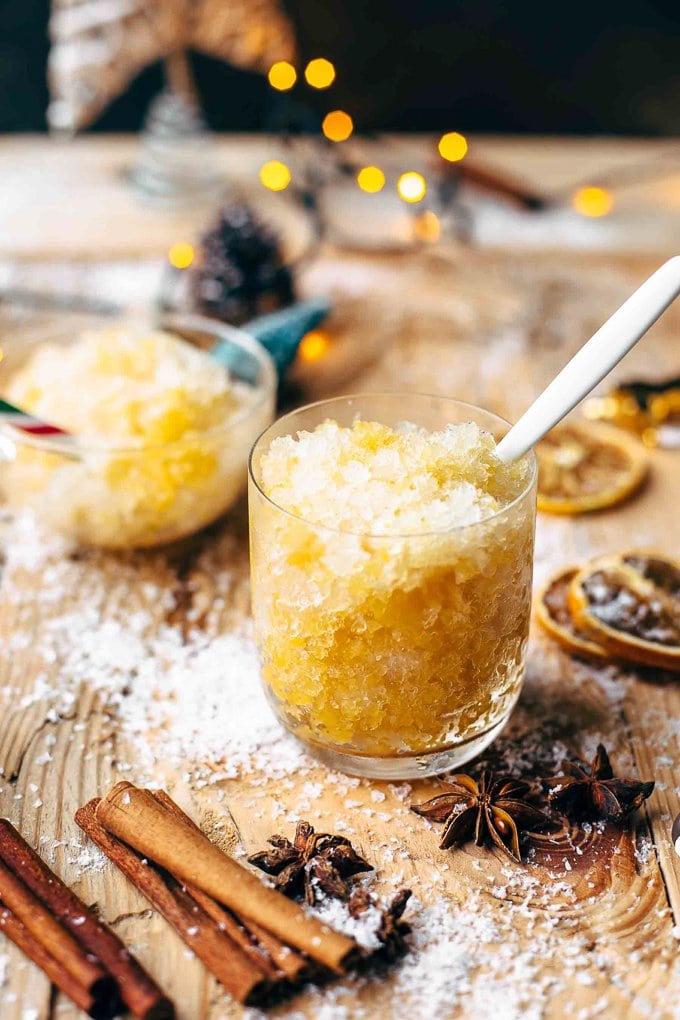 How to Make this Orange Bourbon Slush
This Orange Bourbon Slush recipe is SO easy. Maybe that's why I like cocktail recipes so much, because they're always so easy to make…This slush needs to be frozen overnight, so you do need to plan ahead with this recipe, but it takes almost no time at all to prep.
Then you can just pull it out of the freezer before your guests arrive, and it's ready to serve!
Let the cans of frozen orange juice and lemonade thaw before you begin.
Dissolve the sugar in warm water.
Add the rest of the ingredients (water, lemonade, orange juice, tea, bourbon) into the sugar water, and stir until fully combined.
Place the mixture in a freezer safe container, and let it freeze overnight.
Take it out of the freezer about 30 minutes before serving so it can begin to thaw and get slushie.
Simple as that!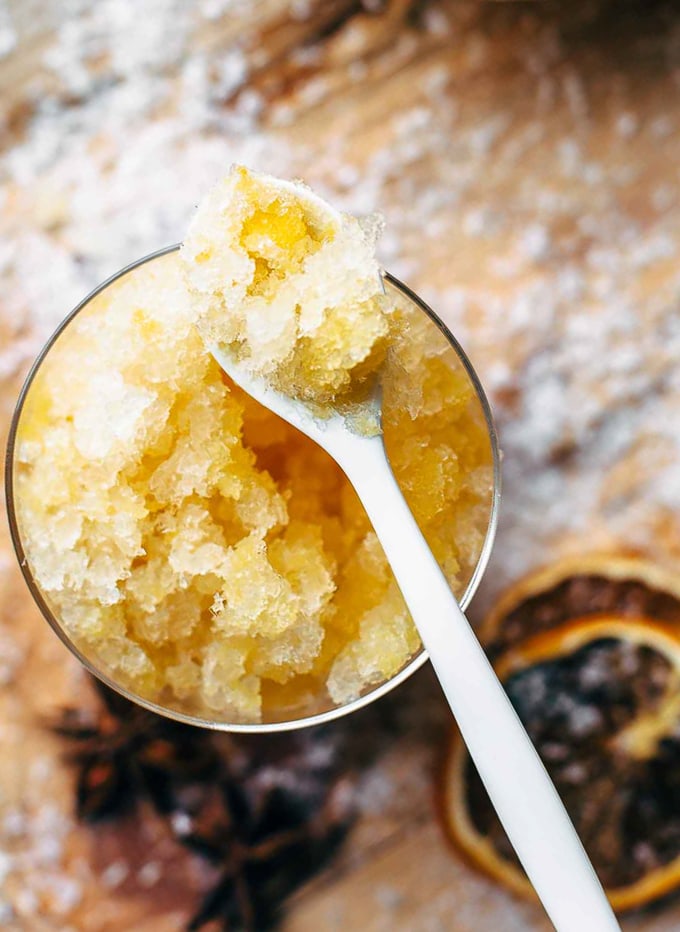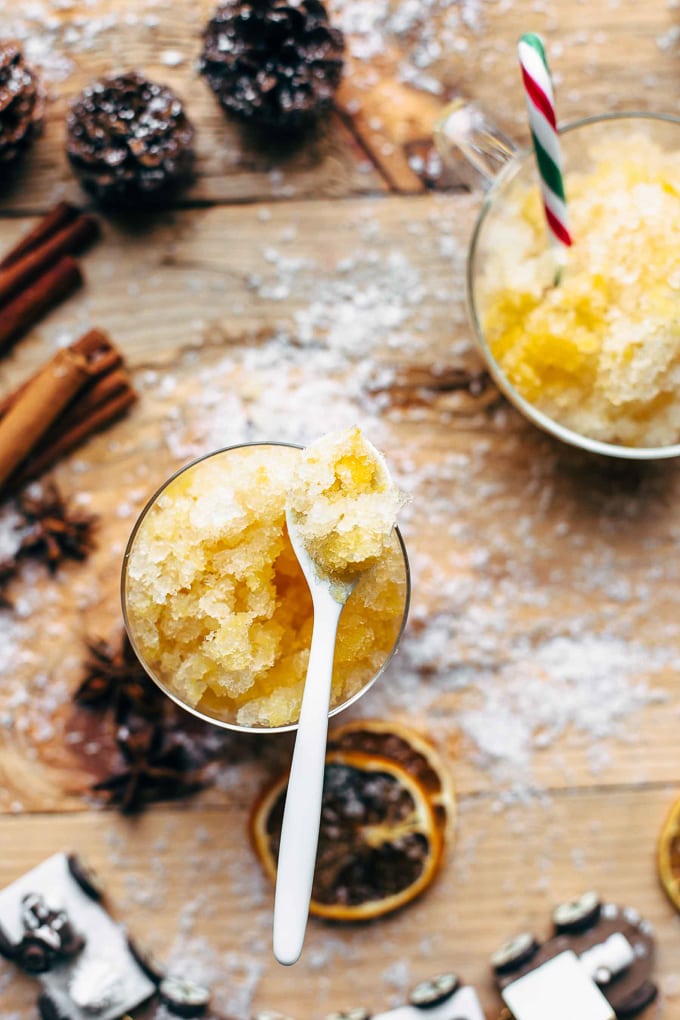 Holiday Cocktail Recipes
Cocktails are very important during the holiday season. I mean, it wouldn't be a holiday party without a drink or two, right?
We've got the holiday punches, the hot toddys, the eggnog, the spiked hot chocolate, the fancy drinks, the simple drinks….I've got a holiday cocktail recipe to suit everyone. Here are some of my favorites: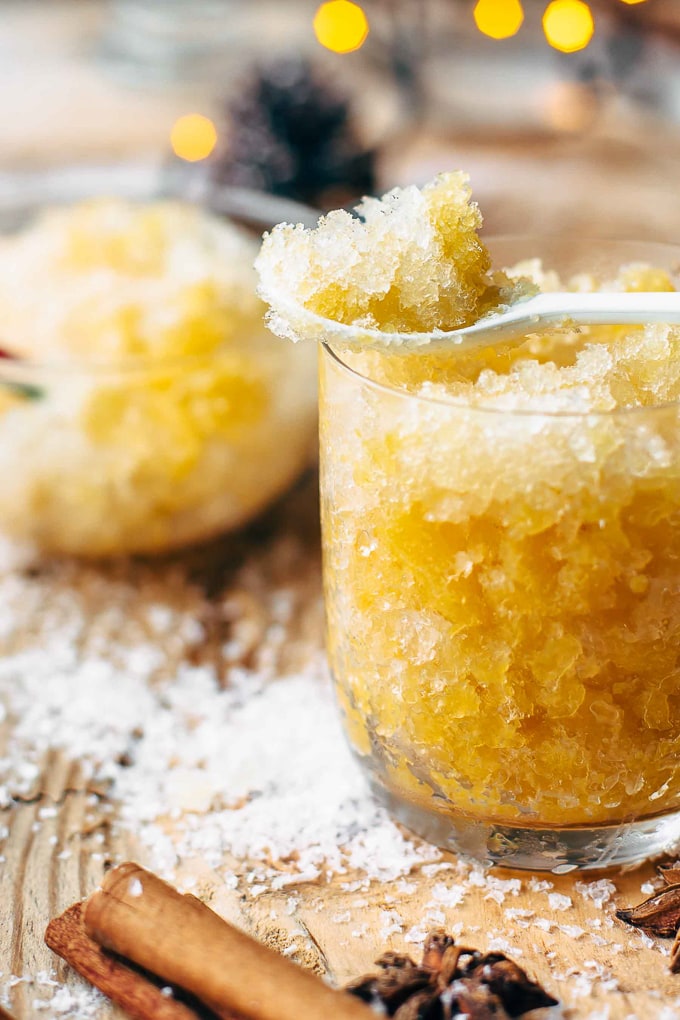 This Orange Bourbon Slush is a holiday tradition for us, and I hope it can become a tradition for your family too! If you prefer rum, just replace the bourbon and make it a rum slush instead. Have a happy holiday!
If you make this recipe be sure to upload a photo in the comment section below or leave a rating. Enjoy! You can also jump to recipe.