Chocolate Hot Buttered Rum is my absolute FAVORITE hot rum drink for the holidays (or all winter). This easy hot buttered rum recipe tastes like liquid brownie batter!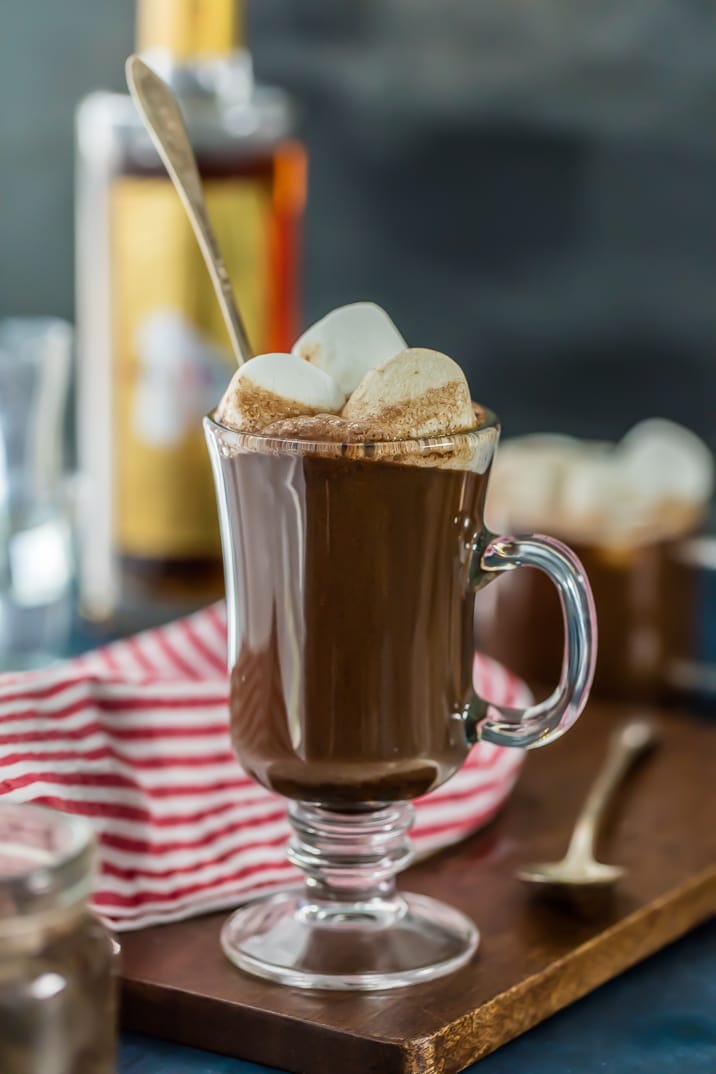 Hot Buttered Rum Recipe
Hot Buttered Rum is a classic winter drink, but this CHOCOLATE hot buttered rum recipe will blow your minds. So easy and so delicious!
On Thursday I posted Chocolate Hot Buttered Rum Mix, an awesome homemade gift idea for the holidays. Now it's time to use it to make our drinks!
Everyone has probably tasted Hot Buttered Rum, but have you tasted CHOCOLATE HOT BUTTERED RUM? I bet not. Well you are in for a BIG treat you guys. I don't say this lightly, but this might be the absolute best winter cocktail I have ever made. GASP! I'm serious.
I have a lot of amazing hot drinks for the holidays, but this one has kind of changed the game for me. This chocolate hot rum drink is just so satisfying. Warm, chocolatey, with just the right amount of rum! I'm making this a holiday tradition, and I love that I can share it with everyone I love by making them their own mixes to take home.
This Chocolate Hot Buttered Rum recipe will warm up your holidays! Start with an easy homemade mix, and just add rum & water. Done!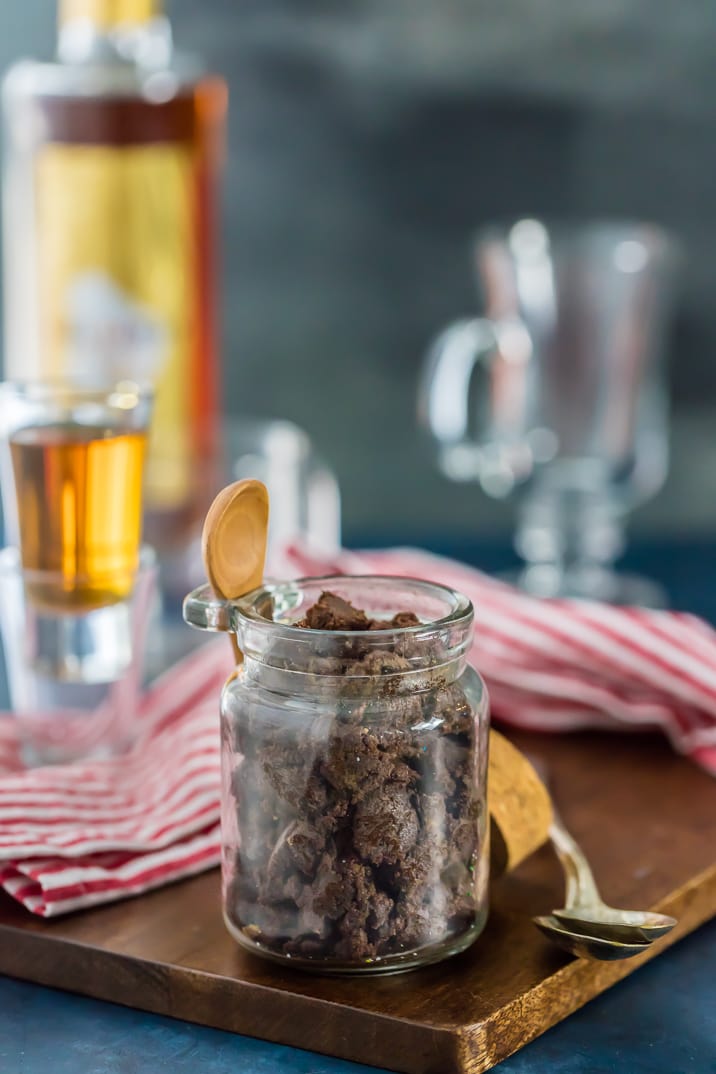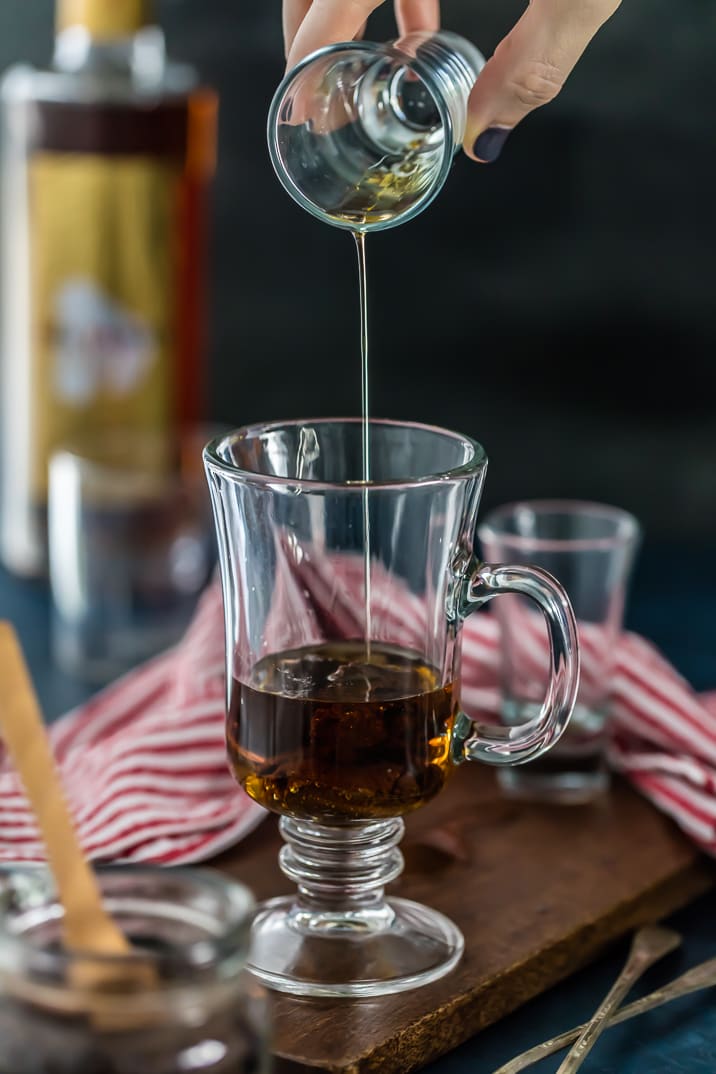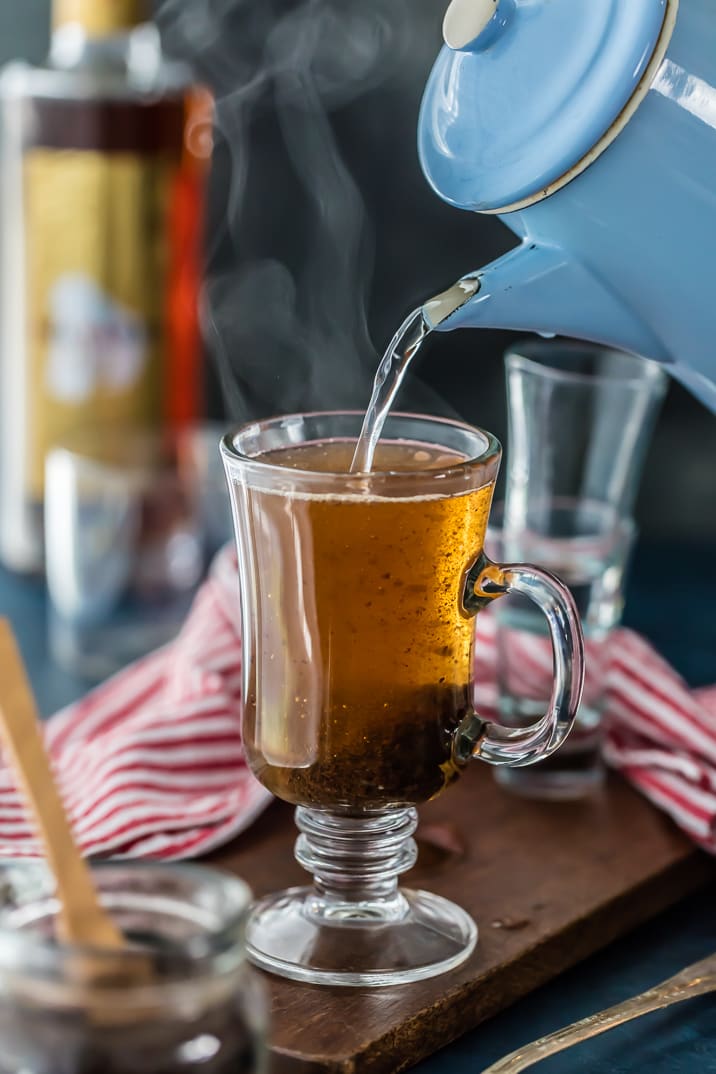 Easy Hot Rum Drink
So I know earlier I stated that everyone has tried Hot Buttered Rum…but to be honest I hadn't. I always assumed it was too strong of a cocktail for me. I like my drinks girly. Well…I have been living in the dark! Maybe adding the chocolate won me over, but I am SO obsessed with this drink. Obsessed might not be strong enough. Can I sip it for ever? For every occasion? Even in the summer? I just might. Chocolate Hot Buttered Rum for the win!
The great thing about the homemade mix is that you can FREEZE IT. You can keep this gold in your freezer and bring it out whenever you need your fix of warmth and holiday cheer. It's like Hot Chocolate on steroids. It's amazing!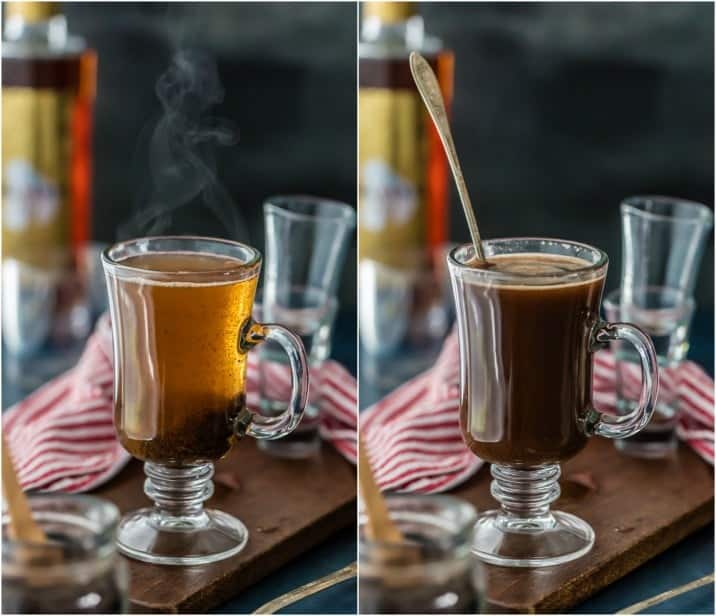 Hot Buttered Rum Ingredients
Hot buttered rum is made from just a few ingredients. For this recipe, you just need the pre-made mix, plus rum and hot water. The mix is made from butter, dark brown sugar, cinnamon and cocoa powder. Not much to it, but it's SO flavorful. Like hot chocolate but with rum….and butter. I guess the name of this drink is really fitting, huh?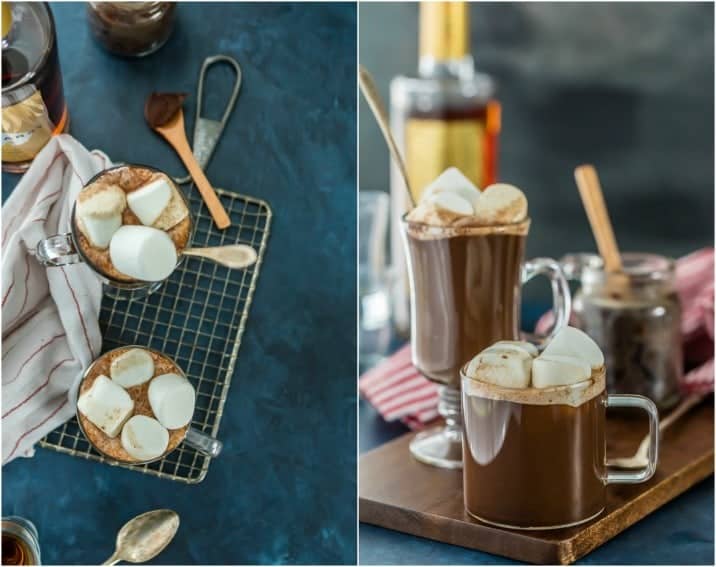 How to Make Chocolate Hot Buttered Rum
Well, since we're starting with a homemade mix, the part where we make the actual drink is SO simple. And that's exactly the way I like it. Grab your mix out of the refrigerator, and 5 minutes later you've got your hot rum drink ready to serve!
Here's a quick rundown of the recipe:
Grab your glass and put 2-3 tablespoons of the mix in.
Pour in about 2 1/2 ounces of rum.
Top with 3 ounces of boiling hot water.
Stir it all together!
Top it off with marshmallows (whipped cream would also be delish).
This drink is so chocolatey, so warm, and so cozy. Exactly what we all need during the holiday season.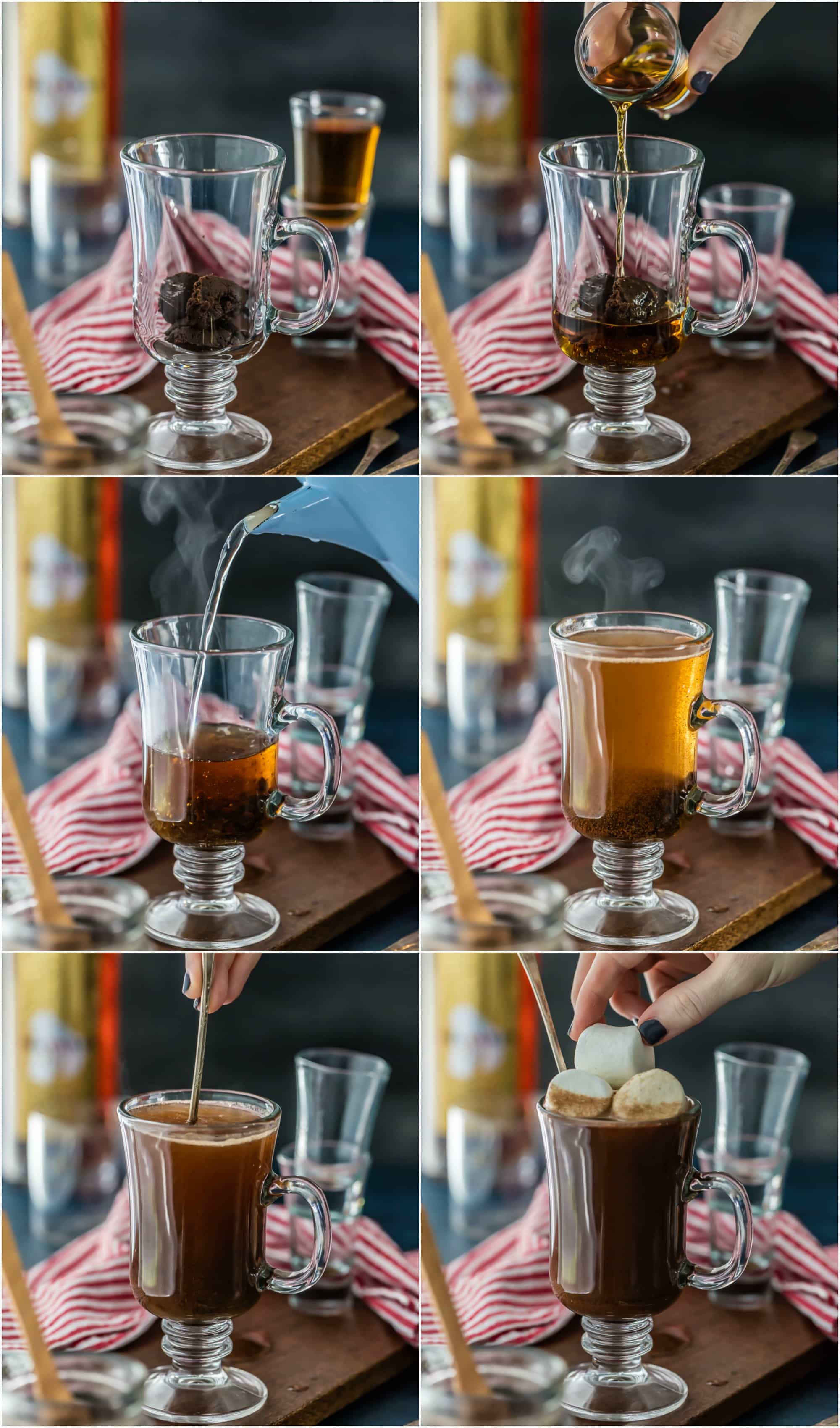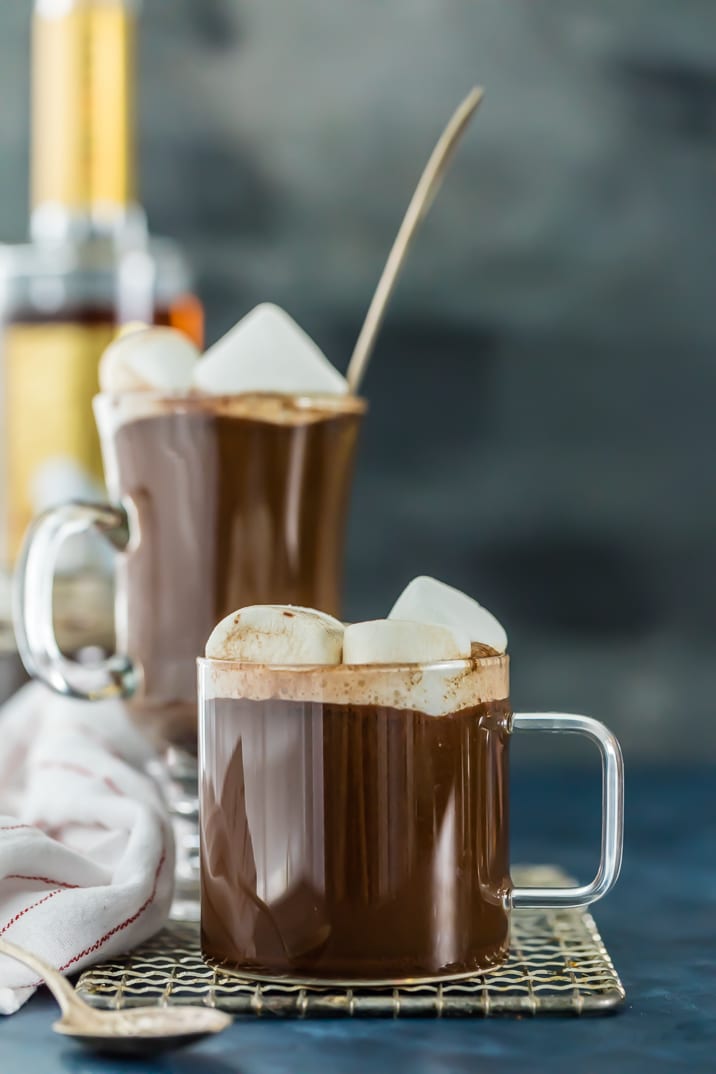 So, let's recap. MAKE THIS MIX for yourself and all of your friends this holiday season. Keep it in your fridge or freezer for anytime you need a warm up. Sip. Feel good about life. Repeat. Enjoy your Hot Buttered Rum! Cheers!
If you like this recipe, try these other hot drink recipes for the holidays:
If you make this recipe be sure to upload a photo in the comment section below or leave a rating. Enjoy!