This Broiled Grapefruit Margarita is the best Cinco de Mayo cocktail recipe! A great tangy-sweet refreshing margarita recipe, perfect for any Summer day, and especially Cinco de Mayo!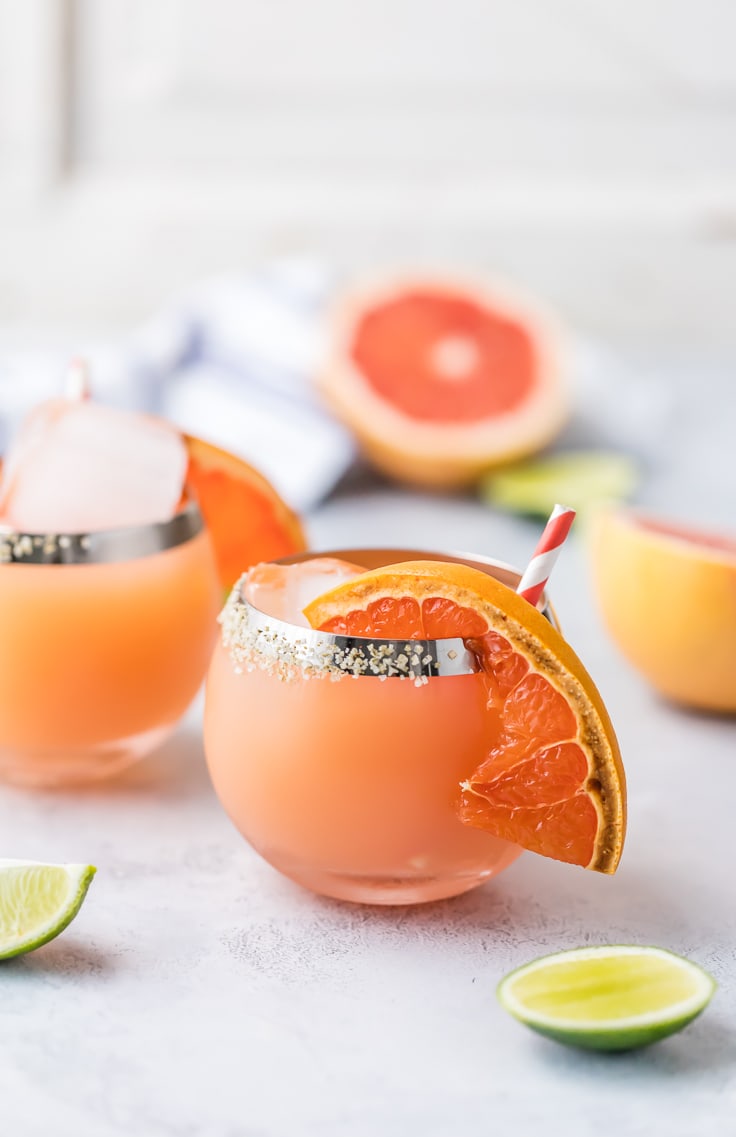 Grapefruit Margarita
These broiled grapefruit margaritas are a favorite for Cinco de Mayo and hot summer days. The taste of grapefruit juice is just so refreshing!
By now, you guys are well aware that I love margaritas. Is there a better cocktail out there? They're just so refreshing! Well, us margarita lovers are in luck because the holiday for tequila is upon us: CINCO DE MAYO! Can you believe it?
In the past couple weeks I've posted a couple quick favorites, Simple Skinny Margaritas and Frozen Watermelon Margaritas, but today I post my FAVORITE favorite (they're all my favorite)! BROILED GRAPEFRUIT MARGARITAS!
So refreshing, and the broiled grapefruit adds the perfect flavor. I also just love the color of these, so they look so pretty at parties. The flavor can't be beat!
Celebrate Cinco de Mayo (or any party) with these amazing margaritas!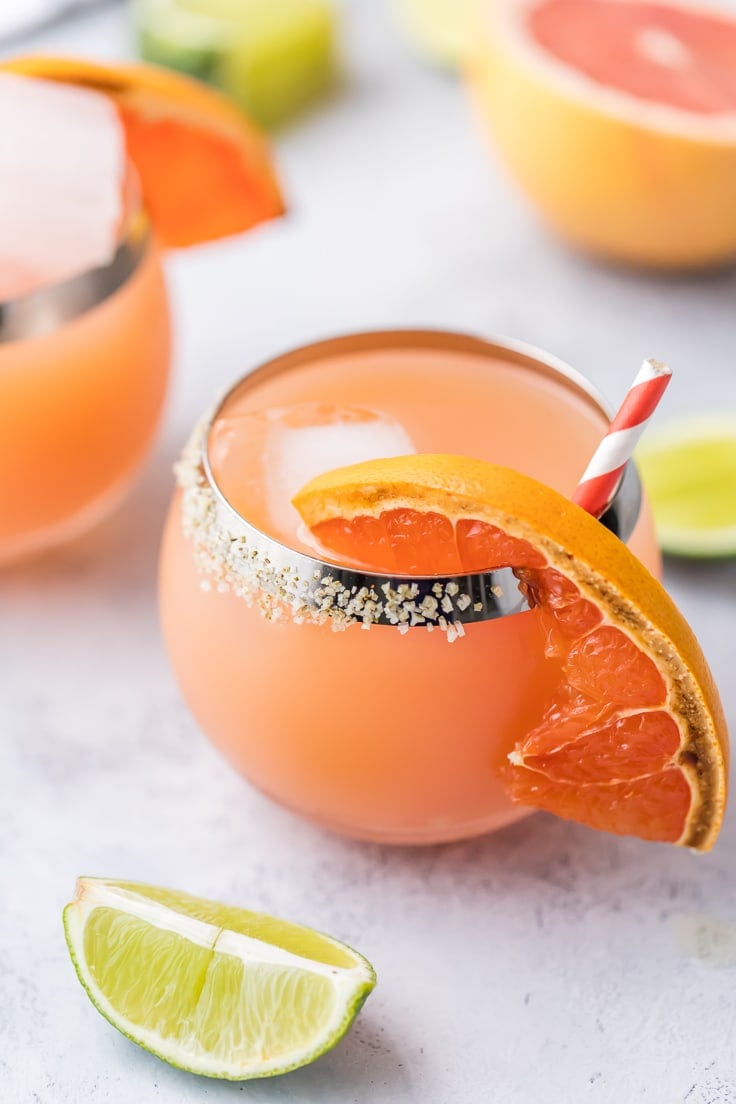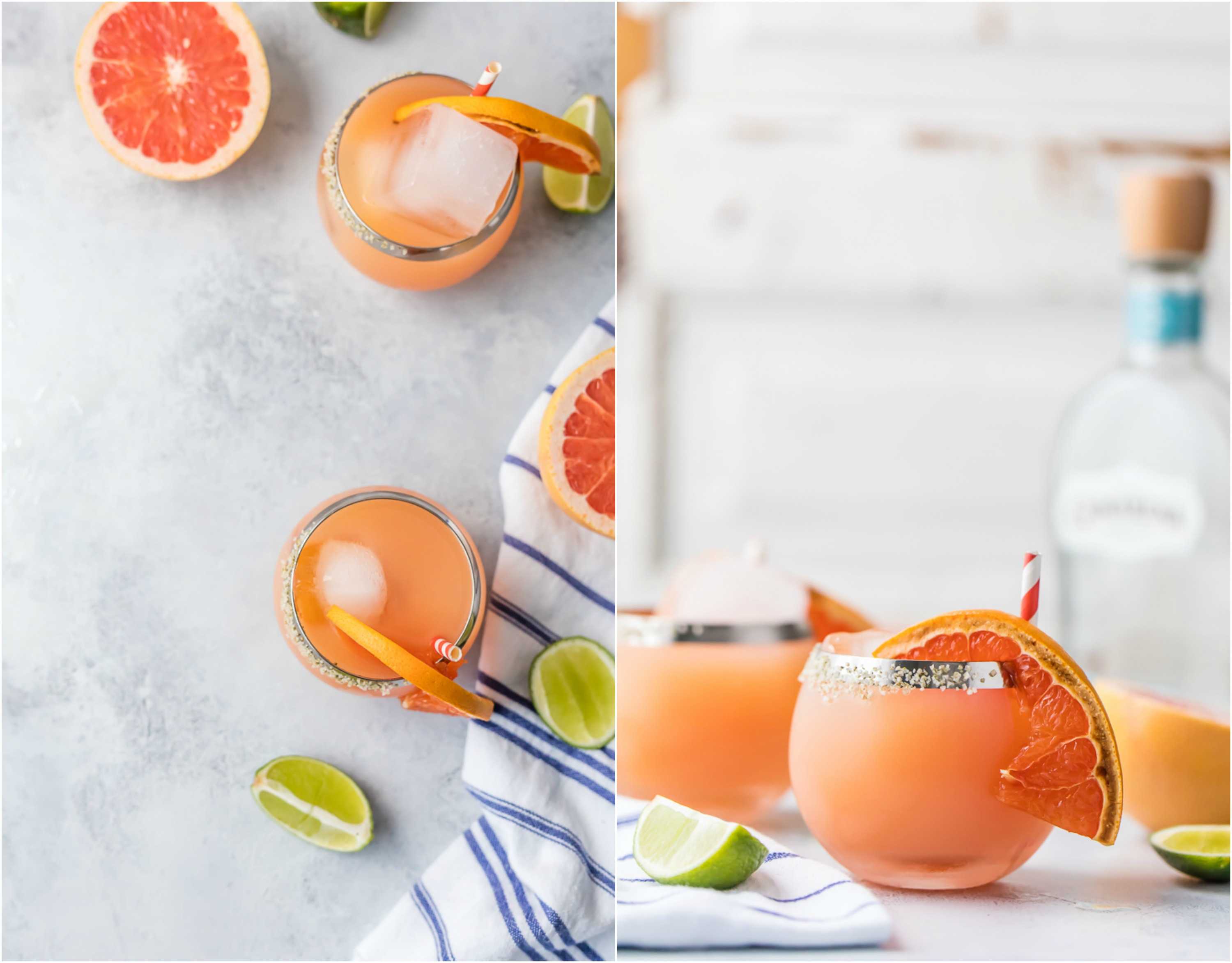 How to Make Grapefruit Margaritas
Preheat your oven broiler.

Slice two of the grapefruits in half. Slice the third into 1/2 inch slices and then again in half. (to create the wedges as shown). Place all the grapefruit on a cookie sheet.

In a small bowl, combine the brown sugar and white sugar. Liberally top the grapefruit halves as well as the slices with the sugar mixture.

Place under the broiler for 8-10 minutes or until the grapefruit is toasted/caramelized.

Remove from the oven, setting aside the sliced grapefruit wedges to use as garnish. Squeeze the grapefruit halves into a cocktail shaker, the juice should equal one cup.

Mix in the lime juice, agave nectar, and tequila. Add in some ice and shake until fully combined.

On a small plate, mix together 2 parts course sea salt to one part dried rosemary. Wet part of each glass and dip in the salt mixture.

Pour the margaritas over ice and garnish with the broiled grapefruit wedges. If topping with the sparkling water splash, do that at the end.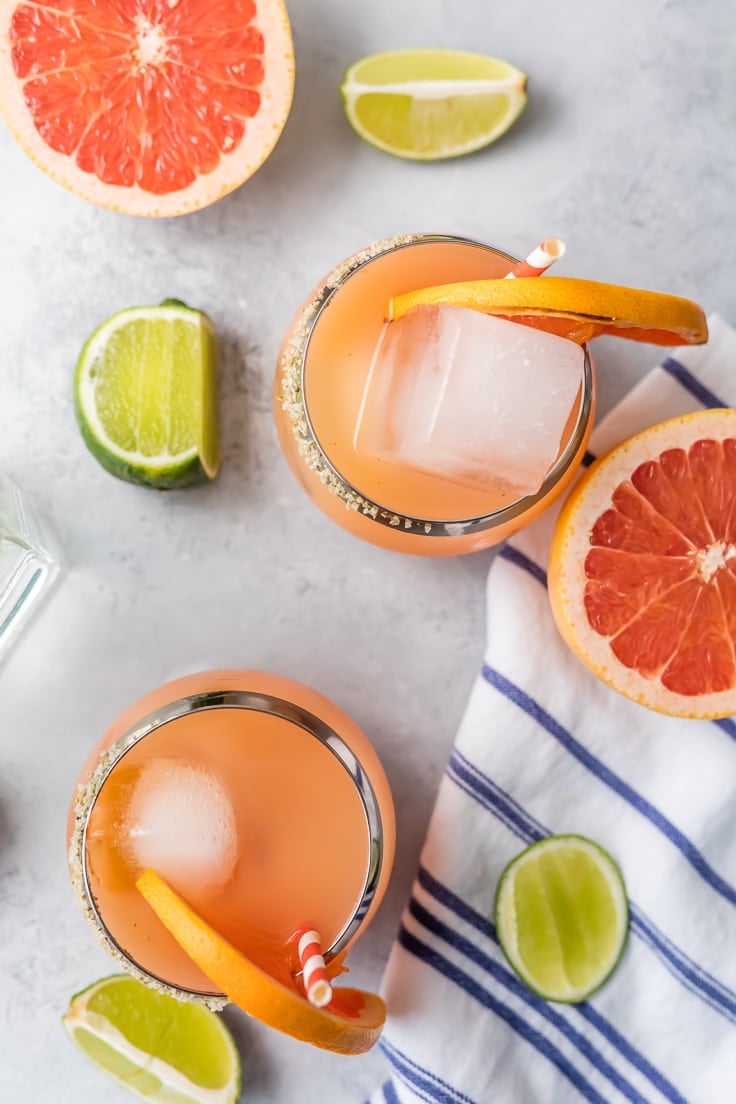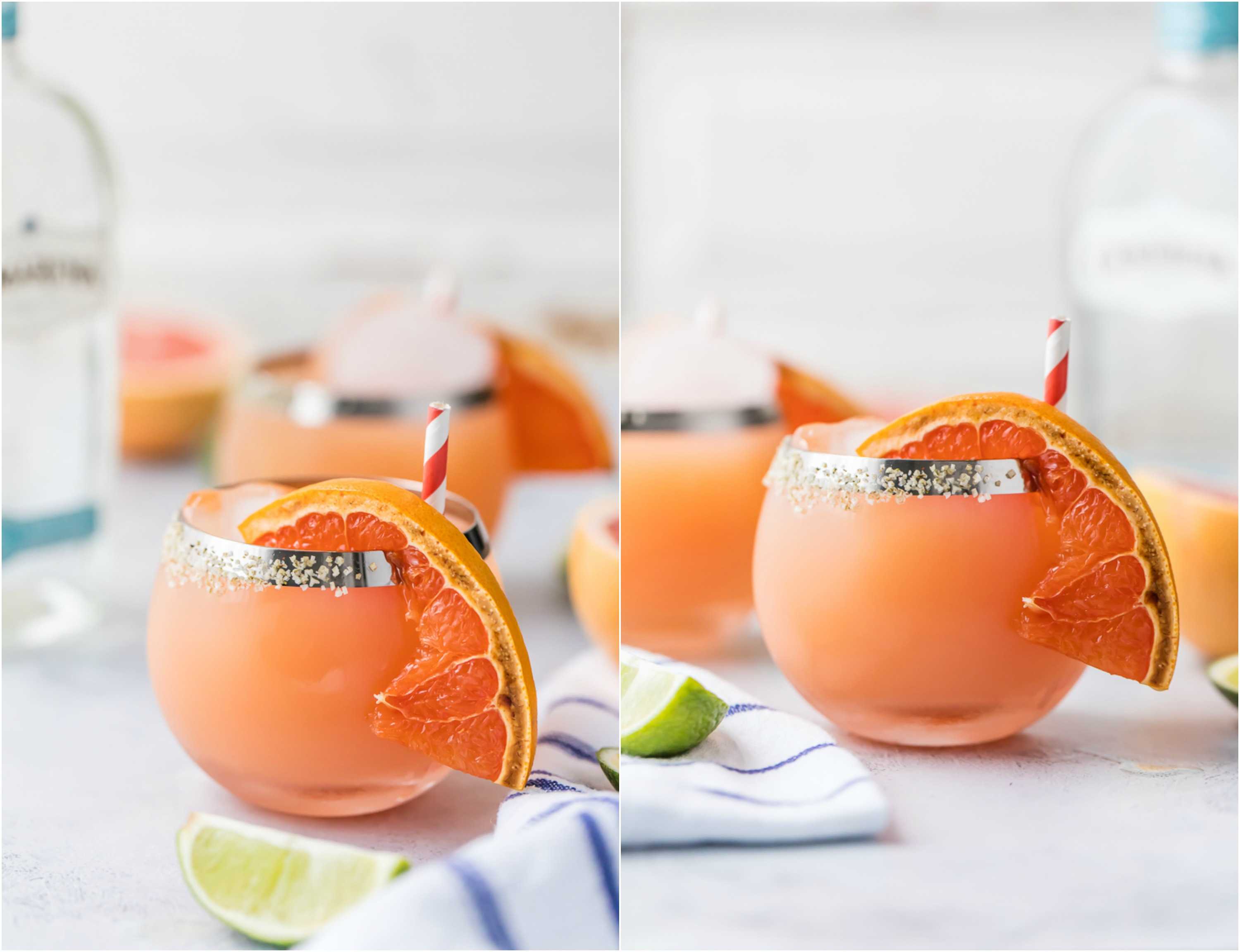 Broiled Grapefruit Margarita
This isn't just your typical run of the mill Grapefruit Margarita though, it's a BROILED Grapefruit Margarita!
It's topped with candied broiled grapefruit and garnished with some rosemary salt. SO GOOD. Good luck drinking just one! It could be a long (and fun) Cinco de Mayo with these!
There's just something I LOVE about grapefruit juice. It's probably my favorite fruit juice. Refreshing, lively, and tart. I think its the perfect mixer for cocktails in general, but especially these margaritas.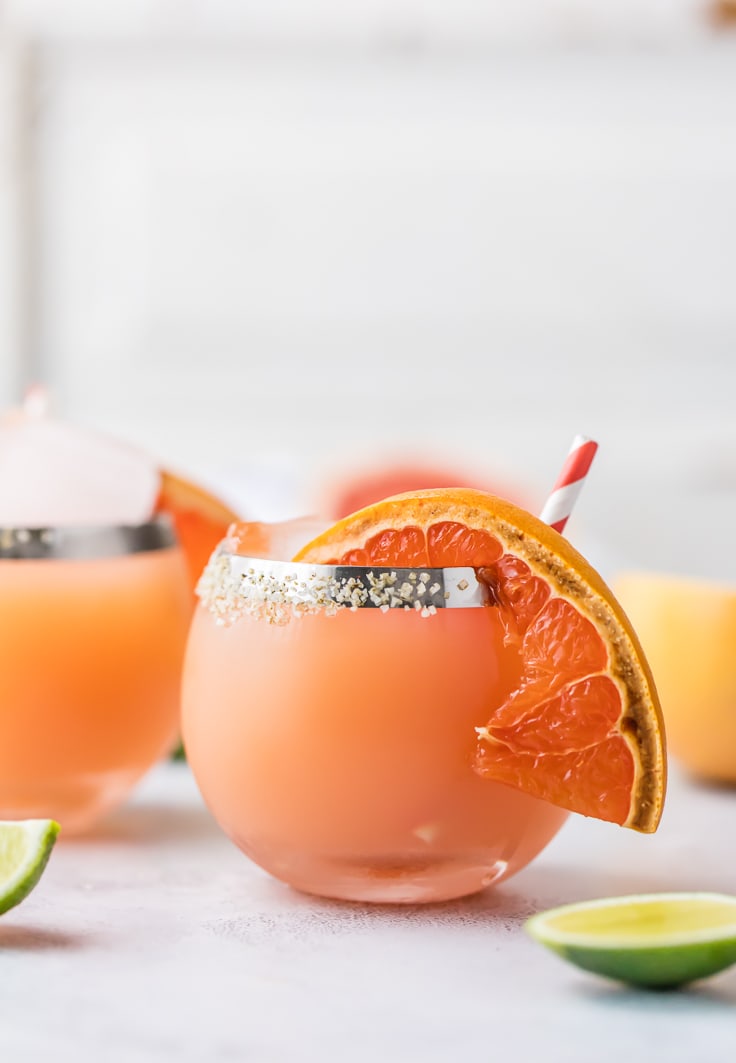 Best Margaritas Recipes
We have compiled all of our best Margarita Recipes in a guide! Be sure to check it out for all our best tips, tricks, barware, variations, and more!
Some favorites:
See the recipe card for details on how to make Grapefruit Margaritas. Enjoy!