This Skinny Margarita Recipe is my go-to simple margarita recipe! With only 5 margarita ingredients (good tequila, fruit juices, agave nectar, and soda) and lots of flavor, this classic margarita is a guilt free cocktail. This Skinny Margarita is just perfect for Cinco de Mayo!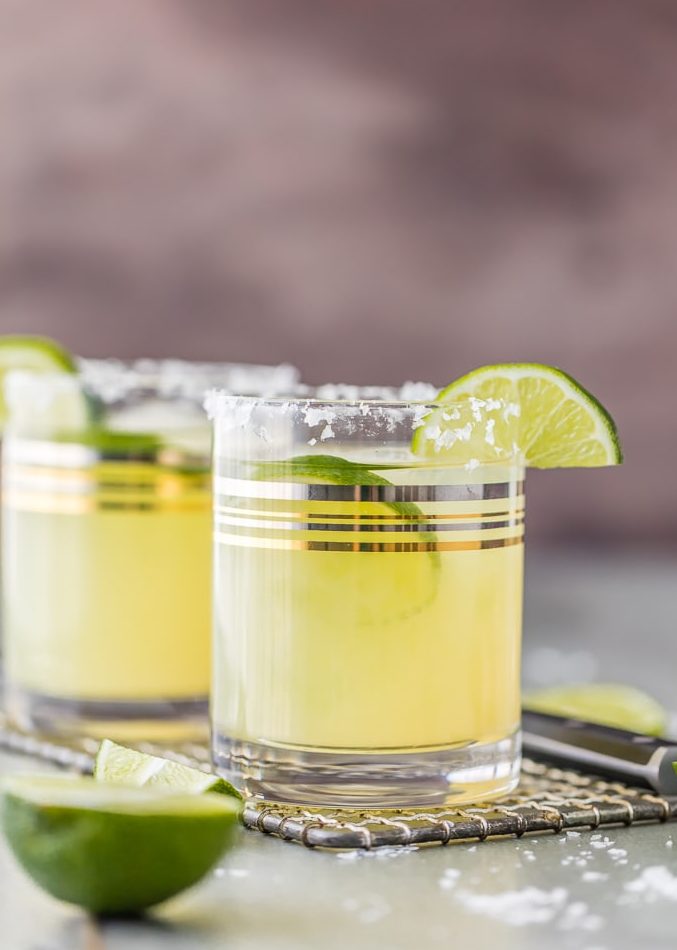 Skinny Margarita Recipe
This Skinny Margarita Recipe is just begging to be made for May 5th. I have SO many margarita recipes on the site. There's nothing like a Classic Margarita Recipe. It's one of my favorite cocktails and so easy to customize.
But when thinking about Cinco De Mayo coming up, I realized that I haven't posted my very favorite version yet. It's the easiest and the most simple: a Classic Margarita (but skinny)! How have I never posted this go-to favorite for you to enjoy as much as we do?
This Skinny Margarita Recipe is made with fresh ingredients like fresh lime and orange juice, and sweetened with agave nectar to keep things on the healthier side. I'm obsessed!
This Classic Margarita Recipe is super quick to throw together any old night and especially perfect for Cinco De Mayo!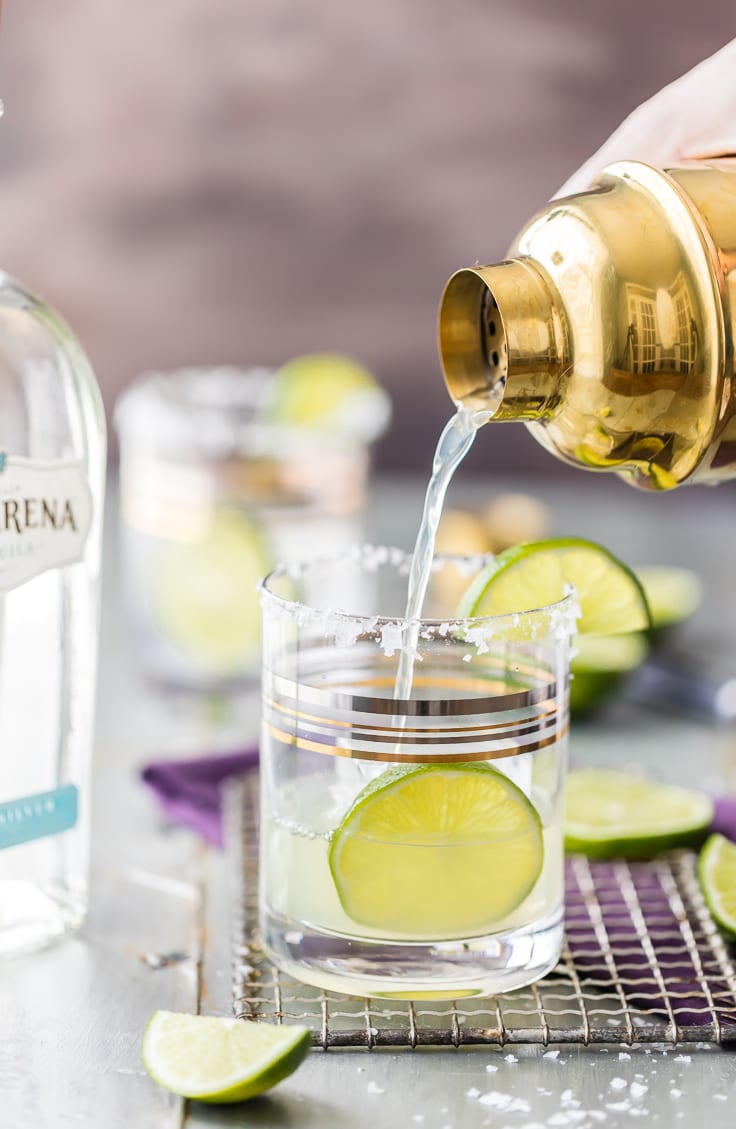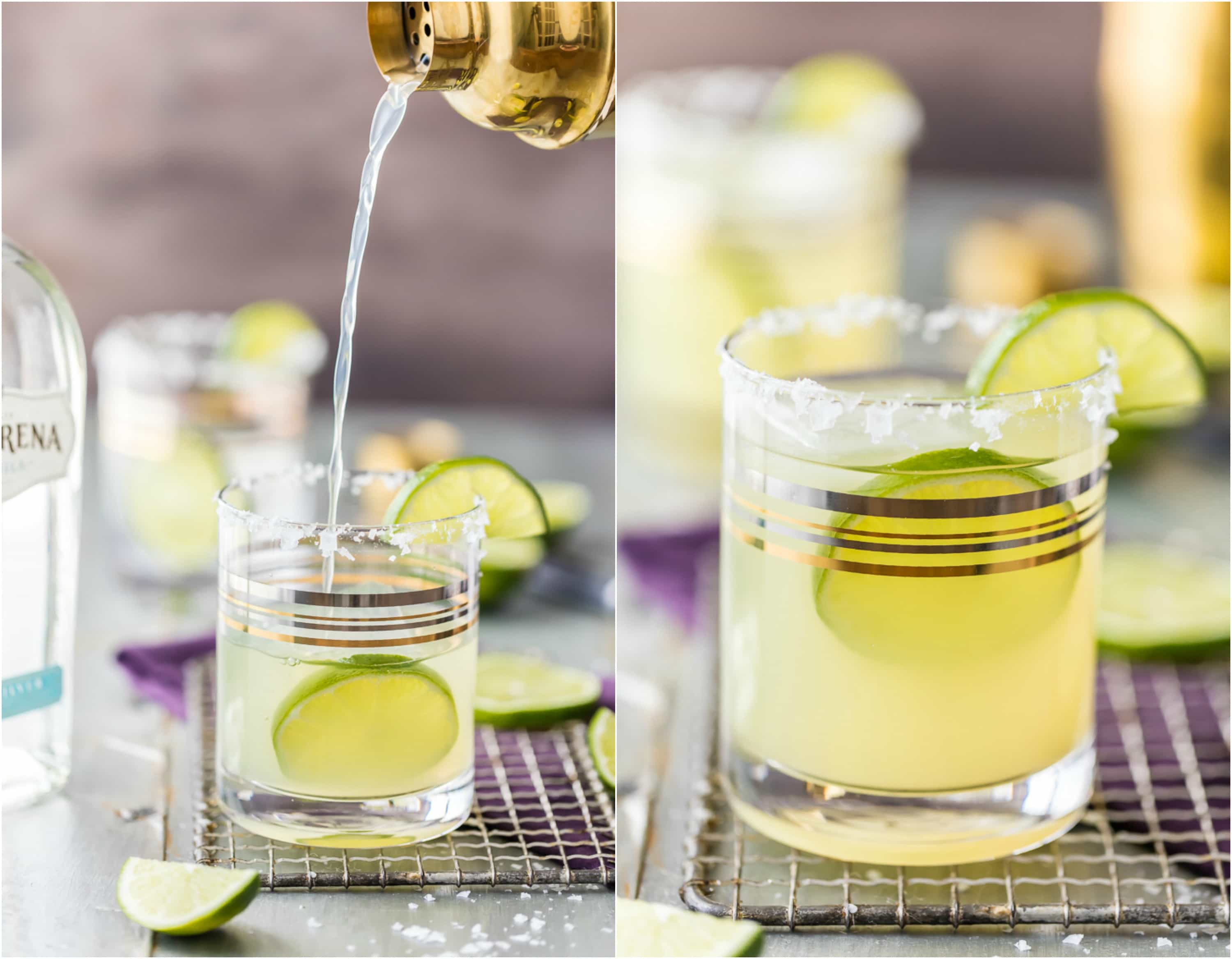 How many calories are in a Skinny Margarita?
I hate to say it, but there are a lot of calories on regular margaritas (like 500 calories). For a margarita lover like myself, that's not so good news. But this SKINNY Margarita Recipe has under 200 calories per (large) glass! I call that a win!
I've never been a fan of sweet and sour or Triple Sec in margaritas, so this low-cal Classic Margarita recipe is the perfect quick cheers for me. These margaritas have just four simple ingredients: lime juice, agave nectar, orange juice, and TEQUILA. Of course tequila. They're light, not too sweet, and super addicting. So watch out!
For this recipe I recommend getting a good quality tequila. It really does make all the difference. A quality tequila will be more smooth and won't stick out like a sore thumb in your cocktails. Worth the extra price if you ask me!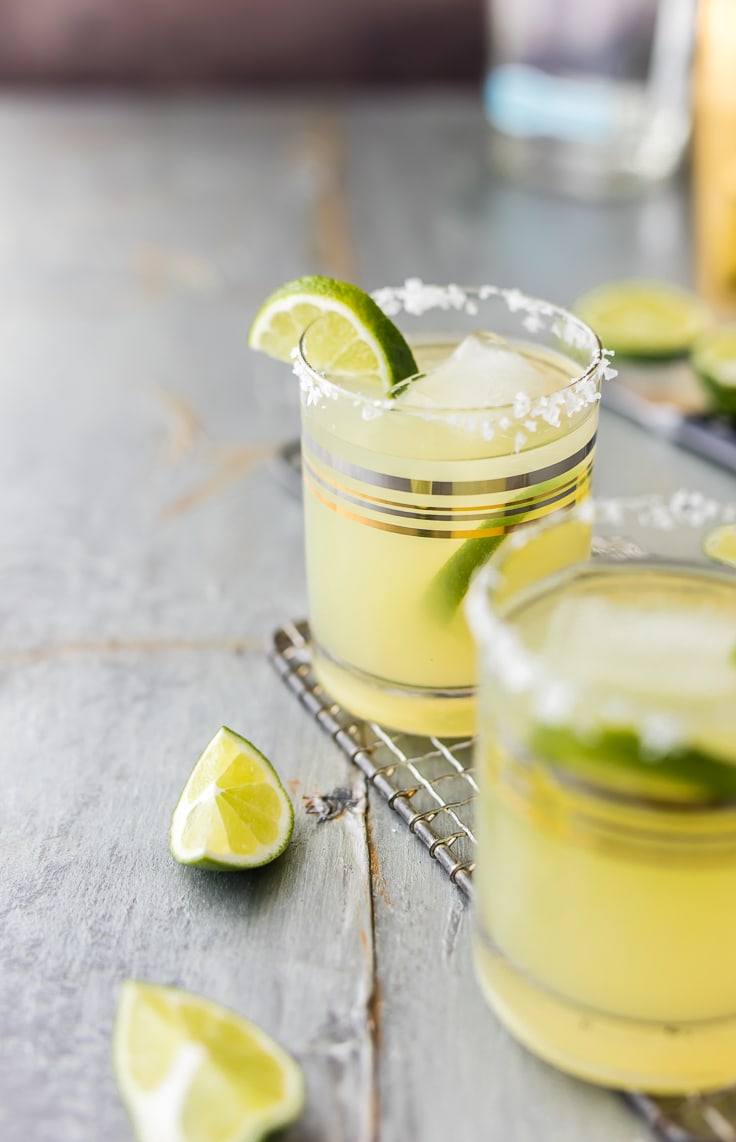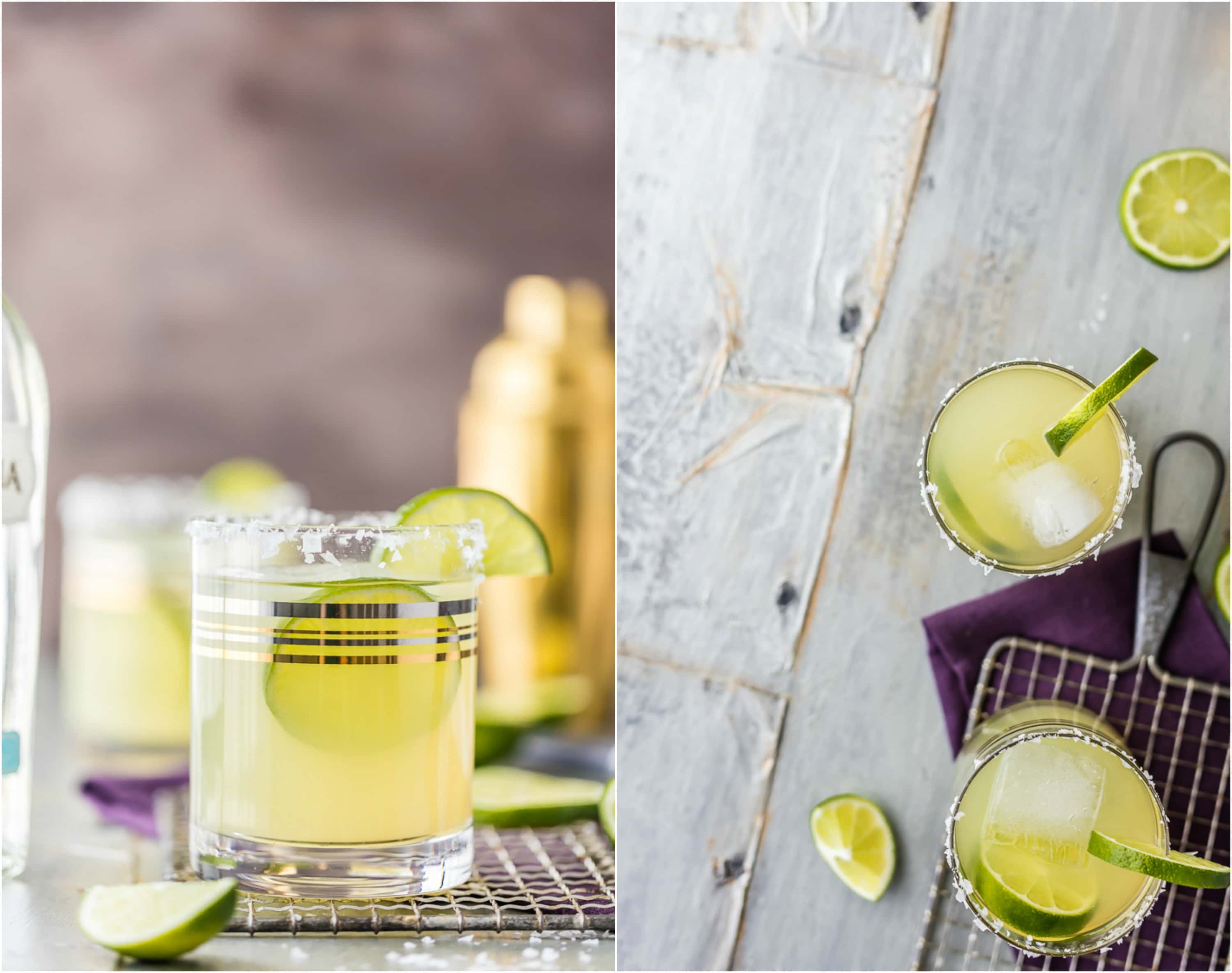 What ingredients are in a classic Margarita Recipe?
I hope you'll check out our favorite BEST Margarita Recipe, which includes Cointreau, Fresh Lime Juice, good quality Tequila, and agave syrup. Traditionally, that is how a classic marg is made. We of course love that recipe, but it has more calories than I'd like at times.
This SKINNY Margarita swaps a splash of orange juice for the Cointreau, and I just love the fresh taste that is created. It's so refreshing, light, and delicious.
How to make the perfect Skinny Margarita
Sometimes I try to get too creative with cocktails when the classic versions, like this Simple Margarita Recipe, are really the best on the block.
Flavored margs are great; there is always a place for Perfect Pitcher Margaritas or Spicy Blackberry Margaritas. But when I want a quick sip after a long day or an easy way to celebrate any occasion, Classic Skinny Margaritas are my favorite. I love the simplicity and that they're practically guilt-free.
With other margaritas it's like your calories for the day flew out the window and straight to your waistline. These aren't so bad. You can have two and not feel like an entire day of eating right is down the drain.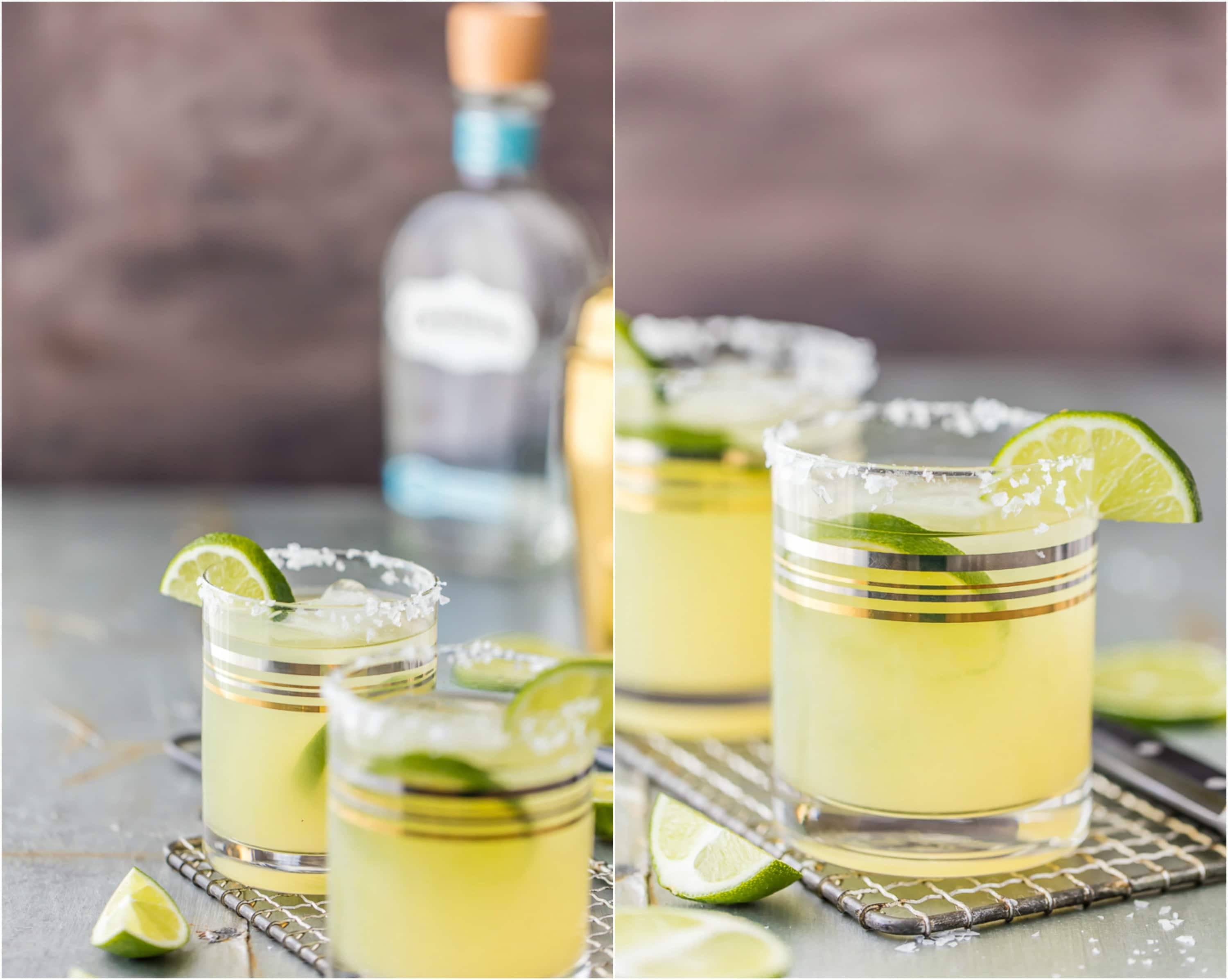 Tips for making this Skinny Margarita:
Always use fresh juice: Whenever we are asked how to make a Margarita, we always say FRESH JUICE ONLY. Fresh lime juice and orange juice are simply a MUST in this Skinny Margarita Recipe. Fresh citrus juice will brighten up the flavors and make your drink that much better.
Use a fun salt combination to spice things up: Regular course sea salt is always great on the rim, but you can make things extra fun by using ancho chili salt or even salt mixed with lime zest. Get creative and have fun!
Always serve extra cold: No one likes warm tequila. Keep it in your freezer and shake it up in this Margarita Recipe for the ultimate frosty sip.
Is a frozen margarita more your speed?: Blend with ice for the ultimate cold treat this Summer. Add in a bit more juice to brighten things up even more.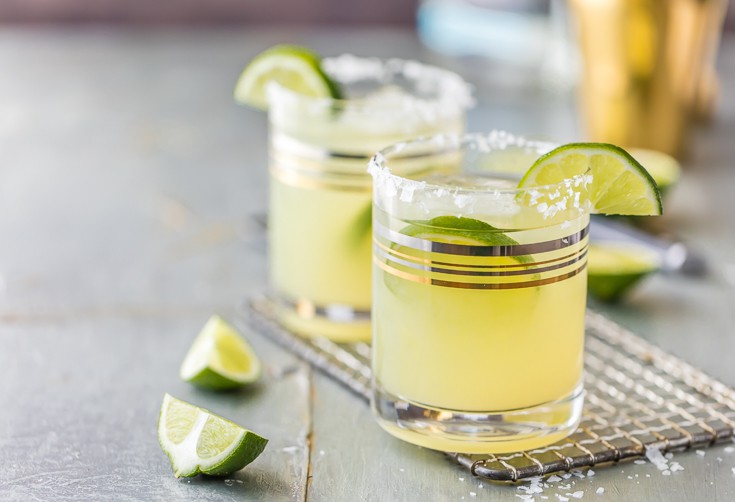 What to serve with these Skinny Margaritas
Pair this Classic Simple Margarita Recipe with some of our favorite (EASY) Mexican food such as:
See the recipe card below for details on How to Make a Skinny Margarita. Enjoy!
Looking for more Margarita Recipes? We've got so many to choose from!
Strawberry Jalapeno Margaritas