Chicken Tacos are the perfect easy weeknight dinner. This quick and easy baked chicken tacos recipe has lots of flavor and none of the stress. Made in less than 30 minutes, the spicy shredded chicken filling bakes up in the crispy taco shells so fast. It's the ultimate recipe for serving a crowd on game day, Cinco de Mayo, or taco night.
This is the most popular recipe on The Cookie Rookie, being pinned over 2 million times and viewed over 6 million times. So make the best tacos ever for dinner tonight!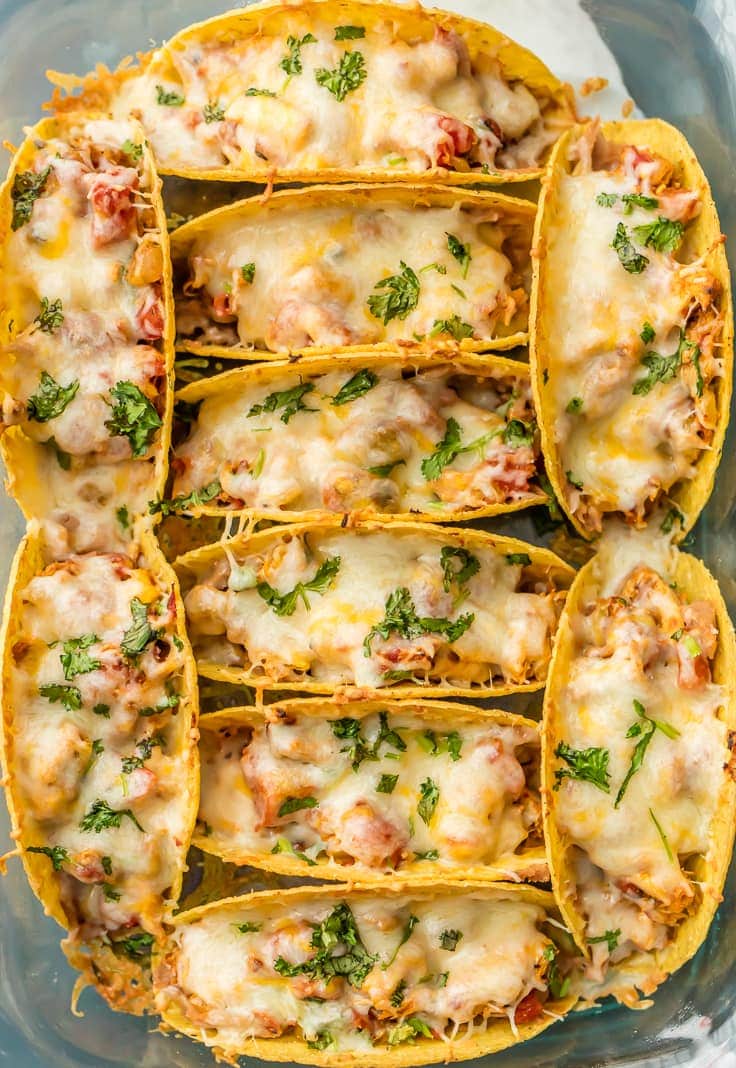 What's in this Chicken Taco recipe?
A deliciously spicy, shredded chicken taco filling is whipped up and layered into crispy taco shells with beans, then baked in the oven until hot and tasty. Dinner will be ready in about 25 minutes, and the whole family will be happy!
Shredded Chicken: Use fully-cooked, shredded chicken for the taco filling. I often use rotisserie chicken for a quick and easy option!
Taco Seasoning: This blend of spices (chili powder, paprika, garlic and onion powder, cumin, and red pepper flakes) is perfect for any taco recipe.
Taco Shells: Use hard taco shells. They bake up nice and crispy in the oven!
Shredded Cheese: Use a Mexican blend shredded cheese, or your favorite variety. Freshly grated cheese gets beautifully melt-y!
Green Chiles: Use a can of chopped green chiles for the chicken mixture. It adds a little bit of heat and it's really delicious. Be sure to fully drain them.
Refried Beans: The creamy texture of refried beans adds a nice layer of texture and flavor beneath the chicken. Use about ½ a can.
Tomatoes: A can of diced tomatoes adds more texture into the mix. Again, be sure to fully drain these so you don't end up with too much liquid in the chicken taco filling.
Onion: Diced onions are sauteed to add more texture and some aromatics. You can use white, sweet, or red onions depending on your flavor preference.
Toppings: Add jalapeno slices, sour cream, shredded lettuce, Pico de Gallo, cilantro, salsa, taco sauce, or any of your favorite taco toppings.
Pro Tip: To keep your chicken tacos crispy when baking, start by baking the shells alone before filling them. I also recommend layering the beans on the bottom when assembling, and placing the chicken filling on top.
Are these shredded chicken tacos spicy?
Between the taco seasoning, green chiles, and jalapenos (my favorite topping, though it's completely optional), this baked chicken tacos recipe is relatively spicy, but not overwhelmingly hot.
To make them less spicy, skip the jalapenos on top, and you can skip the green chiles as well. These can be quite mild, but if you or the kids are sensitive to spice, simply skip over them when making the chicken filling.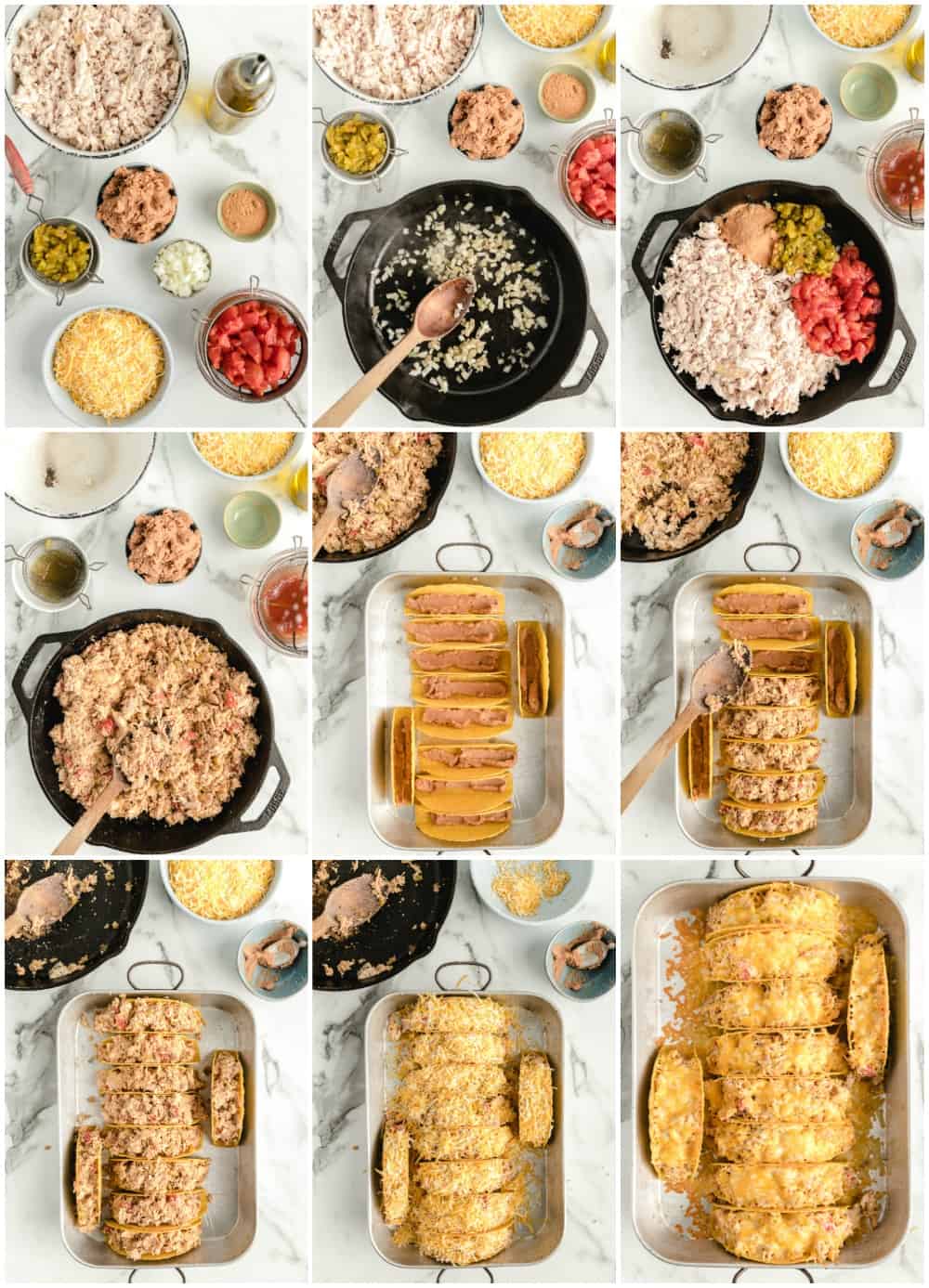 What kind of dish should I use to bake tacos?
I use a 9×13 baking dish when making these chicken tacos. This fits about 10 taco shells. Other sized of square or rectangular dishes will work as well, but you might need to find the best way to arrange the shells, or use multiple baking dishes.
What's the best chicken to use for tacos?
You can make shredded chicken with either boneless chicken breasts or boneless chicken thighs. Cook it with whatever method you prefer, just make sure it's fully cooked before baking the tacos (it's just being reheated in the oven). You can also start with rotisserie chicken for the easiest option.
How can I keep chicken tacos warm for serving?
If you're making these for a crowd or a party, you can keep them warm in the oven as you serve. I usually turn the oven down to about 250F, and keep them in a baking dish covered with foil.
How do you keep hard taco shells crispy?
There are a few things I do to make sure the shells don't get soggy. 1.) Fully drain all canned ingredients so that there isn't extra liquid in the filling. 2.) Bake the shells by themselves for about 5 minutes before filling them. 3.) Layer the refried beans on the bottom, and place the chicken taco meat on top. This helps them hold up better.
Is taco seasoning good with chicken tacos?
Yes! The same taco seasoning blend you use with beef works deliciously with chicken tacos too.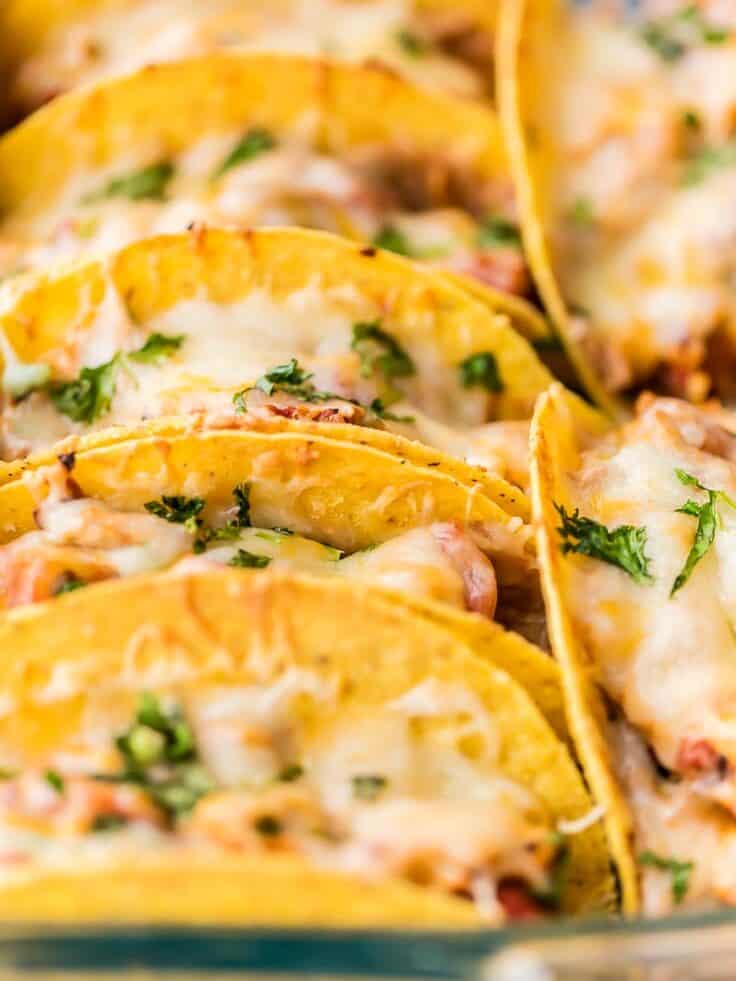 How to Store and Reheat Baked Chicken Tacos
I generally recommend storing these baked chicken tacos separately, rather than as whole tacos. Store the shredded chicken mixture in an airtight container, and keep it in the refrigerator up to 4 days. Taco shells can be stored as you normally would, usually in the pantry. The refried beans and toppings can all be stored separately in the fridge as well.
If you have leftover tacos after baking everything together, you can wrap individual tacos in aluminum foil, and place them in a resealable bag. Keep in mind that the shells might get soggy if stored this way.
To reheat, assemble tacos and bake as instructed in the recipe card, or until the chicken is fully heated through (165F).
How to Freeze Rotisserie Chicken Taco Meat
If you have leftovers, or want to do some freezer meal prep, you can freeze the shredded chicken meat. Store the taco filling in a freezer-safe container or resealable bag, and freeze for up to 3 months. Defrost in the fridge before reheating.
I don't recommend freezing these baked chicken tacos whole, because hard taco shells will end up soggy as they thaw. But soft taco shells, especially flour tortillas, are usually fine to freeze.
What to Serve with the Best Chicken Tacos
These easy chicken tacos are the best recipe for Taco Tuesday, a Cinco de Mayo party, or game day food. My favorite side dishes for these are Mexican grilled corn, Mexican rice, cilantro lime rice, or Esquites.
You can't go wrong with fresh tortilla chips with simple guacamole and salsa (try avocado corn salsa or tomatillo avocado salsa). And don't forget your favorite margarita recipes (I love a skinny margarita).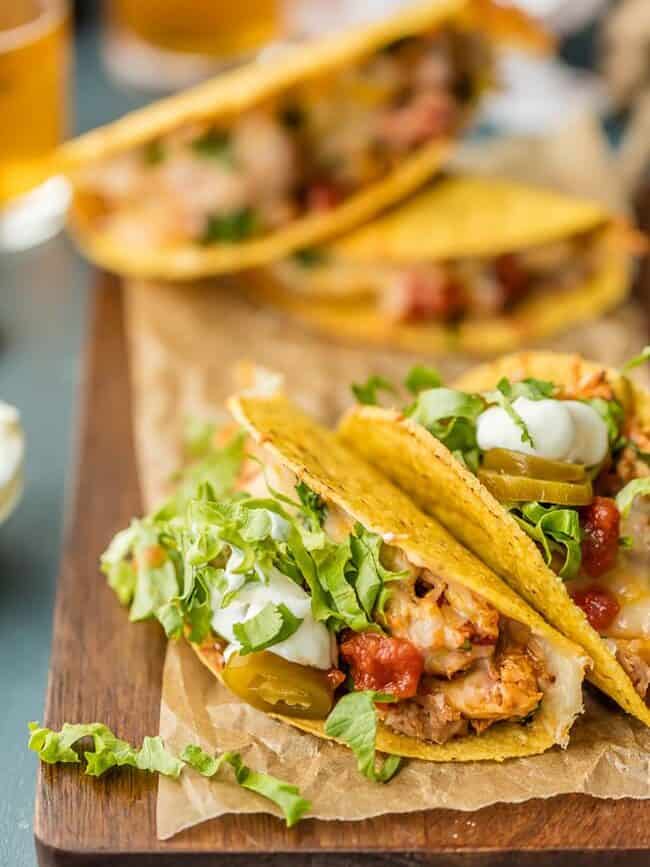 If you make this recipe be sure to upload a photo in the comment section below or leave a rating. Enjoy! You can also jump to recipe.
More Easy Taco Recipes We Love